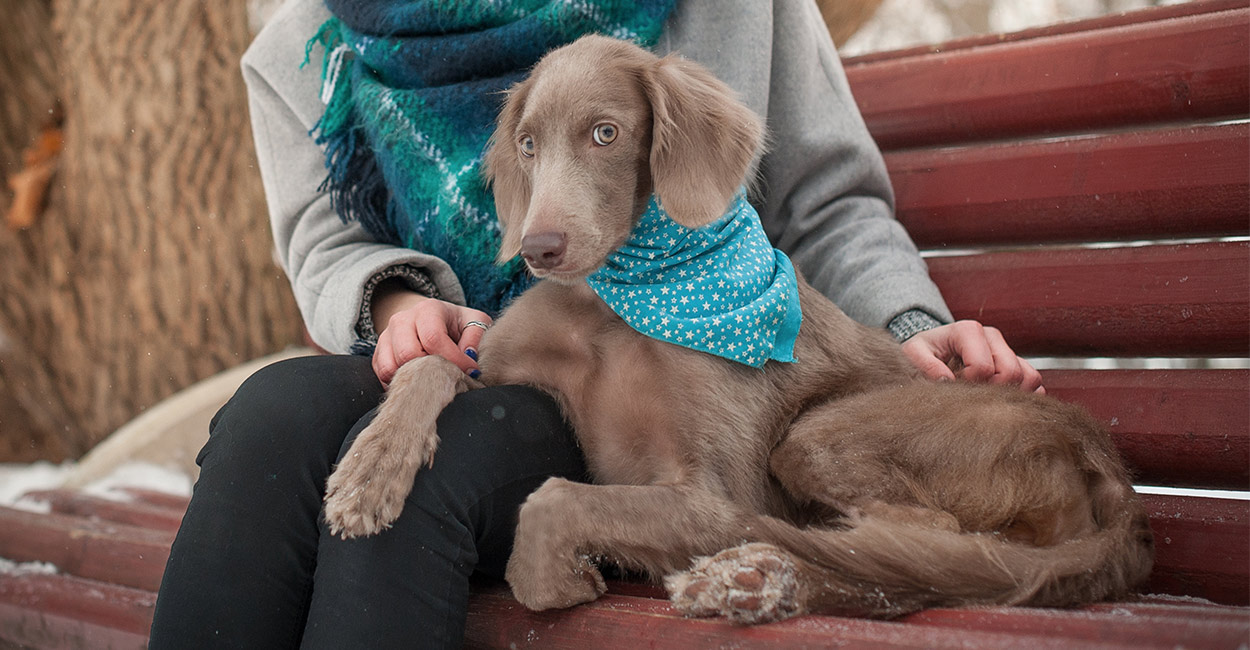 Have you fallen for a gorgeous Long Haired Weimaraner, also known as the Long Coated Weimaraner?
Do you already love the more conventional Short Haired Weimaraner and want to learn more about this stunning variation?
Welcome to your complete guide to the Long Haired Weimaraner dog.
In this piece, we will examine this amazing breed in detail.
This should help you to decide if a Longhair Weimaraner will be a good fit as your pet.
It is true that the Weim is one of the most recognizable and perhaps most popular breeds in the world.
With its sleek silver-gray coat and captivating gray or amber eyes, the Weimaraner certainly makes for a striking dog. It is sometimes referred to as the "Gray Ghost."
But have you ever considered the less common Long Haired Weimaraner?
To fully understand the breed, it is worth delving into its history.
Origins of the Weimaraner
The Long Coated variety of the Weimaraner shares its history with the more familiar Short Hair version of this breed.
Originating in Germany, and initially known as the Weimar Pointer, the Weimaraner was developed as an elite hunting dog.
As with many breeds, the exact origins of the Weimaraner are unknown.
Thought to date back to the early 1800's, the Weimaraner was initially trained to track large game but, over time, was further developed to hunt down smaller prey.
The noblemen of Weimar at that time were eager hunters. They sought to keep the Weimaraner to themselves by strictly controlling breeding.
In 1897 the first breed club was formed in Germany to protect the future of the Weimaraner.
Only during the Second World War did the breed start to emerge from Germany, entering the US and the UK.
Due to its diversity in hunting talents, the Weimaraner is classified as a Versatile or Continental Breed in the US. It was formally recognized by the American Kennel Club in 1943.
The Kennel Club UK accepted the breed in the early 1950's under the Gundog Grouping.
It is now an extremely popular breed across the US, throughout Canada, and in Europe.
Interestingly, it is thought that the extraordinary silver-gray coloring may have come about by accident.
What Size is the Long Coated Weimaraner?
It is fair to say that, while lean, this is a large and powerful breed.
The size will usually vary between sexes, with the male being on the larger side.
In a male, you can expect a height range of 61 to 69 cm, with the female being anything between 56 to 64 cm at the withers.
Weight-wise, males should be between 30 to 40 kg and females a lighter 25 to 35 kg.
What is the Coat Like?
The length of the dog's hair is the sole difference between the Long and Short Haired Weimaraners.
The coat is typically 2 to 5 cm long on the body of a Long Hair.
The gene which generates the Long Hair is known as recessive.
This means that Short Haired parents can have Long Haired Weimaraner puppies, as long as each of them carries this gene.
The color range of the Long Haired version, as with the Short Haired, typically ranges from mouse to silver-gray and is silky to the touch.
This can be smooth and straight or wavy.
The Long Haired Weimaraner is currently not recognized by the American Kennel Club.
Attempts have been made to change this ruling without success.
A distinctly long coat is a disqualification at show level in the US at the time of writing.
Most other breed clubs across the world, however, accept the longer coat.
Long Haired Weimaraner shedding does occur. However, this can be kept to a minimum with regular grooming during shedding seasons.
The Blue Long Haired Weimaraner
There is such a thing as a blue Weimaraner, both Long and Short Haired.
The coat is of a dark, steel-gray appearance.
This version, however, is considered to be highly undesirable by breed clubs in both the US and the UK and cannot be used for showing.
The blue coloring, which is a dilution of black, is dominant over the silver, so one or both parents with the gene may have blue offspring.
Defining Characteristics
Weimaraners, both Long and Short Haired, are impressively muscular with an appealing athletic build.
The head should be carried confidently with an air of aristocracy.
Ears are long and slightly folded with sparse hair on the inside.
Eyes are intelligent, round in shape, and dramatically amber or gray in color.
Traditionally, the tail of the Weimaraner was docked, but this is no longer desirable in a number countries.
Because the longer hair covers the tail well in the field, the tail of the Long Haired Weimaraner is rarely docked. The hair is left long and feathered.
Feathering is also apparent on the back of the front legs, the ears, and from the hock to feet.
Long Haired Weimaraner Temperament
This is a sociable and alert dog with a high energy level.
Sometimes aloof with strangers, the breed is firmly committed to his family and desires to spend every moment with them. Your pup will want to be with you at all times and is said to be "needy."
Therefore, it is important to consider whether this is a trait that you can live with.
An extremely loyal breed, Weims are incredibly loving and yearn to be part of the family pack.
The Weim is certainly not suited to being left alone for hours on end.
Loneliness will make them nervous, sad, and even destructive.
The breed can be prone to separation anxiety so this issue will need to be addressed early on.
Crate training is useful for this purpose, as puppies become accustomed to being alone in a safe environment.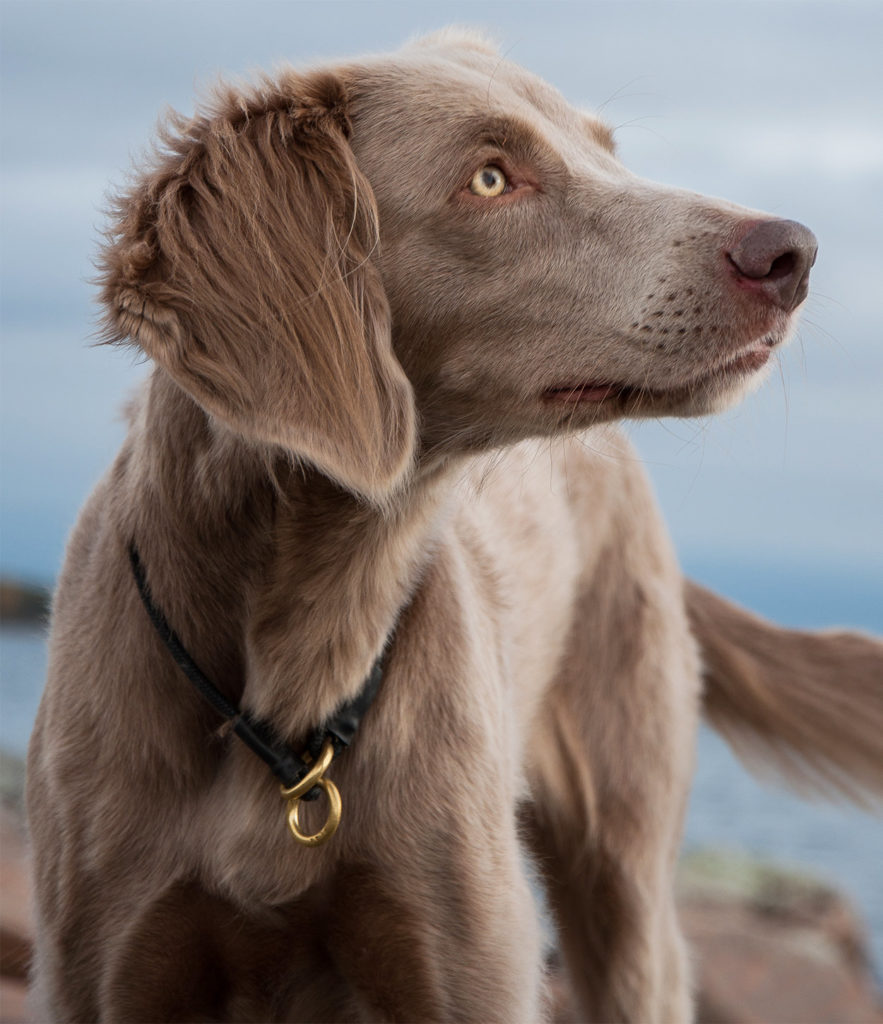 Grooming and Care
The Long Haired Weimaraner, unlike its Short Haired brother, will need to be brushed frequently to remove any knots and tangles.
Grooming requirements, however, aren't as high as with other long haired breeds.
As with all dogs, eyes and ears should be checked regularly and nails monitored and clipped from time to time.
What Are the Health Issues with This Breed?
Overall, the Weimaraners are a healthy breed with an expected lifespan of 10 to 13 years.
There are, however, some health issues to look out for.
Whenever considering a puppy, especially of a large breed such as the Weimaraner, it is important to consider Hip Dysplasia.
This is thought to be a genetic disease which doesn't usually show up in the puppy.
As puppies with Hip Dysplasia grow, the joint develops abnormally.
Unstable hip joints, while not life-threatening, can be extremely painful for affected animals.
Bloat or Gastric Dilation-Volvulus (GDV) is an extremely serious condition and is considered to be a medical emergency.
The stomach swells and rotates, trapping air, food, and water inside.
This can then lead to low blood pressure, causing shock and serious damage the internal organs.
Owners are advised to avoid feeding their dogs immediately before or after exercise.
Dogs are also more at risk if they consume large amounts of fluid directly before, during, or after exercise.
Stress is believed to be a contributing factor to GVD as well.
It is vital that veterinary assistance is sought immediately if this life-threatening condition is suspected.
Entropian and Ectropian, although uncommon, have been noted in the Weimaraner.
These disorders involve inward- or outward-turning eyelids respectively.
Hyperuricosuria is an inherited condition which may cause kidney or bladder stones. This, while relatively rare, has been found in the breed.
Many Weimaraners will not encounter any issues during their lifetime but it is wise to be aware.
Exercise and Training Requirements
The Weim is full of energy and thrives on exercise.
This trait, together with his attachment to his owner, makes him an ideal running partner.
Your dog will need the freedom to run – a lot – so you must be prepared to allow him to burn off his energy.
Off-lead opportunities in dog parks, beaches, and so on are perfect places for him to wear himself out.
It is vital that care is taken with puppies, however, as they need less exercise than adult dogs.
Over-exercising a puppy can cause damage to the cartilage of the bones, known as growth plates. This, in turn, can lead to early arthritis and adversely affect the dog's movement later in life.
Training is definitely a necessity with a Weimaraner, as the breed can be prone to try and take over if allowed.
They are often strong-willed and stubborn and so, from an early age, the Weim should be taught its place.
Once leadership has been established, the Weimaraner is incredibly obedient and a delight to be with.
Your Weim will also need mental stimulation to prevent boredom, as they are highly intelligent.
The breed will often excel at sports such as agility, obedience, tracking and retrieving.
Bred for hunting and tracking, the Weimaraner is likely to still hold these traits.
While challenging, the Weim is very sensitive. Positive reinforcement training is needed, with lots of praise and treats.
What Is the Ideal Home?
This breed is well suited to those with an active lifestyle.
You should be prepared to spend lots of time with your pooch, training, exercising, and simply being together.
Your dog will want to be near you and have your attention constantly.
The Weimaraner gets on well with children as long as they are taught to respect each other.
It is, of course, recommended that children are supervised at all times when with any dog.
Some say that Weimaraners are unsuited to first-time dog owners. However, as long as you have the time, patience and love to give, there is no reason why a novice owner cannot enjoy this devoted breed.
Where Can I Find Long Haired Weimaraner Breeders?
If you have made up your mind to take on this breed, be prepared to research widely.
The internet holds a wealth of information, but please be vigilant when contacting breeders via this method.
Due to its popularity, this breed is often found via puppy mills. Unscrupulous breeders will tell you whatever you want to hear in order to make a sale.
It is always a good idea to contact breed clubs for recommendations, as they will hold a list of accredited contacts.
Worth considering also is a Long Haired Weimaraner rescue. These can also usually be traced through breed clubs.
Another thing to make sure that you are aware of is the Long Haired Weimaraner price.
Research the current recommended sale price so that you know what to expect.
As with most pedigrees, this breed is not cheap to purchase.
An excessively low price should be a cause for apprehension.
Before parting with any money, it is essential to ensure that each of your puppy's parents has passed the health tests relevant to the breed.
Those recommended include as a minimum:
Hip scoring to determine the probability of Hip Dysplasia.
Eye clearance to test for Canine Eye Diseases.

Should I Choose the Long Coated Weimaraner?
The best way to determine this is to talk with, and ideally meet, Weimaraner owners. Most will be delighted to discuss their beloved breed.
Try to attend Weimaraner events so that you can see them first hand and experience their qualities.
It is said that only by spending time with a Weimaraner can one really appreciate the breed.
If you love to be outdoors in the fresh air, walking or running through spacious parks and fields, then the Weimaraner may well suit you.
If you are more of a couch potato and want to be left alone, then this is definitely not the breed for you.
While certainly not for the faint-hearted, in the right environment, the "Gray Ghost" will make a fantastic companion dog and a wonderful addition to your family.
References and Further Information
S. Fox. 2000. Weimaraners – Everything About Housing, Care, Nutrition, Breeding, and Health Care
S. Saben. 2017. The Weimaraner Bible – Weimaraner Complete Guide
R. Dennis. 2012. Interpretation and use of BVA/KC hip scores in dogs. Companion Animal Practice.
J. Morgan. 1987. Canine Hip Dysplasia. Veterinary Radiology & Ultrasound.
K. Barnett. 1988. Inherited eye disease in the dog and cat. Journal of Small Animal Practice.
L. Asher et al. 2009. Inherited defects in pedigree dogs. Part 1: Disorders related to breed standards. The Veterinary Journal.
N. Karmi et al. 2010. Estimated Frequency of the Canine Hyperuricosuria Mutation in Different Dog Breeds. Journal of Veterinary Internal Medicine.
The Kennel Club UK.
The American Kennel Club.
The Weimaraner Club of America.
The Weimaraner Club of Great Britain.