In this feature, Tanya Clark has compiled a bounty of Weimaraner gifts we're sure any Weimaraner fan will love to unwrap…
If you're like me, you never need an excuse to find pup-themed presents for your doggie loving friends.
After all, we never get bored of being reminded about our best canine pals!
We all know that it's better to give than to receive.
So we're here to help you choose the best gifts available for your Weimaraner-loving friends or family members.
The Weimaraner is a pedigree sporting dog, also known as the Gray Ghost.
And they are quite a unique and exceptional pooch!
Therefore it only makes sense that when it comes to Weimaraner gifts, the owners of these outstanding purebreds deserve an equally distinctive present.
Whether you're buying for a special occasion, or "just because," we have a bevy of Weimaraner gifts that someone special in your life is sure to love.
Gifts for Weimaraner lovers
The Weimaraner hails from Germany and is known as an intelligent, social breed.
It is a beautiful canine, with a one-of-a-kind silver and gray tinted coat.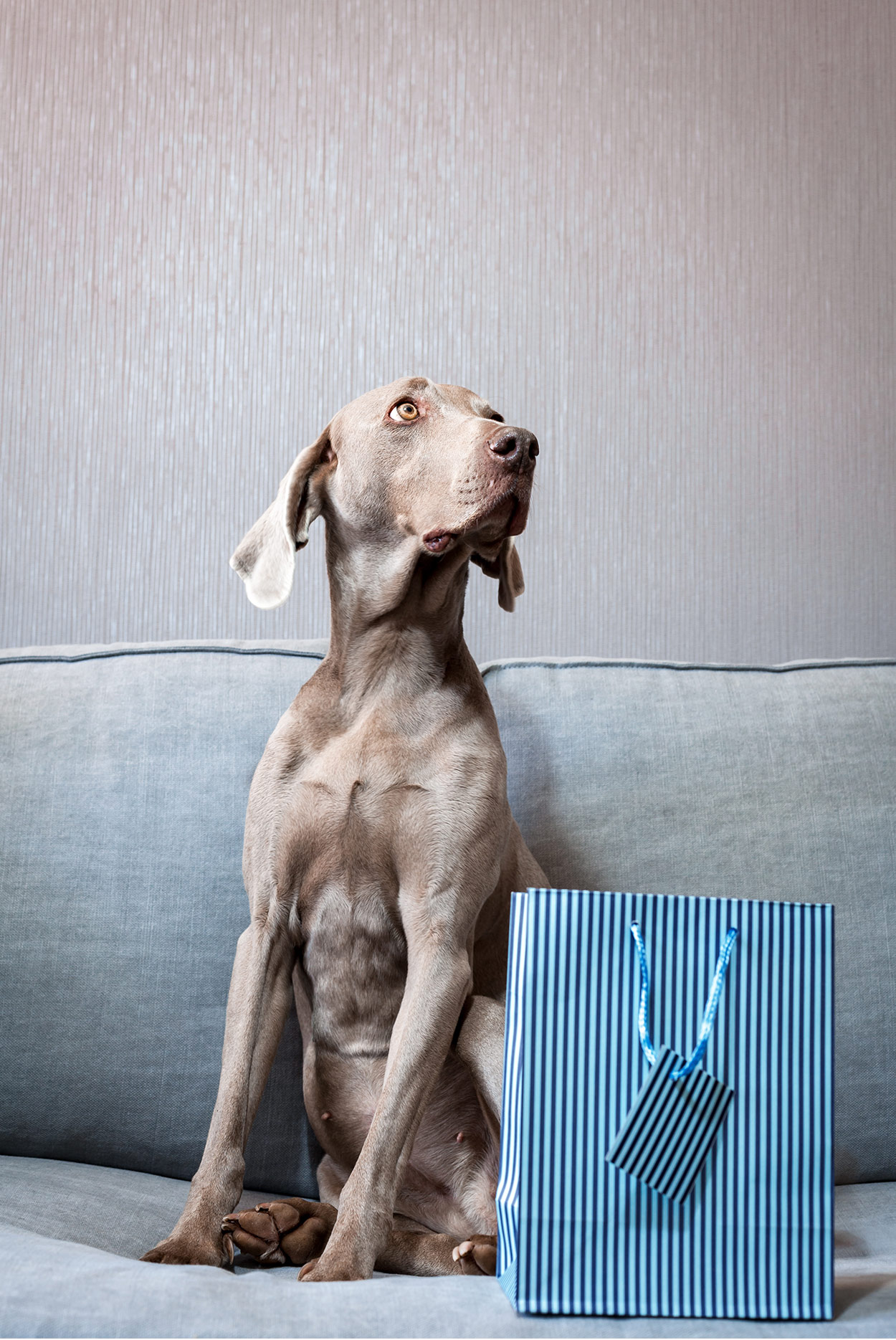 Large and solidly built, the Weimaraner is the American Kennel Club's 34th most popular breed.
And their owners are a devoted and enthusiastic group of dog lovers.
Weimaraners need lots of daily exercise, and flourish when they have a sense of purpose.
They also form devoted attachments to their favorite people.
So Weimaraners owners really know their stuff, and think about their dog all the time!
Weimaraner gifts and collectibles
Are you looking for one preeminent Weimaraner gift?
Or maybe you'd like a few Weimaraner gifts for sharing throughout the year?
There are literally tons of quality and novel Weimaraner gifts available for you to choose from online.
With this in mind, we've found a wide selection of Weimaraner gifts and merchandise to accommodate every taste and budget.
Are you looking for a Weimaraner t-shirt? We've got you covered, so to speak!
How about a doggie mug or blanket? Or a piece of home decor?
We've reviewed all of these items and more, and we think that you're going to like what you see for the Weimaraner lover in your life!
Affordable gifts for Weimaraner owners
All of these gifts are cheerful, affordable ways to bring a smile to the face of your favorite dog mom or dad.
Douglas Toys Cassie Weimaraner
This cleverly-observed plush toy is a cute little likeness of the loveable Weimaraner.
It measures 15.8 x 11.8 x 7.9 inches and is recommended for ages 2 and up.
Soft and cuddly, this toy Weimaraner has gorgeous blue/grey eyes and is sure to melt the heart of of any dog lover.
William Wegman Man's Best Friend 2018 Wall Calendar
A stylish wall calendar makes the perfect for just about everyone—who doesn't need to know what day it is?
Plus, you won't have to worry if you got the right size or not!
This beautiful 16-month wall calendar features full color photos of the photographer's own Weimaraner dogs.
You'll gaze upon the cute little pup Fay Ray, as well as charming images of the inimitable Flo, Topper, Candy, and Bobbin!
Best Of Breed Pet Care Deluxe Dog Blanket
Weimaraners are famous cuddle monsters, who love to snuggle up with their favorite people.
Any dog lover is sure to appreciate this doggie themed fleece blanket is perfect for for those evenings on the couch together.
It's machine washable and features a too-cute dog motif print that includes dog bowls, dog bones, etc.
It can also be used on pet beds and crates and comes with a 100% satisfaction guarantee.
Weimaraner themed gifts
These gifts are sure to please Weimaraner owners who cherish their role as a pet parent.
Mountain Weimaraner Adult Size T-shirt
Let your friend proclaim her love for her Weimaraner with this ultra-realistic, relaxed fit, 100% cotton tee.
It has reinforced double-stitching on all of the seams and comes pre-shrunk and ready to wear.
"A house is not a home without a Weimaraner" plaque
This hanging plaque has the perfect heartfelt sentiment, and the handsome dog peering out from it features classic blue Weimaraner eyes.
It has an attached cord for hanging, but you could also prop it up on a table or attach the plaque to your pooch's dog house.
It is made in the USA and measures 5"x10".
Practical Weimaraner gifts
Weimaraners are energetic and devoted – they're not embarrassed about monopolizing your time!
These practical presents will make any Weimaraner owner's life a little bit easier.
Which leaves more time for games and hugs!
Bone Dry Pet Toy and Accessory Storage Bin
Weimaraners are a super-smart hunting breed, with a high prey drive.
Weimaraner owners typically end up with quite a collection of toys for playing chasing games!
Your Weimaraner-loving friend will never run out of room for storing dog toys when you give her this spacious polyester tote.
It comes in a choice of colors and features a dog paw print design.
 WOpet Automatic Pet Feeder
Responsible and forward-thinking pet owners will love the convenience of this automatic pet feeder.
Because you never know when you'll have to be gone past dinnertime!
In addition, the controlled feeder is terrific for controlling food portions as well as establishing meal times.
There are four shades to choose from and a timer allows for 48 feeding intervals.
In addition to the convenience, peace of mind is provided via an ice pack option that helps to keep food fresher longer.
WOWGO Sticky Lint Roller
Some people a tough to buy for, especially if they're not terribly sentimental.
These people often really appreciate supplies of useful things.
Or being hooked up with game-changing new gadgets, even if they're a bit unglamorous.
Like this convenient sticky roller, which quickly and easily picks up unwanted and messy dog hair.
The reusable roller can be used on clothing as well as furniture.
For convenience, three rollers are included, one regular sized and two mini-sized gadgets which are perfect for the car or purse.
Weimaraner gift items
These Weimaraner gifts are functional and sentimental.
In fact they're sure to be put to good (maybe even daily) use by any dog loving friend or family member.
Weimaraner Etched Wine Glass
These beautiful wine glasses are sure to be the hit of any party!
You simply choose the dog b
reed you want etched into the glass, and the company does the rest.
You'll receive a glass with the likeness of a Weimaraner, and your friend will receive tons of compliments!
The long stemmed glass is 100% dishwasher safe, and your satisfaction is guaranteed!
Dog Mom Stoneware Mug
If you think that your friend would prefer a coffee mug, you can't go wrong with this one: "Dog Mom" is proudly displayed amidst a plethora of paw prints!
The mug
is dishwasher and microwave safe and holds 16oz – perfect for fuelling up before a long early morning walk!
MultiPet Birthday Cake chew toy
Any pet lover will tell you that there's no such thing as too many dog toys.
Weimaraners are notorious chewers – as the commenters on our breed review have testified!
This joyful little stuffed doggie toy is cute enough to play with year round, not just once a year.
Squeeze the faux cake and your pet will be serenaded with a lively version of Happy Birthday!
Weimaraner book gifts
Who doesn't love a good read about man and woman's best friend?
Each of these books is highly recommended by fellow pet parents:
One Unforgettable Journey
This memorable book co-authored by Dan Stallings and K. B. Lacoste tells the inspirational tale of Maverick.
Maverick is a Weimaraner who went from being an abused animal to shining in the bright lights of the 2012 Westminster Dog Show.
Proceeds from the book benefit the Mid-Atlantic Weimaraner Rescue.
The Happy Puppy Handbook: Your Definitive Guide to Puppy Care and Early Training
Would you like to give a "puppy present" to a new Weimaraner owner?
They'll thank you immensely for this invaluable doggie care and training guide from our own Pippa Mattinson.
All the bases of pooch ownership are covered.
From preparing the house and garden before the new puppy arrives, to making introductions with other pets and family members.
There's also plenty of trouble-shooting advice on issues such as feeding and biting.
101 Dog Tricks: Step by Step Activities to Engage, Challenge, and Bond with Your Dog
Once your puppy is settled in and they mastered basic discipline, it's time to learn a few tricks!
This book shows you how to teach Weimaraners simple tricks such as Shaking Hands and Rolling Over.
More complicated tricks are included along with detailed, step by step instructions.
Weimaraner merchandise gifts
Are you ready to surprise and impress your giftee with something they could never see coming?
These fun, one of a kind Weimaraner gifts are full of imagination and whimsy!
Weimaraner Wearing Dentist Jacket Hanger
Diehard Weimaraner lovers will enjoy the quirkiness of this clothes hanger from artist Annie Rhinehart.
Each hanger is made of pine wood and measures roughly 17" x 11.5".
Made in the USA, the hanger comes complete with its own polybag.
Weimaraner Way Street Sign
Would your friend like to proclaim her love for her dog in a public way?
These bright, graphic signs mimic the grapic design of real street signs.
They are made from lightweight, durable plastic and measure 17 x 16 inches.
They're also double sided and weatherproof, so they can be hung on a mailbox or atop a driveway post.
They include top holes for hanging.
Daphne's Weimaraner Headcover
This adorable, plush golf club cover is the perfect gift for the golfer in your life!
The covering fits up to a 460cc driver and is guaranteed for life.
goDog Furballz Plush Dog Toy with Chew Guard Technology
Hundreds of happy dog owners love and recommend this colorful, fun shaggy dog toy.
It comes in exciting and vibrant shades such as red, lime, and rainbow.
Double stitched seams are meant to withstand lots of chewing and drool and it features an internal
ball squeaker sure to delight any Weimaraner.
It is available in both large and small sizes.
Weimaraner gifts for owners
If you still haven't decided on a Weimaraner gift selection, why not consider one of these exceptional choices:
Weimaraner Etched Pint Glass
Similar to the previously reviewed etched wine glass, this larger glass is a multi-purpose beverage container that holds one full pint.
Simply indicate that you want the Weimaraner breed selected, and an image of the breed will be permanently etched onto the drinking vessel.
Dazzling Dogs: Adult Coloring Book
Dog fanciers and coloring enthusiasts will definitely love this adult coloring book with 64 pages of unique doggy designs.
Various dog breeds are represented in amazing detail and the book is available either as a paperback or in a spiral bound format.
Dog Rules Pillow
Every dog owner will relate to the funny yet true "dog rules" printed on this decorative yet functional pillow!
The handsome throw pillow is made in the US of 70% polyester and 30% cotton.
It measures 12 ½ inches square.
Weimaraner gift shop
We hope you enjoyed our selection of Weimaraner gifts.
Have we left something out?
Did we miss an item that a Weimaraner owner or dog lover would definitely take a shine to?
Let us know any of your Weimaraner gifts suggestions in the comment section below!