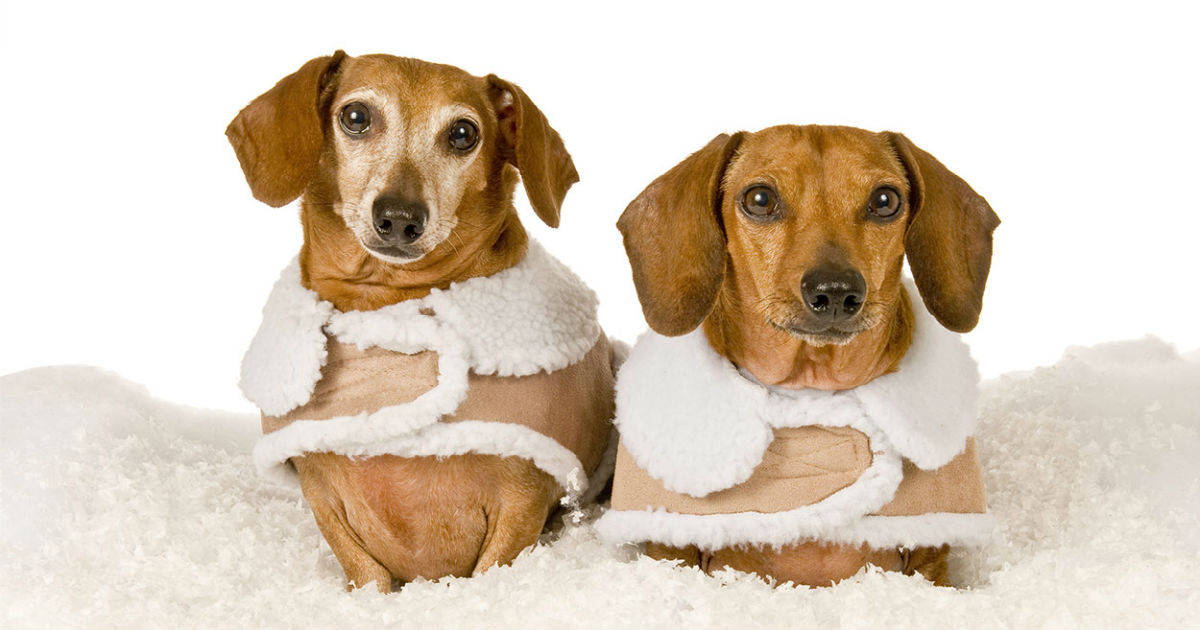 In the wild, dogs wouldn't wear coats. But then again, it's been thousands of years since Canis lupus familiaris has lived in the wild.
Interestingly, dogs and cats are perhaps the only animal breed living on this planet today that has specifically been bred by people to live with people. This also means that, today, when it is cold outside, dog coats for small dogs are as necessary to your pup as your own warm, dry coat is to you.
All dogs need to stay warm when temperatures drop, but small dogs in particular can have real trouble keeping themselves warm enough. Now, with these dog coats that small dogs may love, your pooch can stay warm, dry and cozy no matter what the weather outside brings.
All of these products were carefully and independently selected by the Happy Puppy Site team. If you decide to make a purchase from one of the links marked by an asterisk, we may earn a small commission on that sale. This is at no extra cost to you.
Best Small Dog Coats
Just as most people today can't imagine life without smartphones and the internet, for dog owners today, it may feel challenging to remember a time when "pet clothing" wasn't something that had been invented yet.
Thankfully, these days, there are lots of fun, stylish and practical options for the best small dog coats.
Some of the awesome features you will find in this carefully curated list of small dog coats include super-small sizes (XS and XXS), different types of closures (zipper, Velcro, button), special features (waterproof, windproof, reversible, reflective), and plenty of extras (hoodie, leash strap, adjustable fit).
It is great to have so many options. But it can also make it more than a little difficult to choose which coat to buy for your dog, right?
Just as you probably have more than one coat in your closet for different types of weather, you may need to consider choosing more than one type of coat for your dog's all-season closet.
For instance, if you live in a more temperate area, maybe a dog vest will work better than a full-on dog jacket with a hood and legs. In rainy climates, a dog raincoat or waterproof insulated dog jacket might be just the thing.
In cold climates where it rains and snows for months at a time, a full-on dog winter coat will probably be just what the weather ordered.
One tip before you read on—be sure to read through each brand's sizing instructions before you order—just as with people clothes, some dog coat makers tend to run large or run small.
To make the ordering process faster and easier, you will want to have a tape measure on hand to take your pup's measurements at the neck, chest and torso. This will help you choose the very best size for the warmest fitting dog coat.
Small Dog Coats
Shopping for high-quality small dog coats is just another part of responsible dog ownership today. Not only will a small dog coat keep your petite pup warm and dry, but it will also look really cute (a perk you will likely enjoy more than your pup will.).
Each of these small dog coats has another important feature, from an attached hoodie to reflective strips to a windproof and waterproof design. This way you can find the perfect coat for your climate and lifestyle.
Zack & Zoey Polyester Nor'easter Dog Blanket Coat*: This is the coat you can count on to keep your small dog warm, dry and cozy during even the coldest, wettest day. It is water-resistant, reflective for safety, and comes in eight colors and eight sizes.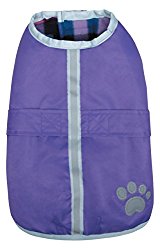 MIGOHI Dog Jackets for Winter Windproof Waterproof Reversible*: These practical all-weather small dog coats are reversible, with plaid on one side and a solid color on the other side. They come in seven sizes. The outer layer is polyester/cotton, and the inner fill is a soft poly.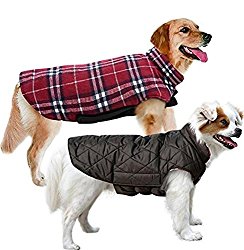 Friends Forever Sherpa and Quilted Winter Vest*: This 100 percent acrylic easy on/easy off winter vest comes lined with a warm Sherpa. It has an attached hoodie to keep your dog's head and neck warm. Choose from four sizes and four colors.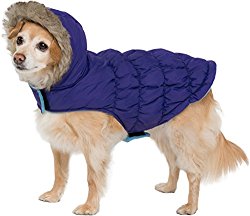 XS Dog Coats
Finding extra small dog coats used to be very difficult, but not anymore. With the popularity of so-named "teacup" dogs, pet brands have risen to the challenge to design extra small dog coats to fit these extra small dogs.
These close-fitting and well-designed extra small dog coats are stylish and functional—the best of all worlds.
Gooby Every Day Fleece Cold Weather Dog Vest for Small Dogs*: This wildly popular everyday fleece coat comes in sizes suitable for very small dog coats as well as small dogs and toy dog breeds. It zips up the back, and there is even an O-ring attached for your dog leash. Choose from a wide range of fun colors.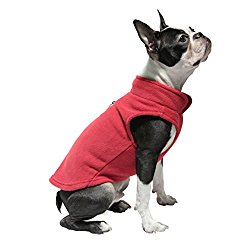 Kurgo Loft Dog Jacket and Reversible Dog Coat*: This fully adjustable x small dog coat also comes in four other sizes and five cool colors. The coat is reversible and reflective to keep your pooch safe on early morning and dusk walks when visibility is lower. The material is quilted Microtomic™ ripstop on the outside with a 140 gsm Polytech filler.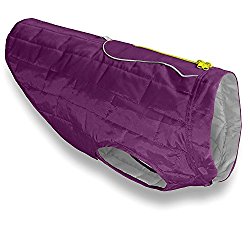 SILD Pet Clothes Dog Jeans Jacket*: If you've ever dreamed of seeing your pint-sized pup sporting a real retro jeans jacket coat, now is the time. This real distressed XS vintage-wash denim jacket comes complete with a little hoodie. It comes in six sizes.
Toy Dog Coats
The tiniest dogs are the toy breeds. These dogs can have a particularly tough time in wet or winter weather.
These teensy dogs have a special need to keep warm and stay dry until temperatures head back up again. This is especially true for puppies and senior toy breed dogs, who may be more prone to developing respiratory distress if they get too wet or too cold.
These toy dog coats are not just cute, but they are very warm and cozy too.
Howstar Pet Camouflage Cold Weather Coat for Small Dogs*: This soft poly vest is economical and adorable, with five colors/patterns to choose from. It comes in both XX small and X small for toy dog breeds as well as three other sizes.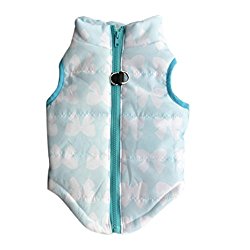 Blueberry Pet 4 Patterns Vintage Fair Isle or Lopi Designer Dog Sweater*: This warm and comfy knitted dog sweater has an acrylic shell and a poly lining, and comes with its own polybag for storage. Choose from five sizes and six colors.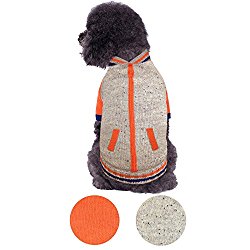 Baja Ponchos Handmade Dog Poncho from Mexican Serape Blanket*: It doesn't get any cuter than these XX small dog coats made from real Mexican Serape blankets. Each poncho is handmade, and comes with a harness loop and Velcro closures. The material is washable acrylic and polyester with an inside poly lining. You can choose from two colors and seven sizes.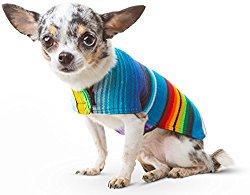 Pink Dog Coats for Small Dogs
It is true that having a nice warm small dog coat in winter and a small dog raincoat when it is wet outside is a functional decision. But this doesn't mean you can't add in some fashion too.
These cute pink dog coats for small dogs are so adorable that you may find yourself wishing for the weather to turn cold or rainy just so your dog can wear them.
LESYPET Doggie Puppy Coat Vest Pet Ski Vest Waterproof*: This absolutely precious pink ski vest is windproof and waterproof with a soft cotton lining and a drawstring opening in the back where you can hook the leash. There are five sizes and several other colors in addition to pink.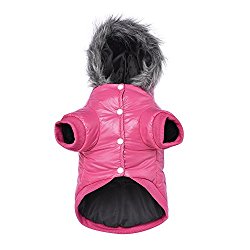 Neartime Dog Coat Jacket Pet Outfit*: This super cute pink cotton blend warm dog jacket has black decorative piping and features little black and white polka dot bows all down the back. This jacket also includes a pink hoodie to keep your tiny pooch warm from head to toe. It also comes in black and white. There are five sizes to choose from.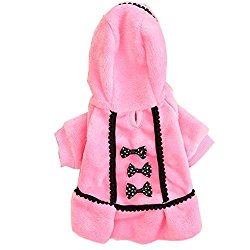 BINGPET BA1888 Fashion Reflective Waterproof Dog Raincoat*: Pink and white polka dots set this perfect little pink raincoat apart from the rest. It comes with a little matching attached hood, and there is a leash hole and a reflective strip to make going for walks safer. You can also get it in red. There are four sizes to choose from.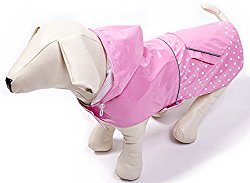 Winter Dog Coats for Small Dogs
It is true that some dog breeds seem born to play and run and romp in the snow. However, in most cases, these dogs have long, sturdy legs, thick winter coats, and were born and bred to live and work in cold places.
Many small dog breeds can suffer greatly in cold and snow. Some have very short legs, which can quickly make walking through snow exhausting. Others have sparse coats and can't stay warm enough to even enjoy being outdoors when it is cold.
This is why vets and animal experts say it is not about fashion when you are choosing winter dog coats for small dogs. It is necessary to keep your small dog calm, warm, and safe on snowy or simply cold days.
Scheppend Adidog Pet Clothes for Dog Cat Puppy Hoodies*: If you think little people look cute in hoodies, wait until you see these warm dog coats for small dogs. They are simply adorable. The hoodies are branded "Adidog," and come in a wide assortment of colors and eight different sizes.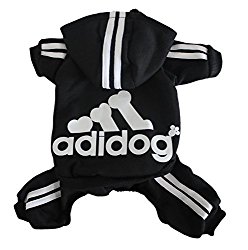 Didog Reflective Dog Winter Coat*: This super-warm winter coat is waterproof, splash-proof, windproof and very close fitting with an easy Velcro closure. It comes in eight sizes and two color combinations.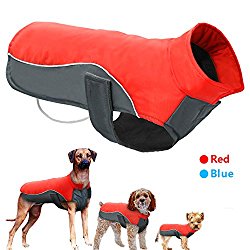 Fitwarm Knitted Sweatshirts for Dog Coat*: This knitted jersey winter coat comes with fluffy arm holes and a soft and cushiony hoodie. This is a jacket that is all about staying comfy and cozy when it is cold outside. It comes in four sizes.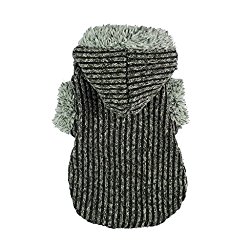 There is also a pajama version*.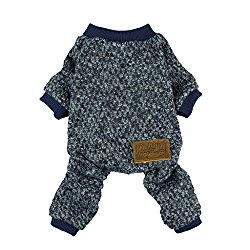 Waterproof Dog Coats
When waterproof dog coats first arrived on the pet clothing scene, some people were quick to laugh and poo-poo the idea of dressing up your dog in a raincoat.
But not all dog breeds evolved to work or live in a wet climate. For dogs that are not used to getting wet, it can be a stressful and uncomfortable experience. For dogs who don't have an insulating undercoat to keep them warm, being out in the rain without protection can also lead to health problems.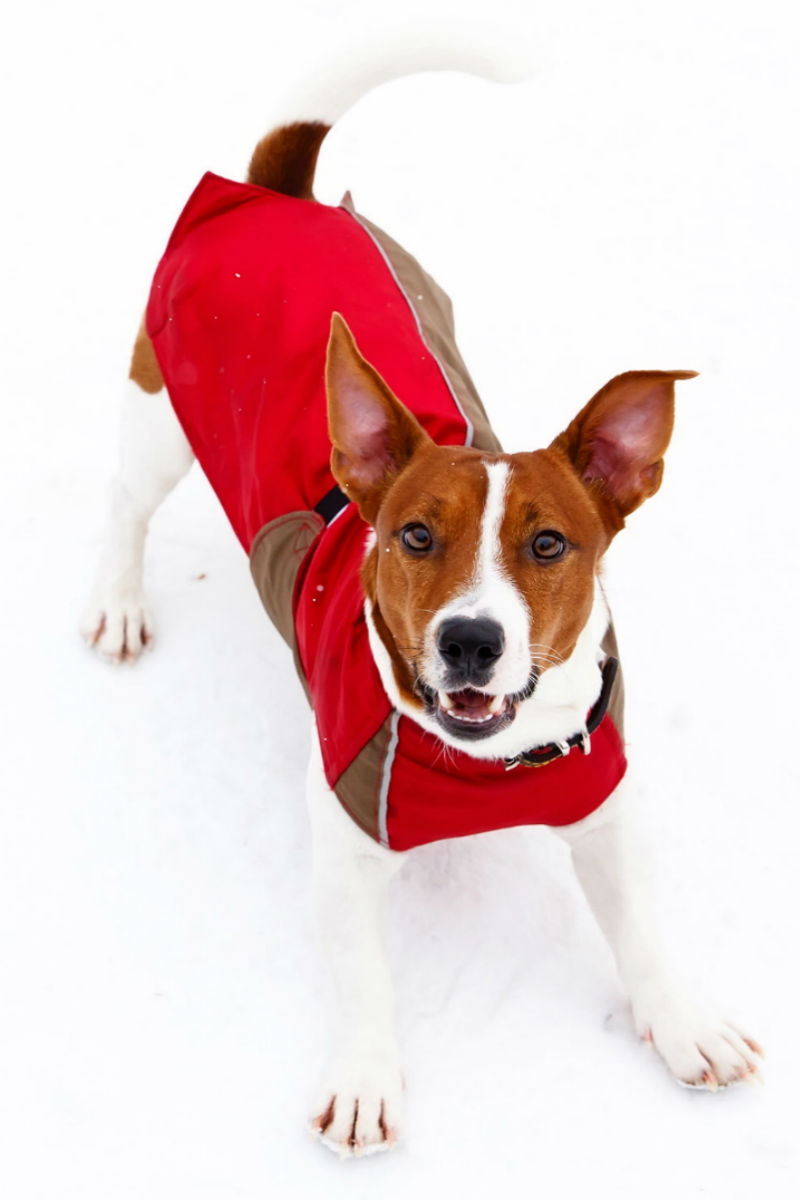 These waterproof dog coats will keep your pooch dry and warm for those necessary walks when the weather isn't nice outside.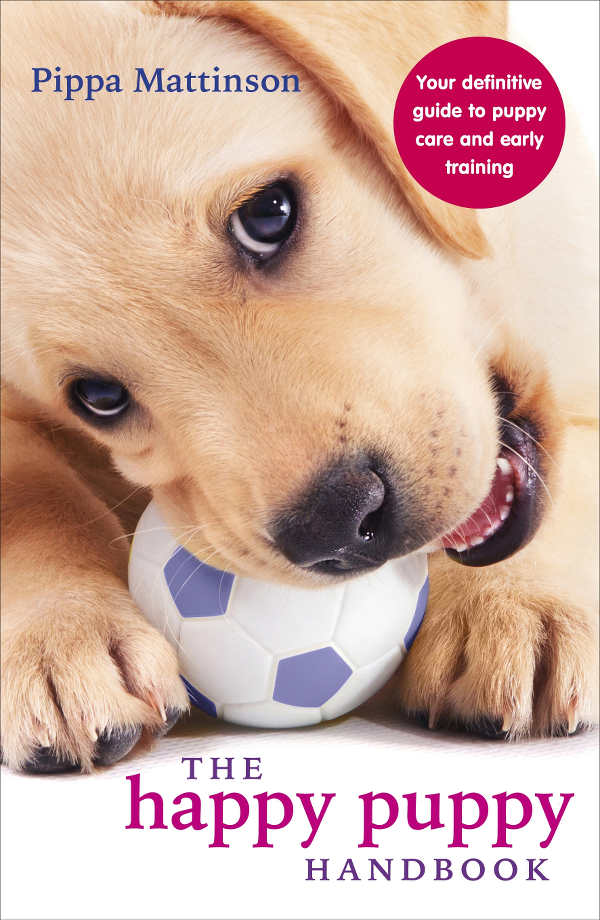 Kuoser Cozy Waterproof Windproof Reversible British style Plaid Dog Vest*: Waterproof, windproof, reversible—this coat has it all. One side is a cute plaid while the other side is a solid color (choose from four color combos). The Velcro closure ensures easy on/easy off, and there are seven sizes total.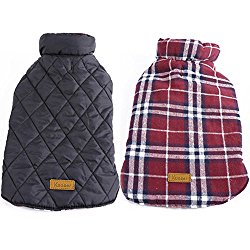 PetCee Dog Jacket, Waterproof Fleece Lined Reflective Jacket*: This line of small and XS waterproof dog coats features a windbreaker-type design with a tall collar to keep your pooch warm from head to toe. There are nine sizes and four colors to choose from.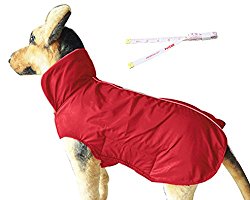 Ethical Pet Fashion Pet Rainy Days Slicker Yellow Raincoat*: Your pup won't ever have to brave the rain again with this adorable yellow slicker complete with an ergonomic hoodie. The slicker is reflective to keep your dog safe on low visibility days. There are six sizes.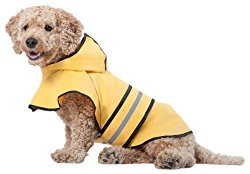 Small Dog Coats
Are you caring for a small dog or a toy dog for the first time? We hope this curated list of small dog coats and XS dog coats helps you find the perfect coat, vest, jacket or raincoat for your precious pooch.
Which small dog coats are on your wish list this year? Does your pooch have a favorite? Drop us a comment and let us know.
If you're preparing for a new small dog, check out our favorite small dog names too! 
Affiliate link disclosure: Links in this article marked with an * are affiliate links, and we may receive a small commission if you purchase these products. However, we selected them for inclusion independently, and all of the views expressed in this article are our own.
Resources and Further Reading:
Dotson, M.J., 2008, "Understanding dog-human companionship," Journal of Business Research
Hecht, J., 2015, "Why Some Dogs Hate Snow," Scientific American
Landman, B., 2005, "Small-Dog Days: Mini Dogs are the Latest Celebrity Accessory," NY Magazine
Morgan, D., DVM, 2017, "7 Ways to Keep Dogs Warm in Winter Temps," Academy Animal Hospital
Raphelson, S., 2018, "How Cold is Too Cold for Pets?" WBUR News