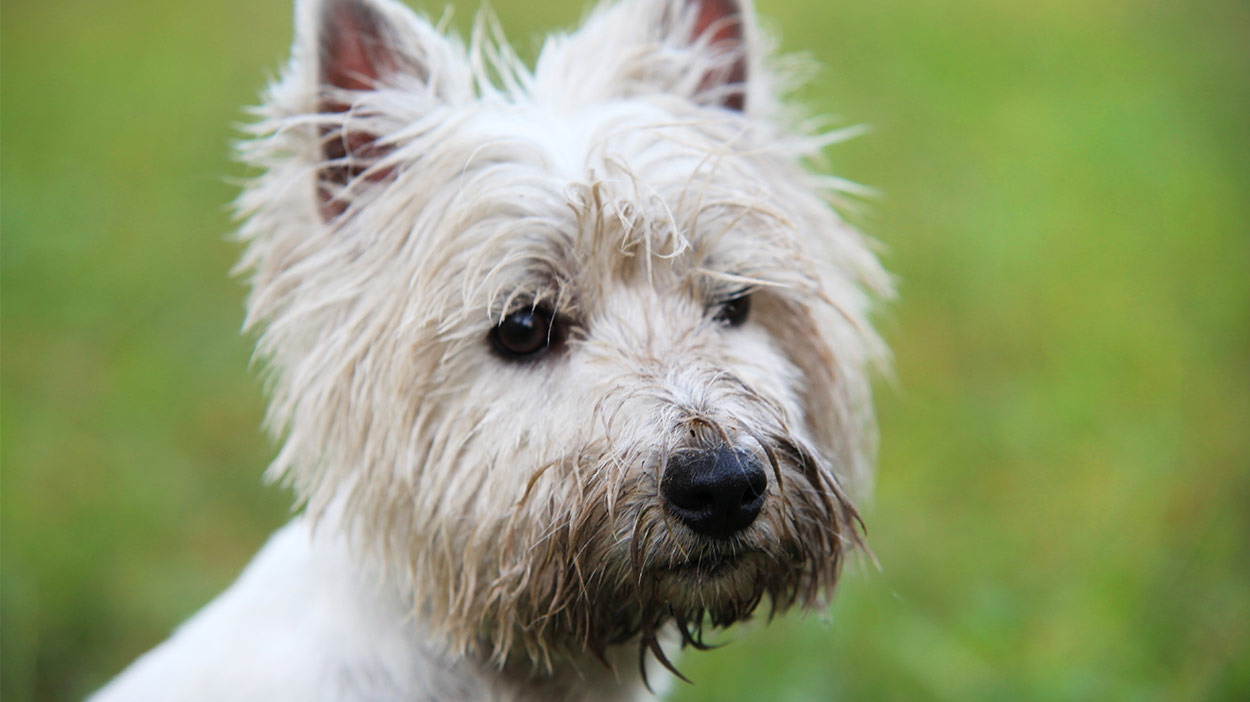 West Highland Terriers are gorgeous white dogs, but how do you keep that eye-catching color glowing? With the best shampoo for Westies, of course!
The best Westie Shampoo is gentle on their delicate skin, which is prone to itchiness and discomfort.
This article is all about getting Westie washing right!
All of these products were carefully and independently selected by the Happy Puppy Site team. If you decide to make a purchase from one of the links marked by an asterisk, we may earn a small commission on that sale. This is at no extra cost to you.
The Wonderful Westie
The West Highland Terrier, or Westie, is a terrier breed originating from the Scottish West Highland area.
Considered to be spunky and delightful dogs, these terriers are bright, intelligent, and friendly.
Westies trained for AKC events have well earned reputations for excelling in multiple categories, including agility and obedience.
As double-coated dogs, Westies have a soft, fluffy inner coat and a coarse, wiry outer coat.
Their double coat is designed to keep them warm and dry in their damp native Scottish environment.
The most distinctive traits of the West Highland Terrier are their pearly white coats, button-black eyes, and adorable expressive faces.
The Westie Look
Westies have a distinctive, traditional look when it comes to their grooming.
Some features include rounded heads, perked ear tips, a tapered, carrot-shaped tail, and a soft skirt of hair that can go from thigh-length all the way to the floor.
Many Westie owners love this look, and are willing to make the regular trips to the groomer to maintain the Traditional Westie cut.
Other Westie parents with active or working pups prefer hair cut to the same length all over, which is lower maintenance.
Some keep the rounded Westie face, while others don't mind the beard being clipped down as well.
Regardless of which grooming style you choose, your Westie will still need regularly scheduled bathing and home grooming.
Stripping and Clipping
Westies, like all terrier breeds, are not shedding dogs. Their tough top coats were a natural defense against harmful fauna and flora in the working days of the breed.
Because a Westie's coat doesn't naturally molt, dead hair needs to be tended to by human caretakers.
The needs of the West Highland Terrier's coat tends to come down to two types of grooming cuts: stripping and clipping.
Stripping, or hand-stripping, is a technique for removing dead hair from the coat of a non-shedding dog breed.
The tough, wiry outer coat of a Wesite requires proper hand-stripping to allow room for a new coat to grow out.
Stripping is considered a necessary grooming procedure for terriers, spaniels, and many other breeds with top coats.
Proper stripping helps your pup's skin breath easier, and can help prevent rashes, itchy skin, and mats.
Hand removal of the dead hair allows for the traditional rough coat of a terrier to lay flat and smooth.
When done correctly, stripping can be enjoyable to dogs, especially if they were introduced to the procedure as young puppies.
Stripping is a required grooming habit for any show dog, as it creates the AKC ideal coat and profile for the West Highland Terrier.
Clipping is an option for more casual Westie owners who prefer the soft, fluffy look, as clipping cuts both the top and bottom coat.
Many Westie owners choose to clip their pet's coat because it is less expensive, and takes much less time.
There is no "right way" to groom your Westie. As long as both you and you pup are happy and healthy, all options for grooming are great choices!
Why Westies Need to be Washed
Most Westie parents agree with the AKC recommendation of bathing their Westie only three to four times a year.
This stringent bathing routine is due to Westies having a penchant for developing dry, itchy skin and gross 'doggy dandruff' if they are bathed too often.
Westies' coats were originally developed to be able to withstand the tough weather of the Scottish Highlands, and are relatively low maintenance for a long-haired terrier breed.
Most dirt can be easily wiped or brushed out of your Westie's fur once it has dried. Regular brushing with the right brush will keep your pooch's hair shiny and healthy.
However, if you have chosen a shorter cut that requires regular trips to the groomer, or if your dog has a habit of getting particularly messy, you might find yourself needing to bathe your Westie as often as every four to six weeks.
Also, if more frequent bathing is recommended by your veterinarian due to hygiene or medical reasons, you'll want to make sure you have the best shampoo for Westies on hand.
Best Shampoo for Westies
First things first: unless a specific shampoo has been prescribed by your veterinarian, never use a human shampoo on your pup!
The needs and PH levels of human hair are different from those of canines, and using soaps or conditioners developed for humans can cause serious damage to your Westie's hair and skin.
There are many brands of wonderful and effective shampoos designed specifically for dogs and other pets for you to choose from.
With all the brands and varieties out there, we've found some of the best dog shampoos for Westies.
Fluppets Certified Organic Pet Shampoo*. Hypoallergenic, non-toxic, and coming in a 16oz bottle, this pet shampoo is made from organic oils, and is certified to the USDA organic food standards.
This concentrated, synthetic-free conditioning shampoo is a great alternative to harsher detergents or chemical cleaners.
Best of all, for each bottle sold, Fluppets donates fifty cents to Best Friends Animal Society. All donations go directly to helping animals in need!
Top Performance Fresh Pet Shampoo*. A good choice for dogs with fur prone to matting, this shampoo works to prevent tangles before they happen.
The natural PH balance makes this product safe for use on puppies and senior dogs alike.
This long-lasting, clean-smelling shampoo comes in a convenient 17oz size, or larger 2.5 and 5 gallon sizes for frequent bathing or multiple-pet homes.
Remember, this product is a concentrate. Dilute as instructed on the bottle so you don't wash away more product than needed!
Oster Oatmeal Naturals Shampoo*. Made in the USA, this soothing, 100% natural oatmeal-based shampoo is free of dyes, parabens, alcohol, and phthalates.
PH-balanced, with a delicious apple scent, it won't wash off any topical flea applications, but will still make your Westie's coat clean and soft.
Three varieties to choose from include Extra Soothing, Gentle Puppy, and Shed Control.
Tropiclean Pet Shampoo*. All natural and made with organic ingredients, this effective and affordable shampoo is detergent-free and comes in environmentally friendly green packaging.
Tropiclean has a wide line of shampoos and conditioners to choose from, so you're pretty much guaranteed to find a shampoo and conditioner that both smell amazing and keep your pooch clean.
Tropical scents include Aloe and Coconut, Kiwi and Coco Butter, Lime and Coconut, Oatmeal and Tea Tree, and even Papaya and Coconut!
Available bottle sizes range from 20oz to 2.5 gallons, so you can choose between space efficient, or rarely having to restock.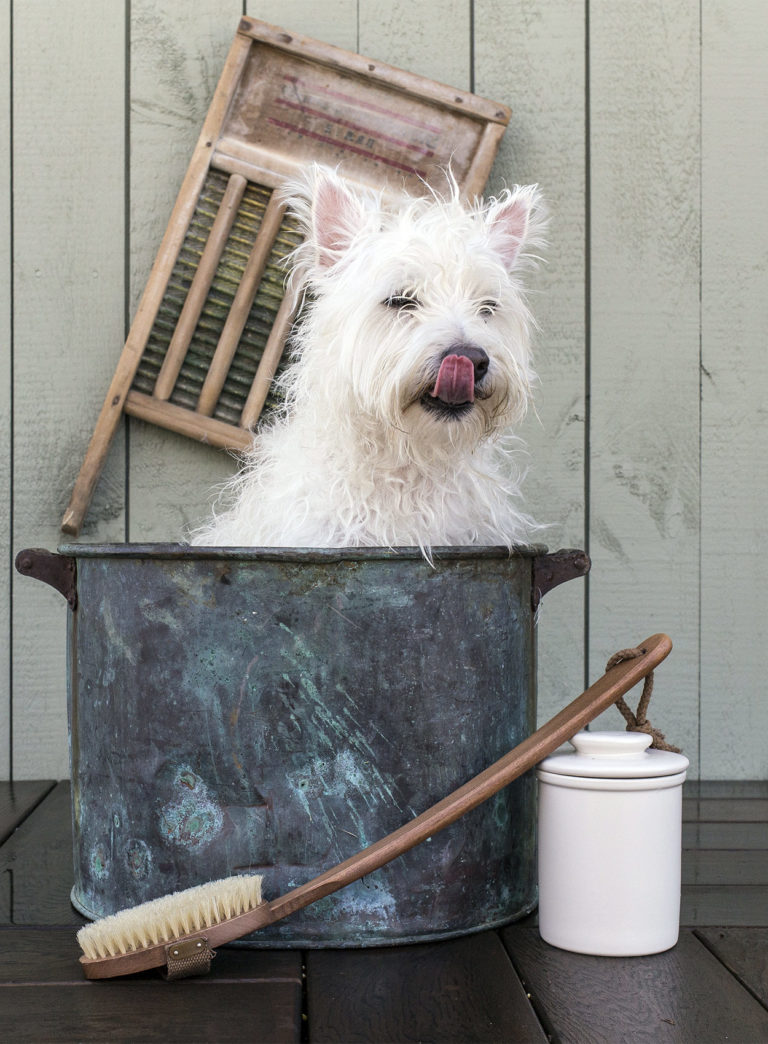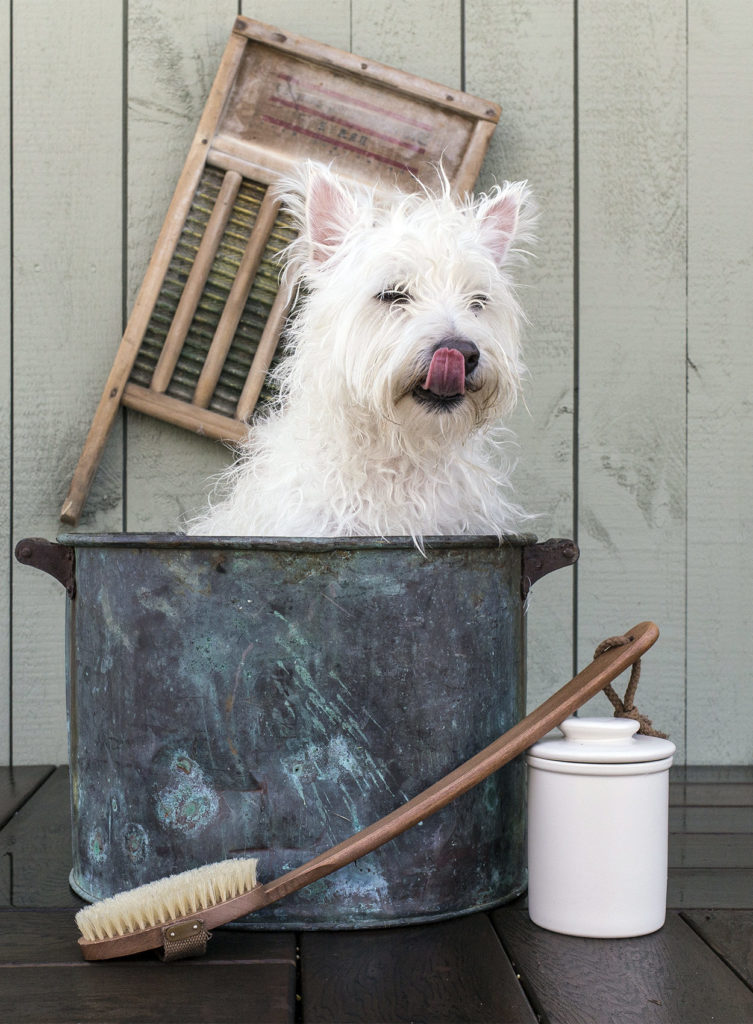 Shampoo for Westies with Skin Problems
If your Westie has itchy or sensitive skin, there are a lot of shampoo and conditioner products developed with her in mind.
Here is a list of the best shampoo for Westies with skin problems. They are great for pups with allergies, sensitivities, or a general disposition to skin issues.
Pupkiss Pets – Professional All-in-One Natural Dog Shampoo*. A shampoo, moisturizer, conditioner and detangler, this all-in-one product saves you time and money, and works to relieve your Westie's itchy skin.
Made with natural ingredients like coconut, palm, aloe, and oatmeal, this product is gentle on sensitive skin, while still a great-smelling and effective cleaner.
PupKiss Pets also has a 100% satisfaction guarantee. If you're not satisfied with their product for any reason, they'll happily reimburse your money.
PET CARE Sciences – 5 in 1 Dog and Puppy Shampoo*. Another great combination product, this coconut and palm oil product is a conditioner, detangler, deodorizer, and moisturizer, as well as an effective shampoo.
Super gentle on fur, with no sulfates, parabens, or phosphates, PET CARE really does care about your pooch having the highest quality formula possible.
Review after review praises this shampoo combo for leaving their pups clean, soft, and smelling great, along with ridding them of dry, itchy skin problems.
Vet's Best Allergy Itch Relief Dog Shampoo*. A soothing and natural shampoo, this product is designed to relieve dogs of all sorts of itchy skin issues.
Effectively washing away allergens, this blend of essential oils and natural ingredients cleans and moisturizes your pup's skin and coat.
The best part is that Vet's Best can be used with other treatments, like topical flea and tick control products, without disrupting their effectiveness.
It can be used as often as necessary, so if you bathe your Westie once a month or once a week, this shampoo will still give you the same great results.
Westie Whitening Shampoo
Most Westies won't need much, if any, help keeping their coats pearly and luminous.
Consistent brushing, regular grooming, and a high-quality, nutritious diet will keep a Westie's coat naturally white and gleaming.
Unfortunately, due to environmental conditions or medical issues, some Westies may need a little help to get their shine back.
Thankfully, we've found several consumer-approved of the best Westie shampoos that will be sure to get your Westie feeling and looking their best.
Bio-Groom Super White Pet Shampoo*. This super effective whitening shampoo is a great choice for Westies.
Along with controlling tangles and mats, this smooth formula cleans your pup's hair, all while adding body and luster.
Who doesn't want a sparkling white Westie with smooth, manageable hair?
A concentrated formula means your bottle will last a long time. Available in 12oz, 1 gallon, or 5 gallon.
Perfect Coat White Pearl Shampoo*. A long lasting coconut scent keeps your canine smelling great, while maintaining a rich, brilliant white coat.
Formulated with aloe vera, this product is gentle on the skin and leaves fur silky, smooth, and shining.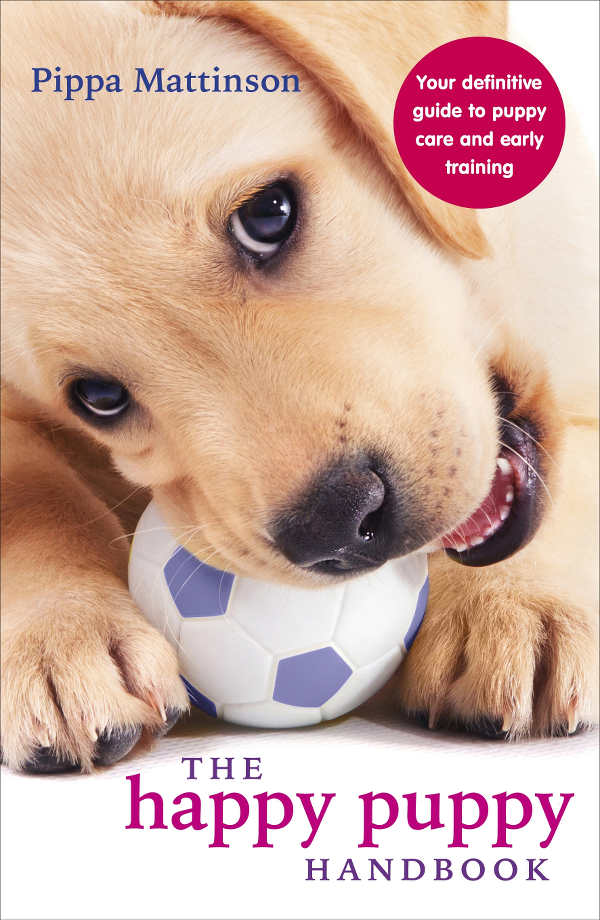 Available in 16oz or 32oz, it pairs well with any of the complementing conditioners also offered by Perfect Coat.
Chris Christensen – White on White*. Part of the Chris Christensen brand of top-of-the-line show dog quality products, this shampoo is a sure bet for bringing the white back to the coat of any Westie.
Safe for use on all coat colors, this product boasts no bleaching agents, harsh chemicals or softening agents.
Many happy customers report brilliant white fur that is left silky, soft, and smelling amazing.
Angel's Eyes – Arctic Blue Whitening Pet Shampoo*. Angel's Eyes is a fantastic brand of cleaners and products designed to help dogs of all sizes and coats stay arctic white.
Products range from tear-stain-removing powders and wipes, to chews and supplements designed to stop tear-staining before it happens.
The Arctic Blue shampoo cleans and enhances white coats, helping dogs reach the sought after "blinding white" shade of pale.
It also works great to moisturize and hydrate your pup's skin, helping to control tangles and matting.
Verified customers brag about brilliant white dogs left clean and smelling good, all without any over-drying or itchy skin problems.

What is the best shampoo for Westies?
No matter what style you cut your Westie's coat, bath time is an inevitable procedure.
If bath time comes three times a year, or three times a month, your furry best friend deserves a top quality shampoo.
Many Westies see itchy, sensitive skin, tear-staining, or muddy romps in the yard bringing down the brilliance of their coats.
Thankfully there are many great products and brands available, and your Westie will be looking their best in no time.
Do you have a preferred product for keeping your Westie looking and smelling their best?
Let us know how you love to maintain clean, white coats for your West Highland Terrier!
Affiliate link disclosure: Links in this article marked with an * are affiliate links, and we may receive a small commission if you purchase these products. However, we selected them for inclusion independently, and all of the views expressed in this article are our own.
Sources and Further Reading
Rub-A-Dub-Dub Your Westie in the Tub
West Highland White Terrier – Breed and Grooming Tips
Clipping versus Hand Stripping