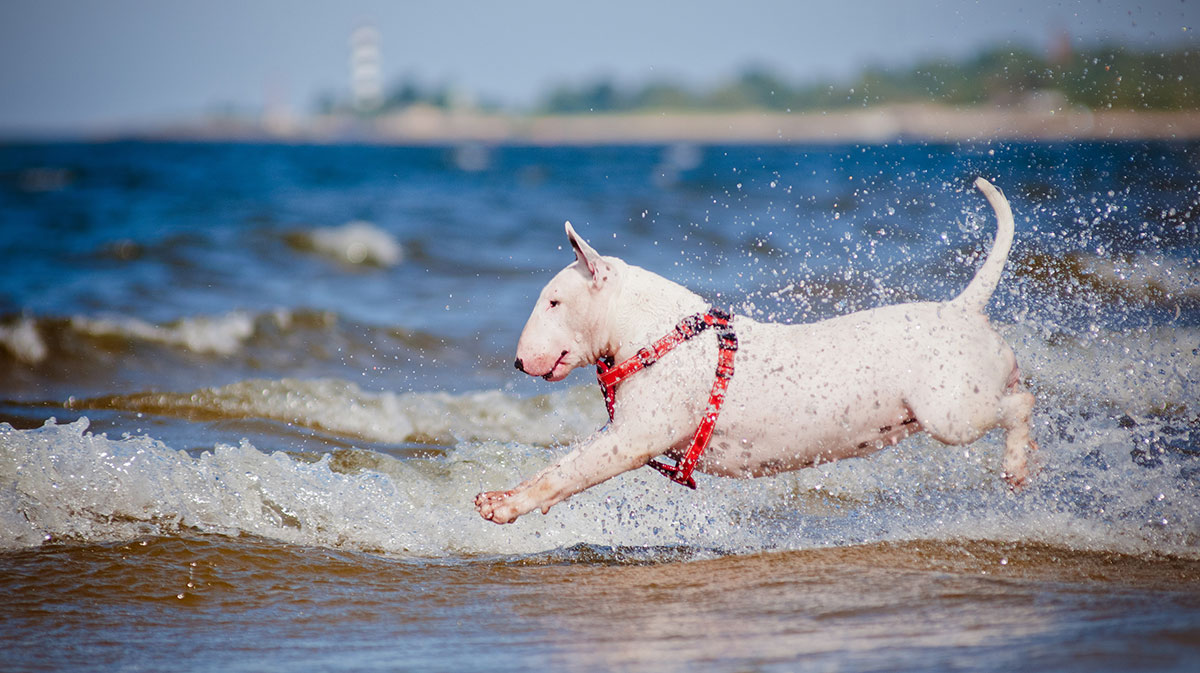 In this article we look at the growing popularity of the dog harness.
You can discover the different reasons why people like and dislike dog harnesses. And find out whether a body harness is better for most dogs than a collar.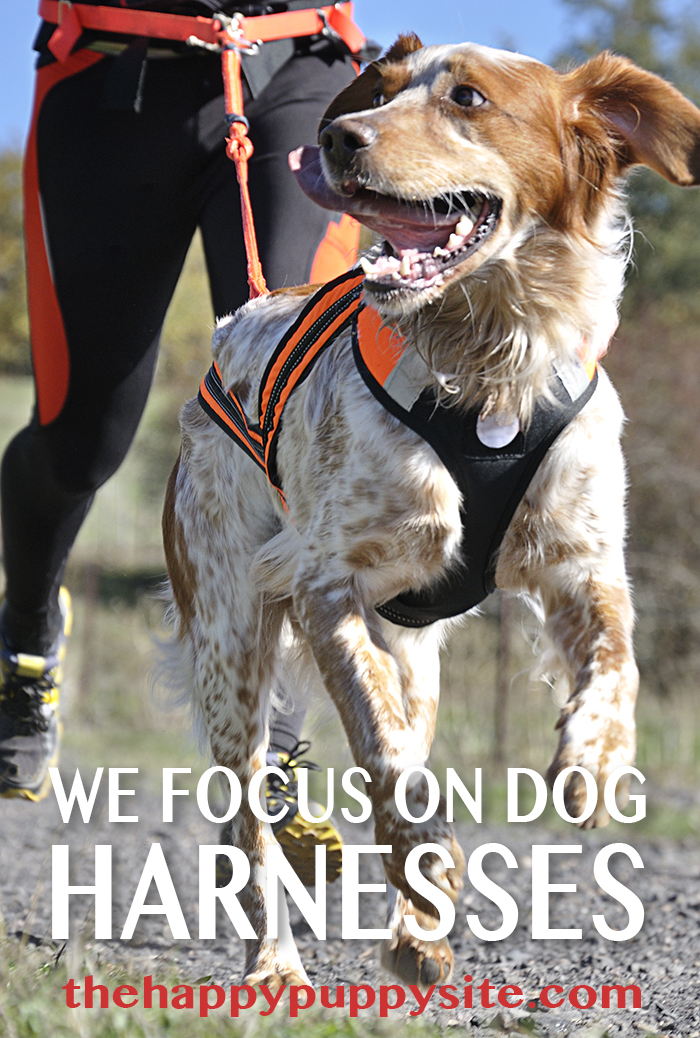 We also answer common concerns about body harnesses, such as "can harnesses stop dogs pulling" and "do harnesses encourage dogs to pull".
Body harnesses for dogs – the debate
You wouldn't think that something so simple as a dog harness would be contentious.
Yet the use of body harnesses for dogs seems to arouse quite strong passions!
With some people loving them, and others hating them.
The dog harness grows in popularity
The general use of harnesses for pet dogs is a fairly new development.
It's one that some old school obedience trainers regard with disdain.
While many modern dog trainers have embraced harnesses and sing their praises.
Before we look at what a harness can and cannot do for you and your dog, let's look at some of the features of a dog harness.
What is a body harness?
A body harness distributes pressure over a greater area of your dog's body than a traditional collar.
It has a 'girth' strap that goes around the dog's chest behind the front legs, and is stabilised by a strap across the chest and / or between the front legs
Different types of dog harness
Harnesses vary in quality and in the way they 'act' on the dog.
With some for example, the shoulder strap may restrict the movement of the dog's legs, preventing him from swinging his leg out naturally as he moves.
Some only have back attachments for a leash or long line, others only have front attachments, and some have both.
We are talking today, mainly about body harnesses, not those head halters which are designed to fit a dog's face.
However, we can't really talk about anti-pull devices without touching on head halters because they are quite popular.
So I will briefly cover their role below
There are two key factors involved in the debate about harnesses
What people think harnesses are for (and why they buy them)
What harnesses are actually for (and what buying one can achieve)
Let's look at why people buy harnesses first
Why do people buy dog harnesses?
Here are some of the reasons that people use body harnesses
To reduce pulling on the leash
To avoid an association between the collar and pulling
To avoid the dog slipping its collar
To safely attach a training line
To take part in Canicross
To teach tracking
But are harnesses actually useful in achieving all these aims? Let's look at each of those in turn
'No-pull' dog harness
A number of body harnesses claim to reduce pulling. This is interesting, because some critics of body harnesses claim that dogs are more likely to pull in a harness.
This belief seems to be derived from the fact that sled dogs wear a harness for hauling.
Aside from the fact that a hauling harness is not the same as a body harness that you or I would use, there are a whole bundle of other cues associated with hauling.
Fortunately we can now put the myth that body harnesses make pulling worse, to bed. The use of harnesses has been widely adopted by serious and successful obedience trainers worldwide.
We'll look at why these people use harnesses in a moment, but what these highly experienced trainers can confirm is that wearing a harness, does not make dogs pull.
In fact, there is no evidence whatsoever to support the belief that wearing a body harness encourages dogs to pull.
But can a dog harness actually help to stop a dog pulling?
Can dog harnesses stop dogs pulling?
Far from encouraging a dog to pull, a front fastening harness can do the reverse.
In many cases a harness reduces the dog's inclination to pull, and gives the owner of large, powerful dogs, some much needed additional control.
This is very important for people that have not yet mastered heelwork or loose leash walking. Especially for those that have taken on adult dogs with ingrained pulling habits.
For these reasons, many professional dog trainers now recommend body harnesses to all their students.
Training is still important
What body harnesses do not do is teach a dog not to pull when he isn't wearing one.
You'll still need to teach your dog to walk at heel if you want pulling completely resolved and if you want your dog to walk to heel off leash
Some pet dog owners buy a somewhat different device to try to deal with pulling on the leash.
Head halters
This device is one that fits around a dog's face and turn his head to one side if he tries to pull.
These do work to an extent as an anti-pulling aid.
They do not however, teach a dog walk to heel, they simply teach him that pulling is very uncomfortable whilst he is wearing one.
While some dog owners swear by them, it has to be said that many dog trainers don't like head collars, especially trainers that teach only force free techniques.
This is because some dogs find them quite distressing to wear. So that the head collar acts as a kind of punishment to the dog
I don't like them, and don't recommend them. But a body harness is a different contraption altogether
Dog body harnesses build good associations
Dogs are creatures of habit, and bad habits once formed, can be difficult to reverse.
One of the reasons that I now use body harnesses on small puppies is to avoid building an association between pulling and the dog wearing something around its neck.
"What" you cry "why are you allowing your puppy to pull at all?"
Well, the fact is, we now know that all puppies need to be thoroughly socialised. This means taking them out and about in public from a very young age.
If you don't want your day out to be one long heel work session for a twelve week old puppy (and I hope you do not) then you need to have a way of restraining that puppy without building a habit of pulling into a collar or slip lead.
I find a front fastening body harness ideal for this purpose.
The puppy is less likely to pull, and if he does pull, he is not building a habit of pulling on his collar.
It is harder for a dog to slip out of a dog harness?
Some narrow faced dogs are able to slip a collar quite easily.
A body harness is a safer and more secure way of attaching a restraint to the dog that is being taken into an area of risk.
Into a busy town center for example, or alongside a busy road.
If something untoward should happen and the dog panics, he is less likely to be able to reverse out of his harness, and less likely to hurt himself in the process of trying.
Training lines are safest when attached to a dog harness
Nowadays, as more of us train our dogs using positive reinforcement, we need to use a safe way of preventing the dog rewarding himself for the wrong behavior.
The long line or training lead is ideal for this purpose. It helps you to take those first steps of training in the presence of distractions.
However, attaching a long line, which has the potential to bring the dog to rather an abrupt halt, to a collar around his neck, risks damaging the soft tissues of his throat.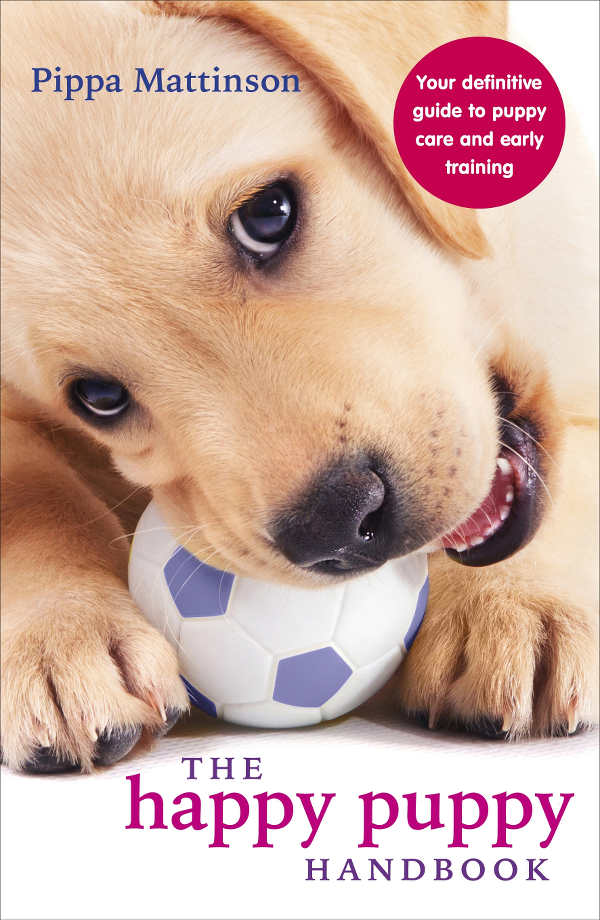 The body harness disperses the pressure applied to the dog over a much greater area and avoids delicate parts of the body.
This, above all else, is simply the most important purpose of the body harness and an overwhelming reason why every puppy should have one.
Taking part in Canicross
Canicross is a great activity for those who enjoy running and have a healthy dog who enjoys running with them.
In Canicross, the dog is often attached to his running partner via his harness.
Teaching tracking
Dogs are traditionally taught tracking using a body harness.
This distinguishes the tracking activity, where the dog is out in front, from the the heel position, when you want the dog to be at your side.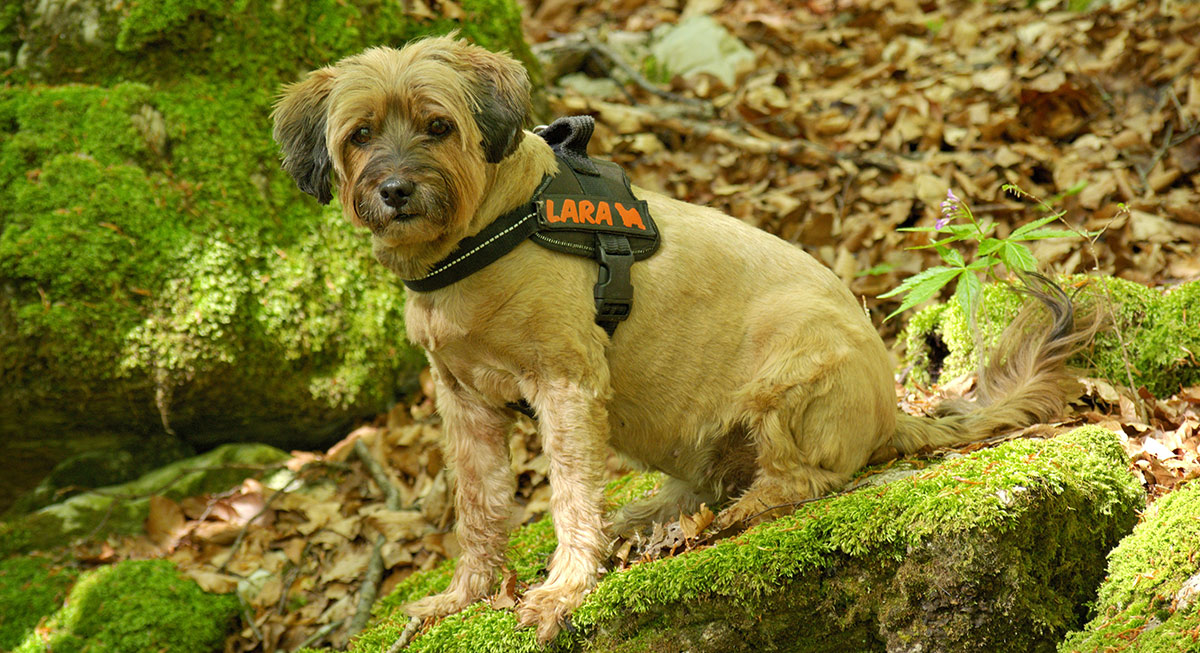 The dog learns that he is in front when he wears his tracking harness, and at heel when he wears a collar and lead.
If you are going to use a tracking harness for this purpose, it is probably a good idea to teach your dog to walk to heel on a collar and lead in advance.
Summary
Body harnesses may be quite new on the dog training scene, but they are clearly a useful tool for some dog owners, and the very best way to safely attach a training lead to a lively young dog.
They are not an alternative to teaching your dog how to behave.
No device can replace proper training. But dog harnesses don't encourage dogs to pull and they do have a useful role to play in many families
Next time we'll be looking at some of the most popular brands
Are you a harness convert? Tell us your favorite make of harness in the comments box below.