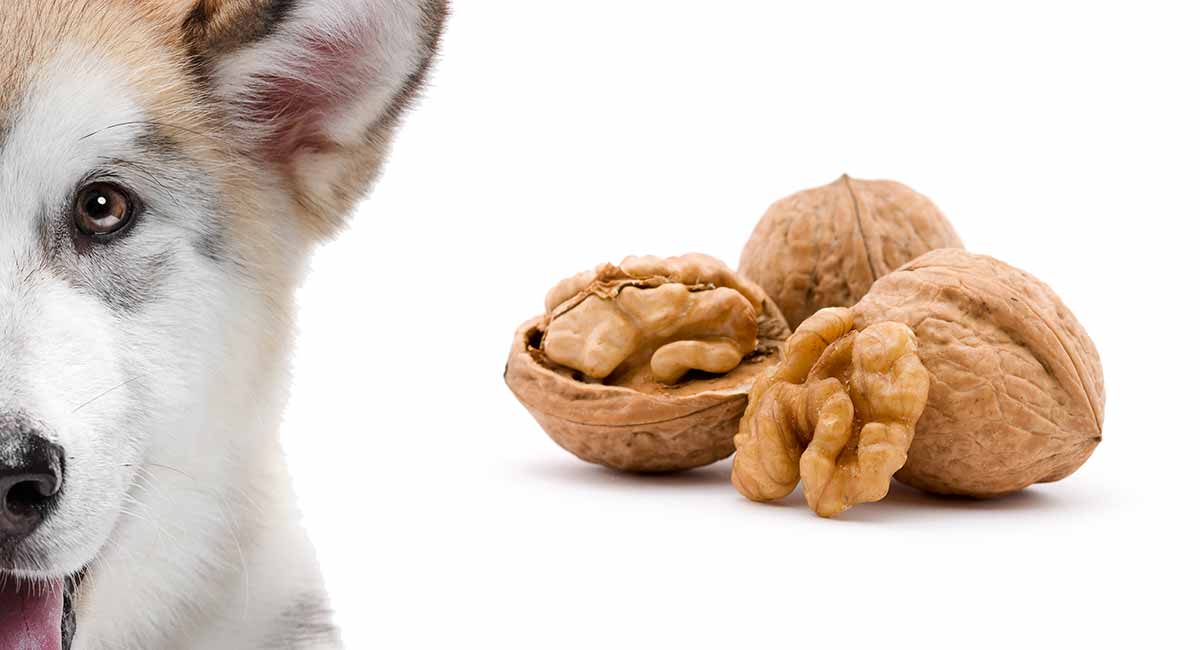 Can dogs eat walnuts? Walnuts themselves are not necessarily bad for dogs, but they are often infected with fungi that make them toxic to dogs.
If dogs eat walnuts infected with fungi, they can experience vomiting, tremors, or seizures.
In this article we'll take a look at whether walnuts are good for dogs, based on the nutritional content of the walnut itself.
And we'll look at whether walnuts are bad for dogs, with a focus on those troublesome fungi.
When Dogs Eat Walnuts
Perhaps you were eating walnuts, and your pooch was eyeballing your food.
Or maybe you dropped one on the floor, and your canine scooped it up before you could retrieve it.
Either way, if you need to know the answer to the question, "Can dogs eat walnuts?" you've come to the right place.
What foods our dogs can eat and what foods we can eat are not always the same.
Figuring out what snacks your dog can safely have can sometimes be confusing.
This is especially true if you get your information from the internet.
In this article, we'll look at what exactly walnuts are and what they have in them. We'll help you decide whether to share walnuts with your dog.
And what to do if he has already helped himself!
Some Facts About Walnuts
Walnuts are nuts from any tree in the genus Juglans.
Juglans regia, the common or English walnut, is native to Asia but is now grown around the world.
Juglans nigra, the black walnut, is native to the United States. It has a thicker shell and a stronger flavor than the English walnut.
Natural Antioxidants
The walnut contains natural antioxidants that protect the oily nutmeat from the oxygen in the air. These antioxidants make walnuts especially nutritious.
Like harvested fruits, walnuts continue to respire after they are picked. They continue to absorb oxygen and give off carbon dioxide.
This means care is needed when storing and transporting large quantities of walnuts. They can lower available oxygen and raise carbon dioxide to dangerous levels.
Where Do Walnuts Come From?
Most walnuts are produced in China, which contributes about half the world's walnuts.
Behind China, the United States, Iran, Turkey, and Mexico also produce lots of walnuts.
They Come in Many Forms!
You can buy walnuts in their shells and use a nutcracker to open them.
You can also buy them already shelled.
Walnuts can also be canned, pickled, and turned in butter. Cuisines around the world have dishes that use walnuts as the main ingredient.
Walnut is also a popular coffee flavoring.
So, people eat walnuts in a number of forms. But can dogs eat walnuts?
Can Dogs Have Walnuts?
So what do you need to know about walnuts and your dog?
Walnuts are highly nutritious. They are high in beneficial fatty acids, especially the all-important omega-3. They are also rich in vitamins and antioxidants.
Walnuts are packed with nutrients that offer health benefits such as lowering cholesterol and improving mental functioning
Walnuts even contain melatonin, which is known to promote healthy sleep.
How Does This Relate to Dogs?
One ounce of walnuts contains about 18 grams of fat.
The average 12-pound puppy needs 21 grams of fat per day, while the average 33-pound adult dog needs 14 grams of fat per day.
As you can see, an ounce of walnuts could provide just about all the fat your dog needs each day. An ounce of walnuts would provide a number of other essential nutrients as well, but not nearly enough calories or protein.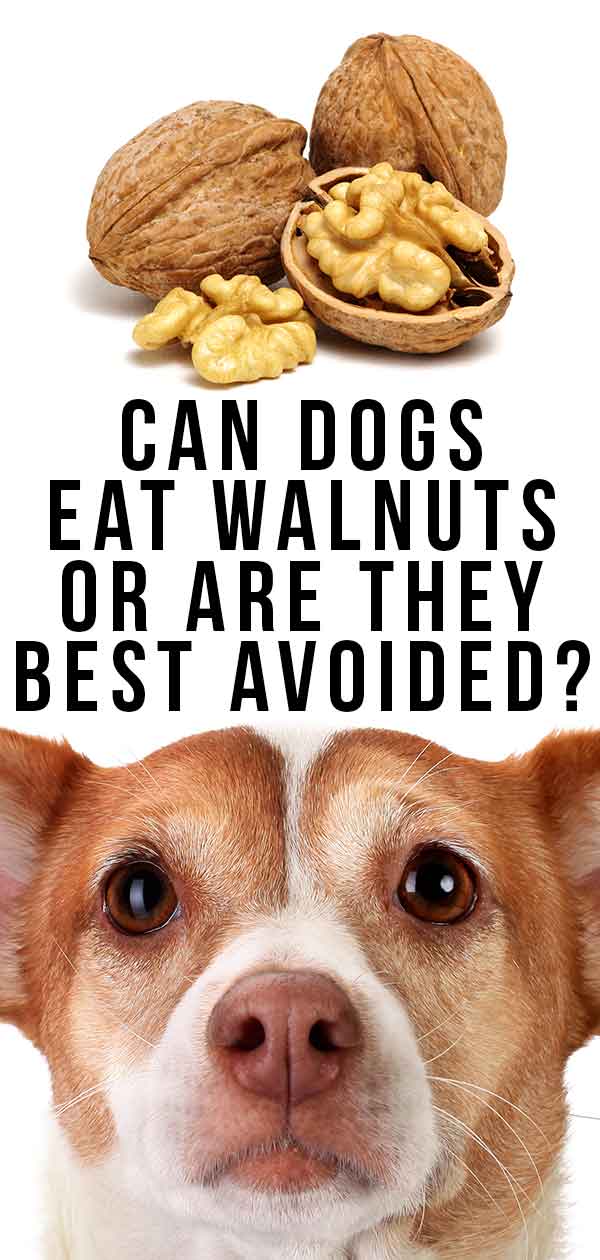 So Are Walnuts Bad for Dogs, Nutritionally?
Despite some common misconceptions, fat is not bad for dogs.
In fact, fat naturally makes up a large amount of a canine's diet.
One study found that when allowed control over their diet over a long period, dogs will choose to eat about 30% protein, 63% fat, and 7% carbohydrates.
In other words, dogs are naturally designed to get most of their nutrients from fat.
So, the fat in walnuts isn't bad for dogs, and actually fits into their diet quite well.
However, this doesn't necessarily mean you should give your dog a walnut.
Are Walnuts Poisonous to Dogs?
While the fat in walnuts isn't bad for dogs, the fungi that grow on walnuts can be.
In one study, 100% of walnuts purchased from grocery stores were contaminated with different kinds of fungi.
Walnuts can be infected with fungi at any stage, from harvest to the store shelf. They can be infected whether they are shelled or not.
The problem is that walnuts have a high moisture content. They can be dried as part of processing them for eating, but that doesn't eliminate fungal growth.
Mycotoxins
Some fungi that grow on walnuts produce metabolites called mycotoxins. Certain fungi produce mycotoxins that are known or suspected to be carcinogenic.
Others produce tremorgenic mycotoxins, which can cause tremors and seizures.
The kinds of fungi that produce tremorgenic mycotoxins are also common in garbage cans and compost piles.
Anything a dog eats out of a garbage can or compost pile—not just walnuts—may be contaminated with tremorgenic mycotoxins.
Cats can also be sickened by tremorgenic mycotoxins too, but they are much less likely to eat contaminated foods.
Can Dogs Eat Walnuts If They're Washed First?
It is possible to wash walnuts, and this may remove some of the inevitable fungal growth.
Some recommend washing walnuts with vinegar. Others recommend boiling water, followed by thorough drying.
There's no guarantee this will be effective, though.
You might be able to remove some of the mold you see on a walnut. But fungi don't just sit on top of the nut; they have filaments that grow deep below the surface.
So washing walnuts won't remove all fungal growth.
The mycotoxins that fungi create can't be seen with the naked eye, so there's no way to tell if they have been washed off.
Can Dogs Have Walnuts If They're Cooked First?
When food is contaminated with bacteria, cooking can kill the bacteria and make the food safe to eat.
But cooking can't kill mycotoxins, because they are chemical by-products and not living organisms.
So cooking walnuts won't make them good for dogs.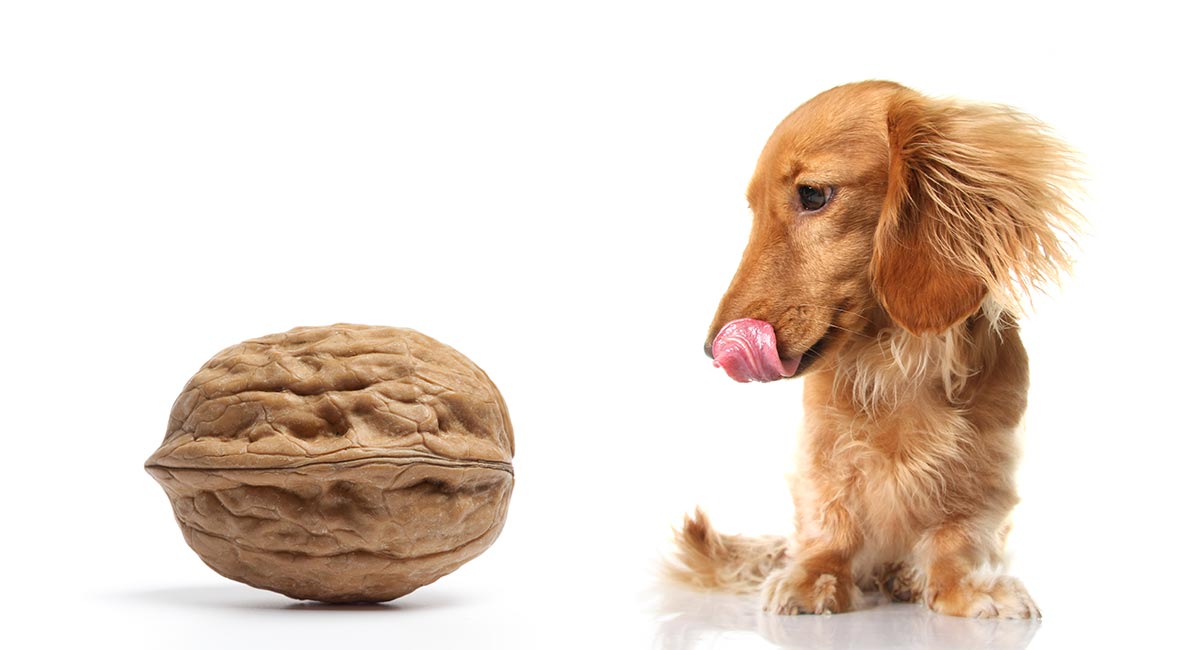 Can Dogs Have Walnuts If They're Shelled First?
Walnuts can become contaminated with toxic mold even in the shell. The shells have small openings in the seams where the two halves are joined, and mold can get inside.
Walnuts that have been shelled are even more at risk for fungal growth, because they have no protection at all.
Eating the Shell
The only reason shelled walnuts are safer than unshelled walnuts is that, given the opportunity, some dogs might eat the shell.
If your dog eats the shell of a walnut, it can cause an impaction.
This happens when the shell gets stuck in the dog's intestines and creates a blockage.
If the shell was eaten, you should call your veterinarian right away. Smaller dogs are particularly at risk for impaction, but your vet will probably want to examine and keep a close eye on your dog no matter their size.
What Should I Do If My Dog Ate A Walnut?
You don't need to panic if your pup manages to sneak a walnut. You should be concerned, though, if he got into a lot of nuts, or if he ate out of the garbage.
Your dog won't necessarily get sick, but you should keep an eye on him for a couple of hours to be sure. If you notice any symptoms or unusual behavior, call your vet right away.
What Happens When A Dog Eats Walnuts?
A dog that is poisoned with tremorgenic mycotoxins often vomits before other symptoms start. This might help limit how sick it gets by removing some of the mycotoxins from the stomach.
A small amount of mycotoxins might cause fine tremors. Fine tremors are hard to see and you might only notice them if you're holding your dog and can feel it trembling.
In severe poisoning, tremors grow stronger and the dog may become unsteady on its feet. The tremors can keep getting worse until the dog starts having seizures.
Can Dogs Eat Walnuts With Mycotoxin And Recover?
Yes, but it's still very dangerous.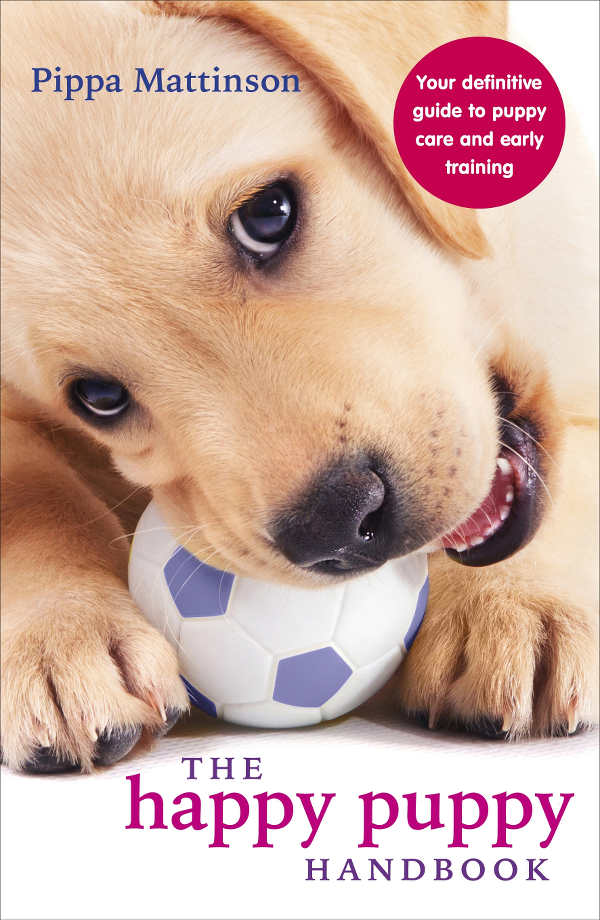 If your dog is sickened by moldy walnuts, the vet will give it activated charcoal to absorb the mycotoxins. They will give diazepam (Valium) intravenously to control seizures.
Any other treatment will be based on the dog's symptoms. IV fluids will prevent dehydration. In very bad cases the dog may be put on a ventilator to help with breathing.
Can Dogs Eat Walnuts?
So, can dogs eat walnuts?
The bottom line is that although walnuts are nutritious for dogs, the risk of poisoning with mycotoxins is just not worth the risk.
There are some human foods that are safe for dogs, though.
Read more:
References and Further Reading
Evans T. Tremorgenic mycotoxins. Veterinary Toxicology, 2018
Schell M. Tremorgenic mycotoxin intoxication. Veterinary Medicine, 2000
Roberts MT et al. Macronutrient intake of dogs, self‐selecting diets varying in composition offered ad libitum. Journal of Animal Physiology and Animal Nutrition, 2017
Reiter, RJ at al. Melatonin in walnuts: influence on levels of melatonin and total antioxidant capacity of blood. Nutrition, 2005
Nutrition, walnuts, English. SELF Nutrition Data.
Ros, E. Health benefits of nut consumption. Nutrients, 2010
Vinson JA and Cai Y. Nuts, especially walnuts, have both antioxidant quantity and efficacy and exhibit significant potential health benefits. Food & Function, 2012
Crops. Food and Agricultural Organization of the United Nations
Grain fungal diseases and mycotoxin reference. USDA, 2016
Tournas, VH et al. Fungal presence in selected tree nuts and dried fruits. Microbial Insights, 2015
Your dog's nutritional needs. National Academy of Sciences, 2006