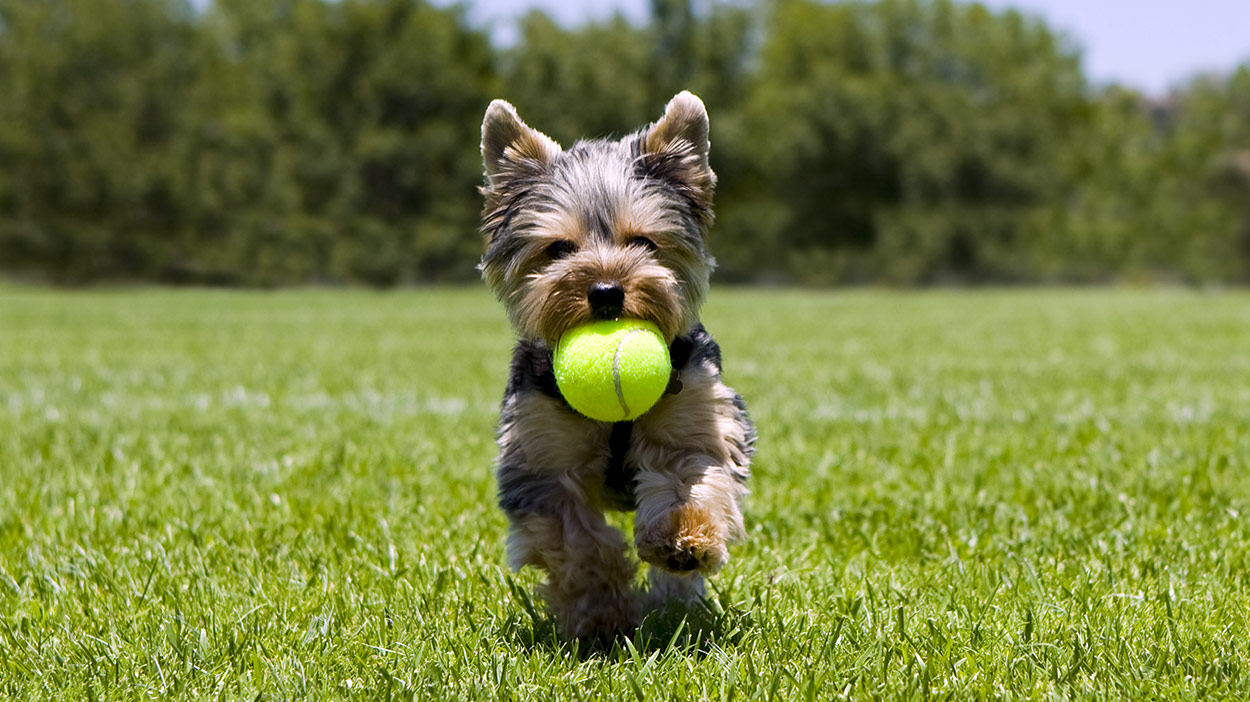 A warm welcome to our complete guide to the best dog toys for Yorkies!
If you're already a proud Yorkie owner, you'll know your dog loves to play.
If you're about to welcome a puppy into your life, you should know what toys are suitable for Yorkie puppies.
So what kind of gizmos make the best toys for Yorkshire terriers?
Where can you buy toys for Yorkies?
How can you know which toys are safe for your pet to play with?
Our helpful guide will answer all of these questions and more!
We'll provide you with a selection of our favorite Yorkie dog toys, together with quick links straight to the products.
Choosing a great toy for your beloved pet couldn't be easier!
Let's get started by looking at the Yorkie to get an idea of what toys would be most suitable.
All of these products were carefully and independently selected by the Happy Puppy Site team. If you decide to make a purchase from one of the links marked by an asterisk, we may earn a small commission on that sale. This is at no extra cost to you.
Yorkshire terrier personality
The Yorkie is classed by the Kennel Club as a "toy" breed and is also regarded by many as a lapdog.
However, even though these dogs may be tiny in stature, they have huge personalities!
Yorkies were originally bred to help control vermin such as mice and rats.
This inherent trait still lingers today and gives these cute little dogs a built-in chase and kill response.
For this reason, Yorkies must be socialized as puppies, especially if you intend to keep a cat or small furries too!
Yorkies are lively, intelligent dogs who need a good deal of exercise, despite their size.
Exercise and play helps to keep your dog fit and prevents him from becoming bored.
Yorkies can sometimes be overly protective when faced with strangers coming to their home.
Socializing your pet through play is a good way of preventing any embarrassing incidents involving nipped ankles or torn trousers!
So what kind of products make the best toys for Yorkies?
Best Yorkie toys and accessories
Thanks to their terrier breeding, Yorkies love nothing more than to grab hold of an item of "prey" and give it a good shake!
Therefore, anything that fits this bill is a good choice.
The Yorkie is a clever, bright little dog who will thoroughly enjoy a game of fetch with a ball, provided it's small and light enough to be carried comfortably.
Best toys for Yorkie puppies, and adults alike, can include things that squeak.
Again, this feature plays to the Yorkie's innate instinct to catch vermin, which would certainly squeak if caught and given a good "ragging" by a determined terrier!
Yorkies are intelligent dogs who will relish a puzzle or a challenge!
For this reason, interactive dog toys are often a roaring success.
They will also provide your pet with plenty of entertainment when you're not home to join in the fun.
Play is essential for your Yorkie's health!
Keeping your Yorkie fit is very important to his overall health.
According to the British Veterinary Association (BVA), over 60% of UK vets find a troubling number of overweight pets.
Obesity can be avoided by feeding your pet correctly and ensuring that he gets enough exercise through walks or play.
That's why providing your Yorkie with a good selection of suitable dog toys is so important.
Chews can prevent canine periodontal disease
In certain toy dog breeds, including Yorkies, teeth are often crowded together, allowing large amounts of plaque to accumulate.
Canine periodontal disease is caused when the plaque on your Yorkie's teeth combines with the saliva in his mouth to form tartar (dental calculus).
The tartar irritates the dog's gums, triggering an inflammation called gingivitis.
Over time, the tartar grows to extend below the gum line.
This causes the gums to separate from the teeth, forming pockets that provide the perfect environment for more bacteria to grow and proliferate.
If the condition is left untreated, your pet could develop periodontal disease.
As a result, he could suffer pain, tooth loss, infection, and other serious health complications.
Providing your Yorkie with suitable chew toys can help to remove bacteria and plaque from his teeth as he chews, effectively keeping his mouth and teeth healthy.
What toys are safe for your Yorkie?
When choosing toys for your Yorkie, it's really important that you pick the right ones that are safe for him to play with.
These days you can buy dog toys from many different sources, including pet stores and online.
And these toys can originate from anywhere in the world!
Not every country has the same high safety standards, and there are some cheaply made products out there that should be avoided.
For this reason, always check that the toy you are buying has been manufactured in a country you trust.
Safety first!
When choosing toys for your Yorkie, it's important to be aware of potential dangers.
It's also a good idea to carry out a regular audit of your Yorkie's toy cupboard and replace any toys that are worn or damaged.
Yorkies have sharp little teeth, so be wary of buying toys that could be easily torn or ripped.
In addition, remember that soft plastic or rubber toys could be chewed into small chunks and swallowed.
Similarly, plush toys with fragile seams and lots of fluffy stuffing should be avoided.
These may come apart very easily, especially when attacked by Yorkie puppies, and could cause choking.
Rope toys can become dangerous if their strands begin to unravel, presenting a choking hazard or a potential cause of gastric upset.
It's best not to buy toys with attachments such as ribbons and bells, as these can easily present a choking risk if they are swallowed.
Toys with squeakers should be robust and not made of material that's easy to rip or damage.
Where to buy dog toys for Yorkies
You can buy dog toys from good pet stores, from some veterinary clinics, and also online.
Next, we're going to look at a selection of different dog toys that your Yorkie is bound to love!
All of these dog toys are available from Amazon.com, and quick links are included for easy ordering.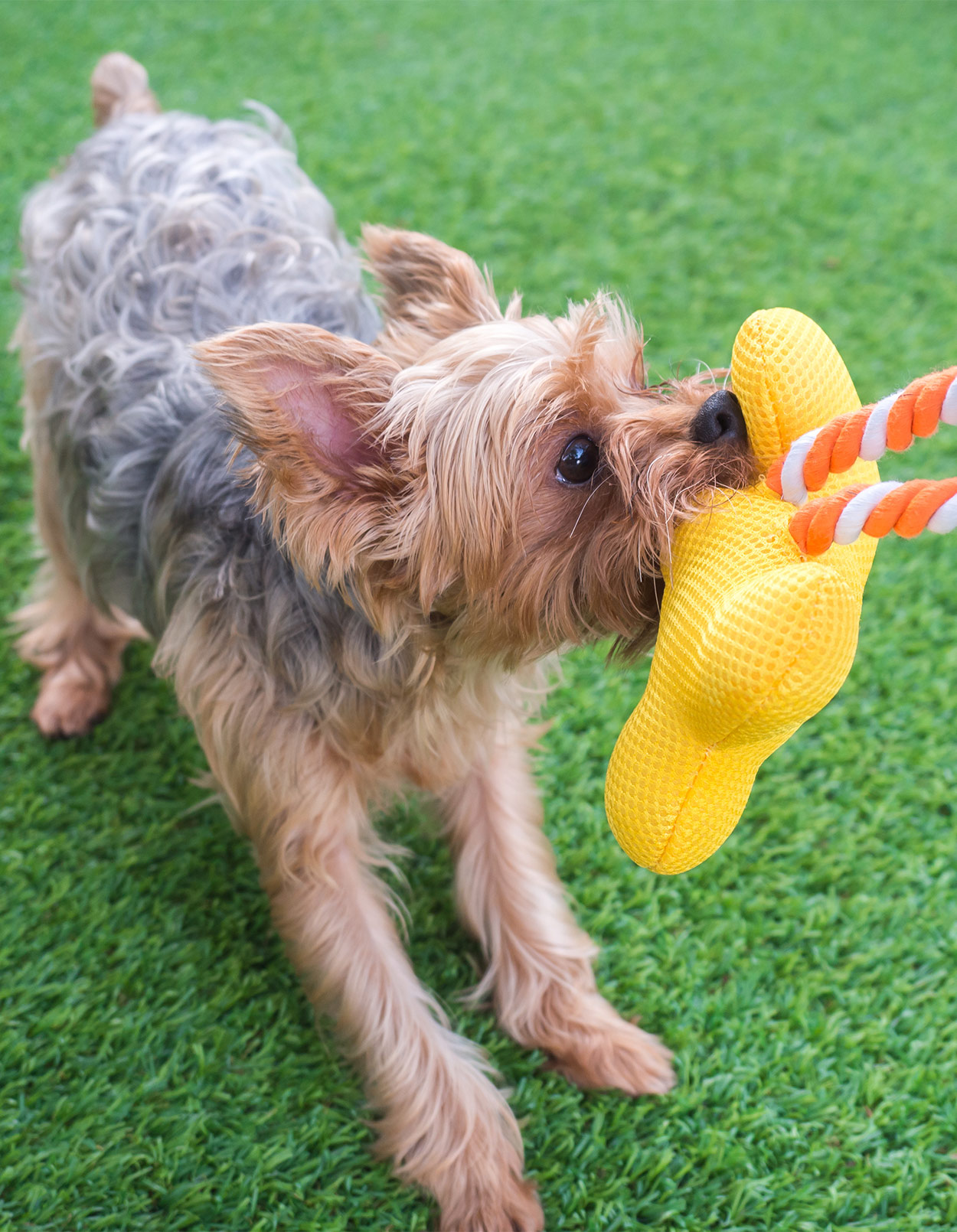 Interactive Yorkie dog toys
Yorkies are bright little dogs that respond enthusiastically to different sensory stimuli.
The following toys provide excitement by offering a visual, audible, and tactile play experience for your Yorkie.
Pet Qwerks Talking Babble Ball Dog Toy*.(paid link) This novel battery-operated toy is motion activated.
The ball makes a random selection of over 20 different sounds when your Yorkie plays with it.
The toy also has an automatic sleep mode and turns itself off to save battery life when your pup has finished playing.
The toy is an all-around sensory experience for your pet.
The ball has a bell and squeaker, it's brightly colored, features multiple textures, and is also beef scented and flavored!
Chew toys for Yorkies
As previously mentioned, Yorkies love to chew!
As well as being fun, chewing is also very good for maintaining oral and dental health.
Here are a few of our favorites, including the best chew toys for Yorkie puppies.
Nylabone Puppy Chew Toy*.(paid link) This purpose-designed chew toy is perfect for Yorkie puppies.
The toy is made of softer material, for teething puppies, and is covered with special nub texturing to help clean the teeth and prevent the buildup of plaque and tartar.
On the downside, you may find that the material this toy is made from won't stand up to an assault from an adult Yorkie!
Nylabone Puppy Starter Packs Puppy Chew Toys*.(paid link) This yummy, bacon-flavored, flexible chew toy is designed to keep your Yorkie puppy occupied, while cleaning his teeth and helping to keep his breath fresh by removing the bacteria that cause "doggy breath."
As an added bonus, the toy has a textured surface to help prevent sore gums caused by teething.
Nylabone dog toys are made in the USA.
Fuzzu Presidential Parody Dog or Cat Toy*.(paid link) Playtime is supposed to be fun for both you and your Yorkie.
If you and your pet have a sense of humor, this toy could be for you!
The toy is made from a very durable cotton/poly fabric with triple-stitched seams to guard against the sharpest teeth.
Accents of plush and a squeaker provide a fun sensory experience for your pet.
This life-like presidential parody toy can be shaken, chewed, and squeaked to give your Yorkie hours of joy.
Pull-and-shake toys for Yorkies
Like all terriers, Yorkies enjoy toys that they can grab hold of and shake!
Here's a selection of pull-and-shake toys that both Yorkie adults and puppies will love!
Puppy Chew Teething Rope Toys Set Mini Dental Pack for Small to Medium Dogs*.(paid link) Although advertised as toys for puppies, this multi-pack set is perfect for adult Yorkies too.
You get no fewer than 11 different toys for your money, all of which are designed for chew, toss, and fetch games.
The 100% cotton toys are designed to clean and floss your pup's teeth while he plays. They're all washable and come in a reusable bag for easy storage.
KONG Squiggles Dog Toy*.(paid link) Kong is one of the major players in pet toy manufacture.
This offering is designed to stretch and squeak at both ends, providing great fun for pet and owner!
The well made toy comes in several different designs and lots of lovely, bright colors.
KONG CuteSeas*.(paid link) Not only does this toy squeak, but it also crinkles for extra stimulation.
If the octopus isn't cute enough for you, it comes in a seahorse and whale shape, too.
Fetch and retrieve
A great way of burning off excess energy is with a game of fetch.
Here are a few popular toys to get your pup's pulse racing!
Canine Hardware Chuckit! Ultra Ball*.(paid link) This popular toy is made of natural rubber that's designed to bounce high.
It's also made with small dogs in mind, so your Yorkie will have no problem getting his mouth around the 2-inch diameter ball.
Chuckit! Launcher*.(paid link) For extra throwing distance, why not get the launcher and ball combo?
The launcher helps you throw the ball two times as far.
This should really exercise your Yorkie!
West Paw Design Jive Zogoflex Durable Ball Dog Chew Toy*.(paid link) This novelty dog ball is cunningly designed to have a random bounce, adding to the fun factor for your pet.
Made in the US, this ball comes with a 100% guarantee against dog-inflicted damage.
It is also FDA compliant, dishwasher safe, and fully recyclable too.
KONG Flyer*.(paid link) Kong has made a disc flyer, so you know it will be durable.
Made out of a soft rubber, it won't hurt your Yorkie's teeth when he catches it.
Chuckit! Small Zipflight*.(paid link) This cleverly designed mini-flyer is lightweight and soft, while being robust too.
Your Yorkie can have hours of fun chasing and fetching this toy.
It also floats, so won't be lost if it lands on water.
Best dog toys for Yorkies
We hope you find this review of the best dog toys for Yorkies helpful and inspirational!
Why not share with us what toys you choose for your pet in the comments section below?
What's your Yorkie's favorite toy?
We'd love to know!
Affiliate link disclosure: Links in this article marked with an * are affiliate links, and we may receive a small commission if you purchase these products. However, we selected them for inclusion independently, and all of the views expressed in this article are our own.
References
The Kennel Club, "Yorkshire Terrier"
British Veterinary Association (BVA), "Pet Obesity Epidemic is Top Welfare Concern for Vets"
Harvey CE, Shofer FS, Laster L. J Vet Dent. 1996, "Correlation of diet, other chewing activities and periodontal disease in North American client-owned dogs"
AVCD, "Periodontal Disease"