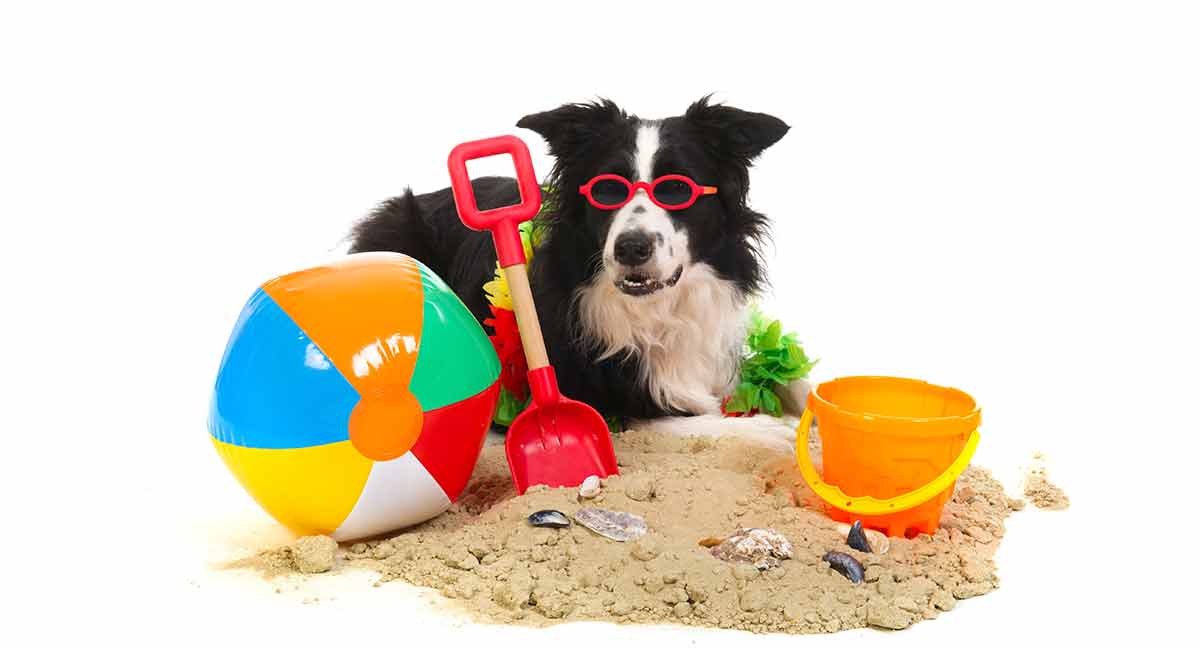 The best toys for Border Collies keep their brains and bodies busy. It's important that this clever, busy breed have lots of ways to stay happy. Today I'll share selected toys that my own Border Collie loves, along with other tried and tested toys designed to keep intelligent dogs entertained for longer.
Contents
How to Entertain a Border Collie
Border collies are very active dogs. Originally bred to work alongside humans controlling herds of sheep, these dogs have boundless energy. And a great capacity to understand their owners and want to cooperate with them.
Border Collies are so intelligent that they were selected by researchers to provide the baseline when analysing intelligence capabilities in all dogs! However, this extraordinary intelligence means they can get bored easily. Dog toys can help with this.
It would be unrealistic to think we can spend every second of the day with our pups, making sure they're happy and entertained. So, it is important to find dog toys that can help stimulate our dogs when we're out, or at work, if exercise and interaction isn't an option.
Good Toys for Border Collies
There are so many different types of dog toy to choose from when you're looking for the best toys for Border Collies. There are squeaky toys, textured toys, interactive dog toys, puzzle toys, toys that involve food, and so many more. Interactive toys are a wonderful way to entertain your dog when you're busy or not around, as they often involve exercise or problem solving. This could mean having to free a treat or toy from something else, or solving a puzzle to get a reward.
Puzzle Toys for Border Collies
Puzzle toys are a great option when finding the best toys for Border Collies. Puzzles for Border Collies are usually solved when your dog moves pieces of the toy or alters it to reveal treats you have hidden inside. There are hundreds of different puzzle toys for border collies available online, but we've chosen four of the best ones out there.
Outward Hound
First, there's the Outward Hound Dog Puzzle by Nina Ottosson*. (paid link)Nina Ottosson is famous in the dog puzzle world. She has made loads of dog puzzle toys, each with varying difficulty.
This Outward Hound puzzle is a great choice for an intelligent border collie. It is an 'intermediate' option–Nina's toys can fall under the categories of 'easy', 'intermediate', or 'advanced' depending on your collie's puzzle experience.
The Outward Hound toy has sliding blocks and swivelling flippers that move to reveal food compartments. None of these elements are removable, so there's no danger of your dog accidentally choking on the parts. Hiding treats in the compartments will motivate your collie to solve the puzzle and help develop their intelligence while also preventing boredom.
Tornado Puzzle
Another great puzzle toy for border collies is the Tornado Puzzle*(paid link), also by Nina Ottosson. This toy is another intermediate level option. The Tornado puzzle is a great if you are wondering how to keep border collies entertained, because it can pose a real challenge to find the treats.
The layered parts of this toy rotate to reveal compartments for treats that can also be covered with small white bone-shaped covers. This puzzle toy has 12 treat compartments, so can really stretch out the time it takes for your collie to find all the rewards.
Trixie Puzzle Board
If you're looking for something to introduce your older collie to puzzle toys, the Trixie pet puzzle board*(paid link) is a good choice. Although some reviews criticize this puzzle toy as being too easy for their pets, it's a great way to introduce your dog to puzzles.
This board features plenty of different types of puzzles, to really help your dog learn how to master a variety. Also, you can increase the difficulty by hiding treats in more than one compartment, allowing your pup to gain confidence with harder puzzles.
Dog Twister
If you're looking for something slightly more advanced, because your dog is something of a puzzle expert, the Nina Ottosson Twister dog toy game*(paid link) is a great option. This is an advanced level toy, which means border collies with no puzzle experience may struggle a little more with it.
To get the treats from this one, your dog will have to remove the white drawer locks, and then move the sliding cover from the top. Puzzle toys like these that require your dog to think in order to solve a problem and get a reward are great for intelligent dogs like border collies. They force your dog to think, and help get rid of boredom that often leads to destructive behaviors.
Interactive Toys for Border Collies
Puzzle toys aren't the only options when you're wondering how to keep a border collie entertained by itself. Another great toy for border collies is an interactive choice.
IQ Ball
The Ourpets IQ Treat Ball*(paid link) is a fun interactive toy that dispenses treats for your dog as it pushes and chases the ball around.
Filling this toy with hard treats or kibble is great, as it then makes a loud noise as it rolls, catching your dog's attention even more! This is great fun for collies, as it gives them something to chase when you are busy and can't throw a ball around.
Playay Dental Ball
If your dog loves chasing balls, another good interactive toy is the Playay dental treat ball*(paid link). This ball is similar to the last one, in that your dog can push it around to get treats.
Instead of putting treats inside the ball so they can fall out of holes, you push the treats between the teeth. This means your dog can also try to chew the ball to get the treats, which is great for dogs that tend to get destructive when bored.
Interactive Dispenser
If your dog prefers stick treats to kibble treats, the West Paw Interactive Dispenser*(paid link) is a good choice. You can place a chew stick inside this toy to make it interactive, and your dog can push, chew, and paw at the toy to access its treat. These toys all become interactive when you place treats inside them, giving your dog an active part to play with.
They're a great way to keep your border collie entertained for long periods of time, like while you're out for a couple of hours. They're also a good way to control how much your dog is consuming, because you can choose how much food you want to put inside.
Best Toys for Border Collie Puppies
Although adult Border Collies are full of energy and need lots of entertaining, puppies take this to the extreme. When my Border Collie, Pip, was a puppy, she would bound around with excitement for hours, playing and exploring. Interactive toys were one of the best buys for keeping her entertained.
Kong Wobbler
One of Pip's favorite toys was the Kong Wobbler*. (paid link)Kong toys are extremely popular with dog owners, and can help keep pups entertained for hours.
To make the Kong Wobbler interactive, just fill it with a treat – peanut butter is a popular choice! It's great fun to watch your border collie pup rolling the Kong Wobbler around and trying to get the treats out. Especially as its unique shape makes it bounce in unpredictable directions.
Furry Fido
Furry Fido's interactive dog ball*(paid link) is another great choice for Border Collie puppies. This toy can be filled with treats that will slowly be released as your pup rolls the toy around.
Toys that involve treats will be loved by your pup, but you might want to be cautious how many treats you let your dog eat. Obviously, we should always make sure we aren't spoiling our pup so much it will affect their health, no matter what their age. But this is especially important for pups who need a balanced diet and lots of nutrition as they grow.
Affiliate link disclosure: Links in this article marked with an * are affiliate links, and we may receive a small commission if you purchase these products. However, we selected them for inclusion independently, and all of the views expressed in this article are our own.