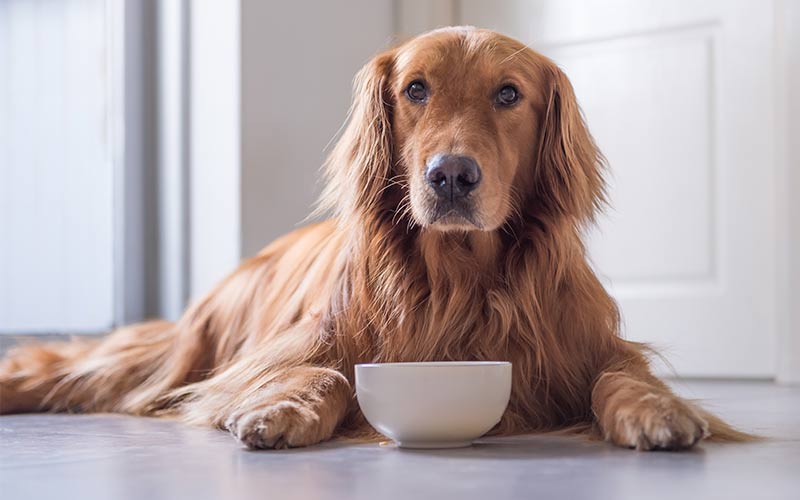 Welcome To Our Complete Guide To The Best Inexpensive Dog Food. Great Nutrition – Lower Prices.
Helping You To Find Ways To Pick Up Cheaper Dog Food That Still Gives Your Pet Exactly What He Needs.
We've got the top options for dry, wet, canned, grain free and even small or large breed specific foods.
So you can find the perfect option for the best inexpensive dog food for your pet.
In a rush? Check out some of our favorites here.
| | BEST INEXPENSIVE DOG FOOD | BENEFITS | OUR RATING |
| --- | --- | --- | --- |
| | Rachael Ray | Dry Grain Free, Gluten Free, No Fillers, Bulk - 28lbs | |
| | Blue Wilderness | Dry Grain Free, High Protein, Real Meat, Bulk - 24lbs | |
| | Nutro Limited Ingredient | Wet Grain Free, Limited Ingredient, Bulk - 12 Cans | |
| | Merrick | Dry Grain free, High Protein, Bulk - 30lbs | |
| | Natural Balance | Dry Premium Formula, Whole Body Health, Bulk - 30lbs | |
| | Purina Pro Plan Savior | Wet Real Chicken In Gravy, Bulk - 12 Cans | |
We will give you more detail on these in the article below, along with loads more options from the best expensive dog food brands.
Products included in this article were carefully and independently selected by the Happy Puppy Site team. If you decide to make a purchase from one of the links marked by an asterisk, we may earn a small commission on that sale. This is at no extra cost to you.
Cheapest high quality dog food
Dog owners want only the best for their fur babies, and the food they provide at mealtimes is no exception.
Finding a good, cheap dog food that your pooch likes is at the top of most owners' wish lists.
But if you've walked the aisles of your local pet store, or browsed online, the array of cheap dog food is astounding.
So how do you decide which is the best inexpensive dog food for your pet's needs?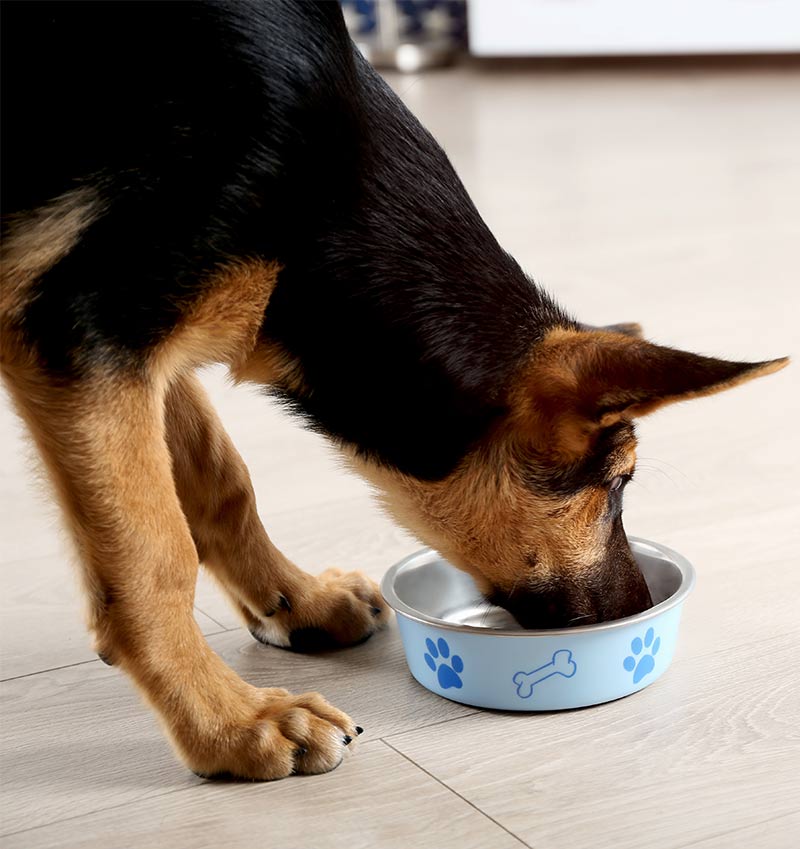 The food you purchase for your pooch should match the dietary needs for her age and activity level, as well as any special needs that she has.
How do you know which brand or type is the best cheap dog food for your money, without sacrificing your pet's health?
Let's find out!
Best cheap dog food
A healthy, complete and well-balanced diet is necessary in order to supply the body with the proper, absorbable nutrients it needs to maintain a healthy weight and body condition.
The best dog food for most healthy animals is one that is high in protein and low in fillers.
Dogs can eat meat, vegetables, and grains. But it doesn't mean they are all as good for him as each other.
When you look at the label on your dog's food the first ingredient should not be a grain or vegetable.
As a general guideline, there should be at least two meat sources on the label, including chicken, beef, salmon or turkey. And these sources of protein should be listed within the first five ingredients.
Ingredients listed as "meat by product" or "meat meal" are not the same.
What is the best inexpensive dog food for my dog?
The downside of some cheap dog foods are the use of fillers that add little or no nutritional value.
Common dog food fillers include products such as cereal by-products, soy and corn.
But inexpensive fillers and/or fiber content can also include products like cottonseed or peanut hulls, and citrus pulp.
If these ingredients sound completely unappetizing, you're right!
Cheap healthy dog food
How do you know that the inexpensive dog food you're considering is a healthy choice for your precious pooch?
As we mentioned, the first ingredient listed on your dog's food should be a meat/protein, such as chicken, salmon, or beef.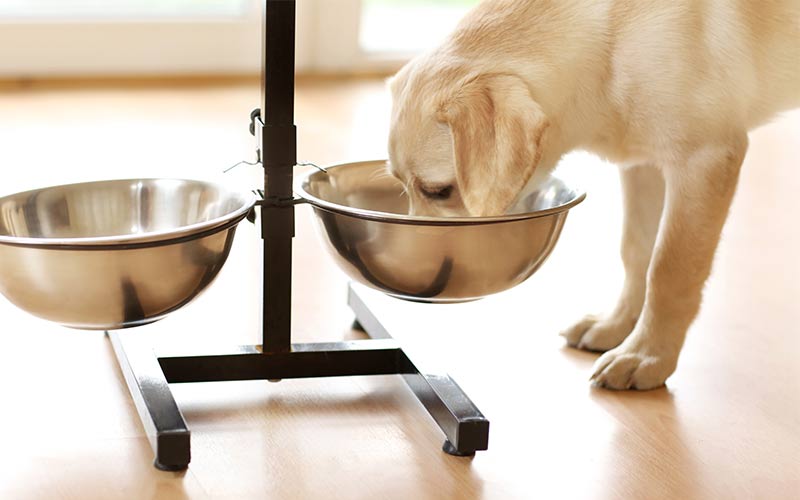 You can also verify that the dog food is a healthy, sound choice by looking on the package for a statement from the Association of American Feed Control Officials (AAFCO) certifying that the product is, "complete and balanced."
A complete dog food will have all of the nutrients that canines in a particular life stage require.
A balanced dog food is one in which the nutrients are in the correct ratios for your dog, depending on his stage of life, needs, etc.
How to find the best inexpensive dog food
Before we delve into the nuts and bolts of the many specialty types of best inexpensive dog food available, let's talk about the right places to find such food.
Like most everything else in life, you can buy your dog's food online or in the bricks and mortar store.
Either way, you have the choice of purchasing large quantities in bulk or wholesale, or buying smaller quantities at retail.
Whatever the size of your canine family, you can exercise either buying option in person or online.
If you buy large amounts of the best cheap dry dog food or the best wet dog food online, you might want to find a buyer who offers free shipping.
Then again, it may be worth it to you to pay a small shipping charge if it means not having to lug a ton of heavy dog food bags or cases home every week!
Cheap dog food in bulk
Amazon has several terrific choices if you're looking to buy the best inexpensive dog food in bulk.
Rachael Ray Nutrish Zero Grain Natural Dry Dog Food
Although Rachael Ray Nutrish* is very popular and good quality, it doesn't have to break the bank.
You can purchase 28-pound bags of this top chef's dog food in bulk.
It's guaranteed to be grain free, gluten free and free of fillers. On top of that the food is packed with vitamins and chelated minerals.
Check it out on Amazon here.*
Natural Balance Original Ultra Whole Body Health Dry Dog Food
Popular Natural Balance Original's* own team of nutritional experts has formulated a blend of key proteins and optimal nutrients.
Designed to support immune system function, as well as eye, heart and dental health.
It's available in 30 pound bags, enough to feed the heartiest of appetites.
Check it out on Amazon here.*
Cheapest grain free dog food
Grain-free food is easier to digest and a necessity for dogs with grain sensitivities.
A grain free formula can improve gastrointestinal health as well as foster a healthy coat and skin.
BLUE Wilderness High Protein Grain-Free Adult Dry Dog Food
This premium but competitively priced Blue Wilderness High Protein Grain Free dog food* comes with terrific word-of-mouth recommendations. It earned almost the highest ratings possible from nearly 2,000 reviews.
This real meat, grain free dog food has absolutely no chicken by-products and zero corn, soy or wheat.
For your convenience it's available in 4.5, 11 and 24 pound bags.
NUTRO Limited Ingredient Diet Adult Wet Dog Food
Tasty Nutro Limited Ingredient Diet* offers a package of 12 cans of natural, grain free dog food at a relatively inexpensive price.
The nutrient rich formula contains just five natural ingredients that are supplemented with minerals and vitamins. There is no chicken by-product or soy to interfere with sensitive digestive systems.
Cheap natural dog food
If you're looking for a natural dog food, these premium quality options are highly reviewed and reasonably priced.
Purina Beyond Natural Grain Free Ground Wet Dog Food
This Purina Beyond Natural* cheap, grain free, natural dog food boasts chicken as its number one ingredient, with absolutely no poultry by-product meal. You can't beat that!
The meats include chicken, beef, and turkey and they have sweet potato, green beans and peas as complementary vegetables.
Check it out on Amazon here.*
Nature's Recipe Adult Dry Dog Food
The fiber in Nature's Recipe natural dog food* comes from barley and is chosen to support your dog's immune system and digestive function.
It's an economical option and offered in bags that range from 4 to 30 pounds.
The food also contains healthy doses of omega fatty acids to help keep your dog's coat and skin in tip-top condition.
Cheap dry dog food
Are you debating about whether you want to feed your dog an inexpensive dry or wet food? Each has its pros and cons.
Pros
Dry dog food tends to be less expensive
It has a longer shelf life than wet food
The crunchy kibble can help keep plaque and tartar from your dog's teeth
Cons
Dry food usually has a relatively higher carbohydrate content
It is not as enticing as a moist, aromatic wet food
Dogs may overeat if a full dish of food is left out all day
If you decide to go with an inexpensive dry dog food, these are terrific options.
Purina Beneful Originals With Real Beef
The very popular Purina Beneful Originals* comes in four convenient bag sizes to accommodate most households, and features a zipper closure to ensure freshness.
You'll have peace of mind knowing that the very first ingredient is farm-raised beef, and flavorful bursts of real spinach, peas and carrots accentuate the recipe.
Merrick Grain Free Dry Dog Food
Your dog will enjoy the wide variety of flavors in Merrick Grain Free Dry Dog Food* that include rabbit, buffalo and venison.
This top rated brand boasts industry-leading levels of omega fatty acids, as well as top levels of glucosamine and chondroitin that contribute to healthy bones and joints.
Cheap wet dog food
Just as with dry inexpensive dog food, wet food has its pros and cons.
Pros
Dogs love the pungent smells that a wet food offers
Wet food provides added hydration
Usually has fewer calories from carbohydrates
Cons
It has a limited shelf and dish life
The moist food contributes to tartar
Can be pricier than similar dry options
If you think that a wet food is the way to go for your dog, there are some excellent inexpensive choices to consider.
CESAR Classics Poultry Flavored Adult Wet Dog Food Trays
These gourmet Cesar Classics flavors* will have your dog's mouthwatering. Oven Roasted Chicken, Duck, Chicken and Liver.
Made especially for adult dogs, the smooth, moist pate formulation comes packaged with a peal-away freshness seal.
In addition the unique formulation of minerals and vitamins is perfect for smaller, active dogs.
Purina Beneful Prepared Meals Wet Dog Food
Prepared with protein-rich real chicken and beef, the bold flavors of Purina Beneful Prepared Meals* are accented with bursts of real wild rice, carrots and green beans.
Made in the USA, this vitamin-packed option is topped off with a flavorful gravy sure to satisfy pampered pooches.
Best inexpensive dog food for large breeds
Large, active dogs can be hard on their bodies and need a vitamin-packed, supplement-rich food designed to support their dynamic lifestyles.
BLUE Life Protection Formula Adult Dry Dog Food
This top of the line brand Blue Life Protection* offers a Chicken and Brown Rice option specially designed to meet the nutritional needs of large dogs.
It features deboned chicken, plus vitamin-packed fruits and vegetables. Best of all there's no corn, wheat, soy, or chicken by-products.
EUKANUBA Adult Large Breed Dog Food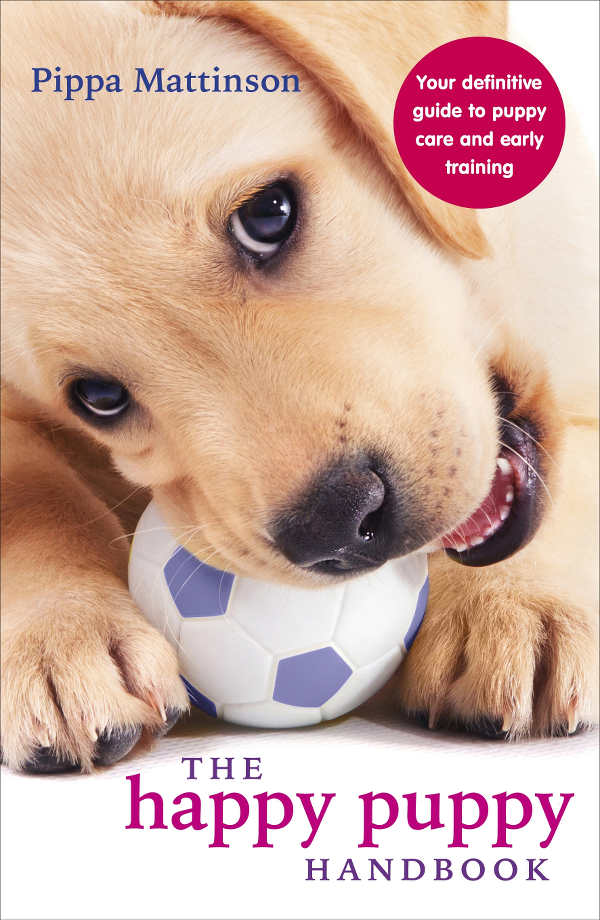 In order to support joint health both glucosamine and chondroitin are featured in Eukanuba's relatively inexpensive high-performance dog food.*
In addition the tasty kibble is packed with omega fatty acids for a healthy coat and skin.
Best inexpensive dog food for small breeds
Small breeds benefit from a bite size food that their smaller mouths can easily manage. This option is highly rated and reasonably priced.
Hill's Science Diet Adult Small & Toy Breed Chicken Meal & Rice Recipe Dry Dog Food
Popular Hill's Science Diet* is specifically formulated to meet your small dog's nutritional needs. This premium but economical food features antioxidants (as well as vitamins C and A), beneficial for small breeds.
Popular with vets, this food is made in the USA and contains absolutely no artificial preservatives, colors or flavors.
Cheap canned dog food
Does your dog come running at the sound of a can being opened? These choices are sure to please his palate.
Purina ALPO Chop House Wet Dog Food
The high quality proteins in Purina ALPO Chop House* are bathed in flavorful juices, sure to tempt the most finicky of appetites!
Made with real beef or chicken, the canned food features a moist, delicate texture and is easy on your pocketbook.
IAMS PROACTIVE HEALTH Wet Dog Food
The balanced and complete hearty ingredients in Iams Proactive Health* are slow cooked and feature a soft, pate-like texture.
It's also packed with omega fatty acids, plus vitamins and minerals designed to promote a strong immune system.
What Is The Best Inexpensive Dog Food?
The best inexpensive dog food is one that is balanced and complete.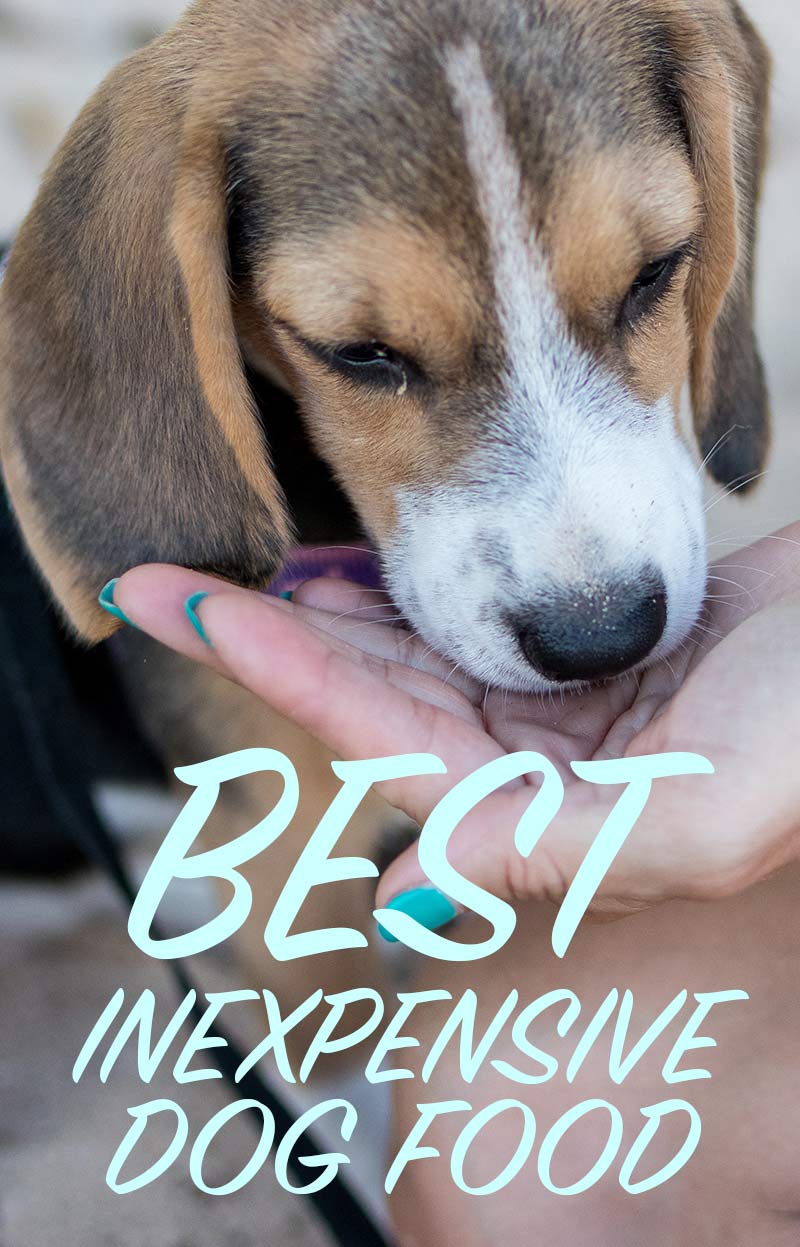 Packed with protein, has zero fillers, and has a tasty flavor that beckons your dog to his dish at every meal time!
We'd love to hear your feedback about any of our inexpensive dog food reviews, or about an economical, healthy dog food that you recommend!
Affiliate link disclosure: Links in this article marked with an * are affiliate links, and we may receive a small commission if you purchase these products. However, we selected them for inclusion independently, and all of the views expressed in this article are our own.
Resources
AAFCO
AKC
Jeffers, J.G., et al, Diagnostic testing of dogs for food hypersensitivity, Diagnostic testing of dogs for food hypersensitivity, Journal of the American Veterinary Medical Association, 1991
Sunvold, G.D., et al, In Vitro Fermentation of Selected Fibrous Substrates by Dog and Cat Fecal Inoculum: Influence of Diet Composition on Substrate Organic Matter Disappearance and Short-Chain Fatty Acid Production, Journal of Animal Science, 1995
Harris, R.C., et al, The concentration of creatine in meat, offal and commercial dog food, Research in Veterinary Science, 1997