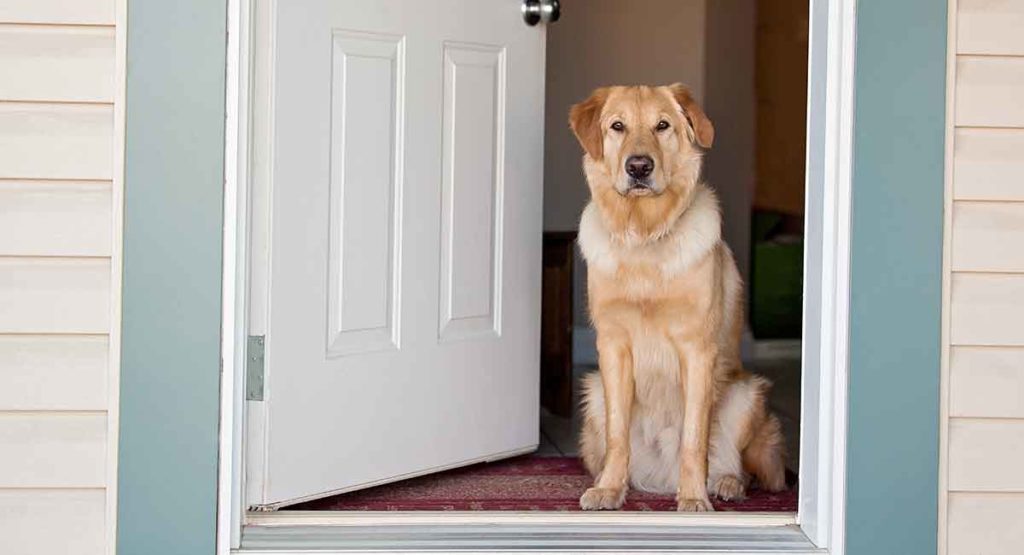 The best electronic dog door can give your pets more at-home freedom.
Letting your dog come and go, without having to leave the door wide open.
And even programming this for certain safer times of day.
How to choose the best electronic dog door
Choosing the best electronic dog door for your needs is a multi-step process.
First, you need to identify where you want to install your new electronic pet door.
Doors, walls, sliding doors and even low windows are reasonable options that many of today's pet doors can readily accommodate.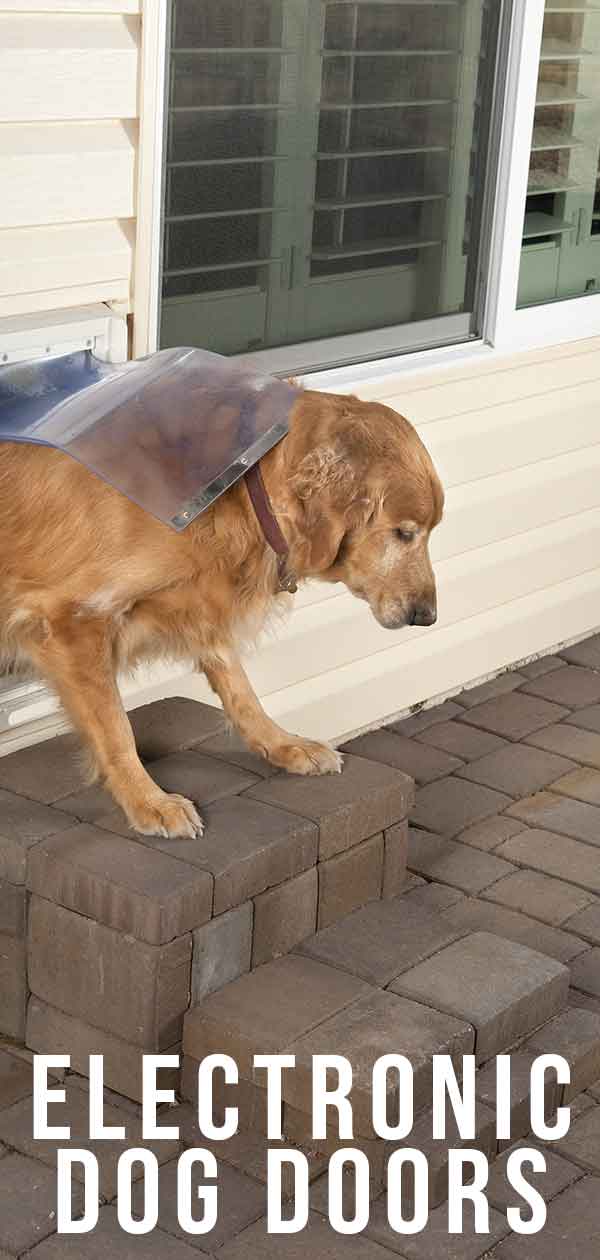 You should also set an initial budget, since some of today's high tech pet door choices can hit the wallet pretty hard!
Most importantly, you will want to consider how installing an automatic dog flap may impact home security.
Happily, you will discover today's selection of the best electronic dog door products are as high tech as any other gadget.
Featuring bulletproof materials, weatherproof construction, personalized entry and a range of nifty programming features.
Be aware these security features only work well when you use them, which means you may have an initial learning curve to tackle and master.
Best electronic dog door safety features
Different families have different safety concerns about installing an electronic dog door.
Common safety issues include young babies or toddlers in the house, other family pets who may want to get out.
Not to mention intruders or wildlife who may want to get in, inclement weather, or some combination thereof.
Many of the best electronic dog door products reviewed in this article have creative solutions for how to address many common safety concerns.
Some dog doors are lockable. Others are programmable or work with a remote phone app.
Still others have exterior weather-proof flaps or use personalized identification technology to admit only the furry family member.
Some feature unbreakable or even bulletproof doors.
And of course, the smaller your dog door is, the less likely it will be to admit anything (or anyone) who is unwelcome.
If you work with a home security service, be sure to let them know about the new pet door!
Training your dog to use an electronic dog door
Your pup might go wild to play with it the moment the new electronic dog door box arrives.
Or she might refuse to step through it even after you smear it with peanut butter.
But rest assured there is a way to train your furry sidekick to use a dog door.
The best way to begin is to make sure your dog understands the basic concept.
For this, canine behavior experts suggest leaving the door open for a period of supervised time so your dog can see through to the outside.
If the dog door you have selected doesn't permit this, consider working with the opening before you install the actual door itself.
Be sensitive to any new sounds and sights that your dog may find off-putting even if you do not.
For example, many dogs are uncomfortable nosing their way through a flap, even if it is mostly clear.
The best training approach uses positive reinforcement tools such as treats, pats, praise, and playtime to make learning to use the new dog door fun.
Best electronic dog door
In the past, the term "dog door" was synonymous with the old-school plastic flap that could potentially let lots of other stuff in and out along with your dog.
These high value electronic dog door products have loads of inbuilt security features to make sure your pet (and only your pet) can enter and exit using your new dog door.
This high tech Power Pet electronic pet door is completely airtight and self-sealing.
The door opening is triggered by an ultrasonic device on your pet's collar.
The bulletproof resin door slides up automatically so your dog doesn't have to push it open.
This locking pet door electronic also has an automatic dead-bolt lock for extra home security.
You can control how and when it opens.
It comes in the PX-1 electronic dog door medium or the PX-2 electronic dog door large.
It is rated for pets up to 100 lbs. and can also serve as an extra-large electronic dog door.
This PetSafe electronic dog door operates using a collar smart key your dog wears on their collar.
Choose from different electronic dog flap models, including an electronic pet door large or small size.
Some use four D batteries (not included) and others use two 6-volt batteries (included).
Each version is programmable with an auto-locking feature.
This 7"H x 11.68"W electronic dog door uses your dog's existing microchip.
Or a SureFlap RFID collar tag to permit entry/exit so you don't have to use a special collar or key.
It also has a "curfew" mode to limit when your pet can enter/exit.
This electronic pet door works with four C batteries.
It comes in white or brown.
There is also an app-based version of this pet door that is compatible with Apple or Android.
Best automatic dog door
You might be wondering what the difference is between an automatic pet door and an electronic pet door.
An automatic dog door works using a magnet or self-sealing system to control door operation.
This door by petsafe comes in three sizes (S, M, L).
The Large size is rated for dogs up to 100 pounds, so it can work for some extra-large pooches as well!
This door has a three-flap system that is 3.5 times as energy-efficient as single-flap doors.
The center flap is insulated, and you can install an extra outer flap (sold separately) for weather sealing.
The outer flap can be snapped shut manually to seal your pet inside.
The rim of the pet door is paintable for a perfect match with your existing door.
This highly rated automatic cat door or dog door flap comes in four sizes (S, M, L, XL).
Choose from single or double-flap styles for some sizes. This system comes in four colors (white, tan, bronze, black).
The aluminum frame flap system is UV-resistant and rated to withstand winds up to 50mph.
The door uses a magnet system to seal shut.
This highly rated automatic dog flap door comes in three sizes (S, M, L).
The airtight, weather-sealed, insulated double-flap system is rated to work up to 15 times better than an Energy Star-rated home door.
It also comes with a lockable acrylic security panel.
Best electronic pet door small
If you have a toy or miniature pooch, you may find that the best electronic dog door is really a cat door!
These smaller pet doors offer a very limited range of access without skimping on extra features like access control or quiet operation.
As a top pick for the best electronic dog door for petite pups, this dog door by Cat Mate has plenty of extras.
It runs for 12 months on a single 9-volt battery.
It uses a small collar magnet to trigger operation, meaning only your pet can enter/exit.
And the manufacturer offers a 3-year product guarantee.
The variety of options in installation make this Solo Pet Door one of the best electronic dog door options for different needs.
The gravity-based door mechanism is motorized and will work when installed in either a door or a wall.
A pet sensor tag is included.
This weatherproof electronic cat and dog door by perfect pet is rated for pets up to 25 pounds.
It uses a 9-volt battery and an electronic collar sensor for entry/exit privileges.
The system features a break-proof translucent door flap with four-way operation controls.
Best electronic dog door
We hope you have found this focused article featuring automatic pet door reviews of some of the best electronic dog door products helpful.
We'd love to hear about which electronic dog door you choose and how you like it – we love to learn from our readers!
RESOURCES