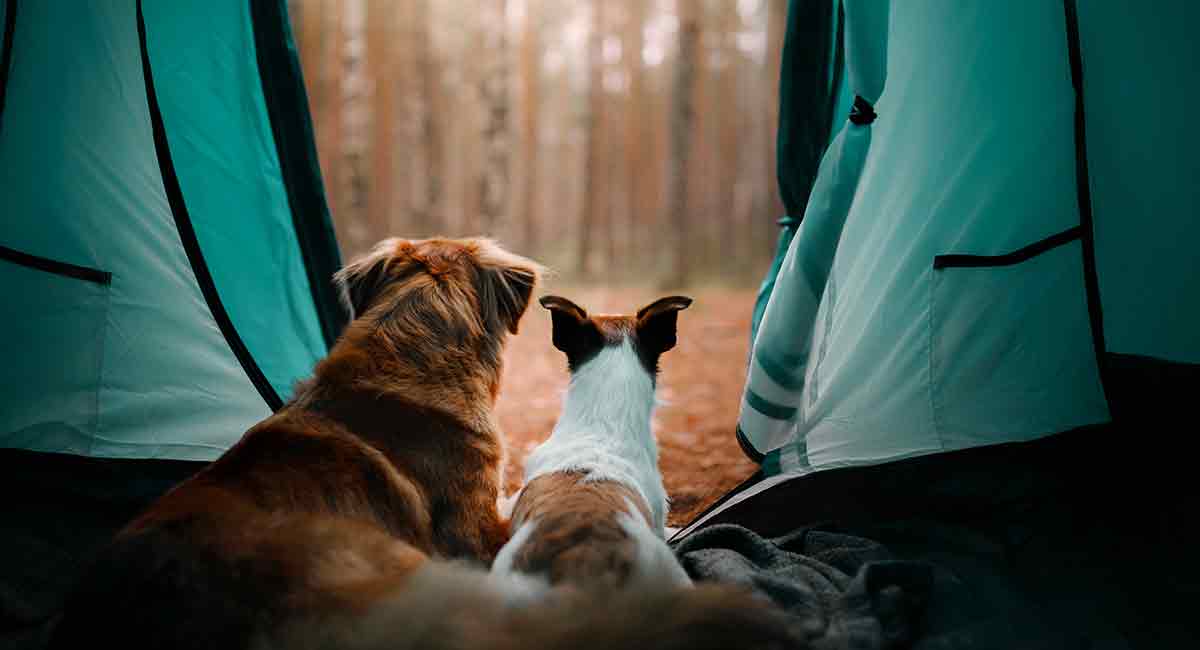 Finding the best dog tent for your pup can be tricky.
But we've got some great choices for you.
So let's get going and find the best dog tent options for big and small dogs.
Whether you are heading to the back country or just to the back yard!
Choosing the best dog tent
Dogs have a lot of the same tent requirements people do!
This also explains why today's dog tent can be three-season or four-season.
They can be big or small, ultralight or heavyweight.
And feature plenty of extra features such as waterproofing, fold-down doors and added ventilation.
Dog friendly tents safety
You want any tent you choose to be safe, but this is doubly so for a best dog tent.
his is because your dog is the only one who is likely to go wild to get out of the tent no matter what when a whiff of squirrel wafts in from the outside!

Dog tent safety issues to think through include ventilation, durability, weather protection, temperature control and staking (security).
You also want to be sure wild animals can't get inside your dog tent!
One particularly vital thing to look at when choosing the best dog tent is the tent floor material.
Make sure it is waterproof and make plans to add plenty of padding for sleeping comfort.
Getting your dog used to using a dog tent
Before you take a camping trip "with pup," you want to be sure your dog is comfortable with sleeping in a tent, whether with you or in a standalone dog tent.
You don't want to get to the campsite only to have your dog freak out about sleeping inside a dog tent!
Practicing in the backyard before a camping trip, whether it is a day trip to the beach or park or a longer overnight trip, can really help ease any fears your dog may have about dog tent camping.
Dog beach tent
Many dogs love the beach, but their sensitive skin, paws and noses don't love it quite so much. To give your pooch some relief from the sun, try out one of these neat dog beach tent options.
Planning for your pup's comfort during a day at the beach can't get much easier than this pet tent in a bag!
The full tent dimensions are 24"W x 24"L x 26"H.
It is made of weather-resistant material and pops up or folds flat in seconds – no tools needed.
For large pooches, this roomy and comfy Winterial dog beach tent measures 64"L x 30"W x 29"H.
It comes with a two-inch sleeping pad that fits inside the base.
It also has UV protection and a mesh screen for outdoor use.
Dog shade tent
Even the prettiest, sunniest weather can get a bit overwhelming when you are out in it all day.
These dog shade tent products offer different options for dogs of all sizes.
Each features a raised platform bed for extra air circulation.
This neat dog tent bed by Best Choice for small/medium dogs comes in grey or red.
The bottom is a coolaroo and you can use it with or without the dome top.
The dimensions are 30″L x 24″W x 28"H and it can hold dogs up to 66 pounds.
For the oversized pooch in your life, this tent by Superjare makes an ideal dog shade tent.
It comes in grey or brown. The canopy can be removed and it turns into a coolaroo.
The dimensions are 48"L x 36"W x 43.2"H.
This indoor/outdoor dog tent house by Kleeger measures 26"D x 21"W x 24"H and can accommodate pets weighing up to 80 pounds.
It is designed to be portable and movable, but you will need a screwdriver for assembly.
The full cot and canopy are waterproof.
Teepee tent for dogs
Each of these indoor best dog tent products makes a great addition to your existing décor while also giving your pup a bit of personal space in a busy household!
This adorable canvas tepee tent by Little Dove comes with or without matching cushion.
It measures 28"H x 33.8"W and is designed to accommodate dogs 15 pounds and up.
The poles are made of pine and the tent comes with a small chalkboard sign for writing your pet's name.
This precious "starry night" cotton canvas pet tepee by Zaihe comes in three sizes.
24" (for dogs up to 15 pounds), 28" (for dogs up to 30 pounds) or 35" (for dogs over 30 pounds).
All three sizes include a matching cushion.
This durable nautical-themed dog tent by viiler comes with a matching cushion.
It measures 23.5″ x 23.5″ x 25.5″and weighs 2.7 pounds with cushion.
The material is cotton and washable.
Dog tent camping
Each of these pop up best dog tent products is designed to fit one large dog or more than one medium/small dogs.
This Alcott pop up dog tent large or small dogs can enjoy is aptly named "the pup tent!"
It is lightweight, weighing less than 1.5 pounds all inclusive.
It is designed to shelter one large dog or more than one medium or small dog.
The dimensions are 32"W x 30"H x 42"D. Be aware that only the base is waterproof.
It features five netted windows for ventilation and four ground stakes for security.
This dog tent camping option by Lumsing measures 45″L x 32″W x 27″H.
Making it suitable for one large or more than one medium or small dog.
It comes with a waterproof rain guard that also blocks UV and windows are mesh roll-ups to allow ventilation while preventing bugs.
The base is waterproof. This tent weighs 1.7 pounds.
This tent by Pettom measures 45.3″L x 34.6″W x 28.3″H, making it suitable for one larger dog or multiple medium/small dogs.
The base is water-resistant and the tent is made of water-proof polyester.
Windows are mesh – there are three side windows and a small top port window for ventilation.
The full tent weighs 2.8 pounds.
Dog tent portable
These best dog tents come in various sizes to suit the needs of small, medium and large dogs.
Each dog tent is portable and can be assembled without any tools, making it a great travel crate as well.
This tent by Petsfit comes in three sizes and can be used as a small dog tent or a large dog tent.
It doubles as a travel crate.
There are three mesh windows with roll-up covers for ventilation and the bottom is waterproof.
The top of the tent features a carrying handle. The included mat is machine-washable.
This neat pop up dog tent by Gigatent can fit inside a standard dog crate or be used on its own for shelter.
It comes in three sizes and can be used for a small dog tent or a large dog tent.
This tent features four mesh windows with roll-up solid screens.
A foam sleeping pad is included.
This highly rated and popular indoor/outdoor pet crate can double as a travel crate and a pet tent for overnights and camping trips.
It comes in five sizes (20", 24", 28", 32", 36") so you can find the right size for your pup.
The frame is steel and the sides, top and bottom are durable fabric with mesh windows and roll-down shades.
Which is the best dog tent for you?
Has this article featuring dog tent reviews helped you pick your pup's tent? Please post a comment to share which was the best dog tent for you!
Resources