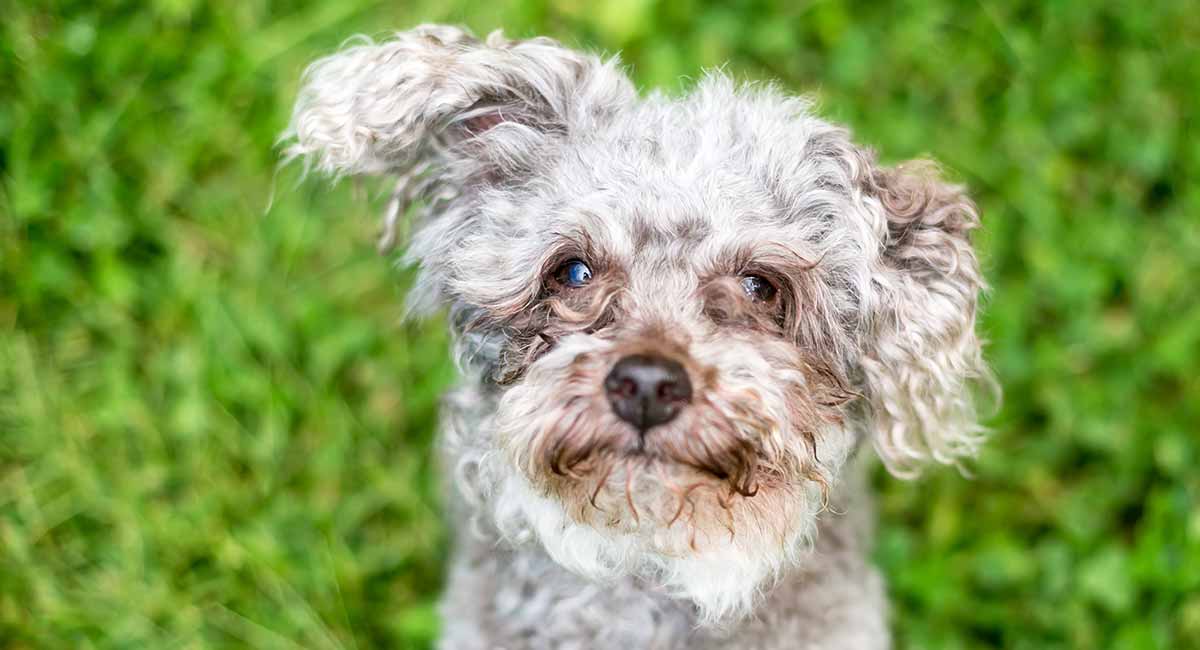 Finding the best dog tear stain remover to use on your dog is often not about what product you choose but what application process you use.
For example, you can opt to clear away your dog's tear stains with a liquid, a powder, wipes, supplements, or all of the above.
In this focused article, we take a look at some of the best dog tear stain remover products to ease away tear stains, lighten stained fur, and prevent overactivity of the tear ducts in the future.
Products included in this article were carefully and independently selected by the Happy Puppy Site team. If you decide to make a purchase from one of the links marked by an asterisk, we may earn a small commission on that sale. This is at no extra cost to you.
What Causes Tear Stains on Dogs?
Figuring out how to get rid of dog tear stains begins with understanding what causes tear stains on dogs.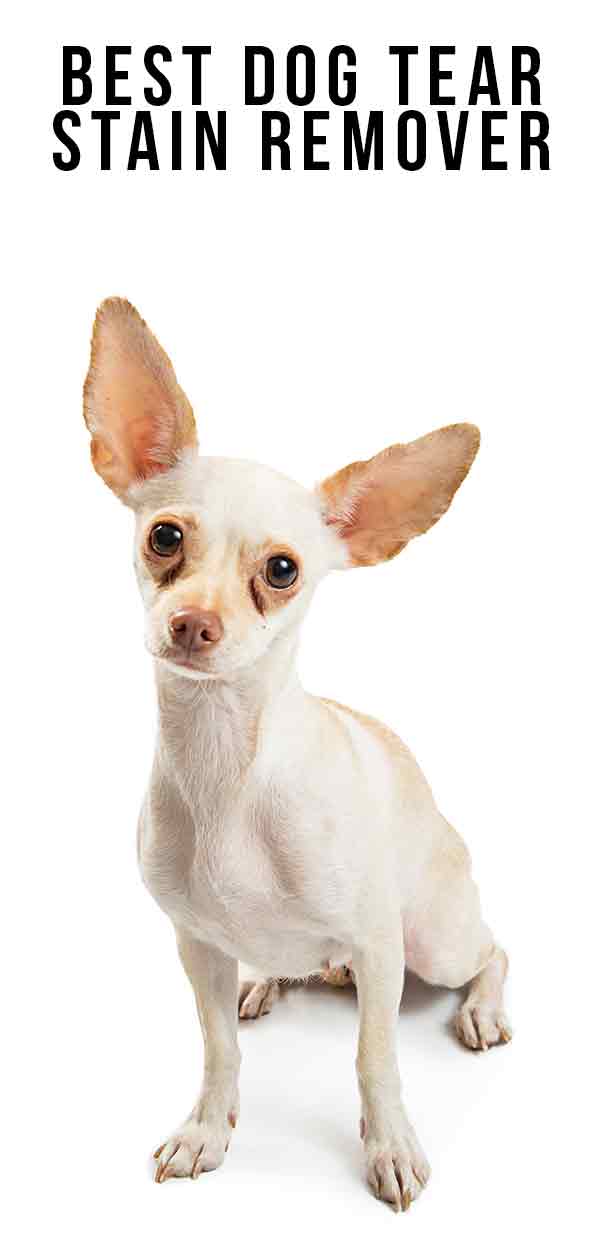 In most cases, tear staining is caused by a condition called epiphora that some dog breeds are genetically predisposed to develop.
Brachycephalic (flat-faced and short-nosed) dog breeds like the Maltese, Shih-Tzu, Pug, Pekingese, and Bulldog can have particular struggles with tear stains because of how their faces and skulls are shaped.
There are other health conditions that can cause excessive tear duct activity as well.
Additional Causes
eye and ear infections
eyelid and eyelash malformations
too-small or too-large tear ducts
teething
exposure to toxins like tobacco or pesticides
malnutrition
medication
illness
stress
use of plastic food bowls
All of the above may cause irritation to the eye area.
This means the most important first step when trying to treat tear stains is to have your veterinarian examine your dog to see what is causing the tear stains.
Once you understand the root cause, it becomes much easier to figure out how to remove dog tear stains and keep them from returning.
How to Clean Dog's Eyes Tear Stains
In many cases, dog tear stains are simply a cosmetic issue.
Overactive tear ducts can cause staining that ranges from light pink to deep red.
Unlike you, your dog probably isn't bothered by the change in fur color!
However, especially if you want to show your dog, you are likely eager to clean away those tear stains as fast as possible.
Here, it can be frustrating to start working on how to clean dog tear stains, only to find that past tears stains seem to stubbornly adhere to your dog's coat.
One solution is to have your dog's groomer clip the stained hair around the eye and muzzle area.
This often works to remove tear stains before a show.
Then you can talk with your veterinarian about the best dog tear stain remover products and supplements to use to keep tear stains from recurring.
Best Dog Tear Stain Remover Liquid
Sometimes a liquid dog tear stain remover is easier to use than wipes or powder.
This is because you can have more control over precise application just where you need it.
This recipe by Burt's Bees* features gentle chamomile for soothing skin that may have been irritated by dog eye tearing.
This product is gentle, safe, natural, and pH balanced for dog skin.
This formula by Particular Paws* includes lemongrass, lavender, and tea tree oil.
It both lifts away tear stains and neutralizes any harmful fungi or bacteria which may be contributing to eye irritation.
Best Dog Tear Stain Remover for Bulldogs
Bulldogs often need both a bulldog tear stain remover and a wrinkle cleanser.
You want to keep the wrinkly skin folds around the muzzle and mouth clean and clear of bacteria, fungi, and dried matter.
This product can fit the bill on both counts.
This paste by squishface* removes bulldog tear stains and cleans the wrinkly skin around your bulldog's muzzle.
The paste is anti-fungal, anti-bacterial, and anti-itch to make sure your bulldog stays healthy and comfortable!
Best Dog Tear Stain Remover Wipes
Some dogs may prefer that you use wipes to remove tear stains and dried matter.
This can be less scary than combs, liquid, or powder.
Especially if this is your first time clearing away tear stains.
These dog tear stain wipes by Miracle Care* are very gentle and safe.
They loosen stuck matter, keep eyes clean and clear, and lighten tear stains.
This lovely, all natural recipe* is by True Blue.
It uses chamomile and cucumber to gently, safely lift away stuck matter and lighten tear stains.
This formula by Arava* comes in liquid or wipes.
It gently clears away tear stains and neutralizes bacteria using Dead Sea minerals combined with wild yam, euphrasia, and sophora.
Best Dog Tear Stain Remover – Veterinarian Eye Wash
You may want to ask your dog's veterinarian whether this tear stain remover product is the best choice for your dog.
This anti-tear stain formula by Nutri-Vet* can be safely used with all dog breeds year-round.
Best Dog Tear Stain Remover Kits
Sometimes it is easier to clean dog tear stains when you use a full kit.
This gives you more than one tool to use.
You can both eliminate current tear stains and help prevent them from continuing to recur in the future.
This kit includes a liquid, a powder, and applicators.
This gentle formula by Bodhi* uses lavender oil, lemongrass oil, and hydrogen peroxide to lift away tear stains.
You may find these Bodhi Dog tear remover combs* helpful in using the liquid exactly where it is needed.
Best Dog Tear Stain Remover for White Coated Dogs
New dog owners often wonder how do you remove tear stains from a white dog?
These tear stain removers are formulated specifically to lift away tear stains from dogs with light or white coats.
This liquid plus powder tear stain remover by Always Bright Eyes* is a favorite for removing tear stains.
It works great on white dogs like the Maltese, Shih Tzu, Yorkie, and others.
These tear stain remover wipes by Pet Post* are free from any harsh chemicals.
They use juniper berry and coconut oil to work their magic.
If you prefer, you can use the wipes* instead.
Best Dog Tear Stain Remover Chews
So often the best tear stain remover for dogs isn't just one product but several.
Dog tear stain remover chews aim to reduce tear duct activity permanently.
These highly palatable chicken flavor chews by Angel's Eyes* reduce oxidation in the tear ducts.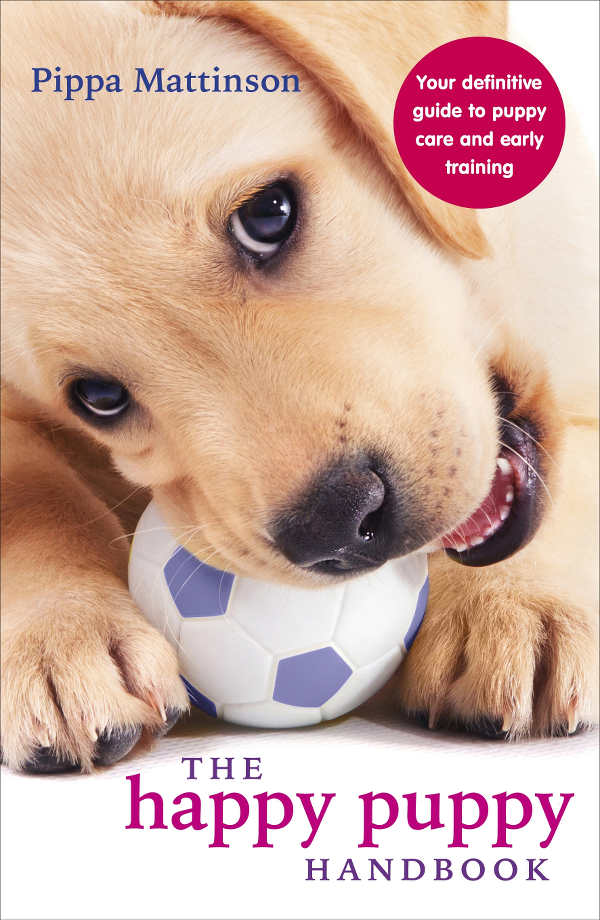 Ingredients include Oregon grape root, cranberry powder, and marshmallow root.
Petpost Tear Stain Remover Chicken Flavored Soft Chews.* These chicken flavor soft chews can help reduce tear staining after six to eight weeks of daily supplementation.
The recipe includes herbs, lutein, grape root, marshmallow root, essential fatty acids, and vitamin C.
Garmon Corp Tear Stain for Dogs.* These soft chews are safe to use with dogs 12 weeks and older on a daily basis.
The recipe includes grape root, colostrum powder, vitamin C, linolenic acid, lutein, marshmallow root, and essential fatty acids.
Best Dog Tear Stain Remover for Your Dog
We hope you have found this focused article featuring some of the best dog tear stain remover products insightful!
Have you found a particular tear stain remover helpful with your dog?
Please let us know – we love to learn from our readers!
Affiliate link disclosure: Links in this article marked with an * are affiliate links, and we may receive a small commission if you purchase these products. However, we selected them for inclusion independently, and all of the views expressed in this article are our own.
Resources
Holibaugh, T., "Tear Staining," American Maltese Association, 2013.
D'Agnese, J., DVM, et al, "Tear Stains: What They Say About Your Pet's Health," Hudson Veterinary Hospital, 2018.
Donovan, D., "Professionally and Safely Treating Tear Stains," Merryfield School of Pet Grooming, 2017.
Maggs, D., et al, Slatter's Fundamentals of Veterinary Ophthalmology, Elsevier Health Sciences, 2013.
Ward, E., DVM, "Eye Discharge or Epiphora in Dogs," VCA Animal Hospitals, 2014.