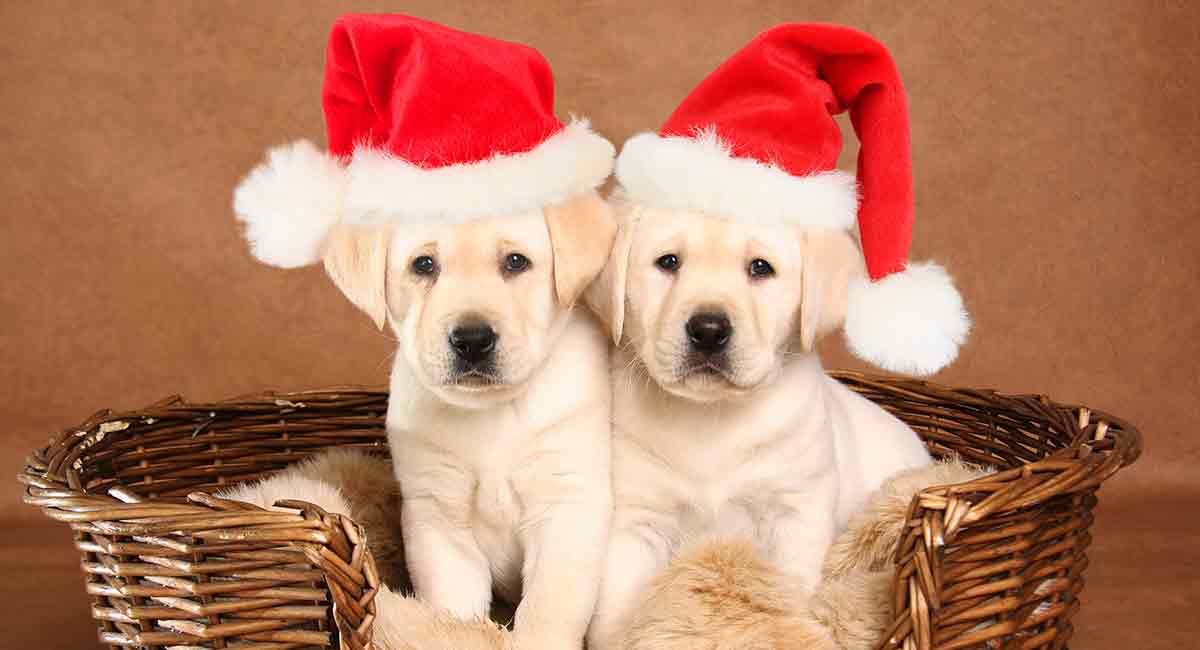 The best dog beds for Labs takes account of a number of factors that includes:
Age – teething puppies can be destructive, so it's often wiser to start with something cheap and durable. Likewise, older dogs will need more space!
Size – heavier dogs may need more support to be comfortable.
Health – a Lab with hip dysplasia might struggle to get in and out of a bed with sides.
But choosing the best bed for a Lab thoughtfully can ensure they get hours of comfortable sleep.
Products included in this article were carefully and independently selected by the Happy Puppy Site team. If you decide to make a purchase from one of the links marked by an asterisk, we may earn a small commission on that sale. This is at no extra cost to you.
Choosing the Best Dog Beds for Labs
Choosing the best dog bed for Labs can be easy and fun if you know what to look for.
But if you are caring for a precious Labrador Retriever for the first time, you may be feeling your learning curve keenly as you try to pick out the right supplies to make your new pup feel at home!
Our founder is an experienced Labrador Retriever breeder, best-selling author and Labrador trainer and has enjoyed the company of these beautiful dogs for many decades.
In this article, you will find Labrador Retriever bed insights, backed up by veterinary wisdom and supported by reviews from enthusiastic Labradors and their owners.
Labrador Dog Beds Size: Puppy vs. Adult Dog
If your Labrador is still a puppy, you may find it hard to visualize how your cute little fluffball will soon weigh over 55 pounds!
Yet puppyhood is an all too brief stage in a Labrador's life and before you know it, your Lab puppy will be ready for a big grown-up Labrador bed.
Over the years many Lab owners have voluntarily contributed to our ongoing Lab puppy weight chart, which gives us real-world data to help you benchmark your pup's growth. Your best resource here will always be your vet, but having knowledge about owner-reported weights can also be helpful and reassuring.
Lab Puppy Weight Chart Stats
Here is some recent data from our Lab puppy weight chart you may find interesting:
8 weeks: Lab puppy may weigh between 5 and 20 pounds.
10 weeks: Lab puppy may weigh between 10 and 25 pounds
20 weeks: Lab puppy may weigh between 26 and 49 pounds
30 weeks: Lab puppy may weigh between 42 and 61 pounds.
So here you can see that by about four months of age, your Lab puppy will be moving towards an adult weight range and will likely need a larger Lab bed in the near future.
If you want to track your pup's growth from week to week, you may find this Labrador Puppy Growth Chart article very helpful to know what to expect!
What Size Dog Beds suit your Labrador?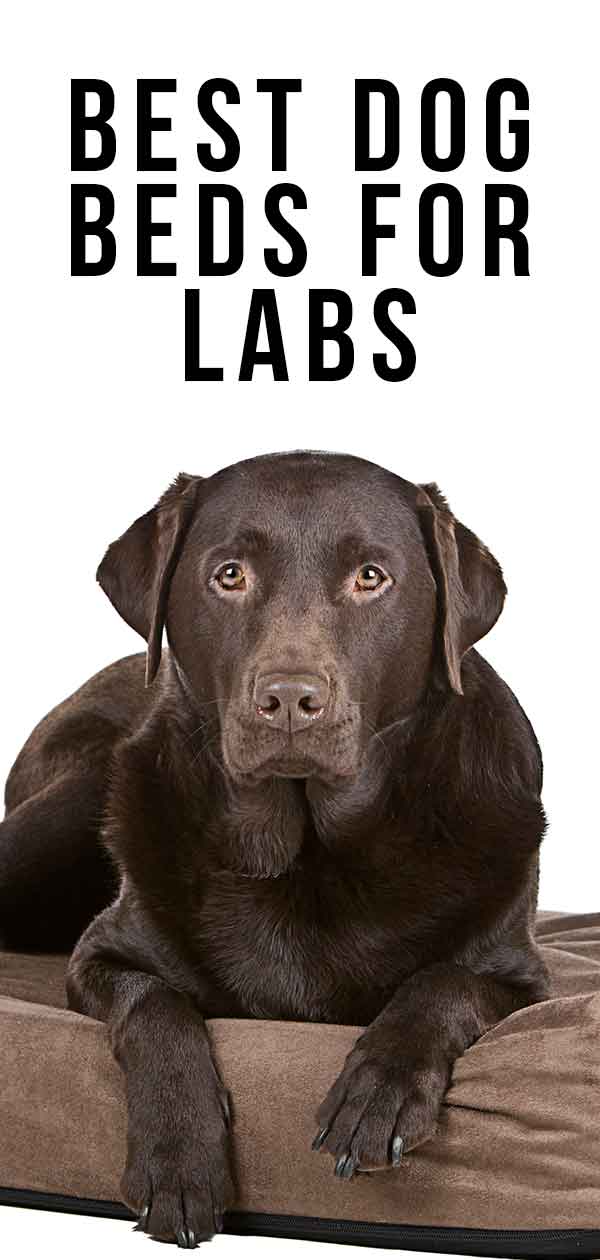 Since your puppy probably won't see any difference between his chew toys and new plush Lab bed, you can expect any puppy bed you buy to get nibbled (and perhaps destroyed) in short order.
So, rather than investing in any bona fide dog beds for Labs during this brief stage of life, you may want to consider using one of these more durable, stuffing-free options instead. See our lists here below for great Lab puppy beds we recommend:
Veterinary bedding
Old children's blankets
Flat crate mats
Whelping pads
Donut-shape puppy beds
Raised-side puppy beds.
This article has more safety tips for choosing the best dog beds for Labs that your teething pup is less likely to rip to shreds or try to swallow!
Best Bed for Labrador Senior Dog
As your Lab moves into her golden years, he or she may start to experience certain health issues common to the Labrador Retriever breed.
On average, a Lab will live 10 to 12 years. So starting around age seven is when a Lab is considered a 'senior' dog. At this age, your choice of dog beds for Labs can serve an additional health purpose besides just being comfy.
According to canine veterinarians, the most common age-related health issues Labradors may develop include:
Overweight/obesity
Musculoskeletal disorders
Cancer
Hip or elbow dysplasia
Arthritis/osteoarthritis
Skin conditions
Ear infections
Vision or hearing loss
Oral health concerns
Elimination issues
To learn more about your Labrador's health needs as a senior dog, you might enjoy reading 'Caring for An Older Labrador'.
What's the Best Bed for Labrador Puppy?
The best dog beds for Labs as puppies take a safety-first approach while offering some extra features for the potty training stage.
What makes each of these five beds perfect for a Labrador puppy is that they get high safety and comfort ratings from Lab owners and other large puppy owners.
This 19" x 15" pet bed by Vetbed* is made from non-irritating, hypoallergenic material and is double-woven for durability. It offers good drainage during potty training and can be machine washed repeatedly.
Owners say it is great for puppies, particularly newly rehomed puppies since many breeders use vet bedding during whelping and it will feel familiar.
This crate mat by 2Pet* comes in four sizes (in grey or beige) to accommodate puppies in different growth stages.
It is machine washable and flat to avoid being a choking hazard.
This super-soft, safe, round-corner EZ Whelp whelping pad* is flat to avoid choking risk and free from grommets that might be uncomfortable for your pup to lay on.
It has high absorbency for use during potty training and is machine washable.
This round (donut) style pet bed* has a raised bolster for neck support and comes in three sizes. The cover can be machine-washed and comes in a variety of colors.
The bed includes shredded memory foam to help fit to your puppy's shape and sleep style.
This simple puppy bed by PetFusion* can double as a crate bed. It comes in six sizes and replacement covers are sold separately.
This bed has nothing (other than the side carry handle) that your puppy could grasp with teeth or claws to shred. The interior has a waterproof layer and the cover is machine washable.
Best Bed for Labrador Adult Dog
As your Labrador puppy grows up, it will become clear when he or she has reached the point of no return for fitting into her Lab puppy bed! This is when you will want recommendations handy for choosing adult dog beds for Labradors.
By the time your Lab is growing into her adult size, you will also know more about their preferred sleep style (laid flat out or curled up) and her chew style and strength (mild, moderate, strong, aggressive). This information can come in really handy when you are choosing the best dog beds for Labs.
If your Labrador is a crate sleeper, this large dog bed mat and crate pad by Hero* have lots of nice features your dog will enjoy. You can choose from four bed sizes.
The material is human baby-grade with an anti-skid bottom that can be precisely placed. It is also machine washable and made from cushioned microfiber to protect older Labs who may have pain or pressure point issues.
This plush adult dog bed by Dog Bed King* fits dogs up to 100 pounds who like to sleep either stretched out or curled up.
It has a lambswool interior with a removable, machine-washable outer cover with no bolsters or zippers. Choose from three sizes and several colors. The interior is orthopedic memory foam to ease back or joint pain.
This premium orthopedic dog bed* represents a bit of an investment but is one of the best dog beds for Labs for any orthopedic issues. Lab owners say the XL size fits a 70+ pound pup well.
The bed is not fully waterproof but can be used with a waterproof pad. The cover is removable and machine washable.
If your Lab likes to sleep curled up like a donut, this customizable bed by FurHaven* may be one of your top picks. You can choose from six sizes and a multitude of colors and patterns.
For the interior, choose between orthopedic foam and fiber. The interior pillow can be removed or reversed. Both the cover and insert pillow are machine washable. If your dog prefers to sleep flat, FurHaven's couch-style pet bed* is equally customizable.
This affordable dog bed for Labs by AmazonBasics* comes in three sizes in grey and the three-sided bolster acts as a pillow. The bed includes a water-resistant inner liner with a washable cover.
The interior is memory foam for extra back and joint support. It also comes with a 1-year limited warranty.
Best Dog Beds for Labradors Seniors
If your Labrador is in his golden years, you may notice a bit of slowing down in activity. Perhaps your pup has a touch of arthritis or some vision or hearing loss. Bladder impairment is also common in senior Labradors.
Whether your Lab's particular aging health issue is related to pain, mobility or elimination, these choices can be particularly good dog beds for Labs in their senior years.
This fully waterproof orthopedic dog bed by PetFusion* is great for Labs in any stage of life but is particularly well suited to older Labradors who may have some joint pain. Owners say that unlike most dog beds, this bed truly is 100 percent waterproof.
The machine-washable, removable bed cover is made from micro-suede and the interior is memory foam while the exterior has bolsters on two sides. It comes in L or XL in grey.
This big bed by Big Barker comes in three sizes (L, XL, Giant) and four colors*. Its fully flat, even surface offers great flexibility for dogs who may have to reposition a time or two when rising and sitting.
The bed is covered by a 10-year manufacturer's warranty that guarantees the memory foam interior will retain 90 percent of its original shape. In addition, the removable microfiber cover is machine-washable.
This ergonomic memory + gel foam mattress by BarkBo* comes in four sizes (S, M, L, XL) and four color choices. The mattress is designed to ease painful pressure points and joint aches and pains.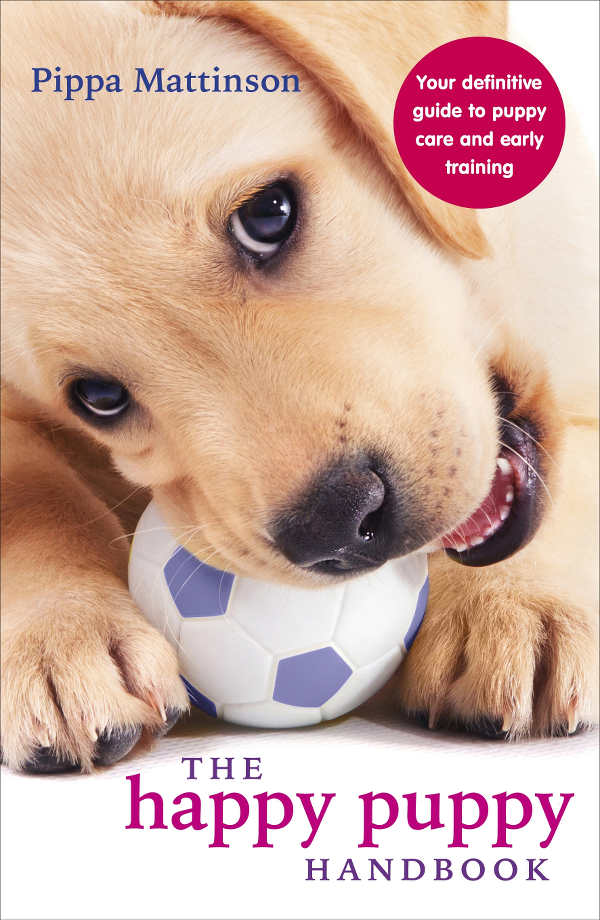 Step-on, step-off design is made with senior dog mobility in mind. The top fleece layer is removable and machine-washable while the mattress is covered by a 1-year warranty.
This dog bed by Barksbar* comes in two sizes (M, L) and features a darker grey exterior pattern with a light grey solid insert color. The bed is fully bolstered with cotton foam for neck support.

The base is orthopedic memory foam to provide extra joint support for dogs up to 100 pounds and the is machine-washable.
This dog bed comes in four sizes* (S, M, L, XL) in a soft cream/beige color. It is fully flat with a four-inch filling of sturdy foam and memory foam that is certified as chemical-free.
The anti-microbial removable fleece cover can be machine-washed for easy cleaning. The underside of this bed features anti-slip grips for your dog's safety and is covered by a 3-year manufacturer's warranty.
Best Dog Bed for Labs
Congratulations on your new Labrador companion! The Labrador Retriever is the number one most popular pet dog in the country for the 28th year in a row so you are in for a wonderful experience caring for one of these loving, sociable, playful pups.
We hope you have enjoyed learning more about how to choose the best pet beds for labs at all ages and stages of life.
Are you in the process of selecting a Labrador bed for a puppy, adult or senior dog?
When you make your choice, please let us know which bed you selected and how your Lab likes it. We love to learn from our readers!
Affiliate link disclosure: Links in this article marked with an * are affiliate links, and we may receive a small commission if you purchase these products. However, we selected them for inclusion independently, and all of the views expressed in this article are our own.
References
McGreevy, P.D., et al, "Labrador retrievers under primary veterinary care in the UK: demography, mortality and disorders," The Journal of Canine Genetics and Epidemiology, 2018.
Hawthorne, A.J., et al, "Body-Weight Changes During Growth in Puppies of Different Breeds," The Journal of Nutrition, 2004.
Ainspan, A.S., DVM, "How To Make The Dog Crate More Comfortable For Your Puppy," Hudson Veterinary Hospital, 2019.
Bender, K., "Labrador Retriever Named the Most Popular Dog Breed for 28th Consecutive Year," People, 2019.
Power, S., et al, "Breed History," Labrador Retriever Club of Victoria, 2019.