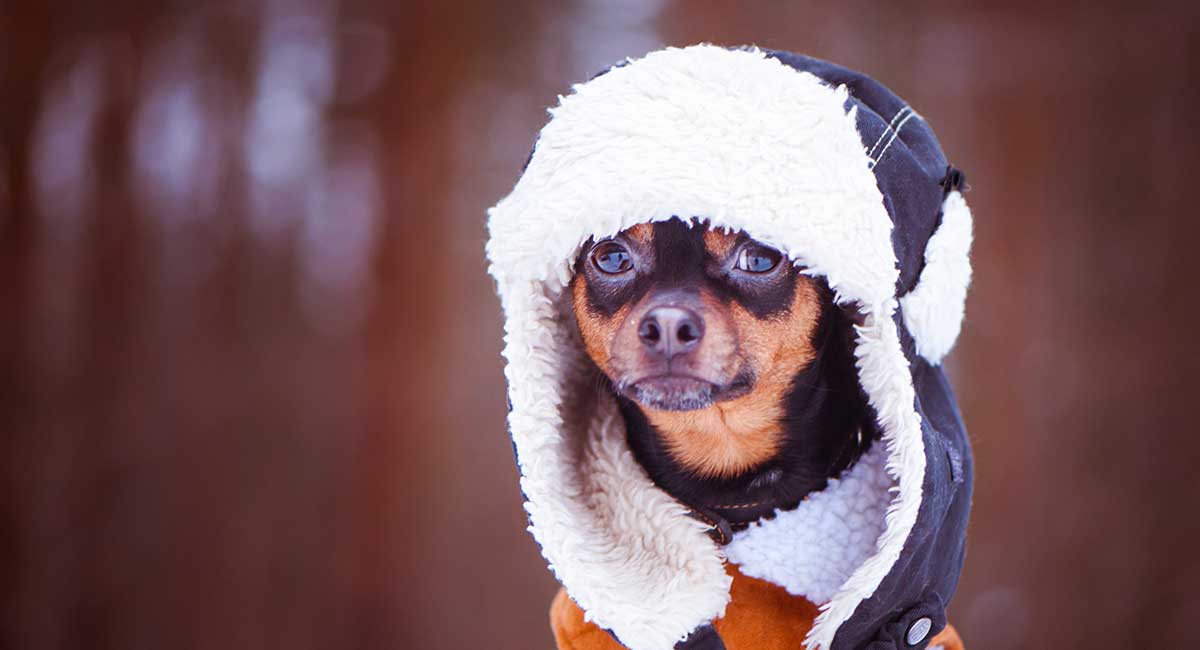 The best Chihuahua clothes are cute, for sure. But they also provide a practical purpose: Keeping your furry friend warm. Whether you want to keep your tiny pup warm and dry during the winter months or just want to show off how cute she is, the choice of the best Chihuahua clothes is huge.
In this article, we've done the legwork for you and trawled the marketplace to bring you our reviews of the best Chihuahua dog clothes. We've gathered everything from Chihuahua outfits to teacup Chihuahua clothes, Chihuahua puppy clothes, and more.
But first of all, let's have a look at this charming dog and see just what makes the Chihuahua so appealing.
All of these products were carefully and independently selected by the Happy Puppy Site team. If you decide to make a purchase from one of the links marked by an asterisk, we may earn a small commission on that sale. This is at no extra cost to you.
Why We Love Chihuahuas
The origins of today's Chihuahua are thought to date back to the 12th century and the Aztec civilization.
These days, the Chihuahua is a popular pet. Many celebrities, including Sharon Osborne and Paris Hilton, can be seen with these "handbag" dogs. You'll even find them attending awards ceremonies with their pampered pooch in tow.
The Chihuahua is a tiny, dainty dog, with a neat body shape and a characteristic long, arched neck. Kennel Club breed standards impose a weight limit of just 6 lbs on the breed, but they can weigh more or less than this.
The Chihuahua has a short muzzle and round, but not protruding, eyes.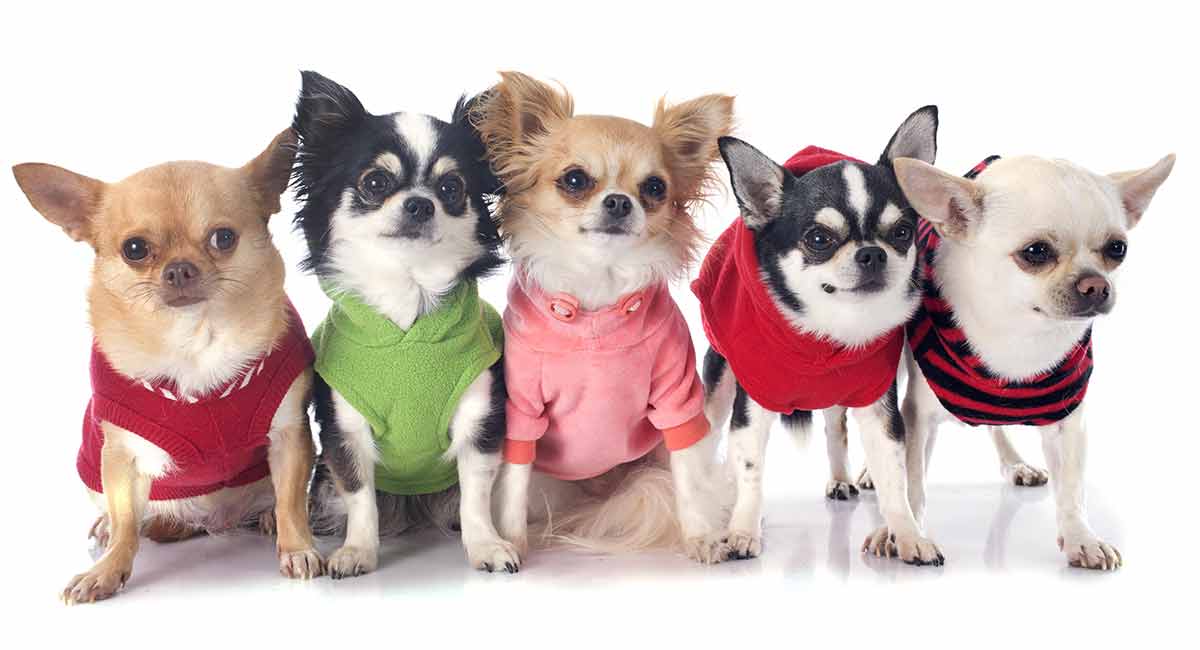 Their heads have an apple-shaped dome, although the Deer Head Chihuahua has a flatter skull. Large, upright ears complete the picture.
You may also have heard of the teacup Chihuahua. This is not a separate breed — just a descriptive term used for especially tiny dogs.
Benefits of Chihuahua Clothes
So, we're all agreed that the Chihuahua breed is cuter than cute. Even more, dressing them up in Chihuahua clothes can make your pup look even cuter.
But what other reasons could there be for buying Chihuahua clothes?
Chihuahuas are thin-coated and can be prone to getting cold easily. An extra layer in the form of a sweater can help to keep them warm.
Chihuahuas can suffer from sunburn if not protected from the elements. A light shirt can help provide a barrier between your pet and the sun's harmful UV rays.
In the winter months, snow, ice, salt and deicer chemicals can be harmful to your pet's delicate paws. Dog boots and shoes can protect your Chihuahua's feet during winter walks.
Now let's take a closer look at what Chihuahua clothes you can buy for your pampered pet.
Chihuahua Costumes
If you're attending a costume party, there's no reason your pup can't join in too. There are plenty of Chihuahua fancy dress outfits to choose from.
Here are a few of our favorites.
Rubie's Chihuahua Clothes
Rubie's Pet Costume, Mexican Serape* is the perfect way to salute your Chihuahua's Mexican ancestry.
This lovely little costume comes with a rainbow poncho complete with fringe, and a black and gold sombrero hat.
Rubies Costume 4th of July Collection Pet Costume, Patriotic Pooch Girl* is an ideal Chihuahua outfit for a 4th of July celebration.
The costume is designed for girl Chihuahuas, with a frilly skirt and matching stars and stripes top hat.
Chihuahua Clothes for Boys
If your Chihuahua is a boy, he needn't miss out on the action.
Uncle Sam Big Dog Boutique* costume will leave your little man looking oh so dapper and patriotic.
It's a stars and stripes satin bodysuit, bow tie and top hat.
Make your lady Chihuahua the star at a costume party with this fabulous Wonder Woman outfit from Rubie's Costume DC Heroes and Villains Collection*.
The costume features the iconic Wonder Woman symbol headpiece and red dress, together with a blue skirt with gold belt and white stars.
Chihuahua Winter Clothes
As we said previously, Chihuahuas are thin-skinned and can quickly become chilled during cold and damp weather.
For this reason, it's a good idea to have a wardrobe of winter clothes for your pet.
Suitable items would include Chihuahua sweaters, coats, footwear and night attire.
Take a look at our suggestions–you're sure to find something you and your pup will love.
If you use a harness to walk your Chihuahua, be sure to choose clothing that will accommodate this.
Chihuahua Sweaters
On a practical note, you might want to dress your Chihuahua in a cozy sweater during the cooler months of the year.
Here are a few lovely examples of Chihuahua sweaters that you might want to try.
This Handmade Dog Poncho from Mexican Serape Blanket* fastens around the neck and chest with velcro, making it very easy to put on and take off.
The sweater (from Tlaxcala, Mexico) has a harness loop and won't interfere with your pet's collar.
Every blanket is unique, so there's no danger of your pet meeting another Chihuahua in exactly the same sweater.
For something a little less colorful, try the Tzou Adidog Hoodie Pet Clothes Dog Sweater Puppy Sweatshirt*.
In trendy grey with a humorous "Adidog" motif, this sweatshirt-style jumper is made from 100 percent breathable cotton to keep your pet warm without overheating.
For the trendy dog-about-town who also likes to venture off the road, the Ruffwear Fernie Sweater Knit Fleece Technical Sweater* makes the perfect addition to any canine wardrobe.
The sweater-knit fabric outer layer provides the look and feel of a sweater, while the fleecy lining keeps your pet cozy on the coldest of days.
This Fitwarm knitted sweatshirt* is to die for! It even has a cute faux-fur collar to up the ante. If your pooch loves to keep things toasty and casual, this is for them.
Teacup Chihuahua Clothes
It can be challenging to find clothes that fit if you have a teacup Chihuahua. So, we have a few teacup Chihuahua clothes we think might help your little doggie.
This Chihuahua sweater* is available in XXS sizes. We think it's so cute — perfect for your little pooch!
Chihuahua Outfits
Tired of having to come up with Chihuahua outfits? Would you prefer a ready-to-go option? Hit a two-in-one score with these Chihuahua outfits.
This Scheppend sweatshirt* comes with bottoms and is perfect to take your pooch out for a walk when it's chilly.
That way, you can both be sporty together.
This Chihuahua outfit* is one of the best Chihuahua clothes on the market — just ask Amazon reviewers.
It features a shirt, pants, and suspenders! How delightful. Your little boy may take a minute to adjust to being so dressed up, but we're sure he'll fit right in.
It's made of polyester and cotton, so you know it'll be super comfy!
Chihuahua Coats
If you and your pup enjoy venturing out for walks during inclement weather, you'll need a coat to keep your Chihuahua warm and dry.
Here are a few suggestions that we think look great and will do the job.
This Fleece Lined Warm Dog Jacket for Winter Outdoor Waterproof Reflective Dog Coat* comes in a variety of fashionable colors, including red, pink, blue and black.
The jacket is waterproof and fleece-lined for extra warmth.
Velcro fastenings make the jacket easy to put on and take off, and the elasticated waist feature ensures a good fit.
High visibility reflective piping along the back and around the neck of the coat keep your pup visible and safe on evening strolls.
The SELMAI Small Dog Apparel Airman Fleece Winter Coat Snowsuit Hooded Jumpsuit Waterproof* has three layers to trap warmth, and comes with arms and legs too to keep your Chihuahua warm and dry in the coldest, wettest and snowiest of weather.
The U.S. airman livery makes this an eye-catching, cute and practical Chihuahua winter coat.
Sometimes it rains — that's why we not only need Chihuahua coats, but also raincoats. Stay dry if you're ever caught in a drizzle with this cute Chihuahua raincoat*.
It's available in XS and has a Velcro belt that keeps your pup snug and sound.
Chihuahua Windproof Vest
This Kuoser windproof vest is perfect for a windy day.
Like our other Chihuahua coats, it will ensure that your pup is safe from the elements. It's also very classy and elegant.
Chihuahua Umbrellas
Investing in a dog umbrella* will ensure that your pup won't get wet on walks in wet weather.
This cleverly designed upside down brolly keeps your pet dry.
This model is specially designed to completely cover a tiny dog and keep showers at bay. They've also added a sturdy chain to the umbrella for attachment to your pet's collar or harness.
Chihuahua Pajamas
If you live in a very cold region where the winter nights are bitter, your Chihuahua might benefit from wearing pajamas.
Fitwarm Sweet Cupcake Dog Pajamas* are made from a gorgeous, warm and fluffy fabric that will keep your pet cozy and snug right through the chilliest of nights.
The charming cupcake pattern and pale pink background make them ideal for your little girl.
It's not just the girls who get cold at night.
If your little boy Chi feels the chills, you might like to buy him these Cute Duck Dog Pajamas*.
These are a top seller on Amazon, and it's easy to see why. The super-soft fabric will keep your pup lovely and warm, and the cute duck design is to die for.
Another top seller are these Petparty Cute Bear Comfy Dog Pajamas*.
These machine washable PJs come in pastel pink, baby blue and pretty yellow.
The delightful teddy bear embellishment surely makes these the cutest pajamas on the market.
The legs and waist of the garment are elasticated for a comfy fit.
Chihuahua Boots and Shoes
Walking along frozen, snowy pavements can be uncomfortable for your pet.
Fragments of ice and balls of slushy snow can even cause the skin of your dog's paws to become damaged, potentially leading to infection and pain.
Also, the salt and deicing chemicals that are often used to clear the streets can irritate the skin on your pup's paws.
A set of dog boots can provide the ideal solution. Many dogs find boots tricky to wear at first, but practice makes perfect.
My dog suffered from an allergy to certain types of soil and sand. So, I found that fitting her with a set of dog boots protected her tender paws. They kept her comfy and saving me a fortune on vet bills.
Here are a couple of tried and tested dog boots to test out.
My Busy Dog Water Resistant Dog Shoes with Reflective Velcro and Rugged Anti-Slip Sole* are one of Amazon's best sellers. These boots are extremely well-made and durable, and they'll last your pup a lifetime.
The boots stay in place, don't fall off when your pup runs around and they don't move around on her feet.
We love the reflective strip. It helps to alert drivers to you and your pet when you're out walking on a dark, winter evening.
URBESTDetachable Closure Puppy Dog Shoes* are designed and made especially with tiny paws in mind.
Rubber soles prevent your pup from slipping on icy sidewalks and paths, while a fleece-lined, suede material keeps your pet's paws dry and warm. Choose from natural brown, pretty pink or bold red.
Chihuahua Dresses
If you have a lady Chihuahua, you might like to flatter her pretty, feminine looks by clothing her in a Chihuahua dress.
These delightful couture confections will delight any girl, canine or human.
Summer clothes can also provide a layer of protection from the sun's harmful UV rays.
Fitwarm* is a well-known pet apparel company that makes XXS Chihuahua clothes, as well as larger sizes. Here are a few of their most popular designs:
The Fitwarm Vintage Plaid Pet Clothes Dog Dress Ribbon Dog Vest Shirts Apparel* is a beautiful dress that's embellished with a stylish bow and old-fashioned brooch detail.
The dress is made from soft, comfy fabric, and it's easy to put on and take off.
On a warm summer's day, your Chihuahua will look delightfully cool and chic in this Floral Dog Harness Dress Pet Clothes D-ring Vest Shirts Sundress Yellow*.
The pretty floral fabric is decorated with a cluster of vibrant yellow flowers around the waist. And, the soft, comfy material also has a "D" ring fixture for your dog's leash.
We particularly love the Sweetie Watermelon Pet Clothes for Dog Dress Sundress Shirt*.
The summer season, watermelon pattern and satin bow detail make this the ideal frock for your little girl to wear to a summer party, to a barbeque or even just for a stroll through the park.
Chihuahua Life Jackets
If you enjoy sailing, chances are you'll take your Chi along too. Although Chihuahuas can swim, it's advisable to protect your pup by fitting her out with a life jacket.
The Ruffwear – K-9 Float Coat for Dogs* is a well-made piece of equipment that could potentially save your Chihuahua's life if she fell overboard.
The life jackets come in eye-catching red, yellow and powder blue. Plus, they have reflective piping, ensuring that your pup will be easily visible in the water.
The Float Coat has strategically placed foam panels, which support your dog's natural swimming position.
Abrasion-resistant webbing straps make sure that your pup will be comfortable, as well as safe.
The jacket has a handle on the back, enabling you to easily lift your pup out of the water quickly and safely.
Chihuahua Puppy Clothes: Denim Jacket
If you have a Chihuahua pup, you may also be on the hunt for Chihuahua puppy clothes. We really like this cute denim jacket*.
It's available in a variety of sizes and will work for puppies and adult Chihuahuas. This one is definitely one of the more stylish Chihuahua dog clothes.
Best Chihuahua Clothes
Your Chihuahua is a delightful, intriguing little character. To keep him or her comfortable all year round, you'll need a suitable wardrobe. We hope you've found something you like from our wide array of best Chihuahua clothes.
Remember that your Chi may get cold during the winter and won't appreciate getting wet and chilly when you take a walk together.
So, be sure to buy your pup some clothing for all seasons, and your pup will thank you for it.
Why not tell us all about your Chihuahua's wardrobe?
Do you use Chihuahua dog clothes for practical reasons or purely to make the most of your tiny pup's looks? Do you take your Chi to special doggy parties where costumes are all the rage? Let's chat everything Chihuahua dog clothes!
Tell us your story in the comments section below.
Affiliate link disclosure: Links in this article marked with an * are affiliate links, and we may receive a small commission if you purchase these products. However, we selected them for inclusion independently, and all of the views expressed in this article are our own.
Readers Also Liked
References and Further Reading:
This article has been extensively revised for 2019.