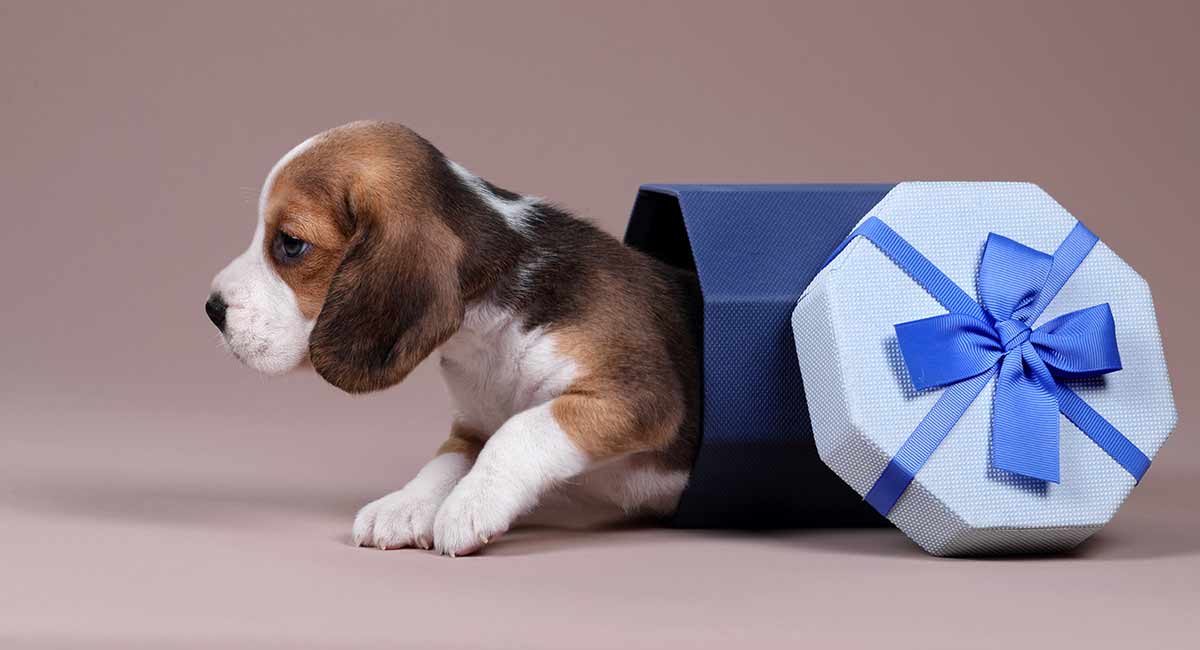 As one of the top five most popular pet dog breeds in the United States, many owners are looking for Beagle gifts for the special canine in their life.
So if you are searching for the perfect gift for the Beagle or Beagle lover in your life, we think you will love this curated collection!
Gifts For Beagle Lovers
These Beagle gifts take your loved one's adoration of Beagles out into public with wearables, magnets and gift bags!
This cool and creative t-shirt offers sizes for men, women and kids.
The t-shirt comes in a variety of sizes in each category and five neat colors. The material is half cotton and half poly-blend.
This lovely lightweight loop scarf is 40" wide and 70" long and can be worn multiple ways for all seasons.
The scarf comes in four colors and features multiple small leaping Beagles.
Once you see these, you won't want to wrap your Beagle gifts in anything other than these Beagle-themed gift bags, complete with paw print tissue paper!
One small (6″ x 8.5″ x 4″) and one medium (11″ x 9″ x 4″) gift bag comes in each order with tissue paper for each.
This 7" white vinyl Beagle sticker lets the world know there is only one special dog breed in your life.
With a  magnetic backing, you can place it anywhere – refrigerator, vehicle, mailbox or anywhere that is magnetic.
Beagle Gifts And Collectibles
These homey collectibles feature Beagles in many wonderful ways to add splashes of your loved one's favorite breed all over their home!
Even a tiny space can accommodate this cute little freestanding box sign that measures 6" x 2.5" and features the phrase "All you need is love…and a Beagle."
The sides are paw-printed and you can also hang this sign if desired. The sign is made of distressed wood.
It doesn't get any cuter than this precious little statue of a Beagle puppy that measures just 6" x 4" x 2" and arrives in a gift box with view-holes and insulating hay.
The statue is made of durable resin for indoor and outdoor display.
This unique made in the U.S.A conversation piece can be wall mounted and features a 9" x 12" flying beagle with the phrase "Fly Like a Beagle / Beagle Air."
The poster is printed digitally on heavy stock paper and can be framed or hung as-is.
This 5" x 10" Beagle dog door sign comes with a curved rope picture hanger for easy mounting.
The front of the sign features the words plus a cute Beagle puppy face.
Gifts For Beagle Owners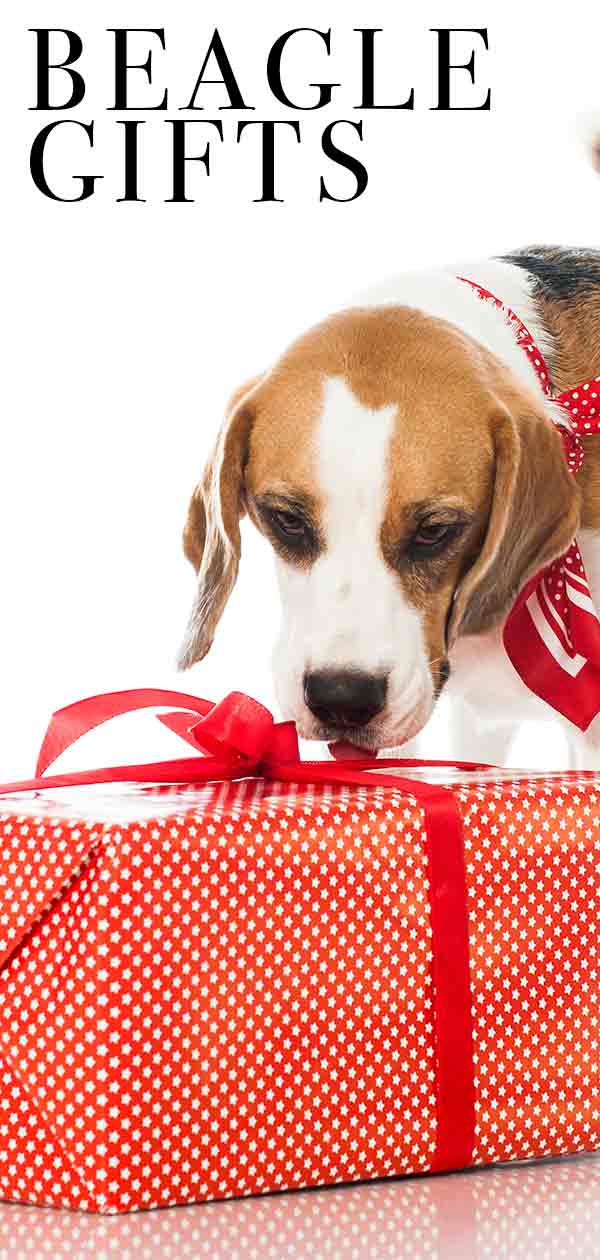 The Beagle may be small in size but this breed is giant in personality, as are these fun and fabulous Beagle gifts.
This green and white weatherproof indoor/outdoor sign is double-sided and comes with two mounting holes for placement on walls, fences, mailboxes or anywhere else that makes sense.
The sign measures 8" x 14" and is made from glow-in-the-dark sturdy aluminum.
This practical yet snazzy Beagle-themed key ring features multiple charms including a heart, a paw print, a bone, a dog outline, a fire hydrant and others.
The keychain is made in the U.S.A from safe stainless steel metal.
This sweet customizable line art drawing comes ready to hang in a high-quality black frame that measures 14" x 17".
This art is made in the USA and features a black and white line drawing of a Beagle that can be customized with the Beagle's name.
This unique zipper pouch features full-color artwork of a trio of Beagles out in the forest.
Two Beagles are alert and one Beagle is resting. The small 4" x 6" pouch is sturdy and lined and suitable for holding coins, credit cards and other small necessary items.
Beagle Themed Gifts
Enjoy the unique, artsy and creative Beagle gifts in this collection!
What do you get the Beagle lover who also loves to felt, craft and knit? A Beagle felting needle kit, of course!
This truly unique Beagle themed gift is also a DIY project suitable for kids 8 years and older and adults. The kit comes with all the required supplies and takes 2 to 3 hours to complete. The finished craft measures 2".
This popular stuffed plush Beagle toy is so lifelike your Beagle may think it is real!
The polyester plush is combined with lightweight yet sturdy foam so the toy holds its shape even while being hugged. This Beagle measures 17" x 12" x 11" and is in compliance with CPSIA and ASTM F963-11 Toy Safety Standards for kid safety.
This high-quality and durable vinyl decal measures 5" x 4.5" and fits perfectly in a corner on a vehicle window.
The vinyl is all-weather rated for 7 years and is safe in car washes. The decal is made in America.
These classy crew socks come in three colors and feature Beagles sitting, standing, sniffing and doing all kinds of Beagle-related activities.
The socks are made from a washing machine-safe cotton, nylon and spandex blend. They fit U.S women's sizes 6.5 to 8.5.
Practical Beagle Gifts
There is nothing to say that Beagle gifts can't be practical as well as precious. From mug sets to shirts, tote bags to tennis shoes, enjoy this selection of practical Beagle gifts!
What a great, practical gift for a new Beagle parent this mug is!
You can also order a set of two mugs:
Beagle Mom and Beagle Dad
This uniquely Beagle t-shirt comes in men's, women's and youth sizes in traditional Beagle coat colors – lemon, silver, slate and baby blue.
The front features a cute Beagle with the words "What part of Arooo didn't you understand?" The material for the lemon and blue t-shirts is pure cotton. The silver and slate t-shirts are made from 90% cotton and 10% polyblend.
This sturdy, practical, artsy Beagle tote features a black Beagle outline against an ivory/white background.
All the canine models are rescue Beagle pups and the company is a small business located in Austin, TX.
These amazingly unique 100 percent textile ballet flats come in women's US sizes 5 to 11 and feature a gray background with an eager Beagle face on the front of each shoe and a memory foam insert.
The sole is flexible.
Fun Beagle Gifts
If there is one word that completely sums up the Beagle dog breed, it is "fun!" These dogs are known to be merry, cheery – they seem to be always smiling! Beagle lovers of all ages can appreciate these fun Beagle gifts!
This magnetic drawing game features Buddy Beagle's face. Kids (or adults) can draw all kinds of fun accents all over Buddy's face with a special magic wand that moves the magnetic bits around inside the game.
The game measures 7" x 8.5" and comes in a single or two-pack.
Finally – a board game just for Beagle lovers!
This monopoly-style board game can accommodate up to six players at a time to help learn fun new Beagle facts.
This now-classic Peanuts movie features Charlie Brown and his loyal canine, Snoopy, in a digitally remastered deluxe boxed edition.
Fun for the whole family!
His Royal Dogness, Guy the Beagle: The Rebarkable True Story of Meghan Markle's Rescue Dog.
Another spot-on Beagle gift for the Beagle lover in your life, this illustrated book features the story of newly-royal Meghan Markle's rescued Beagle, Guy!
Other Dog Gifts
There are plenty of other dog gift guides you can check out if you liked this one! Take a look!
Beagle Gifts
Do you have your eye on any particular Beagle gifts from the curated selection in this article? When you select your Beagle gift, please drop us a comment to let us know how you liked it!
References and Resources
Dennison, M., "Beagles: the smart little hounds that are both furry friend and working dog," Country Life. 2018.
Johnson, L., "So you want a Beagle?," Midwest Beagle Rescue, Education and Welfare Network, 2018.
Lord, K., et al, "Barking and mobbing," Behaviour Processes/Research Gate, 2009.
Souter, J., "Famous Beagles," Beagle Club of Queensland, 2019. http://beagleclubqld.org/famous-beagles/
Anderson, J., "Beagle History," The National Beagle Club of America, 2018.