Rottweiler gifts can show your pup just how loved he is.
This magnificent, loyal and affectionate dog breed may be fierce with outsiders. But they love "their" people with all their heart.
So, enjoy these carefully curated gift lists for the Rottweiler lover in your life!
All of these products were carefully and independently selected by The Happy Puppy Site team. If you decide to make a purchase from one of the links marked by an asterisk, we may earn a small commission on that sale. This is at no extra cost to you.
Gifts For Rottweiler Lovers
Each of these gifts for Rottweiler lovers demonstrates you have gone that extra important mile to celebrate your loved one's bond with that special canine!
Rottweiler Gift Bags
These gift bags* are great for wrapping up your own Rottweiler gift choice. Or as a gift in their own right!
You get a small (6" x 85." X 4") and medium (11" x 9" x 4") bag with two sets of paw print tissue paper.
The bags also are made from heavyweight, durable, high quality paper with rope handles.
Rottweiler Cross Stitch
But maybe you want something more creative.
If the Rottweiler lover in your life loves craft projects, this kit* featuring the cuteness overload of a Rottie puppy face will be an instant hit!
The finished image – which is like a mosaic of tiny faceted tiles – measures 11.81" x 15.75".
Rottweiler Plush Toy
Instead, you might be looking for something that suits all ages.
This gorgeous lifelike plush Rottweiler dog toy* is rated for ages 3+.
This toy measures 15" x 12" x 15". It is molded around rigid foam and polypropylene for durability during daily play.
Sometimes playtime can be messy.
But luckily, this toy can be hand-washed for spot cleaning and comes with a 30-day return policy.
Rottweiler Gifts And Collectibles
From morning to evening, these Rottweiler gifts and collectibles will keep your loved one's favorite dog breed topmost in mind!
But are you struggling to find the perfect one?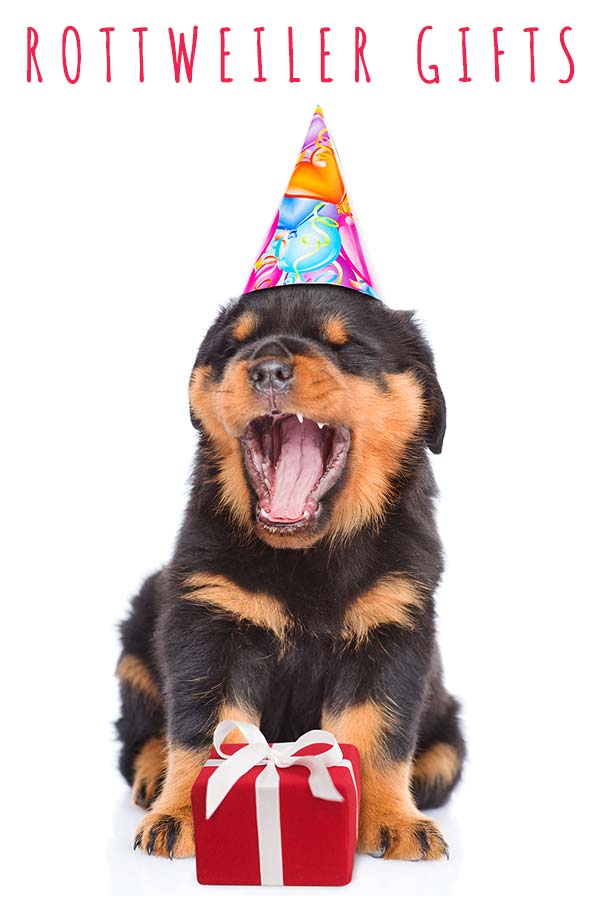 Take a look at these!
Rottweiler Wine Glass
The Rottweiler Dog Themed Etched All Purpose 12.75oz Libbey Wine Glass* makes a great choice.
This gorgeous etched Rottweiler wine glass is delicate and lovely. Plus, it's dishwasher-safe for when the party's over.
Rottweiler Pint Glass
But perhaps your gift recipient might be more partial to beer (or lemonade or tea) over wine.
This Rottweiler etched glass 16-ounce pint glass* is the perfect choice for happy hour and every hour!
Rottweiler Wine Bottle Holder
No Rottweiler lover's wine collection will ever be complete without a guard dog to stand watch over their treasures!
However, we have the perfect gift for you!
This petite Rottweiler wine bottle holder* is far stronger and more durable than it looks, featuring an artisan polyresin Rottweiler holding a full wine bottle.
The wine holder measures 6.5" x 10" x 5". So it's bigger than you'd first think!
Rottweiler Mug
This decorative 11-ounce tea or coffee mug* features the alert face of a Rottweiler against a powder blue "sky". It also has the words "Rottweiler" written on the background.
This fun mug perfectly captures the Rottie's loyal, ever-watchful nature. So it will likely become the favored mug for morning beverages!
Gifts For Rottweiler Owners
Each of these gifts for Rottweiler owners has something special to add to your loved one's life!
Paw Print Rock
Such as this sentimental black and white rock*. It features the word "Love" juxtaposed with a paw print (replacing the "O" in the word).
Plus, the rock is nice and heavy. So it can serve as a desk paperweight or as a standalone decorative accent for a mantle or window sill.
The rock's total weight is 2.6 pounds and it measures 5" x 4" x 3".
It comes already packaged in a sturdy gift box to help you avoid gift wrapping! The manufacturer also offers a 100-percent money-back guarantee.
Rottweiler Clothing
This fun two-pack of Rottweiler-themed crew socks* is perfect for a single Rottie owner or a couple.
You get two colors of socks in a pack.
The socks fit USA sizes 4 to 10 and are made from polyester/nylon and spandex for washing and wearing durability.
The foot area features a full-size Rottweiler and the ankle area shows the word "Rottweiler" with a Rottie's head.
Rottweiler Artwork
This beautiful and unique fine watercolor of a Rottweiler* captures their steady expression and handsome brow perfectly.
It comes in two sizes: 8" x 10" or 11" x 14" and can be displayed as-is or matted and framed.
This print comes from an original watercolor painting and is printed on matte paper.
Rottweiler Themed Gifts
These Rottweiler themed gifts will let everyone know who the top dog is in your loved one's life!
Rottweiler Window Decal
This all-weather, durable vinyl decal* featuring clear and white art is a great way to let passersby you are traveling with your Rottweiler!
The original artwork is 5" x 4". Plus it is rated for seven years of outdoor use without peeling.
However, for unisex options, this Rottweiler On Board decal* or "You Might Get In But You Won't Get Out" sticker* featuring a Rottweiler will each work equally well!
Rottweiler Figurine
This 4" x 5" Rottweiler figurine* is artisan-crafted in durable resin stone with amazingly realistic features.
Right down to the Rottie's alert, intelligent, kind canine eyes and pink tongue!
No Rottie owner will be able to resist proudly displaying this cute canine in their home or office.
Rottweiler Signs
This 5" x 10" wall or door sign* is heart-meltingly sweet, with the phrase accented by an adorable Rottweiler's loving gaze.
The sign is made-in-the-USA and features a wood backing with a sturdy rope for hanging.
Practical Rottweiler Gifts
Finding wonderful, smile-worthy and practical Rottweiler gifts is easy when you are shopping for such a popular purebred dog breed!
So let's keep looking at these amazing gifts.
Rottweiler Slippers
These absolutely adorable slip-on Rottweiler slippers* come in four sizes (S, M, L, XL).
They also feature non-slip soles, cushioned insides and a plush construction that is durable yet super-soft.
The sizing fits women's USA sizes 5.5 to 13.5 and men's USA sizes 4 to 12.5.
Rottweiler Warning Sign
The Rottweiler is a loyal guard dog breed well-known for their protective instincts.
Not only is it smart to let passersby know your family includes a Rottie*, but it can also add an extra layer of protection against those who might be tempted to trespass!
This all-weather, durable, easy-to-mount fence or wall sign measures 11"x11". So it is easy to see.
Rottweiler Tote Bag
These Dog Is Good tote bags* feature cute and thought-provoking sayings including:
"a dog can change the way you see the world"
"dog is my zen"
"my dog would never send me to voicemail"

Although the slogans aren't Rottweiler specific, they can certainly apply to this breed.
The bag is 16" x 16". Both sides have printing. Also, this bag is made from cotton canvas with sturdy shoulder straps and an inside zipper compartment.
Another fun option is this black and ivory tote bag* with a Rottweiler head graphic.
Fun Rottweiler Gifts
These festive and fun Rottweiler gifts add extra smiles and charm to daily life for Rottweiler lovers of all ages!
Rottweiler Funny Sign
Caring for a Rottweiler is a full-time job and it is easy to forget whether you've taken care of other important daily chores like washing dishes.
But this petite 3.5" x 3.5" made-in-the-USA magnet featuring a cute Rottweiler will help your loved one keep track of dishwashing duties. Just turn it upside down as needed!
Rottweiler Books
This now-classic book is about a very good guard dog Rottweiler named Carl and his sweet little baby mistress.
It charms and delights Rottie lovers of all ages across generations.
It also comes in a paperback and hardcover edition. The interior is full-color and illustrated. So it's perfect for story time.
Add Carl's Snowy Afternoon* by the same author for a sweet gift set!
Rottweiler Documentary
This streaming documentary* comes in SD and HD versions.
It comes highly rated for accurate portrayal of the history and modern-day evolution of the Rottweiler as a show and working dog breed.
You can't gift wrap it and put it under the Christmas tree, but you could make the Rottie lover in your life their favorite drink and snack, and surprise them with a viewing!
Still Looking?
If you're still stuck, or Rottweiler gifts aren't quite the right thing, we have some other options for you!
Check out these other dog gifts you can get!
Rottweiler Gifts
Have you found the perfect gift for the Rottweiler owner in your life after browsing through these curated lists? Let us know in the comments!
Affiliate link disclosure: Links in this article marked with an * are affiliate links, and we may receive a small commission if you purchase these products. However, we selected them for inclusion independently, and all of the views expressed in this article are our own.
References and Resources
Garske, R., et al, "Owning a Rottweiler," American Rottweiler Club, 2019.
Seidler, C., "Rottweiler Breed Standard of Germany," United States Rottweiler Club, 2000.
Clark, J. et al, "The Rottweiler Breed," The Rottweiler Club of the UK, 2019.
Blackman, G., "The Rottweiler History & Ownership," Rescue Every Dog Charity, 2001.
Bentley, R., "History of the Rottweiler," VDR Rottweiler Breeders, 2019.
Gripper, A., "Britain's Favourite Dogs in Pictures," Mirror, 2018.
Secreti, J., "Training Services," Secreti Haus Rottweilers Kennels, 2019.