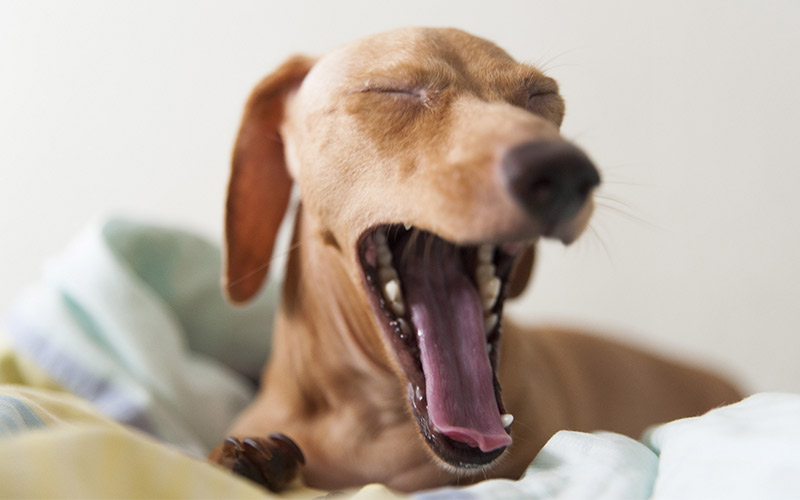 Welcome To Our Complete Guide To The Best Raised Dog Beds. If You Are Looking For An Elevated Dog Bed For Your Pet, Then You'll Find The Right One Here.
Raised pet beds may seem like products meant for elderly dogs that have trouble lying down and getting up again.
And they certainly do help elderly dogs. They can relieve your pet of pressure and pain issues associated with arthritis and hip dysplasia.
If you have a dog like a golden retriever who has more than a 35% chance of developing hip dysplasia, then the pet bed can help to reduce strain that can lead to the disease.
But raised dog beds have some other benefits, even for the young pup in your life.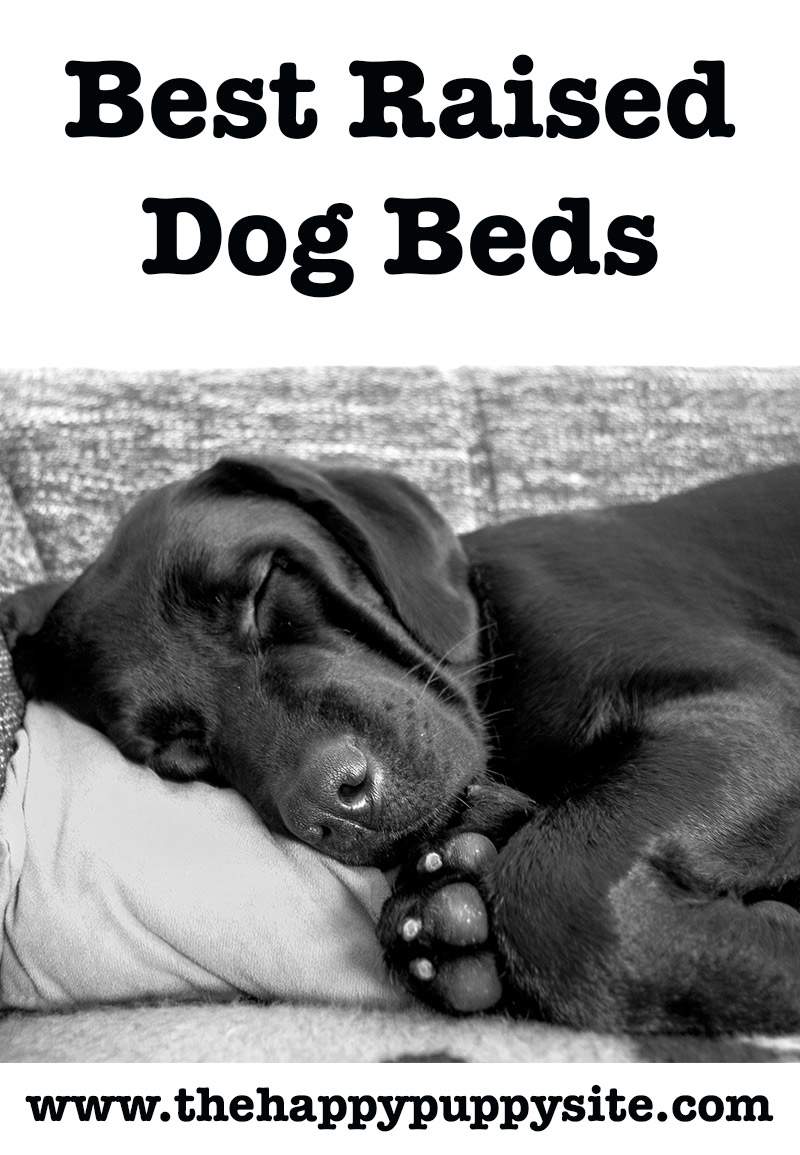 They help your dog regulate his body temperature by elevating him off the cold floor, and they provide support and comfort.
Elevated beds are typically easier to clean as well and they probably will not end up in a mess of chewed up fluff and stuffing, like some of the overstuffed comfort beds can.
So let's check out some of the top options.
Products included in this article were carefully and independently selected by the Happy Puppy Site team. If you decide to make a purchase from one of the links marked by an asterisk, we may earn a small commission on that sale. This is at no extra cost to you.
Elevated Dog Bed With Stairs
Now that you know all about the positives of owning an elevated dog bed, let's take a look at one more fun twist. An elevated dog bed can serve as a two story dog house when it comes with stairs!
Merry has just this sort of bed/house with their Merry Products Wood Pet Home*.
This bed is a smaller one that comes in at only about two feet high, so it is perfect for a puppy or a smaller dog like a Shi Tzu, Chihuahua or Pug.
The bed is made from sturdy cedar wood that is stained with a natural and pet friendly product.
The Merry Products bed can be placed both inside and outside the home. While you will have to spend a bit of time on assembly, you will have a lattice trimmed, two story bed fit for the small king of your abode.
Raised Dog Bed Extra Large
While the two-story dog bed may look adorable, it is of course not the perfect product for a bigger dog like a St. Bernard or a Newfoundland.
If you have an extra large dog, then you need an extra large bed.
The 2Pet Elevated Pet Bed Cot* could be just what you need.
This bed features an extra large four foot by three foot surface. The strong steel frame helps to support the heaviest of dogs, while the nylon fabric bed provides comfort and elevation.
To add even more strength to the bed, the frame features two vertical rails along the middle of the bed so your canine companion has no chance of tipping over.
The bed comes in a variety of colors like blue, red, and black. It also snaps together easily and you can buy a replacement fabric if there is a need.
Large Raised Dog Bed
If you do not need a huge bed, but still need a big one for your Labrador, Collie, or Hound, then the Gale Pacific Coolaroo Elevated Pet Bed with Knitted Fabric* may just do the trick.
This bed has a much slimmer steel support structure and a lower price point to go with it. Not only will you spend less money, but the bed is much more portable than the larger and heavier beds.
Even though the bed is lighter, it is still heavy-duty with a high-density polyethylene fabric bed. This fabric is breathable and resistant to mold, mildew, and pests.
The bed can be used both inside and outside, and the fabric piece can easily be cleaned using a hose or a washing machine.
Raised Dog Bed With Sides
If your puppy or adult dog likes to curl up in a corner or if he loves to squish up next to you on the sofa, then he obviously prefers a cozy space.
An open dog bed might not be ideal, but one with sides may be just what your dog is looking for. New Age Pet offers just such a bed with the ecoFLEX Dog Bed w/Removeable Cushion.*
This bed features three tall sides with open slats to reduce overheating issues. It comes equipped with a three inch thick pad to fit a small, medium, or large sized bed.
An included cover can easily be removed and placed in the washing machine for easy cleaning.
The largest bed can hold up to about 100 pounds, and it looks a lot like a wooden variety. However, it is made from a unique and eco friendly material called ecoflex.
Ecoflex is polymer that is fully biodegradable. This means that you can reduce your carbon footprint, because the bed is fully compostable when you are finished with it (many years down the road, of course).
Raised Dog Sofa
If you have an older dog in your home, then a raised sofa bed can help to provide the comfort, stability, and softness that your dog needs.
PetFusion has the Ultimate Pet Bed and Lounge* with a thick, raised, memory foam mattress pad to cushion the joints and to assist with mobility and pain issues.
The cushioned sides of the sofa or lounger is made with memory foam as well to pillow your canine's head and neck for a restful snooze.
This bed comes in several sizes depending on your breed of dog, and the included cover can be removed and washed numerous times.
This cover is a zipper closed polyester/cotton blend that helps to keep debris away from the memory foam mattress so it can remain in good condition for years to come.
Small Raised Dog Bed
If you have a small dog and love the look of the pet sofa, then consider the Enchanted Home Pet Quicksilver Pet Sofa Bed*. This bed is much smaller than the pet bed lounger and actually looks like a miniature version of a couch you might have in your own living room.
This raised dog bed features a tall back and sides and a single thick plush loft cushion with removable cover.
This bed is only about 34 inches long and about 15 inches high. This makes it portable, easy for your dog to get into and non-intrusive in your home.
The bed also comes in a neutral gray color. This means it can match a variety of different types of bedroom or living room decor. The loft cushion is removable as well. In case you decide to replace it with a new one at some point.
Best Raised Dog Beds
We have taken a close look at some of the products that you and your dog are likely to enjoy the most.
There are a few options that stand out as a bit more luxurious than others. The Furhaven Pet Orthopedic Pet Bed for Dogs and Cats* is one product.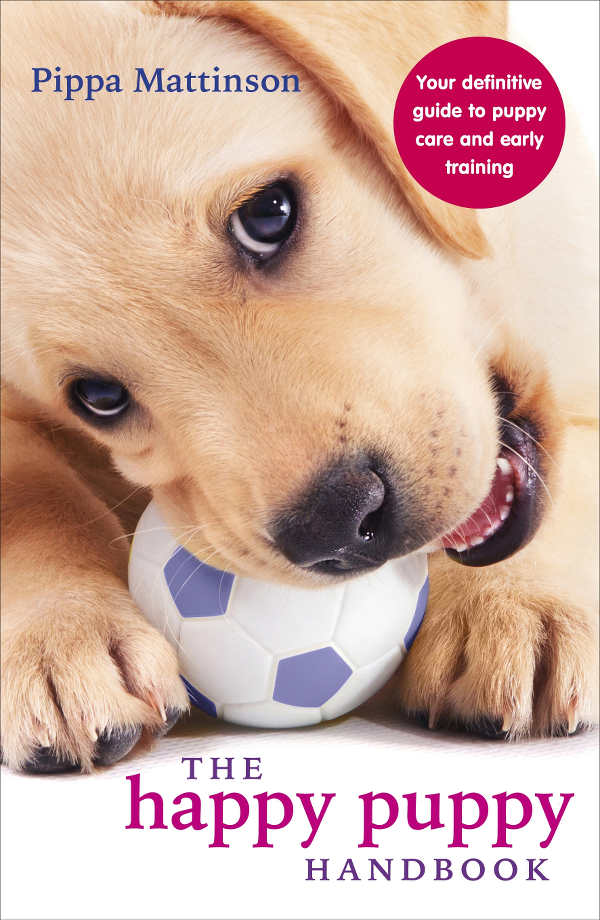 This bed is designed for both cats and dogs. So if your canine companion has his own feline friend, then this bed offers comfort and support for both animals!
This bed features orthopedic egg-crate foam and a plush faux fur covering. It also has a circular head rest, and over a dozen color and pattern options to fit the overall look of your home. The bed comes in four sizes as well, so you can really customize the bed to your dog's needs.
If you are looking for the ultimate in comfort outside your house, then sun protection is a must. The Pawhut Elevated Cooling Dog Bed Cot w/ Canopy Shade* is a paw pampering option. This bed features a long cot supported by a stainless steel frame.
The nylon fabric that makes up the main part of the bed comes equipped with mesh to keep your dog cool. And the best part is that the cot has an attached canopy cover that shields your dog from the sun. With the attached canopy, your dog's bed turns into a sort of tent, but with an open and airy feel.
Best Elevated Dog Beds
Raised dog beds offer comfort and cushioning for your beloved pup, and there are so many options available to you.
While we have outlined some of the best choices, so take a look around and make sure to buy what speaks to you and your furry friend.
What About You?
Do you currently have one of these awesome elevated pet beds? Do you have a different raised dog bed that you love?
Let us know in the comments below, and of course, we love sleepy puppy stories as well.
Affiliate link disclosure: Links in this article marked with an * are affiliate links, and we may receive a small commission if you purchase these products. However, we selected them for inclusion independently, and all of the views expressed in this article are our own.