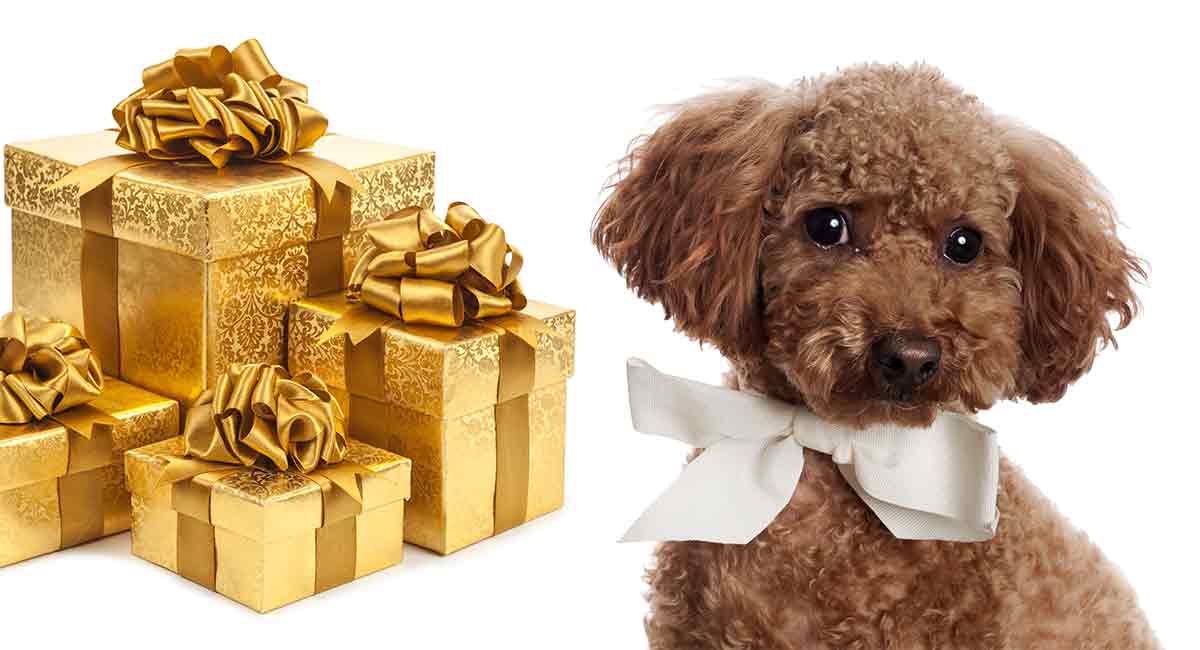 The best Poodle gifts show off this iconic breed, but they also match the Poodle lover's unique style.
Maybe you know the proud owner of a Standard Poodle, a Miniature Poodle, or a Toy Poodle.
Or maybe there is a special someone in your life who is just totally obsessed with everything Poodle.
We've got something for every age, style and taste of perfect Poodle fan!
All of these products were carefully and independently selected by the Happy Puppy Site team. If you decide to make a purchase from one of the links marked by an asterisk, we may earn a small commission on that sale. This is at no extra cost to you.
Gifts for Poodle Lovers
Dog lovers are one thing, but Poodle lovers? Watch out!
Anyone who is passionate about a Poodle is on a whole different level.
You don't have to own one of these intelligent and curly cuties to know just how special they are.
Besides, Poodles are basically a fashion statement.
They are as chic as any canine comes, a staple of France, and a posh reminder that beauty and brains can seriously collide.
Poodle Tote Bag
That's why we love this Poodle tote bag by Pet Studio Art*.
It's got the adorable face of a Poodle mixed with the rustic look of a raw tote.
But wait! (Ahem) There's more.
Look, we aren't trying to be biased here, but from one Poodle lover to another, this next gift on the list is sure to be a favorite.
Wine Glass Charms
This gift mixes friends, wine, and dogs.
Three of my favorite things.
Take a look at these charming magnetic dog wine charms*.
And yes, the Poodle one is obviously the cutest.
Not biased or anything. It's just a fact.
Poodle Baby Blanket
And if you've got a mini Poodle lover in your life, you may want to take a gander at this adorable Poodle-themed napping blanket*.
It's soft, cute, and cuddly, and we won't tell anyone if you want to buy that to snuggle with yourself.
Hey, no judgment here. Scout's honor.
But what if you are on a mission for something a bit more sentimental?
Are you looking for Poodle collectibles and other Poodle gifts for that special someone?
Look no further! We've got you covered below!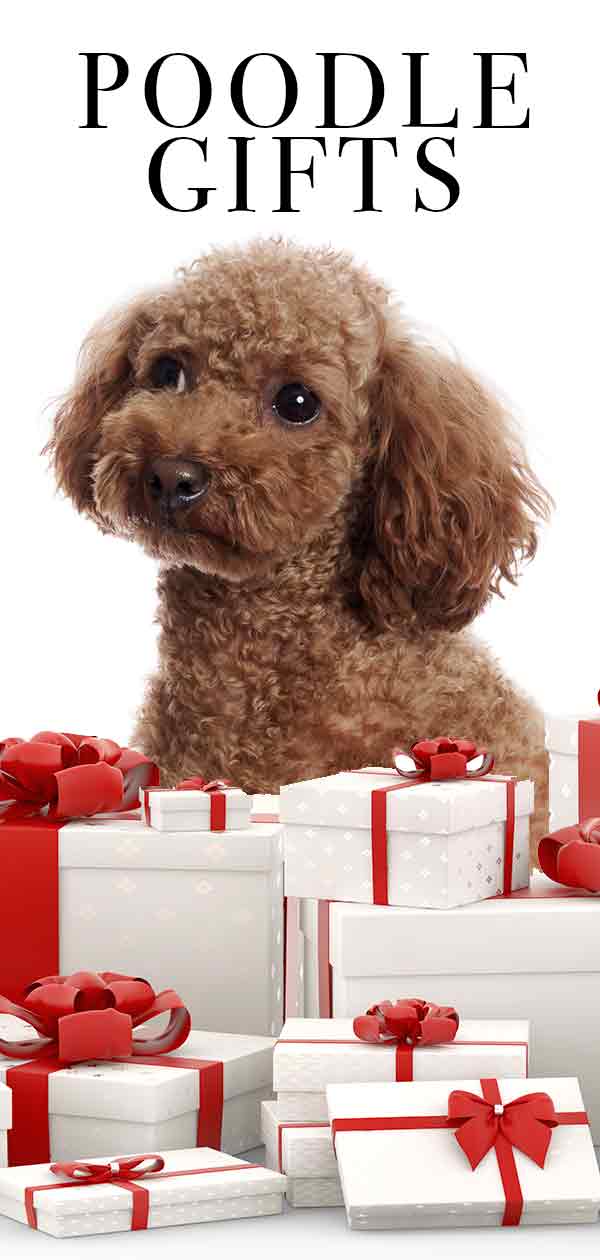 Poodle Gifts and Collectibles
Not every Poodle gift has to be playful or silly.
There are some great collectibles out there, and we've gathered them here for you!
Poodle Wine Glass
If you are looking for Poodle gifts that can be added to a set, then you are going to love this Poodle-themed etched wine glass*.
Buy one or buy a dozen, either way, this is a wine glass for the classiest of dog lovers.
Poodle Christmas Tree Ornaments
We are also crazy about these Poodle Christmas ornaments*.

They're cute and kitsch, and bound to get noticed on any tree.
And best of all, they're shatter resistant, in case an actual Poodle should happen to accidentally dislodge one!
Salt and Pepper Shakers
Last but not least, we love these magnetic kissing Poodles by Closeout Zone*.
They are seriously too cute.
Best of all, they are salt and pepper shakers!
Move over boring standard shakers! The Poodles are in town!
Now, are you ready to talk about some gifts that are perfect for the Poodle-owning Poodle lovers in your life?
Great! Keep reading!
Gifts for Poodle Owners
As a Poodle owner myself, I will completely and unbiasedly concur that Poodles are the best dogs ever.
Poodle Mug
So if you are looking for a gift for my fellow Poodle-owning dog moms, take a look at the adorable Poodle-themed coffee mug by This Wear*.
First of all, it's insanely adorable in a simple, classy way – just like the Poodle.
Plus, it totally announces how awesome your Poodle mom friend is by straight up exclaiming that she is the best Poodle mom ever.
Because she is, obviously.
Poodle Box Sign
And this box sign from Primitives by Kathy* is also a winner in our book.
It basically says it all.
Because yes, all you need IS love and a Poodle.
So deep. If you love signs with dog quotes, make sure you also check out some of these dog love quotes*.
Poodle Parking Sign
Now, this last one for Poodle owners really is adorable.
We couldn't decide if it should go in the fun Poodle gifts or the Poodle owner gifts, but ultimately we decided it belonged here.
You'll see why once you click on it.
Yes, Poodle lovers, feast your eyes on this adorable novelty sign that promotes parking for Toy Poodle owners only*.
This will go great in the home of any a Poodle lover or owner.
It would even look adorable in a garage, in a bedroom, or above that special Poodle's bed or toy box.
Yes, my Poodle has a designated bed and toybox. Doesn't yours?
Poodle Themed Gifts
Every Poodle lover loves Poodle-themed gifts, which is why you can't go wrong if you pick a gift from this list.
Poodle Christmas Figurine
First, we have this adorable Poodle-themed Christmas figurine by Sandicast*.
It features a gorgeous black Poodle with a festive Santa hat, probably waiting patiently for Santa to appear from down the chimney.
Anyone in the holiday spirit yet?
Poodle Coffee Mug
If it is too early or too late to be thinking about Christmas, don't worry.
We are sure your Poodle-loving pal will love this sweet and sentimental Poodle coffee mug by Pet Gifts USA*.
It depicts everything we love about Poodles, pointing out how stylish, intelligent, and playful they really are!
But what if you are in the market for some more practical gifts for the Poodle lover in your life?
We've got you covered. Keep reading!
Practical Poodle Gifts
Practical Poodle gifts are great for the Poodle owner who likes to put their presents to good use.
Poodle Grooming Brush
As any Poodle lover and owner will know, Poodles have tight, curly hair that needs to be brushed out and kept beautiful.
This practical Poodle cleaning brush* is the perfect practical Poodle gift for the Poodle owner in your life who likes to keep their Poodle companion looking fly.
Poodle Collar
Not convinced? That's okay.
We are also crazy about this adorable, super practical, and useful collar by hipidog*.
We love the fact that you can personalize this collar and there are even matching leashes to choose from!
Made from high-quality nylon, this collar is both fashion-forward and practical, just like that Poodle lover's Poodle.
Poodle Flower Collar
And for the more feminine Poodle in your Poodle-loving pal's life, there is this crazy cute Blueberry Pet collar*.
It comes in three different sizes and tons of different designs, complete with sewn on flowers and other accessories.
So that Poodle-adoring friend of yours can really shine when out and about on walks with their Poodle companion.
Fun Poodle Gifts
Now, this is perhaps our favorite section of Poodle gifts for Poodle lovers to choose from.
Poodle Lights
We can't even handle these amazing twinkle poodle lights by Impress Life*.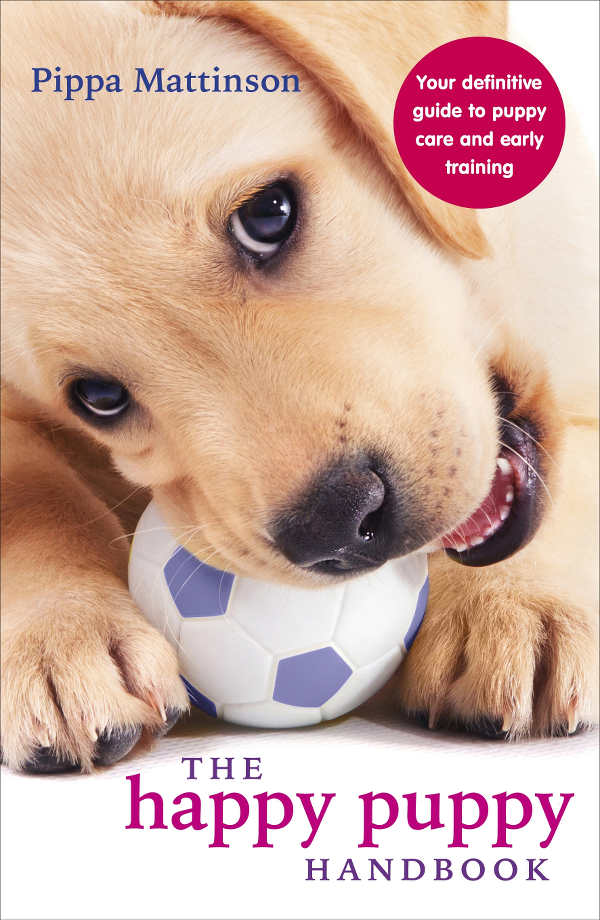 These little lights embody everything Poodle, from their elegance to their fun, they are Poodle through-and-through.
Use them for bedroom or porch decoration, or really anything your Poodle-loving friend deems fit.
Either way, we are sure these lights are going to be a huge hit!
Poodle Magnets
If you are not as sure as us about the Poodle lights, then you may want to take a look at these hilarious Kikkerland dog butts*.
And yes, the Poodle butt is, again, the cutest.
These magnetic pup booties go great on your fridge and come in a set of six, so you don't have to choose just one.
Along with the adorable Poodle butt, we also fell in love with the bright red fire hydrant.
Poodle Wine Glass
And last on our list of fun and funny Poodle gift ideas, we have another wine glass that lets everyone know just how much your Poodle-loving friend has had to sip on.
We love the sassy attitude and the notion that, yes, dog wines are a real thing.
And while this is not totally Poodle-oriented, it is still dog oriented, so we accept it.
Take a look for yourself!
It's the Wittsy Glassware and Gifts funny wine glass*, and we can't get enough!
Other Dog Gifts
These are some great gift ideas. And if you're trying to think of other dog-themed gifts, we've got even more gift guides for you!
Poodle Gifts
So what are some of the best Poodle gifts for Poodle lovers?
The choice is up to you!
Whether you want a sentimental gift for your Poodle loving companion, a funny gift, or even a practical gift, we hope you were able to come across one that suited your needs.
Do you know of any other funny, practical, or sentimental Poodle gifts for Poodle lovers we may have missed?
Tell us what you favorite Poodle gift ideas are below in the comments section!
Affiliate link disclosure: Links in this article marked with an * are affiliate links, and we may receive a small commission if you purchase these products. However, we selected them for inclusion independently, and all of the views expressed in this article are our own.