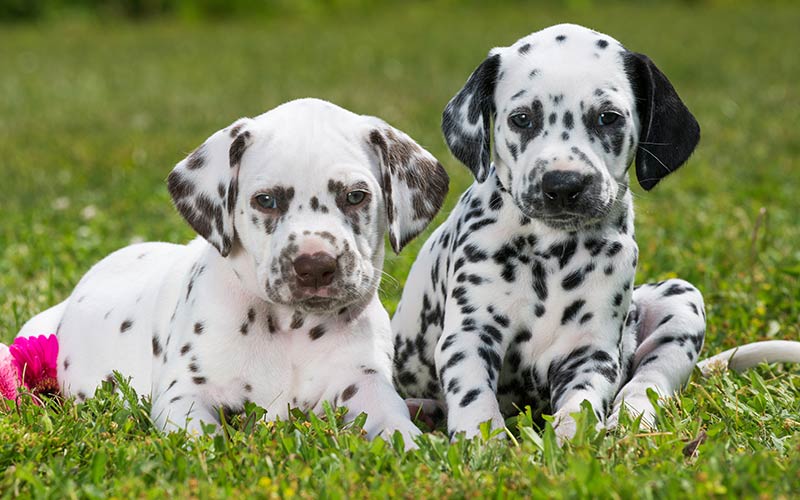 Welcome to our complete guide to outdoor puppy playpens.
Bringing you the very best ways to keep your pup safe and secure during yard time.
Whether you want to focus him on potty training in the place you want him to go, or to be able to let him play safely for a short time while your attention is elsewhere.
An outdoor puppy play pen is an essential item for many new dog owners.
Are Outdoor Puppy Playpens A Good Idea?
Our dogs may be highly domesticated to live with people, but still, there is little a puppy loves more than a grand romp in the great outdoors.
There is so much to see, do, and (most importantly) smell!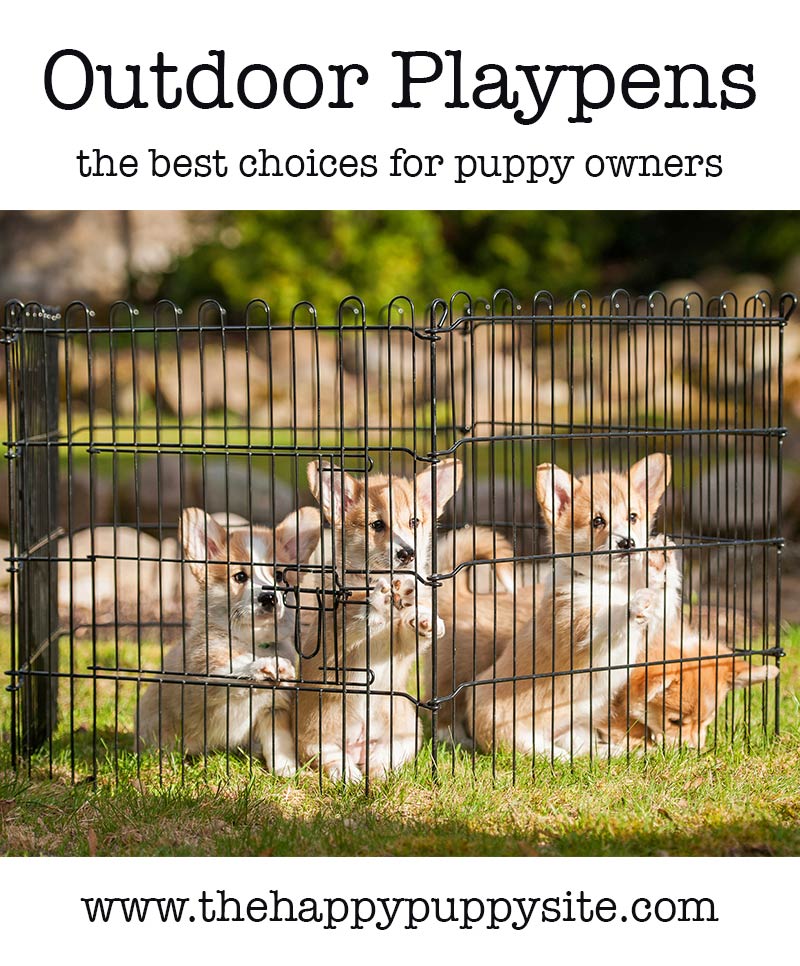 But puppies are still more fragile in their health and sturdiness than they will be as adult dogs. They are also much more prone to get themselves into all kinds of trouble if left unsupervised in the yard.
For this reason, it is always a smart idea to contain your active puppy in a safe and trustworthy outdoor puppy pen such as the ones listed here.
BestPet Wire Outdoor Puppy Pen
BestPet 2 Door Pet Wire Cage. This puppy outdoor playpen can also be used indoors and can be folded for travel as a portable puppy pen.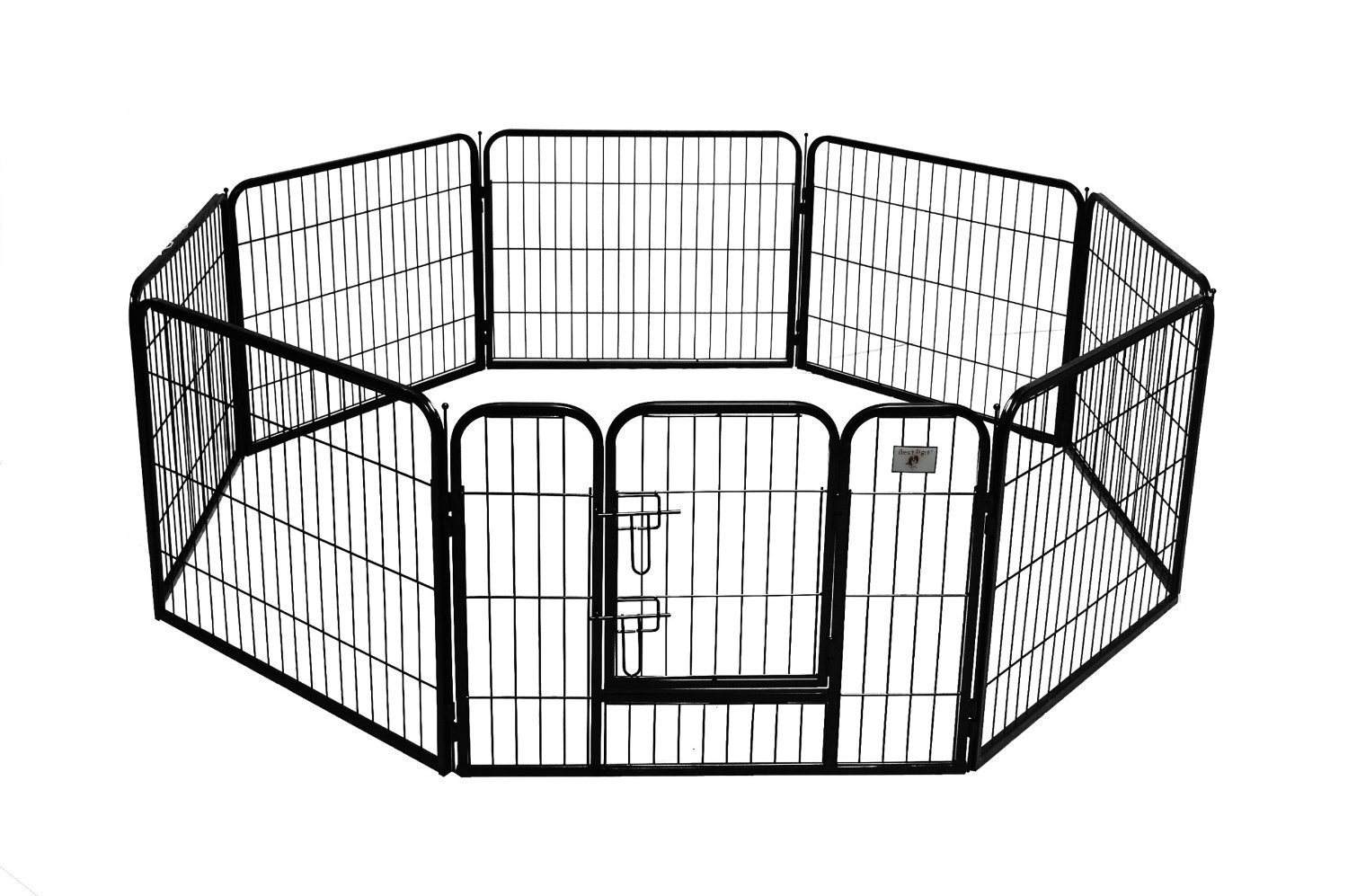 The manufacturer states it takes less than 60 seconds to set up and take down. It comes in two sizes (24-inch, 42-inch). It can be used for exercise, training, as a kennel or for other purposes as well.
Pet Trex Outdoor Puppy Playpen
Pet Trex Playpen for Dogs Eight High Panels. This outside puppy pen is good for young puppies of all breeds and older small breed puppies.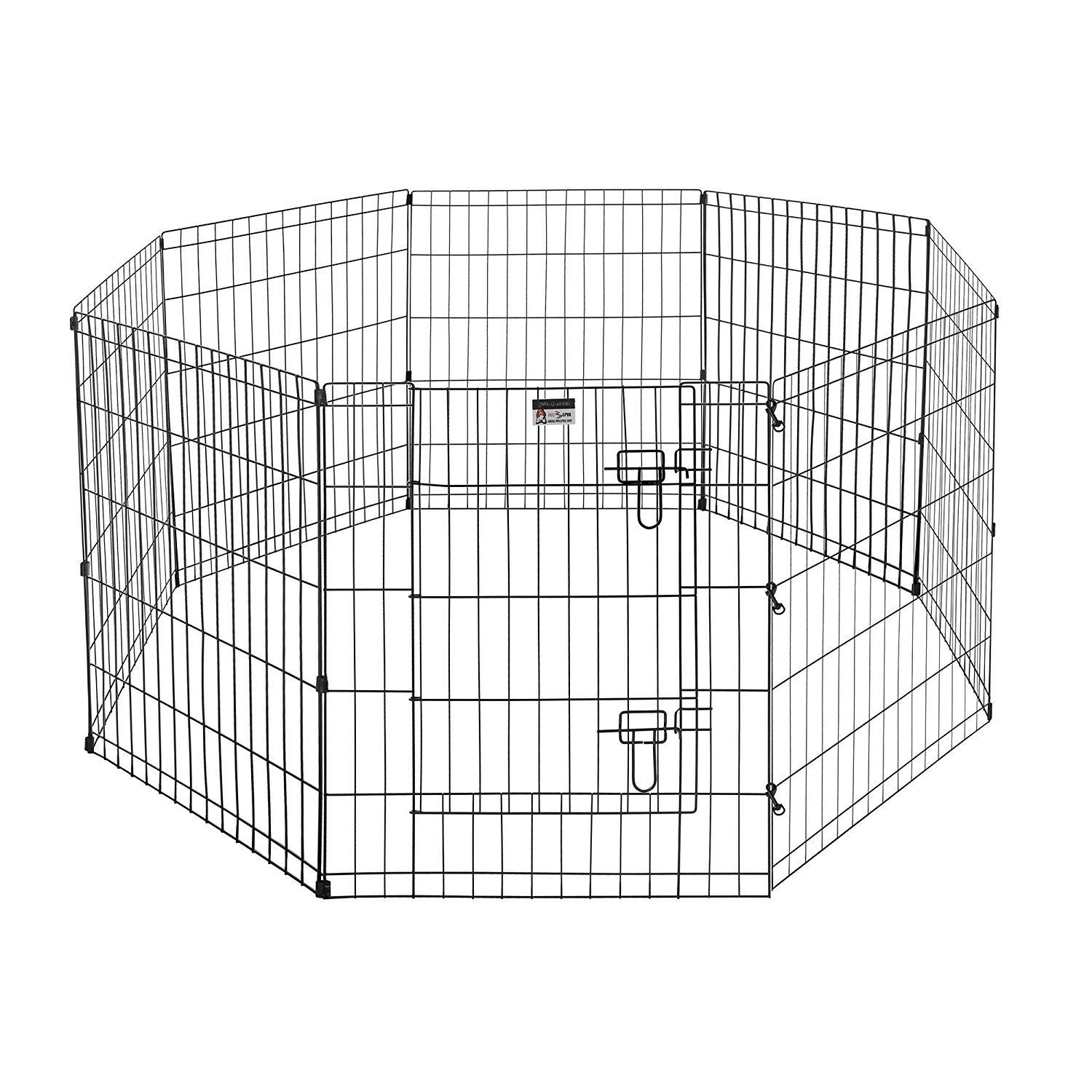 There is a door with a double-latch entry/exit system for an extra-secure pen. The pen comes with corner stabilizers and tent-like ground stakes for securing it in place. It is easy to set up and take down.
OxGord Metal Folding Outdoor Puppy Playpen
Oxgord Dog Animal Playpen Large Metal Wire Folding Exercise Yard Fence. If you have a large puppy, you may just find your perfect large puppy playpen in this versatile pen.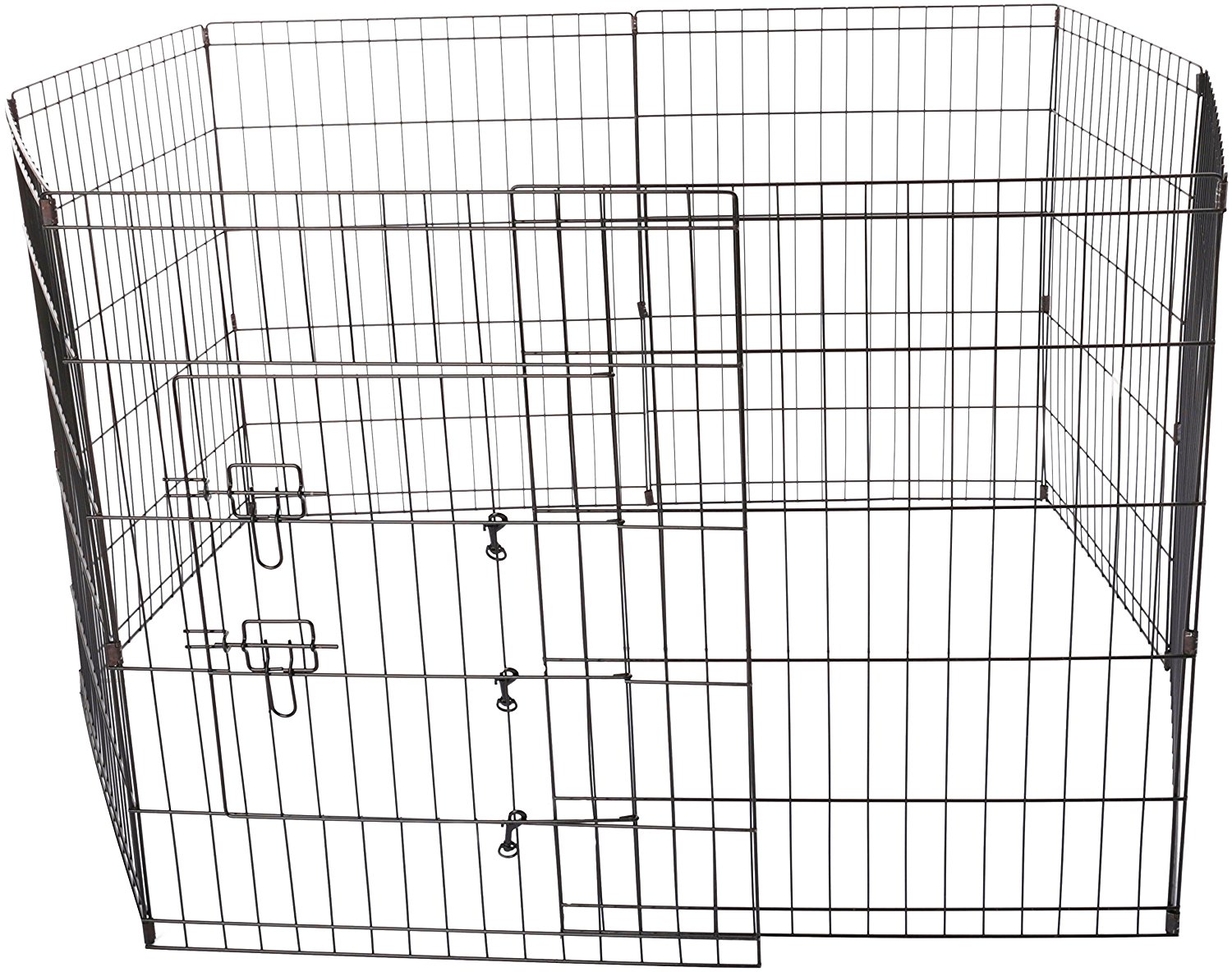 There are five sizes (24-inch, 30-inch, 36-inch, 42-inch, 48-inch) in several configurations, including the traditional square 4-sided pen and a larger eight-sided pen.
It is easy to set up and break down and folds flat for storage or travel. The outer coating is rust-resistant and durable for puppy teething/chewing.
MidWest Homes Small Outdoor Puppy Pen
MidWest Homes for Pets Small Animal Pen. If your puppy is a tiny or teacup breed, this highly rated teensy small animal playpen might be the perfect choice!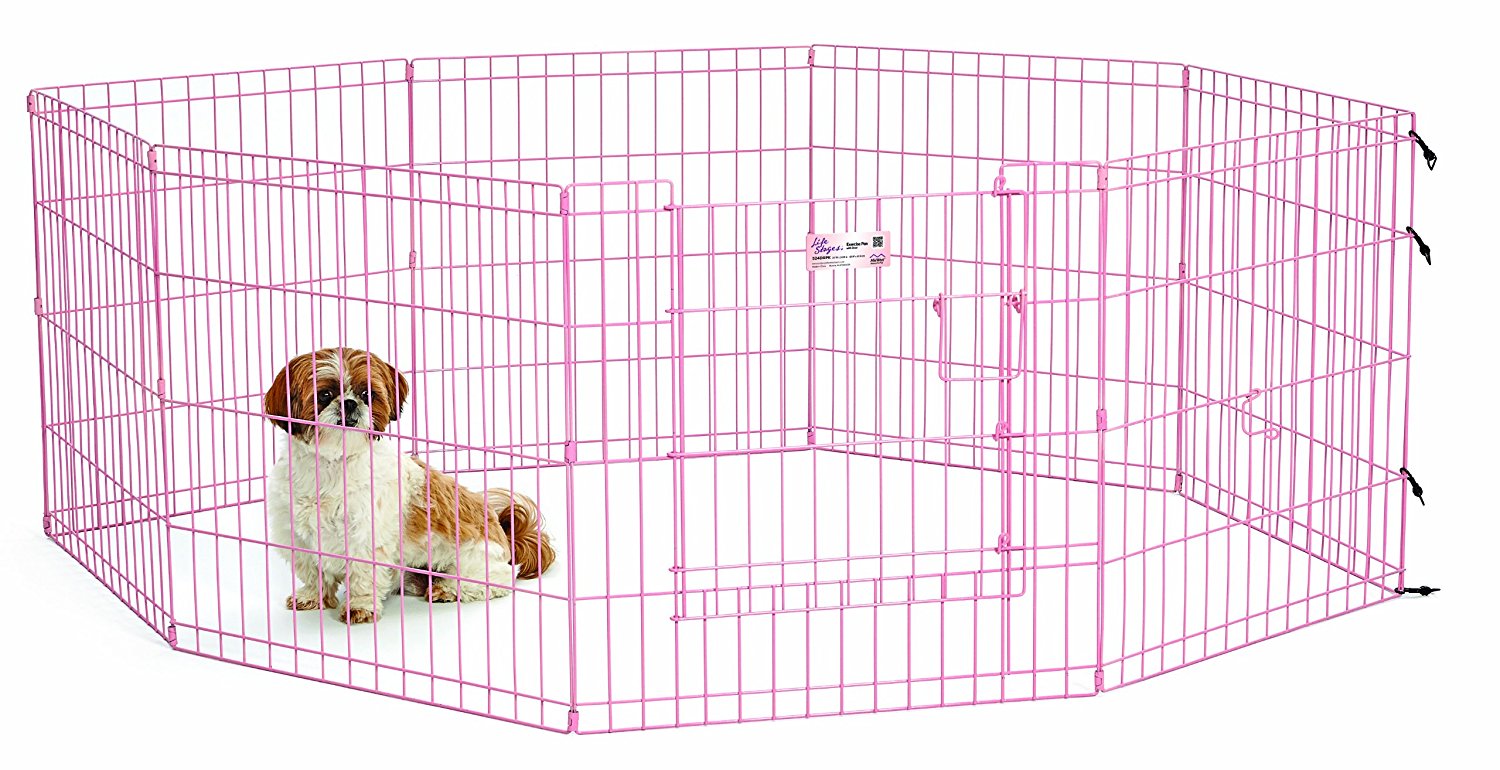 The durable metal is brightly colored and easy to set up and break down for travel or indoor/outdoor use. The manufacturer offers a 1-year warranty.
Ollieroo Puppy Exercise Pen
Ollieroo Dog Playpen Exercise Pen. This metal puppy pen is designed to be used outdoors, but you can use it indoors too if you wish.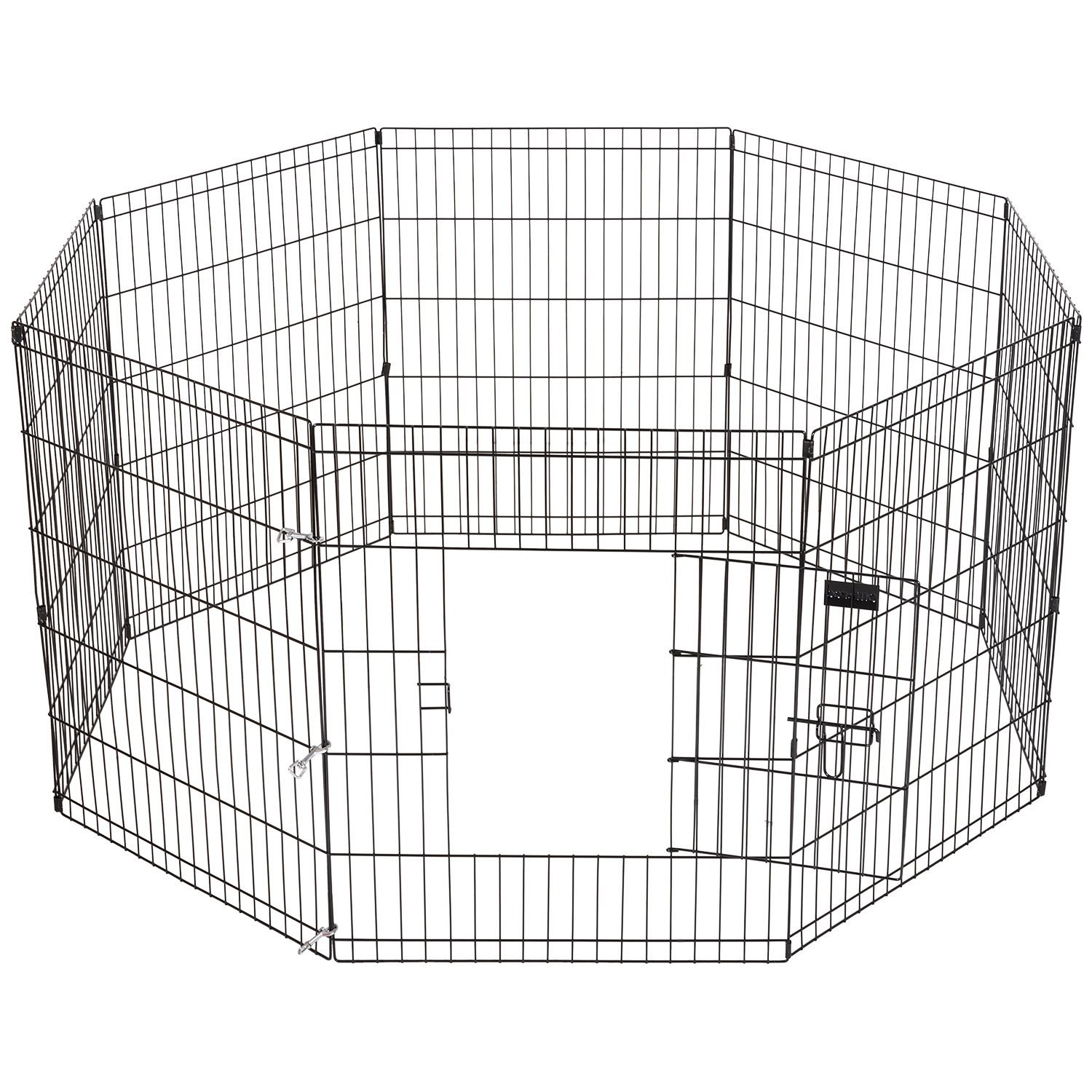 There are two sizes (24 X 24 inches, 24 X 30 inches). It can be reconfigured into different shapes for some play variety. The metal is coated with a rust-resistant shield for durability.
There is a single access door and an optional 3-clip attachment to add it on to a puppy crate.
Gazebo Style Outdoor Puppy Playpen
Advantek Pet Gazebo Modular Outdoor Dog Kennel. This roomy and highly rated puppy playpen is best for large breed puppies.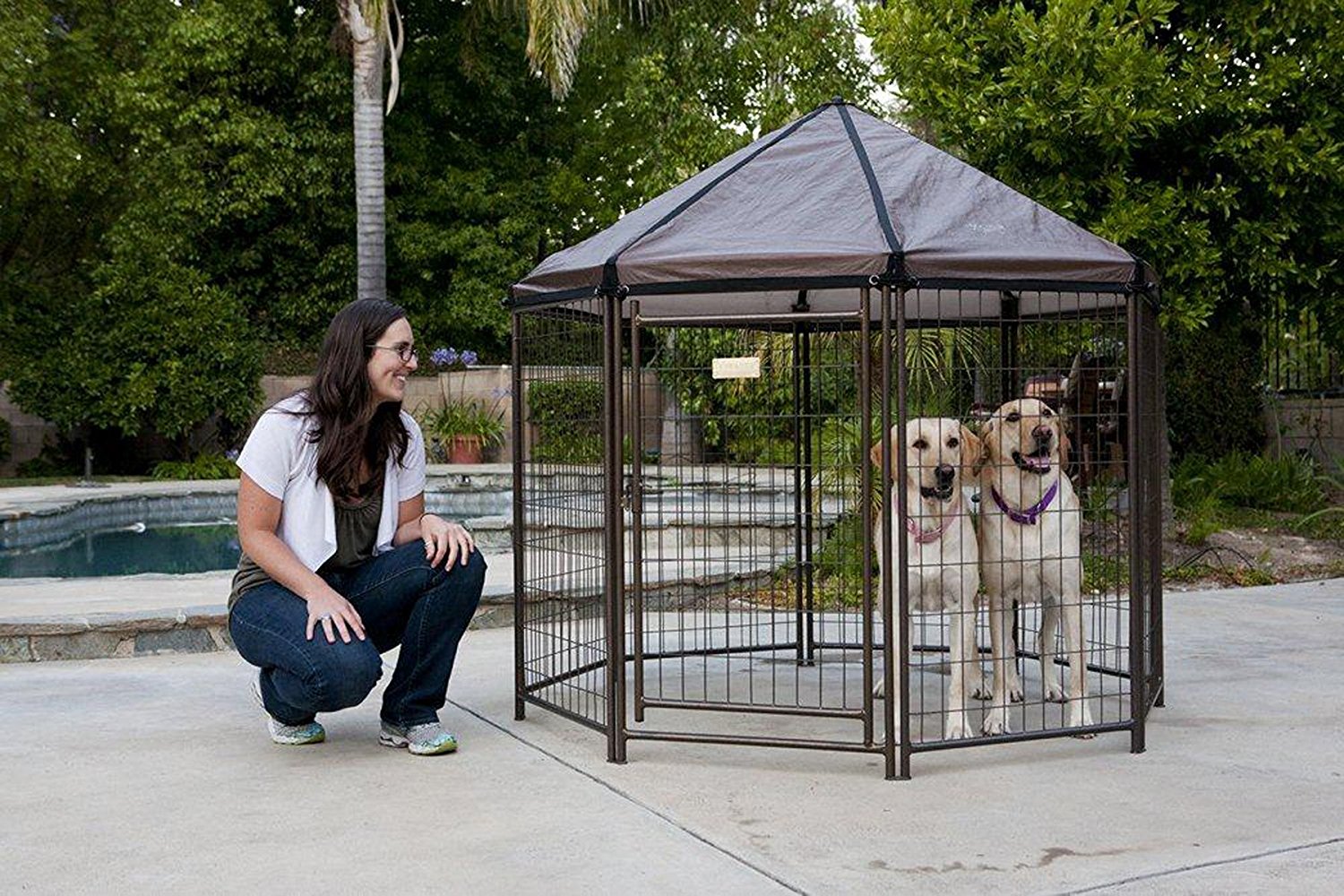 The color is gold and it comes with a neat teepee cover made of weather resistant polyurethane.
The window/door has a secure latching system and the setup requires no tools. Advantek also makes a size suitable for small breed puppies.
You can find out more on Amazon here.
Marshall Puppy Playpen
Marshall Pet Products Small Animal PlayPen. This extendable white playpen is an excellent choice for small breed puppies, with 9 square feet of play space inside.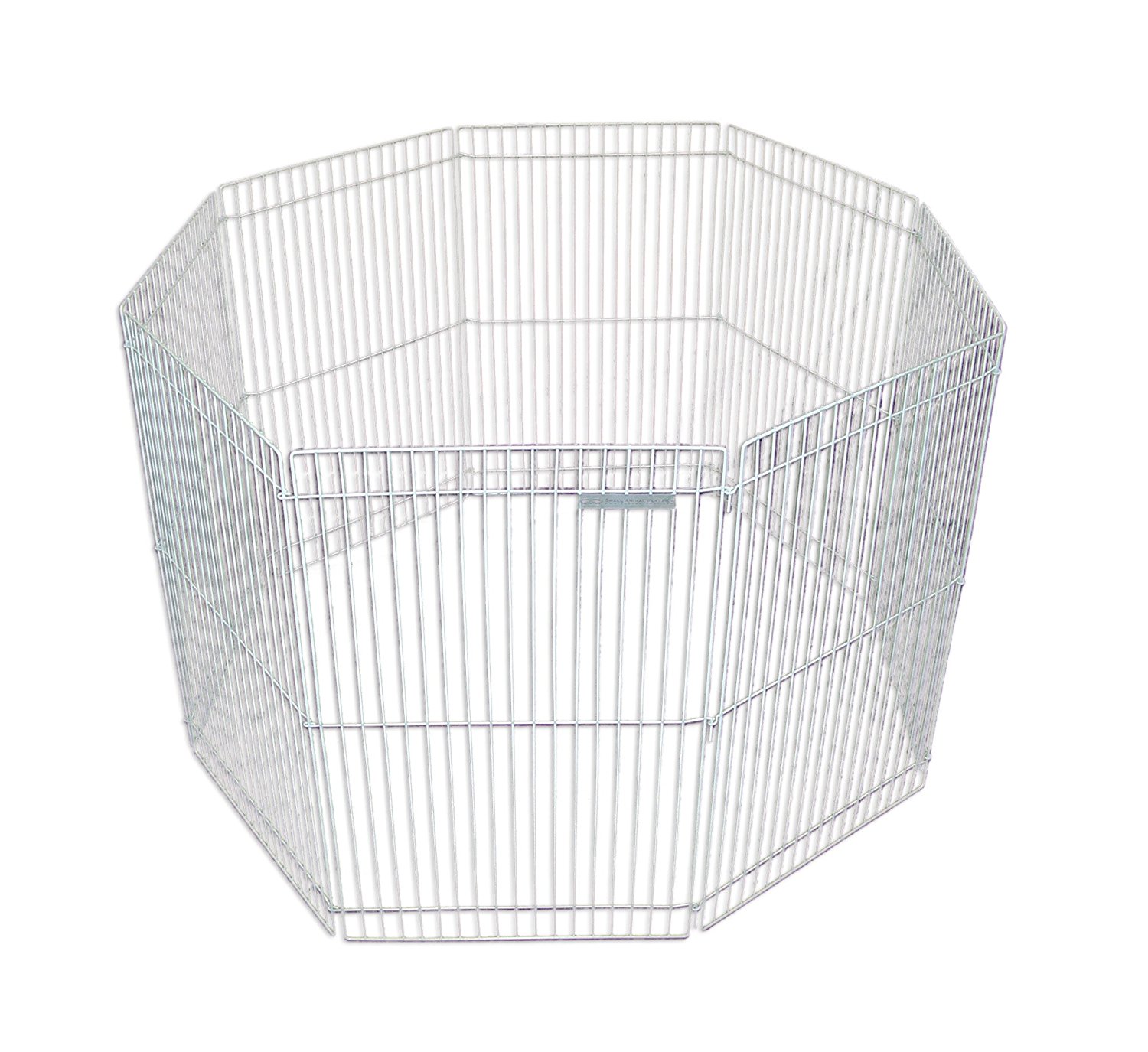 It can be used indoors or outdoors, so you can move it inside for twice the use!
A 3-in-1 cover and carry case are sold separately.
16 Panel Outdoor Metal Puppy Playpen
TMS 24″ Tall 16 Panels Metal Pet Puppy Pen. This huge 16-panel puppy playpen will give your puppy all the space he needs to run and roam and relax at will.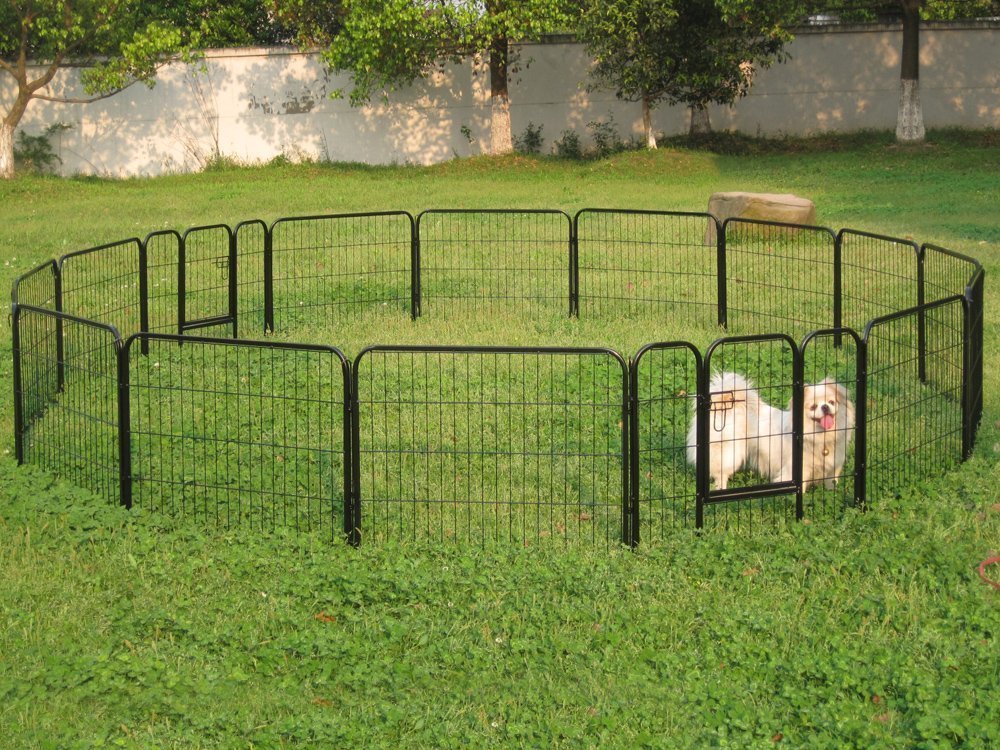 To add even more space, simply attach a second 16-panel playpen. The material is steel and the color is black.
Ground stakes ensure a secure pen.
Heavy Duty Outdoor Puppy Playpen
Iconic Pet Heavy Duty Metal Tube Playpen for Dog Exercise and Training. This playpen comes in four sizes (24-inch, 32-inch, 40-inch, 48-inch) and features very high walls to contain enthusiastic young jumpers.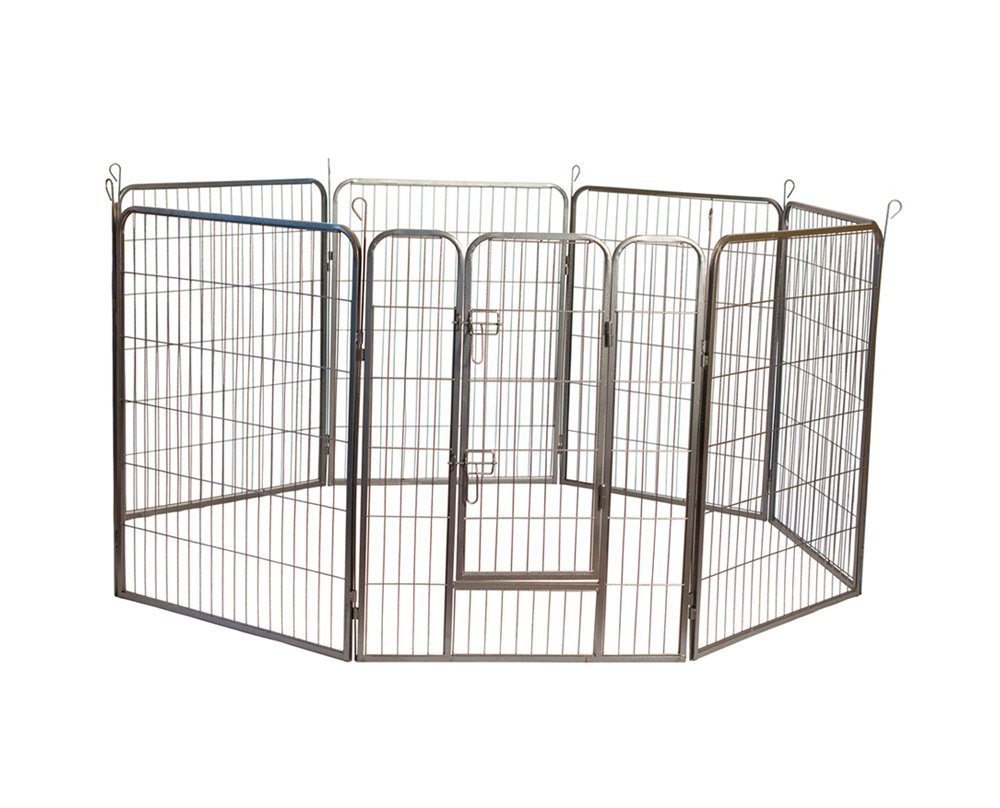 The panels interlock and fold down flat to store the playpen. It can be used indoors or outdoors.
Midwest Home Outdoor Puppy Pen
Midwest Homes for Pets Foldable Metal Exercise Playpen. This awesome foldable portable puppy pen is as sturdy, durable and portable as they come.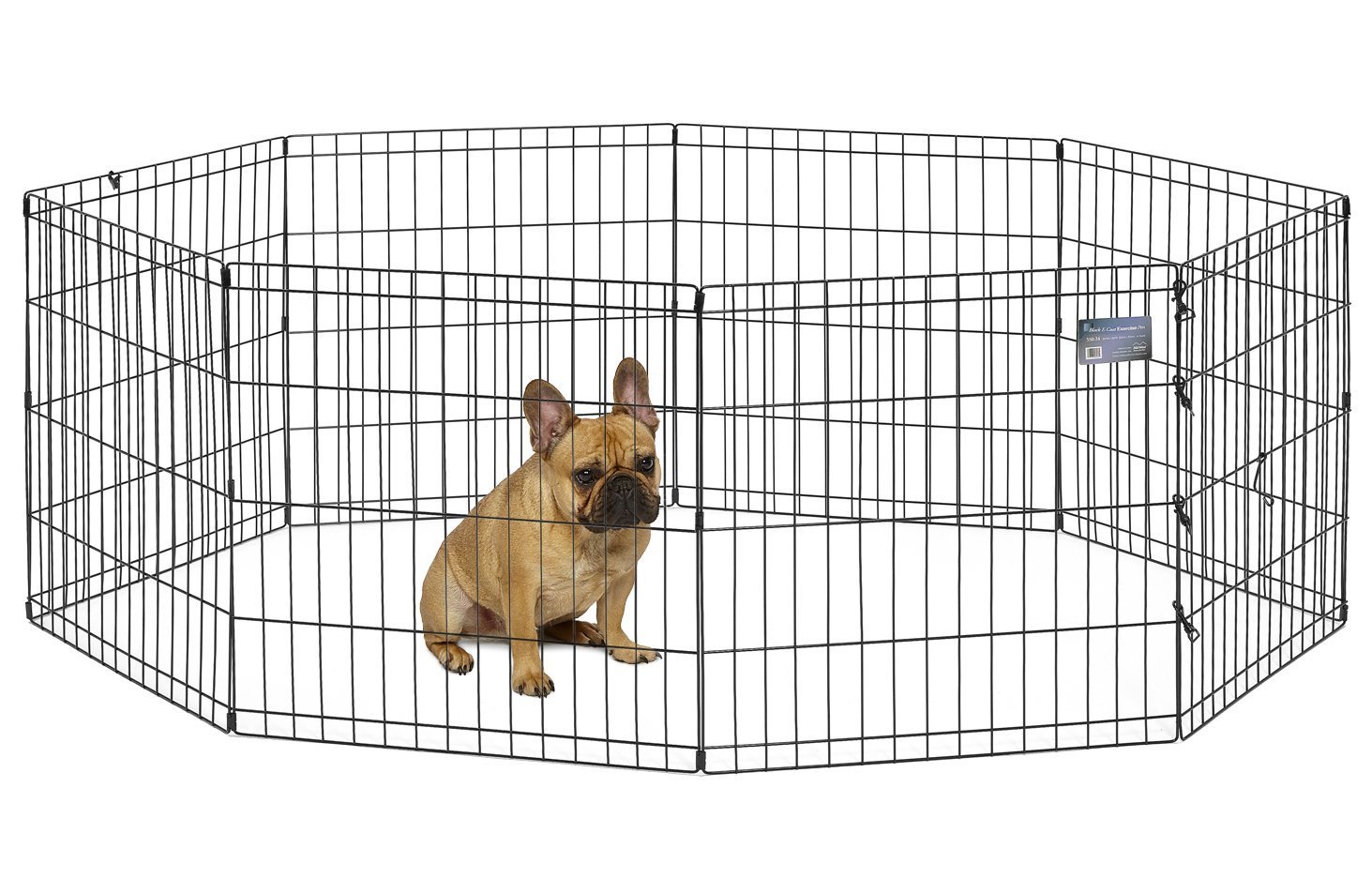 It comes in two colors, black and gold. The black version can be ordered with or without a door. There are five sizes (24-inch, 30-inch, 36-inch, 42-inch, 48-inch).
This portable puppy pen comes with eight tent-like ground spikes for anchoring. It is easy to set up and no tools are required.
OxGord Heavy Duty Puppy Playpen
OxGord Metal Tube Fence Heavy Duty Folding Playpen. This heavy duty puppy playpen is another option that can grow up with your puppy and still serve him well in his adult years.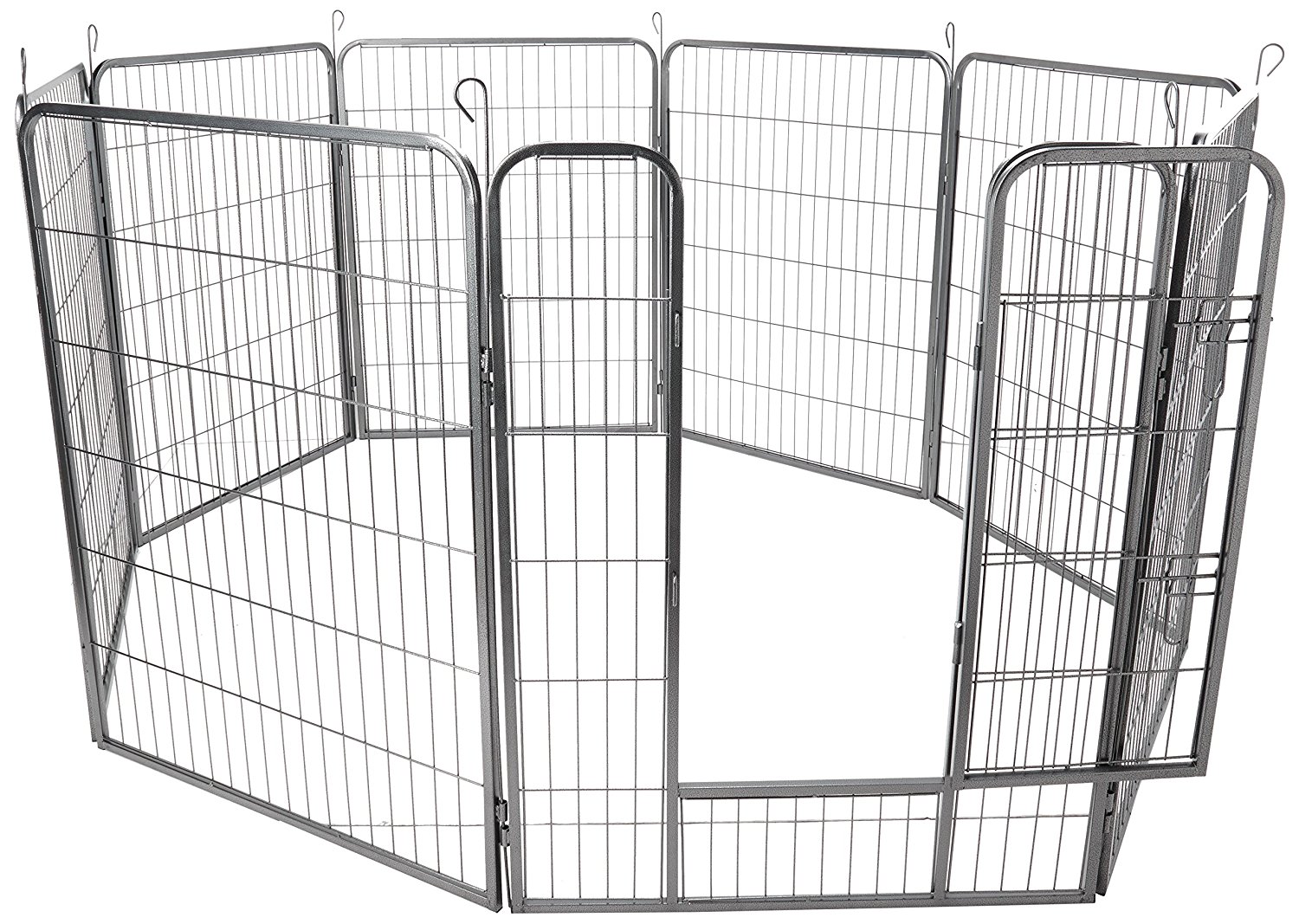 The door has a double latch system and the metal is coated with a rust resistant finish for durability in all kinds of weather.
Lucky Dog Outdoor Puppy Kennel
Lucky Dog Uptown Welded Wire Kennel. This super heavy duty puppy pen is made from a combination of steel and wire mesh that is welded to ensure rounded edges that are safe and well insulated from rust or corrosion.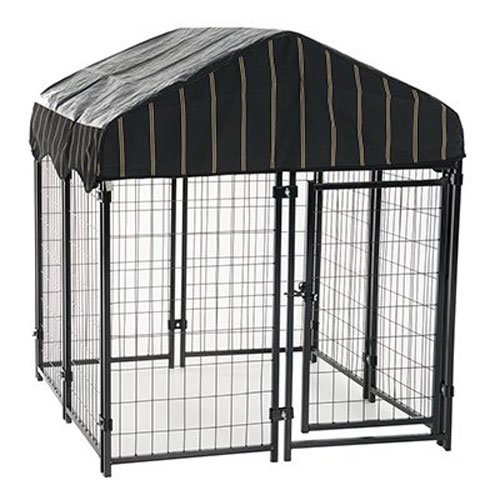 There is an optional cover that is included – it is made from waterproof material that blocks the sun's ultraviolet rays plus inclement weather. The legs are raised to 1.5 inches to allow for easy cleaning.
You can set up this sturdy, roomy pen with no tools in minutes.
MTN Deluxe Outdoor Puppy Playpen
New MTN Gearsmith 40″ Heavy Duty Dog Outdoor Deluxe Metal Fence and Exercise Pan Playpen.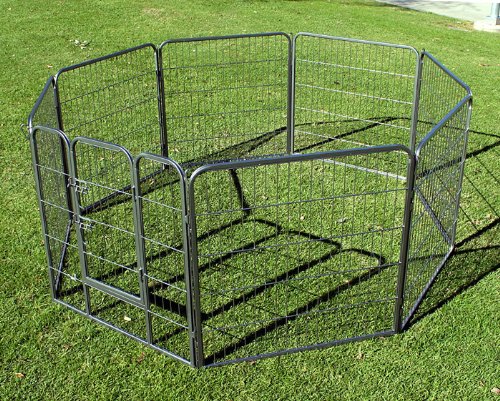 This is a newer product that states it is the strongest puppy playpen on the market. At 40 inches in height, it is suitable even for large breed puppies and can grow with your puppy for adult dog use as well.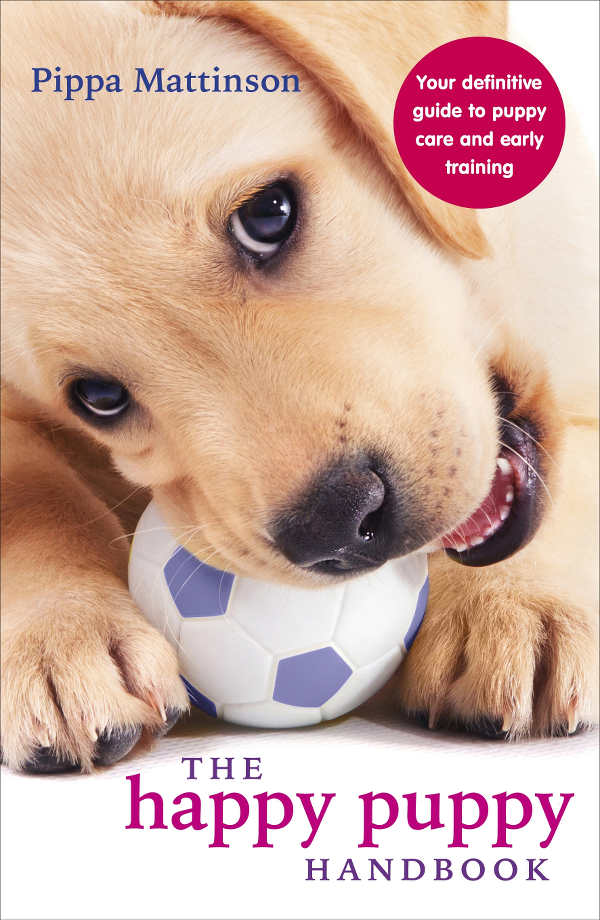 The Perfect Companion For Life With A New Puppy
There are eight panels and a single locking door. No tools are required for assembly.
My1stPet Outdoor Puppy Pen
My1stPet 8 Panels Metal Exercise Dog Playpen with Door. This steel pet playpen features eight panels in three sizes (24-inch, 32-inch, 40-inch).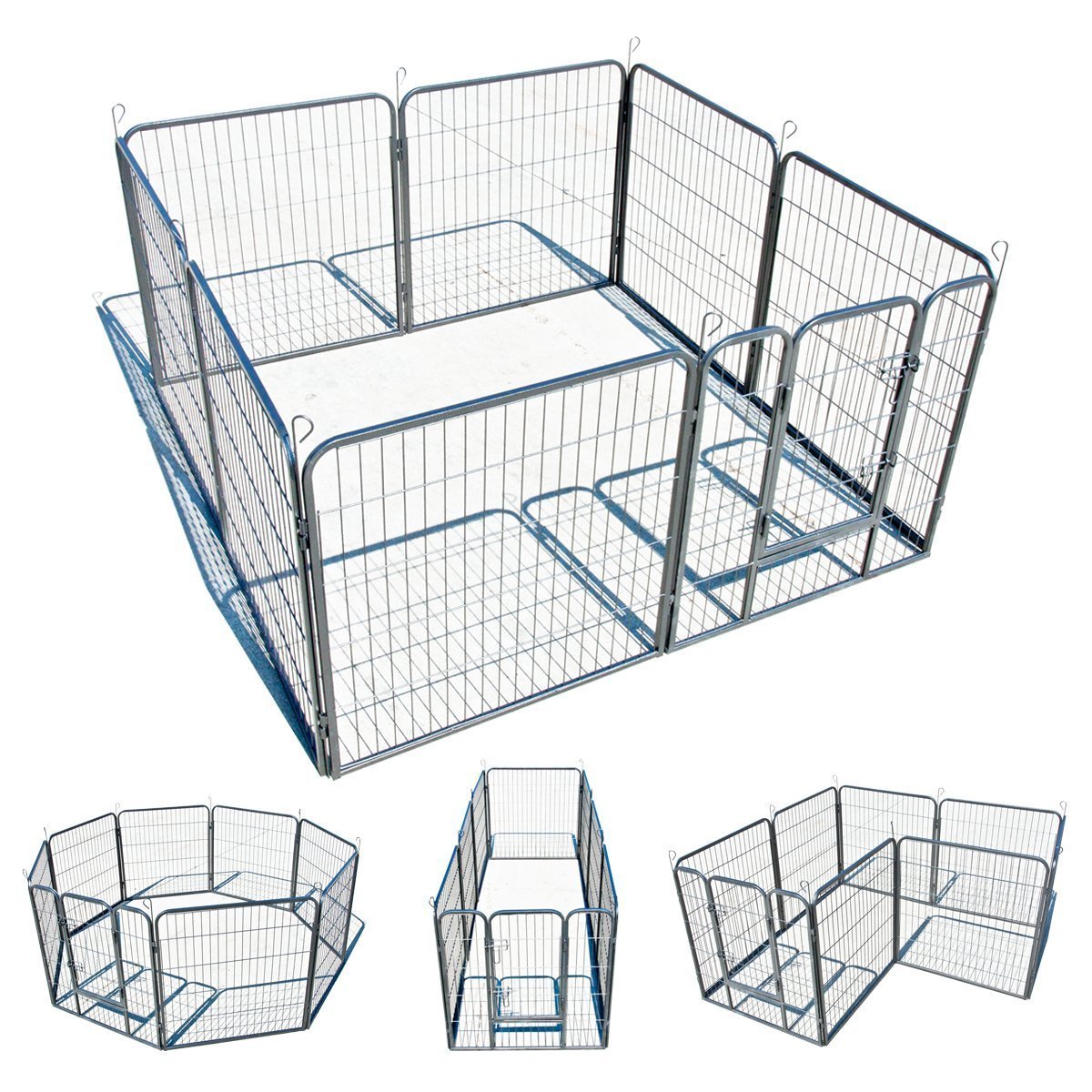 You can connect multiple playpens together for extra space as your puppy grows. There is a single door with a two-latch safety system. The panels can be set up in multiple configurations for variety.
Petsafe Dog Kennel
Petsafe Dog Kennel. This sturdy and durable outdoor dog kennel is four feet high to contain even the most enthusiastic jumpers.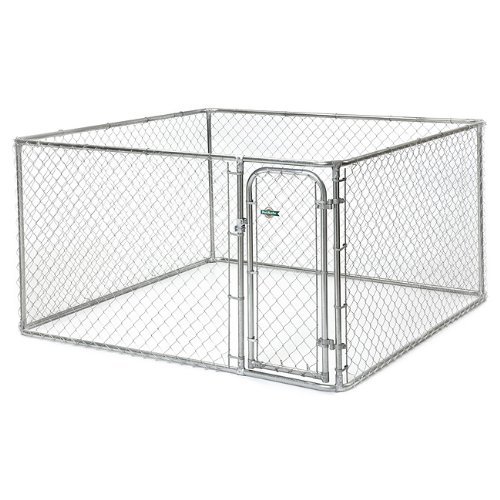 It features a single door set off the ground with a single locking latch. This kennel comes in two sizes (small, large).
ProSelect Outdoor Puppy Exercise Pen
ProSelect Easy Exercise Pen. Designed primarily for outdoor use, this ultra-practical pet design can be used at home and for travel and dog shows.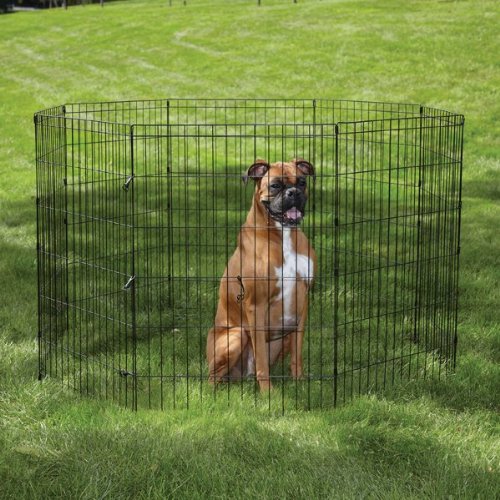 The pen comes in six sizes (18-inch, 24-inch, 30-inch, 36-inch, 42-inch, 48-inch) and features epoxy coated wire bars that are closely spaced for safety. The interlocking panels can be configured in many different ways. It folds flat for storage and travel.
Best Outdoor Puppy Playpen
As you decide, it can also be helpful to consider how you want to use the puppy pen – will it remain in one spot or would you prefer to move it outdoors and then indoors again?
Even more, we'd love to hear what your puppy thinks of the new pen! Feel free to post your insights and comments here for everyone to enjoy and benefit from!