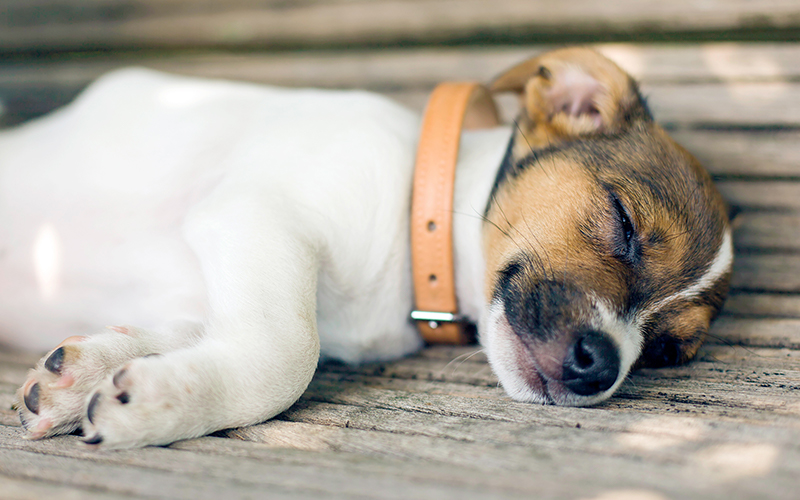 Welcome to our complete guide to the best leather dog collars around. Helping you to pick the best leather collar for your dog or puppy!
Whether you have a tiny Chihuahua, a small American Eskimo, a medium Border Collie or a massive Mastiff. Most of these suggested collars come in small to extra large.
So it'll be easy to find the perfect leather dog collars for your prized pooch.
Before we begin – be sure to measure your pup's neck.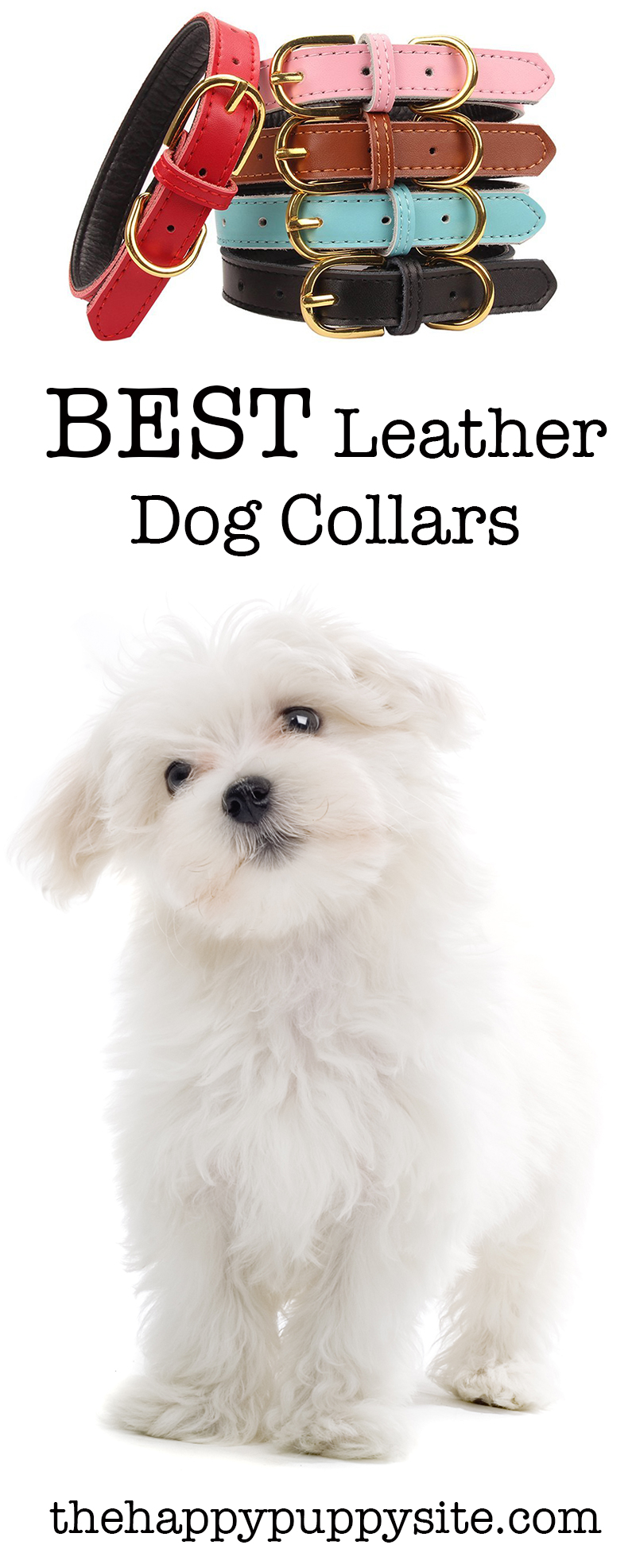 Use a fabric measuring tape or piece of string, and go a size up to find the right fit for your pup.
Ready? Then let's begin with some stunning custom leather dog collars!
Custom leather dog collars
Looking for a very cool looking custom leather dog collar?
This one by Custom Catch has black or brown leather, your choice, and fun text colors.
Depending on the colors you choose, the text can really stand out, making your pup look awesome!
Rolled leather dog collars
Rolled leather dog collars not only look nice, they are more comfortable to wear than traditional collars. Making them a popular choice among dog owners.
A great option from Amazon is the Coastal Pet Products Latigo Leather Round Collar.
This collar is adjustable and can even fit a large breed puppy such as a Lab.
Personalized leather dog collars
You don't have to purchase a separate dog tag if you get a personalized leather dog collar.
Your puppy's name and your phone number are etched onto the fabric.
Custom Catch makes some in different sizes, ranging from extra small to extra large.
Customers report that the custom print looks great, and the collar fits well and is softly padded on the inside for comfort.
Your puppy will look snazzy in this collar!
Pink leather dog collars
Do you want a dog collar that's fun and stands out? Then getting a pink leather dog collar is a cute choice for your doggy.
Aolove makes a pink classic padded leather pet collar for puppies all the way to medium sized dogs.
It is highly rated and very stylish looking.
Red leather dog collars
If you are looking for a collar that will pop in a crowd, consider getting a red leather dog collar.
Logical Leather makes a padded leather dog collar that is thick and durable and will not fray like nylon collars.
This also comes in a variety of sizes, so be sure to get the one that fits your pup's neck comfortably.
Black leather dog collars
Perri's Padded Leather Dog Collar is a good choice if you are looking for a black leather dog collar. This one has classic styling and is a durable leather collar!
Not only that, it has very soft lambskin padding for extra comfort.
You can choose from a range of colors for the inner padding. It is well made and should keep your dog looking good for a very long time.
Brown leather dog collars
Are you looking for a beautiful, two-toned brown leather dog collar?
Soft Touch Collars makes one that is brown and cream with sheepskin leather padding in the interior.
Their solid brass hardware is lacquered to prevent corrosion and rust.
Handmade leather dog collars
Looking for something that is specially handmade?
Then look no further than to CollarDirect Handmade Genuine Leather Dog Collar.
It is stylish, high quality, and made for comfort.
It also comes in a variety of styles and sizes, so pick one that is right for your pup!
Leather dog collar with nameplate
Do you want a soft and sturdy collar with an engraved nameplate?
Well Didog makes a cute leather padded custom dog collar with engraved nameplate ID.
It comes in four colors: black, blue, pink, or red and three different sizes.
Perfect for most breeds of dog.
Western leather dog collars
If you want your pup looking like he just walked out of a Western movie, Weaver Leather Sundance Dog Collar sure fits the bill.
It has a fashionable and antiqued look to it. Its pretty cool looking with scalloped edges and copper berry conchos embroidery.
Your pup won't have any trouble looking like a cowboy's sidekick in this collar.
Giddy up!
Padded leather dog collar
Do you want your pup to be extra comfortable when wearing a collar? Padded leather dog collars are made with comfort in mind.
Viosi makes one called Kingston Leather Padded Dog Collar, which is made from eco-friendly tanned buffalo hide.
Why did they choose buffalo hide? For strength, durability, and minimal stretch.
It also comes with a solid brass buckle with lacquered finish.
Thick leather dog collars
Soft and sturdy, heavy duty and skin-friendly, Beirui Brown Genuine Leather Dog Collars for Medium and Large Dogs offers a heavy D-ring placed for leash attachment when walking and training outdoors.
This fashionable and stylish collar is plainly designed, strong and durable.
It also has six adjustment holes to fit your pup in correctly and comfortably.
Wide leather dog collars
Do you want a collar that law enforcement and military grade professionals would use for training their dogs?
Signature K-9 makes a 2 inch wide collar that spreads weight distribution around the neck to prevent injury and encourages comfort during long working days.
You can pride yourself in knowing that this collar is made in America by old world Amish craftsmen in Pennsylvania.
Designer leather dog collars
Do you want your dog looking extra fashionable and fabulous standing next to you?
Designer leather dog collars offer that eye-catching look and quality and that zing you've been looking for, for your pup.
Blueberry Pet makes beautiful striped designer collars with matching leash and harness available.
These collars are not only high quality genuine leather, they also contain a combination of polyester webbing to provide supreme flexibility and comfort for your pup.
Soft leather dog collars
Soft Touch Collars makes a Slimline Edition dog collar. It has a beautiful two tone color – pink and light pink with stylish black trim.
Their collars are hand-stitched and handmade.
Including the soft inner padded lining, which protects your dog's skin from friction and irritation.
Luxury leather dog collars
Do you want that luxurious leather feel for your pup?
Chede Luxury Real Leather Dog Collar is handmade for small, medium, and large dogs.
This collar is not only soft, but stylish, strong, and comfortable for your puppy as well.
It is also easy to clean with a soft damp cloth and gentle leather cleaner.
Leather puppy collars
Looking for a good all-round leather puppy collar?
We suggest the Aolove extra small dog collar, which comes in 10 different colors.
It is made from strong durable high quality leather, nickel-plated hardware, five adjustment holes, and has a heavy duty D-ring.
Best leather dog collars
Looking for the best leather dog collar? There are several factors to consider when choosing what's best for your pup.
Think about their collar size and style. Find something that looks and feels great, and is well within your budget.
From there it should be easy to find the kind of leather dog collar that suits your pup.
Why not let us know which leather dog collar you picked in the comments section below!