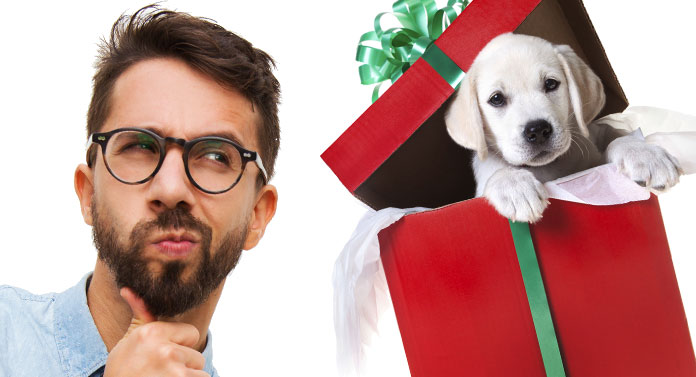 Labrador Retrievers are among the world's most popular dogs. So it's fair to say we all know someone who loves a Labrador!
And now, finding them a present couldn't be easier. Our Labrador Retriever gifts are certain to raise a smile on any Lab lover's face.
We've found gifts for every type of Labrador fan, from young to old, frivolous to practical.
All of these products were carefully and independently selected by The Happy Puppy Site team. If you decide to make a purchase from one of the links marked by an asterisk, we may earn a small commission on that sale. This is at no extra cost to you.
Top Gifts For Lab Lovers
Let's start with our five favorite, most thoughtful Labrador Retriever gifts for any occasion.
Yellow Labrador Retriever Statue
This sweet home or patio statue* stands at 13.5 inches tall.
It is made of composite resin and hand-painted, so that each one is unique.
The tongue-in-cheek latch hook sign says LAB LOVERS WELCOME (OTHERS TOLERATED) on one side and DON'T STOP RETRIEVIN' on the other.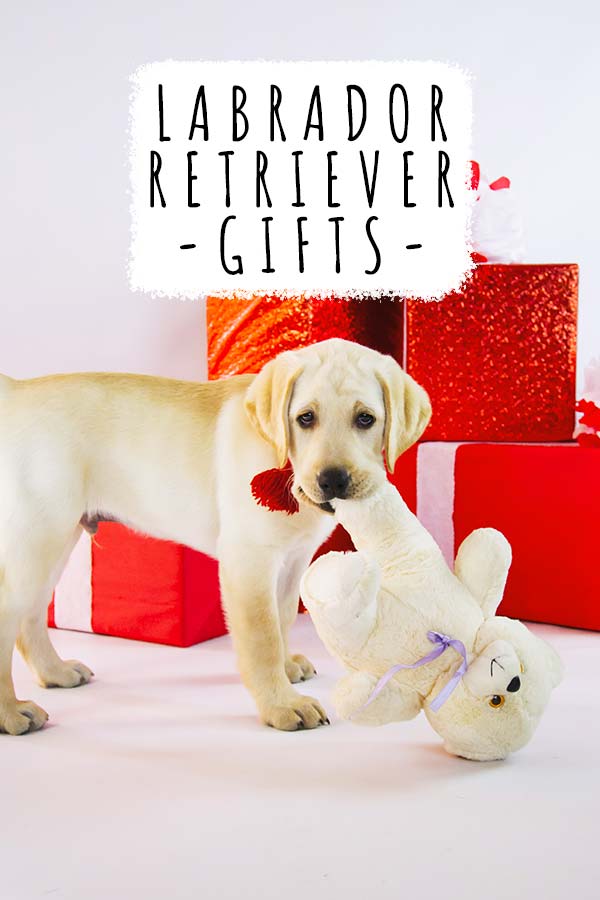 Labrador Retriever Salt and Pepper Shaker Set
This adorable AND practical shaker set* is perfect for the Labrador lover who's also fond of a bit of kitsch.
It weighs approximately 1.5 pounds and stands at 6 inches high. Individually handcrafted from cold cast resin, this Labrador Retriever gift is durable and high-quality.
Not once have we been able to look at this gift without smiling!
Labrador Retriever Dog Cork Coasters
For the Labrador fan with more contemporary tastes, how about these waterproof cork Labrador Retriever Dog Cork Coasters.*
They are durable enough to withstand the occasional spill or condensation from an icy drink, and satisfaction is guaranteed by the manufacturer.
Previous purchasers love the cute and simple design – and we can see why!
Sandicast Labrador Retriever Sculptures
Sandra Brue – the remarkable sculptor behind Sandicast – is famous for her life like animal figurines.
Brue has designed several strikingly realistic Labrador figures, Sandicast Labrador Retriever Sculptures* including this sweet chocolate Lab.
Other styles come in yellow and black, with seasonal touches like Santa hats, and even in huge life size editions.
So you can pick the perfect one for the Labrador Retriever purist in your life.
The Love of a Lab
The Love of a Lab* by Jim Dratfield is ideal if you're looking for an inspirational, heartfelt gift about Labrador Retrievers.
Each page is decorated with beautiful pictures of Labradors and insightful quotes.
The words and images capture the reasons why so many people adore these dogs.
This beautiful photography book is hard to beat.
Unusual Labrador Retriever Gifts and Collectibles
If you're look for a Labrador Retriever gift for the Lab lover who already has everything, then these surprising finds are sure to fit the bill.
Lifelike Labrador Retriever Bottle Holder
This wine bottle holder* is a wonderful conversation starter.
It is both practical and designed to bring you a good laugh.
There are many different breed options available for this bottle holder, so be sure to pick the Labrador Retriever one at checkout.
The variety of breed options also means that you can find a suitable gift for a wider variety of people!
Labrador Puppies Magnetic Salt and Pepper Shakers Set
True fact: nobody has ever looked at these little Labradors* in love without feeling a little bit warmer inside.
Each puppy has a magnetic insert in his nose to keep the two together.
This salt and pepper shaker set is a fun addition to any table. They are dishwasher safe and made with high-quality ceramic.
They even come in a gift box, so they are ready to give away (if you can give them away that is).
Leather Labrador tags
These leather Labrador Retriever tags* from Hide & Drink would look great on luggage, a door handle or a Christmas tree.
They are hand made in Guatemala and come with a 101-year satisfaction guarantee!
Labrador Retriever Themed Gifts
Do you know someone who loves Labs on everything?
So do we!
And these are the gifts we're planning for them.
Labrador Retriever Etched Wine Glass
This beautifully frosted wine glass is handsomely etched with the image of a Labrador Retriever.
It looks refined, but nonetheless it is 100 percent dishwasher safe, and satisfaction is guaranteed.
Labrador Dog Print Women's Infinity Scarf
This lightweight Labrador scarf* from Lina and Lily is a wonderful accessory for any with a cold neck who loves Labrador Retrievers.
It comes in a variety of different colors, including camel, gray and maroon.
It is a wonderful accessory for any time of the year, and it can be worn in a number of ways.
The material high-quality, soft polyester, so it can be machine washed if a real-life Lab gets any mucky paw prints on it!

Best Labrador Dad Ever Mug
Labrador dads, like all dads, can be hard to buy for.
But this mug* has got to be the best gift for any Labrador dad in your life.
It can hold up to 11 ounces of coffee or tea, which is higher than most coffee mugs.
The premium imprint is long lasting and lead-free. This mug is also dishwasher and microwave safe.
Practical Labrador Retriever Gifts
Some Labrador owners are sentimental and, and others are practical to a fault.
These next gifts will bring out both sides of anyone who receives them.
Labrador Retriever Key Rack & Dog Leash Hanger
Labrador Retrievers need a lot of exercise and therefore usually come with quite a few leashes.
This stylish hook rack* makes it easy to keep all your dog leashes in easy reach.
It features five rounded hooks for hanging leashes, keys or lanyards.
It is 9 inches wide and 9 inches tall, and includes two mounting screws.
"I'll Be Watching You" Cotton Tea Towel
C'mon now, this witty tea towel* from Primitives by Kathy is brilliant!
And it'll dry your dishes. What more can you ask?
Labrador Retriever Purse
This generously proportioned purse* is big enough to fit all your cards and coins, and even most models of cell phone.
It is made of robust polyurethane imitation leather, which is lighter and easier to wipe clean than real leather (and vegetarian friendly!)And best of all, it features all three colors of Labrador!
Fun Labrador Gifts
Labs' open, friendly expressions and stoic profile easily lend themselves to fun gifts.
Like these!
"This Vehicle Has Been Lab Tested" Vinyl Window Decal
This puntastic and durable window sticker* won't peel or crack for approximately seven years of outdoor use.
And it will brighten your day every time you get in your car.
It measures at 5 inches tall and 5 inches wide. It is easy to apply with detailed application instructions included.
Anatomy of a Labrador Retriever T-Shirt
For Labrador devotees who wear their heart on their sleeve, this wry t-shirt* is just the trick.
This relaxed fit tee comes in several sizes and color ways, in a long wearing cotton blend.
Labrador Retriever Gifts for Kids
You're never too young to fall in love with a Lab, as these next presents show.
This cuddly little Lab from early years experts Melissa and Doug comes in all three colors.
It's the perfect size for carrying about, and snuggling up with at bed time.
Giant Stuffed Black Lab Toy
Alternatively, if you're keen to impress a child, and don't mind exasperating their space-stretched parents, you can go for this giant stuffed black Lab toy.
It stands at 2ft tall, and it's very nearly as handsome as its living, breathing counterpart.
Very Lulu: The (Mostly) True Story Of A Training School Dropout
Lulu is a black Lab with a knack for getting into trouble.
As hard as that might be to imagine, this charming story book* brings Lulu to life with a fun story about the importance of being yourself.
Gifts for Labrador Retriever Owners
We hope this article has impressed you with some of the very best Labrador Retriever gifts.
If you purchase one for someone you love, please let us know in the comments what they think of it.
And if you'd like some gifting ideas inspired by other breeds as well, look no further than the following articles:
This article was updated in October 2019.
Affiliate link disclosure: Links in this article marked with an * are affiliate links, and we may receive a small commission if you purchase these products. However, we selected them for inclusion independently, and all of the views expressed in this article are our own.