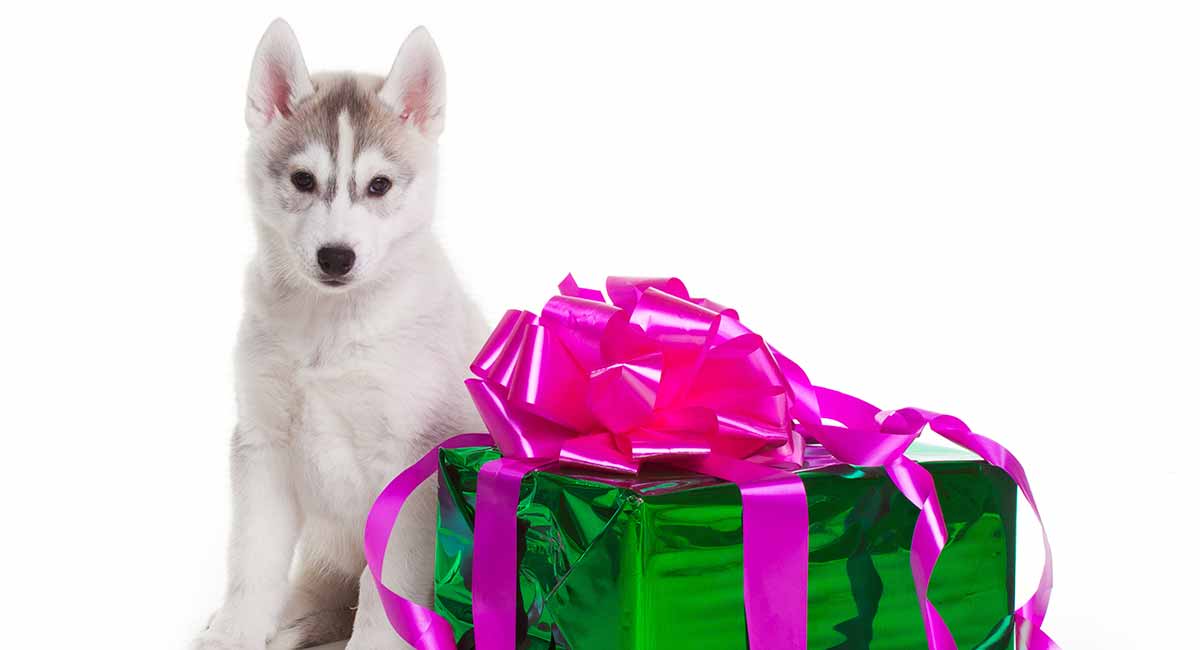 Are you looking for great Husky gifts for the Siberian Husky lover in your life? Then you're not alone!
The Siberian Husky has served as a working sled dog and companion canine for generations.
These brave and tireless pups were immortalized in a Hollywood movie about a brave Husky named Balto, who took the lead in an epic cross-country sledding mission that saved an entire village from a deadly outbreak of diphtheria.
Huskies today perform selfless acts of love and devotion all over the world. This may be why many Husky lovers cannot imagine sharing their lives with any dog breed other than the Siberian Husky!
In this article, learn about unique, creative, awesome gifts for Husky lovers!
Gifts For Husky Lovers
Finding the perfect gifts for Husky lovers gets easier with these smile-worthy selections.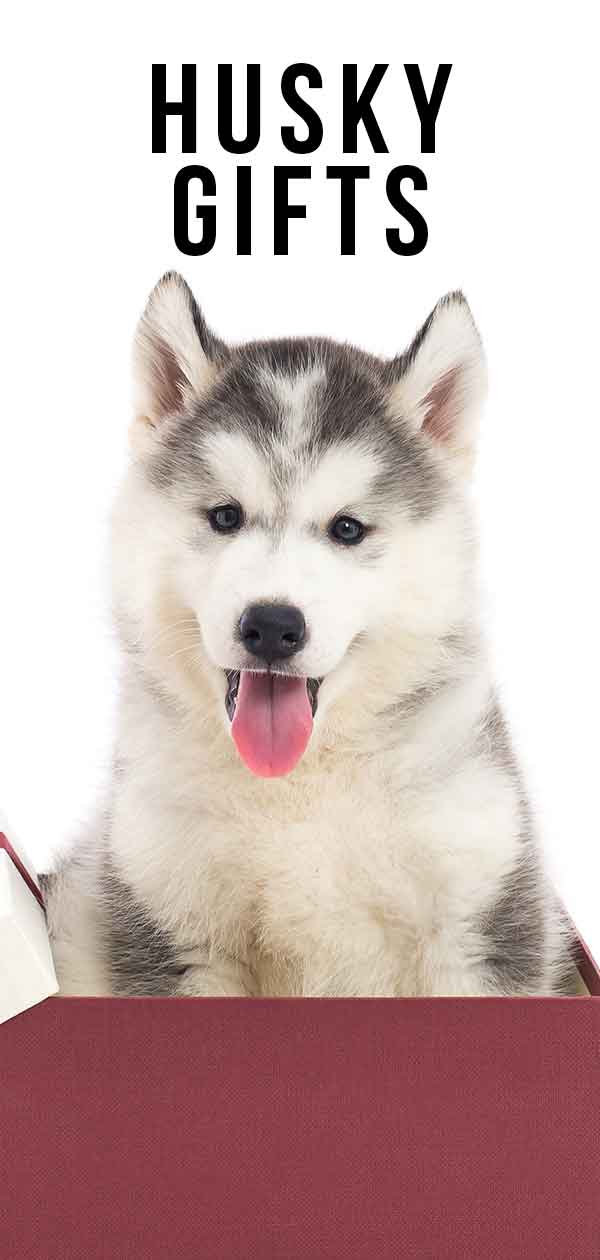 In other words, each one of these gifts is guaranteed to help the recipient keep their precious pup close all day long!
This two-foot-tall lifelike Siberian Husky is hand-crafted from soft, huggable polyester and measures 30″ x 14″ x 33″.
What a perfect gift for a young aspiring Husky owner!
This unique and meticulously crafted heartbeat Husky sticker is perfect for for cars, trucks, tablets or laptops.
The decal features a white Husky design on a clear background, the material is designed to last 6 years on any surface.
It doesn't get any cuter than this 3-in-1 combo of hat, scarf and paw print mittens which are all designed based on the Siberian Husky!
Each paw has a little inset pocket for storing small items.
All items are a machine-washable, durable yet soft polyester fabric. However, make sure to empty the pockets before washing.
This striking Siberian Husky flannel puppy bath rug comes with a safe, non-slip backing.
It measures 15.7" x 23.6" and can be paired with a fun matching polyester Siberian Husky shower curtain (sold separately) if desired.
Husky Gifts And Collectibles
It is always fun to find one-of-a-kind gifts and collectibles that incorporate the Siberian Husky. These Husky gifts and collectibles are sure to bring a smile to your special Husky lover's face!
This petite hand-painted sunflower yellow photo frame is held up by – you guessed it – a hand-painted Siberian Husky pup!
Perfect to perch on a windowsill at home or at work to always keep your Husky close to you.
So many dog owners today say their pups are members of the family.
In fact, decorations for the pup include holiday ornaments and stockings all their own!
This unique and delicate, lovely blown glass Siberian Husky ornament measures 3.5" x 2" x 1.5".
It is made with genuine glass blowing skills that date back to the 1800's and then hand-painted for the perfect finish.
This dishwasher-safe pint glass makes for the perfect soda or lemonade glass for all ages.
In addition, it is a conversation-starter at parties.
This finely etched Husky themed glass makes a perfect gift for the Siberian Husky lover in your life.
Even if the Siberian Husky aficionado you are buying for only has a small amount of space for Husky collectibles, this tiny toy figurine is nearly guaranteed to fit handily in a free corner somewhere!
This petite Siberian Husky figurine is hand-painted in exquisite detail.
Gifts For Husky Owners
You might just find your perfect gift in this collection of unique gifts for Husky owners!
This 3D rendering of a Husky is great as a night light for kids or adults and is a smart lamp any Husky owner will love!
If there is anything in life cozier than cuddling with your Husky, it is walking around in these plush Siberian Husky slippers!
Choose from four sizes (S, M, L, XL).
These unique grey and white Siberian Husky puppy socks will fit sizes 9 to 11 adult.
They are made in the USA out of cotton, nylon and spandex.
Balto the Movie
Why not gift the Husky enthusiast in your life with one of the most wonderful Siberian Husky stories of all time – "Balto," the movie!
Husky Themed Gifts
Little in life is more fun than finding unique home décor gifts decorated with a distinctive Husky theme.
These wonderful, comfortable Husky gifts will make the Husky lover in your life smile!
These cotton linen pillowcase covers make a fabulous conversation starter for the couch during parties or a fun throw pillow cover for the guest bedroom.
Each pillow cover features a durable yet comfy cotton linen fabric with an invisible zip closure.
This makes a great gift for adults, teens or kids.
This duvet, sheet, and pillowcase cover set comes in twin, full, or queen size and features a litter of adorable Husky puppies in a full array of classic coat colors.
This stretched canvas art print in classic black and white features a Siberian Husky outline framed by phrases describing the uniquely wonderful qualities that characterize this dog breed.
This visually striking blue-eyed Siberian Husky blanket measures 60″ x 80″ and is made of high-quality soft polyester fleece.
Use it as a throw for the sofa, a guest bedroom, or as your Siberian Husky's personal sleeping blanket.
Practical Husky Gifts
Who ever said practical Husky gifts can't also be fun?!
These awesome Husky gifts feature unique artisan craftsmanship without sacrificing their useful function.
No Husky lover's gift could be better because this gift is practical and adorable?
These petite kissing Huskies feature a grey and white, and brown and white Husky nose to nose.
Want some salt or pepper? Just separate the pups, dispense and replace!
This wine glass is functional. However it is so much more than just a wine holder.
The wine glass is fine art in its own right with a delicate etching of a Siberian Husky on the front of each glass.
As a bonus, this glass is also guaranteed dishwasher-safe.
This colorful, absorbent, and waterproof Siberian Husky placemat gives your Husky's chowing area an extra artistic flair.
The mat is made from 50 percent recycled material and is guaranteed to be long-lasting.
You can hand wash it or just put it in the washing machine and the mat measures 16" x 28" x 1"
This uniquely memorable coffee mug features an art deco image of a Siberian Husky just peering up from the base of the coffee mug.
What better way to start the morning than with a big cup of coffee or tea and an adorable Siberian Husky?
Fun Husky Gifts
"Fun" is just another word for "Husky" and these fun Husky gifts offer something for Husky owners of all ages.
When you bring home a Siberian Husky puppy, your dog may grow up, but you will always see that little puppy you first met.
Similarly, this adorable plush 11" Husky puppy keeps the memories of your Husky's puppy days fresh.
Everyone needs a keychain to carry their keys.
However, this gift is so much more than just a functional keychain.
It is a playful Husky, durable and sturdy, and it even has a PU leather collar and ID tag! The Husky measures 3" x 3" x 1.25".
What a fun gift!
This coloring book for adults features Husky-themed designs – 23 of them in total.
In addition to using your coloring book, relax in bliss and get cozy with your Husky.
In particular, Young Siberian Husky lovers will appreciate this fun and interactive Husky puppy tumbling toy.
This Husky puppy toy runs on 4 AA batteries (not included) and is rated for kids ages 3+.
Husky Gifts
In conclusion, we hope you had fun browsing through the many cool and curious Siberian Husky gifts presented in this carefully curated article!
If you're a big fan of Huskies, make sure you also read out guide to the miniature Husky.
References and Resources
Klein, C., "The Sled Dog Relay That Inspired the Iditarod," History, 2014.
Marcus, J., "New Study Reveals that American Family Has Gone to the Dogs," Business Wire, 2011.
O'Connor, P., et al, "Coat Colors," Siberian Husky Rescue, 2018.
Jessop, S., et al, "The Siberian Husky: A Brief History of the Breed in America," The Siberian Husky Club of America, 2009.
Clifford, S., "Spirit of a Racer in a Dog's Blood," The New York Times, 2012.