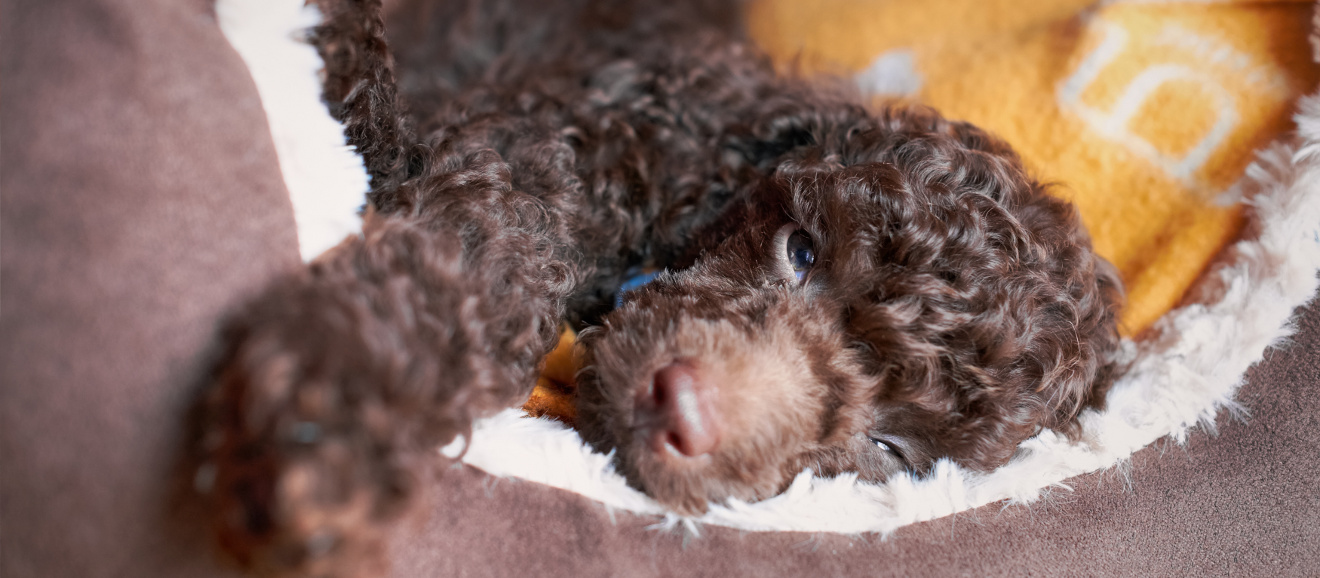 Bringing a new puppy home is a time of great joy and anticipation. And waiting for those last few days to pass before she comes home can seem like an eternity.
So it's important not just for your future pup, but for your current sanity, to make the most of the last few days of peace. To make sure you are well prepared.
One of the important decisions you will need to make is picking out your puppy's new bed.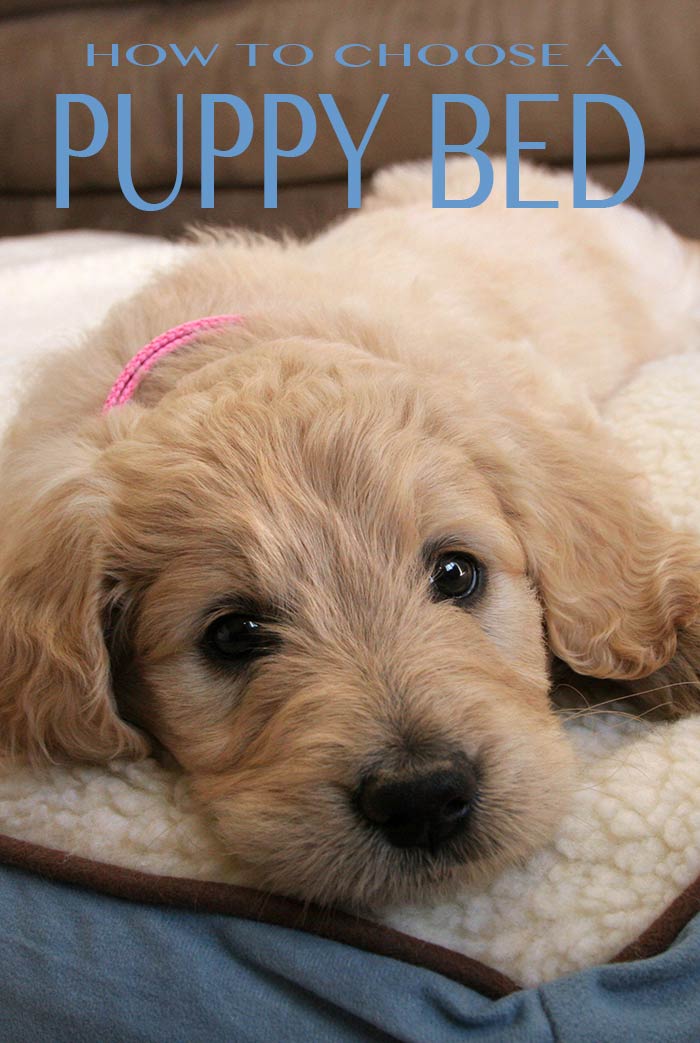 Deciding how to choose a puppy bed should be fun. But the choice can be quite overwhelming, not to mention rather pricey depending upon what you are after.
So, how do you choose a puppy bed that is right for your puppy? And right for your bank balance!
Where is it going to go?
If you have decided to crate train your puppy, then his main bed will be in this den.
It will need to not only fit inside the puppy sized crate, but ideally it will need to be a very similar size to the floorspace in there. As any distinction between the bed and floor space may encourage your new puppy to use the crate floor as a toilet.
One option for making a pup's bed inside his crate is to use vet bedding. It comes in a big role and you simply cut it to the right size. Vet bedding is soft and fluffy, very comfy for your puppy to sleep on. It is also washing machine friendly, so you can hygienically deal with any little accidents straight away.
The other benefit is it's cheap. So you can buy a role, cut a few pieces to fit, and rotate them as necessary when they are soiled or simply getting a little warn.
You can also get tailor made puppy blankets that fit exactly into standard crate sized floor spaces. These tend to be a little more expensive, but come in a bigger range of colors and designs that you might prefer to keep in your home.
If you have a practical sensible bed in his crate, then you can still have a nice looking bed to keep in the house for him to lounge in when you are around during the day.
And there are a lot more option available for these for you to choose from too! So you will need to start to consider the individual characteristics of your chosen new pup.
What breed of puppy are you getting?
Your next consideration should be regarding the breed of puppy that you are hoping to bring home.
No matter how nice it will look in your living room, there is no point in buying a tiny bed for a pup who will outgrow it in a week.
If you are bringing home a long haired pup, then buying a bed that is fluffy and liable to hold onto loose hairs might not be the best bet.
Likewise, if your puppy has black fur, then pale bedding will probably only look nice in your living room for a matter of minutes before it starts to reflect it's furry owner!
Practicalities
Whichever bed you pick, it's important to remember that even if it matches your new pup perfectly and ties into the theme of the room, there is one more consideration that will trump the others. It's for a puppy. And puppies chew. A lot.

All puppies to some extent will chew. Some more than others. You will find dogs bred to use their mouths to fetch and carry, and those with high prey drive are probably the worst culprits.
You have two choices for dealing with this potential issue. One is to only buy bedding that is of a price that won't leave you with heart palpitations if it's destroyed. The other is to buy the bed of your dreams, and initially supervise your puppy in it.
If he chews the bed, simply take it away and try again later. Some puppies will grow out of chewing in a manner of weeks, other at 6 or 7 months old. Only time will tell!
The Choice is yours!
Which bed you decide to go with will depend upon you, your home and your puppy. Here are four great ideas of beds for your puppy that would suit most homes and situations.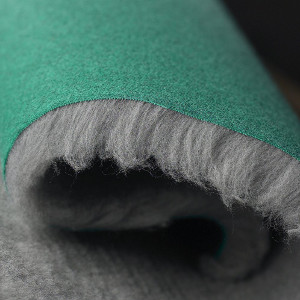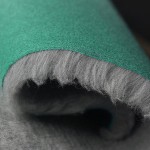 Vet Bedding
Vet bed is versatile, cheap and washable. It is a great choice for puppies, whether they are going to be sleeping in the crate or by your feet in the living room.
It's a short term bed, but one with lots of benefits.
Simply cut off the quantity you need from the roll, in whatever shape and size you desire!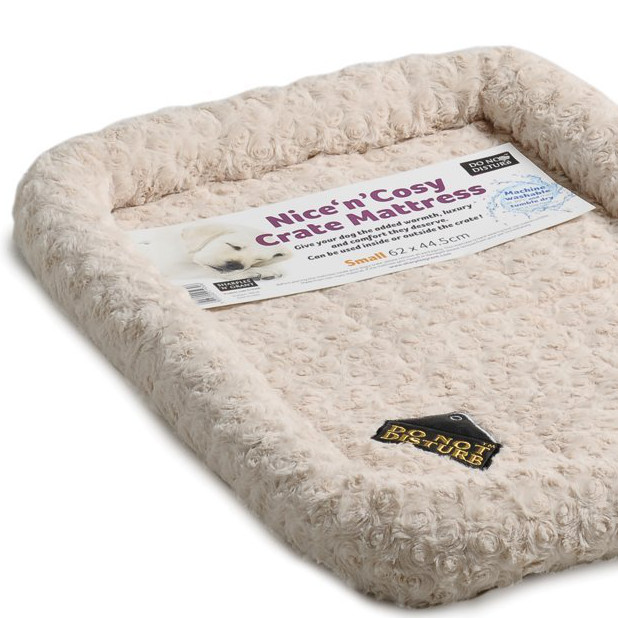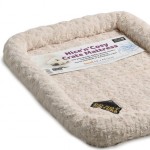 Cuddly Crate Mat
Remember to make sure that the crate mat you choose matches the dimensions of the floor of your puppy's crate, to reduce the chance of little accidents when he's shut up for the night!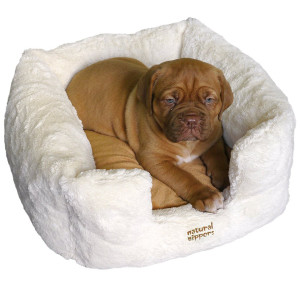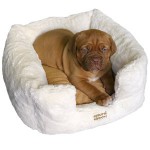 Soft Puppy Bed
Rosewood Natural Nippers Puppy Bed is a soft, high sided bed which will give your puppy a secure and warmer place to rest and sleep.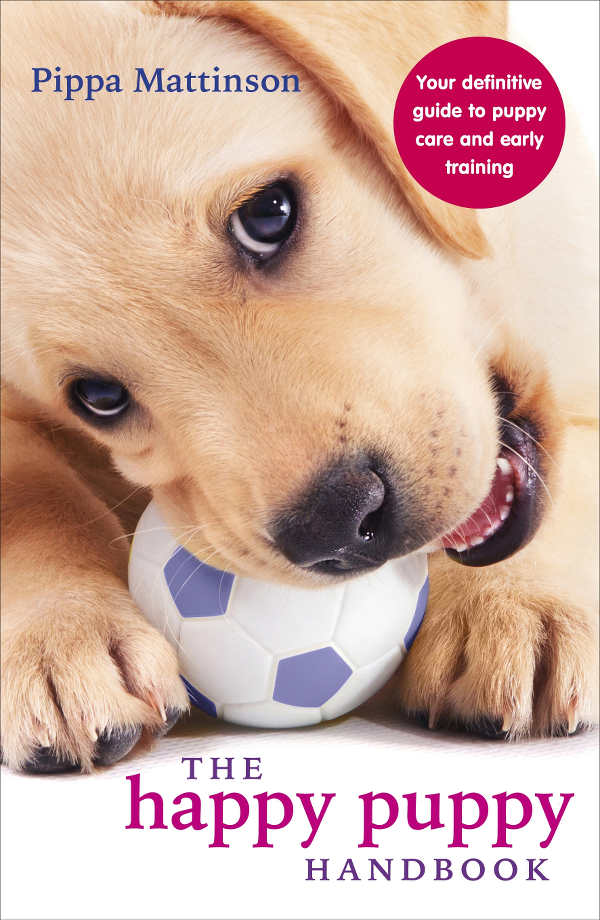 It's mid-range in terms of price, and currently on offer too!
It has a lovely quality soft finish and feel that your pup will enjoy snuggling up to.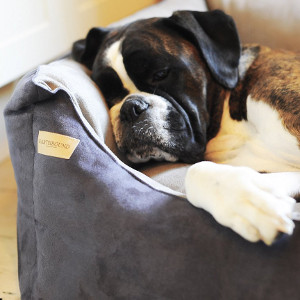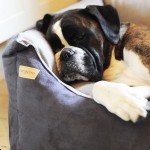 Luxury Wolfybed
This big, soft Wolfybed will not only suit most pups into adulthood, but will look lovely in your living room too.
Wolfybeds are a big favorite at the Happy Puppy Site, and although they are at the top of the range pricewise, this is definitely reflected in their quality.
Summary
With just a little bit of thought about your specific puppy's needs, you can have great fun picking his new bed and bedding.
There are a wealth of colors and designs to choose from, so whether you want to match the bed to your dog, the room or just find something a bit special, there are plenty of choices out there.