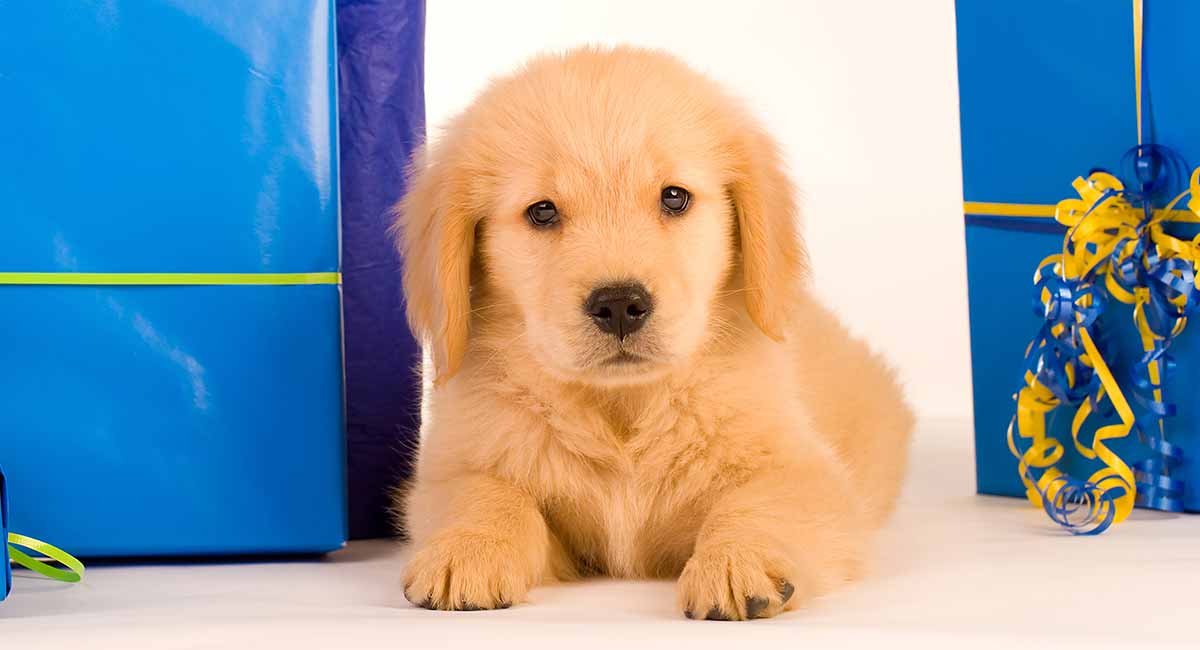 Golden Retrievers gifts might be on the top of your doggy shopping list. According to the American Kennel Club, this is one of the most popular breeds!
These dogs are known for their willingness to serve, loyalty, and friendly demeanor. As a result Golden Retrievers make wonderful family pets. It's no wonder that this breed is so popular!
We've carefully selected gifts that any Golden Retriever (or their owner!) would love.
Gifts for Golden Retriever Lovers
This beautiful box is a wonderful gift for a Golden Retriever lover. Because it is built and designed to last a lifetime, you can be sure its quality is unmatched.
Each box is handcrafted in the USA with over 14 unique wood species. As a result, no two are alike! This really is a one-of-a-kind, unbeatable gift.
The box is made with sustainable forest resources. That is to say, you can feel good about buying it!
If the Golden Retriever lover in your life enjoys a glass of wine every now and then, this stemless wine glass is the perfect gift.
This glass is permanently etched with the quote "it's not really drinking alone if the dog is home." It's dishwasher safe and very durable.
Many customers reported that this wineglass is extremely high-quality, despite the inexpensive price.
This simple sweatshirt is the perfect gift for a Golden Retriever Lover. There are multiple colors to choose from and it's machine washable!
It features the saying "Life is Golden" surrounding the white figure of a Golden Retriever. Simple and timeless!
Customers absolutely loved this sweatshirt. They reported that it fitted well and was extremely soft.
Does the Golden Retriever lover in your life need some home decor? How about this bright and fun Golden Retriever pillow!
It is made with a premium, high-quality, durable cotton linen blend. You can select from a number of different background colors. There are even other dog breed options available as well!
The pillow is durable and will not fade. It has a hidden zipper for easy pillow insertion and washing.
Golden Retriever Gifts and Collectibles
This collectable, classic Golden Retriever stuffed animal from TY is a wonderful gift. It is an official product of TY's Beanie Babies Collection, making it wildly collectable.
It is handmade with only the finest materials and highest standards.
Customers reported that it was a good, average size and very cuddle-able. Why not purchase it for yourself or for that Golden Retriever lover in your life?
This extraordinarily detailed Golden Retriever statue is strikingly realistic. It was designed by the world-renowned animal sculpture artist Sandra Brue.
This statue is available in a many different positions and sizes. You can find the perfect statue to fit your home and needs.
Each sculpture is hand cast and carefully hand painted to ensure the highest quality possible.
Any Golden Retriever lover who is also a gamer is sure to love this Nintendo game.
This game allows you to virtually adopted and care for over 27 breeds of dog, including the Golden Retriever. Even if you can't adopt a real Golden Retriever, you can enjoy caring for one virtually.
You and your dog can go for walks, compete in agility trials, and learn new tricks!
Gifts for Golden Retriever Owners
This adorable bangle is the perfect gift for anyone who loves their Golden Retriever. It comes with three charms: a dog bone, a dog paw, and a Golden Retriever silhouette.
It measures approximately 9 inches long and 2.75 inches wide. So, it should fit nearly every wrist.
The bangle also comes with an adorable gift box. You don't have to worry about wrapping it or putting it in a gift bag. It's ready to be gifted!
This inexpensive mug makes a great present for any "Crazy Golden Retriever Lady" in your life.
It can hold up to 11 ounces of coffee at any time. It has a large, easy to grip handle for maximum comfort.
The quote is featured on both sides of the mug. This mug is dishwasher and microwave safe (for those times you forget to drink your coffee!).
This wooden box sign from Primitives by Kathy is a great gift option for any Golden Retriever lover.
This decorative sign is freestanding. This means you can place it on any table or other surface with minimal setup. There is no need to hang it.
The sign is 6 inches long and 2.5 inches tall.
Golden Retriever Themed Gifts
This elegant wine glass is etched with a picture of a Golden Retriever. It is 100% dishwasher safe for your convenience and is extremely high-quality.
The etching is very detailed and has a frosted look. The glass is smooth and not indented like you might expect. The etching is guaranteed to never fade or wear off.
Customers loved the quality of this wineglass and high-level of customer service.
Golden Retrievers can get messy! Every owner knows just how messy bath time can get with these large dogs.
Why not give the gift of a dry shirt with this fashionable Golden Retriever apron? It features an adjustable neck with black ties and hemmed edges.
This apron is machine washable and long lasting. Moreover, it's designed not to fade.
This high-quality Golden Retriever shower curtain is made with high-quality Turkish fabric. It comes ready with hooks for hanging and no need for a liner.
This curtain will not fade and is even machine washable! You don't have to worry about damaging it in the shower either. This is because it's mildew, water, mold, and soap resistant!
The bold print features two Golden Retrievers, making it the perfect gift for anyone who loves these gentle dogs.
Practical Golden Retriever Gifts
Rain is inevitable, no matter where you live. Keep yourself dry with this Golden Retriever themed umbrella.
It' made of high-quality pongee polyester and a strong, plastic handle. The ribs are crafted with fiberglass and a long steel shaft.
The Golden Retriever design is noticeable and elegant, perfect for any Golden Retriever lover in your life.
Why not get the Golden Retriever owner in your life something their beloved dog can use, like this soft winter coat?
This dog jacket comes in a few different designs and many different sizes. It is made of a soft cotton material and is extremely stylish.
A handsome dog collar is a must for every Golden Retriever!
This collar is made with genuine leather.
It comes with a buckle and dual D-rings made of solid alloy and covered in an anti-rust coating.
As well as this collar being extremely durable, flexible and comfortable, it is designed with style in mind.
Fun Golden Retriever Gifts
Seems like everyone needs socks! These Golden Retriever socks are 75% cotton and are perfect for everyday wear.
These socks are specially designed to be lightweight and durable. Each pair is made of high-quality materials and they won't shrink in the wash!
This convenient wallet features a fun and compact design, made with superior, soft textured PU leather.
With lots of room, it can hold up to 8 separate credit cards and one clear ID slot. Moreover, it has 2 separate cash compartments as well as an additional zippered coin purse.
This gift can be used as a wallet or a wristlet.
This dog wine aerator will make your wine taste better and will probably give you a good laugh. It's the perfect party gift for any of your Golden Retriever loving friends.
This aerator is made from non-toxic and FDA approved materials so you can pour your wine with peace of mind.
Golden Retriever Gifts
It's certainly the case that finding the right gift can be tough. We hope that you found some to your liking in this article. Share your favorite gift idea in the comments!
Take a look at more Golden Retriever loving with our dog love quotes!
References and Resources
"Most Popular Breeds." AKC. 2017.