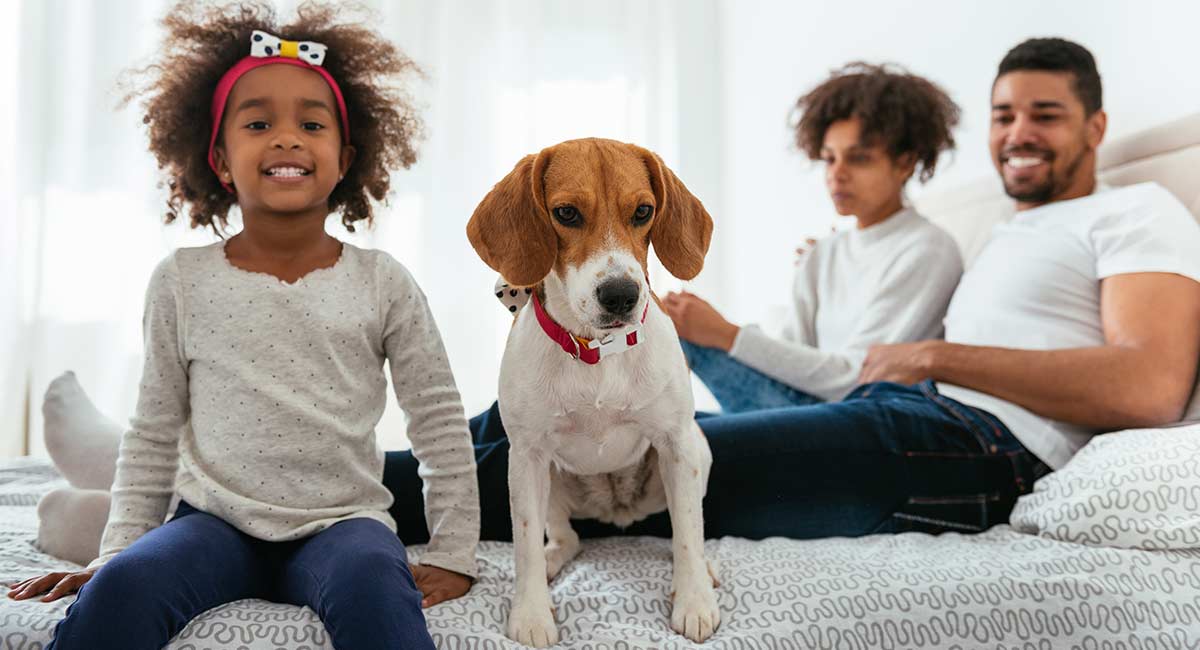 In this article, we're going to look at the relatively new phenomenon of dog sharing.
Dogs undoubtedly make great companions and can be a real part of your family.
But sometimes giving man's best friend all the attention and time they need can be a struggle.
Especially in a busy household where Fido's parents have to go out to work. So, can sharing your dog be the perfect solution to this dilemma?
A quick Google search will bring up a number of pet sharing sites around the world. Owners can subscribe to share their dog, cat, or even, horse!
Let's look a little more closely at the ins and outs of dog sharing to determine whether this could be the best solution for both dog and owner.
What is Dog Sharing?
Dog sharing is the relatively recent practice of literally sharing a dog!
The dog has two owners and spends its time between both homes.
The cost of keeping the dog can also be shared, depending on the mutual agreement that the owners reach.
For example, one owner might agree to pay for the dog's food, while the other takes on the cost of annual vaccinations and health checks.
Alternatively, if one owner is financially better off than the other but lacks time due to work or family commitments, they might be happy to pay for the dog's expenses,
The other owner then takes on the responsibilities of exercising and minding the dog during the day.
On paper, dog sharing sounds like the perfect scenario. But is such an arrangement the best thing for you AND for your dog?
Is Dog Sharing a Good Idea for Your Dog?
If you're considering entering into a dog sharing arrangement, it's important to be honest with yourself.
Sometimes, the best arrangement for you may not be the best arrangement for your dog.
It's well-known and various studies have proven that dogs can become stressed during house moves, when kenneled, or when spending any length of time at the veterinary hospital.
Therefore, it follows that some dogs may become stressed or anxious in a dog sharing situation that involves them being repeatedly displaced from their familiar home environment.
Many dogs are creatures of routine and habit.
They like to know more or less when their food is going to arrive, when they are going to be taken out for a walk, and when their human parents are going to be around.
Disrupting this routine can be extremely stressful for a dog.
However, not all dogs are bothered by slight variations in their daily routine, and some even thrive on it.
Every dog is different
It's really just down to the individual dog's temperament and reaction to a sharing situation.
Young puppies typically do better when raised in one household.
Also, some dogs form a very tight bond with one person and may suffer separation anxiety.
My last dog was a rescue pup and we bonded very closely.
She hated when we were apart, even if a friend she knew looked after her for just a day.
In my pup's case, dog sharing would have been nothing short of torture for her, as she would have suffered the stress of being separated from me over and over again.
Another consideration is other pets that may reside in the sharer's home. Some dogs get on great with other dogs and with cats, but some do not.
Introducing another animal to an already established setup may cause stress, confrontation, and jealousy.
Tips for Would-be Dog Sharers
So, you think that dog sharing might be a good option for you and your pet?
Before entering into a dog sharing arrangement, it's vital that you draw up a written agreement between both parties.
The document should outline everything that pertains to the dog's ownership, and clearly state who is responsible for each element contained within it.
Both parties should sign the agreement and it should also be witnessed by someone independent such as a vet or a mutual friend.
With everything written down, it's much less likely that there will be disputes over aspects of the dog's care.
So, what should the dog sharing agreement document include? Well, everything mentioned in the following sections should be put in writing.
Who Owns the Dog?
Before entering into a dog sharing arrangement, it's important to agree who is the legal owner of the animal.
For a number of reasons, you must be able to name one person as the dog's rightful owner:
In the event that there is ever a court case involving the animal.
Insurance documents, microchipping records, and license tag records (in the US) demand
that only one legal owner is registered.
The official owner of the dog will also have the responsibility of making the ultimate decision to have the dog put to sleep.
This is, of course, always based on veterinary advice if your dog becomes sick or suffers a serious injury.
Who Pays for What?
Keeping pets can be an expensive business. For this reason, it's very important that each party in the dog sharing agreement is fully agreed on what they will be paying for.
Be sure to note down who will pay the cost of each of the following expenses:
insurance
license fees (in the US)
food
routine vet bills for vaccinations, claw clipping, repeat drug prescriptions, etc
unusual vet bills, for example, in the event your dog is injured or becomes sick
routine dental treatments
toys, clothing, bedding, etc
professional grooming (if applicable, depending on the breed)
You may decide that it's simplest for each party to pay for half the cost of everything. Alternatively, you could both agree to pay for individual items on the list.
Exercising and Custody Arrangements
The next most important aspect of the dog sharing is to decide is who is responsible for exercising the dog and how much time it will spend at each household.
The easiest way to document this is using a calendar, then tracking your weekly custody and exercise arrangements.
Training Your Shared Dog
One practical aspect of doggy care that can be overlooked is that of training your dog.
It's vital that both households are consistent in the way the dog is handled and trained.
For example, be sure that both owners are using the same name for the dog and the same kind of food rewards.
Also, make sure both owners support the same behaviors such as not allowing the dog on the bed or couch
Inconsistencies in training and handling may lead to confusion for the dog, especially if they are being reprimanded unfairly.
It's also important that the same food is given to the dog by both owners, especially if the dog has a special diet for health reasons.
If one party insists on giving the dog different food, health issues may occur and the dog could become sick.
Acclimatizing Your Dog to Dog Sharing
If your dog is new to dog sharing, it's important that you allow plenty of time for them to acclimatize to the new routine.
You can achieve this by having the dog spend a week or even a month in one household, before returning to the other and spending the same length of time there.
Also, be sure to send your dog's familiar bed and toys with them to their second home to help them settle.
Stress Indicators
As previously mentioned, some dogs can become stressed in a dog sharing situation. Stress can manifest itself in different ways. Look out for the following signs of stress in your dog:
toilet problems
becoming destructive
changes in behavior, including aggression or becoming withdrawn
loss of appetite
If you think that your dog is becoming upset by a dog sharing arrangement, you must admit that it's not in their best interests to continue and consider alternative care arrangements.
Alternatives to Dog Sharing
If you don't think dog sharing is the best solution to your doggy care dilemma, what alternatives are there?
One of the main issues facing today's dog owners is the problem of what to do with your dog while you're out at work all day.
Some dogs are perfectly happy and will thrive on living outside in an enclosed garden or yard, providing they have access to fresh water and a dog house(paid link) for shelter and shade.
This arrangement can work really well if you have two dogs who get along and enjoy each other's company.
But bear in mind that dogs barking outside all day could be a nuisance to your neighbors.
However, if you can't leave your dog home alone all day, a doggy day care center can provide a great solution.
Doggy day care
A good day care center will allow your dog to enjoy supervised play with other dogs in a safe environment and your dog can also be fed at prescribed times, if necessary.
The main drawback of doggy day care is that it can be very expensive.
Dog walkers
Another alternative is to have a professional dog walker come to your home to exercise your pet for you while you're out at work.
Reliability is essential in a dog walker – you really do need to be confident that they will turn up on time!
It's also important that your dog is sociable, as most walkers have a number of dogs to walk at any one time.
Dog borrowing
Dog borrowing is a relatively new idea that can provide a solution for home-alone dogs.
A dog borrower will simply "borrow" a dog for a couple of hours each day, before returning him when you're home from work.
Your dog will be exercised and gets to enjoy some company too.
Dog borrowing is popular with those whose lifestyle does not accommodate owning a dog full-time, but who enjoy walking and playing with a canine companion.
This arrangement can also work well if you can't afford the fees charged by walkers and day care centers, or if your dog prefers their own company to that of other canines.
A word of caution. When using any day care center or dog walker, check that they have insurance in case of accidents involving or injury to your dog.
Your dog walker will have access to your home, so it's also wise to do a background check on before handing over your keys.
Is Dog Sharing Right for Your Dog?
If you have a dog who is friendly and sociable and who enjoys human company without becoming stressed when you're not around, dog sharing could be a good solution for both of you.
Before you enter into any form of dog sharing arrangement, be sure to draw up a written agreement between both parties.
The agreement should give details of each party's financial responsibilities for the dog's care. You must also include details on exercising and custodial arrangements for your pet.
Experience with dog sharing? We'd love to hear from you! Please share your dog sharing story in the comments section below.
References and Further Reading
American Society for the Prevention of Cruelty to Animals (ASPCA)
Hekman JP, Karas AZ, and Sharp CR. 2014. Psychogenic Stress in Hospitalized Dogs: Cross Species Comparisons, Implications for Health Care, and the Challenges of Evaluation. Animals (Basel).