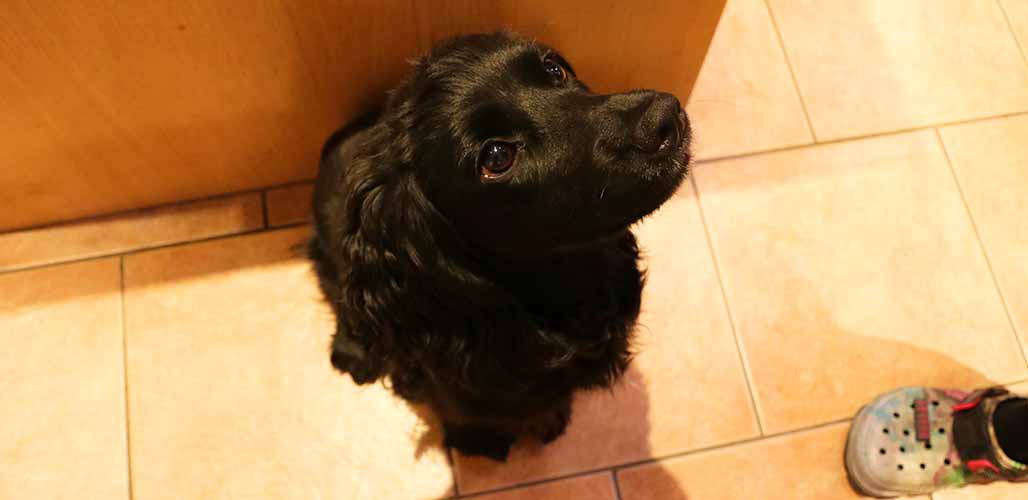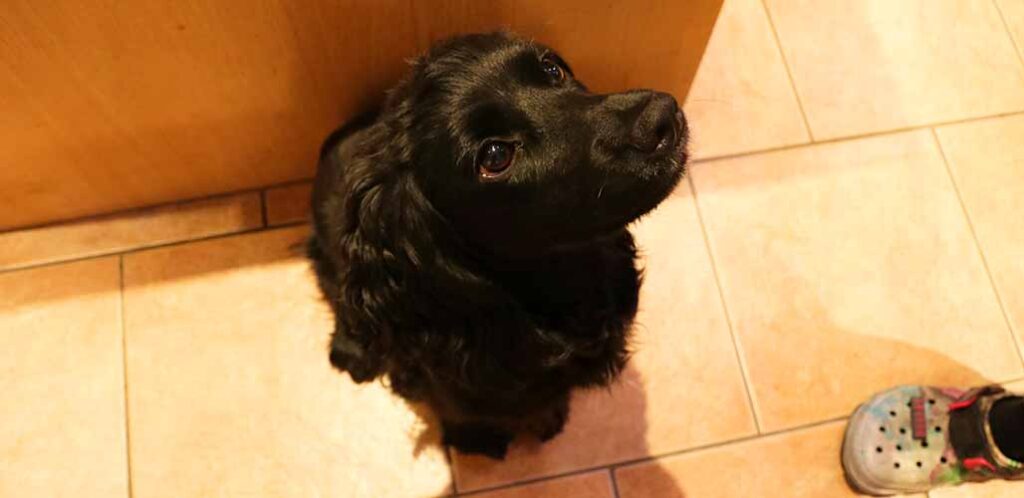 My dog is my first companion of the canine kind, and owning him has been a learning curve in lots of ways. Like any anxious new parent, I can't help fretting about whether his behavior is normal or not. Something I do know is: he LOVES my attention, and sometimes I even feel a bit exasperated by his enthusiasm for me. So why is my dog obsessed with me? Is he really obsessed at all, or just a normal amount of devoted, for a dog? I've done a lot of reading, and discovered that his fascination with me has been hardwired into him by human breeding choices spanning hundreds of years. But also that there are some signs to look for in his behavior which could mean his fixation is starting to getting to get unhealthy.
Contents
Why Is My Dog Obsessed With Me?
Dogs have a reputation as joyful companions due to their instinct to seek out human company – be it from one special person, or the whole neighborhood! They are a social species who are naturally driven to form emotional bonds with other people or dogs in their social group. However, if your dog follows close behind you at all times and gets distressed by being apart from you, it can end up making both of you miserable.
Dogs who display excessively clingy behaviors are sometimes known as Velcro dogs. A Velcro dog always wants to be by your side, and gets anxious and upset when that isn't possible. On the other hand, your dog could be dealing with obsessive-compulsive disorder, and one of its symptoms could be, for example, an uncontrollable need to lick you.
Before delving into what causes these behaviors in your dog, remember that behavioral changes do not happen overnight. Please keep reading to find out what's causing your dog's anxious or obsessive behavior and what you can do to stop it.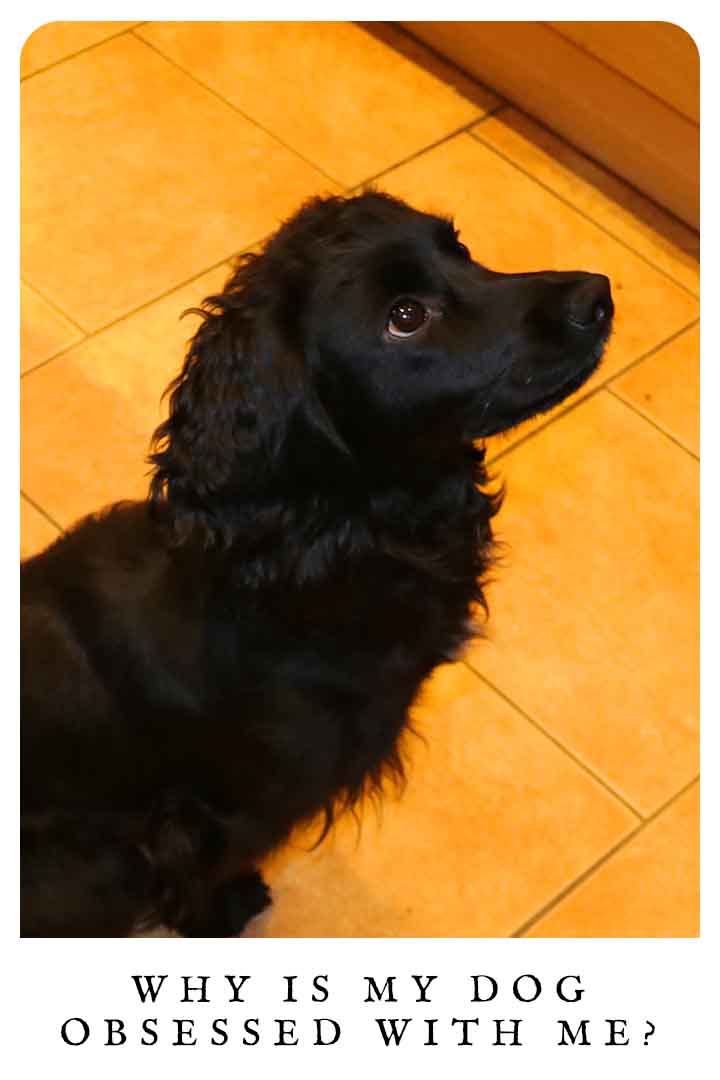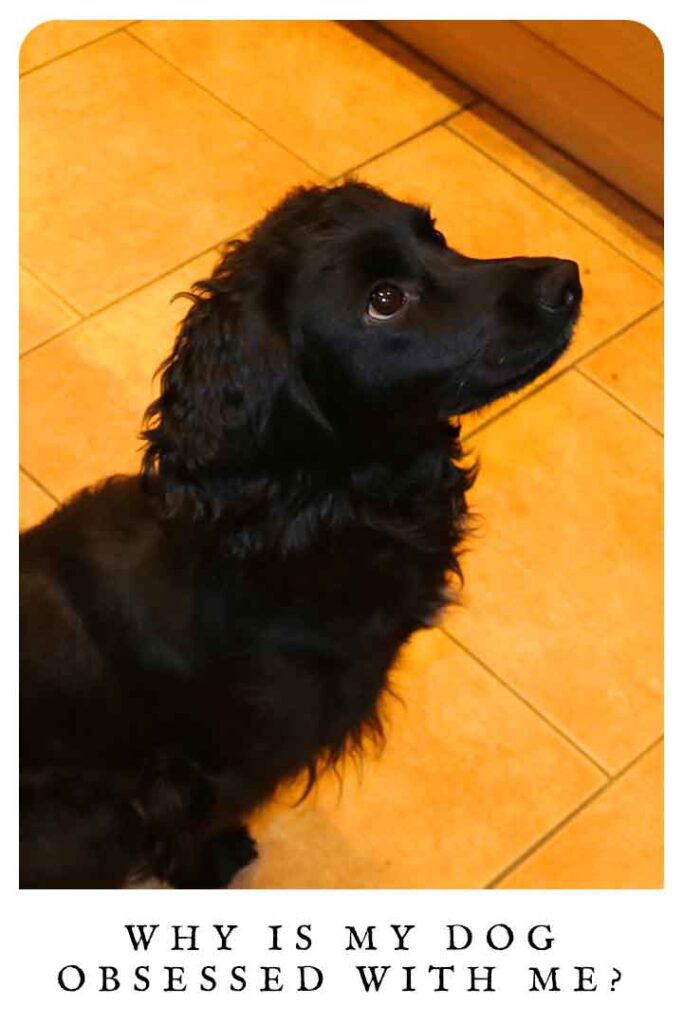 It's Normal For Your Dog To Want To Be With You
First of all, it is important to recognize that it is normal for your dog to be very interested in you! Over thousands of years of domestication, we have bred dogs to want to be near us. And we have also become their sole source of many desirable things, like food, access to the outdoors, toys and belly rubs. Furthermore, dogs are hardwired to social bonds with their 'pack' in order to lead a normal and fulfilling life. And it's natural that they should end up looking to you – the closest available living thing – for that opportunity.
Hopefully, you are also an enormously positive force in their life, and being close to you is rewarding. Having a dog who hangs on your every move and can't wait to see what you do next has many advantages. For example, it's much easier to teach a reliable recall cue if your dog doesn't have their head turned easily by distractions. If you're new to owning a dog, and you didn't know quite what level of attachment to expect, don't immediately rule out your dog's behavior being normal. If you're unsure, chat to your breeder or vet and get their opinion.
What Is a Velcro Dog?
Simply put, a Velcro dog is a dog that clings to its owner at all times and follows them around everywhere they go. Velcro dogs are simply defined by their intense desire for their owners' company.
Some lap dog breeds, such as Chihuahuas and Shih Tzu, have been bred to be more desiring of their owner's company than other dogs. This means they have become more dependent on human companionship for their emotional wellbeing, and they have a higher risk of becoming Velcro dogs if that companionship isn't available. Some working dogs are also at high risk, because they were bred to be highly focussed on their human handler in order to do their job well. Without someone as an object for that focus, they can get stressed.
Sometimes dogs from other breeds not usually associated with clinginess can become Velcro dogs too. This usually happens if they were forced to be on their own too much as a puppy. This experience makes them uncertain of their owner's attachment to them, at an important time in their development. They become clingy because they don't feel secure that their owner will always come back when they leave.
These Are the Most Common Signs of Velcro Dog
Velcro dogs are highly motivated to spend lots of time with their owner. It's not always a fault – we've seen how in some breeds, it's a trait that we humans have specifically instilled in them through generations of deliberate breeding choices. So we can hardly hold it against them now! A Velcro dog with a healthy attachment to you might:
Go from room to room with you.
Need or want to be close to you all the time.
Always keep an eye on you.
Try to guess when you might wake up.
Always want to be in the middle of things.
But, they should also remain relaxed if you have to leave them alone for short periods.
Some people also describe dogs with attachment issues and separation anxiety as being Velcro dogs, whilst others maintain that there is a difference between the two. Specifically, that Velcro dogs love interaction, but don't mind being left alone provided they get enough company overall. But dogs with separation anxiety can't tolerate any separation at all without showing signs of distress.
What Are Compulsive Disorders?
Let's look at compulsive behavior reasons for your dog being obsessed with you next. Obsessive-compulsive disorders are extremes of typical dog behaviors. A dog with compulsive behavior repeats the same action to the point where it interferes with living a normal life. The behaviors last longer than expected, are often out of context, and occur in unusual circumstances.
In the most severe cases, a dog suffering from obsessive-compulsive disorder may even end up harming itself. For example if they have a compulsion to chew their paws..
Dogs Can Have Many Different Kinds of Compulsions, Such As:
An interaction with you, such as licking
Playing with a particular toy
Spinning or chasing their tail
Pacing
Snapping at flies
Barking
Chasing shadows or lights
Licking, grooming or chewing themselves
Keep in mind that all of these can be a normal part of a healthy behavior repertoire too. They only become a problem when a dog forms an unhealthy relationship with them, and performs them excessively, and outside of normal contexts.
A Dog's Lifestyle Can Influence Behavioral Disorders
Dogs whose lifestyle causes them to be anxious, scared, depressed, or frustrated are more likely to develop behavioral disorders. Situations that can lead your dog to behavioral disorders include encountering social stress, such as:
Prolonged separation from an owner.
Aggressive behavior from other pets in the house.
Sudden change in the dog's life, like, the arrival of a newborn baby in the family.
They can also include not enough opportunities to engage in typical dog's activities like:
Socializing with people.
Socializing with other dogs.
Even if you recognize the initial trigger for your dog's disorder, the condition may remain even after the source of the disorder has been eliminated.
How to Stop Obsessive Dog Behavior
Behavioral disorders can result from both learned behavior and chemical imbalances in the brain, making treatment difficult. The standard treatment method consists of changing one's attitudes and behaviors combined with the use of medication. If you're worried that your dog has developed compulsive behaviors, including an obsessive attachment to you, a good place to start addressing the problem is by visiting your vet. They are also likely to keep details of all the behaviorists in your area, and will be able to recommend one with the most appropriate experience and expertise.
Find and Eliminate the Triggers
Identify and remove stressful things or situations that appear to be the source of your dog's compulsive behavior. As a result, your dog will experience less anxiety or OCD symptoms. This is key to changing how your dog feels about them in future too – you can't change his emotional response without tightly controlling how much stress he's under at the same time.
Train Your Dog
You can use training to reset how your dog feels about a stressful situation. So if they feel anxious about being left alone, and cling to you to avoid it happening, then you can train them to feel calm and confident about being left alone. It's a good idea to ask an experienced force-free trainer or behaviorist to help you with this.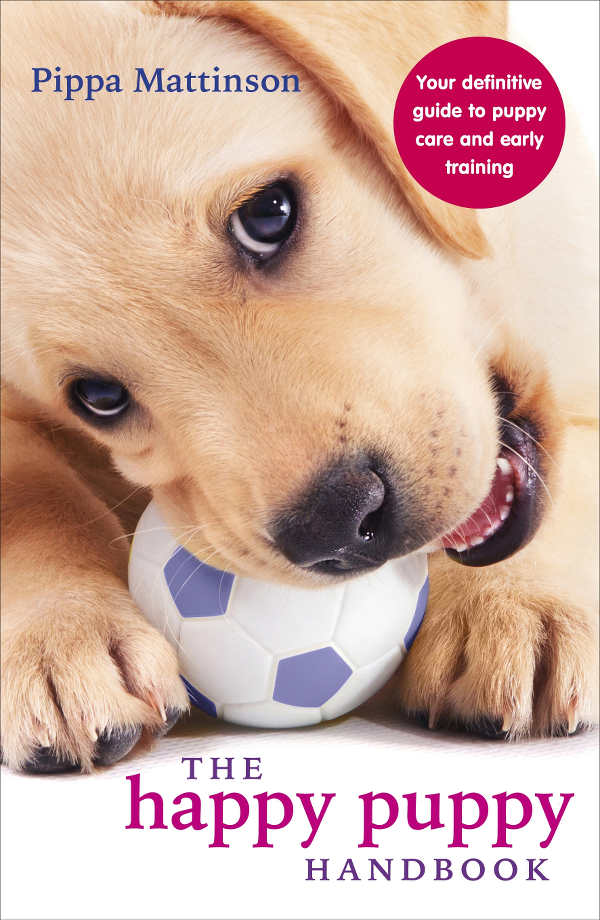 Give Your Dog More Mental Stimulation in His Daily Life
Some obsessive behaviors, such as dropping a ball at your feet every five seconds for hours on end, are the product of having a busy mind and a lack of appropriate outlets for that mental energy. Dogs like to play and solve problems and do challenging things, so try giving your dog more mental stimulation. You can mentally tire and distract your dog by teaching basic obedience, agility, nose work, hide-and-seek or new tricks. One of the easiest ways I keep my dog's mind active is to put tasty treats inside a Kong toy.
Use a "Special Place" To Calm Your Dog
Use a dog bed or any other place you find convenient as a "special place" for your dog and make it even more rewarding for him to relax there as to follow you. While organizing this special place for your dog, remember to make it comfortable, peaceful and safe. Add some extra toys or treats that will make it rewarding for your dog to hang out there. Drop a few treats in it whenever he isn't looking for him to discover next time he goes back, without making the connection to you.
What Not to Do
Do not punish your dog for velcro or compulsive behavior. Your dog is not misbehaving. It is either due to instincts we have programmed into him, or stress and anxiety beyond his control. Being harsh on your dog will only worsen the problem.
At the same time, when your dog shows compulsive or velcro behaviors, avoid giving him the attention of positive feedback. This can make the behaviors more intense. Instead, gently distract him away from them, or find something else for him to do, and reward it.
Why Is My Dog Obsessed With Me – Summary
Normal dog behavior and healthy attachment to you includes a high degree of interest in what you're up to and where you're going. This is because they are naturally sociable, and we have exaggerated that quality still further through selective breeding. But, if you're worried that your dog is excessively clingy or unable to cope with out you, its a good idea to seek advice from a veterinarian or behaviorist. While dogs cannot verbally communicate their emotions, they can alert their owners to potential problems by showing signs of distress. When it comes to your dog's mental health, it's important that you recognize the warning signs so that you can provide the best care possible.
More About Dog Behavior
How to handle a puppy who won't stop licking your face
Signs of a scared dog
Sources