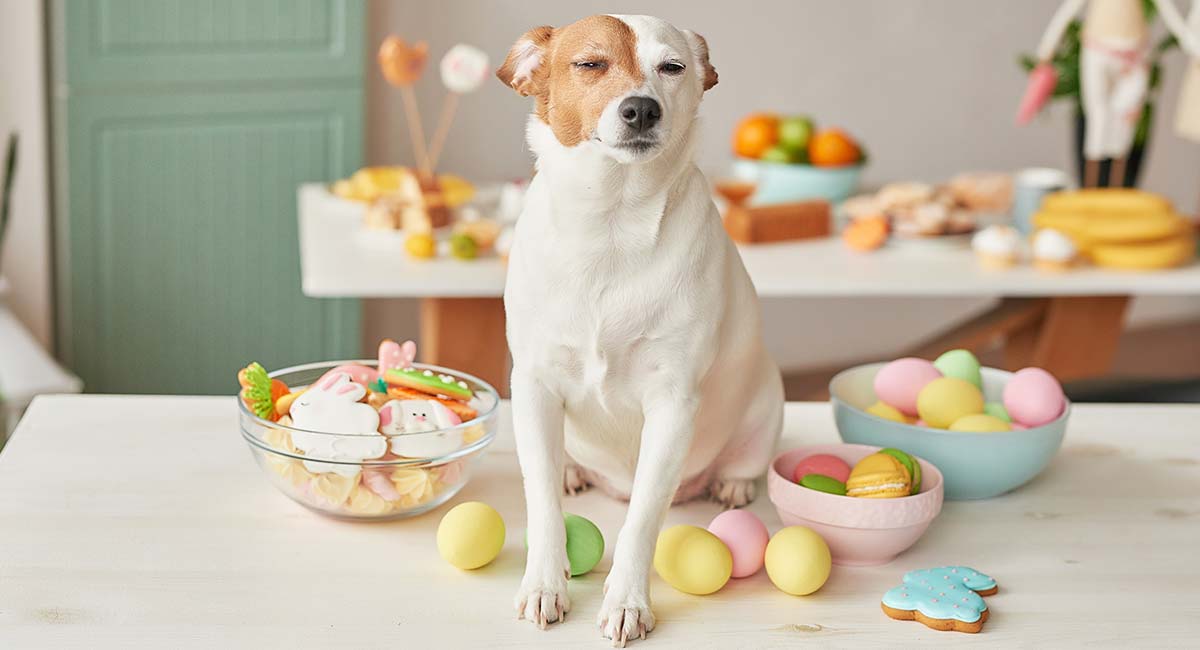 Easter is around the corner, and this means the chance for a dog easter egg hunt. The upcoming holiday is prompting many pet parents to get creative with their four-legged friends.
If you're a dog parent and are wondering how you can include your pup in the Easter festivities, then this is the article for you.
So, without further ado, let's talk about how you can spoil your pooch with a dog Easter egg hunt!
What is A Dog Easter Egg Hunt?
A dog Easter egg hunt is similar to a human Easter egg hunt in a number of ways. Both can include a hunt for colorful plastic eggs that are filled with tasty treats, goodies, and toys.
However, the toys and treats hidden in Easter eggs for dogs will need to be dog-friendly. Why? Because dogs can't eat some of the same treats as humans.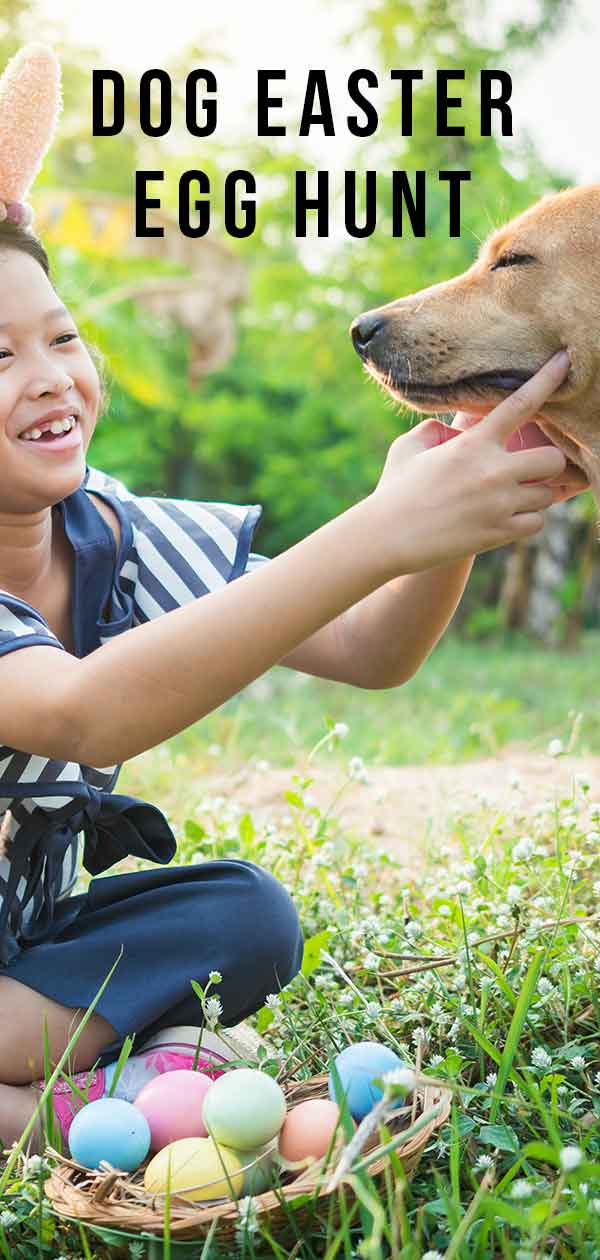 Where to Hide Treats
You should also make sure that your Easter Bunny hides your dog's eggs in places your dog can reach easily and in places that are safe for your dog to be sniffing around in.
Keep in mind that dogs are intelligent. If they have found a treat somewhere once, they may continue to return to this spot to look for more treats later on.
Many dog-owning Easter bunnies opt to give their dog an Easter basket filled with dog toys, treats, and goodies. Others may fill plastic eggs with goodies and hide them about the house or backyard!
Banned Easter Treats
But remember, there are a number of treats that are popular on Easter that could seriously harm your dog. This includes chocolate which can be toxic to dogs.
Chocolate is a popular Easter treat but it can cause serious harm to your pooch, so keep an eye on Fido and keep chocolate out of his reach.
If you think your dog has accidentally ingested chocolate, call your veterinarian immediately.
So, what other Easter treats should you keep out of your dog's reach?
For a full list of things that are bad for your dog, click here. Otherwise, keep reading to learn about some safe Easter treats Fido will love.
Dog Easter Egg Hunt Treats
As we mentioned above, chocolate is toxic to dogs due in part to its high levels of caffeine and sugar.
With that in mind, we also suggest staying away from other sweets like candy or foods with artificial flavors and dyes.
So, when you're picking out treats to use for your dog in his dog-friendly Easter egg hunt, we suggest high-quality dog treats that are safe and healthy.
If you plan on hiding your dog's treats in plastic Easter eggs to make the game more fun, we suggest smaller treats that will be easy to sniff out and fit in the eggs.
Zukes Mini Dog Treats
We love Zuke's Mini Naturals Dog Treats for doggy Easter fun! And while this may not be a chocolate rabbit, your dog is going to love this rabbit recipe all the same!
Best of all, these tasty treats are small enough to fit into plastic eggs. Even hidden, they're smelly enough to get the attention of your dog's sensitive sniffer
Wellness Core Marrow Roasts
Another treat option is Wellness Core Marrow Roasts. These treats are all natural and grain free, and the perfect size for hiding in colorful eggs!
Rabbit Meat Treats
And finally, these rabbit meat treats by the Healthy Companion Company are not only perfect for a festive doggy Easter egg hunt, but they are also great for your dog's joints, immune system, and oral health.
Treats from your Kitchen
But what if you are throwing together an impromptu dog Easter egg hunt and need to use pet-safe treats you have around the home?
A wonderful and healthy option that is perfect for Easter is carrots! Dogs love carrots for their juicy and sweet flavor, not to mention the vegetable goes along with the whole Easter and rabbit theme, don't you think?
Suitable Toys For Easter Egg Hunts
Your dog may also enjoy getting new toys. Along with an Easter egg hunt for your pooch, why not offer him an Easter basket filled with new, dog-safe toys to play with?
ZippyPaws Burrow Bunny Toy
We love this ZippyPaws Burrow Squeaky Bunny.
This is a puzzle toy which is great for those extra smart pups who love to keep themselves occupied.
Blueberry Pet Plush Rabbit
There is also this Blueberry Dog Toy Plush Rabbit toy by Blueberry Pet. Both durable and adorable, this is the perfect Easter-themed gift for dogs!
So, now that you have an idea of what to get your dog for the Easter holiday, let's go over creative ways you can hide your dog's Easter eggs!
Where to Have a Dog Easter Egg Hunt
We recommend hiding your dog's Easter treats in places he frequents often and is allowed to be in.
You can fill his Easter eggs with goodies and bury them in his toy box, hide them in his bedding, at the back of his crate, near his favorite window ledge where he saw that squirrel that one time, and so on.
But what if you want to expand your dog's Easter egg hunt to outside your home?
Your backyard is a wonderful place to hide your dog's Easter treats. Choose places he can reach and easily sniff out.
And don't be afraid to make the hunt a challenge for your dog! Many dogs will appreciate digging through leaves and putting their nose to the test when it comes to hunting for treats.
But what if you want to schedule a full-on doggy Easter egg hunt extravaganza with multiple dogs?
Can Several Dogs Have an Easter Egg Hunt Together?
Yes, many dogs are social beings and love being around other dogs, but some dogs can be like people and won't always get along with every dog they come across.
If you have a well-socialized dog and some friends who have well-socialized dogs, and you know your dog and their dogs get along, then chances are you may have a very fun and furry dog Easter egg hunt ahead of you!
Keeping Things Fair!
Of course, one dog may be more talented or motivated than the rest and wind up with all the goodies.
We suggest having some backup treats for those dogs who may not find the hunt as interesting as their fellow canine counterparts.
Still, before throwing an Easter egg hunting party for a group of dogs, you should keep your own dog's personality in mind.
Remember, some dogs can become aggressive or territorial when food is involved. Others may find the environment stressful and overwhelming.
If you feel that your dog would prefer to do a one-on-one Easter egg hunt with you and his human family, then keep it small and simple. It'll still be plenty of fun!
Setting Up Your Dog Easter Egg Hunt
Setting up your dog's Easter Egg hunt doesn't have to be complicated or expensive. For more affordable ways to set up your hunt, you can likely find treats in your own refrigerator.
Carrots, peanut butter, and bits of cooked and unseasoned meat or fish are great and healthy doggy treats you can use to hide around your home or yard for your dog to hunt for.
However, you should keep in mind that dogs can be prone to food-borne illnesses. Don't leave perishable treats outside too long before you allow your dog to go on the hunt for them.
Keep Count!
Furthermore, if you plan on hiding treats in plastic eggs for your dog to find, it is always smart to know exactly how many eggs you planted for your dog to uncover and make sure he comes up with all of them.
If you forget an egg and your dog is home alone and discovers it, you could have a problem if he ingests the plastic.
And on that note, don't let your dog chew through the plastic egg to get his treat.
Once he has found the egg, take the treat out of it for him to eat. Swallowing plastic can cause a number of digestive issues for your dog and can result in a veterinarian trip.
Your Dog Easter Egg Hunt
Remember, dogs can't eat chocolate and should stay away from other sweets like candy and sugary treats.
Make sure that any treats you allow your dog to eat or hunt for are placed in locations that are easy and safe. Also, ensure that he does not ingest plastic if you choose to hide his treats or toys in plastic Easter eggs.
Before you plan a social gathering with multiple dogs, make sure all dogs invited have been properly socialized. Keep an eye out for aggressive or territorial behaviors, especially where treats are involved.
Have you ever thrown an Easter egg hunt for your dog? Tell us some of your dog-friendly Easter egg hunt ideas in the comments below!
References
Tiffani J Howell et al. Puppy Parties and Beyond: the role of early age socialization practices on adult dog behavior, Volume 6, pages 143-153
Sharon Gwaltney-Brant, DVM, PhD, ASPCA, Chocolate Intoxication
Alexander Campbell and Michael Chapman, Handbook of Poisoning in Dogs and Cats, Content DOGS, Chocolate/Theobromine, Pages 106-110
Ghazaleh N et al. International Congress of Veterinary Pharmacology and Pharmaceutical Sciences, A Case-Series on Chocolate Poisoning in Four Terrier Dogs in Tehran