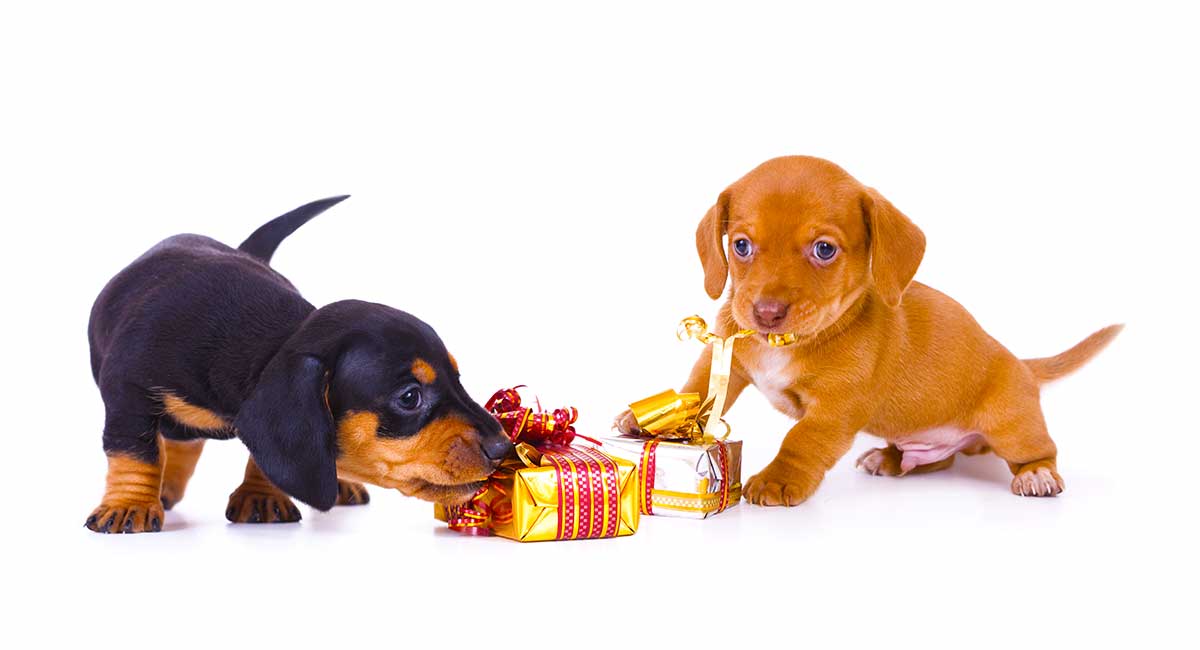 Finding the perfect Dachshund gifts for sausage dog lovers can be tricky. They are unique dogs with big personalities, and it can be difficult to find the perfect gift. This article gives you a few tips on how to find Dachshund owner gifts, and we will have some fun on the way.
These dogs are growing in popularity across the world. For example, in the US, the Dachshund is currently in the top 20 most popular dog breeds in the country. Most of us know someone with a wiener dog, but it can be really difficult to find a present when birthdays and Christmas come around.
Well, don't fear, because we have some great Dachshund gift ideas. Don't worry about finding the perfect doxie lover gift, because we are here to help. This carefully selected list includes some of the best gift ideas for dachshund lovers. Some are beautiful, some are practical, and some are sheer fun!
To many of us, a Dachshund is a Dachshund. However, to Dachshund owners, there are many different types. We will help you find the perfect Dachshund gift ideas.  Whether you want long-haired dachshund gifts, wire-haired dachshund gifts, unique dachshund gifts, or dachshund accessories gifts, we've got you covered.
Unique Dachshund Gifts Quick Navigation
If you know what you are looking for, here's a handy jump list to help you skip on ahead.
Why don't we start with a few thoughtful sausage dog gift ideas for women owners. We have scoured the internet and have some great Dachshund gifts for dog lovers ideas to get you started.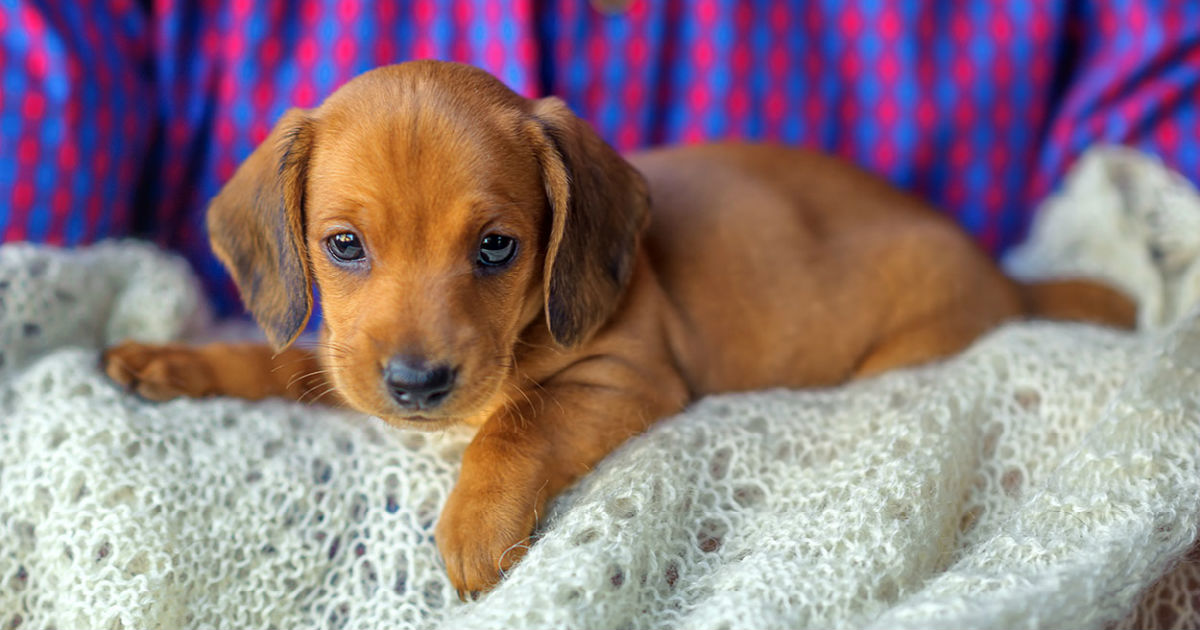 Dachshund Gifts for Her
These sausage dog gifts for her are all about comfort, relaxation, and de-stressing. We are sure these wiener dog gifts will be a hit. Imagine these creature comforts while relaxing next to a sleeping dachshund. Pure bliss!
Sherpa Women's Blue Wiener Dog Slippers: These precious, fluffy and soft house blue slippers feature a dachshund motif on the outside. The available sizes are small/medium and medium/large.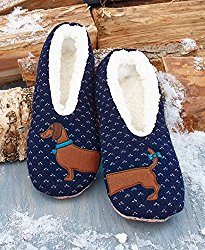 Drinking Divas It's Been a Long Day Wine Glass: Who wouldn't want to come home after a long day and unwind with this fabulous dachshund themed wine glass? Fortunately, the glass holds 13 ounces of delicious wine. Lie back on a sofa with your doxie, wear Dachshund slippers on your tired feet, and sip a fine wine. That's the way to enjoy life!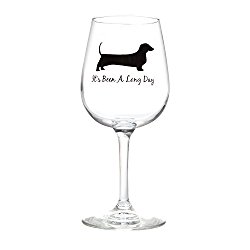 Creative Co-op Stoneware Dachshund Shaped Ring Holder, White: This gorgeous ring holder is a work of art featuring the dachshund. Created in a glossy white stoneware, the doxie's tail holds several rings at once. It's practical, because it stops you losing your jewelry, but it's also a beautiful design.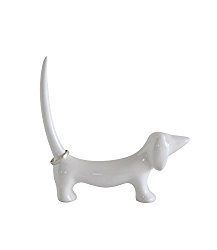 We've given you a few ideas for the ladies, but what about the gentlemen? Again, we searched the internet to find some great Dachshund-related gifts for him. We are sure you will find something he likes here!
Dachshund Gifts for Him
Finding dachshund gifts for him is all about pairing up the pint-sized with the powerful. These fun sausage dog presents will be displayed with pride, and also with a lot of humor!
Dachshund Dog Yard Sign "Security Force Dachshund": This fun yard sign lets intruders know that the premises are well-guarded by a petite canine powerhouse. Everyone knows that you don't mess with sausage dogs!
The sign is red, black and white and measures 11" x 11."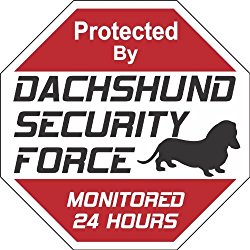 Stubborn Dachshund Tricks T-Shirt: As any Dachshund owner will tell you that they can be very stubborn and far too dignified to perform doggy tricks! Well, this 100 percent cotton T-shirt comes in several sizes and colors with the same laugh-worthy graphics on the front.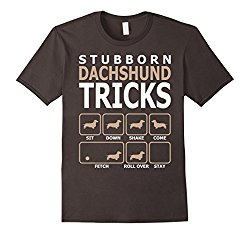 Charcoal Companion Corn Holders Dachshund Pieces: We don't know what it is, but most men we know love a barbecue. Maybe they are in touch with their inner caveman! Fortunately, with these wonderful wiener dog holders (can you see what we did, there!) grilling day will never be the same.
Now, you can enjoy tasty skewered corn and other veggies served up with adorable and affordable dachshund-themed corn holders.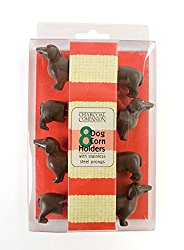 Of course, we haven't forgotten the kids. We know many children who love their doxies, playing with them all day before collapsing in a tired heap for a well-earned snooze. For starters, here's a few great dachshund gifts for kids ideas.
Dachshund Gifts for Kids
Finding dachshund gifts ideas for the younger crowd is getting easier. Take a look online and you will find stickers, books, and toys all devoted to one of the most popular dog breeds in the world.
Multi-Colored Stickers-Dachshunds: Stickers have never gone out of style with younger generations. This varied assortment of dachshund-themed stickers will delight a young doxie lover. They can stick them on their school books, computer, or smart phone.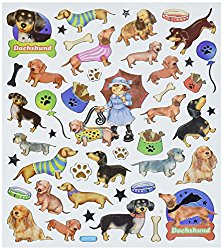 Pretzel (Curious George): Books are always a thoughtful gift for kids. Did you know that there are some wonderful books about Dachshunds? Pretzel's story isn't just for the little ones. After all, dachshund puppies are for all ages. Get it in paperback or in an e-book version.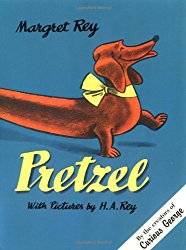 BRIO Pull Along Dachshund Toy: We haven't forgotten the youngest doxie lovers. Now, the youngest family members can enjoy their first experience of "walking" a doxie dog of their very own. The ears actually flap, and the tail wags as the string is pulled along.
We think that they are great training for when your young one is old enough to walk the real thing!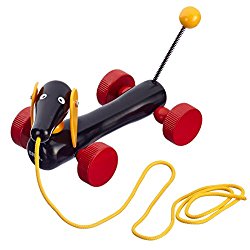 Large Dachshund Dog Children's Plush Toy: How about this cuddly Dachshund, for children over three years of age. Its cute, adorable, and well made, giving your child a Dachshund of their own to love.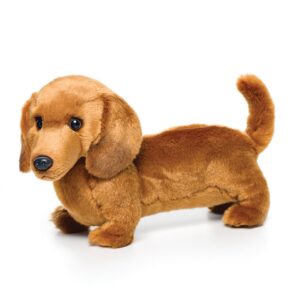 People forget that the Dachshund snoring on the couch was originally trained as a working dog. Many dog owners love nothing more that taking their wiener dogs for long walks and enjoying an active lifestyle. Don't worry, we have the sporty types covered, too, with some health-related gifts for Dachshund lovers .
Sporty Dachshund Gifts
These Dachshund-themed gifts remember that, first and foremost, the diminutive doxie has always been the outdoorsy type. If you know a sporty owner, these sporty Dachshund gifts are perfect!
S'ip by S'well Vacuum Insulated Stainless Steel Water Bottle, Double Wall, 15 oz, Top Dog: This sporty water bottle is not only a great way to save the planet, but it will keep that certain special petite canine sidekick fondly in mind.
Not only do they have a great Dachshund design, but you can choose from 26 great colors.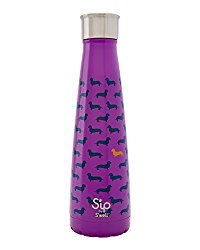 Wish Island Women's Dachshund Cotton Crew Socks: These doxie ankle socks are fun and sporty. Happily, they come in a pack of five, and each pair is a different color. They will fit U.S. women sizes 5 to 9 and are made of cotton, nylon and spandex for comfort.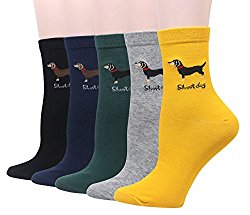 Dachshund Dog Shaped Ice Cube Tray: Enjoy refreshing beverages on the balcony or on the go with these awesome dachshund-shaped ice cubes. This easy in/easy out silicone ice cube tray pops out doxie cubes that even stay true to their shape while they melt.
Don't tell anyone, because we are trying to be sporty and healthy, but they make great chocolate molds, too!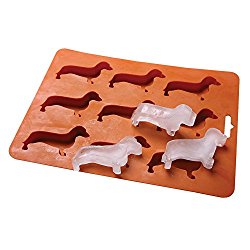 Dachshunds are great fun, with big personalities and their own way of doing things. Well, they do say that dogs resemble their owners, so why don't we look at some fun Dachshund gifts?
Fun Dachshund Gifts
Dachshunds just want to have fun, as these wiener dog lover gifts remind us. Make Dachshund owners smile with these fun Dachshund gifts, aimed at the inner child we all have!
Coloring Wieners Book: Coloring books for the young at heart have become all the rage lately. Luckily, Dachshunds are no exception. This one offers a colorful meditation on the most wonderful of canine breeds—the dachshund. It includes 15 pages of dachshund motifs for coloring fun.
One of our team disappeared for three days after we gave her one of these!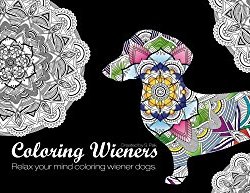 Aquarius Wonderful Wieners Playing Cards: These poker-sized linen playing cards feature 52 dachshund images to keep the conversation flowing as you play your favorite games. They provide fun for all ages, families, work parties, and friends too.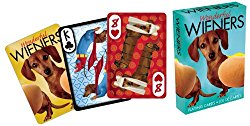 Dachshund-opoly: Finally, a game that features the best dog breed on Earth—the Dachshund. What we particularly like is that up to six people can play at one time. It's great for parties and there are two play options: extended and one hour. The game is a version of Monopoly with a unique Dachshund twist.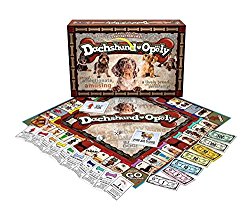 One of the reasons why Dachshunds are so popular is their versatility. They are great with kids, love walks, and make great companions. They are also experts at bringing out your romantic side. It's no surprise that we found a few Dachshund-related romantic gifts.
Romantic Dachshund Gifts
Nothing feels quite so romantic as cuddling up with your loved one—both human and furry. Here is a selection of weenie dog gifts guaranteed to bring a little romance your way as well.
Dog Breed Love Dog Paw Silhouette Gift Charm Bracelet Silver: What do you get for the gal who seems to have it all? Something wonderful she doesn't have of course. This charming silver-tone dachshund wheat chain bracelet with pendant comes in its own gift-wrapped box. The pendant is a dachshund with a paw print cutout in the heart area.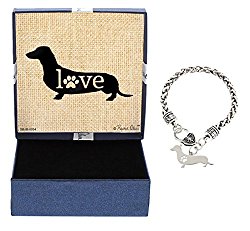 They are gorgeous. If someone wants to buy me one of these…!
Simply Charmed Magnetic Dog Wine Charms or Glass Markers for Stemless Glasses: Wine is a great addition to any romantic occasion, as are these magnetic dog wine charms. For added choice, they cover several dog breeds, including the dachshund, so guests can tell which one is their wine glass.
They can be used on any type of beverage glass. One thing's for sure – they'll provide a topic of conversation!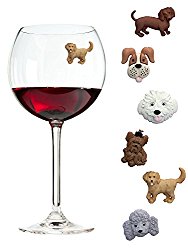 Best Dachshund Mom/Dad Ever Mug: This adorable mug can be filled with chocolates, candies, jewelry or whatever strikes your fancy—and then later, of course, it can be filled with coffee or tea as well.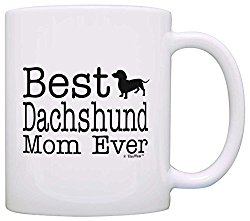 There is a Mom version and a Dad version.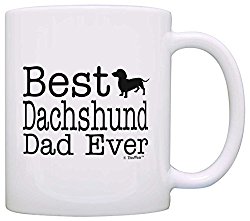 After a long drift into the world of romance, why don't we go all practical. For those of you who love gardening and spending time with your doxie outdoors, we have some perfect Dachshund gifts for dog lovers.
Lawn and Garden Dachshund Gifts
These gifts for dachshund lovers turn the lawn into a doxie paradise, with all kinds of fun reminders of who really is in charge around here.
Whirligig Spinner – 20" Dachshund Spinner: Dachshund lovers know that their short-legged canine friends are every bit as speedy as dogs with long legs—especially when they are featured in a lawn whirligig that never stops "running."
This lawn ornament captures the joy of watching a dachshund run. The height is 20," and the diameter of the dachshund is 9.5" x 8.75." I could watch this all day – it's great fun!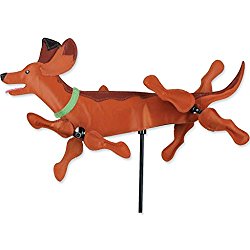 Cast Iron Dachshund Doorstop: This solid little black dachshund is perfect to prop open the door at parties, or when kids are running in and out from the backyard. It measures 8" x 5" x 3," and weighs a full 3.5 pounds. Like its namesake, it packs a lot of muscle in a pint-sized package.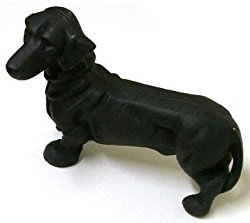 Hi-Line Gift Ltd Pet Pals-Dachshund Puppy: Surprise visitors with this pint-sized dachshund lawn or garden ornament. It looks like a real pint-sized dachshund pup. The puppy is made from durable polyresin for all-weather use. It measures 10.2" x 3.5" x 8.5."
We can't believe how realistic it looks.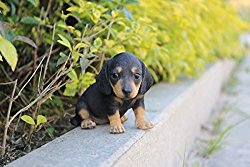 That's the garden covered, but what about some personalized Dachshund gifts to show that you really put some thought into this!
Personalized Dachshund Gifts
Finding personalized dachshund gifts is not always easy, but it is always worth it. As you will see, these neat dachshund gifts prove that.
Hallmark Signature Birthday Greeting Card (Dog in Sweater): This special, one-of-a-kind dachshund card is a great choice for birthdays for any age. It features a long doxie wearing a cheerful colored sweater. The card is printed on cardstock with the message "Hope your birthday's happy all year looonnng." and measures 7.2" x 5."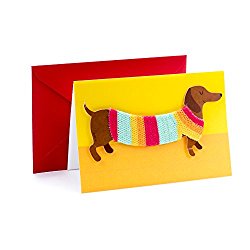 Personalized Framed Dachshund Dog Line Drawing: This graceful line drawing can be personalized with any dachshund's name. It even comes ready to hang in a 14" x 17" square black frame.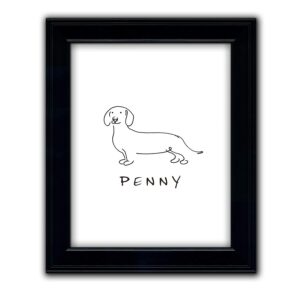 Dachshunds are such beautiful dogs that many owners try to incorporate the breed into their home design. Face it, a touch of doxie dog adds personality to any home.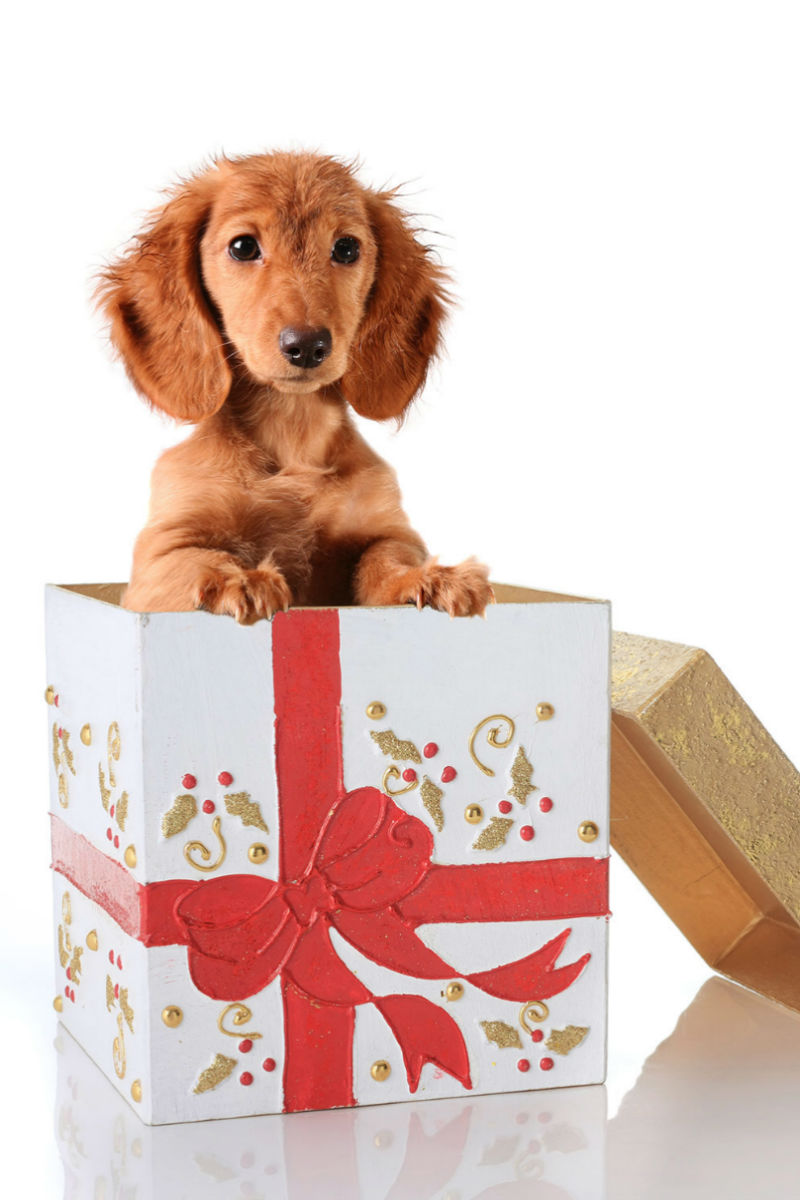 Home Décor Dachshund Gifts
Even the most well put together home décor is still missing something until you add one of these dachshund presents.
Primitives By Kathy 6″ x 2.5″ Wood Wooden Box Sign "All You Need Is Love…And A Dachshund: No gift could say it better, but this home décor decorative plaque comes with paw prints all around the sides. It's perfect as a gender-neutral gift for someone you know well, for a new friend, or a colleague.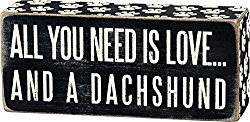 What on Earth Dachshund Toilet Paper or Paper Towel Holder, Copper Theme: This uniquely classy dachshund toilet paper or paper towel holder can hold one paper towel roll or three toilet paper rolls with ease. The long body holds the paper, and out the top pops a cute dachshund head. It made me smile, anyway!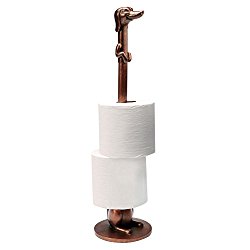 Creative Co-Op Ceramic Dog Dish, White: Luckily, we have another fab find from this maker—this lovely little dachshund dish can be anything it needs to be. It can be a jewelry holder, a condiment dish, a soap dish, or even a tiny wall hanger for a micro-plant. This dish is just as versatile as the Dachshund!
The dish is 5.5" x 1.88" x 1.63."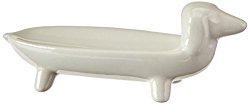 You know that one of your work colleagues is mad about wiener dogs. So, can you find the perfect gift for them? You bet! Here are a few of our favorites.
Dachshund Gifts for Colleagues
Gift exchanges at the office don't have to be deeply personal to be fun and meaningful. With any luck, these cute dachshund gifts will make the Secret Santa in you smile.
Dachshund shaped memo pad: This precious memo pad features a colorful dachshund cutout over a rectangular piece of paper with the words "A Little Note." This is a perfect gift for work colleagues (who wouldn't love to get a dachshund memo note on their desks?) or a new friend who loves wiener dogs.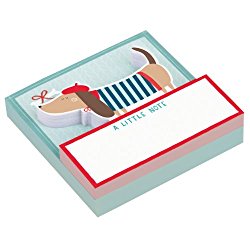 Dachshund Property Laws Fridge Magnet No. 1: You don't have to know someone well to know that their dachshund owns everything in the household. This fun, simple fridge magnet makes for an affordable little gift for special occasions or "just because."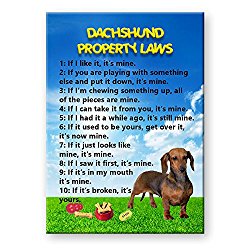 NPW NP21851 -USA Wiener Dog Tape Dispenser: This teal dachshund-shaped tape dispenser and paper clip holder is a must for any doxie-lover's desk. Even cuter, the paper clips are pink and shaped like bones. The dispenser measures 7" long.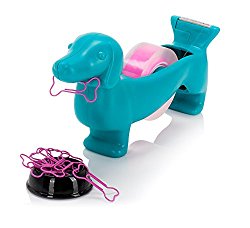 Special occasions can bring out the Dachshund in all of us. We looked online for cute Dachshund gifts for holiday seasons, and you won't be disappointed!
Holiday Dachshund Gifts
What is cheerier than a set of miniature reindeers? A miniature dachshund, of course. These dachshund Christmas gifts will delight doxie lovers across the board.
"101 Uses For A Dachshund": It's easy to imagine the smile when you tear open the wrapping paper to reveal this adorable book on the morning of a special day. After all, who is more helpful in every way than a dachshund?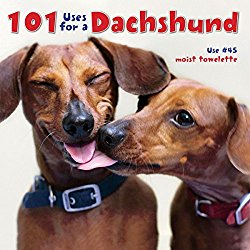 5ft Long Wiener Dog Self-Inflatable with Suit: Are you tired of the same ol' Christmas lawn decorations year after year? Well, this year, give a gift that will make people smile for years to come—here's a 5-foot inflatable Dachshund in a Santa suit.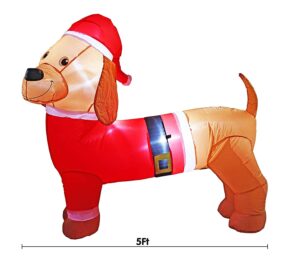 RAZ Imports Dachshund Ornaments: Now, you know what the Christmas tree's been missing all these years—this set of four priceless dachshund ornaments. Each 4-inch dachshund is dressed in a festive hat and sweater set with an adorable curled tail.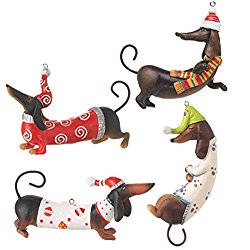 What about the new arrival? How can you welcome a new baby into the family alongside their devoted Dachshund? Well, we have a few excellent ideas for you!
Dachshund Baby Gifts
These fun dachshund baby gifts will give the new parents in your life the sanity and organization every new parent needs.
Dimension 9 Dachshund Coffee Mug, White: If there is one thing the new parents-to-be are going to need lots of, it is coffee, and this super cute doxie coffee mug is sure to put a smile on even the most sleep-deprived face. It holds 8 ounces of liquid, and is dishwasher-safe and microwave-safe.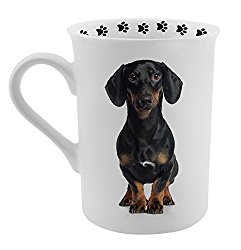 The Metal Peddler Dachshund Key Rack/ Dog Leash Hanger: This dual-purpose, all-black, doxie-themed wall mountable key holder and leash holder will make life easier for new parents juggling a baby and a Dachshund at the same time. You can choose from small (6" x 5") or large (9" x 8.25"), and each size has five key/leash hooks.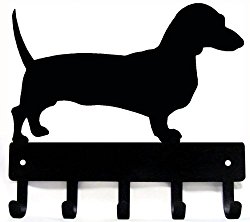 J-pinno Cute Dachshunds Puppy Dog Twin Sheet Set: These 100 percent cotton sheets are soft, comfy, anti-allergy and environmentally healthy. Best of all, they have really cute blue Dachshunds all over them. The set includes a pillowcase, fitted sheet, and flat sheet.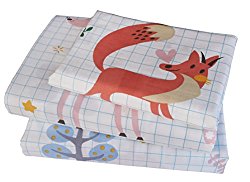 Arty Dachshund Gifts
If you have a doxie-loving friend or colleague who likes art, or someone who collects Dachshund figurines, we have some options for you. We added this section, in June 2019, after some great suggestions from readers.
Sansukjai Dachshund Figurine: This elegant, multi-colored Dachshund figurine is made from blown glass. Created by Thai artisans, each figure is unique and includes gold leaf for a touch of extra class. Moreover, they look great on the mantelpiece!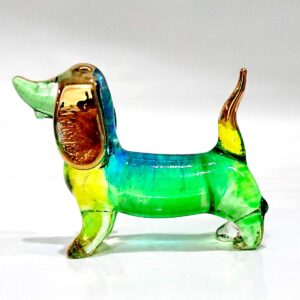 Comfy Hour 8″ Standing Dachshund Dog Decoration, Copper Rust Effect, Antique Style: This copper-effect resin Dachshund is beautiful. Who can resist that playful, adoring wiener dog expression? In addition, it's large enough to draw attention and start conversation.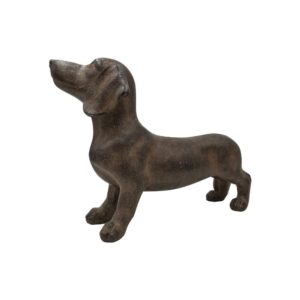 Sansukjai Rare Dachshund Tiny Micro Crystal Figurine: What about this beautiful crystal figurine? Delicate and hand-crafted, each of these blown glass figurines has its own characters and captures the essence of the Dachshund. Any owner who appreciates fine art will love these crystal figurines.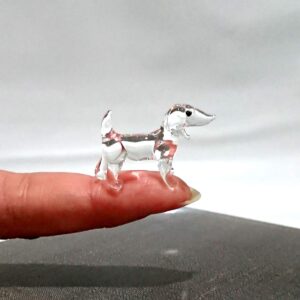 Unique Dachshund Gifts
Well, that should have given you plenty of food for thought! There are loads of Dachshund gifts to cover every single occasion. However, because sausage dogs are so popular, it's impossible to cover them all.
Do you have any suggestions for your favorite gifts for Dachshund lovers —given or received? Drop us a comment to let us know.
Want to find more ways to show just how much you love your Dachshund? Check out some of these dog love quotes!
Resources and Further Reading
Cathlene, D., 2017, "About Dachshunds: Brief History," Almost Home Dachshund Rescue Society
Pous, T., 2016, "24 Gifts That People Who Love Dachshunds Will Long For," BuzzFeed
Reed, J., 2016, "The Pros and Cons of Owning a Dachshund Puppy," Reed's Mini Dachshunds Kennel
Schonfeld, Z., 2013, "You Don't Need to Choose Between Babies and Dogs," The Atlantic
Skarda, E., 2012, "America's 10 Most Popular Dog Breeds," Time