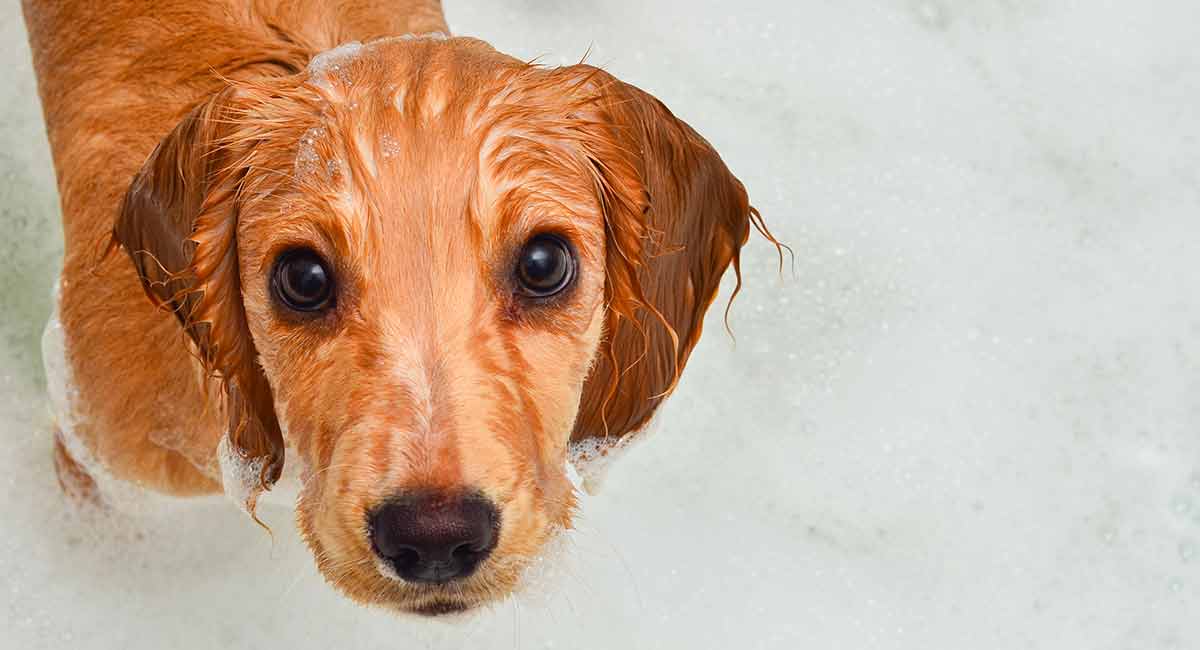 The best puppy shampoo is mild and gentle, and helps maintain a healthy coat and skin. Shampoo for puppies should gently remove built up oil and dirt, moisturise dry skin, and create a glossy coat.
Medicated puppy shampoos should be avoided unless they are specifically needed. And remember, wriggly puppies will benefit from a 'tearless' formula that is less likely to sting their eyes.
Products included in this article were carefully and independently selected by the Happy Puppy Site team. If you decide to make a purchase from one of the links marked by an asterisk, we may earn a small commission on that sale. This is at no extra cost to you.
Top Five Shampoos for Puppies
There a lots of great shampoos for puppies, and it can be hard to choose between them. Here are five of the best puppy shampoos available:

Read on to find out more about these shampoos, plus many more suggestions.
#1: Wahl Gentle Puppy Shampoo
Our favorite shampoo for puppies is the Wahl Puppy Shampoo* with cornflower Aloe and a tear-free formula.


This shampoo is great for dogs with sensitive skin. Plus it lathers up well, meaning you don't need as much, and rinses out without leaving lots of residue.
#2: Burts Bees Tearless Shampoo with Buttermik
Another tear-free puppy shampoo option is Burt's Bees for Puppies Tearless Shampoo with Buttermilk*.
Like all the best puppy shampoo, it's gentle on your puppy's skin and eyes, and free from harsh chemicals.

The added honey may be beneficial for your pup's skin health too. Although studies suggest you need a solution of at least 10% honey for it to kill bacteria. Burts Bees Shampoo therefore contains too little honey to be used as an antibacterial shampoo.
#3: Oster Oatmeal Naturals Gentle Puppy Shampoo
Continuing a theme of shampoos that benefit skin health, we like Oster Oatmeal Naturals Gentle Puppy Shampoo*.
Oatmeal shampoo is popular for adults and children with dry itchy skin conditions like eczema, and there is evidence that it plays a role in managing canine dermatitis too.
Oatmeal shampoo is most likely to help a dog with dry itchy skin if used in combination with advice from your vet.

There are lots of good oatmeal shampoos for dogs but we like this one best for puppies because it is formulated especially for puppies aged 8 weeks and old. Oh, and it smells great!
#4: Biosilk for Dogs: Puppy Tearless Shampoo
Another shampoo specially formulated for puppies from 8 weeks and up is Biosilk Puppy Tearless Shampoo*.

We like the jasmine scent of this one. And using a product from a brand that also makes shampoo for people might make your pup feel that extra bit more pampered.
#5: Pet Head Puppy Fun Shampoo
We love the vibrant funky 'bone-topped' bottle for Pet Head Puppy Fun Puppy Tearless Shampoo*. But this product is more than just a pretty face. Extra gentle, hypoallergenic, it smells of oranges and contains shea butter to promote a glossy coat.
We've only touched the surface of the great shampoos out there. If our five best puppy shampoos aren't for you, take a look at these other great choices.
Best Organic Puppy Shampoo
Sadly there isn't a wealth of organic shampoo available for puppies as yet. But here are some great options.
4 Legger Organic Dog Shampoo
We love 4 Legger Organic Dog Shampoo* with aloe vera and lemongrass. Safe and moisturizing to normal or dry skin, it's made from certified organic plant oils.
Odie and Cody Organic Pet Shampoo
Our other organic favorite is Odie and Cody Organic Pet Shampoo*. A hypoallergenic, certified organic shampoo with aloe vera and rosemary.
Best Oatmeal Puppy Shampoo
We've shown you our favorite oatmeal puppy shampoo for dry or itchy skin. But if you'd like more options, there are plenty of others to choose from.
Honeydew Oatmeal Pet Shampoo
A stronger option for pups with very dry or itchy skin, Honeydew Oatmeal Pet Shampoo* is a safe and soothing, medicated-strength, deodorizing oatmeal shampoo. We did say early that the best puppy shampoo is not medicated unless your pup specifically needs it to be, so this shampoo is best for dogs with very dry or itchy skin.
Wahl Oatmeal Shampoo For Dogs
Designed to clean, condition and moisturize, Wahl Oatmeal Shampoo* for dogs is another skin-friendly option for deep cleaning sensitive dry skin.
Pet Pleasant Lavender Oatmeal Pet Shampoo
For a more relaxing bathtime, try Pet Pleasant Lavender Oatmeal Pet Shampoo*.
This hypoallergenic oatmeal shampoo for dry skin also contains lavender, which may have a calming effect on dogs. How and why this works is not understood, nor does it seem to work reliably. But lavender is thought to be calming to people too, so even if it doesn't calm your puppy, it could make bathtime more relaxing for you!
Veterinary Formula Puppy Love Shampoo
You may also like Veterinary Formula Puppy Love Shampoo.*
This extra gentle puppy shampoo cleanses without drying, and is gentle enough to use on a regular basis.
Alpha Dog Series Puppy Shampoo and Conditioner
And the Alpha Dog Series Puppy Shampoo & Conditioner* makes bath time quick and easy by combining shampoo and conditioner in one bottle.
It is made with aloe vera as well as plant and fruit extracts to help keep your puppy's skin and coat healthy.
Wahl Waterless No Rinse Shampoo
Our last shampoo is a little different. Wahl Waterless Shampoo* is a 'dry' shampoo designed for dogs that can't tolerate being washed with water.
It's designed to cleanse gently without the need for rinsing.
Do Puppies need Shampooing?
Puppies are curious, playful, and messy.
It would be easier to never have to bathe your puppy. But the truth is that yes, puppies need shampooing.
Like small children, puppies require lots of special care. Keeping them clean plays an important role in keeping them healthy.
That being said, we should note that puppies and dogs do not need as frequent shampooing as humans.
Shampooing your puppy too often or with the wrong kind of shampoo can harm your puppy's sensitive skin and coat and even leave him/her susceptible to infections and other health issues.
You can find more information on how to bathe a puppy here.
What is the best shampoo for puppies?
All puppies are born with a single coat that is soft and fluffy. They do not grow their adult coats until they are between six and twelve months old.
Puppies are also born with more sensitive skin. For this reason, puppies should only be bathed on occasion and with high-quality puppy shampoos.
How Often Should You Shampoo a Puppy?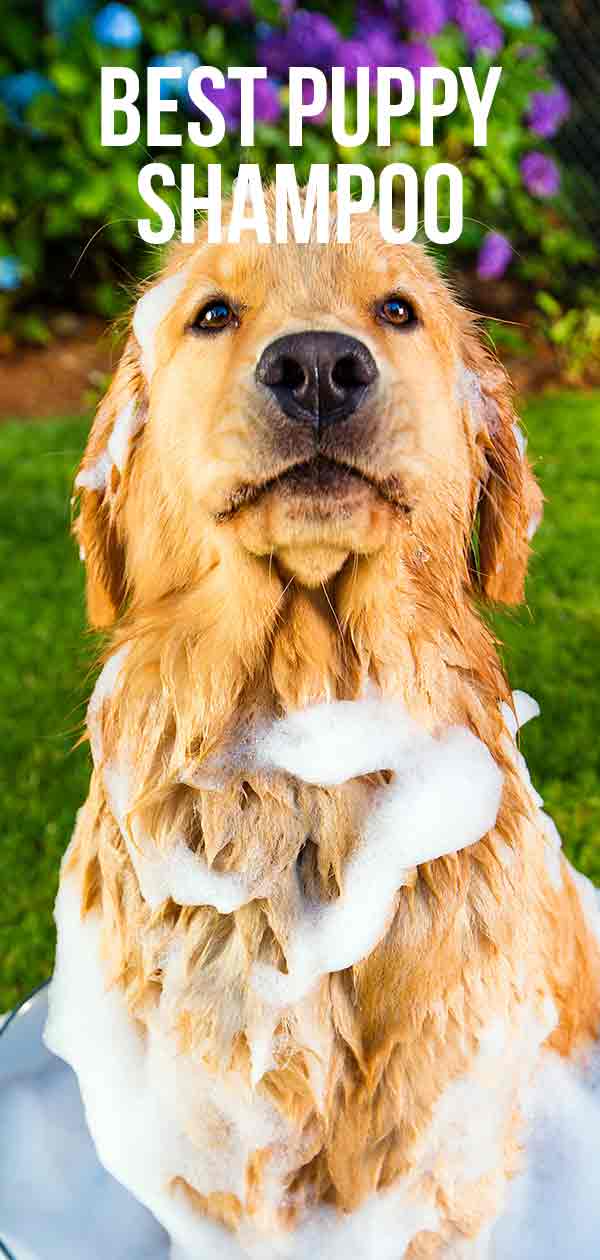 Most experts agree that it is safe to bathe a puppy at eight weeks.
Bathing your puppy too often can lead to the stripping of essential oils and harm his/her skin and fur. However, bathing too little can leave dirt, debris and microbes in his coat which might eventually make them ill. Or just result in a slightly stinky puppy.
While experts debate on how often a bath is needed for a pup, most dog owners find that bathing their puppy no more than once a week works just fine for them.
Of course, if your puppy gets particularly dirty, giving a quick bath as needed should be okay.
How to Shampoo a Puppy
Bathing your puppy should be a fun and pleasant experience for you and your little pooch.
Remember, the way you introduce your puppy to his first bathing experiences could determine how bathing goes from there on out.
Make sure you have all of your essentials ready and within arms reach before the bath begins. You will need
A soft puppy brush
A fluffy towel
Puppy treats
Puppy shampoo
If your puppy has longer or curly hair, you may want to brush him gently before bath time. This will help reduce knotting and tangles.
Introduce your puppy to the bath or sink calmly using praise and treats. You will want to make sure he enjoys the experience and doesn't fear it. Nerves can make future bath time events difficult and stressful.
Never leave your puppy unattended in the water and remember, bathing him should only take around five to ten minutes.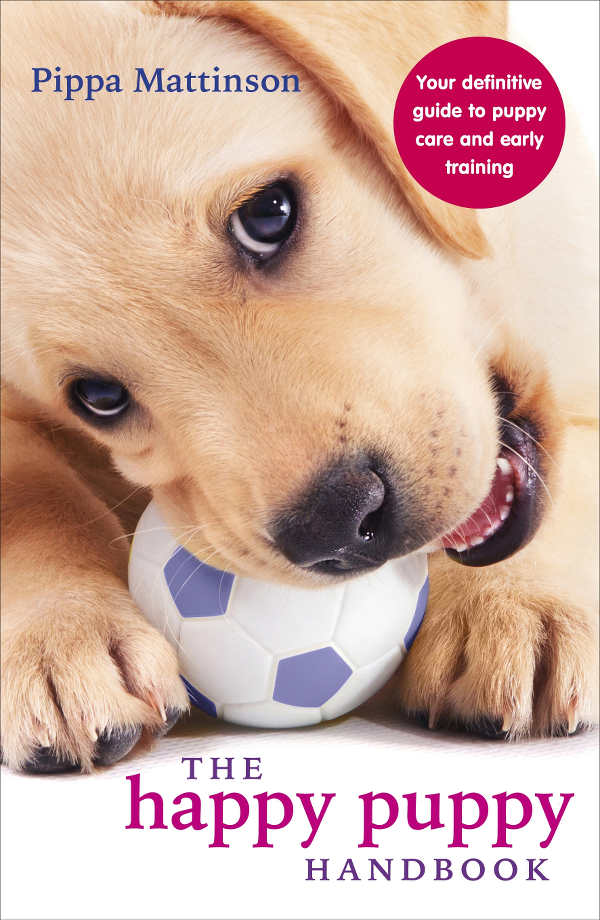 Unless your puppy is particularly dirty, you can focus on their body, taking care to avoid ears and eyes.
If you must wash your dog's face and head, do so gently and offer treats between rinses.
Make sure you lather him up gently with the puppy shampoo and then rinse him thoroughly, using clean water that is warm, not hot.
Always test the water on yourself first to make sure the temperature is appropriate for your little four-legged friend.
Once bathing is over, you will want to make sure you wrap your puppy up in a nice warm towel and dry as best as you can.
Keep in mind that, unlike adult dogs, puppies cannot regulate their body temperatures and can easily become cold.
Puppy Shampooing Video
This video shows how to best bathe and blow dry a puppy.
Best Shampoo for Puppies
Remember, puppies are born with more sensitive skin and fur than adult dogs. They will require special puppy shampoo during bath time that is specified for their needs. Our top five best puppy shampoos from the start of this article are ideal.
You can bathe your puppy as often as once a week, but most experts suggest only bathing him as needed.
And remember to keep bathtime fun and pleasant for both of you.
Have we mentioned your favorite? Why not share your puppy shampoo recommendations in the comments below?
Affiliate link disclosure: Links in this article marked with an * are affiliate links, and we may receive a small commission if you purchase these products. However, we selected them for inclusion independently, and all of the views expressed in this article are our own.
References
D.J.E. Housley, P.J. Venta, The Long and the Short of It: Evidence that FGF5 is a Major Determinant of Canine 'Hair'-Itability, Animal Genetics
C.A. Reme, H. Schroeder, M. Briggs, Efficacy of an Ammonium Lactate-Piroctone Olamine Shampoo for the Management of Dry Scaly Seborrheic Disorders in Dogs, Virbac Animal Health
J. Schilling, R.S. Mueller, Double-Blinded, Placebo-Controlled Study to Evaluate An Antipruritic Shampoo for Dogs with Allergic Pruritus, BMJ Journals, Vet Record
Kwakman P.H.S et al. Medical-Grade Honey Kills Antibiotic-Resistant Bacteria In Vitro and Eradicates Skin Colonization Clinical Infectious Diseases, Vol 46 (11), June 2008
Varshney J.P et al. Clinical Management of Canine Atopic Dermatitis. Intas Polivet . Vol. 14 (2). Jul-Dec 2013
Komiya, M. et al. American Journal of Veterinary Research. Evaluation of the effect of topical application of lavender oil on autonomic nerve activity in dogs. Vol. 70 (6). June 2009.
Wells, D.L. Phd. Journal of the American Veterinary Medical Association. Aromatherapy for travel-induced excitement in dogs. Vol 229 (6). Sept 2006.