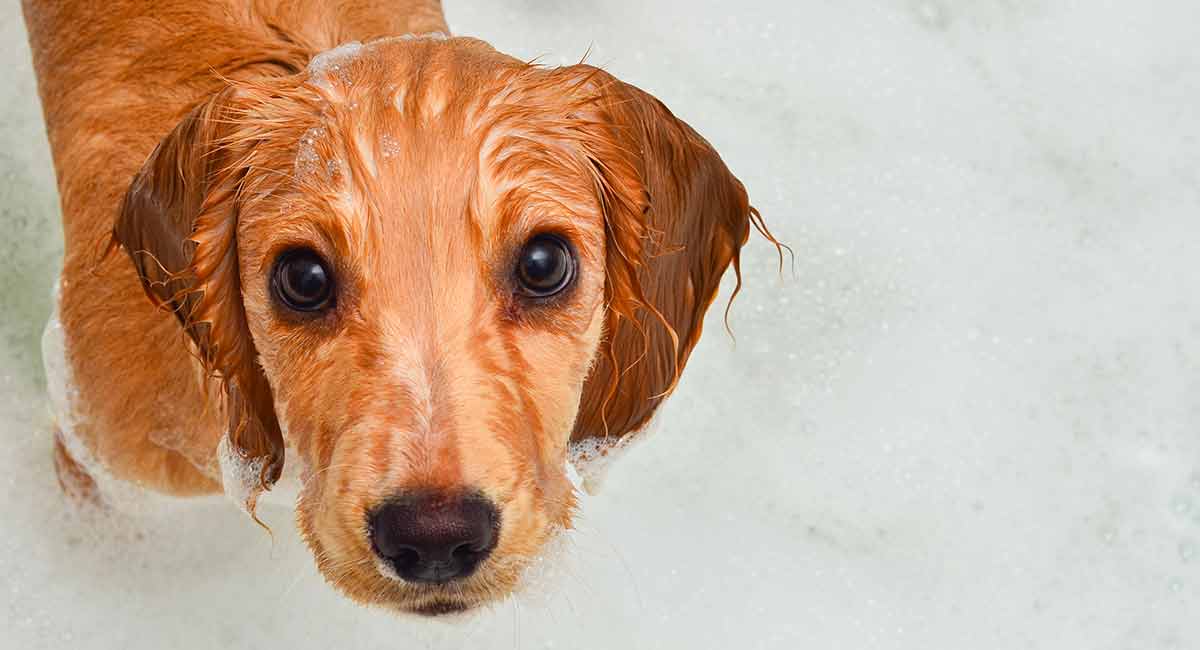 The best puppy shampoo is
Gentle
Free from perfumes, dyes, sulfates and parabens
Matched to the pH of your puppy's skin
It should keep them clean and fresh-smelling, without irritating their delicate skin or coat.
Choosing the Best Puppy Shampoo
If you have recently introduced a tiny ball of fur into your family, then congratulations are in order! Still, we know that caring for a new puppy can be exciting and stressful.
There will be a number of firsts for you and your puppy, and as you navigate this sweet and wild time together, rest assured that we are here to help.
Is your puppy about ready for his first bath? Let us help you find the best shampoo for puppies.
Do Puppies need Shampooing?
Puppies are curious, playful, and messy.
And while it would be easier to never have to bathe your puppy, the truth is that yes, puppies need shampooing.
Like small children, puppies require lots of special care and keeping them clean plays an important role in keeping them healthy.
With that being said, we should note that puppies and dogs do not need as frequent shampooing as humans.
Shampooing your puppy too often or with the wrong kind of shampoo can harm your puppy's sensitive skin and coat and even leave him/her susceptible to infections and other health issues.
So, what is the best shampoo for puppies?
Before we go over what types of shampoos are best, let's first talk briefly about your puppy's unique fur.
What Type of fur do Puppies Have?
There are a number of different fur types when it comes to dogs, but the five basics that you should know are
Smooth/Short Coat
Medium Coat
Long Coat
Wire-Coat
Curly Coat
The above coat types can be breed specific but can also vary depending on the genetics of mixed breeds or mutts.
Dogs can also have two coat types; single and double.
It is usually pretty easy to tell if your dog has a single or double layered coat, as single coated dogs, like the short-haired Dachshund or the Yorkshire Terrier, will have thinner coats that shed less.
A double-coated dog, like a Husky, will have a thick, downy undercoat and a harsher topcoat to protect him from the elements and extreme weather changes.
Dogs with double-layer coats tend to shed more profusely and tend to require more maintenance when it comes to grooming than dogs with single coats.
So, what does this mean for your puppy?
Well, according to the American Kennel Club, all puppies are born with a single coat that is soft and fluffy. They do not grow their adult coats until they are between six and twelve months old.
Puppies are also born with weaker immune systems and more sensitive skin. With that being said, they can be more susceptible to infection and skin irritation from certain chemicals used in shampoos, even if those shampoos are pet and dog-friendly.
For this reason, puppies should only be bathed on occasion and with high-quality and the best puppy shampoos.
How Often Should You Shampoo a Puppy?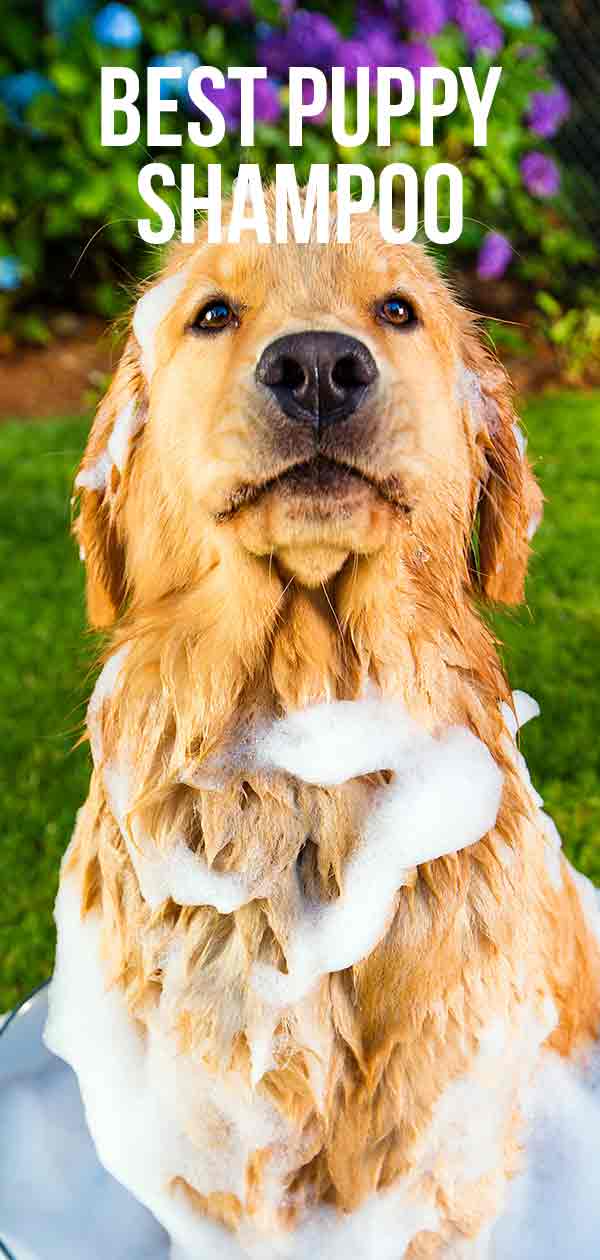 As we mentioned above, puppies can have more sensitive skin and fur than their grown dog counterparts.
It is important not only to use the correct shampoo that is specified for puppies, but it is also best to only bathe your puppy when he needs it.
Most experts agree that it is safe to bathe a puppy at eight weeks. However, we do recommend that you only bathe your puppy occasionally, as bathing them too often can lead to the stripping of essential oils and harm his/her skin and fur.
However, bathing too little can leave dirt, debris and microbes in his coat which might eventually make them ill. Or just result in a slightly stinky puppy.
So, how often should you bathe your puppy?
While experts debate on how often a bath is needed for a pup, most dog owners find that bathing their puppy no more than once a week works just fine for them.
Of course, if your puppy gets particularly dirty, giving a quick bath as needed should be okay.
You can learn more about how to properly bathe your puppy by visiting us here.
Shampoos for Puppies
In general, human shampoo is too harsh for dogs, meaning it will be especially too harsh for a young puppy.
That is why we recommend using a high-quality puppy shampoo for your puppy's bathing routine to help avoid stripping any essential oils from his skin and to help keep his sensitive coat healthy and soft.
One of our favorite shampoos for puppies is the Wahl Puppy Shampoo with cornflower Aloe and a tear-free formula.
This shampoo is also great for dogs with sensitive skin, but it is especially good for those who require the use of gentle products to help effectively clean their new fur and skin.
Another wonderful puppy shampoo option is Burt's Bees for Puppies Tearless Shampoo with Buttermilk.
Not only is it gentle on your puppy's skin and eyes but it is also free of parabens, dyes, and sulfates. Best of all, it supports a healthy pH balance.
You may also like Veterinary Formula Puppy Love Shampoo.
This puppy shampoo helps support your puppies pH balance while also being gentle enough to use on a regular basis.
It is also tear-free and has a delicious smell!
And the Alpha Dog Series Puppy Shampoo & Conditioner makes bath time quick and easy by combining shampoo and conditioner in one bottle.
It is made with aloe vera as well as plant and fruited extracts to help support a healthy pH balance and keep your puppy's skin and coat healthy.
This tear-free formula also boasts a yummy smelling scent that promises to last as long as two weeks!
So, now that you have an idea of what some of the best shampoo options are for puppies, let's talk about how to go about using that shampoo.
How to Shampoo a Puppy
Bathing your puppy should be a fun and pleasant experience for you and your little pooch.
Remember, the way you introduce your puppy to his first bathing experiences could determine how bathing goes from there on out.
Make sure you have all of your essentials ready and within arms reach before the bath begins. You will need
A soft puppy brush
A fluffy towel
Puppy treats
Puppy shampoo
If your puppy has longer or curly hair, you may want to brush him gently before bath time to help reduce knotting and tangles.
Introduce your puppy to the bath or sink calmly using praise and treats. You will want to make sure he enjoys the experience and doesn't fear it, as this can make future bath time events difficult and stressful.
Never leave your puppy unattended in the water and remember, bathing him should only take around five to ten minutes.
Unless your puppy is particularly dirty, you can focus on their body, taking care to avoid ears and eyes.
If you must wash your dog's face and head, do so gently and offer treats between the rinse.
Make sure you lather him up gently with the puppy shampoo and then rinse him thoroughly, using clean water that is warm, not hot.
Always test the water on yourself first to make sure the temperature is appropriate for your little four-legged friend.
Once bathing is over, you will want to make sure you wrap your puppy up in a nice warm towel and dry as best as you can.
Keep in mind that, unlike adult dogs, puppies cannot regulate their body temperatures and can easily become cold.
With longer-haired puppies, you may choose to use a blow dryer to dry him. If you do, put the blow-dryer on the lowest and coolest setting and hold it about a foot or two away.
Some puppies may be afraid of the sound of a blow dryer but if you introduce it slowly they can learn not to mind it at all.
Puppy Shampooing Video
This video shows how to best bathe and blow dry a puppy.
Puppy Haircuts
Since puppies are born with a single layer coat and will not grow into their adult coat until about six to twelve months of age, they typically will not need a haircut until then.
Puppies are born with naturally shorter hair that is easy to maintain and is both soft and fluffy.
So, while bathing is a necessary part of keeping your puppy healthy and clean, a haircut is not until he has grown into his adult coat.
Of course, if your puppy has gotten into something sticky like gum or sap, or if you find that his/her hair has become matted, it may be easier and less stressful for the puppy to simply trim instead of trying to brush him free.
Best Shampoo for Puppies
Remember, puppies are born with more sensitive skin and fur than adult dogs and will require special puppy shampoo during bath time that is specified for their needs.
You can bathe your puppy as often as once a week, but most experts suggest only bathing him as needed.
One of the most important things to note about bath time is that this is a new experience for your puppy. Keeping the experience fun and pleasant will help to ensure that future bath times are enjoyable for both of you.
Are you wondering how else you can keep your puppy happy and healthy? Click here for a list of all the things you'll need for your first year of puppyhood!
References
The AKC Staff, Fluffy Dog Breeds, The American Kennel Club,
D.J.E. Housley, P.J. Venta, The Long and the Short of It: Evidence that FGF5 is a Major Determinant of Canine 'Hair'-Itability, Animal Genetics
C.A. Reme, H. Schroeder, M. Briggs, Efficacy of an Ammonium Lactate-Piroctone Olamine Shampoo for the Management of Dry Scaly Seborrheic Disorders in Dogs, Virbac Animal Health
J. Schilling, R.S. Mueller, Double-Blinded, Placebo-Controlled Study to Evaluate An Antipruritic Shampoo for Dogs with Allergic Pruritus, BMJ Journals, Vet Record