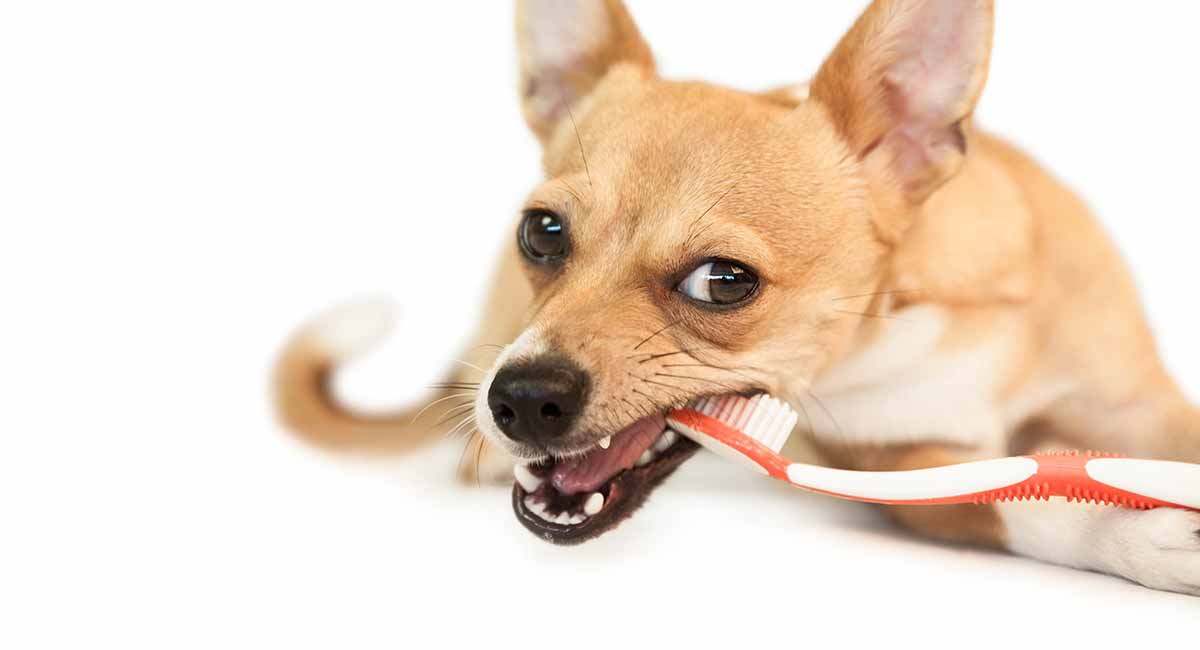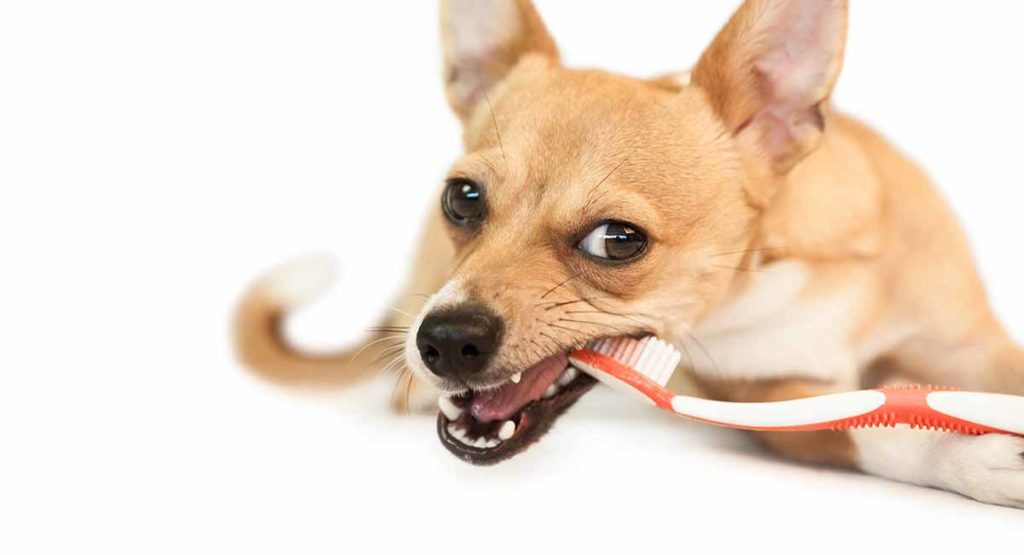 Choosing the best dog toothbrush for your dog isn't quite as easy as choosing a good toothbrush for yourself.
Who knew there were so many dog toothbrush options to choose from!
You can even opt for all-inclusive canine toothcare kits that include a dog toothbrush and toothpaste.
In this article, we review the leading canine toothcare products, looking at the best dog toothbrush for small and large dogs.
We also take a look at alternatives to the traditional dog toothbrush such as the electric toothbrush, finger toothbrush and chewable toothbrush.
Products included in this article were carefully and independently selected by the Happy Puppy Site team. If you decide to make a purchase from one of the links marked by an asterisk, we may earn a small commission on that sale. This is at no extra cost to you.
Why use a dog toothbrush?
If you have ever sniffed your dog's breath and thought "whoa!" you already have a basic grasp of why canine oral health is such a hot topic today.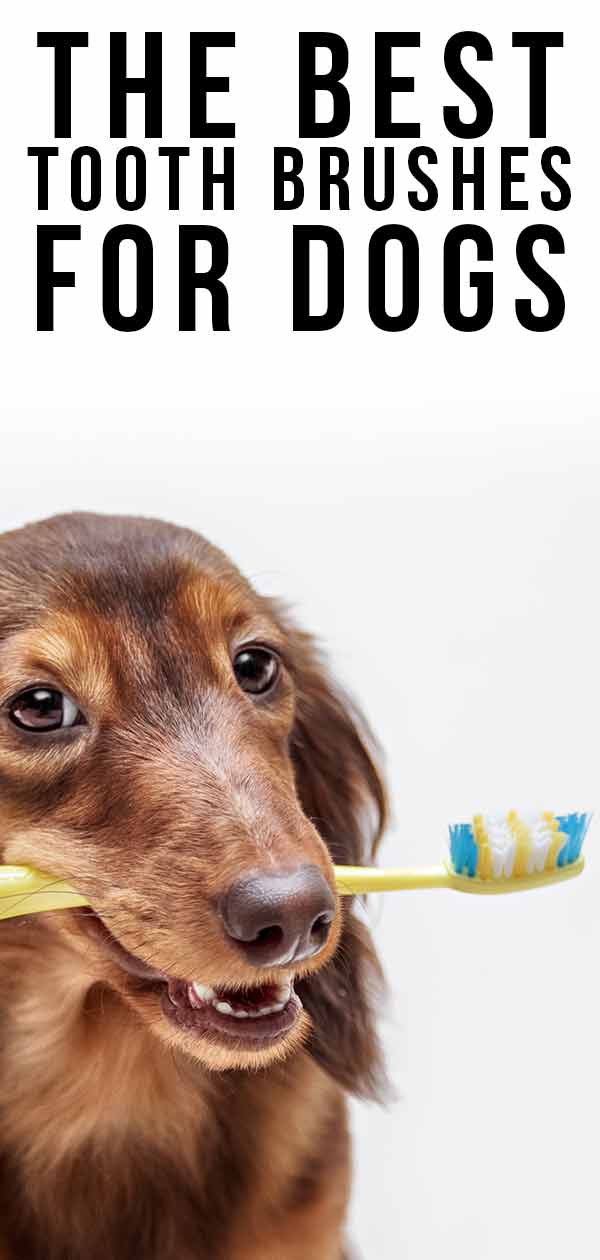 Bad breath is one of the first signs that all is not well inside your dog's mouth.
Other warning signs can include mouth pain, reluctance to eat and changes in behavior.
But can even the best dog toothbrush change all that?
Veterinarians estimate that as many as two-thirds of dogs ages three and older may have some form of gingivitis or periodontal disease.
Sadly, the root cause is pretty basic: tartar and plaque build-up.
To keep teeth clean, veterinarians advise that you brush your dog's teeth two times per day in addition to having your dog's teeth professionally cleaned once a year.
Can you use "people" toothbrushes and toothpaste for your pup?
For your comfort and your dog's safety, always use dog toothbrushes and dog toothpaste.
The best dog toothbrush will be created with the canine mouth in mind.
Many are angled to reduce arm and hand strain for you while you brush.
Using people toothpaste is actually quite dangerous!
We learn early not to swallow our own toothpaste, but your dog will never learn this.
Since human toothpaste contains flouride, it will make your dog sick to swallow some every day.
Dog tooth brushing: a quick how-to
Even the best dog toothbrush is only as good as the willing canine who lets you use it!
The best time to start getting your dog used to teeth brushing is as soon as possible and preferably in puppyhood during teething.
But don't just grab the brush and get to work.
Start by letting your puppy lick a soft treat like peanut butter off your fingers.
Then rub your fingers gently along your puppy's gums.
Next, you might use a finger toothbrush along your puppy's gums, offering lots of praise and pats of encouragement.
Finally, you can transition to using a "real" dog toothbrush and toothpaste.
Best dog toothbrush chew toy
A dog chew toothbrush is a great aid during teething.
The chewability of the toothbrush toy will also ease teething pain while removing tartar and plaque.
This will feel good to your puppy and make it easier for you to transition to "real" tooth brushing later.
These colorful chew toothbrushes* by Bit are meat-flavored and two-sided with easy-grip bases.
The toothpaste reservoir is inside the chew toy and will self-dispense.
If your dog is very hesitant or resistant to tooth brushing (not uncommon with many adult rescue dogs) these brushing chews by Milk-Bone* might be the perfect solution for at-home oral care!
These oral health chews by Ark Naturals* are filled with toothpaste on the inside.
Your dog chews one or two per day.
They come in mini, small, medium and large and senior.
Best electric toothbrush for dogs
The best electric toothbrush for dogs can help the brushing process move along faster, which is great if your pooch gets impatient quickly.
This brush by ZBW* comes in pink or blue and features soft bristles for a comfortable brushing experience.
The single battery is not included.
Mira-Pet may be one of the best ultrasonic toothbrush for dogs* options because it offers a level of cleaning closer to what your dog might experience in the veterinary office.
This product was successfully crowd-funded through Kickstarter and Indiegogo.
It comes with toothpaste.
Best dog finger toothbrush
Finding the best large or small dog finger toothbrush takes two steps.
First, you want to find a finger toothbrush that fits comfortably on your finger.
Next, you want to make sure the bristles are sized for your dog's mouth.
Why use a finger toothbrush?
Veterinarians agree that finger toothbrushes are generally safer for people to use because you have more control over the brushing experience for your dog.
Also, you get a closer look at your dog's teeth and mouth to spot any brewing trouble.
It can always be handy to have a few extra finger toothbrushes on hand, plus buying in quantity often means a cheaper price per finger brush. Like with this multi-pack by pet republique*.
Choose from small, regular or nylon.
This pack of dog finger toothbrushes* by H&H is great!
Choose from a set of 4 or 8 finger toothbrushes in size small or regular.
These CXP Dog finger toothbrushes* are another great option.
Choose from 4 small/4 regular finger toothbrushes (great for a puppy who will be growing fast) or 8 all one size.
Best dog toothbrush for big dogs and tiny dogs
Finding the best dog tooth brush for big dogs, medium sized or small dogs often comes down to the length of the bristles.
The best tiny dog toothbrush may look like a tiny version of the best dog toothbrush for big dogs!
This toothbrush by FOMATE* doesn't look like any toothbrush you are accustomed to seeing.
But it is very gentle and flexible to fit around each tooth for a soft, safe brush.
This toothbrush by EZ DOG* is one of the best options for dogs of all sizes.
Choose from large, medium, small or toy breed sizes.
This value pack by Next Level* includes different sizes of toothbrushes and finger brushes to suit all dog sizes and muzzle types.
Best toothbrush for small dogs
Each of these best toothbrush for small dogs products gives you a different style option for brushing your small dog's teeth.
This flexible and soft small dog toothbrush by arm and hammer* comes in puppy and adult, at-home, and travel styles.
No matter what you need it for, there's an option to suit!
This special toothbrush by Emours* has bristles on all sides for a full brushing experience.
Recommended for dogs 10 pounds or lighter.
This small dog toothbrush by CET Pet* is quite basic and petite. Choose from a one or two-pack.
Best dog toothpaste and toothbrush kit
Choosing the best dog toothbrush and toothpaste often boils down to the one with the most options.
Each of these kits offers lots of flexibility for your dog's age, stage of life and size.
This dog toothbrush and toothpaste kit by Nylabone* comes in three life stages: puppy, adult dog, and senior dog.
The toothbrush handle is curved for your comfort as well as your dog's.
It also includes a finger brush.
This dog toothbrush by Vet's Best* is triple-headed for an easy way to give each tooth a full clean.
The toothpaste is vet-formulated with neem oil for long-lasting fresh breath.
This kit by Kissable* includes options for small and large dogs and features two choices for toothpaste flavor.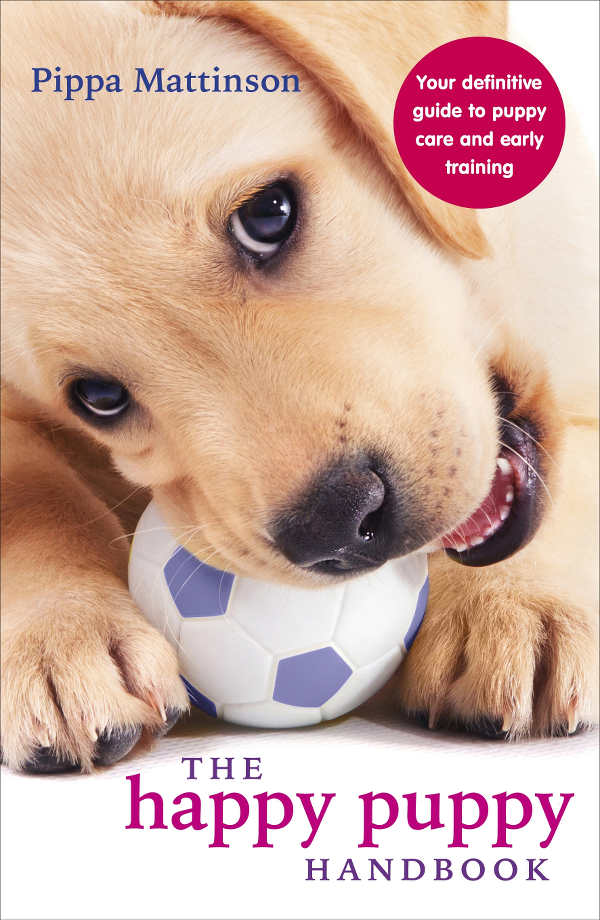 The kit comes with a long-handled toothbrush plus a finger brush.
Best dog toothbrush kit
Choosing a dog toothbrush kit can be more economical if you have one dog and more convenient if you have two or more dogs.
The best dog toothbrush kit will have both at-home and travel options: long-handle toothbrushes can be great for at-home use, but finger toothbrushes are generally easier to use (and pack!) on the go.
This pack by Boshel* comes with two long-handled dual-head toothbrushes and one dog finger toothbrush.
The variety helps you keep your dog's teeth clean at home and on the go.
The toothbrushes are sized at either end for small and large dogs.
This handy toothbrush kit by Olivia & Aiden* is especially great for multiple dog households.
Get six finger toothbrushes and two dual-sided (small dog/large dog) long-handle toothbrushes.
This dog toothbrush kit by RosyLife* features four double-sided (small dog/large dog) long-handled toothbrushes and four finger toothbrushes.
All brushes feature soft, comfortable bristles.
Which is the best dog toothbrush for you?
Have you found the best dog toothbrush for your pooch after reading through the products listed here? We'd love to hear how you and your dog like your new toothbrush!
Affiliate link disclosure: Links in this article marked with an * are affiliate links, and we may receive a small commission if you purchase these products. However, we selected them for inclusion independently, and all of the views expressed in this article are our own.
RESOURCES
Greenfield, "Home Care for Dogs," American Veterinary Dental College, 2018
Bellows, "Brushing Teeth in Dogs," VCA Animal Hospitals, 2014
De Jong, "Pet Dental Care," American Veterinary Medical Association, 2018
Kressin, "Dog dental & oral health care," Animal Dentistry & Oral Surgery Specialists, 2018
Waggener, "How Your Dog's Dental Health Affects His Overall Wellness," South Boston Animal Hospital, 2017
Quest, "Oral health benefits of a daily dental chew in dogs," Journal of Veterinary Dentistry, 2013.