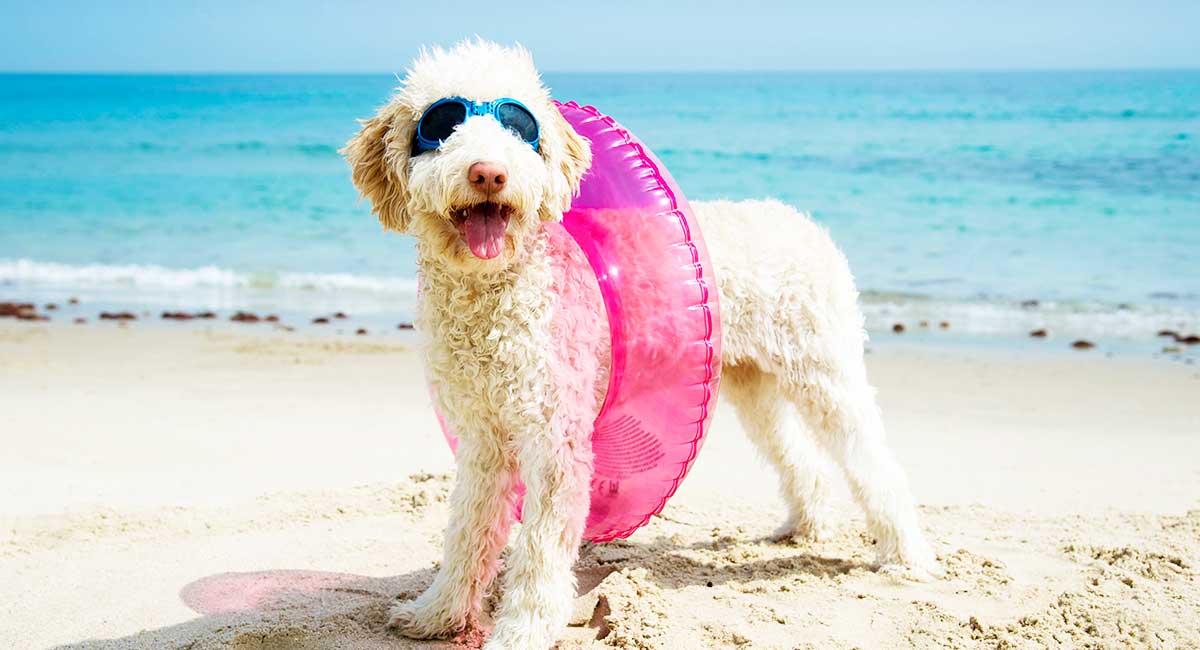 The best dog sunscreen will protect your dog from harsh sunrays on hot days.
It's well-known that too much exposure to direct sunlight can cause sunburn and skin cancer in people.
Just like their owners, dogs can also get sunburn! It can lead to hair loss and flaky skin. But sunscreen can protect your dog when it gets too hot outside. Chose a dog-safe sunscreen to protect their skin, and avoid human sunscreen.
Let's find out more about which breeds are likely to get sunburn, and how we can prevent it.
Can dogs get sunburn?
Yes, just like their human owners, some dogs can get sunburn.
And just like us, sunburned dogs can develop red, inflamed skin, which can lead to hair loss and damaged, scaly skin.
Repeated exposure to strong sunshine can eventually lead to skin cancer too.
Which breeds are susceptible to dog sunburn?
There are a number of dog breeds that can be susceptible to sunburn.
Especially vulnerable are animals with white fur. Breeds such as the Dalmatian, Bulldogs, and Whippets that have white patches all have skin that is extremely sensitive to the sun's harmful UV rays.
The sun penetrates the short or white fur, reaching the pink skin beneath and causing sunburn.
Hairless breeds like some Chinese Crested dogs are also at risk. However, those with dark skin are less vulnerable to the sun's UV rays.
If you have a hairless breed, you should take extra care to keep him out of the sun altogether if possible. Hairless dogs need sunscreen if they have to be taken out in the sun.
Should you use sunblock for dogs?
Absolutely yes, you should!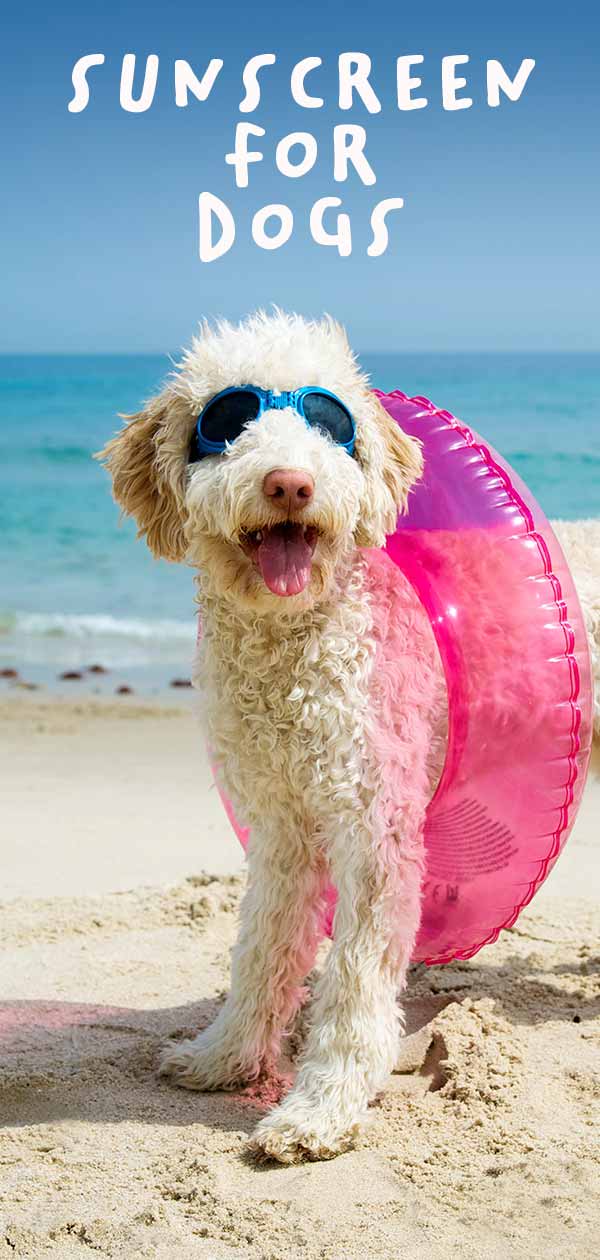 Sunscreen for dogs is a great way of protecting your pooch in the summer, especially if he has white fur.
Dogs can suffer from skin cancer due to overexposure to the sun.
It's best to keep your dog indoors from 10am to 4pm when the sun is at its strongest.
If your dog must go out in the strong sun, dog sunscreen should be applied to sensitive areas of the dog's body, especially the following:
the nose
tips of the ears
the groin
around the lips
and the belly.
And Remember to Reapply!
Remember to reapply the dog sunscreen if your dog goes swimming or rolls in the grass, rubbing off the sunscreen you applied earlier.
Be vigilant! Some dogs will try to lick off any sunscreen that is accessible to them!
Can you use human sunscreen on dogs?
The best dog sunscreen is specifically formulated for canine use.
Human sunscreen often contains zinc oxide, which can be toxic to dogs if accidentally ingested when the dog licks the sunscreen off.
Human sunscreen also contains para-aminobenzoic acid (PBA), which is poisonous to dogs if ingested.
Even baby and infant sunscreen products can contain zinc oxide and PBA and is therefore not safe for use on pets.
If you're unsure what type of sunscreen is safe for use on your dog, always check with your vet.
And this should be obvious but never apply tanning lotions or tanning oils to your dog!
How to apply dog sunscreen to your pet
Dog sunscreen comes in four main forms:
cream
spray
stick
and wipes.
Be very careful when applying dog sunscreen to your pet, taking care not to get the product into his eyes or mouth.
How To Put Sunscreen On Dogs
If you're using a spray, it's best to squirt some onto your fingers and then apply the product, rather than spraying the dog sunscreen directly onto your dog.
When using any dog sunscreen product for the first time, always apply a small amount to a single patch on your pet.
Allow the product to sit for a while before applying it to other areas.
This will allow you to see whether your dog has an allergic reaction to the dog sunscreen.
Watch out for any reddened or swollen areas; this could be a sign that the product is irritating your dog's skin.
The best sunscreens for dogs
Without further ado, here are the best sunscreens for dogs, from nose to tail!
Sunscreen for dog's nose
One of the most vulnerable areas to sun damage is your dog's nose, especially if he has a nose that's long!
My Dog Nose It
My Dog Nose It! is designed specially to protect long noses that get caught by the sun!
This cream is formulated to give your dog's nose protection from the sun, healing any damaged skin and adding moisture too.
The cream is dog-safe, paraben-free, and non-toxic.
If your dog is unlucky enough to have a burned nose, the skin will become chapped and dry.
Natural Dog Company Snout Soother
Natural Dog Company Snout Soother is a vegan-friendly, organic cream that contains all-natural ingredients.
This vet recommended cream is perfect for sore noses and also provides UV protection.
Best dog sunscreen products
We've tracked down the best dog sunscreen products on the market this summer.
Just click on the handy links to see customer reviews and more information about each product.
Petkin Doggy Sunwipes
Petkin Doggy Sunwipes provide a simple and easy-to-apply solution for sun protection for your dog.
The wipes are not sticky or greasy, and they come in a re-sealable packet to keep them fresh and moist.
The protection afforded by the wipes equates to a Sun Protection Factor 15 rated sunscreen for people.
Epi-Pet Sun Protector Spray
Epi-Pet Sun Protector Spray for Pets is a popular and recommended dog sunscreen spray.
The spray offers protection from the sun, is non-oily and non-greasy, and is the only FDA compliant pet sunscreen on the market.
The product also has skin and coat conditioning properties and aromatherapy benefits.
Petkin Doggy Sunstick
Petkin Doggy Sunstick is a handy, easy-to-apply sunscreen that's ideal for small, sensitive areas such as noses and ears.
Simply rub the stick over the target area to provide your dog with UV protection with an equivalent SPF rating of 15.
Gerrard Larriett Aromatherapy Sunscreen
Gerrard Larriett Aromatherapy Pet Care Vitamin & Essential Oil Sunscreen and Skin Conditioner for Dogs contains UVA and UVB inhibitors to protect your pooch from burning.
The formula also has essential oils and enriching vitamins for a healthy skin and coat.
The best dog sunscreen alternatives – clothing for sun protection
Not every dog will tolerate the use of dog sunscreen, even if it is in his best interests!
There are a number of alternatives in the form of special bodysuits and shirts, made from material with built-in UV screening properties.
Chol & Vivi Dog T-Shirts
Chol & Vivi Dog T-Shirts are lightweight canine garments that are designed to protect your pet's skin from UV rays.
The T-shirts come in a range of sizes to fit tiny pups to extra-large hounds.
There's a great range of colors to choose from to suit all tastes. The shirts are machine washable and quick to dry.
They come in a pack of two, so your dog will never be without a shirt if one is in the wash!
Tangpan Hawaiian Beach Print Shirt
The Tangpan Hawaiian Beach Print Dog Shirt is perfect for the pup who wants to cut a dash on the beach or at the dog park!
The cool cotton fabric keeps the sun off, while the trendy Hawaiian print designs are sure to turn heads wherever you go!
Dog goggles
If you and your canine pal enjoy spending time at the beach or out on the ocean, you should be mindful that your pup's eyes could also sustain UV damage from the sun reflecting on the water.
Of course, the best dog sunscreen for their eyes isn't a cream!
You can protect your pup's peepers from the harmful effects of the sun by kitting him out with a pair of goggles, or "doggles" as they are known within canine couturier circles!
QUMY Dog Goggles
QUMY Dog Goggles for dogs about over 15 lbs are perfect for pups who enjoy a day at the ocean.
The head elastic band is comfy and easy to fit, the UV-protective lenses are shatterproof for safety, and you can also get anti-fog ones if you want to.
Petleso Large Dog Goggles
Petleso Large Dog Goggles are a best-selling brand on Amazon.
The goggles are easily adjusted and fitted thanks to the elasticated head band system.
The shatterproof lenses will keep your dog's eyes safe from UV damage, flying debris, wind, and salty spray.
Other ways of protecting your dog from the sun
Not every dog will tolerate dog sunscreen. Some dogs will simply lick the sunscreen off as soon as you apply it! Others may have a skin reaction to the product.
So, what can you do to protect your pet from the sun's damaging effects?
If your dog has to be outdoors during the hot weather, make sure that he has access to plenty of shade and has a ready supply of fresh water too.
Also, dogs do suffer from heatstroke, which can be fatal.
If possible, keep your dog indoors and save walks for the coolest parts of the day.
Keep boisterous exercise to a bare minimum – in very hot, humid weather it's safest for your pet to stick to lead exercise only.
If you have a paddling pool, fill it with clean, cool water and place it in the shade. Many dogs love a dip when they want to cool off!
The best dog sunscreen – what to remember
So, the bottom line is that you should protect your pet from the sun, especially if he has white fur or white patches.
Always use a sunscreen that is canine-specific.
Don't use human sunscreens – they can contain chemicals that are toxic to dogs.
Alternatively, you might like to buy your dog a summer shirt to keep his skin safe from sunburn.
How do you keep your pup protected when the mercury soars and the skies are cloudless?
Tell us about your dog sunscreen solutions in the comments box below!
This article was reviewed and updated in October 2019.
References and further reading