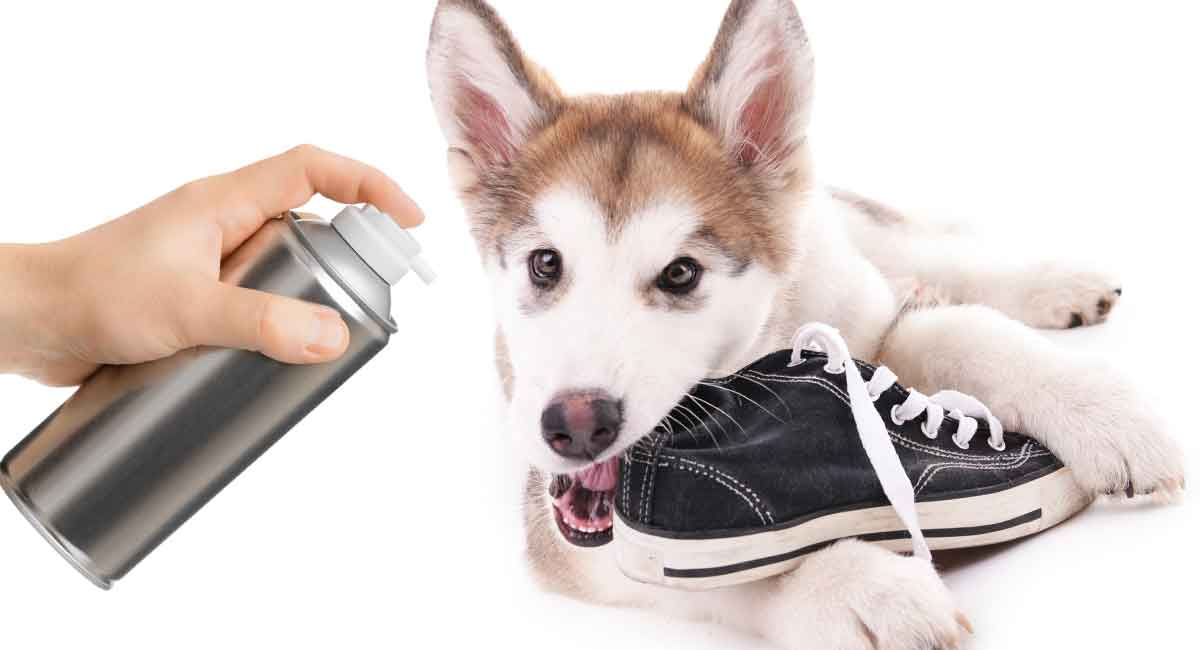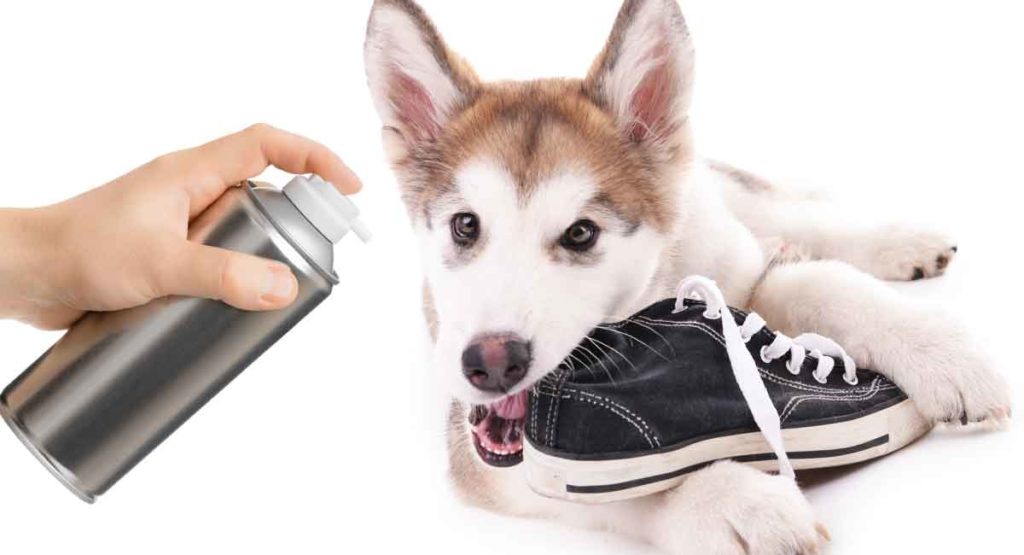 Are you on the hunt for the best dog anti-chew spray on the market to help save your shoes and furniture?
If you are a dog parent with a furry little chewer on your hands, then it's quite likely.
But there are so many products out there, how do you choose?
We're here to help.
We have a list of the best dog anti-chew spray products available, complete with reviews and handy links.
But before we begin, let's talk about why Fido might chew your stuff in the first place.
Products included in this article were carefully and independently selected by the Happy Puppy Site team. If you decide to make a purchase from one of the links marked by an asterisk, we may earn a small commission on that sale. This is at no extra cost to you.
Why Do Some Dogs Chew?
Chewing is a normal and natural behavior for dogs, and begins in early puppyhood.
Typically, puppies go through chewing stages because they are teething.
Chewing helps to relieve teething pain.
However, puppies are not the only chewing culprits.
Chewing In Adult Dogs
Adult dogs gnaw away at things to strengthen and clean their teeth.
Unfortunately, it is hard for your chew-obsessed dog to grasp why he can chew his bone, but not the legs of your chairs or your new stiletto heels.
And while chewing in dogs is normal, keep in mind that excessive or destructive chewing are also symptoms of anxiety.
To learn more about anxiety and how you can help your dog, visit us here.
So, how do you stop your pooch from sinking his teeth into anything he sets his sights on?
Keep reading!
Anti-Chew Spray – What It Is and How It Works
The best no chew spray for dogs is going to depend on your dog, what he is chewing, and why he is chewing.
But what is anti-chew spray?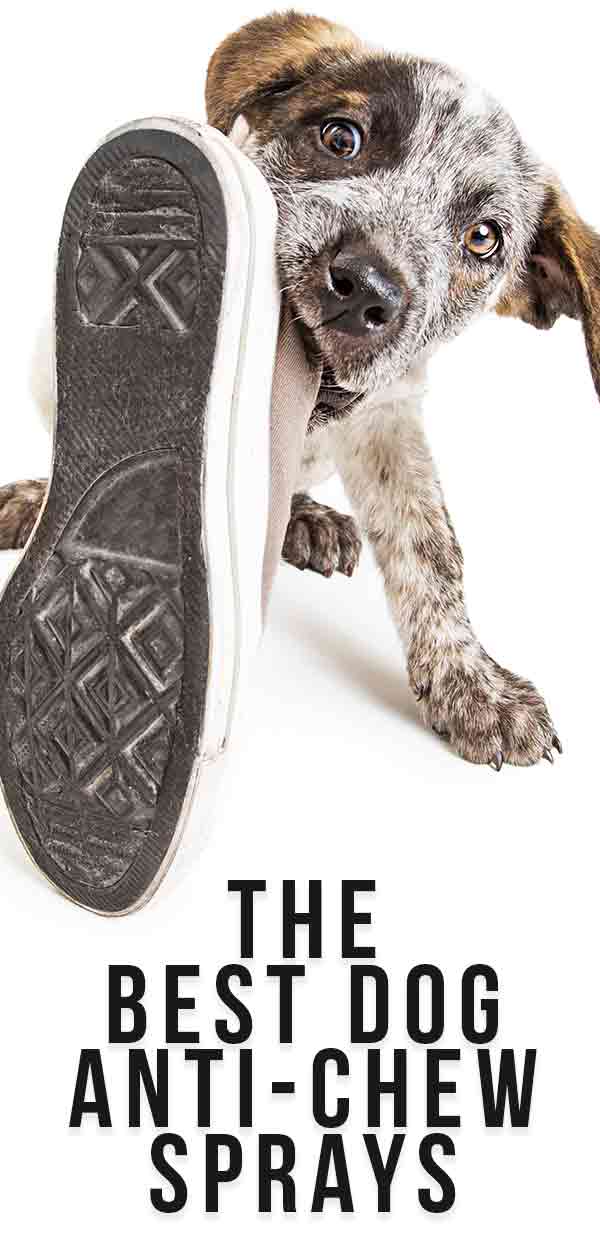 Anti-chew spray is exactly what you probably think it is.
It's a spray deterrent formulated to discourage your dog from chewing whatever it has been sprayed on.
Some of the best no chew spray products work in a variety of ways.
Many work by making the item in question taste disgusting to your dog, for example using spicy flavors.
Some anti-chew sprays make noise.
But how do you pick the best dog anti-chew spray for you and your unique situation?
And most importantly, are anti-chew sprays safe?
Can Anti-Chew Spray Harm My Dog?
It's important to do your research when looking for the best anti chew spray for your dog.
You'll want to make sure any non-chew spray for dogs you get is actually for dogs.
And that it doesn't contain ingredients which are harmful or toxic to your four-legged friend.
Like toddlers, dogs explore much of the world around them with their mouths.
A non-chew spray is typically designed to be tasted or smelled by your dog at first for him to realize he does not like it.
Always make sure to read the reviews before deciding on the best dog anti-chew spray for you and your pup.
Making Your Choice
Does this all seem daunting?
Are you worried about where to go to find the best dog anti-chew spray?
What if you get the wrong kind?
Relax.
We have done the work for you and have compiled a list of some of our favorite no chew spray products just for you!
Let's get started.
Our Favorite Best Dog Anti-Chew Spray Products
The first on our list of best dog anti-chew spray products is Rocco & Roxie No Chew Extreme Bitter Spray for Dogs.*
This product not only works on a multitude of surfaces, but it also works on your dog's fur and skin.
Its bitter taste promises to deter your dog from chewing up your house.
It's also safe to use on his own skin after surgeries, skin irritations, or wounds that need to heal.
Emmy's Best PRO Anti Chew Spray for Dogs and Puppies* is another spray for dogs we recommend for use with both puppies and adult dogs.
This no chew spray promises to stop your dog from chewing in as little as two weeks!
It is safe to use on multiple surfaces and not toxic to your dog.
Better still? This product offers a 100% satisfaction guarantee.
Grannicks Bitter Apple Taste Deterrent for Dogs* is a cult favorite amongst dog owners.
We love that it is safe on furniture and on your pet's skin.
It helps to eliminate destructive chewing, or dangerous wound-licking and bandage chewing.
Sentry Good Behavior Stop That! Noise & Pheromone Spray for Dogs* is our one and only noise and pheromone spray on the list.
It gives an audible cue that your dog is doing something he shouldn't be doing while at the same time releasing a lavender chamomile fragrance.
The disadvantage of this product is that you'll have to be there and catch your dog in the act of chewing.
Making this product much less convenient for the busy owner.
You should also read about how aversives work in discouraging unwanted behavior, and whether you want to use them.
Would you rather stick to a liquid spray that stays a while?
Then check out the Synergy Fooey Ultra Bitter Spray.*
This product is both safe for home surfaces and Fido's skin.
Which means your dog won't have to wear that pesky cone after that vet visit so long as you've got this on hand!
Best of all, this no chew spray is alcohol-free and won't harm your pet's sensitive skin or stain your furniture.
Best Puppy No Chew Spray
But what about puppies?
Are the above-listed products the best dog anti-chew spray options for the youngest canines in our lives?
While the above no chew sprays for dogs can work for puppies as well, we did find some formulas especially made for the little ones.
Let's take a look at the best dog anti-chew spray options for teething pups!
Anti Chew Sprays for Dogs and Puppies
Puppies are some of the biggest culprits when it comes to chewing.
As mentioned above, puppies chew mostly due to teething, and teething is a stage all puppies go through.
And sometimes, no matter how many chew toys or bones you get to help your little furball through this painful stage, it may not be enough.
Fido Junior may still find his way to your oak table leg or your son's new sneakers.
Luckily, this Anti-Chew Bitter Spray With Tea Tree Oil* is a great puppy anti chew spray.
It offers a yucky taste puppies hate while giving them a soothing bit of tea tree oil for those sensitive teeth.
It's like tough love with a secret dash of gentle love at the same time.
Aww.
We also like the Primo Pup Bitter Spray Test Deterrent for Dogs Vet Health.*
It is veterinarian formulated which means we totally trust it as a puppy no chew spray.
And, like many of the best dog anti-chew spray products on this list, this puppy chew spray is safe on both furniture, clothing, and your puppy's new baby skin and fur.
Are you still looking for more puppy no chew spray?
Wishing you could find all-natural products to suit your needs?
Then keep reading!
The Best All-Natural Anti-Chew Spray
This Bitter Lemon Spray for Puppies and Cats* is an excellent choice for pet parents who own both dogs and cats.
Best of all, this anti chew spray is all natural and made with 100% non-toxic ingredients to safely and humanely train your pet to quit that pesky chewing!
NaturVet Bitter YUCK New Chew Spray for Dogs and Cats* is another no chew spray that works for both dogs and cats.
We love that it has a trigger sprayer, which makes spraying direct, easy, and fast!
You can also use this product around plants and even over topical medications if your dog has a wound.
This is also another product that is veterinarian formulated.
Next on our all natural chew spray list is Wolfe & Sparky New and Improved Organic Chew Buster.*
This is one of the best dog anti-chew sprays made with all-natural ingredients.
This non chew spray for dogs has no harsh chemicals, no alcohol, parabens, or sulfates.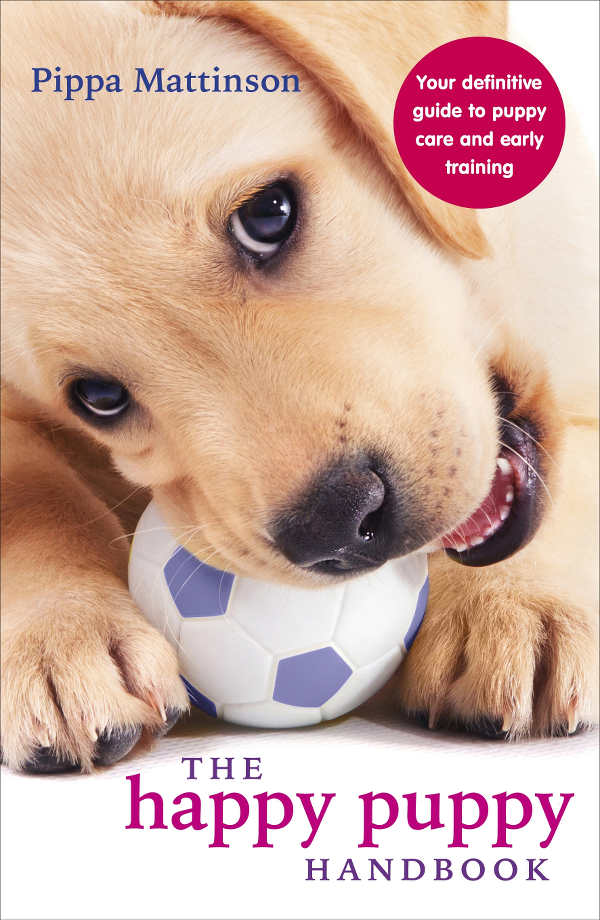 It is safe to use on a number of different surfaces including furniture and your pet's skin and fur.
OmegaPet Bitter Apple Spray for Dogs* is just one more all-natural product that is safe if ingested.
Although we doubt your dog will want to get this stuff in his mouth!
Best of all, this safe and effective product is great for other pets in the home as well, including cats and even some of our smaller fur babies like rabbits!
What Is the Best Dog Anti Chew Spray Recipe?
Looking to get crafty and make the best dog anti-chew spray at home?
It might be easier than you think, considering you probably already have a number of the things you need in your pantry.
Dogs are sensitive to scent and taste, meaning strong scents of citrus can really overwhelm them and deter them.
Check out these fruity anti-chew recipes below:
Anti-Chew Citrus Spray Recipe
2 cups of citrus peels
4 cups boiling water
Steep until cool and mix in a spray bottle
Anti-Chew Lemon Juice Bitter Spray
Two parts lemon juice
One part white vinegar
Mix in a spray bottle
Apple Cider Vinegar Spray
Along with citrusy scents and tastes, dogs aren't big fans of vinegar.
Take a look at this anti-chew Apple Cider vinegar spray that promises to work wonders in helping deter your chewing pet:
Two parts Apple Cider Vinegar
One-part tap water
Mix in a spray bottle
Should I Get Anti Chew Spray for Dogs?
If you have been trying to train your dog not to chew and other methods simply aren't working, it may be time to look into getting a dog chew spray.
And while all of the no chew sprays on this list are safe for your pet, we always recommend carefully reading the dog no chew spray reviews for each product.
We are sure that the best dog anti chew spray for your dog is out there and with the right tools and consistency, your dog will stop his chewing in no time!
Good luck!
Affiliate link disclosure: Links in this article marked with an * are affiliate links, and we may receive a small commission if you purchase these products. However, we selected them for inclusion independently, and all of the views expressed in this article are our own.
References
Sherman, Canine Anxieties and Phobias: An Update on Separation Anxiety and Noise Aversions, Veterinary Clinics of North America: Small Animal Practice, 2008.
Lindell, Diagnosis and Treatment of Destructive Behavior in Dogs, Veterinary Clinics: Small Animal Practice, 1997.
Seksel, Preventing Behavior Problems in Puppies and Kittens, Veterinary Clinics of North America: Small Animal Practice, 2008.
Appleby, Separation Anxiety in Dogs: The Function of Homeostasis in its Development and Treatment, Clinical Techniques in Small Animal Practice, 2004.