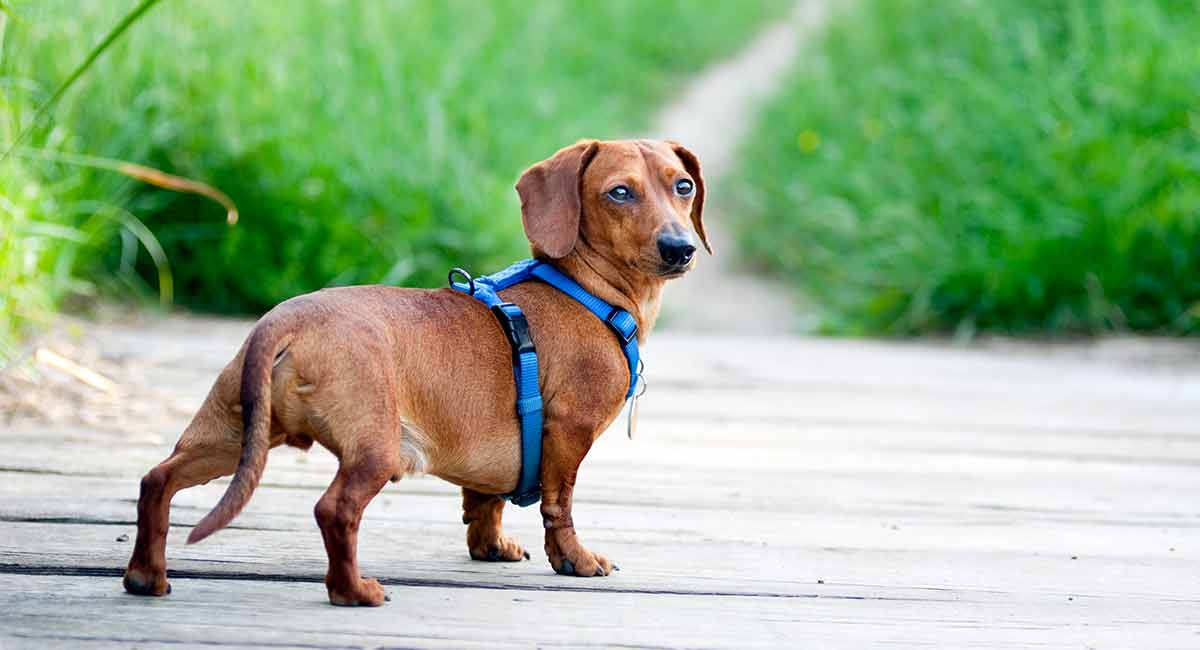 Have you ever wondered about the best Dachshund harness?
These smart and charismatic dogs love to cuddle, play, and definitely walk!
So when you add a Dachshund to your family, one of the first things you'll need to get is a harness.
There are lots of benefits to using a harness instead of just attaching a leash to a collar, particularly for Dachshunds.
These long little dogs are unfortunately prone to spinal problems, such as intervertebral disk disease.
The best dachshund harness reduces the strain on their neck and redistributes it across their body.
So you need to keep those parameters in mind when considering the best harness for Dachshunds.
The best Dachshund harness size will depend on the harness, so when choosing a Dachshund collar or harness, make sure you measure your dog and match the harness descriptions.
Examples Of The Best Harness For Dachshunds
Embark Active Dog Harness. This harness is adjustable, so you can make sure the harness fits your Dachshund comfortably.
It comes with both front clips and back clips, which are great if you're teaching your dog not to pull on the leash.
The material is durable, and it won't chafe.
With over 200 5-star reviews, this product might make the best Dachshund harness.
Soft Mesh Polka Dots Dog Harness with Matching Leash. This stylish harness comes in four different colors!
With color choice and polkadots, it's a fashionable dog harness for Dachshunds.
This vest even comes with a matching leash.
It has an adjustable belt, so it's comfortable for your pet.
Customers say it fits well when you measure your dog before ordering, and it has an overall rating of 4 stars.
Sporn Dog Harness. It's important to have a harness that helps with back comfort, so the best dog harness for Dachshund dogs is a back leash attachment.
This harness controls leash-pulling with gentle pressure behind the legs, rather than putting strain on the dog's neck.
It's padded and has an adjustable cord lock for optimal comfort and safety.
This harness has a rating of 4 stars, with over 2,100 reviews.
BINGPET 1. The best dachshund harness will of course also make him look dashing!
This harness has two options: a bow tie and buttons for the gentlemen and sequins with bows for the ladies.
Customers rave about how cute these harnesses are, but they are also comfortable for the dogs.
It has a 4.2-star customer rating, including several Dachshund owners.
If you have a dog friendly event, this is the best harness for Dachshunds who like looking dapper!
Dachshund Harness Vest Style
Small Dog Soft Mesh Pet Vest. This vest was specifically designed for small dogs, so it's a perfect dog harness for Dachshunds.
Since it's small and adjustable, it can also be a good dog harness for miniature Dachshund dogs or even a miniature Dachshund puppy harness.
It comes with a matching leash, and the breathable mesh lining will keep your dog comfortable.
With a 4-star rating from primarily small dog owners, this is possibly the best dog harness for Dachshund dogs, puppies, and miniature Dachshunds.
Mesh Padded Dog Harness Vest. When looking for the best harness for Dachshunds, it is important to consider their back.
This vest has the leash attachment on the back, so there's no stress on the neck and a little more support for their back.
The bottom support also lets you use the top as a handle, in case your Dachshund needs an extra hand with stairs or other situations.
Customers are very enthusiastic about the quality of the vest, and it has an overall rating of 4.4 stars.
Puppia Soft Vest Harness B. The makers of this vest say that this vest was made explicitly with difficult-sized dogs in mind.
Adjustable velcro attachments make it a comfortable fit for your Dachshund with no discomfort around the neck or arms.
Reviews say you have to pay close attention to sizing, but it has an overall rating of 4.3 stars with more than 1,600 reviews.
The mesh makes the vest airy and comfortable for your Dachshund, and it has two D rings for safety.
ChokeFree Velpro Mesh Pet Shoulder Harness Collar. If you're looking for something light and simple, this choke-free harness will do the trick.
This single piece harness stays away from your dog's throat and fits comfortably around the typical Dachshund chest.
The harness is secured with a velcro closure and D ring attachment to keep the velcro from separating.
Dachshund owners have lots of positive things to say, and the overall rating for this harness is 4.1 stars.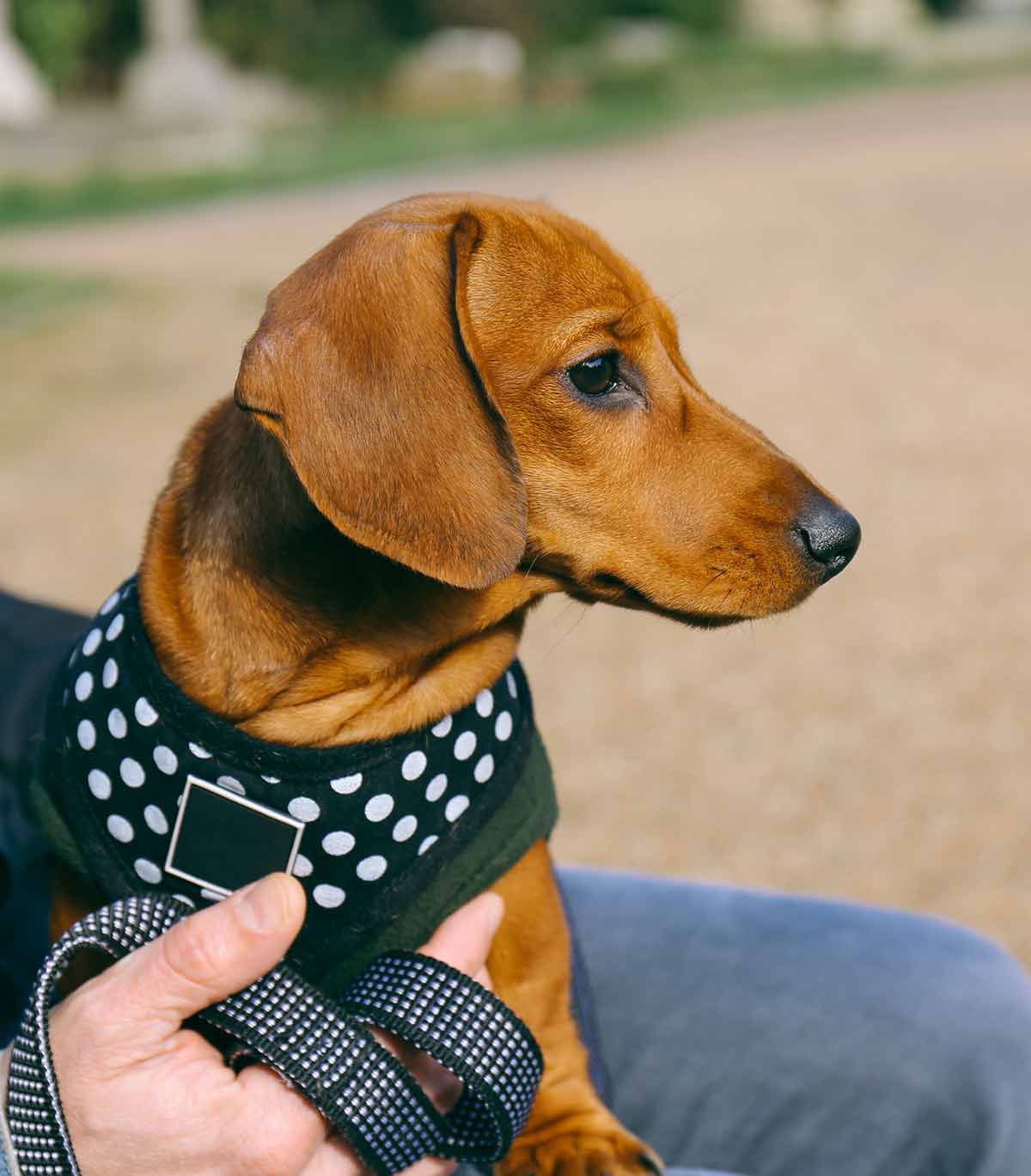 Miniature Dachshund Harness Options
Voyager Soft Harness for Pets. If you're looking for the best harness for mini Dachshund dogs, this adjustable harness is a great option.
The corduroy material is soft and fashionable, so your dog will be comfortable and cozy.
It doesn't pull on the neck, so there will be reduced strain on your dog's back.
The harness has almost 800 reviews, and over 70% of the reviewers gave 5 stars.
Luxurious Padded Vest, Eco-Friendly. This eco-vest is a great option for a mini Dachshund harness or even a harness for Dachshund puppy dogs.
The vest is made from recycled water bottles but is still soft and comfortable.
The harness comes in several color options and even offers some patterns.
This harness has over 2,300 reviews and an overall score of 4.4 stars.
If you're environmentally conscious, this might be the best harness for Dachshunds who love the earth like their owners!
Best Harness For Dachshund Puppy Dogs
For a dog as tiny as a Dachshund puppy, you need a tiny harness.
Soft Mesh Dog Cat Harness No Pull Comfort Padded Vest. This standard harness comes in a variety of fun colors, and the padded mesh material makes it a comfortable option for the best harness for Dachshunds that are young and small.
Over 320 customers have given this harness a 5-star review!
Small Dog Harnesses
Do you have a Dachshund puppy who likes to chase friends?
Is your puppy an escape artist? Then this harness will be a big help for you!
Lightweight and padded for comfort, this harness is like a hug for your dog, while being barely noticeable.
The velcro strap makes this harness adjustable, so it can continue fitting your puppy as they grow.
The shape takes stress off the neck, keeping it comfortable even when your puppy pulls.
This 4.4-star harness is one of the best harnesses for a Dachshund puppy!
DEXDOG EZHarness. If you're looking for something more basic for your growing Dachshund puppy, this adjustable harness is the perfect choice!
This easy-to-use, step-in harness makes it simple to get your energetic puppy ready for a walk.
The straps are padded and reflective so your pup can be seen in the dark.
They're also adjustable, so this harness can grow with your Dachshund or mini Dachshund.
Almost 500 customers have rated this harness with 5 stars, so it might just be the best harness for Dachshund puppies!
Dachshund Back Support Harness
GingerLead Dog Support & Rehabilitation Harnesses. If your Dachshund is experiencing painful back problems, you need something very supportive to give them the help they need.
A chest harness is not included, so you would need to supply your own.
But the sling that goes under your dog's back legs connects to a handle and integrated leash.
You attach the leash to your chest harness and walk the dog using the handle.
This gives your dog a sense of independence while supporting your dog's back and hind legs.
One of the most important purchases you will make for your dog is a comfortable and secure harness.
Whether you're shopping for a Dachshund, miniature Dachshund, or puppy, the perfect harness is available to you!