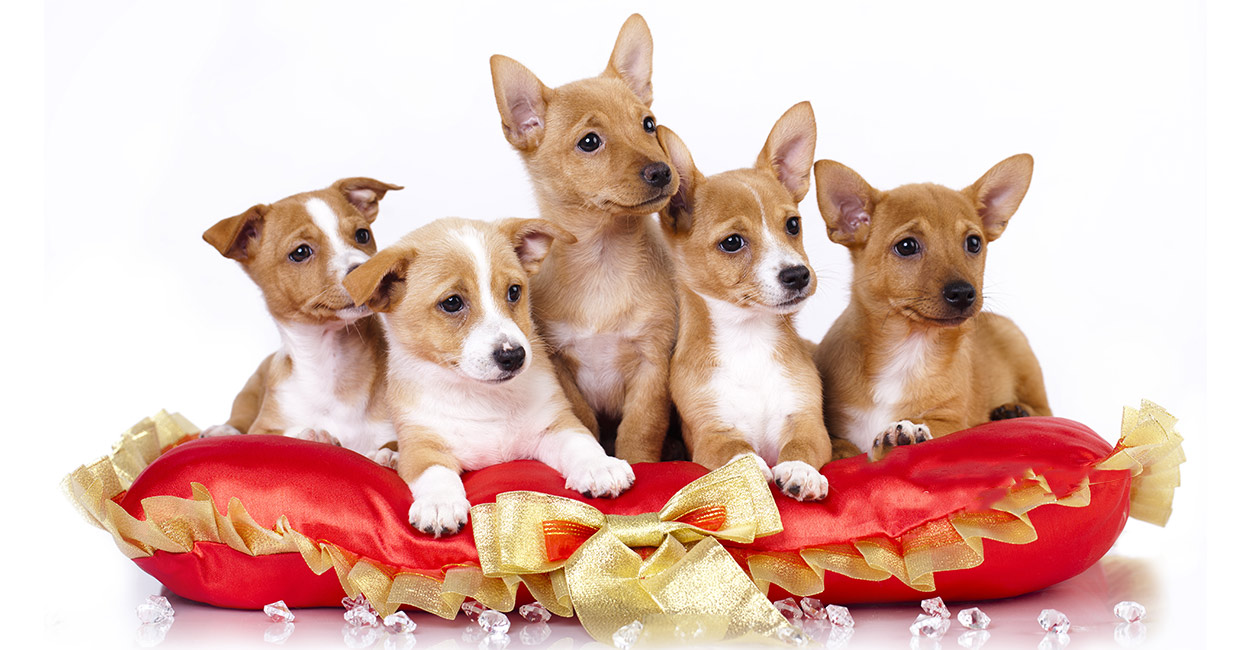 Are you thinking of adding a Portuguese Podengo to your family?
Welcome to our complete guide to the Portuguese Podengo dog breed!
The Portuguese Podengo dog breed is not yet a household name like the Labrador Retriever or the Yorkshire Terrier, but it is arguably more ancient and every bit as popular!
What is the history of the Podengo dog breed? Is the Portuguese Podengo small or large in size?
Would the Podengo dog make a good family pet?
Does the Portuguese Podengo have any significant health issues that you should be aware of?
Let's dive in and find out!
What is a Portuguese Podengo?
The Portuguese Podengo hails from far south of the border in the country of Portugal.
In fact, in Portugal, this isn't just one dog breed, but three, divided by size into Grande (large), Medio (medium), and Pequeno (small).
The American Kennel Club (AKC) classed the Grande and Medio Podengo dogs together when recognizing the Portuguese Podengo dog for registry in the United States in 2004.
However, the Portuguese Podengo Pequeno is still considered its own separate breed.
Traditionally, the Grande Podengo dogs were bred to hunt wild boar and deer.
The Podengo Medio and Pequeno were bred to hunt rabbits.
This is an important distinction, since, unlike many other breeds, the Portuguese Podengo has always been bred in three different sizes to do three distinct types of jobs.
In other words, the Medio and Pequeno are not the result of selectively breeding down the Grande simply to get smaller sized "pocket pet" dogs.
History of the Portuguese Podengo Breed
Did you know that the Portuguese Podengo can trace its lineage all the way back to the ancient Romans and Phoenicians? This puts the origin of this breed back as far as 600 B.C.!
In the early days, the Grande breed was considered a "boar hunter for nobility," and the Medio and Pequeno were called "rabbit hunters for the people."
As such, the Grande typically hunted in packs to bring down wild boar.
The Medio and Pequeno Podengo dogs, in contrast, typically hunted solo with a human counterpart to bring down rabbits.
Here, the dogs' responsibilities included flushing the rabbits, capturing them, killing them, and retrieving them (one assumes the peasant was then at least tasked with carrying the quarry home).
In Portugal today, the Podengo dog breed is one of the 10 National Dogs and is the breed used on the Portuguese Kennel Club logo.
The Podengo was first introduced in the United States during the 1990s and has since made its way to 45 other countries as well.
Portuguese Podengo Size
In its native Portugal, the Portuguese Podengo dog breed differs in appearance based on its size (Grande, Medio, Pequeno).
Here is a brief overview of the differences between each breed.
Portuguese Podengo Grande
The largest of the three breeds, the Grande dog can weigh anywhere from 44 to 66 pounds. Typical height (paw pad to shoulder) is 22 to 28 inches.
There is currently some overlap between the Grande and Medio sizes as breeders work to breed out certain flaws caused when the Spanish hunting dog,Podenco Andaluz, interbred with the Podengo.
These flaws include a narrower head and corkscrew tail.
The primary method is to interbreed Grande and large Medio dogs to return to the breed purity.
Portuguese Podengo Medio
The middleweight in the Portuguese Podengo dog breed, the Medio typically weighs between 35 and 44 pounds and stands anywhere from 16 to 22 inches tall (paw pads to shoulder).
Portuguese Podengo Pequeno
The pint-sized Podengo Pequeno weighs in at 9 to 13 pounds and stands just 8 to 12 inches tall (paw pads to shoulder).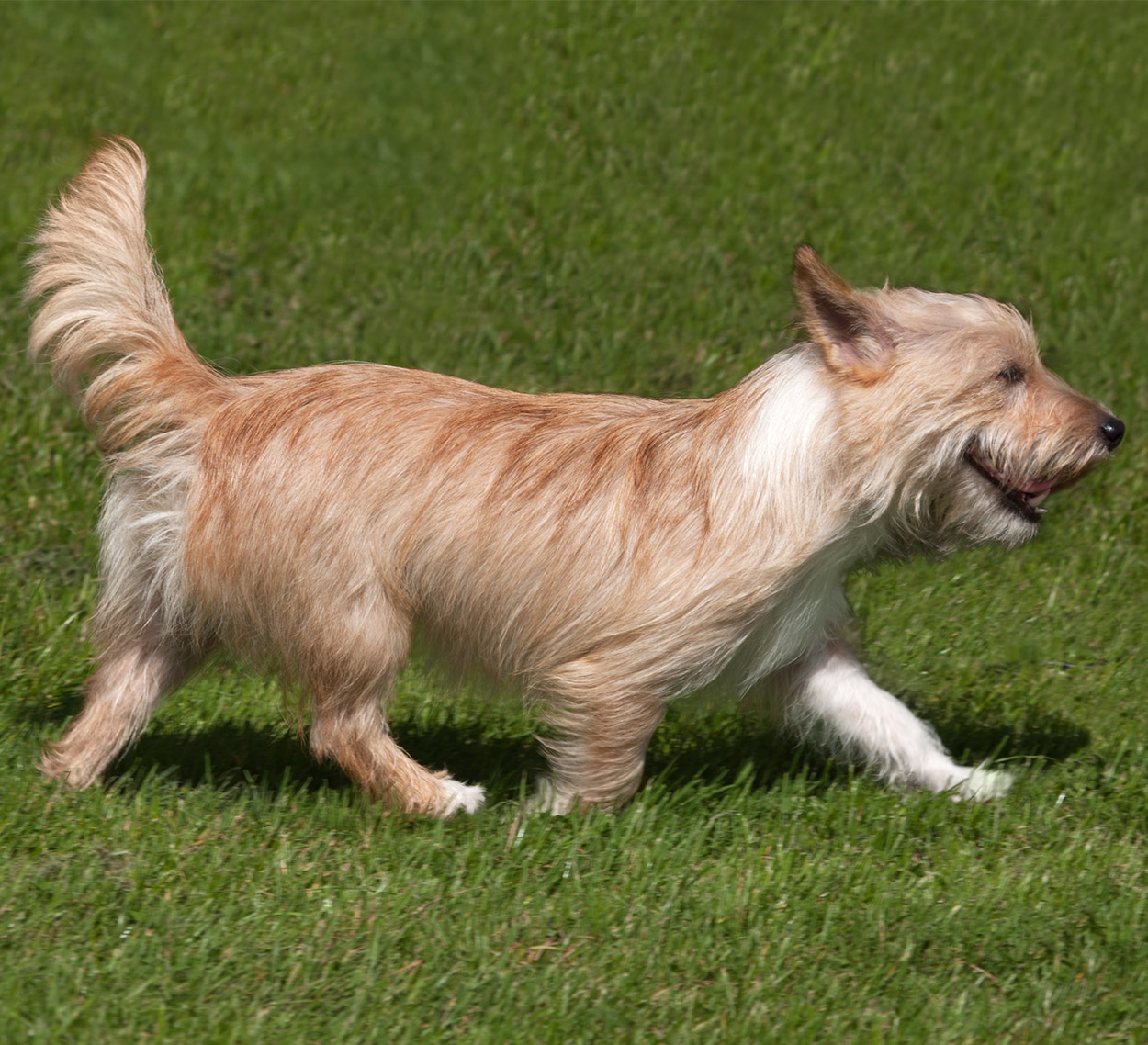 Portuguese Podengo Coat
There are two coat types that are recognized in the Portuguese Podengo dog breed (all three sizes).
One is a smooth coat and the other is a wirehaired Portuguese Podengo.
The most popular coat colors for either coat type are yellow or fawn on a spectrum from light to dark shades.
Some Podengo dogs also have white markings.
Black, brown, or white coats are less common but do occur.
The smooth coat became so popular for a time that the Portuguese Podengo wirehaired breed line nearly vanished.
But then breeders decided to bring it back, and today both coat types are shown and well established towards the future.
Smooth Portuguese Podengo coat
The smooth Podengo coat is very dense and thick but is single layer (no undercoat).
The coat on the smooth-hair breed is still coarse.
The smooth coat breed is the oldest of all the Portuguese Podengo dogs.
A true smooth coat Podengo dog will come from two smooth coat parents and an unbroken lineage of smooth-coated dogs.
Wirehaired Portuguese Podengo coat
The Portuguese Podengo wirehaired breed has a rough, harsh single layer coat with a texture that is medium length and not quite so dense as with the smooth hair breed.
This dog has a bit of a beard around the muzzle and beneath the chin.
The wirehaired Podengo is a slightly newer variant of the original smooth coat Podengo dog breed.
Wirehaired Podengo dogs can be born from smooth or wirehaired parent dogs.
Portuguese Podengo Grooming and Shedding
The Portuguese Podengo dog does not shed that much and requires no formal grooming.
Even inside the show ring, the breed standard specifies that this breed should be clipped only.
The coat should be displayed as naturally as possible, which makes the Podengo dog about as close to a "wash and go" dog as you can get!
Portuguese Podengo Temperament
The Podengo breed is considered to be a primitive dog breed.
Very few such breeds have traveled forward with people all the way to today!
The characteristic temperament of primitive dog breeds includes a natural wariness, which can make them reserved with strangers, both people and pets.
They also tend towards barking or howling, desirable traits in hunting and working dogs that have been bred into the Podengo line.
They are considered a type of hound dog, but the Portuguese language does not have any word that translates to mean "hound." Podengo is the closest similar term.
Also, these dogs are considered multi-sensory, which means they hunt with a combination of extremely acute sight and exquisitely keen scent.
This makes them uniquely excellent hunters, as you can likely imagine!
Overall, these are fun and active dogs – they come from a long line of working dogs, so they also make amazing rally, agility, and sports dogs and can also be enthusiastic partners in the show ring.
Personality
The Portuguese Podengo dog is very intelligent.
They won't do well as lap pets – they need stimulation and new challenges to thrive.
This dog has a very strong drive to please you – they take quickly to training and love to learn new skills.
For this reason, they make excellent therapy and service dogs.
The Podengo dog breed can make a very good family pet for an active, outdoorsy family.
Because of their strong prey drive, this dog may not be the best fit for families with babies or very young children or other family pets.
However, if you are willing to take the time for slow introductions and plenty of training, the Podengo can generally integrate successfully.
Portuguese Podengo Lifespan
The Portuguese Podengo can live up to 18 years or older, although the breed average is from 10 to 14 years.
As with any dog breed, your Podengo's diet, activity level, enrichment opportunities, lifestyle, and access to preventative veterinary care can all influence how long your dog will be with you.
Portuguese Podengo Health
All dog breeds have some known health conditions, and the Portuguese Podengo is no exception.
Some health issues are common to most breeds, while others are specific to the breed.
Potentially heritable Portuguese Podengo health problems can include the following:
Hip dysplasia
Hip dysplasia occurs when there is a genetic mutation that causes the hip joint to form improperly.
When this occurs, your dog's hip socket won't fit and it will cause pain and lameness.
Surgery is typically the only option to correct hip dysplasia, which can occur in one or both hips.
There is an X-ray test that can be done through the Orthopedic Foundation for Animals (OFA) on parent dogs or puppies to detect the condition.
Any reputable Portuguese Podengo breeders should be able to verify that their breeding parent dogs are free from a health history of hip dysplasia.
Legg-Calvé-Perthes disease (LPC)
While this heritable condition is not listed in the Canine Health Information Center (CHIC) breed database, Portuguese Podengo breeders state that it can rarely present in Podengo dogs.
This is a bone disease that directly impacts the femur in the thigh and hip joint.
The bone's blood supply is impacted and the bone itself disintegrates and eventually dies.
The disease can impact one rear hip or both hips, although single-hip issues are more common.
There is no test to detect whether a puppy may have inherited the condition.
Also, the following three heritable health conditions are cited in the CHIC breed database as relevant to Portuguese Podengo health.
Patellar luxation
When the kneecap pops out of place, this is called "luxating."
In Podengo dogs, this can happen in just one knee or even in all four knees. One of the most common warning signs in puppies is when they seem to be knock-kneed as they stand.
There are two kinds: medial luxation ("trick knee") or lateral luxation.
The former is more common in Pequeno dogs and the latter more common in larger breeds like Medio and Grande Podengos.
Typically this issue will show up in the first six months.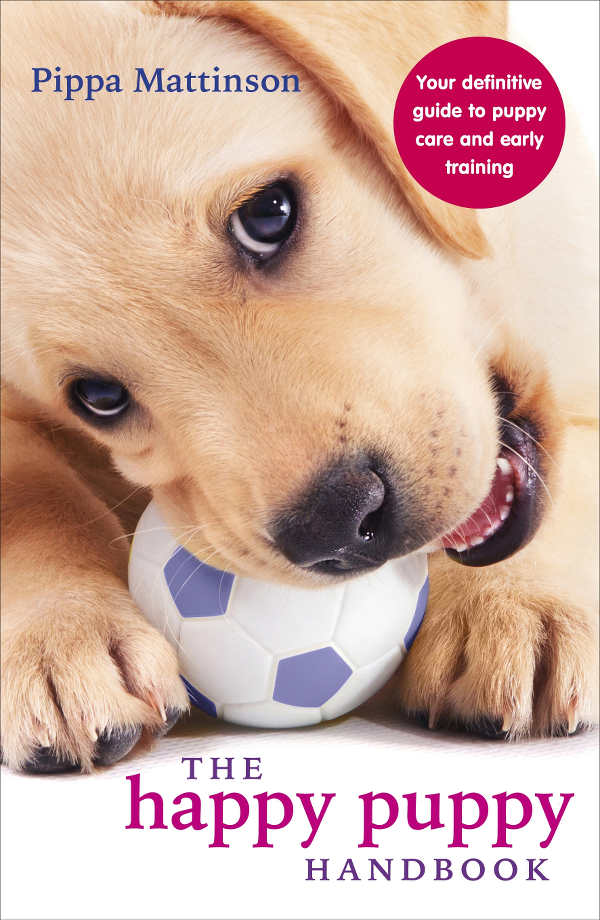 There is a test that should be done on all parent dogs before they are bred. If you are interested in Portuguese Podengo rescue dogs, you can have the test done through the Orthopedic Foundation for Animals.
Progressive Retinal Atrophy (PRA)
As the Podengo is a multi-sensory sight/scent hound, vision problems can significantly impact this dog's quality of life and ability to participate in favorite activities.
While not common, PRA can occur in Podengos of all sizes.
There is a test that can be done through the American College of Veterinary Ophthalmologists (ACVO) that is valid for 12 months from the test date.
Portuguese Podengo Breeders
Because the Podengo dog breed is well established and popular, Portuguese Podengo breeders are not difficult to locate.
Any reputable breeder should be able to show that parent dogs are clear of all known heritable health concerns for which testing exists.
Your breeder should also give you an initial guarantee of puppy health (typically six to 12 months).
Price-wise, you can expect to pay anywhere from $750 to $1,000 and up for your puppy.
Portuguese Podengo puppy price can depend on gender, birth order, size, lineage, and markings, among other considerations.
An alternative is Podengo rescue.
These dogs are so active and high energy that they don't always suit every family. By rescuing a Podengo, you give a relinquished dog a new start in life.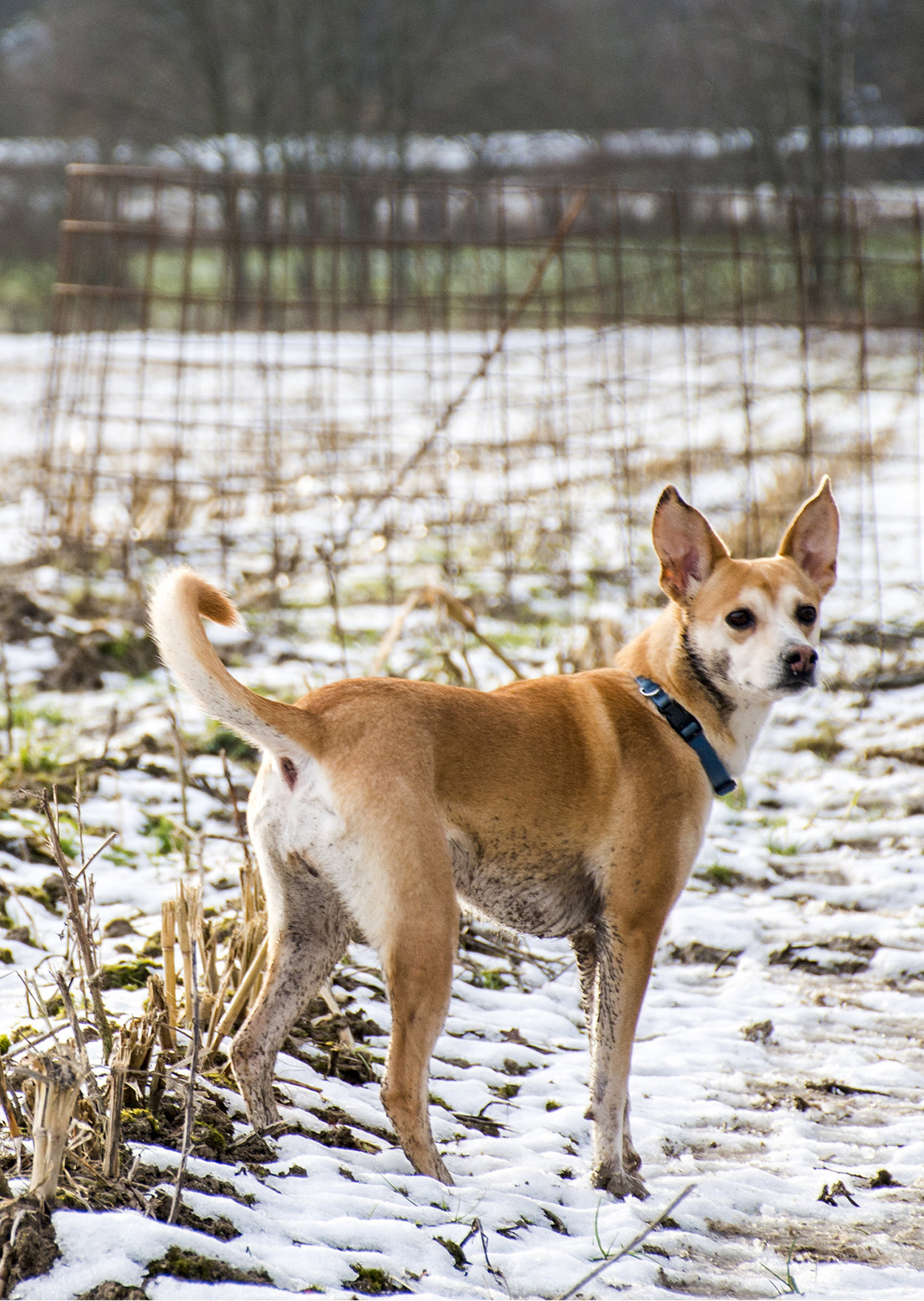 Portuguese Podengo Puppies
You now know that Podengo puppies can come in three sizes (Grande, Medio, Pequeno) and two coat types (smooth, wirehaired).
What does this mean? Well, when you start looking for Portuguese Podengo puppies, you will have a lot of options to decide on!
Do you want a larger Podengo dog with a smooth coat?
A Pequeno Podengo with a wirehaired coat?
What size dog fits your family and lifestyle most closely?
If you come from a hunting background, perhaps your chosen game will influence the size of the dog you choose.

Is a Portuguese Podengo a good pet?
The Portuguese Podengo can make an excellent pet for the right family!
The most important consideration is whether you have the time and interest to give this intelligent, high-energy working dog breed ample options to exercise both body and mind.
Do you have a Podengo dog now? Please drop us a comment – we would love to hear your story of life with your Podengo!
References and Further Reading
Bergstrom, K., "History of the Portuguese Podengo," Portuguese Podengo Club of America, 2018. 
Gibeault, S., MSc, CPDT, "The History of the Portuguese Podengo Pequeno," American Kennel Club, 2017. 
Martiskainen, J., et al, "The summary of the health inquiry of portuguese podengos in Finland 2007," The Portuguese Podengo Society of Finland, 2007. 

Nunamaker, D.M., "Legg-Calve-Perthes Disease," Penn Veterinary Medicine, 2018. 

UKC, "Breed Standards: Portuguese Podengo," United Kennel Club, 2018.