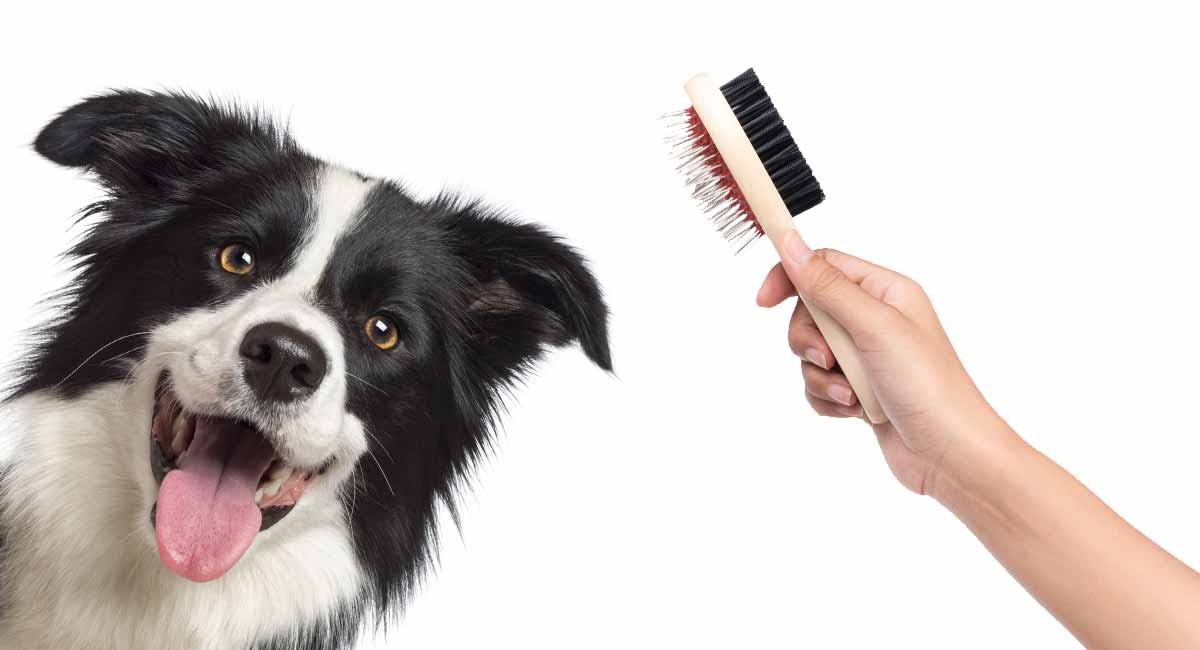 The Border Collie is one of the most popular pet dog breeds in the world.
These active, affectionate dogs are so famous that there is a whole online museum devoted to them.
Border Collies have also made a name for themselves as bona fide film stars.
From the fictionalized story of "Lassie" to her real-life counterpart, Bobbie the Wonder Dog.
In this article, we celebrate what makes their coat special, and how you need to help them look after it.
Do Border Collies Need Grooming?
Border Collies are working dogs in the herding class. These dogs are tireless on the job.
As pets they still need and crave lots of daily activity to stay happy and healthy.
What does this mean for your Border Collie's grooming needs?
For starters, it often means that your Border Collie will be picking up plenty of dirt.
You will need to stay on top of this by brushing and raking your Collie's coat as needed to keep tangles and mats at bay.
Because Border Collies are very smart and are bred to work for hours on end.
You can also expect your dog to find creative ways to entertain herself when bored.
To hear many Border Collie owners tell it, this may also mean rolling in interesting things when opportunity knocks.
Baths are definitely included in keeping this breed properly groomed, along with other techniques.
What Type of Fur Do Border Collies Have?
First, let's take a look at the characteristics of the Border Collie's coat.
This will help determine how much grooming a Border Collie may require.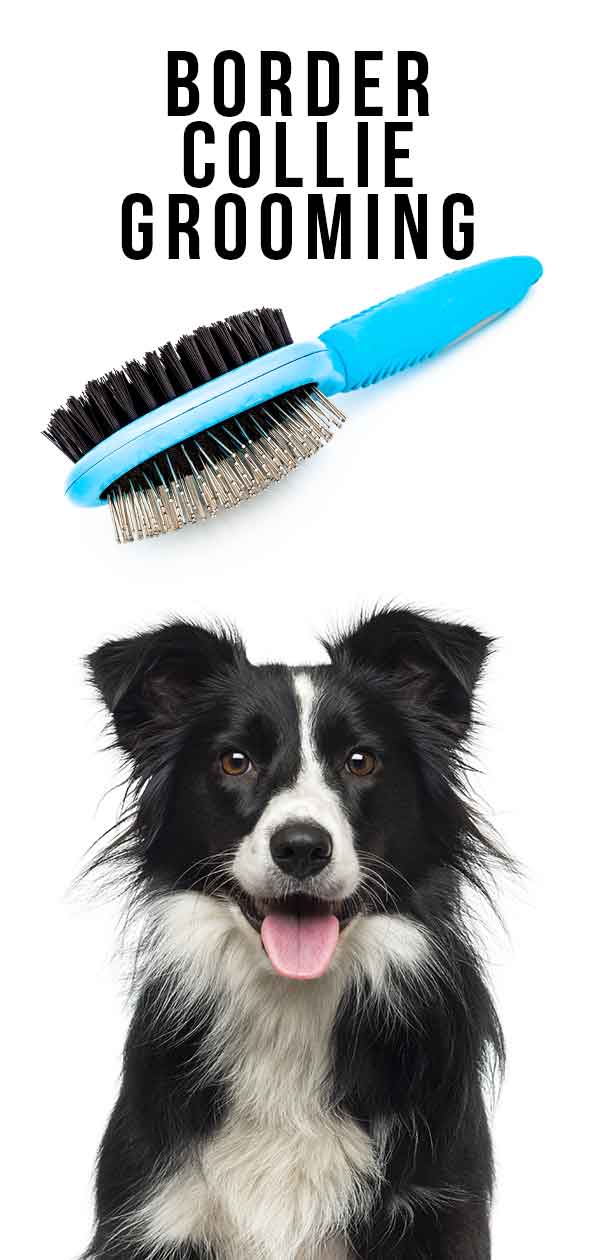 Border Collies generally fall into two coat categories: smooth coat and rough coat.
Within these two umbrella categories, of course, there is still plenty of variation.
For example, some Border Collie coats are wavy to the point of being curly while other coats are quite straight.
And below are some additional general characteristics about the breed.
Two-Layer Coat
The Border Collie's coat features two layers.
The top layer of fur is naturally weather and water-resistant, and can be either shorter and coarse-feeling or mid-length and feathery soft.
Then the under-layer of fur closest to the skin is thick, soft and very insulating.
Consistent Shedding Year-Round
You can expect the coat to shed fairly consistently all year long.
This is because the Border Collie relies on this specialized coat to stay warm when outside at work in the elements.
This shedding helps keep the coat replenished and effective at doing its job.
Twice-Yearly 'Coat Blow'
Then twice each year when the seasons change, the coat will shed quite a bit more—an event some Collie owners like to call "blowing coat."
During these seasonal coat sheds, you will want to have your grooming tools, vacuum cleaner and lint roller handy at all times.
How Often Should You Groom a Border Collie?
So now let's take a look at grooming frequency.
Your Collie is a true working dog on a farm or out hunting.
So you may need to brush and groom your dog on a daily basis to remove debris and keep tangles from forming.
Seasonal shedding time is the only exception to this rule—usually.
During the twice-annual "coat blows," you will want to rake and brush your Collie's coat daily.
This will help to keep shed hair under control—for your own sanity as well as your pup's health.
Grooming During the Shedding Season
Some Border Collies will shed more than others.
The amount of ongoing and annual shedding depends on what coat type your Collie has.
What is most interesting is that sometimes it is the shorter, smooth-coated Collies that seem to shed the most.
This is because Border Collies with longer, rougher, wavy or curly coats sometimes catch the shed fur in their coat, so it doesn't ever fall out.
With this coat type, you often don't see much evidence of shed hair until you start grooming your Collie.
But Border Collie owners and groomers emphasize that this dog breed sheds—and quite a lot during "coat blow" season.
So if you or someone in your family struggles with pet allergies, frequent brushing and grooming can really help.
Grooming during the shedding season is more intense.
You will probably want to do a thorough undercoat rake followed by a whole-dog brushing daily.
This will help collect shed hair before it falls onto your floors, furnishings and you.
How to Groom a Border Collie
Grooming your Border Collie serves multiple important functions.
First and foremost, of course, the time you spend grooming your dog can strengthen the bond you share together.
But grooming also gives you a perfect opportunity to check your Collie all over to make sure all is well.
Eyes, ears, teeth, nose, paw pads, toenails, tail, skin or fur are all good check-in spots.
When you catch unfolding health issues early, your dog (and your wallet) will generally have a much easier time recovering.
Like most purebred dog breeds, the Border Collie can be more prone to some health conditions than others.
In particular, Border Collies can struggle with dry, itchy skin.
When you are aware of potential issues and know what to look for while you are grooming your dog.
You can catch developing issues more quickly and ease unnecessary discomfort.
Here is a general tutorial for how to groom a Border Collie.
You can find links to recommended Border Collie grooming tools in the section that follows this one.
Step 1 – Detangling Spray
Many Border Collie owners like to spritz on canine detangling spray before beginning to brush their dogs.
This minimises hair breakage compared to brushing dry fur.
We'll recommend some of our favorites in a moment,
Step 2 – Undercoat Grooming
Begin by using your de-shedding tool of choice (undercoat rake or slicker brush) to remove debris and shed hair from your Collie's undercoat.
You may want to make several passes until you don't see any more shed hair in the teeth of the comb or brush.
With proper use (gentle but firm pressure), you will also be stimulating circulation beneath your dog's skin and redistributing valuable, nourishing skin oils throughout your dog's undercoat.
Step 3 – Top Coat Grooming
Now you can switch to using a pin and bristle brush to groom your Collie's top coat.
Many owners like to start with the pin side, using the pin brush to remove shed hair and debris from your dog's top coat.
Once you have removed the majority of the shed hair, you can switch to using the bristle side to give your dog's coat that lovely final shine.
Step 4 – Ear Cleaning
Because Border Collies are such active, energetic dogs, you want to examine your pup's ears every time you brush and groom your dog.
Talk with your dog's veterinarian about the right products and best method for cleaning your dog's ears.
Step 5 – Nail Trimming
Nail trimming will keep your Border Collie's nails short and strong.
Regular nail trims are so important to make sure your dog has healthy posture and a normal gait.
When you trim your dog's nails, you can also examine the paw pads to be sure they are healthy.
If you don't feel comfortable doing nail trims at home, your veterinarian or groomer can do this for you.
Border Collie Grooming Tools
There is so much that goes into bringing a new pup into your life that sometimes it can feel like choosing Border Collie grooming tools becomes almost an afterthought.
But of course your dog's coat won't wait while you research different grooming tools and ponder their pros and cons.
This list of highly recommended and popular Border Collie grooming tools can make it easy and fast to assemble the ultimate dog grooming kit.
Detangling Spray
Detangling spray can make the process of brushing and grooming your Collie so much easier and more comfortable for you both.
BioSilk Therapy Detangling Plus Shine Protecting Mist for Dogs
This detangling spray gets top marks from owners and groomers.
It is made in the U.S. with all-natural, human-grade ingredients.
Lillian Ruff—Pet Dog Leave in Conditioner & Detangler Treatment Spray
This highly rated detangling spray can be used on its own, or after a bath as a leave-in conditioner.
Undercoat Rake
An undercoat rake, as the name suggests, is designed primarily to groom your Border Collie's undercoat—the inner layer next to the skin.
Coastal Pet—Safari Long Tooth Undercoat Dog Rake
This economical and highly rated undercoat rake is designed for dogs that have medium-length coats.
The handle is ergonomic, and it is nice and long to reach all the way down through both coat layers.
JW Pet Company GripSoft Double Row Undercoat Rake Dog Brush
This lightweight choice with an ergonomic handle and a neat double row of comb teeth to lift out dead, shed undercoat hair.
Slicker Brush
A slicker brush can be used with or instead of an undercoat rake.
Border Collie owners who have dogs with longer, thicker coats sometimes prefer the slicker brush.
As a bonus, many of today's modern slicker brushes have handy self-cleaning features.
barkOutfitters Self-Cleaning Slicker Brush
This affordable and effective, highly rated slicker brush features a one-push button, self-cleaning feature that pushes the dead, shed hair off the brush and right into the trash.
This brush can remove up to 95 percent of shed hair in a single brushing session and comes with a five-year guarantee.
Pin and Bristle Brush
A pin and bristle brush is a great grooming tool for adding shine and smoothness to your dog's outer coat layer while also catching those last stray shed hairs the other tools missed.
AtEase Accents Natural Bamboo DeShedding Pin and Bristle Brush
This lovely eco-friendly, bamboo handle pin and bristle brush is double-sided for your convenience.
The pin side features round-tip stainless steel pins to remove shed hairs from the top coat.
The brush side features soft nylon bristles to add that finishing shine.
GoPets Professional Double Sided Pin & Bristle Brush
This professional pin and bristle brush is designed for dogs with short to medium coat lengths.

The pins are round-tip stainless steel, and the bristles are soft nylon.
The silicone-filled soft handle is comfy to use for long grooming sessions.
Border Collie Grooming Video
This short and sweet Border Collie grooming video  can guide you through the process of washing, drying and grooming your pup.
Border Collie Haircuts
Most Border Collie owners allow their dogs' coats to grow naturally.
Even show Border Collies are expected to present with natural-appearing coats, although minor trims around the feet, ankles and lower legs are permitted.
Light trims can be healthy if your Collie's coat is sufficiently long to interfere with running, playing and working.
You may also want to lightly trim hair inside the ears to aid in air flow.
Grooming Your Border Collie
This was a full overview of steps for grooming your Border Collie.
Do you have any favorite grooming tools or techniques?
Please post a comment to share your favorite tips with other Border Collie dog owners.
References and Further Reading:
"A Canine Pedicure," Main Border Collies Kennel
Ahrnsen, R., 2015, "History's Top 10 Famous Herding Dogs," Guild of Shepherds and Collies
"Border Collie Characteristics," All About Border Collies
"Grooming Your Border Collie Puppy," Elkana Border Collies
"Your Border Collie Caring for Your Faithful Companion Border Collies: What a Unique Breed!" Aubrey Animal Medical Center