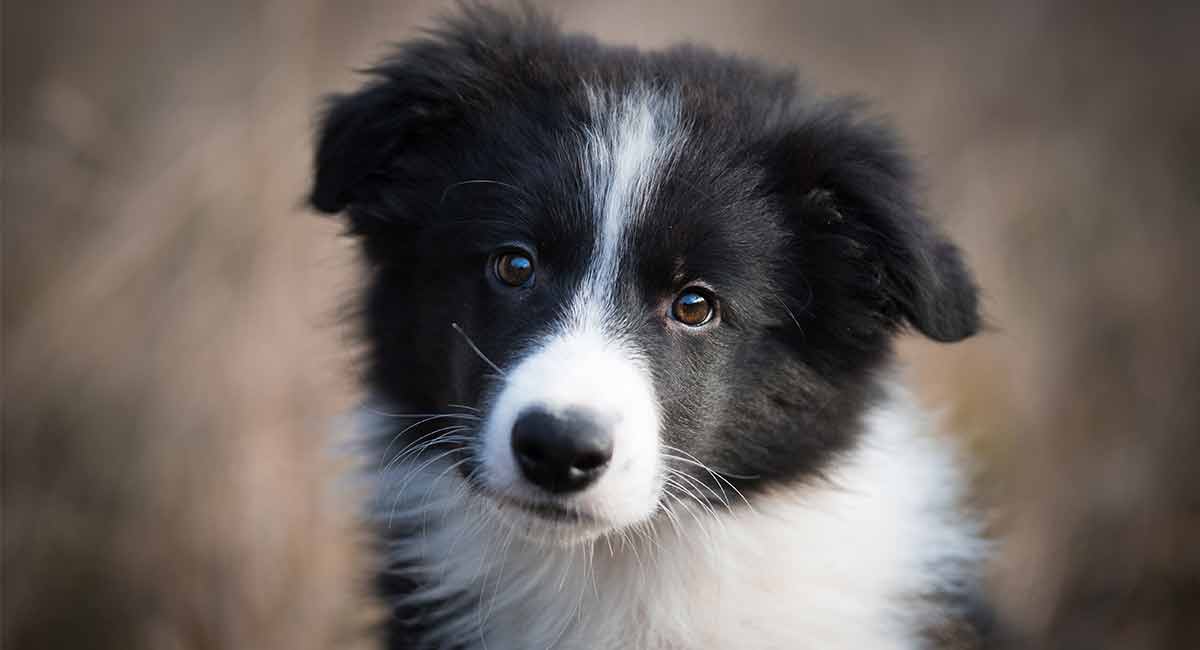 The best food for
Border Collie
puppies will always be a food specifically formulated to meet the dietary needs of high energy, medium-large breed puppies. When you feed your Border Collie pup a nutritionally appropriate, veterinarian-approved daily diet, these smart, agile, loyal, and loving dogs can live up to 15 years or longer! For new Border Collie owners in particular, sometimes it can seem like there is a steep learning curve! From gathering puppy supplies to "well puppy" vet visits. House training to choosing the best food for Border Collie puppies. Every day brings so many new challenges to tackle. That is what we are here for! To help you choose the best food for Border Collie puppies with confidence. So you can check that task off your new puppy to-do list!
Products included in this article were carefully and independently selected by the Happy Puppy Site team. If you decide to make a purchase from one of the links marked by an asterisk, we may earn a small commission on that sale. This is at no extra cost to you.
Best Dog Food For Border Collie Puppies
Choosing the best food for Border Collie puppy dogs becomes easier once you know exactly what to look for. The official breed club health statement says, like many medium-large breed dogs, Border Collies are prone to develop joint problems. Vision issues can also be present in this dog breed. For this reason, feed your Border Collie puppy a food that has added nutrients to support eye and joint health. Medium to large breed puppies can develop structural issues in adulthood if their growth in puppyhood isn't carefully controlled.
What does this mean for your pup?
Simply put, you want to choose a large breed puppy food formula that won't let your puppy grow too fast. That might put extra pressure on bones, muscles, or joints. In some circles, the cut-off to define "
large breed puppy
" is 70+ pounds at maturity, but in other circles the cut-off is set at 50 pounds, which is what we will abide by for the purposes of this article. With these specific health concerns, also be to ask your veterinarian for specific dietary and supplement recommendations. Also, these nutrients can be useful if you find them in a high quality large breed puppy food recipe:
Glucosamine-Chondroitin
Omega-3 fatty acids (fish oil, including DHA and EPA)
Avocado soybean unsaponifiables (ASUs)
Antioxidants
Lutein (a component in egg protein)
Properly balanced calcium:phosphorus and protein:fat ratios (large breed puppy recipe)
Border Collie Food Requirements For Puppies
Unless your veterinarian specifically advises otherwise, the smartest approach when you first bring your Border Collie puppy home is to continue with the same feeding schedule and food brand the breeder was using. This will help your pup acclimate to his new home and family with the least stress and disruption. If you do want to switch your puppy's food, wait at least four weeks. Then schedule the transition to occur over a week's time. You can mix the old food in with the new food. Gradually shift the percentages until, by the end of the week, your puppy is eating only the new food. Most young puppies are fed at least three times per day during the weaning process. Starting around six months, a puppy may begin to eat twice per day. You may need to adjust portion sizes based on the number of feedings. Be sure your Border Collie is taking in sufficient calories.
Border Collie Puppy Food Amount
When switching to a new food brand, always pay close attention to the manufacturer's feeding instructions. They are typically based on your puppy's age and/or weight. Border Collies as a breed have a long history of working alongside "their" people in farming, herding, hunting, and guarding. These dogs really thrive when they have a daily job to do and/or lots of daily activities and enrichment. As
this article
outlines, there is always a risk your Border Collie puppy may pack on the pounds if the food is too plentiful and the exercise outlets are too few. On average, an adult Border Collie will weigh between 30 and 55 pounds. Weight can vary from pup to pup based on parents, gender, birth order, diet, genetics, and other factors. For this reason, it can be smart to talk with your vet to establish your puppy's ideal maintenance weight. Then work together to match the portion sizes per feeding to maintaining that weight as your pup grows up.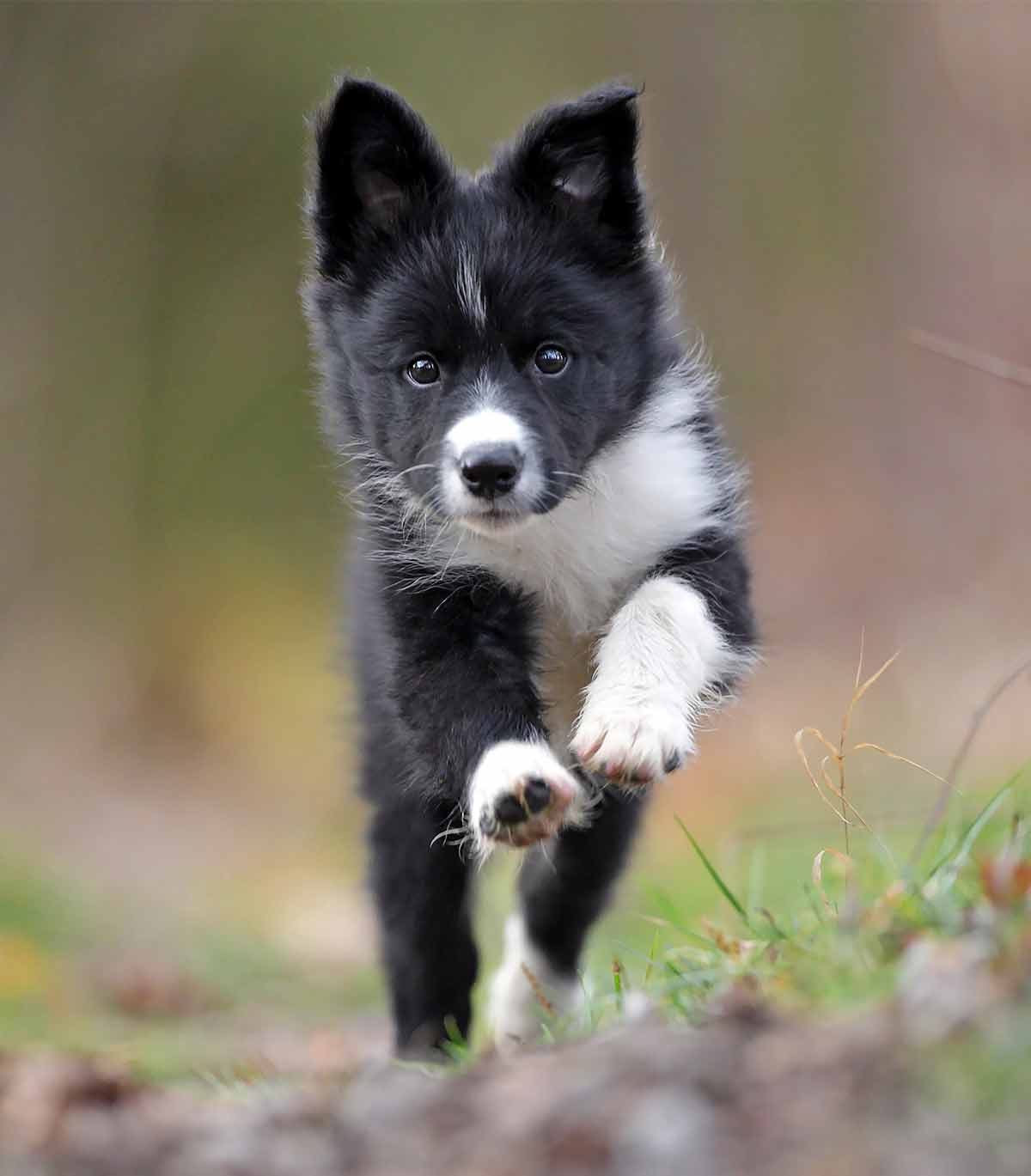 Best Dry Border Collie Puppy Food
These three highly rated, popular, and trusted large breed dry puppy food brands each offer a balanced recipe for healthy, managed puppy growth.
Science Diet
Hill's Science Diet Large Breed Puppy Food.*
This is a highly rated, vet-recommended large breed dry puppy food.
It includes naturally sourced glucosamine and chondroitin plus antioxidants for joint and vision support. This food also contains the proper calcium:phosphorus ratio for controlled bone growth in large breed puppies.
Nutro Wholesome Essentials
Nutro Wholesome Essentials Large Breed Puppy.*
This specially formulated, highly rated large breed puppy food contains naturally sourced glucosamine/chondroitin.
The base is whole chicken protein with added omega-3 fatty acids and calcium to manage bone growth into adulthood. The recipe also includes several superfoods that add valuable antioxidants to your puppy's diet.
Wellness Complete
Wellness Complete Health Natural Dry Large Breed Puppy Food.*
This large breed puppy food is highly rated by dog owners and their pups. This food offers a larger kibble that is easier for bigger puppies to chew. It has a base of salmon, chicken, and rice.
Above all, it is packed with omega-3 fatty acids, antioxidants, and appropriate calcium:phosphorus and protein:fat levels. This food will ensure healthy, steady growth and development as your puppy grows.
Best Wet Border Collie Puppy Food
Wet Border Collie puppy food can add a valuable component to your growing puppy's diet. The moisture content of wet food offers you a great way to ensure your puppy always stays hydrated. Also, since wet food is super tasty, it makes for a great training treat as well! Wet food ensures your puppy will get used to eating different textures. This can be helpful if you have to change dog food later in life. Since wet puppy food is typically served as a meal topper or treat, rather than as a stand-alone meal, just make sure the wet food you choose is high quality and that your vet approves.
Merrick Classic
Merrick Classic Grain Free Canned Dog Food Puppy Plate.*
This grain free wet dog food features lots of yummy whole protein, superfoods, and added vitamins/minerals.
It is a nutritious wet stew formula with a base of easily digestible sweet potato.
Whole Earth Farms
Whole Earth Farms Grain Free Canned Dog Food Puppy Recipe.*
This grain free wet puppy food is served in a highly palatable loaf.
It can be its own complete and balanced meal or a topper for dry puppy food. This recipe features three proteins in addition to lots of superfood veggies and fruits for extra antioxidants, vitamins, and minerals.
Canidae
CANIDAE Grain Free PURE Dog Wet Food for Puppies.*
This grain free limited ingredient diet wet puppy food is a perfect choice if your pup has suspected allergies or sensitive stomach issues.
The recipe features real chicken protein with lots of vitamins and minerals.
Best Food For Border Collie Puppies With Allergies
Opting to feed your Border Collie puppy a grain free puppy food can make sense in certain circumstances. For example, if your puppy begins to show signs of skin or food allergies, your veterinarian may want to try a grain free diet. This will eliminate known allergens like wheat, soy, and corn to see if the allergies abate. If you decide to adopt a grain free puppy diet, then each of these three trusted brands offers a great recipe to talk with your veterinarian about!
Blue Wilderness
BLUE Wilderness High Protein Grain Free Puppy Dry Dog Food.*
This grain free puppy food is a special mix of kibble and LifeSource Bits.
They add antioxidants, vitamins, and minerals for extra nutrition and flavor. This recipe also includes added omega-3 and omega-6 fatty acids.
Instinct Raw Boost
Instinct Raw Boost Grain Free Recipe Natural Dry Dog Food Large Breed Puppy.*
This large breed puppy food recipe includes real freeze-dried raw chicken protein.
The kibble is in a balanced protein:fat ratio for healthy growth and development. Extra added DHA/omega fatty acids help with vision and joint health on top of plenty of antioxidants and vitamins/minerals.
Holistic Select
Holistic Select Natural Dry Dog Food Large & Giant Breed Puppy.*
This natural puppy food is free from wheat, wheat gluten, fillers, meat by-products, and artificial ingredients.
In addition, the digestive enzymes and prebiotics/probiotics can ease issues with food allergies and/or sensitive stomach. Omega fatty acids and superfood antioxidants assist with joint and vision health.
Best Food For Border Collie Puppies
We hope you have found this article on choosing the best food for Border Collie puppies helpful and informative as you select your new puppy's food!
Affiliate link disclosure: Links in this article marked with an * are affiliate links, and we may receive a small commission if you purchase these products. However, we selected them for inclusion independently, and all of the views expressed in this article are our own.
Related Articles
Sources
Bianca, R., et al, "
About the Border Collie
," American Kennel Club, 2018. Ramas, L., "
Official Breed Health Statement: Border Collie
," Border Collie Society of America, 2016. Wooten, S., DVM, "
Joint supplements for dogs: The helpful vs. the hype
," Veterinary Medicine DVM 360, 2017. Wang, W., "
Antioxidant supplementation increases retinal responses and decreases refractive error changes in dogs
," Journal of Nutritional Science, 2016. Buzhardt, L., DVM, "
Nutritional Requirements of Large and Giant Breed Puppies
," VCA Animal Hospital, 2018.