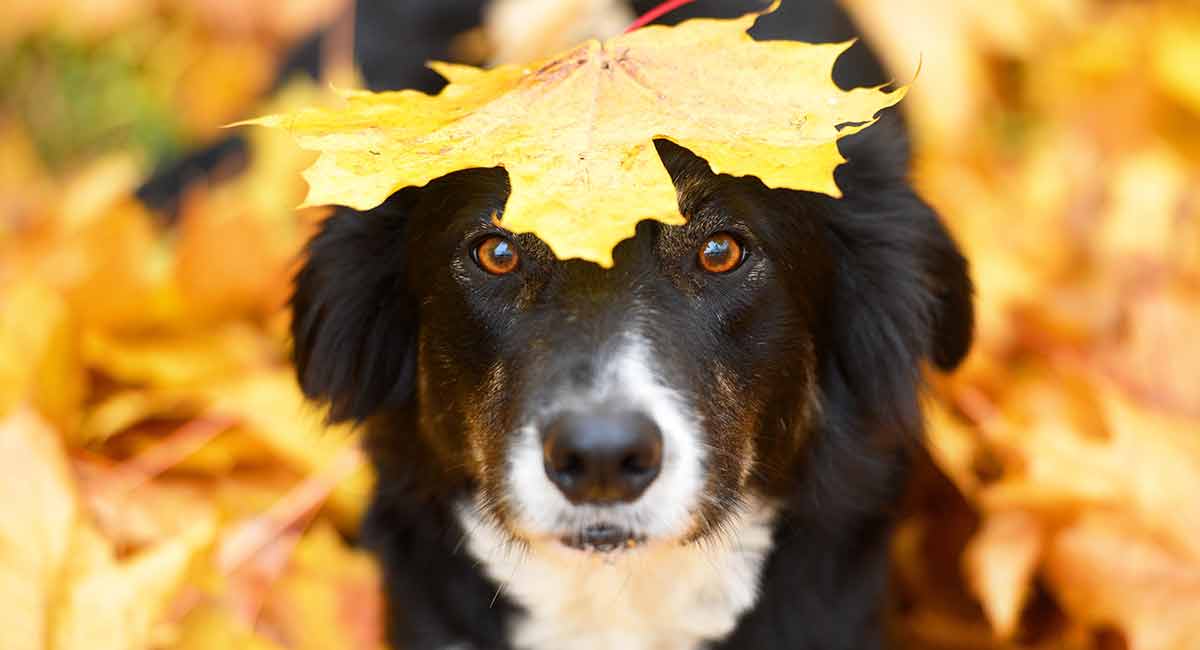 Active, intelligent and all around awesome, Border Collie colors are still one of the most impressive things about this unique herding dog breed. Today we share cute Border Collie colors in pictures and photos, and fascinating facts about how these working and show bred dogs genetics formed such cool patterns and markings. Although most people think of Border Collie colors just being black and white, they also come in blue, grey, sable, tan and red in a variety of markings and patterns. Red Border Collies have brown or liver coats with white markings. Tri-colored Border Collies can be red, white and tan or saddle patterned. Merle Border Collie colors are some of the most striking, but they also have health problems attached them.
Contents
Are you curious about Border Collie colors? Maybe you want to get a Border Collie and would like to know what their coats are like. These smart and attractive dogs are herders with beautiful hair. So, let's find out more!
History of the Border Collie Colors
Known as one of the smartest dogs around, the Border Collie comes from the border country between Scotland and England. Their ancestors arrived in Europe with the Roman occupation of Britain. The Romans imported large, heavy-boned dogs to herd livestock.
As the Roman Empire began to fade, the Vikings came in. They, too, brought dogs – smaller, quicker spitz-like breeds. The Roman and Viking dogs were crossed to produce working dogs that did well in the hilly, rocky highlands of Scotland and Wales. The word "collie" is a Scottish word for describing sheepdogs. The Border Collie was originally classified as the Scottish Sheep Dog.
At this point in history Border Collie colors weren't anything like as important as the job they had to do, so although they varied a bit shepherds didn't worry too much about the look of their sheepdogs.


Working Border Collie Colors
Border Collies rule agility and shepherding competitions. They have been registered with the American Kennel Club since 1995. Border Collies appear in many varieties of colors and combination of colors and show judges accept all colors and markings on purebred Border Collies in dog shows.
In fact, to this day their physical evaluation and gait is more important in dog shows than appearance. Judges will even accept scars and broken teeth on purebred Border Collies if they were incurred during work.
Border Collie Colors in Pictures
The most common colors for this breed are Border Collie colors black and white and tri-color (black, white, and tan). Other common colors include red (brown or liver) and white, and red tri (red, white, and tan). Less common Border Collie color variations include saddle-patterned (tricolor), and blue. Puppies may also be available in Border Collie colors red merle and blue merle, or Border Collie colors blue or gray, sable, and tan.
Let's check out some of the top Border Collie colors in photos!
Black and white Border Collie colors are the most common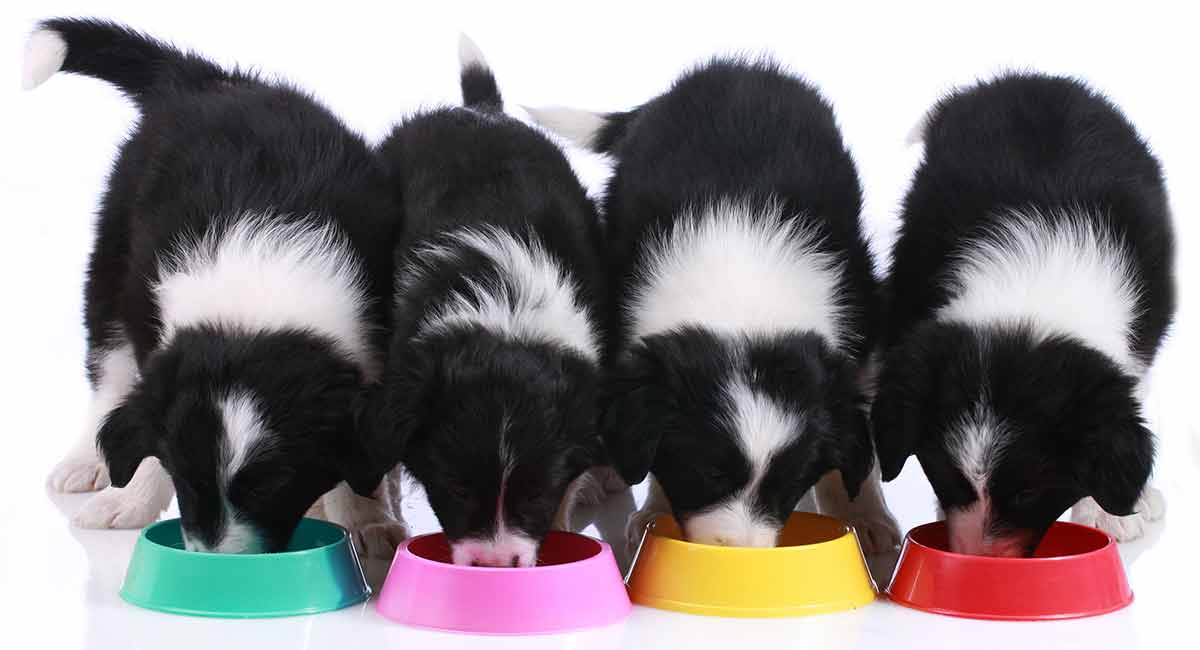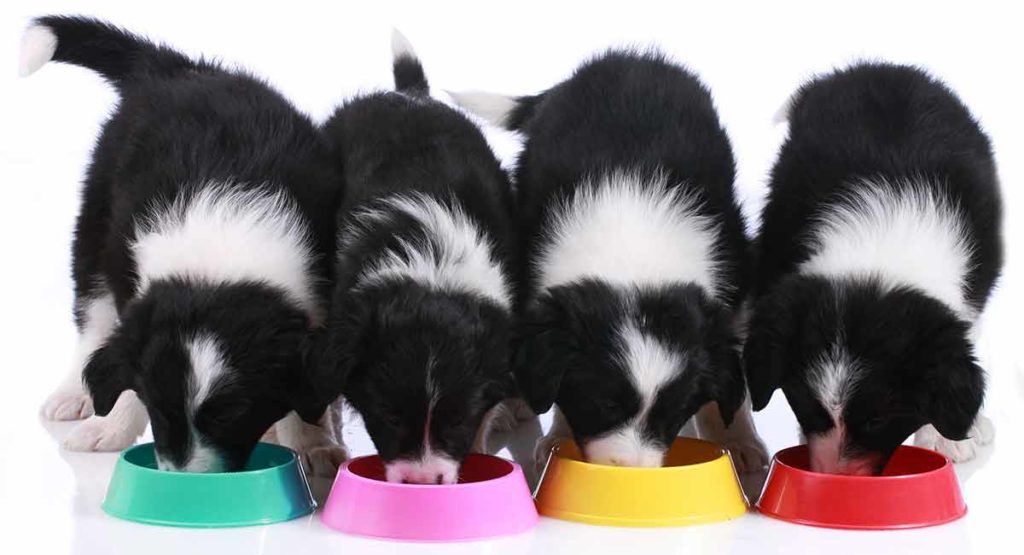 Merle Border Collies have a sprinkled, flecked pattern to their coats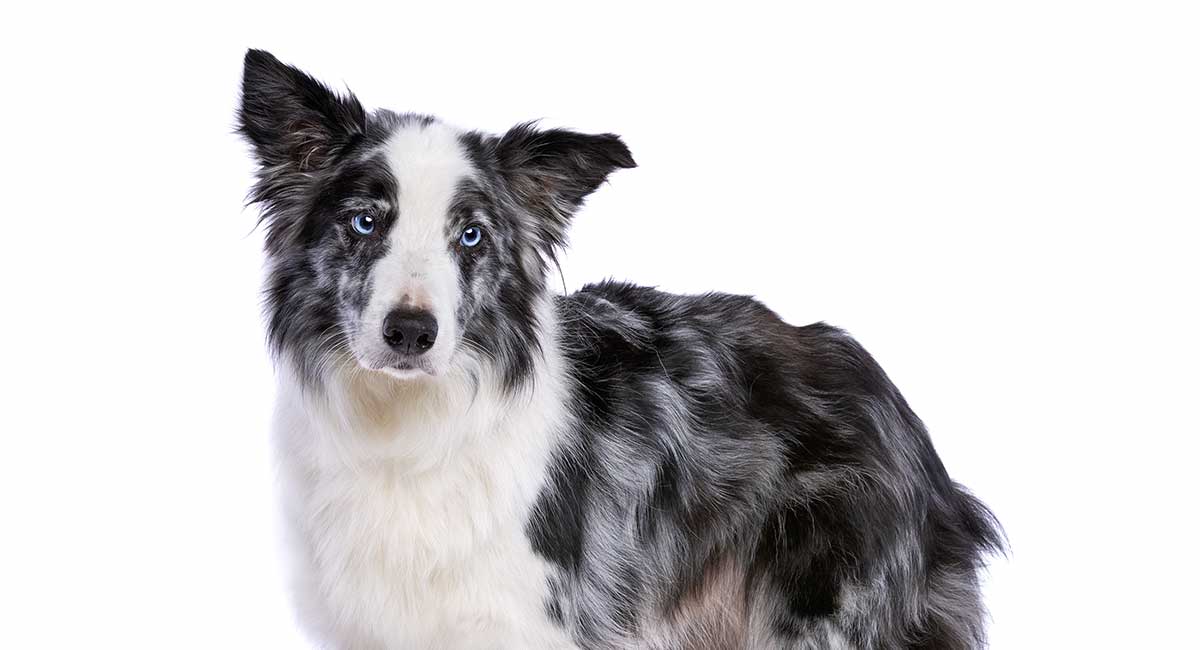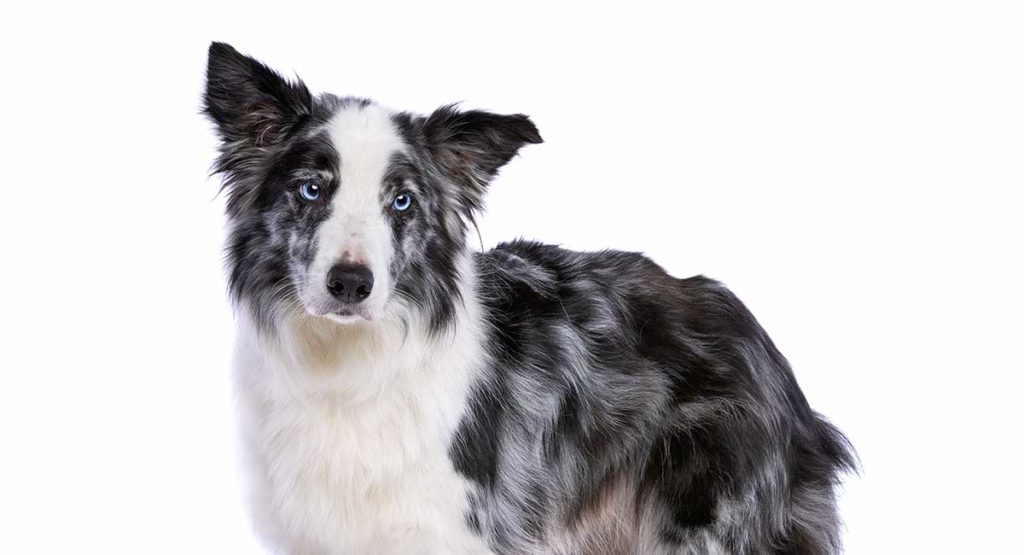 Border Collie colors can differ in the same litter of puppies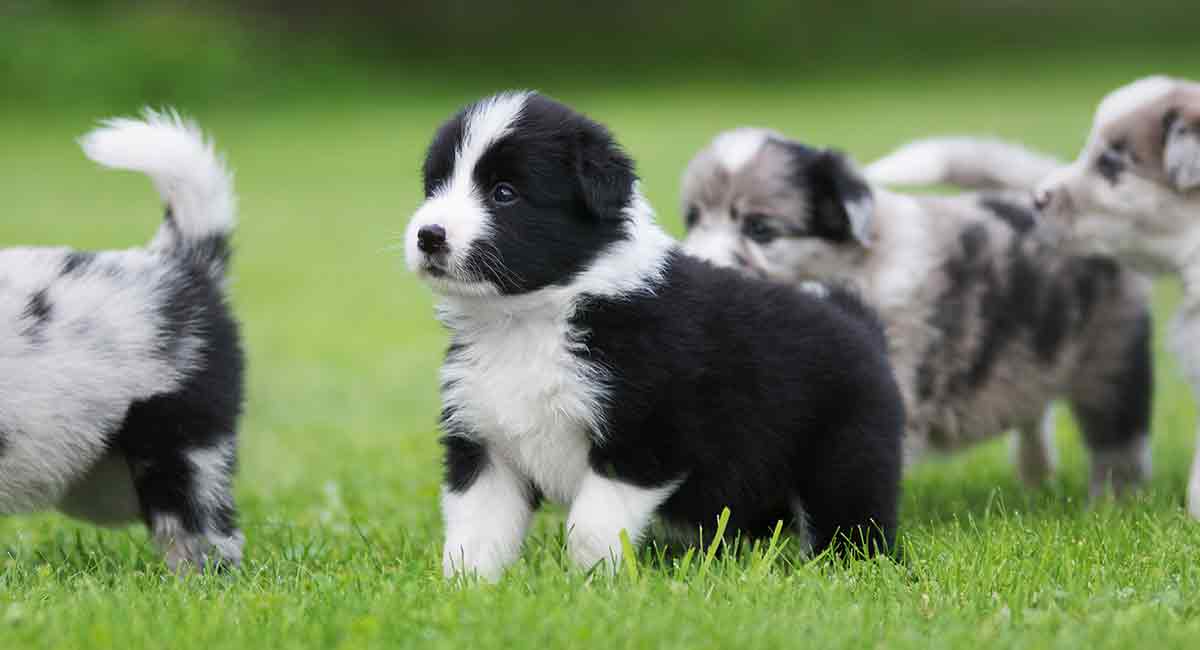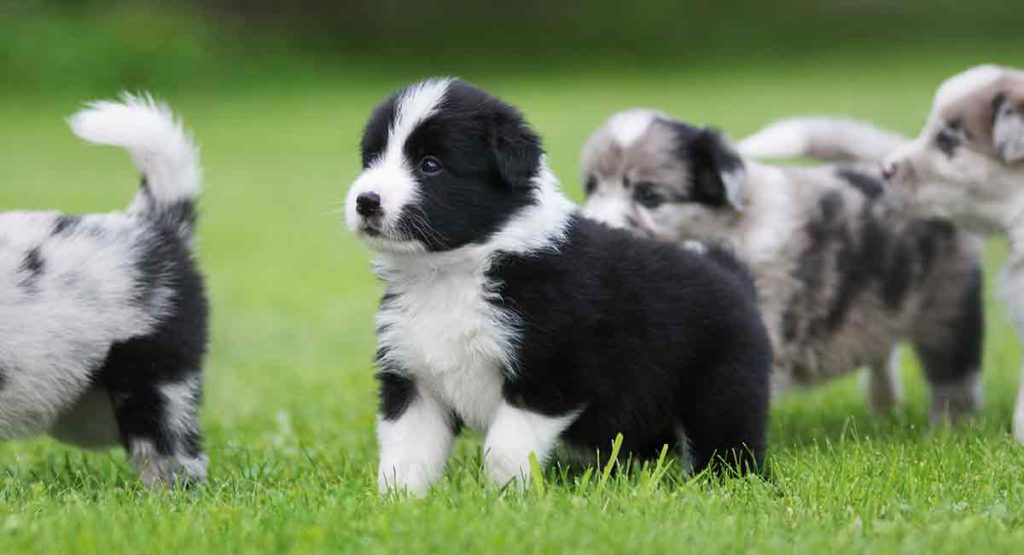 Markings and Patterns
Border Collies generally have some white on them, especially on their head (as a blaze marking), necks, feet, chest, and tails. It is rare for Border Collies to come in solid, or "self" colors. They can come speckled or ticked in all colors, or with Border Collie colors merle patterning. They may have tan points or brindle points, with ticking on top of that.
Additionally, Border Collie colors brindle and lilac do occur although they are rare. These dogs may also come in Border Collie colors gold, slate, and seal.
Border Collies may have rough (textured, varies in length) or smooth (short, coarse) in any of these color combinations. The nice thing about all the diversity is that if you have a Border Collie coloring page, you can use pretty much the entire palette if you like!
Genetics of the Border Collie Colors
Dogs vary a lot in size and body and color, and scientists are interested in why. So Border Collie color genetics have been studied fairly extensively. The colors of dog coats are controlled by chromosomes – DNA molecules that contain the genetic material of an organism.
Inside each chromosome are several loci. These fixed positions are where genes are located. Each gene is a sequence of DNA that determines a trait, such as coat color.
A chromosome also contains alleles – variant genes that can affect coat color – at each loci. A dog inherits two alleles for each gene, and the alleles interact to code for a particular trait.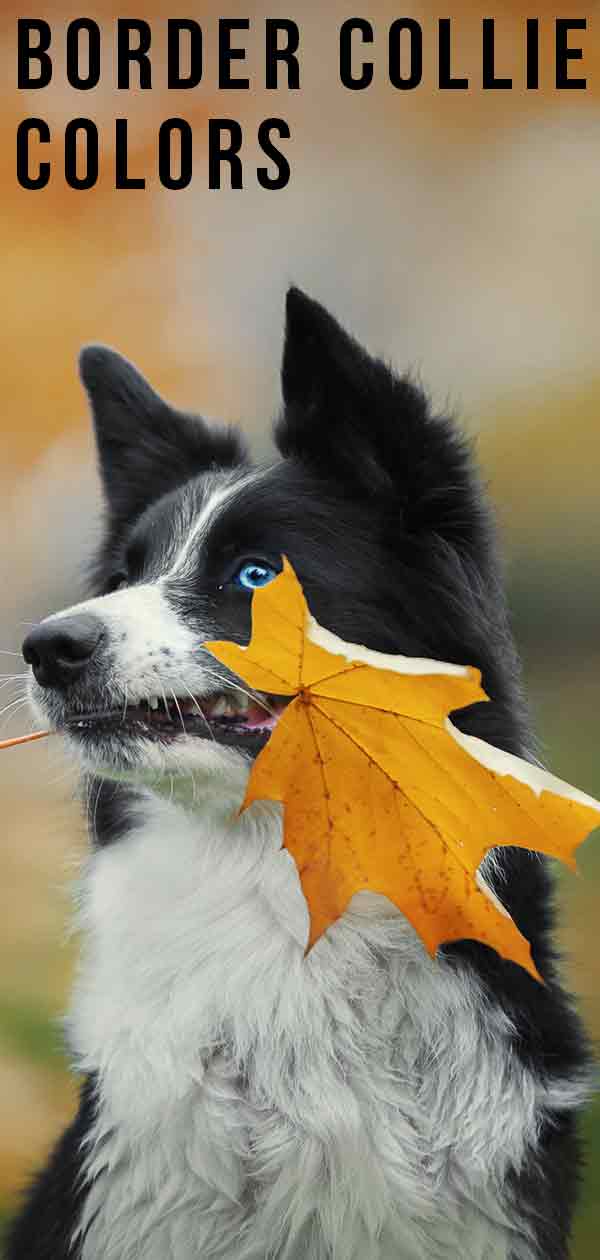 Genes that Affect Fur Color
Dog colors and patterns are guided by seven identified genes, including an agouti gene, a brown gene, the "extension" gene, and the K (dominant black) gene.
These genes don't all result in different colors. It's more complex than that! For example, some of these genes do control the expression of particular pigments, but some instead control the "switching on" of other color genes. Additional alleles determine shading (dilution) and white markings, such as merle or spotting.
Border Collie Color Genetics
Every dog breed has variable traits caused by different genotypes (their genetic makeup). With Border Collies, researchers think they lack certain agouti alleles, even though they cause black and tan coloring. So their black and tan coloring is likely caused by something else! It gets complicated.
We won't go more deeply into the genetics of coat color here, except to note that Border Collies' appearance is more morphologically variable than many breeds, and they have a low rate of inbreeding.
Researchers believe this is because the Border Collie was not bred for its looks – only for intelligence and ability. That's probably the reason why they come in so many different and wonderful colors!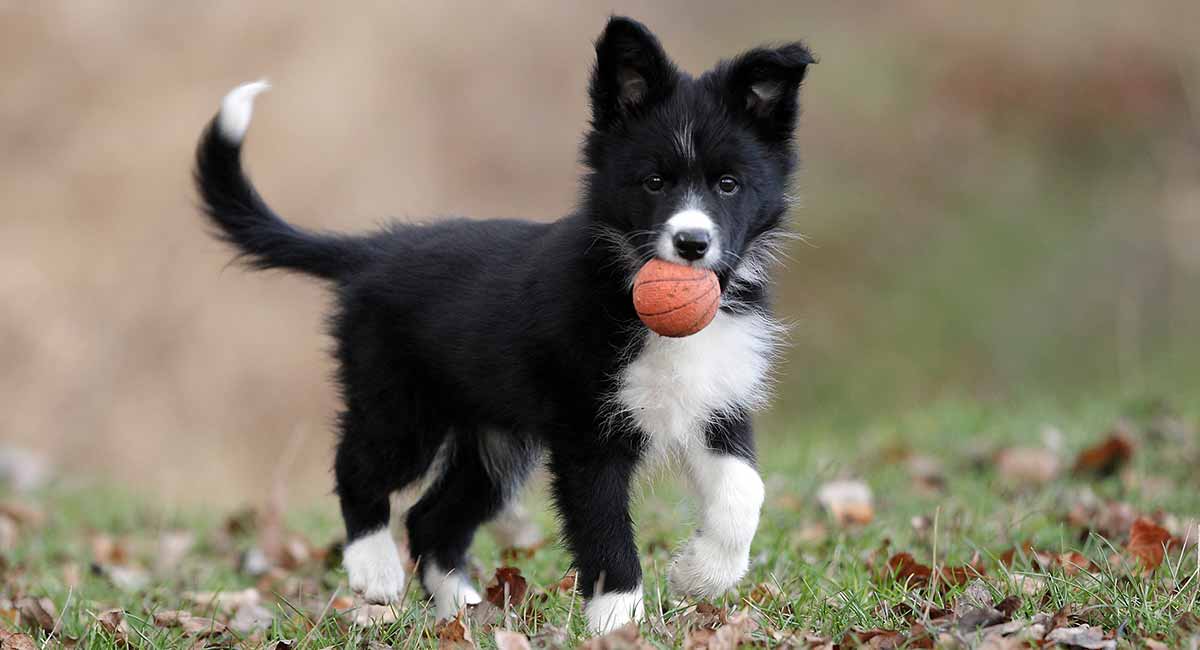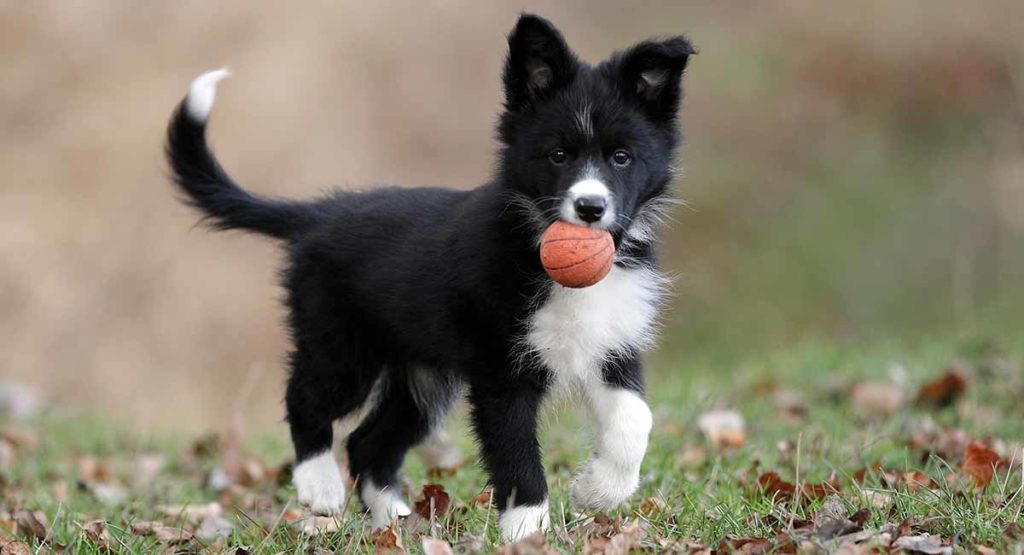 Health Issues In Border Collie Colors
Border Collies are generally fairly healthy, no matter the color. They are predisposed for certain conditions such as hip dysplasia, progressive retinal atrophy, and epilepsy. All collies may be at risk for a condition called Collie Eye Anomaly. This has been shown to have no correlation with coat colors. But there are health issues associated with certain color patterns.
In Border Collies, merle is a pattern in which darker spots appear on non-white patches of color. The merle gene is associated with auditory and visual problems that cause blindness and deafness. Also, some Border Collies may be sensitive to certain drugs, such as ivermectin, as a result of a genetic deletion mutation called MDR1. You must never breed to merle dogs together as the puppies can be very deformed and often don't survive. This is known as lethal merle.
Border Collie Appearance
Border Collies are medium-sized dogs with a well-balanced body and an athletic appearance. They are graceful, strong, and agile. These dogs have a height at the withers of 18-22 inches, and they weigh 30-55 lbs.
They have almond brown eyes and wide-set, medium sized ears that are carried either erect or semi-erect. Despite all the colors and texture combinations they come in, you'll recognize their distinct and well-known profile.
Border Collie Grooming for Different Colors
A Border Collie with a smooth coat has shorter and coarser fur, but it's also dense. The color of their coat isn't going to change their brushing needs or shedding level.
Border Collies are not low-maintenance when it comes to grooming. Especially if you have a Border Collie with the rough coat, which is generally medium length (3-inch hairs) and feathered, with a bushy tail.
Border Collies have weather-resistant double coats. These need brushing at least 2-3 times a week, and more often during shedding season. Their hair is often shorter on the legs, face, and ears. Mats, tangles, and dirt and debris must be brushed out to keep these coats healthy. All known Border Collie colors exist in both types of coat.
Do Border Collie Colors Change Temperament?
Border Collie temperaments are not affected by their color, so far as we know. These dogs are energetic, intelligent, alert, and responsive. They are affectionate but can be reserved with strangers. These dogs, of any color, love working and require space to run.
They are known for their ability to work even when their master is not in sight – they understand exactly what to do independently.
Border Collie Intelligence vs Colors
There is no link between a Border Collie puppy's smarts and their color or pattern. Experts often agree that the Border Collie is one of the most intelligent dogs you will encounter. Being so smart doesn't just mean Border Collies are easy to train. They also need plenty of mental as well as physical exercise.
And they probably need the same amount of training, if not more, just to keep their minds occupied. Otherwise, they can get bored and develop problem behaviors. This includes herding family members. Intelligence does have something to do with genetics but is not related to Border Collie colors.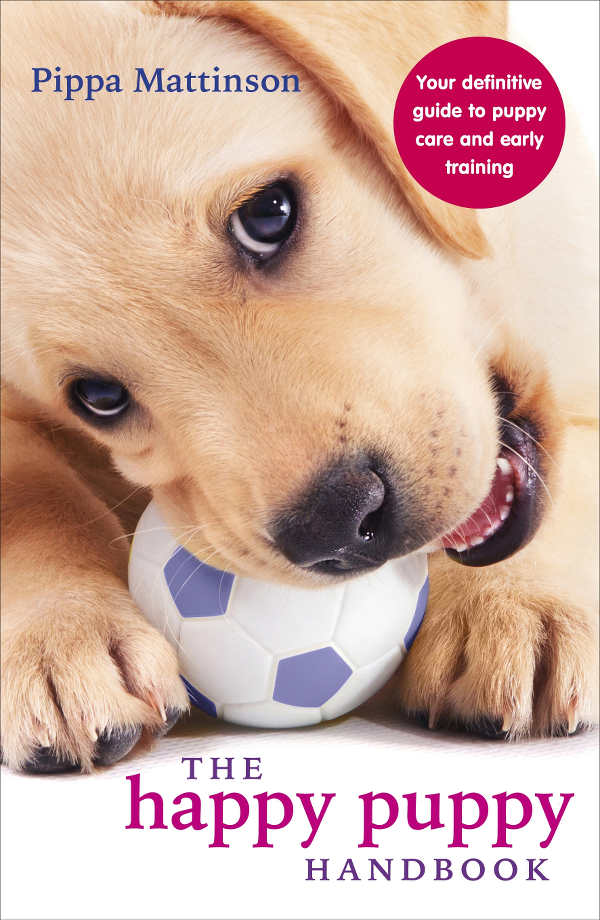 Border Collie Training
All Border Collies need early socialization so they are comfortable with a wide variety of people and places. They also need early obedience training. This does the double duty of making your life easier and providing mental stimulation for your Border Collie puppy! Because they are smart, Border Collies love regular agility, herding, and obedience activities.
Border Collie Activity
Border Collies of any color have one of the highest energy levels of any dog. Please make sure they have enough activity in their daily routine to keep them from destructive behaviors!
Black and White Border Collie Popularity
The AKC ranks Border Collies as the 38th most popular dog in America. One famous Border Collie is a fictional character in the movie "Babe." Fly is the little pig's foster mother on the farm and has a Border Collie mate named Rex. Both had black and white coloring!
A famous real Border Collie is Chaser, who was on the TV news show "60 Minutes" because she has the largest tested memory of any animal. She knows more than 1,000 words! Border Collies may not be as popular as some breeds because they are less easygoing. They have the temperament of a working dog.
Border Collie Puppy Colors
A Border Collie puppy may not show the full colors that will appear when he or she is mature. Just know that, except for the merle coloring, the color of the breed should not determine temperament, health, or intelligence. It's really all about the care you give!
So make sure that you get your puppy from a responsible breeder, who has a full medical history and all documents available.
Want to know how to take the best care of your puppy?
Find Out More About Border Collies
References and Resources