Bringing home your Golden Retriever puppy is such an exciting moment.
We're here to help with expert advice on feeding Golden Retriever puppies, potty training, and much more.
Most new or prospective puppy owners have lots of questions. Sometimes you just need a quick answer.
Here are a few of the most popular Golden Retriever Puppy FAQs
Golden Retriever puppy FAQs
If you have just collected your Golden puppy then over the next few weeks you'll be socializing and potty training.
And making a start with puppy obedience training.
Many puppy parents have full time jobs and we will also be looking at raising a golden retriever puppy while you work
Here are the topics we'll cover in this guide
Golden Retriever puppy guide: contents
Choosing a name for your Golden puppy
We have wonderful puppy naming resources on this site. In 2016 the Happy Puppy site launched the International Dog Names Survey.
Each year we up update our puppy names lists with the latest data on dog name popularity for different breeds and in different parts of the world. So you'll find heaps of inspiration.
We even have a puppy names list devoted entirely to Golden Retrievers. Don't forget to add your puppy' name to the survey once you have made your final choice!
Socializing your Golden Retriever Puppy
Every new puppy owner will hear about the importance of puppy socialization. But not all puppy owners carry out this important process effectively.
Socialization means introducing your puppy to many new experiences before they reach the age when they become shy of strangers and strange objects. That age is surprisingly young and most dogs need to be socialized fully before they are 13 weeks old.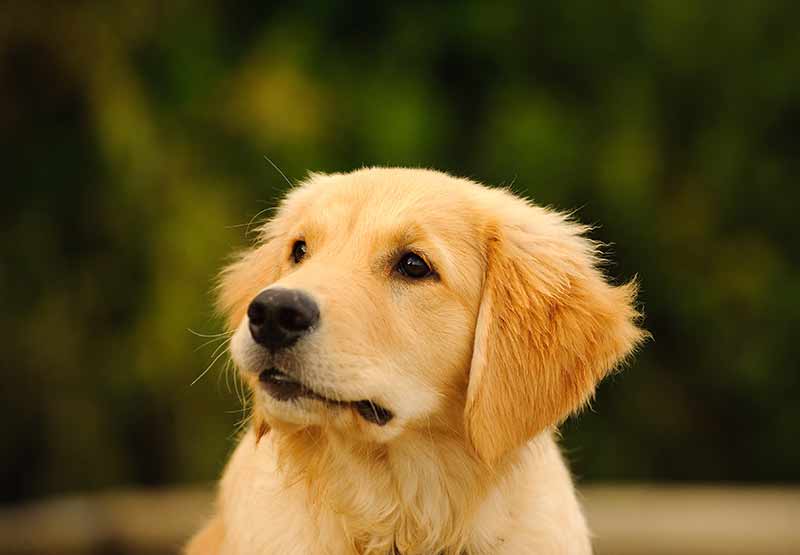 That means you need to get going right away with your new Goldie pup!
Your puppy needs to meet lots of different men and women, in different situations, children, other dogs, trains and lorries, and much much more. All from the safety of your arms.
And all before he or she is four months old
Puppy socialization is vital because it helps to prevent dogs becoming aggressive and increases the retention rate of puppies in their homes.
You can find an excellent puppy socialization plan and lots of useful information on The Puppy Plan website provided by the Kennel Club in association with international charity The Dog's Trust
Potty training your Golden Retriever puppy
At eight weeks old, your Golden puppy will just pee whenever their little bladder is full. No matter where they happen to be.
So it's important to think about how you are going to protect any carpeted areas in your home for the first few weeks.
TIP: Baby gates help keep small puppies in areas with washable floors
By eight months things will be very different. Your puppy will be able to last several hours without emptying their bladder, and will have learn to use the appropriate areas for bathroom purposes
The tricky part is getting there, and you may need a little help and support.
The aim in the first couple of weeks is to make sure you take your puppy outside at frequent intervals and wait outside with them until they empty their bladder.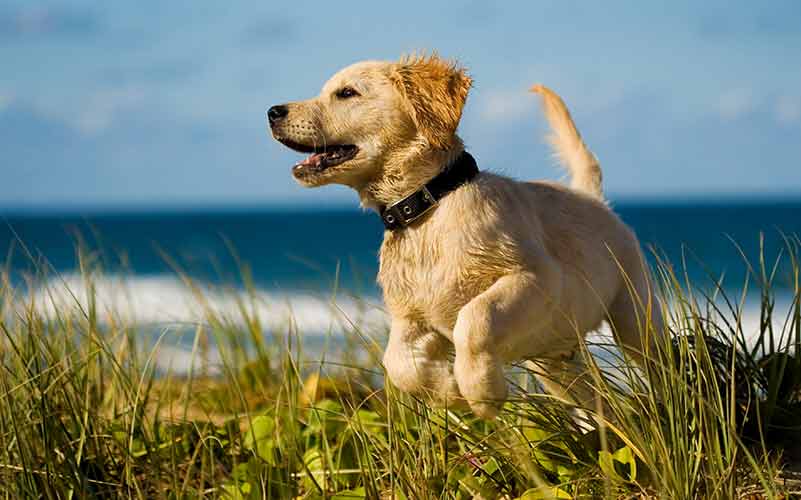 Make sure you take them out after meals and when they wake up from a nap, and whenever they are getting excited – playing with another dog for example.
When your puppy is indoors you need to supervise closely. If you need to leave the puppy for a few minutes, pop them into a small crate as puppies will try hard not to wet in their own bed.
Crates are a wonderful training aid and our expert puppy crate training guide is a great help for potty training puppy parents
Stopping your puppy from biting
All puppies bite. Even Golden Retrievers! Biting is linked to teething, but it's also an important part of play between puppies and other dogs.
Biting down on fur isn't too painful. But biting on skin really hurts and puppies have to learn not to do this.
Play biting is commonly mistaken for aggression because puppies snap and growl when they are playing. For this reason, biting is by far and away the most common reason for new puppy parents to seek help in our support forum.
Our complete guide to stopping puppies biting will help you quicky through this phase in your puppy's development
Puppy vaccinations and health care
Most of us have our puppies vaccinated. Vaccines are not completely without risk, but the risk of serious disease for unvaccinated puppies is usually considered by experts to be much greater.
Most puppy parents want to know which shots their puppies need, when their puppies can go outside safely, a few want to know what happens if they decide not to vaccinate their puppies.
You'll find information on all those topics in the articles below
You'll also find lots more information in our puppy health and care pages
Raising a Golden puppy while working
We all lead busy lives. And most of us don't have the luxury of being at home all day.
One of the most common questions we are asked is "how long can I leave my dog alone".
Many new puppy parents take time off work when they bring their puppy home. But isn't uncommon for people to think it's okay to simply leave their puppy alone in the house all day when they return to work.
This is rarely successful. Young dogs left alone for long periods tend to get up to mischief and some become extremely distressed, extremely destructive, or both.
And you cannot successfully house train a puppy if there is no-one there to let the puppy outside
Raising a puppy while you work full time is possible, but it takes planning and thought.
You can't leave a puppy shut in a crate all day so you'll have to get help in the form of a doggy day care placement, or a professional dog walker, or a friend or relative willing to babysit your puppy for a few hours each day
Check out this article Doggy daycare – choosing and using a carer for your puppy and join the forum to talk to other puppy parents that have juggled work and puppies successfully.
Golden Retriever puppy training tips
You have a great advantage when starting to train your Golden Retriever puppy because Goldens are a highly co-operative breed and most Golden puppies are very easy to train.
You also have a range of fantastic guides right here on the site. The Happy Puppy site was created by dog expert Pippa Mattinson you'll find many of her puppy training guides and a range of guides by our team of highly qualified professional dog trainers, in our training section.
Here are some to get you started!
They are packed full of training tips and information, together with links to more advanced training topics. You can also check out our puppy training archives.
Golden Retriever puppy feeding schedule and guide
Small puppies need small and frequent meals. As a rough guide
Four meals a day until three months
Three meals a day until six months
Two meals a day until one year
We've written about our favorite foods for Golden Retriever puppies here.
Many people worry a lot about getting food quantities and schedules exactly right and want to know how many ounces or grams of puppy food to give their Goldie pup at each stage of their lives.
You can find all this and more in our guide:
Try not to worry too much – it isn't an exact science!
Golden Retriever puppy growth
As a medium to large breed, Golden Retriever puppies carry on growing up to and beyond their first birthday. In fact growth isn't complete until the middle of the second year.
However, those last few months are mainly about 'filling out' and your Golden puppy will have reached close to their maximum height at between 9 and 12 months of age
You can read all about puppy development stages and puppy growth in our guide:
It's full of fascinating puppy growth facts
Where to get a Golden Retriever puppy
It's a good idea to buy a puppy from a reputable breeder. This helps to avoid lack of health test certificates, poorly puppies, and other disappointments.
Home bred puppies can be very nice if the owners have taken the trouble to health test and raise their puppies responsibly. Whatever you do, avoid puppy mills and pet stores.
A responsibly bred Golden Retriever puppy will usually cost you around $800-$1000 in the USA (£700-£800 in the UK)
Don't forget that the cost of sale is just the beginning. Your biggest expense is likely to be annual pet health insurance. It's a good idea to get some quotes in for this – it will be several hundred dollar a year.
You can find breeders through your national golden retriever breed club.
Here are a few Golden Retriever breed clubs from around the world
If you email the club secretary they'll be able to let you have details of reputable breeders in your area.
Golden Retriever Puppy Rescue
It is also sometimes possible to rescue Golden Retriever puppies that have been relinquished to an animal shelter or a Golden Retriever rescue society
Puppies in shelters tend to get rehomed quite quickly so you'll need to put your name down with a number of shelters and wait for a litter to come up.
You can find a list of rescue centers on our main breed information page
Male Golden Retriever puppies
If you haven't chosen your puppy yet, you may be undecided between a male and a female. There are a few differences in their needs and care, but not as many as you might think
In some breeds there are greater tendencies to aggression in males compared with females. And people do worry that a male dog might be more likely to fight or bite. However in a study released in 2008, Golden Retrievers were among the breeds least likely to show aggression to other people or dogs.
We have not seen any evidence that male Goldens are any less likely to be good tempered than females.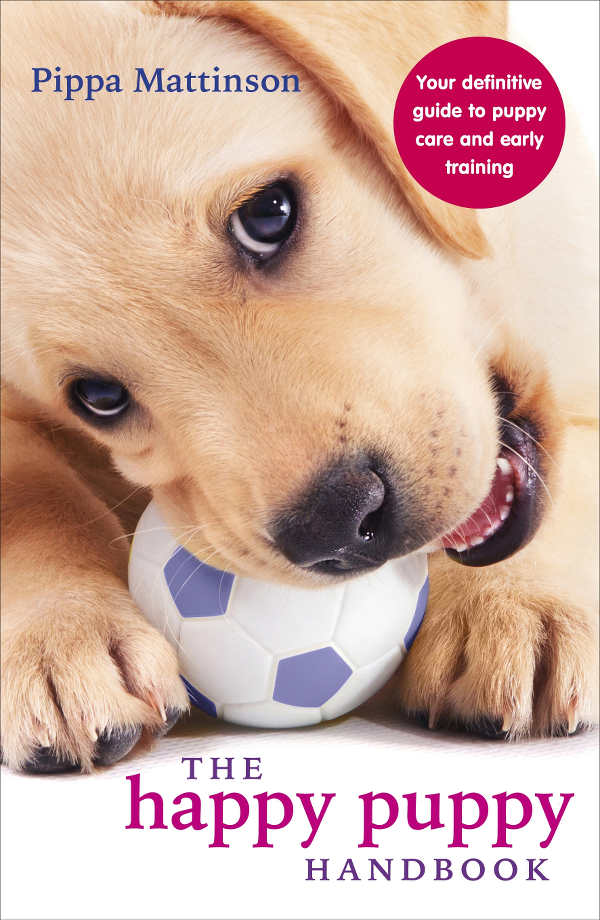 The Perfect Companion For Life With A New Puppy
And it's reasonable to assume that your male Goldie is likely to be as friendly and affectionate as his sisters.
Female Golden Retriever puppies
Female Golden Retrievers need a little more care than males unless and until they are spayed. That's because female dogs come into heat every six months. And need careful protection from males to ensure that they don't become pregnant.
Neutering was once thought to be the easy solution but has now been linked with a number of different types of cancer, and with joint problems, in this breed. So it isn't a straightforward issue
If you don't have your female golden spayed, you'll need to keep a close eye on her for a few weeks after the end of each season as infections of the womb are common at this time.
Should you decide that you want to have your dog neutered – and in some regions you may be legally obliged to do so, then you'll find that neutering a female is a more expensive procedure with a longer recovery time than neutering a male.
You'll find lots more information to help you decide between a male or a female puppy in our guide Male Vs Female Dogs
Golden Retriever puppy products and accessories
Golden Retriever puppies grow into big bouncy dogs that love to chew and retrieve. We have a great list of products and accessories for your golden pup. And you can find more reviews on our main products page
Here are some you might enjoy:
Puppies are great fun, but they can also be hard work. At times you'll benefit greatly from the support of other new puppy parents
Getting help and advice with puppy problems
We used to be able to help new puppy parents by answering questions in the comments on this website. But there are now so many that we needed a better way
Do check out our support forum. You're welcome to simply browse and read the answers to other people's questions. Or you can join in and ask your own.
It's free and we'd love to see you there!
Are Golden Retriever puppies good family pets?
At times, when your puppy is small, you may question whether or not you have made a mistake in bringing a Golden Retriever into your home. There is a period of adjustment, often known as the 'puppy blues' when raising a puppy can all seem a bit much.
Rest assured that Golden Retriever puppies do grow up into great family dogs. They have one of the best temperaments of any dog breed and are ideally suited to a young and active family
There are situations where it might be better to wait before buying a Golden puppy. If you have very tiny kids – remember that Goldens are fairly large dogs and are very boisterous when young. Picking up a toddler and drying their tears for the tenth time before breakfast can become wearing.
Think about the exercise needs of an active dog. If you can't walk very far, this probably isn't the breed for you.
If you have a very small home, or live in an apartment, think carefully before adding a big (and potentially muddy) dog to the mix.
Are you expecting a Golden Retriever puppy? Do tell us all about them in the comments below – and don't forget to join our forum community!
References and resources
Duxbury et al. Evaluation of association between retention in the home and attendance at puppy socialization classes. Journal of the American Veterinary Association. 2003
The Puppy Socialization Plan. The Kennel Club and The Dog's Trust
Duffy et al. Breed differences in canine aggression. Applied Animal Behaviour Science. 2008
Torres de la Riva, G et al. Neutering Dogs: Effects on Joint Disorders and Cancers in Golden Retrievers. PlosOne 2013