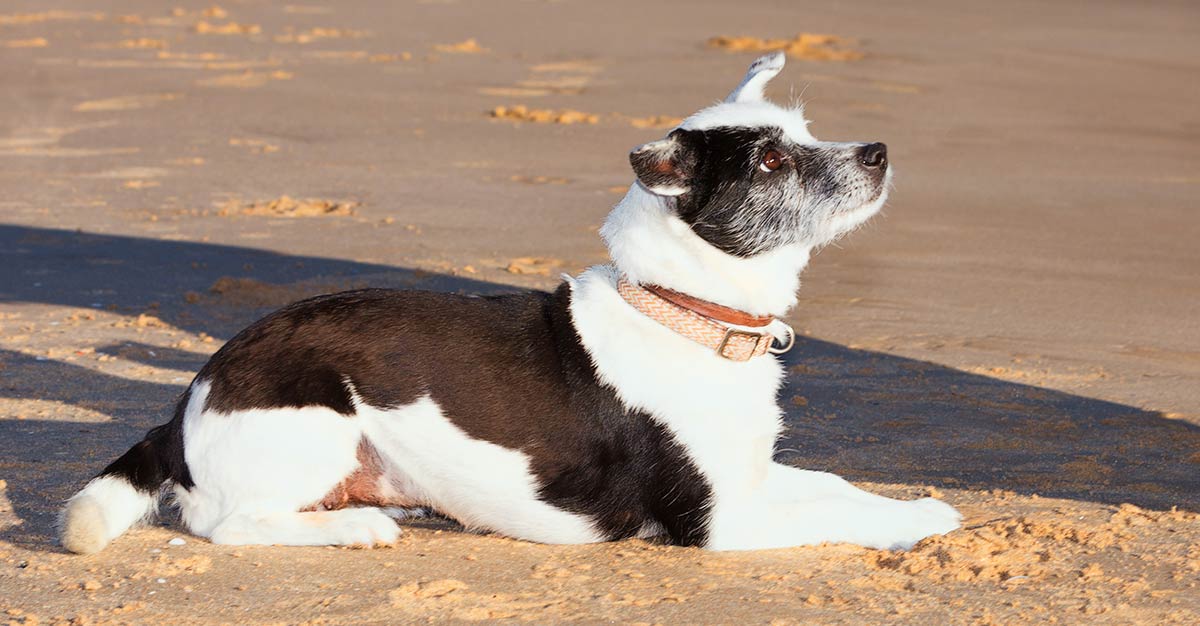 Today's article shows you three different but equally effective ways, to get your dog to lay down.
You can choose the method which appeals to you most, they all work.
My dog won't lay down!
If you are struggling a bit with the 'down' command, you are not alone.
Teaching 'down' is not quite as straightforward as teaching sit.
Most dogs sit a lot.
The sit position is just what dogs do.
Getting a dog into the 'down' position can be a bit more troublesome.
Because it isn't an entirely natural one for most dogs to adopt regularly throughout the day.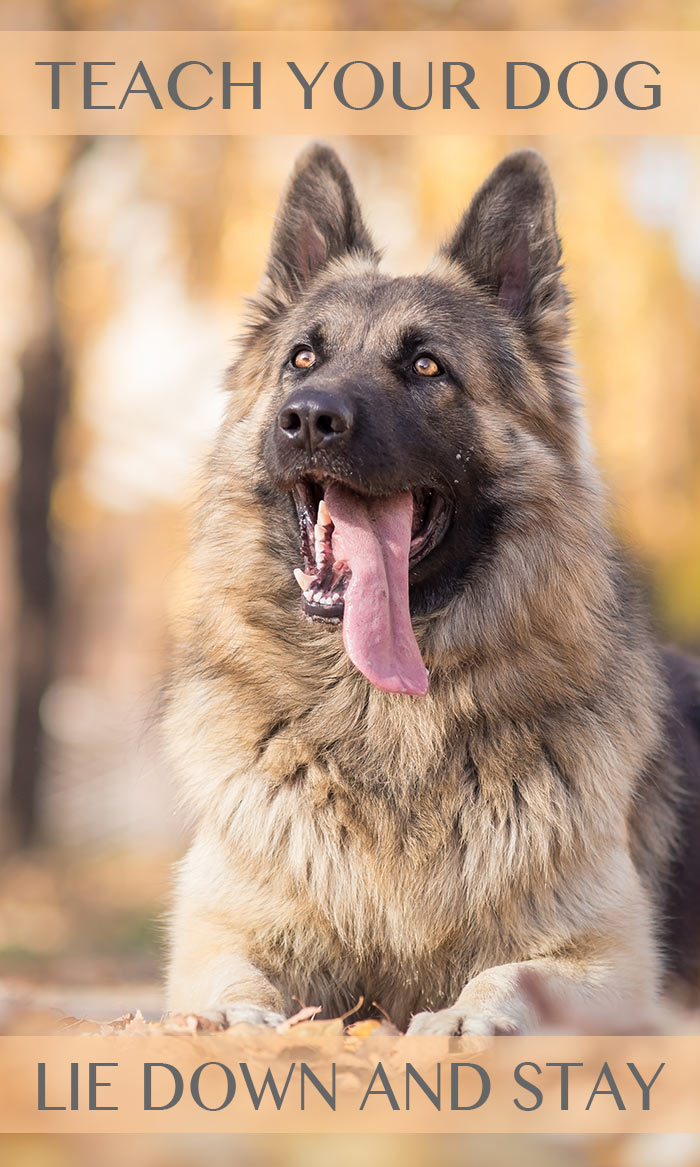 Once your dog is in position, it isn't the end of the story either. It is just the beginning.
The longest part of all training is getting the dog to hold a position amongst distractions. You can find out lots more about this in our article on Dog Distraction Training
For now we're going to look specifically at getting the dog into a down position and keeping him there for a few seconds.
Three ways to teach down
There are basically three different ways to get your dog lying down tidily in front of you.
All of them are fun, so I'll explain each one separately here.
In every case, you will need to get the dog to lie down before teaching him the word for down.
This is stage one dog training – get the behavior first.
All of these methods use an event marker.
You can use a word like YES or GOOD if you want to.
But I recommend a clicker as this is the most precise event marker available.
Method 1: Capturing
Method one is for those with time on their hands, and a dog that lies down naturally quite a lot.
Put your dog on a lead. Get a book, a clicker, and some treats.
With the dog's lead in your hand, sit in a comfortable chair.
Act like you are starting to read your book, but keep one careful eye on the dog.
When he lies down, click and treat.
Make sure the dog stands up afterwards, walk him around and return to the chair if necessary.
Rinse and repeat.
Warning – with some dogs the first two or three downs can take a long time!
Once the dog has had 5 to 10 rewards, he will probably start to lie down more often.
You might need to abandon your book at this point.
When he is lying down as soon as you sit in the chair, try standing in front of the chair for a few seconds, to see if he will offer you a down, before you sit in your chair.
Try this again at intervals.
Once the dog is lying down as soon as you reach your chair, you can stand still in different parts of the room and wait for a down.
Method 2: Shaping
Shaping is a way of moulding new behaviors be rewarding increasingly close approximations to that behavior.
Down is not the easiest skill to shape, so if you are going to use the shaping method I suggest you practice shaping first. The best way to do this is with the 4 paws in a box trick.
Once you have some skill at shaping you can begin to shape a down.
One way is to start with your dog in the sit position, and begin marking and rewarding the dog for lowering his head.
Start with any 'dip' of the head your dog makes, then occasionally stop rewarding these small dips and wait for the dog to make a bigger dip.
You can do this with the dog in the standing position, and may need to if your 'sit' is not yet very reliable.
Alternatively you could try the third method, luring.
Method 3: Luring
This is how I teach down these days.
As with luring the sit, luring the down gives you more control over the down position.
Better still, it gets you a neat 'down in one' with all four legs folding back at the same time, unlike the shaped or captured down which tends to be a sit followed by (an often slumped) down.
It is easier for the dog to learn new things if we keep the responses we require neat and consistent.
You can find read detailed instructions on getting your dog into the down position here and watch a helpful Kikopup video here:
Adding a 'down' cue or command
When your dog is dropping quickly into the down position to earn his reward, you can add a down cue.
This can be the word 'down' or 'lay down', or it can be a hand signal. You can teach both eventually so that they are interchangeable
Teaching a dog to stay
Of course, when you ask your dog to lie down, you won't normally want him to get up again right away. You'll want to add some 'duration' to your down. Or what we call a 'down stay'.
Teaching your dog to stay in any position is done in exactly the same way, by teaching the dog a release cue, then building up durations very gradually, literally three to five seconds to begin with.
Add a few seconds at a time to keep your dog winning.
If you want to add move away from your dog on the stay, you'll need to bring duration right back down again for a while.
And if you want to add distractions, for example keeping your dog on the down whilst other dogs pass by, you'll need to bring both duration and distance right back down too.
You can read more about the principles of building up distance and duration in The 3 Ds of Dog Training
Training sessions
Try to train for a few minutes at least once, preferably twice a day. Have a day off every four or five days as this has been shown to help a dog absorb what he has learned.
Once the dog drops quickly into the down position on your cue, you can start building duration (the stay) and adding distance.
Remember, add duration slowly, a few seconds at a time, with the dog next to you to begin with.
Add distance (between you and your dog) very slowly – a few feet at a time. Reduce the duration of the stay when you first add distance
Don't add more distance until he is reliable at the current distance.
How to teach a dog to lay down – summary
Training should be an enjoyable experience for you and your dog, and using the positive reinforcement techniques shown above you will be onto a winner.
Choose one of the three methods above. Spend 5 minutes, once or twice a day practising with your dog
Write down what you achieve each session, and what you want to achieve in the next session
Take your time, and build up distance and duration very slowly, so that you set your dog up to win
Whichever method you use, remember to have fun and stay positive. And don't forget to let us know how you get on in the comments box below!