Today Pippa answers the question "why do dogs roll in grass?"  
My elderly Labrador Tess loves nothing better than a good roll around on her back.
She'll roll on hard surfaces like concrete or paving stones. But like many dogs she especially likes to roll in grass.
And she is not alone.
Many dogs roll in grass on a daily basis if given the opportunity. And look utterly blissful while they are doing it.
Others never seem to roll around on their backs at all. My younger Labrador Rachael rarely rolls.
So why do some dogs love to wriggle and squirm around on their backs? Are they trying to scratch an itch?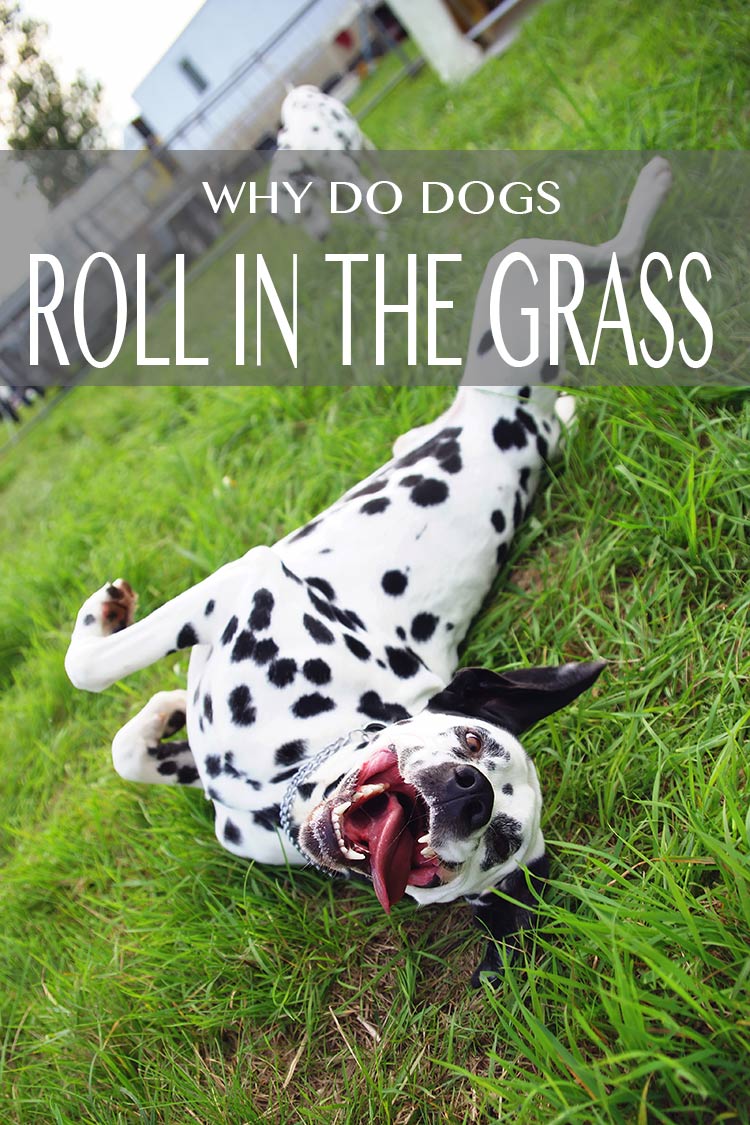 Or is there some other reason.
Actually there are a number of reasons why a dog might roll in the grass. Let's take them one at a time
Dogs that roll to change their own body scent
Mostly, to the human nose, grass just smells like, well, grass. But to a dog, one patch of grass may smell quite different to another.
Some grassy places may contain the scents and smells left behind by other animals. Urine for example.
And your dog may be rolling to cover himself in this scent.
Dogs that roll in poop
Even worse, you may have a dog who loves to roll in grass that other animals have pooped in.
My own Lab Tess really loves to roll in fox poop, which has a very strong smell indeed.
This is separate from her other grass rolling activities, where she lies right on her back.
When she 'poop rolls' she tries to get the poop on her shoulder and the side of her neck and face.
This is typical of dogs that roll in poop or dead things.
Instead of squirming around on their backs, then tend to try and rub the stuff on their shoulder and the side of their face.
Why do dogs roll in dead stuff and poop
Why dogs like to cover themselves in such a strong smell is questionable.
You could argue that dogs roll in the urine of herbivores like rabbits or sheep in order to disguise their own scent as predators.
But that doesn't explain why some dogs like to roll in the feces of other carnivores.
Rolling to tell a story!
Another reason may be that the dog is using the smell to convey information to other dogs in his family group.
A bit like saying "Hey, some foxes came past here yesterday"
Wolves have been observed doing this, and tend to aim their face and neck at the stinky stuff, just like my Tess.
Dogs that roll to smell better!
For a dog, changing his body scent may be especially desirable if he has been given a bath or been laying in a scent that he doesn't like very much.
Sadly he may prefer the smell of rabbit pee, to that fancy shampoo you just bought for him.
It's one of those mysterious topics we may never fully understand. Maybe its as simple as your dog just thinking he smells better his way than yours.
Rolling to relieve irritation
One thing you may suspect when you see your dog squirming around on his back, is a nasty dose of fleas.
While it is possible your dog is rolling to relieve an itch, the symptoms of fleas are usually fairly easy to identify.
A dog with a flea infestation tends to mainly nibble around the base of his tail and scratch the back of his head with a back foot.
By all means check your dog's skin to make sure there is nothing irritating his back, but the chances are he is rolling for other reasons.
Rolling to help loosen dead hair
Some dogs shed hair, a lot of hair. As this hair starts to come loose, it probably feels a bit uncomfortable.
Don't Forget To Add Your Dog!

Rolling on his back, especially in coarse grass, may help your dog to loosen some of this dead hair and hasten up the shedding process.
Your dog will bend his body this way then that, so he is rubbing himself on the grass.
A bit like being given a vigorous brushing
Once the hair is rubbed out, your dog will most likely feel cooler and more comfortable.
The rolling and rubbing process also probably helps to 'freshen up' his coat, by getting some daily dust and grime out of his fur.
Why do dogs roll in grass – could it be for a massage?
We all know how nice it feels to be massaged. Tight muscles get loosened, and the end result can be both relaxing and invigorating
When a dog rolls on his back on the ground he arcs his body from side to side, giving those back muscles a really good massage against the firm ground.
He may prefer to do this on grass than on a really hard surface, simply because it softens the surface enough to the experience pain free, but is still firm enough to get a good massaging effect.
Is rolling dangerous
Some of you may have heard that you shouldn't let big dogs roll in case it twists their stomach.
Or you may be worried that rolling in feces will give your dog an infection.
The first thing to say here is that if you have a dog at risk from bloat, do talk to your vet about his enthusiasm for rolling. He'll be able to advise you and put your mind at rest
Does rolling cause bloat?
Rolling may make it easier for a stomach to become twisted. The risk of twisting or torsion is associated with a condition called bloat, where the stomach becomes very distended.
Some dog trainers don't teach big dogs to roll over as they are concerned about the risk of torsion.
This is a twisting of the stomach that can happen to dogs that 'bloat'.
It is very dangerous, but is not something that happens to most dogs. It tends to happen to some large, deep chested dogs.
While it probably makes sense to discourage a dog from rolling after eating a large meal, rolling doesn't seem to be indicated as a risk factor in any of the current published studies on bloat.
So, if you have a dog that is at risk from bloat, talk to your vet about any concerns you have, and try not worry.
Does rolling in grass or poop make my dog prone to infection.
Fortunately, dogs tend to be very resistant to the common pathogens found in animal feces and can often even eat these without ill effects. Let alone roll in them.
There is a small risk of your dog getting parasites, such as intestinal worms by licking the mess off his fur, so try to wash as much off as you can if he does this.
Some skin parasites, especially ticks, can be found in grass, particularly in areas frequented by sheep or deer.
So it makes sense to check your dog over regularly if rolling in grass is his thing, and to use a preventative tick treatment to help keep ticks from attaching .
Why do dogs roll in grass – summary
We don't know for sure, but rolling on his back in the grass may loosen dead hair, give your dog a nice massage, relieve an itch, or just (in his view) make your dog smell better!
Some dogs roll to cover themselves in stinky stuff, and dogs that do this may be instinctively trying to communicate with other dogs, in the way that their ancestors did.
Whatever the reason, rolling is normally harmless fun and provides many dogs with a great deal of pleasure.
What does your dog like to roll in?
Why do dogs roll in grass – what do you think?  Does your dog like to roll in grass? And why do you think he does it?
Share your thoughts in the comments box below!