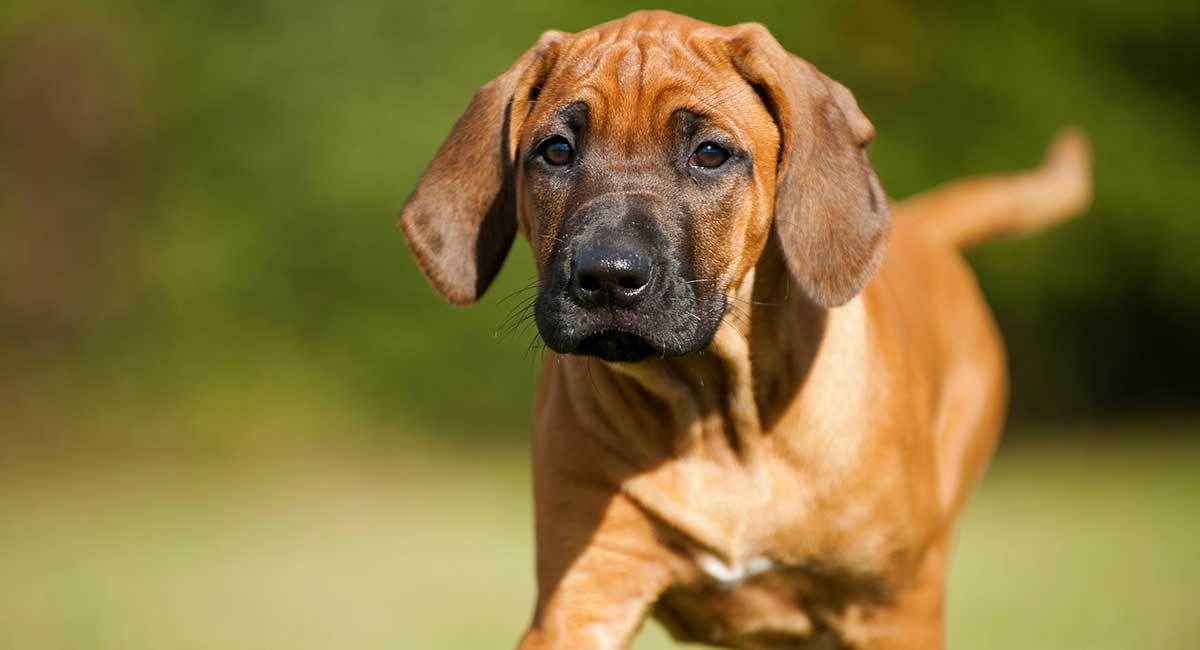 In this article, we explore the pros and cons of Rhodesian Ridgeback temperament.
This breed is known for being loyal and intelligent, but does that make them territorial too?
The work of their early ancestors frequently involved hunting and guarding duties, so does that make them aggressive?
Can Rhodesian Ridgebacks get along with kids and other other animals?
Let's find out!
History of the Rhodesian Ridgeback
A dog breed that was developed in South Africa, the Rhodesian Ridgeback's ancestors can be traced back to the Khoikhoi hunting dogs which were bred with European dogs.
F.R. Barnes drafted the original breed standard for the Rhodesian Lion Dog in 1922. Subsequently, in 1927, the South African Kennel Union approved the name 'Rhodesian Ridgeback'.
In 1955, the American Kennel Club recognized the Rhodesian Ridgeback breed as a member of the hound group.
This breed has a muscular frame with a short and smooth coat. Bearing the trademark "ridgeback," their spine has a line of hair that grows differently to other hairs. Their head is also long with a wide skull and a deep-set muzzle.
They are high energy dogs in their puppy years. However, after a few short years, the Rhodesian Ridgeback's temperament means they can mature into calm companions.
Since these dogs are full of energy, they will need long walks or hikes to keep them happy and healthy.
The Typical Rhodesian Ridgebacks Temperament
This breed is active and aren't likely to lay around in your yard or house all day. In fact, young Ridgebacks are boisterous, prone to boredom, and can dig big holes in soil or furniture!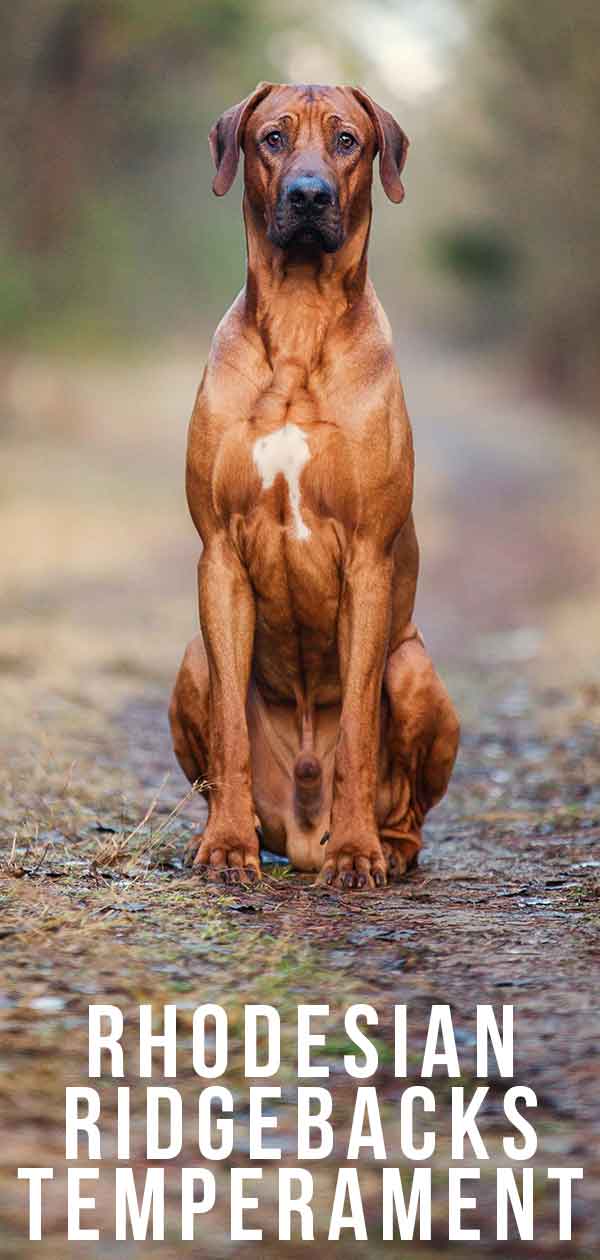 The Rhodesian Ridgeback's temperament means it is a confident and independent breed.
Bred to hunt, the Rhodesian Ridgeback is used to working solo and making decisions without help or influence from other dogs or people.
Needless to say, this ability comes from possessing lots of confidence and intelligence too!
Since so many of their forefathers worked as guard dogs, many modern Rhodesians are still wary of unfamiliar faces.
They might take a bit of time to warm up to new visitors, but with their family they're famous for being soft and affectionate.
Great training and socialising will help a clever Rhodesian channel their intelligence wisely, and a shy Rhodesian make friends confidently.
Let's see what that looks like next.
Are Rhodesian Ridgebacks Easy to Train?
Like many hunting breeds, the Rhodesian Ridgeback temperament often features an independent streak.
What does this mean?
Well since these dogs would have been used to working at a distance from their owner, they learned to make decisions and act on them without immediate reinforcement from their handler.
That means their behavior can't always be easily swayed be treats and praise – they might not be so motivated by these things as, say, the people-pleasing Labrador.
However, they have a strong work ethic and need to be busy. And they have the brainpower to master quite complicated tasks.
So they can be trained with positive reinforcement techniques, but it might prove a daunting task for a novice dog trainer.
However, you must never resort to punishment or negative reinforcement with any dog. Also bear in mind that old ideas of dominance in dog obedience are outdated and disproven.
Rhodesian Ridgeback temperament – Choosing the Right Training
The perfect Rhodesian Ridgeback does not come pre-trained out of a box. It takes a lot of hard work, dedication, and love to get them to where you want them to be.
When you bring your Rhodesian Ridgeback puppy home, give them a few days to settle, then leap straight in with teaching them good behavior.
Our Puppy Training Guides include lots of helpful information to get you started.
Make socialising them a priority, by arranging lots of introductions to the people and places they'll encounter as an adult.
As long as they have positive and rewarding experiences with new people and surroundings now, they'll carry that confidence through their whole lives.
If possible, get them into a puppy class by the time they are ten to twelve weeks old. This will help them socialize and get used to other dogs.
Be aware that some puppy class requires certain vaccines to be up to date.
Are Rhodesian Ridgebacks Friendly?
The Rhodesian Ridgeback's temperament means it is calm and easygoing with family members.
However, they can be wary of unfamiliar faces, and this can turn into fearful aggression if they are not socialised properly.
Teaching them early on that guests and other dogs are welcome will help them be more welcoming later on in life.
The Rhodesian Ridgeback is particularly noted for aggression towards other dogs, and it's never to early to help them overcome this.
Ask your breeder if your puppies will get an chances to meet other dogs before they come home with you.
Many Rhodesian Ridgebacks still have a high prey drive, which means they're best not kept with cats and other small pets.
Are Rhodesian Ridgebacks Aggressive?
Rhodesian Ridgebacks were originally bred to hunt and guard property. But this doesn't mean they should be aggressive.
The most common reason for aggression from dogs who aren't in pain is fear.
A happy, confident, well socialised dog, who has been trained with patience and positive reinforcement techniques has no reason to become aggressive.
However they might be prone to destructive chewing.
This is almost always an indication that they are bored or not getting enough exercise.
If they do start to chew on things like shoes or furniture, you will want to step up their daily exercise routine, and make sure it stretches their mind as well as their muscle.
Also, when you leave the house make sure they have plenty of toys or bones to chew on.
Natural Instincts of the Rhodesian Ridgeback
The Rhodesian Ridgeback has a dignified temperament. They are usually quiet and do not bark.
They are loyal and affectionate to their family, but can be wary around the unknown, which can lead to aggression.
They are smart and alert workers, who can focus on the task at hand with diligence and stamina.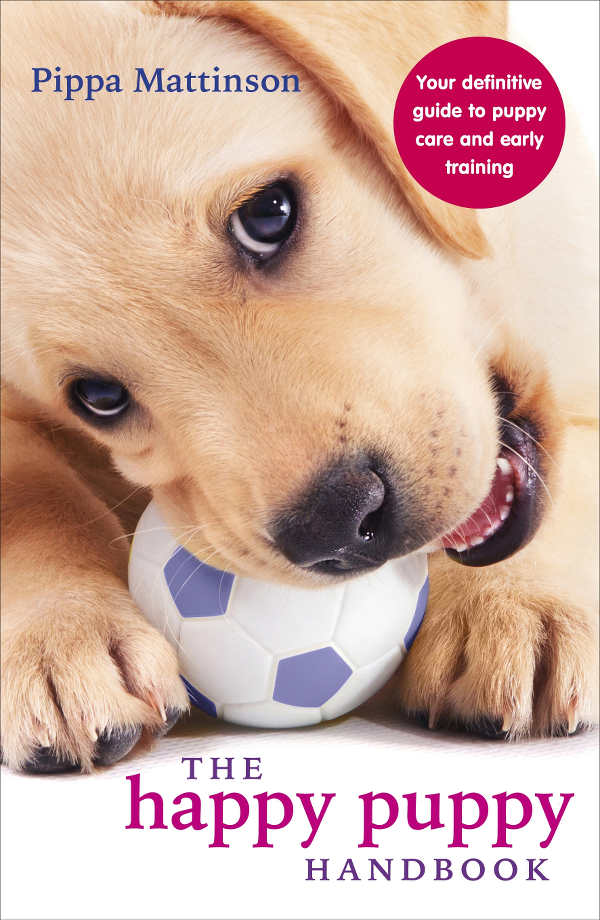 Furthermore, the Rhodesian Ridgeback's temperament means it possesses an innate prey drive due to their history of running and hunting.
This makes them active dogs that require daily exercise to keep them in shape and to keep them from being bored.
Boredom may lead them to chew, bark, and dig. All these things can be destructive inside the house, so it is important to meet their exercise needs.
Are Rhodesian Ridgebacks Good Family Pets?
The Rhodesian Ridgeback is loyal, affectionate, and protective. They also get along well with children if raised properly.
The Ridgeback has an even temperament when they are mature while being a fun-loving, curious and rambunctious companion.
Like all animals, you can expect some health issues. This breed can suffer from hip dysplasia, dermoid sinus, degenerative myelopathy, and hypothyroidism.
In conclusion, this loving and protective dog would make a great companion for an active family if trained and properly raised to do so.
What's Your Rhodesian Ridgeback Like?
If you already have a Rhodesian Ridgeback, what's their personality like?
Have you got any words of advice for people considering this breed for the first time?
Please share them in the comments box!
References and Resources
American Kennel Club, "Rhodesian Ridgeback"
Judith K. Blackshaw "An overview of types of aggressive behavior in dogs and methods of treatment" Applied Animal Behavior Science, 1991.
R. S. BARR "Clinical hip dysplasia in growing dogs: the long‐term results of conservative management" Journal of Small Animal Practice, 1987.
E. MANN "Dermoid Sinus in the Rhodesian Ridgeback" Journal of Small Animal Practice, 1966.
Peter A. Graham "Etiopathologic Findings of Canine Hypothyroidism" Veterinary Clinics of North America: Small Animal Practice, 2007.