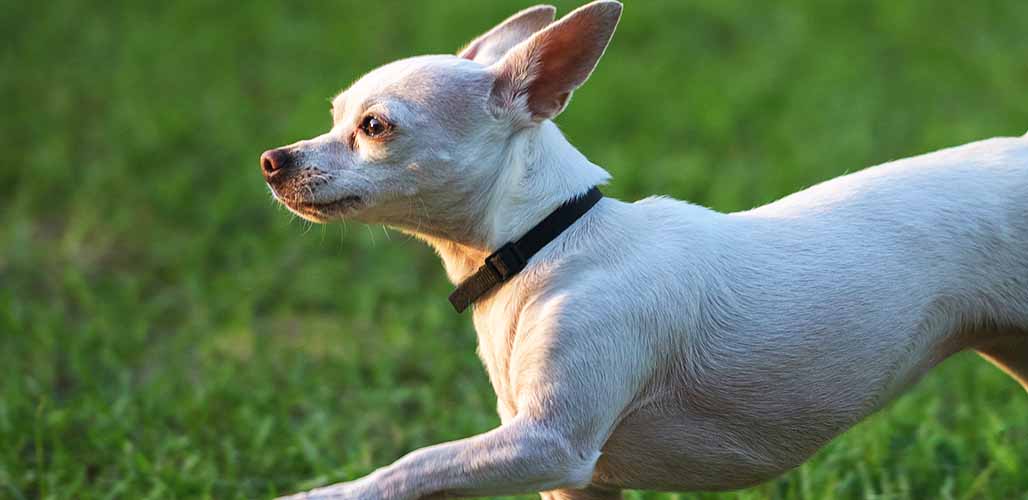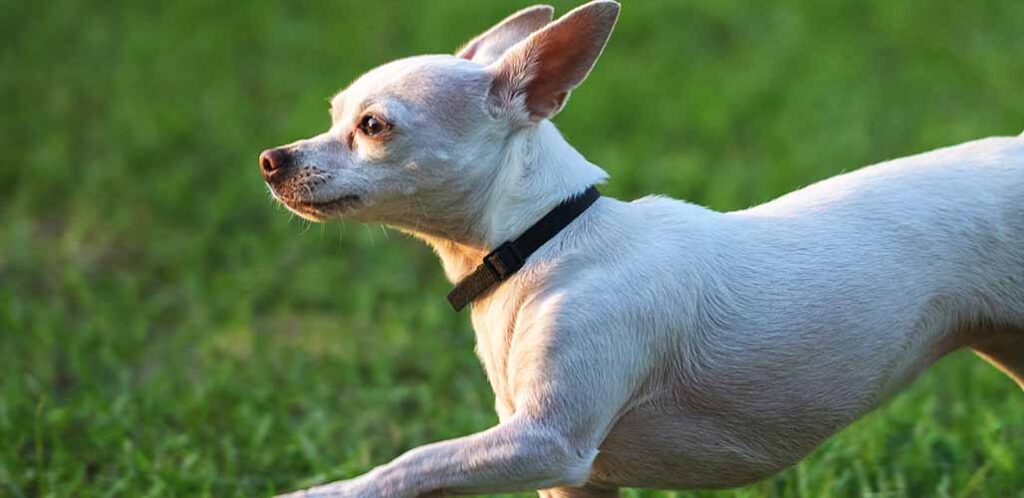 How fast can a Chihuahua run? Despite their small size, Chihuahuas are energetic and active dogs. The first time I saw one racing across the dog park I started to wonder what sort of speeds those tiny legs could reach! I found out that, on average, a Chihuahua can run up to 15 miles per hour. Though, some can be even faster! The fastest recorded speed for a Chihuahua is 22 miles per hour. A well-trained Chihuahua can run even faster than this, with speeds of up to 30 miles per hour. In this guide, I'll take a closer look at everything you need to know about the speed of Chihuahuas. Including average speed, the fastest recorded speed, and how to train your own Chihuahua to be a speedy pup.
Contents
How Fast Can a Chihuahua Run?
Chihuahuas can run pretty fast for their size. The average Chihuahua can run up to 15 miles per hour. But, the fastest Chihuahua on record ran at a speed of 22mph. And, if you train your Chihuahua, they could run even faster than that. With the right training, some Chihuahuas can run up to 30 miles per hour which are incredibly fast for such a small dog.
While this speed is incredible for a small breed, it's evident that Chihuahuas are not among the fastest dog breeds. The world's fastest dog, the Greyhound, can run up to 45 miles per hour. The second-fastest dog is the Saluki which can reach speeds of up to 42 miles per hour. These dogs are significantly larger than Chihuahuas. However, they still give the little pups a run for their money.
So Are Chihuahuas Actually That Fast?
An average dog can run at speeds of up to 19 miles per hour. This means that when it comes to speed, Chihuahuas are still slightly below average. The speed of a Chihuahua is still quite impressive, however, when you consider their small size. They are one of the world's smallest dog breeds, yet they can still reach high speeds.
It's also important to note that Chihuahuas run faster than humans. The average human can only run at speeds of up to 10 miles per hour. This means that if you're ever in a race against a Chihuahua, you will need to give them a head start.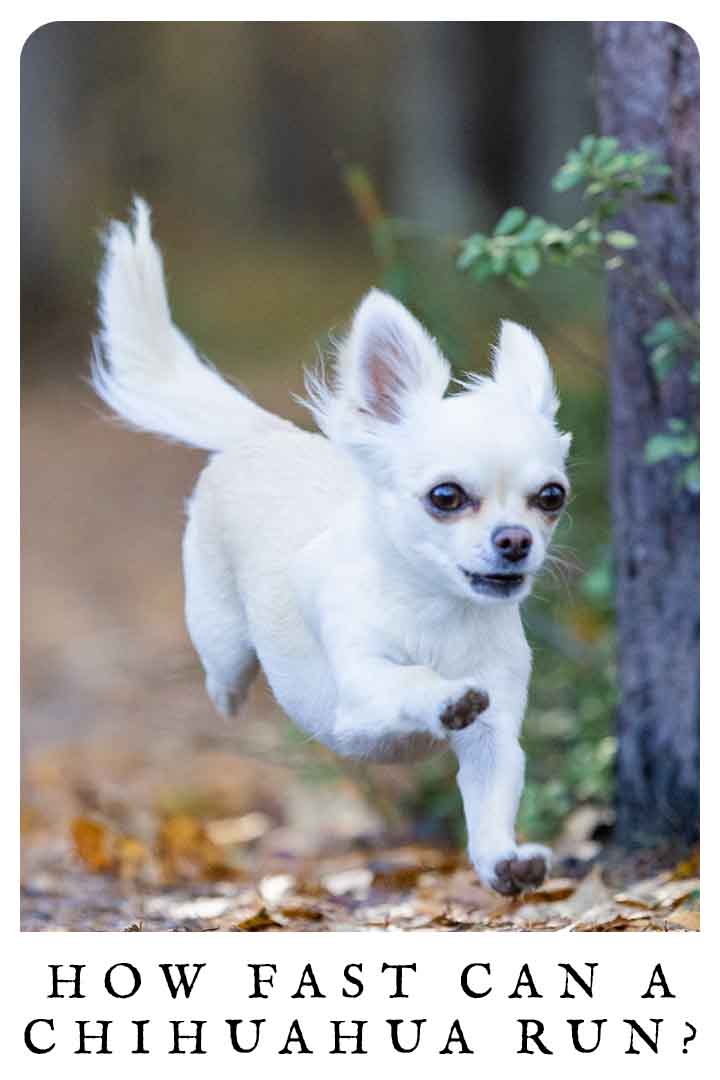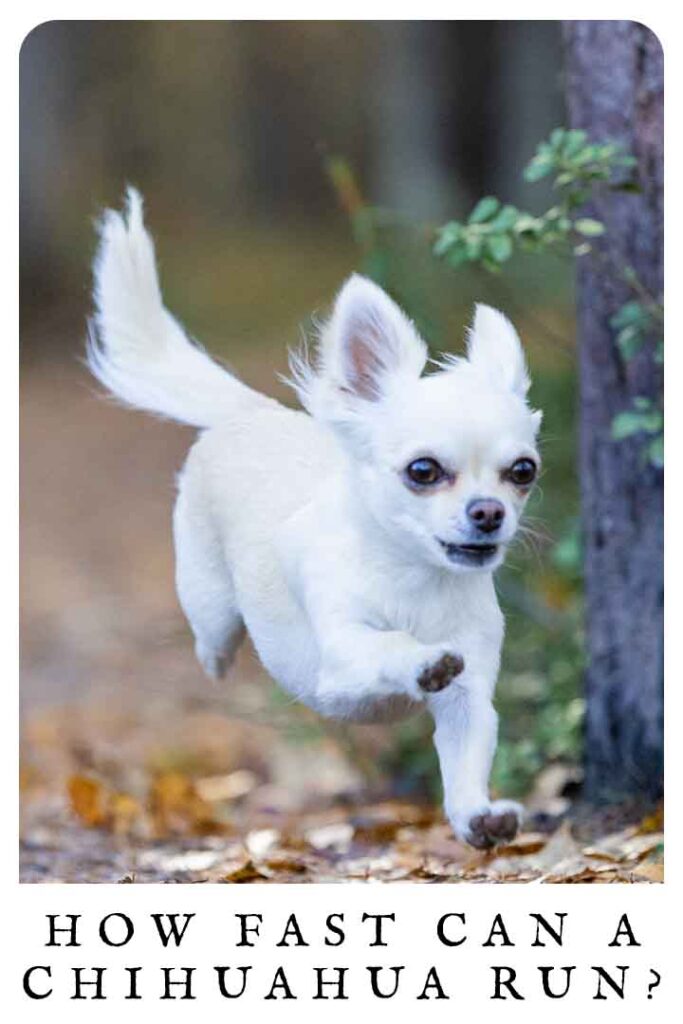 What Determines the Speed of a Chihuahua?
While many Chihuahua owners may like their dogs to run faster than their average speed, there are a few factors that can influence the speed of these pups. According to scientists, dogs' bodies have natural safeguards that keep them from running too fast.
Two main factors determine the top speed of a dog, its stride length and its stride frequency. A dog's stride length is determined by the length of its legs. The longer the legs, the longer the stride.The other factor is stride frequency, which determines how fast the dog's legs move. The faster the legs move, the more frequently the strides occur, and the faster the dog can run.
While Chihuahuas have relatively short legs, they make up for it with their high stride frequency. Their legs move very fast, which allows them to reach high speeds.
Do Chihuahuas Like Running?
While every dog is different, most Chihuahuas enjoy running and being active. This breed is not one that enjoys lying around all day. They much prefer to be up and about. Chihuahuas are generally full of energy.
If you have a Chihuahua, it's important to ensure they get enough exercise. A good way to do this is by taking them on regular runs or walks. This will help to keep them healthy and fit. It's also important to note that running is not the only exercise a Chihuahua needs. They also need to have mental stimulation to prevent boredom. This can be in the form of puzzles, toys, and training. As long as they get both physical and mental exercise, they will be happy and healthy pups.
How Can You Train Your Chihuahua to Run Faster?
While most Chihuahuas enjoy running, not all of them are naturally fast runners. To increase your Chihuahua's speed, you must put in some effort by training them. Luckily, training a Chihuahua to run faster is not as difficult as it may seem. Here are a few tips on how to train your Chihuahua to run faster:
1. Start with Shorter Distances
When you first start training your Chihuahua, it's important to start with shorter distances. This will help them to build up their endurance and confidence. As they get used to running, you can gradually increase the distance.
2. Use Positive Reinforcement
When training your Chihuahua to run faster, ensure you use positive reinforcement. This means rewarding them when they do something good. For example, if they run a little bit faster, give them a treat or praise them. This will help to encourage them to keep running faster.
3. Be Consistent
Remember to be consistent when training your Chihuahua. This means that you should train them regularly. If you only train them once in a while, they will not make much progress. They might even forget the things you've taught them, forcing you to start over every time.
4. Maintain a Good Diet
If your dog eats well, it'll get the energy to keep them running all day. Some energy-rich foods suitable for Chihuahuas include proteins, Omega 3s, and nutrients. You can also add supplements to their diet to ensure they get everything they need. Talk to your vet to see what they recommend.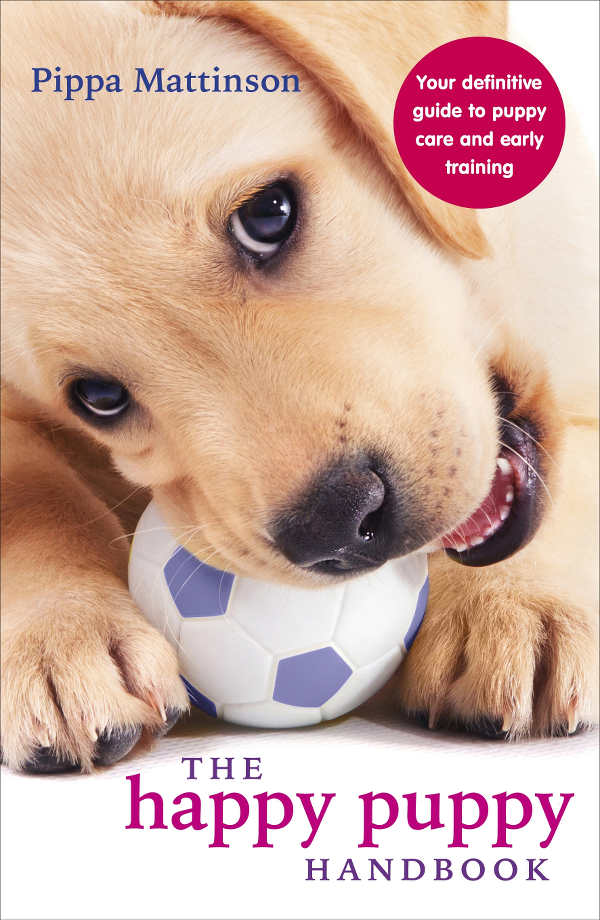 5. Have Patience
Training a Chihuahua to run faster is not going to happen overnight. It's important to have patience and prepare yourself for setbacks. If you get frustrated, it will only make the process harder. Just keep going, and eventually, your Chihuahua will get the hang of it.
6. Let Them Rest
Your Chihuahua needs time to recover from all the running. Give them plenty of breaks and let them rest when they need to. If you push them too hard, they could end up getting injured. So, have rest days in your training schedule so you and your dog can stay healthy.
In Summary: How Fast Can a Chihuahua Run?
Chihuahuas are active dogs that enjoy running and being up and about. But how fast can a Chihuahua run? An average Chihuahua can run about 15 miles per hour. However, some Chihuahuas may be able to reach speeds of up to 30 miles per hour.
While they may not be the fastest runners, with some training, you can help your chihuahua to increase their speed. Just remember to be patient, use positive reinforcement, and let them rest when they need to.
More Chihuahua Information
Can Gabepentin help a nervous Chihuahua?
Why is my Chihuahua scared of me?