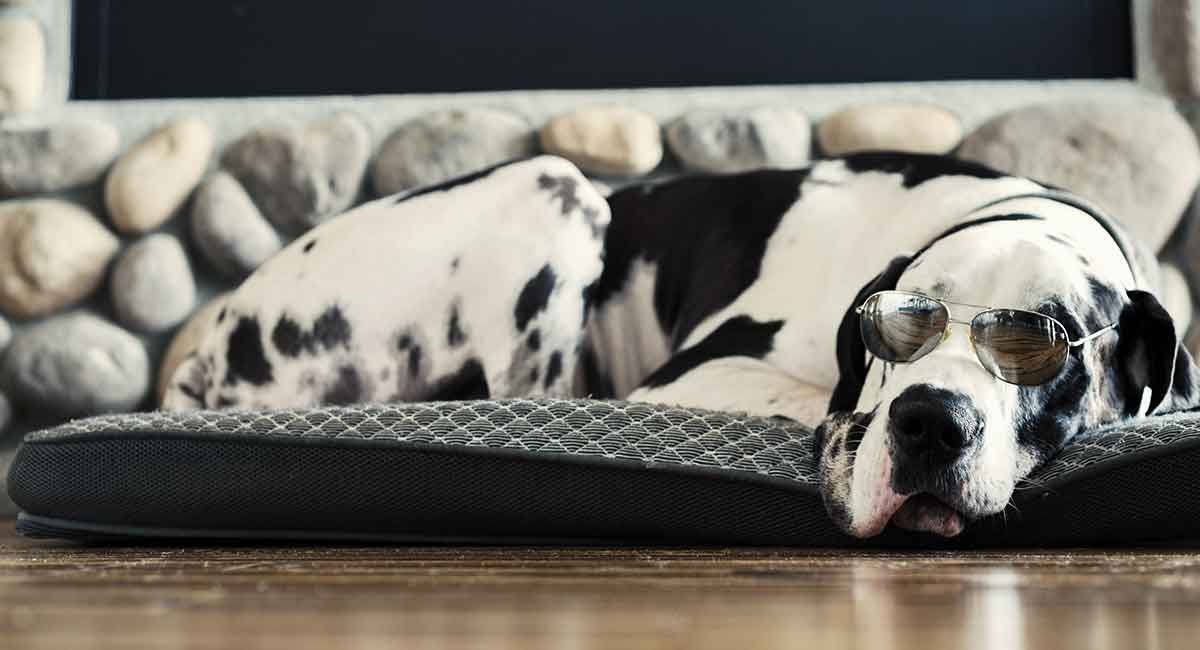 The Harlequin Great Dane is a gentle giant with an awesome pattern. This variety of our favorite large breed dog has a short white coat with black patches. They usually also have a white neck and black ears, and there can be some variation of grey patches or spots throughout the coat as well. Unfortunately, they can be susceptible to a number of health issues including congenital deafness and bloat, and due to their large size, they have a relatively short lifespan. But their health problems aren't any worse than the next color or pattern of this breed.
Contents
Standing 28 to 32 inches tall and weighing between 110 and 175 pounds, the Great Dane is difficult to miss, and the Harlequin Great Dane has the added singularity of a stunning and unique coat. Known as the gentle giant of the dog world, this stunning, oversized dog is an easy favorite with his sweet spirit and family-friendly nature.
Harlequin Great Dane Genetics
Breeding a perfect Harlequin Great Dane can take generations and plenty of trial and error. In fact, many breeders have found that just because you breed two Harlequin coated Great Danes does not guarantee that their litter is going to lead to Harlequin Great Dane puppies.
The result of your dog's color is ultimately determined by the colors, black and red. All dogs carry these foundation colors and these serve as the base for all other coat color variants.
The coat color a puppy inherits will depend on the genetics it receives from its parents, but there is also quite a bit of chance thrown in.
Even Harlequin Great Danes carry these two foundation colors in their genetics, which is why it is not always guaranteed that two Harlequin Great Danes will make a Harlequin puppy.
Harlequin Great Dane Grooming
Although Great Danes have short coats and are minimal shedders, they do shed seasonally, and their sheer size alone can mean they will produce quite a bit of loose hair.
For the most part, brushing your Great Dane once a week should suffice and help keep loose hair at bay and his beautiful coat looking healthy.
Luckily, Great Danes only need occasional baths unless they get particularly mucky.
And, like all dogs, your Harlequin Great Dane will need his ears checked and cleaned regularly to keep moisture, debris, and wax from building up and causing infection.
In addition, it's worth keeping nails trimmed or ground down regularly to keep them from cracking or breaking, which can be extremely painful for the pooch and lead to infections.
Coat Color vs Temperament
Coat color really has nothing to do with the overall temperament of your dog. Unless they have been aggressively line bred to give a particular color or pattern. Which is not the case for the harlequin Great Dane.
These big dogs are as sweet as can be and spend most of their days lazing about and enjoying family life. Great Danes are patient with children and get along with just about everyone, although that doesn't mean this is the breed for everybody.
One of the most endearing things about this breed is that they seem to have no concept of their actual size. In fact, all the ones I've met consider themselves a lap dog of sorts, much to my amusement.
And while sweet natured and friendly, Great Danes make wonderful protectors of the home. They will certainly alert their family to anything suspicious nearing their domain!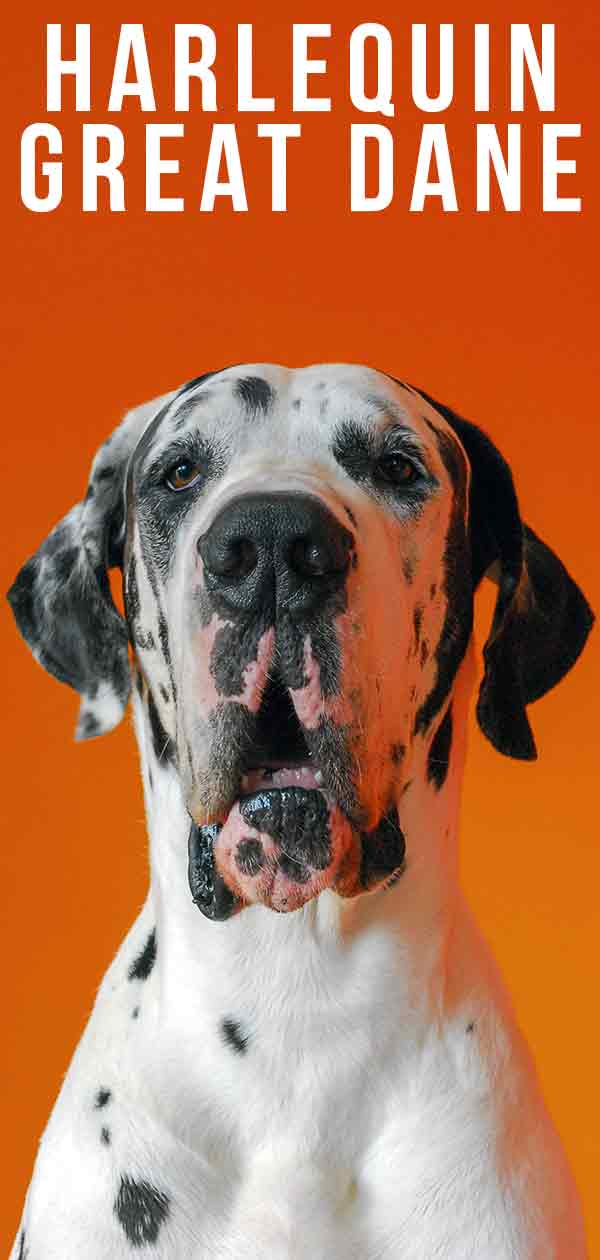 Harlequin Great Dane Health
Unfortunately, coat color and the health of certain dogs have been proven to go hand and hand. Coat color and congenital deafness can be related. Dogs with lighter colored coats are more susceptible to genetic hearing issues and deafness.
This massive dog can be susceptible to a number of other health issues due to his massive size too. Even with responsible breeding practices, potential owners should keep an eye out for health issues including
Congenital Deafness
Cardiac diseases
Hypothyroidism
Autoimmune Thyroiditis
Hip Dysplasia
Bloat