We all know a Great Dane when we see one. After all, they are huge! These regal animals stand almost three feet tall at the shoulder. Plus, they come in several eye-catching coat patterns.
Though his tall stature may be intimidating to some, the Great Dane is quite docile by nature. But how did they become the way they are today?
Read on to learn about this breed's origins as well as his physical traits and behavior.
We'll also dive into their health problems, helping you to choose whether this is the right pet for you. But first, the basic stats of the Great Dane.
What's in This Guide
Great Dane FAQs
Our readers' most popular and frequently asked questions about the Great Dane:
The Great Dane at a Glance
Popularity: 14 of 193 (AKC)
Purpose: Originally, hunting. Now excellent companion pets
Weight: 130-140 lbs on average; 110-140 lbs (F), 140-175 lbs (M)
Temperament: Brave, quiet, and patient
Now that that's out of the way, let's look a little closer at some of these features.
Great Dane Breed Review: Contents
History and Original Purpose of the Great Dane
You wouldn't be the first to assume the the Great Dane hails from Denmark. Its name is the "Great Dane" after all. In reality though, the breed was developed in Germany at least 400 years ago!
Back then, Great Danes were bred as hunting hounds.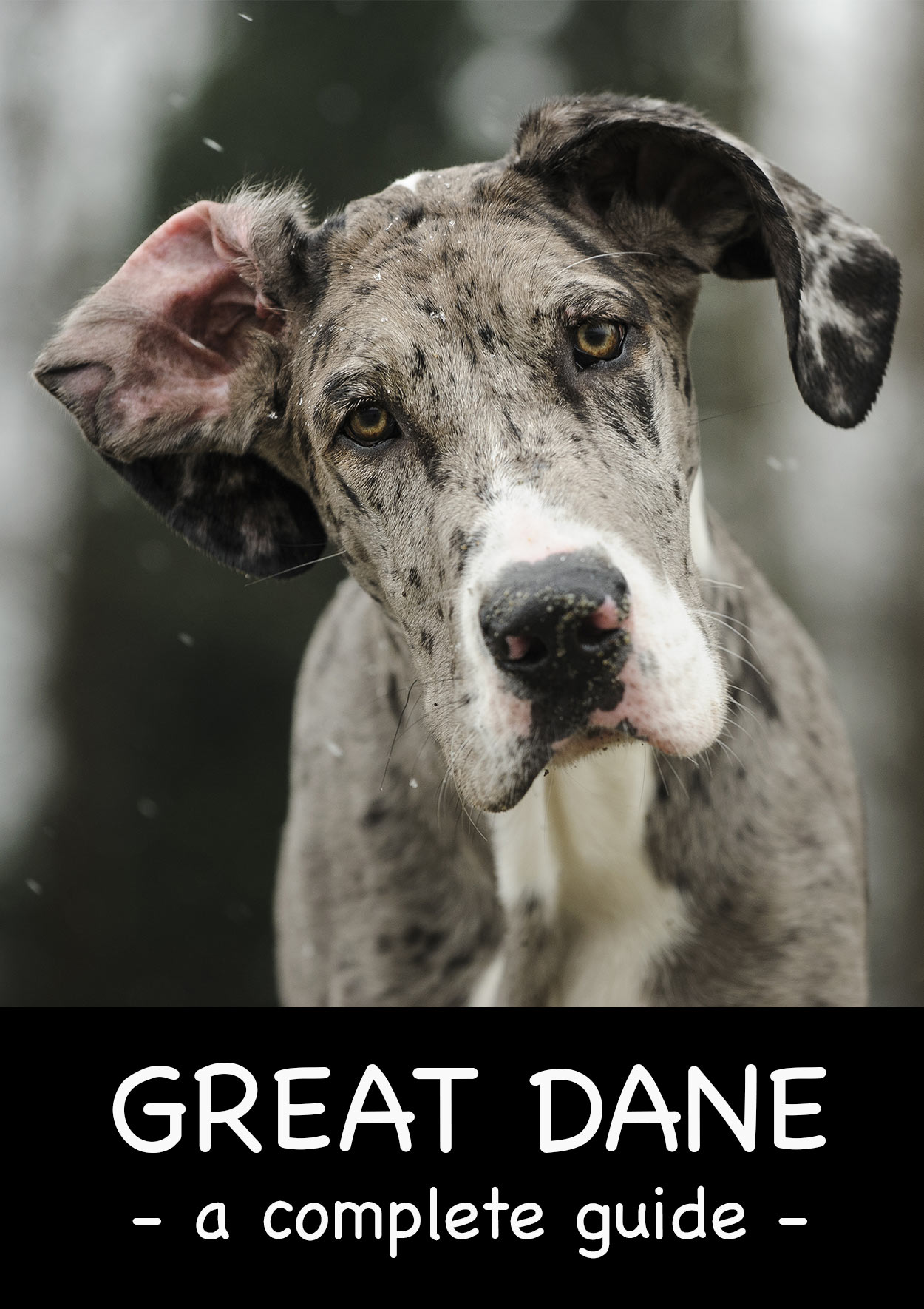 A particularly large and powerful dog was needed to take down the equally powerful English wild boar. And the Great Dane was a worthy adversary.
This breed, however, made its way to the US in the 1880s. Then they were recognized by the AKC as a member of the working group in 1887. Nowadays, they are primarily kept as pets or used as therapy dogs. They are great loungers and love to find a good sofa or cushion on which to rest their large heads. Their gentle and empathetic ways also make them excellent service dogs.
Great Danes are still a very revered and awe-inspiring breed, even if we don't use them to hunt boar any more!
Fun Facts About the Great Dane
These large dogs have an ancient history. Egyptian monuments dated as far back as 3000 B.C show drawings of dogs resembling Great Danes. Even more, early descriptions of similar dogs have been found in Chinese literature from 1121 B.C.
Some famous cartoon Great Danes are:
The popular Scooby Doo. (Scooby closely resembles a Great Dane, although his tail is longer than the breed's, bearing closer resemblance to a cat's tail.)
Marmaduke, the Great Dane in Brad Anderson's comic strips
The Jetson's dog Astro
Fang, Hagrid's dog from the Harry Potter book series, is a boarhound—another name for this breed. The movies use a Neapolitan Mastiff though.
Chestnut in the movie, Chestnut: Hero of Central Park
Celebrities who own or have owned this breed in the past include:
Model Kendall Jenner
Actress Cameron Diaz
Singer and actress Vanessa Williams
Model Karolina Kurkova
One more fun piece of news about these big dogs: A Great Dane once defused a bomb during WWII. Here's how it happened. One of these massive dogs named Juliana peed on a bomb dropped into her owner's house, thus defusing the bomb. Her bladder's feat earned her a Blue Cross Medal.
Great Dane Appearance
Now let's talk about just how big this breed can get! It's common knowledge that they are large dogs. In fact, the largest Great Dane actually holds the Guiness World record for Tallest Dog Ever.
"Zeus" was a Great Dane who reached a whopping 44 inches tall! Fortunately, he was rather above average. The majority of Great Danes are typically about 10 inches shorter than Zeus was. Even at the tallest end of the standard height.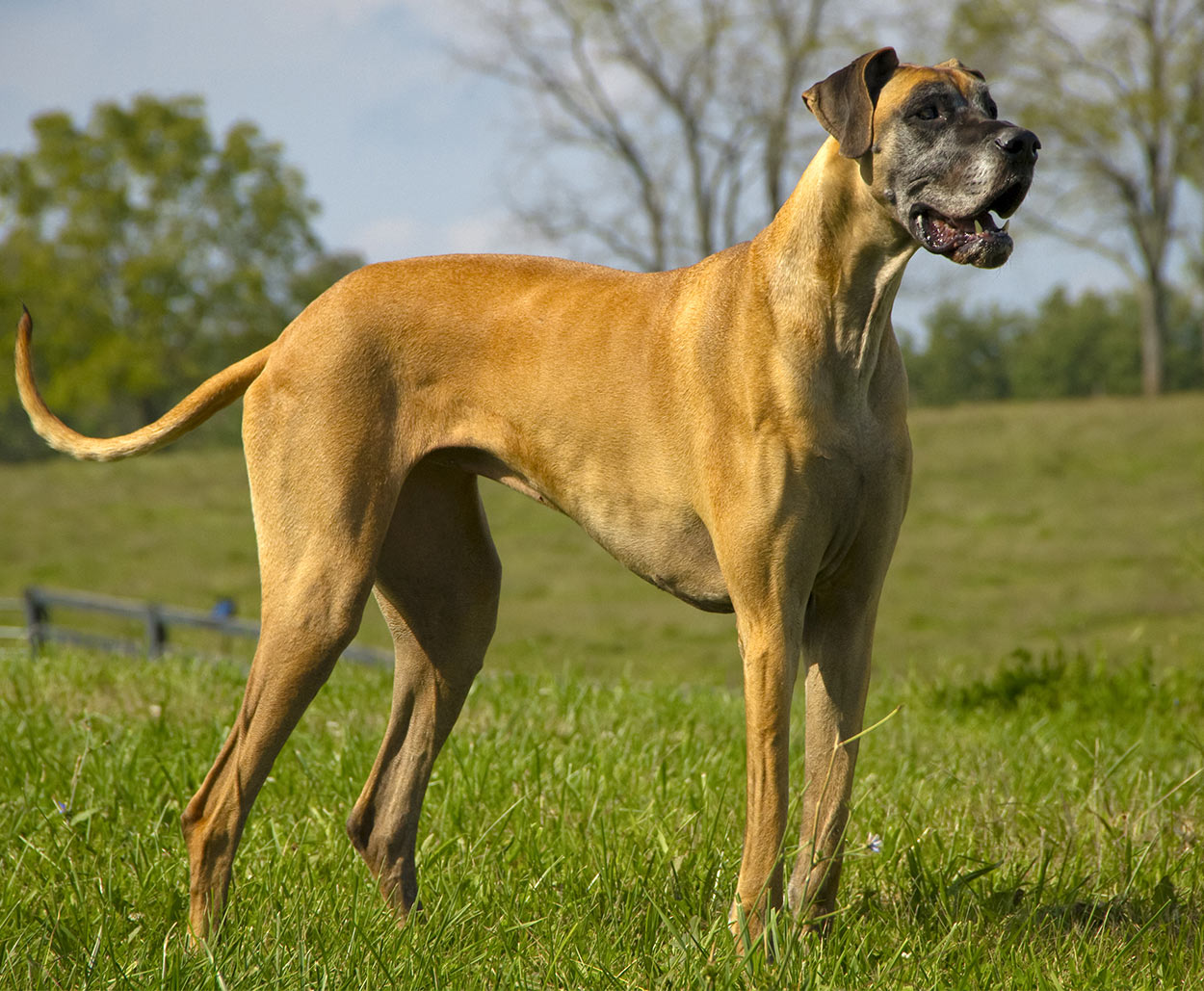 Male Great Danes typically reach 30-34 inches tall, while females stay around 28-32 inches on average.
Weight-wise, you can expect your pup to mature to at least 100 lbs, minimum. The largest Great Danes may even reach double that weight. But the average Great Dane is about 130-140 lbs—roughly the size of the average American woman!
This breed is most definitely not going to be a lap dog—no matter how much he might like to be!
Great Dane Coat and Colors
Great Danes are also known for their short, easily maintained coat. It comes in several eye-catching colors. The standard colors according to the Great Dane Association of America are:
• Black
• Blue
• Brindle
• Fawn
• Harlequin and Merle
• Mantle
We must note that the harlequin coat pattern is associated with birth defects, as it is related to the notorious merle gene.
Great Dane Temperament
Modern Great Danes are quite different from their hunting ancestors. While they no longer need to be fearless, aggressive hunters, they're still brave and attentive to their handlers.
Because of their bravery, they are pretty unflappable dogs; not a lot phases them. Neither are they quick to bark. You can put their quiet and patient manner to good use. Great Danes make excellent pets for families with children.
The only issue is that their size means they need constant supervision. Accidentally knocking over little kids is not uncommon!
Training and Exercising Your Great Dane
It's essential that Great Danes get the right amount of exercise—not too much, not too little.
Due to their risk of developing skeletal and hip problems, it is crucial to maintain balance. Just enough exercise helps to keep dogs limber. It also prevents them from gaining too much weight. In addition to this, it can prevent muscles from atrophying.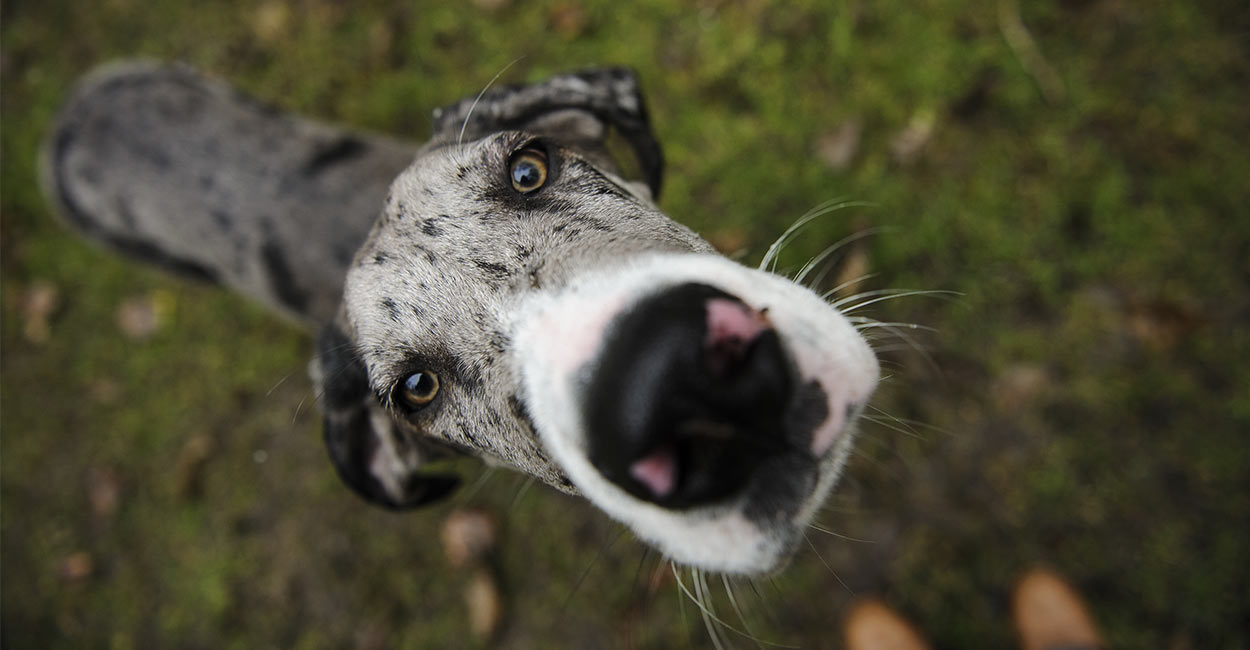 All of these benefits may help to prevent hip dysplasia from developing or worsening.
Even if a Great Dane doesn't show signs of hip dysplasia, it's still a good idea to give them a bit of exercise each day. While they may prefer to relax, they shouldn't be allowed to lead sedentary lives. So, don't be afraid to get your dog out once a day. Usually, a daily quick jog or an extended walk does the trick for Great Danes.
Some people worry about this breed being aggressive, but more on that later. The main thing to keep in mind, though, is that socialization is important. Particularly when dogs are large and could hurt people without meaning to—just by their sheer size. It's vital to teach them early how to handle themselves.
Here's a training bootcamp video you may find helpful
Can Great Danes Swim?
Yes, but it doesn't come easily to them. As deep chested dogs, it's harder for them to keep their head above water. They can, however, be taught to swim.
Most Great Danes would not be happy to get in deep water, but are happy to play in shallow end. Just remember to use a flotation device and keep safety in mind.
Great Dane Health and Care
Great Danes are genetically predisposed to certain health conditions.
Some conditions and illnesses that Great Danes are highly prone to are:
Hip Dysplasia
This condition is when some or all parts of the hip joints are malformed. It can cause the dog to lose the ability to move their hind limbs comfortably.
Puppies may be born with it, but adult dogs commonly develop the condition with age.
You can find out more about this debilitating condition in our article on hip dysplasia in dogs.
Panosteitis
Some giant breed puppies may develop "growing pains." That is, spontaneous inflammation in the long bones of the legs.
It typically starts unprovoked, sometime between 5 months and 14 months of age. The pain may come and go in one or multiple legs until it self-resolves. This will hopefully be sometime before the dog reaches two years old.
Dilated Cardiomyopathy
This disease is believed to be genetic in many large dog breeds including Great Danes.
It results in an enlarged heart and eventually heart failure. There are additional heart conditions that may be common in Great Danes.
Hypothyroidism
This is a condition of the thyroid that results in decreased metabolism and weight gain. Some Great Danes may also experience issues with hair loss and/or dry skin.
Hypothyroidism is most common in mid- and large-sized dog breeds. Dogs between the ages of four and ten years old are more at risk. Once it is diagnosed, you'll have to give the dog replacement hormone pills for life.
Bloat
Dogs with deep and narrow chests are more likely to develop this potentially fatal condition.
Also known as gastric torsion, it involves the stomach twisting and eventually suffocating itself. The stomach basically fills with gas and cuts off the blood flowing to it.
Surgery called gastropexy (basically fixing the stomach) can prevent this condition from occurring.
You can read more about this here.
Wobbler Syndrome
This condition causes compression of the spinal cord and spinal nerve roots in the neck.
This creates nerve issues making the dog unable to feel his feet and to wobble when he walks. Dogs with this syndrome also have severe neck pain.
The exact cause of this disease is unknown.
Bone Cancer
Unfortunately, many large and giant dog breeds are susceptible to bone cancer (osteosarcoma).
According to a 1979 study, the risk of a dog developing bone cancer increases by 60 to 185 times in breeds larger than 80 lbs.
To this day, the prevalence of bone cancer in large and giant breeds is still more than that of smaller dog breeds.
Genetic testing of breeding stock is vital to reduce the risk of these issues. So, only buy a puppy whose parents have been fully health screened.
Conformational Defects of the Great Dane
Most dog breeds have conformational defects which can cause disability. A conformational defect is an exaggeration of a body part or feature, usually due to breeding. For example, with Labrador receivers, their extra floppy ears make them susceptible to ear infections.
For Great Danes, a significant conformational defect noted by The Kernel Club is loose eyelids. However, it is usually not severe enough to cause pain or major discomfort to the dogs.
Great Dane Life Expectancy
As a giant breed, Great Danes unfortunately has a short average life expectancy of just six years.
That's right—six.
Of course, this doesn't mean that your Great Dane will die at age six. Six is the average—meaning that some may live well past age six, and others may not.
As fur-child owners, all we owe them is giving them the best life. So, take care of your Great Dane and look out for them and their health as much as possible.
But it's something to take into account when deciding to bring home a Great Dane puppy.
Grooming and Feeding
Great Danes have a naturally short and thin coat, so they aren't super high shedders. This means they only need occasional grooming to remove dead hair.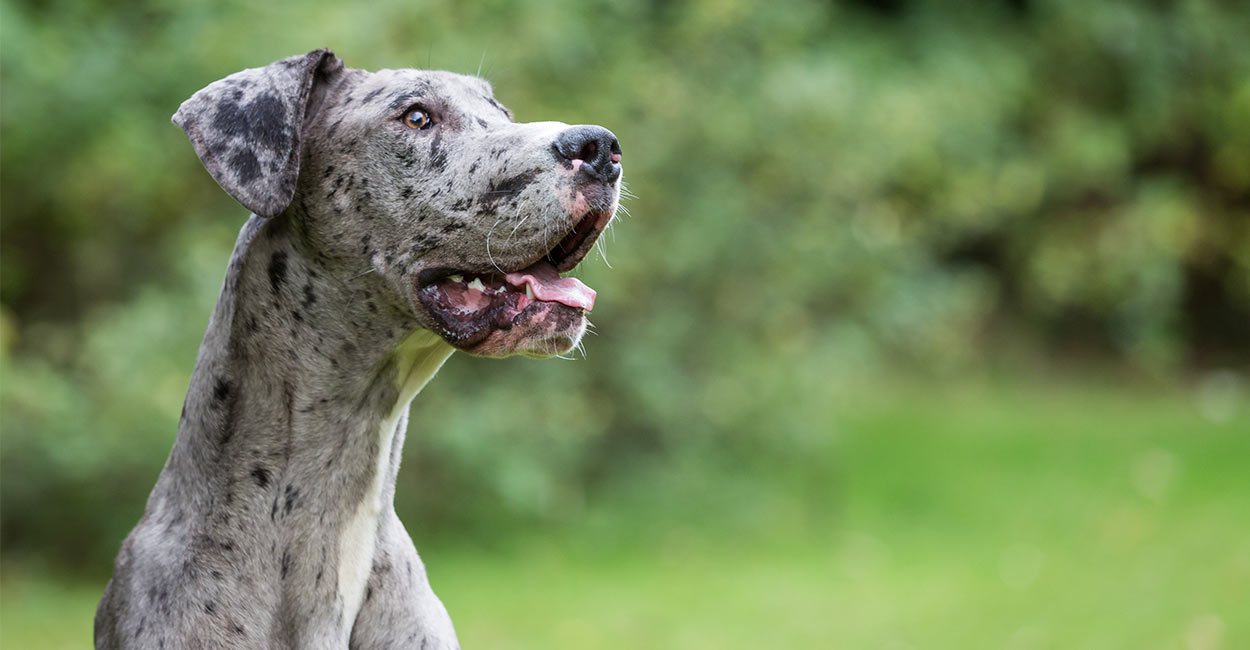 The downside, however, is that they may not do well in colder climates unless they wear a coat or vest.
Diet-wise, Great Danes don't usually require a special diet. Still, we recommend that you feed the appropriate amount of a high-quality food. Preferably, one specifically formulated for large-breed puppies or dogs.
This is because large breeds typically have different nutrient requirements than smaller breeds. So, if you want to promote and maintain healthy bone structure, it's wise to stick to specific foods.
Large Breed Dog Food
Giant-breed puppies, specifically, need to be fed the proper diet. This is to ensure that their bones can keep up with the rest of their growth.
You can see a giant breed growth chart here.
Furthermore, the kibble or soft food specifically formulated for large breeds may contain special ingredients. These ingredients help to prevent health conditions—such as joint and bone diseases—common in large dogs.
You can check out our recommendations for the best food here:
Lastly, be careful not to overfeed Great Danes, as they can become overweight rather quickly. Besides, over feeding increases the risk of hip dysplasia.
Do Great Danes Make Good Family Pets?
Yes, we would recommend Great Danes! Especially if you've acquainted yourself with all possible health and size issues. They are loyal, friendly, and gentle dogs.
Rescuing a Great Dane
You may be able to find your next partner at a local animal shelter or at a Great Dane-specific rescue.
Rescues generally assist with rehoming retired show or breeding stock. But they also may get the occasional puppy that was pulled from a bad situation.
For some more information about rescuing a dog, see our post: Adopting vs Buying. If you're already seriously considering rescuing, you can find a list of rescue societies here.
Finding a Great Dane puppy
Once you've decided to go with a Great Dane puppy, it's time to get searching. We have a ton of information about how to find a puppy. This will be helpful whether you decide to adopt or choose a breeder. You can find all that here.
It's also vital that you watch out for puppy mills. This post will help you know what to look out for and when to walk away.
Finally, if you're not sure whether to go for a pure breed or a mix, you'll find this post helpful.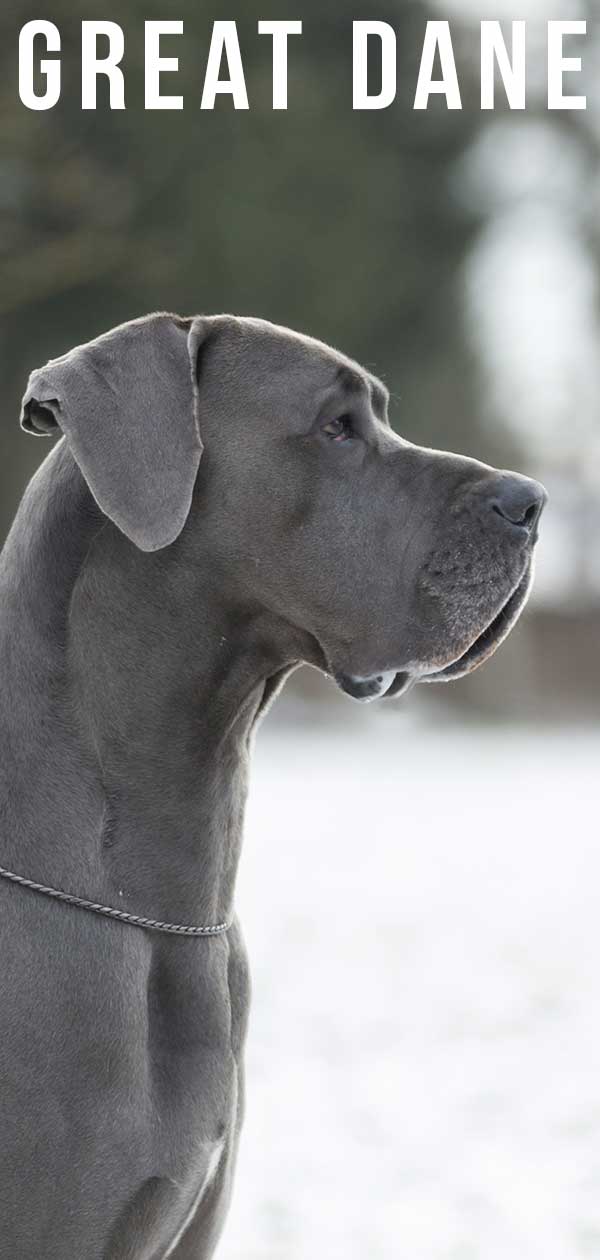 Raising a Great Dane Puppy
Caring for a vulnerable Great Dane puppy is a big responsibility. There are some great guides to help you with all aspects of puppy care and training. You'll find them listed on our Great Dane puppy page.
Another important thing to keep in mind is training your puppy. It helps a ton to teach your pup not to jump on people. Especially as your cute puppy is sure to grow to at least 100 lbs. You might want to learn about his development stages too!
You don't want an adult Great Dane who thinks it's fun to jump on people. He could seriously injure someone. It's our duty as fur parents to teach our dogs how to behave.
If you need help, you may find training videos (such as the one we linked) or classes helpful.
Popular Great Dane Breed Mixes
If you're leaning toward a Great Dane mix, you might be interested in these posts:
Similar Breeds
Other dog breeds you might want to consider if you're into the giant-breed dogs include:
Neapolitan Mastiff: These ones are quiet, fearless protectors known for sneaking up on intruders.
French Mastiff: Good in and out of the house, these ones.
Newfoundland: These are known water dogs and excellent swimmers.
Irish Wolfhound: This breed is the tallest of all—with some about as tall as a donkey!
Saint Bernard: These giant dogs, though not as big as Great Danes are known to be good with kittens.
Great Pyrenees: These make great mountain dogs if you're into hiking.
If you love big dogs, you might also want to take a look at the Russian Bear Dog!
Pros and Cons of Getting a Great Dane
Cons
Size: The size of Great Danes can create some challenges, especially when it comes to feeding and housing them. However, if you're a fan of their size, it can also easily scare intruders away. So, it depends on what you want.
Strength: This goes hand in hand with size. It may seem obvious, but you'll also want to consider their sheer size and strength. They are often tall enough to eat off of countertops and may accidentally knock a child over.
Drool Central: These noble dogs do produce a bit of drool. So you'll need to be ready with a towel to keep them relatively drool-free.
Health and life span: Carefully consider it before you get a harlequin-colored Great Dane. This coat pattern is known to be associated with birth defects. As we've seen these giant breeds can have special health concerns such as cardiac and bone issues. Most of them may also have a short life span. Still, many owners agree that they're worth the effort.
Pros
Temperament: Great Danes are amazing dogs that make wonderful pets or service partners. Despite their massive size, they're really sweet, friendly dogs.
Low energy: This could be a pro or con for you. But for me it was a big pro. I'm fairly low maintenance with training or exercising my dogs, and was looking for a low energy dog. If like me you're looking for a lower-energy dog, then a Great Dane may be a nice choice. Keep in mind that you'll still need to get them out for a walk or jog each day.
Low maintenance coat: You won't have to do too much coat maintenance, as they have a short and thin coat.
Great Dane Products and Accessories
We all want our pets to travel and live in style. But since Great Danes are so massive, it may be a struggle to find the right travel crates and kernel. We've all some tips and products in this post about Great Dane crates.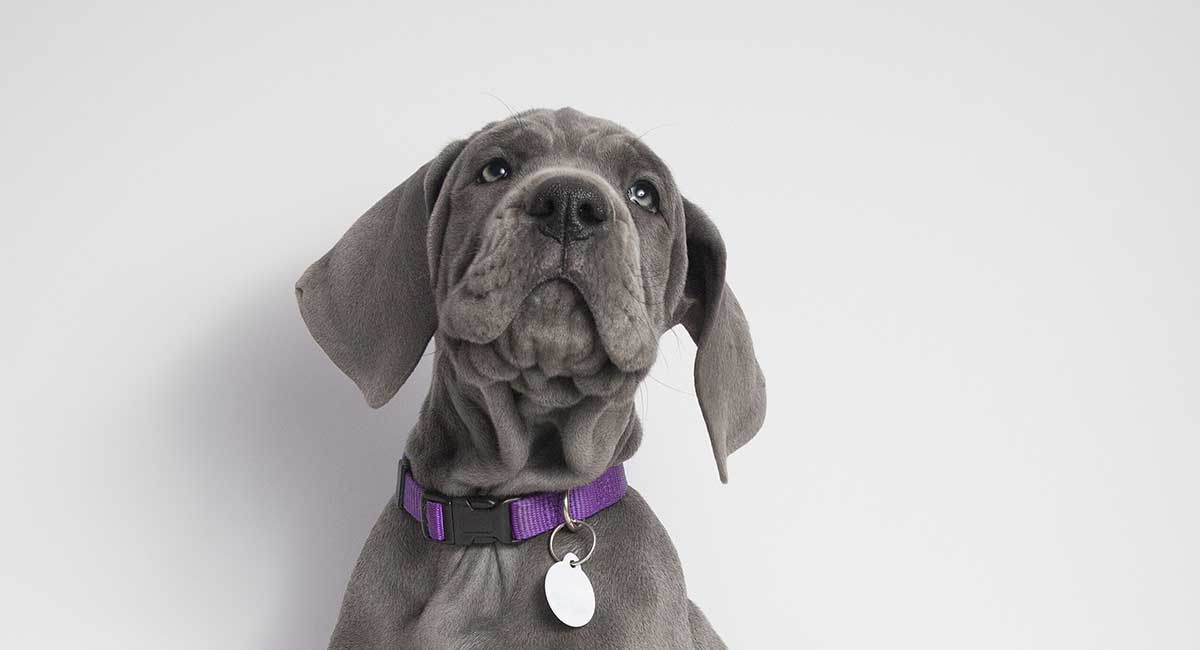 When Can I Spay My Great Dane?
Experts now recommend waiting until large and giant-breed dogs are mature to spay. It is best therefore to wait until about 12 – 18 months of age. This means most females would have at least one heat cycle before they are spayed.
Neutering dogs later allows their bones to mature first which helps dogs with bone and joint issues. It reduces things like hip dysplasia which Great Danes are susceptible to.
For females, later spaying may reduce the chance of them having a recessed vulva. This may help prevent bladder infections and urinary sphincter incontinence (leaking urine).
It is also possible that spaying later may reduce the risk of certain types of cancer. Right now though, the science is inconclusive.
Is a Great Dane Dangerous?
Although Great Danes may be a bit too strong for some people to walk on a leash, all hope isn't lost. Obedience training can help.
One thing that you shouldn't have to worry about, though, is Great Danes becoming aggressive or ill-tempered. Unlike their early ancestors, Great Danes of today are very mild-mannered dogs that aren't easily roused.
They will protect their home and owners, but will not typically present a risk to humans or dogs. Especially to those with whom they've been properly introduced. Regardless, we recommend socializing every puppy from a young age onward.
Socialization and training also help Great Danes deal with the occasional separation anxiety or nervousness they may face.
Overall, with proper training and bonding, this breed is not dangerous.
How Much Money Is A Great Dane?
If you're looking to purchase a Great Dane from a breeder, then you're in luck! But be sure to buy your puppy from a breeder who uses genetic testing.
And when you bring them home they will need the best Great Dane puppy foods.
You can expect to pay anywhere from about $1,500 to $2,500 for an AKC-registered puppy. However, if you're looking for a pet quality Great Dane, then the price tag is much cheaper. It will cost around $700 to $1,300—give or take a few hundred dollars.
The price varies based on the parent stock, how much they are worth to the breeder, and possibly on their color or color combination. As you know, some colors are more sought after than others.
Great Dane Breed Rescues
If you decide to "adopt, not shop," we've added a list of places (2019) you can visit to find your new family member.
Please leave a comment to add your Great Dane rescue organization's name to our list—the more the merrier!
References and Resources
Gough A, Thomas A, O'Neill D. 2018 Breed Predispositions to Disease In Dogs and Cats. Wiley Blackwell
O'Neill et al. 2013. Longevity and Mortality of Dogs Owned In England. The Veterinary Journal
Schalamon et al. 2006. Analysis of Dog Bites In Children Who Are Younger Than 17 Years. Pediatrics
Duffy D et al. Breed differences in canine aggression. Applied Animal Behaviour Science 2008
Strain G. Deafness prevalence and pigmentation and gender associations in dog breeds at risk. The Veterinary Journal 2004
Packer et al. 2015. Impact of Facial Conformation On Canine Health. PlosOne

Tige H. Witsberger

,

DVM et al. Prevalence of and risk factors for hip dysplasia and cranial cruciate ligament deficiency in dogs. Journal of the American Veterinary Association (2018)
Adams VJ, et al. 2010. Results of a Survey of UK Purebred Dogs. Journal of Small Animal Practice.
Dr. Becker, K. Healthy Pets. Is Every Dog a Natural Swimmer?
Holt, P. E et al.

Association in bitches between breed, size, neutering and docking, and acquired urinary incontinence due to incompetence of the urethral sphincter mechanism. The Veterinary Record (1993)

The Kernel Club. Conformational Defects of the Great Dane – Category 2.