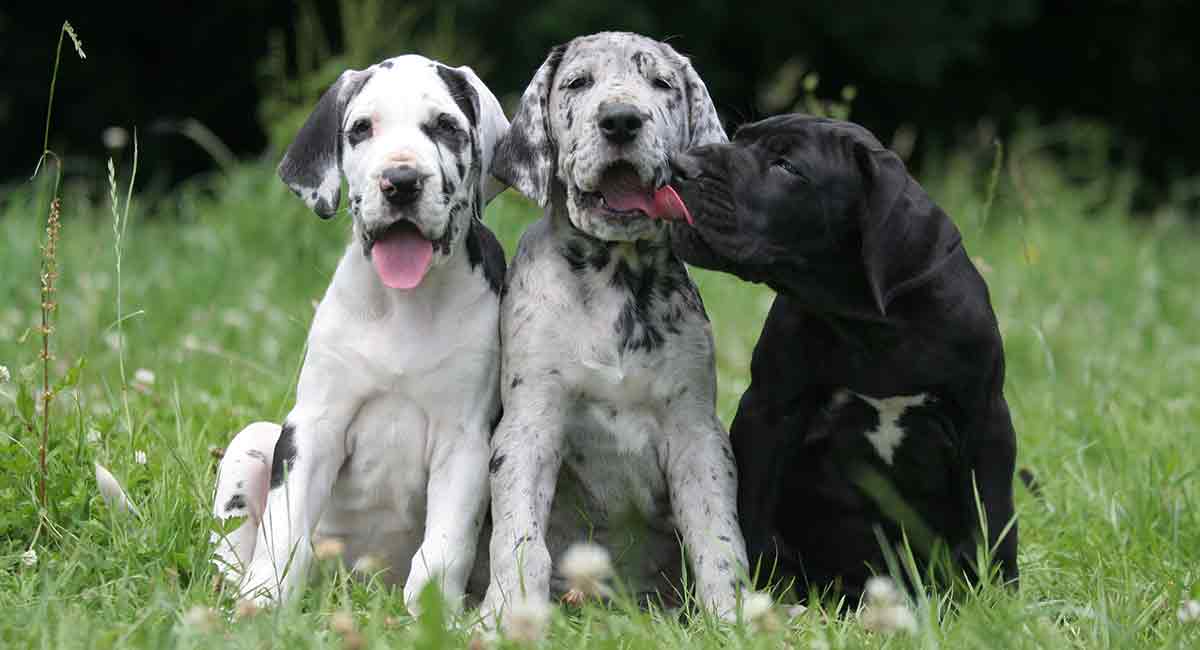 Great Dane colors are as bold and beautiful as the dogs themselves. This affectionate, loyal breed comes in combinations of black, white, blue, chocolate, fawn, silver, Harlequin and Mantle. Today we'll share pictures, photos and videos of the coolest Great Dane colors. You'll see that their patterns vary a lot, with the most distinctive markings being caused by the controversial merle gene. Great Dane colors are often different at the eyebrows, muzzle and rims of the eyes, giving a distinctive appearance to an already impressive pup.
Contents
Great Dane Coat Types
Great Danes have short, easily maintained coats that require only a moderate amount of grooming. The coat is thin and doesn't shed excessively, so all you'll need to do is brush your Great Dane with a slicker brush occasionally to get rid of dead hair.
Because the Great Dane has a very fine, thin coat, he may feel the chill during winter and if his home is in colder climates. You can keep your dog warm, dry, and cozy by kitting him out with a smart coat or vest.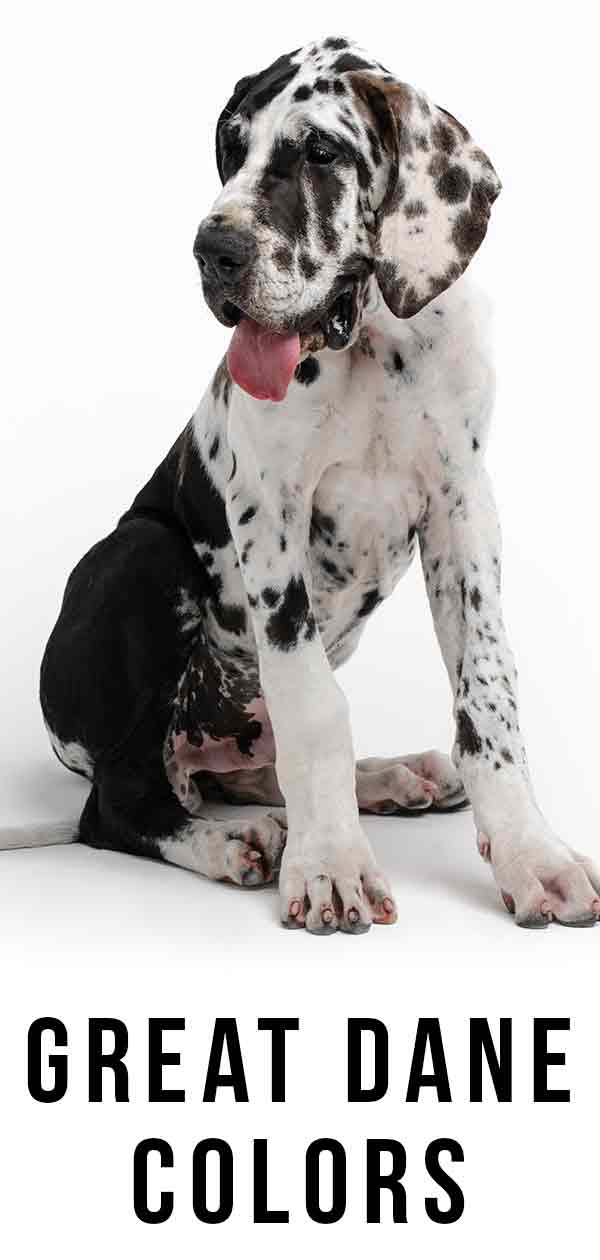 Great Dane Colors
The Great Dane comes in a variety of eye-catching colors, including:
Black

Black and white

Blue

White and blue

Blue brindle

The Blue merle

Brindle

Chocolate

The Chocolate and white

Chocolate brindle

Fawn

Harlequin

Mantle

The Mantle merle

Merle

Merlequin

Silver

White
The famous black and white patchwork coat pattern is known as "harlequin." As you can see, there's a bewildering array of shades to choose from!
Merle Great Dane Colors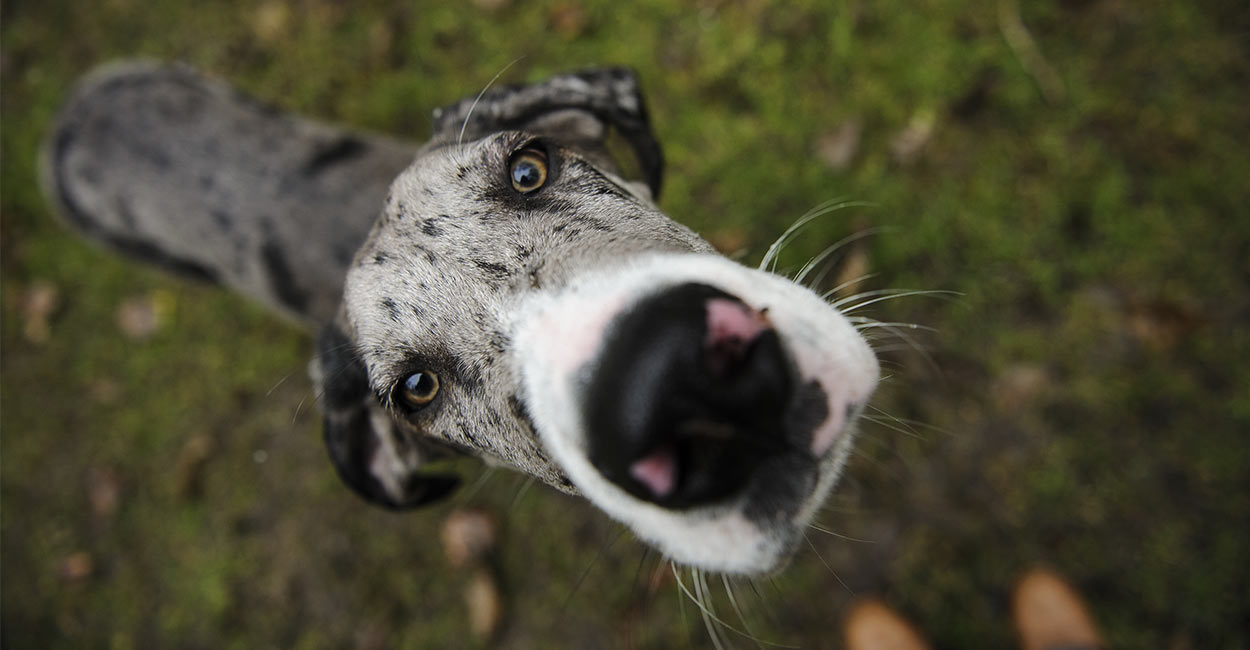 Before you choose your pup, you must know about the merle gene and how it affects coat color and health. Merle undoubtedly creates one of the most strikingly beautiful coat patterns in the dog world. This is a dappled pattern where random splashes and spots of dark pigment are overlaid with a paler shade of the same color.
Merle-coated dogs often have blue or odd-colored eyes. Dogs that have two copies of the merle trait gene are predominantly white and can be prone to several health issues, which we'll discuss later in this article.
Breeding Merle Great Danes
Merle Great Dane colors are all down to genetics. The merle coat pattern occurs when a Great Dane parent carries a single copy of the "M<allele." All merle dogs carry the genotype "Mm."
That means they have one allele for non-merle and one allele for merle. All non-merle dogs are "mm." If your dog comes from a litter bred from a merle (Mm) to a non-merle (mm), half his litter-mates will receive the "M" allele and will have merle coloration. The other half receive the non-merle allele, so will most likely be solid colored.
Health Problems Linked To Great Dane Colors
If you breed two merle dogs, you'll finish up with a quarter non-merle, half merle, and a quarter double-merle pups. The double-merle puppies don't look like your regular merles. Instead, they will be mainly white with a few merle patches.
The main reason you don't want a double-merle pup is that they frequently have some hearing and visual problems.
Also, double-merle dogs can have a condition called, microphthalmia. In this condition, the dog's eyes are abnormally small and are often nonfunctional. So, if you decide to buy a merle Great Dane, check out the genetics of his parents with the breeder first.
Deafness In White Great Dane Colors
Within the dog's middle ear sound waves are translated into nerve impulses that the brain interprets as sounds. Sound waves at the eardrum cause the fluid in the middle ear to move.
Tiny hairs that sit in a bed of pigment detect this movement. As the hairs move, they cause the pigment to move too, which is then detected by the nerves.
The electronic pathways of the nerves transmit signals to the dog's brain that are interpreted as sounds. So, it's the absence of pigment that prevents the sound from being picked up by the nerves and transmitted to the brain.
Hence the dog is deaf. The merle gene can also cause eye abnormalities, including cataracts and a condition collectively known as merle ocular dysgenesis.
Blue Great Dane Colors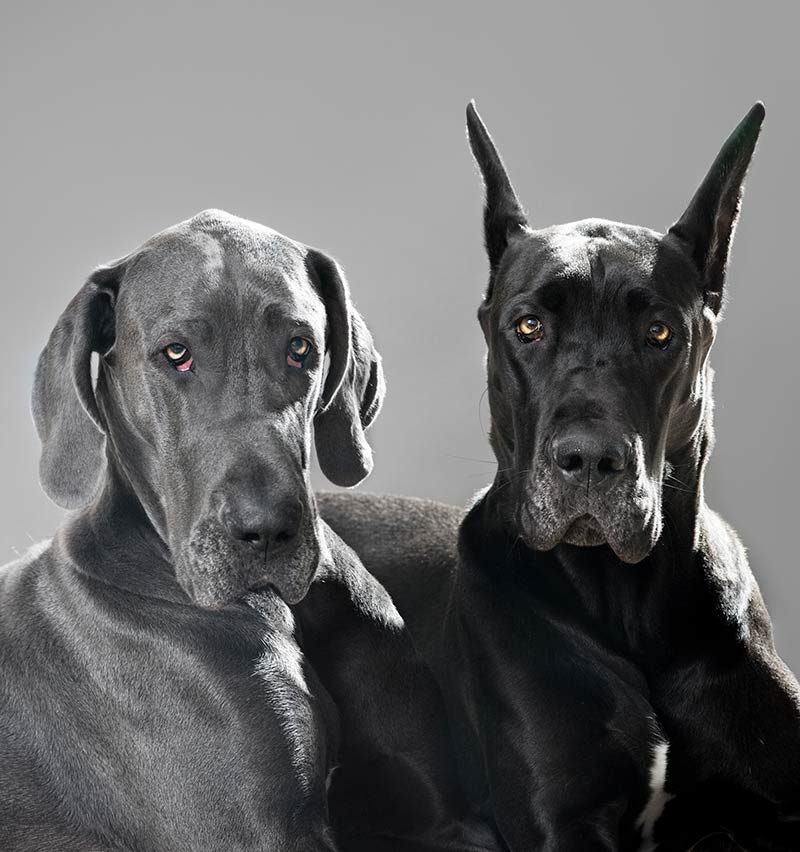 Gorgeous blue Great Dane puppies are highly prized! This unusual color varies from deep steel blue through slate, charcoal, and paler grey. Grey Great Danes are just another shade of blue.
If you're planning on showing your Great Dane, note that a white chest or paws are considered undesirable under AKC guidelines.
The unusual blue color is down to genetics. To produce a blue puppy, both parents must carry the recessive "blue" gene. A blue Great Dane's eyes can be dark brown, amber or even pale blue.
But watch out for a blue-eyed blue Great Dane, as this quirk could be down to a rogue merle gene somewhere in his breeding and is commonly seen in blue merle Great Danes.
Black Great Dane Colors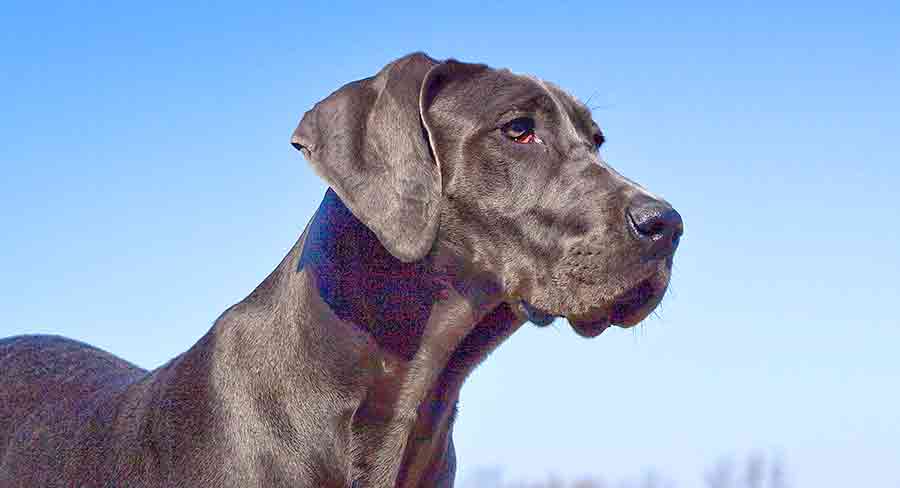 The jet-black, shimmering coat of a true black Great Dane is a sight to behold! If you're buying a black Great Dane puppy intending to show him, note the AKC's insistence that:
"The color shall be a glossy black. White markings at the chest and toes are not desirable."
Pure black Great Danes are only produced by breeding a male and a female black Great Dane. Did you know that you can also get a blue Great Dane if one or both of their parents have the "blue" gene?
Fawn Great Dane Colors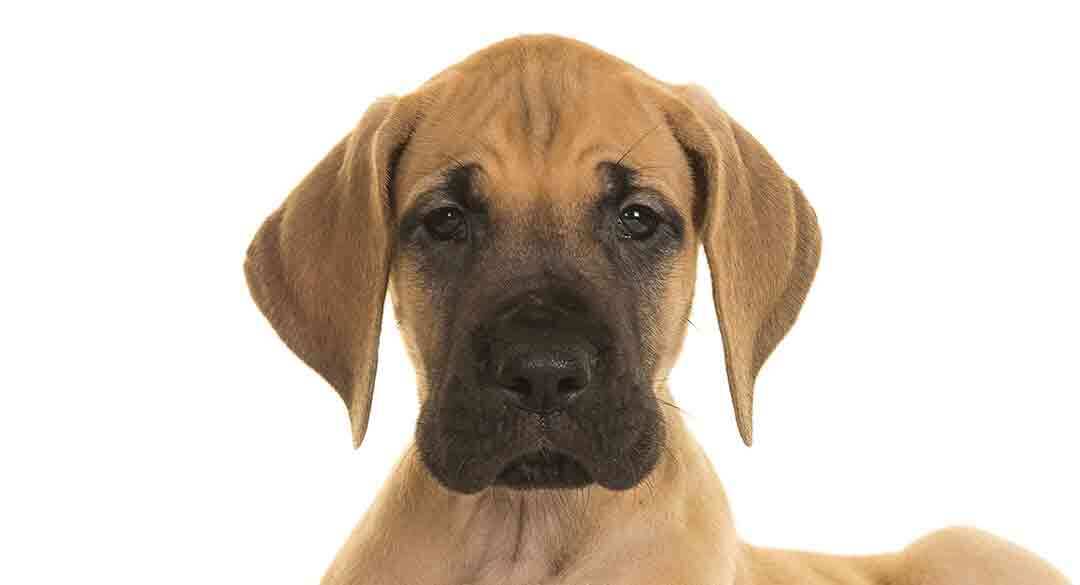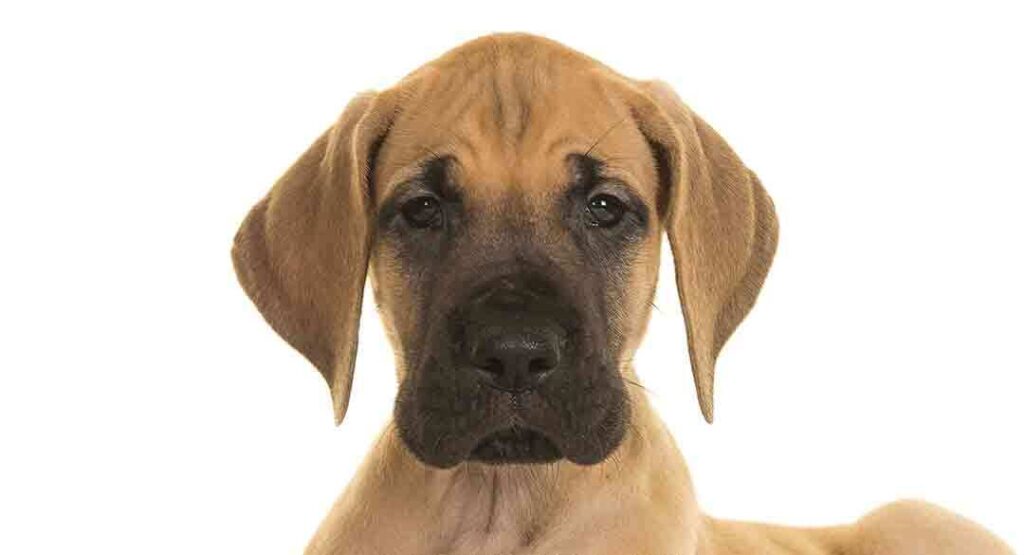 Fawn is the most common of the Great Dane colors. It's also the most recognized; after all, Scooby Doo was a fawn Great Dane! A fawn Great Dane should have a defined black mask. Once again, genetics plays a part in this, and not all fawn puppies will have a dark mask, depending on whether they have inherited the "mask" gene from either of their parents.
Fawn Great Dane's coats should be golden-yellow, and he should have a black muzzle. His eyebrows and the rims of his eyes should also be black. Black ear and tail tips are desirable too.
Brown Great Danes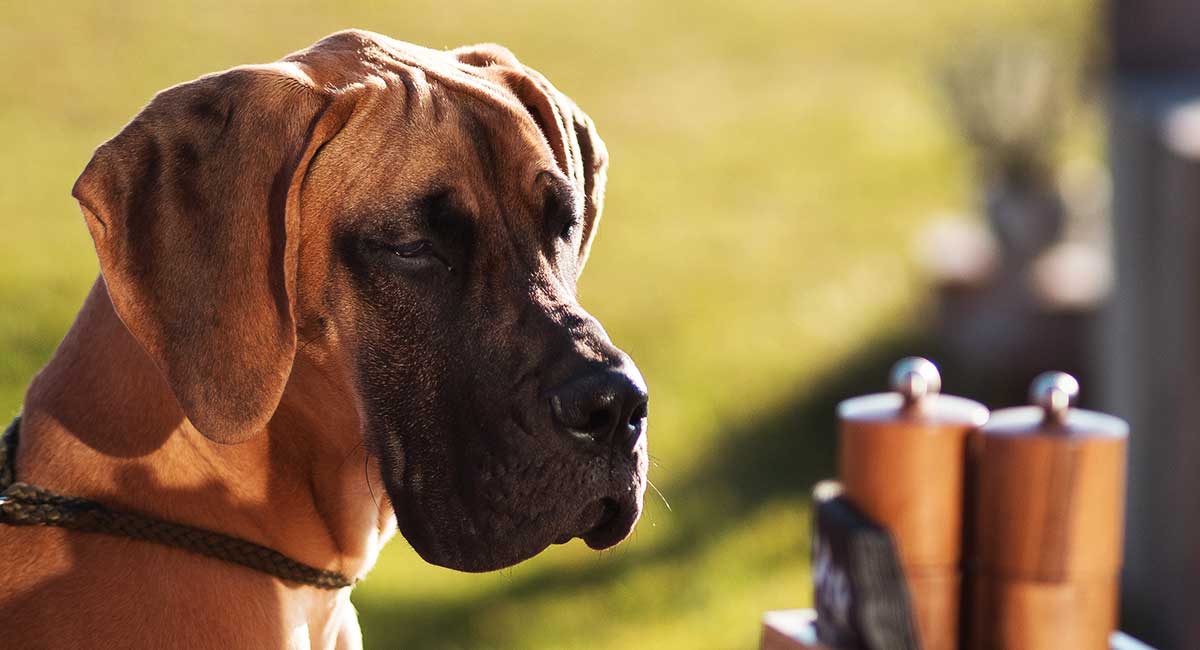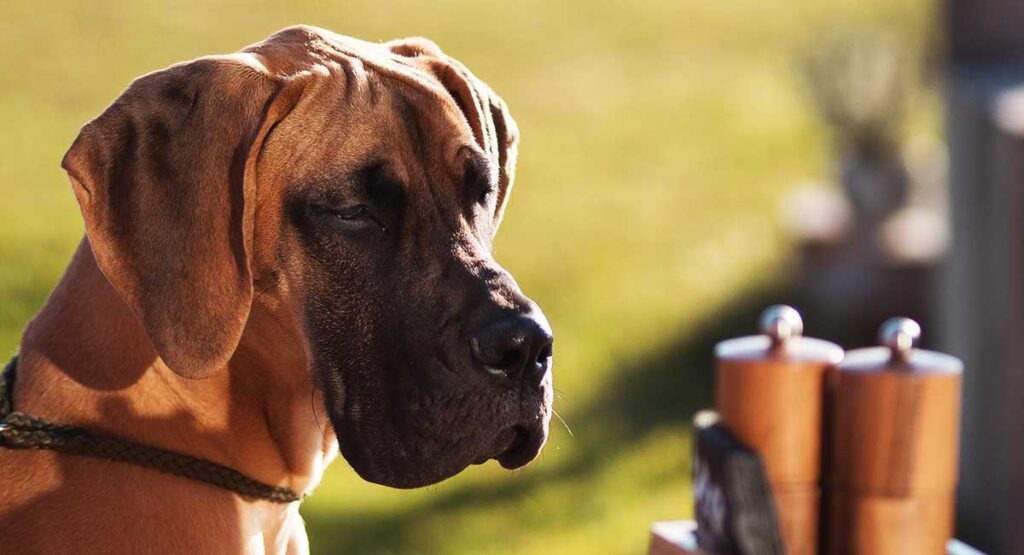 The brown coloration is also referred to as "red." As with all Great Dane colors, the brown shade is down to genetics, specifically the "B" gene and its position on the chromosome, called its "locus."
Did you know that all puppies start brown while they are developing in the womb? It's the actions of specific enzymes and proteins that catalyze the final step in pigment production to decide the dog's final color.
In a puppy with the allele "b/b," the final step in pigment production is incomplete, so the coat remains brown. Brown Great Danes are not affected by genetic defects and don't suffer any unusual health problems because of their color.
Brindle Great Dane Colors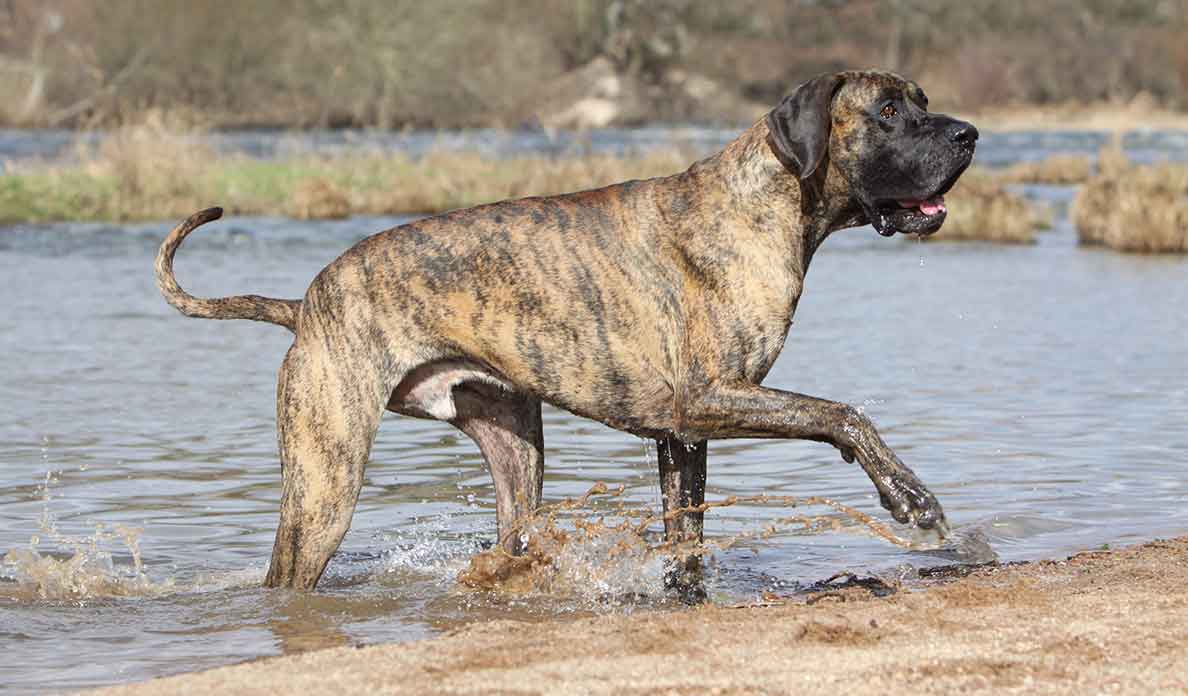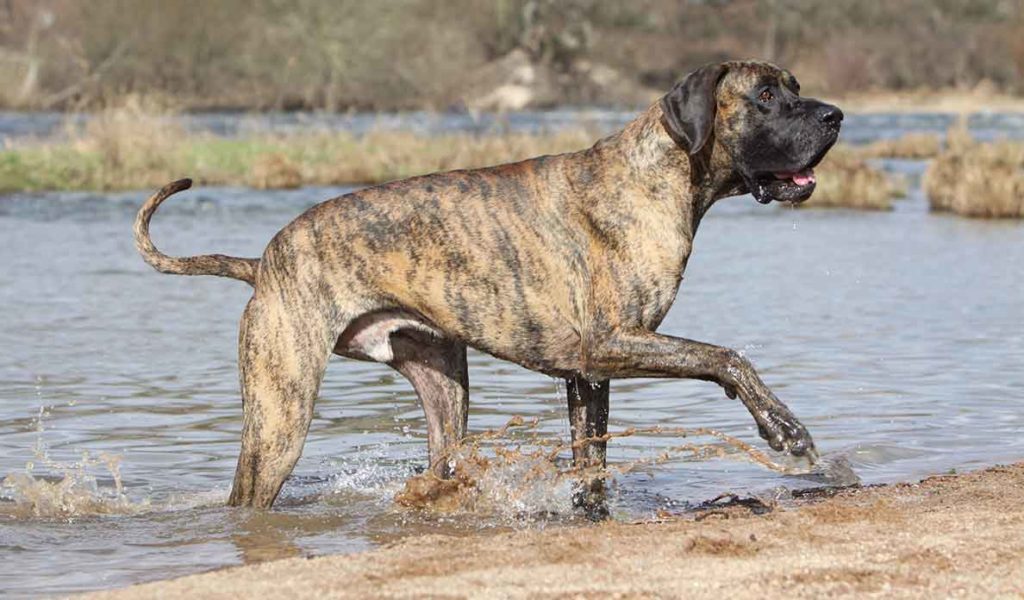 Brindle-coated Great Danes are striking to behold! The brindle coat should be golden-yellow with black markings right across the whole body in a chevron pattern.
Brindle dogs also have a black mask, black eye rims, and ear and tail tips. The base color of a brindle Great Dane puppy can also turn out deep golden-red, light fawn, or pale with a black tint.
White Great Danes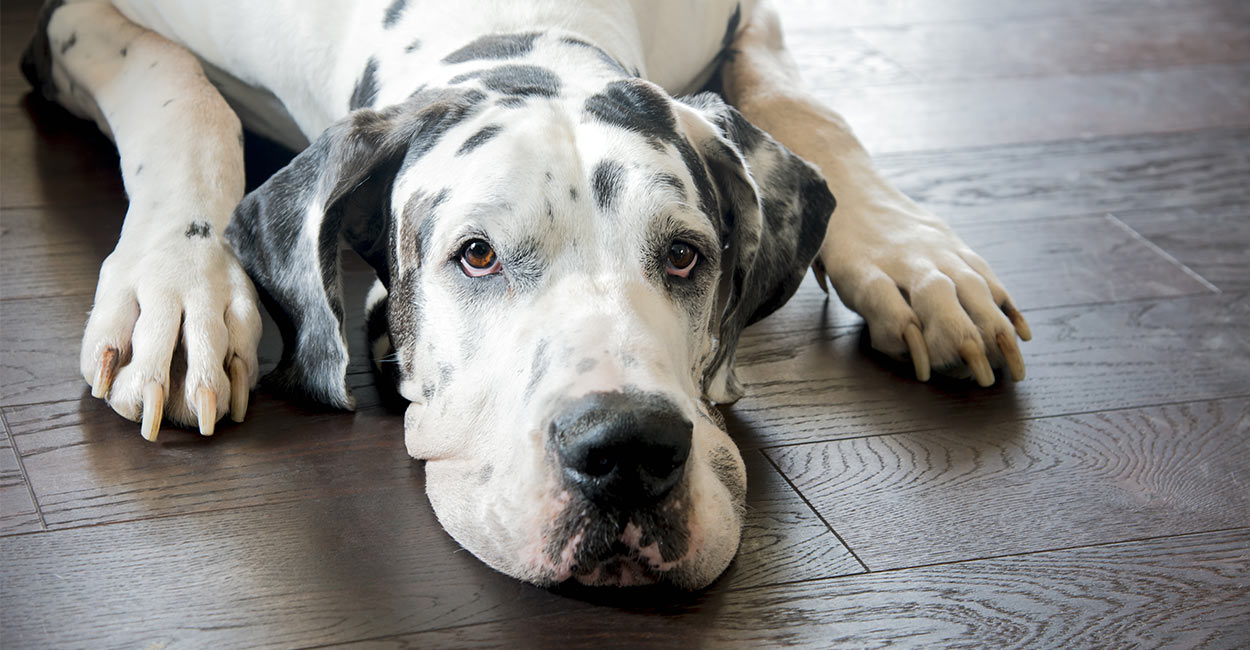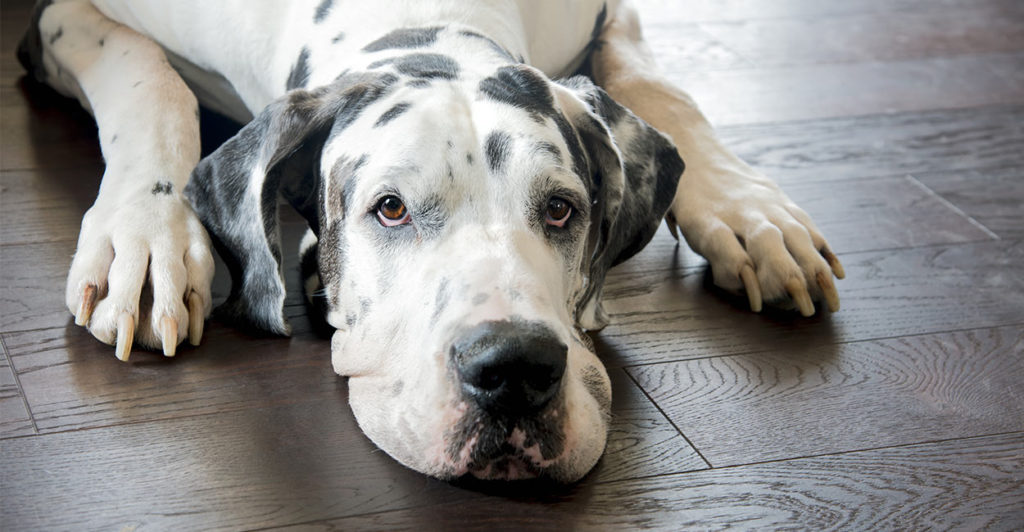 Although a white Great Dane is certainly striking, this color dog does tend to have inherent health issues, often from birth. Predominately white Great Danes are typically deaf and may also have various eye anomalies. And it's down to that pesky merle gene again!
The merle gene suppresses pigment production in the cells (melanocytes). The pigment produced by melanocytes is vital for normal hearing and sight. White Great Danes often have very little or no pigment in the middle ear, rendering them deaf.
Spotted Great Dane Patterns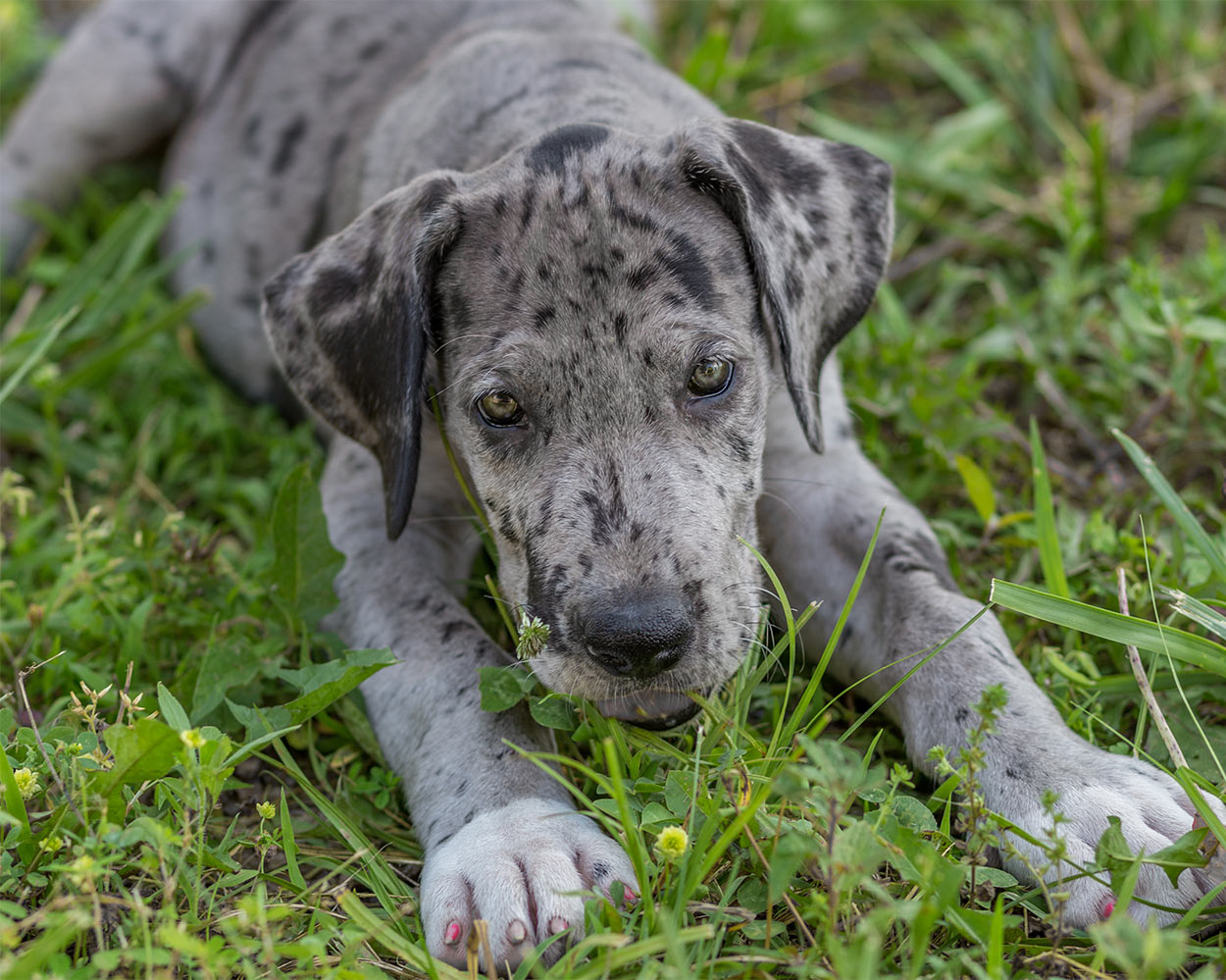 Spotted Great Danes are primarily white with black spots randomly spaced across their body. The merle gene is at play here too! The merle gene has an odd characteristic that's known as "somatic cell mutation."
That causes some of the body's cells to regress to the usual recessive form of the gene. Therefore, it is possible for some white merle dogs to have some pigment in the form of spots, typically on the rump and head.
When pigmentation occurs within the middle ear, hearing is normal, and eyesight is unaffected by the gene. So, if you have your heart set on a spotted Great Dane, he should enjoy the same health as any other genetically normal dog.
Great Dane Colors Matter
The noble, loyal Great Dane comes in coats of many colors! You can choose from traditional, Scooby Doo fawn, to the most unusual and sought-after blue shade.
Be careful if you fall for a merle colored Great Dane; these pups can suffer from inherited genetic health problems. If you adopt a white Great Dane, you must understand that he will most likely have some hearing and visual issues.
Do you have a Great Dane? What color is he or she? Tell us about your giant furry friend in the comments section below!
References and further reading