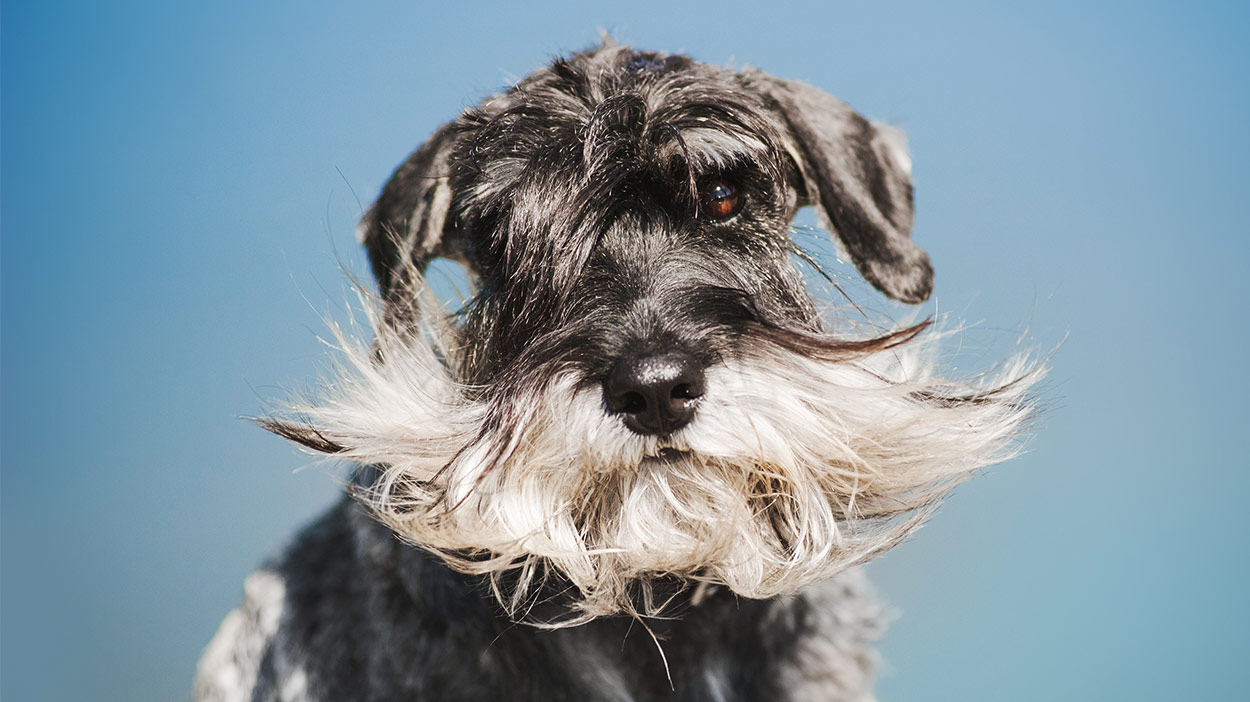 Are there dogs with beards? Or perhaps the more precise question should be, can dogs have beards?
Visually speaking, from the sheer number of dogs that look like they have beards, we would have to conclude, "yup!"
Yet canine research tells us that the bearded dog may not relate to his (or her) facial hair quite the same way we do. Take whiskers, for example. Some groomers like to clip those to make them look nice and tidy.
But whiskers are technically called "vibrissae," and they are actually another type of sensory organ – similar to your dog's eyes, nose, or ears!
Vibrissae collect information via touch-sensitive neurons in the same basic way that lobsters or butterflies might use feelers to find their way around.
So now when you see a bearded dog with untrimmed whiskers, you can feel quite happy to know this dog really does have all senses firing strongly! Speaking of bearded dogs, let's take a look at some truly beautiful canine bearded dog breeds!
Bearded dog breeds
"Hair" and "fur" – these two terms sure can cause a lot of confusion, especially when it comes to large or small dogs with beards!
According to evolutionary experts, there isn't really any difference between the two. All mammals have some degree of hair, whether they are homo sapiens or canine lupus familiaris.
Even more interestingly, the pattern of hair (fur) growth is considered a distinguishing feature between different species and breeds!
Unfortunately, not much research exists to explain exactly why one mammal, such as a person, doesn't have much fur (hair) except in a few key areas, and another mammal, such as a dog, has a lot of fur all over plus more in some places than others.
But while we wait for the evolutionary biologists to sort all that out, we can enjoy learning more about cute dogs that have beards!
Dogs with beards – the Wirehaired Dachshund
If you are a dachshund lover, you know that dachshunds come in several different configurations, both in size and in fur type.
For example, there is the miniature, the tweenie (sort of an unofficial size), and the standard dachshund. Then there is the short smooth-hair, the long smooth-hair, and the wirehaired dachshund.
While a dachshund of any coat type can in theory inherit the recessive gene needed to produce a beard from both parents, it is in the wirehaired dachshund line that beards pop up like clockwork.
Grooming and Health
From there, it is a matter of grooming style whether the beard is trimmed away or allowed to grow and even flourish!
Dachshunds may be little on the outside, but they often don't behave like it!
Their bark is much bigger than their body, and so is their spirit. Some dachshunds can suffer from back problems on account of their extra-long body and short legs.
Dachshunds love to eat, so obesity is also a concern.
These dogs make excellent family pets and are loving and devoted towards their owners.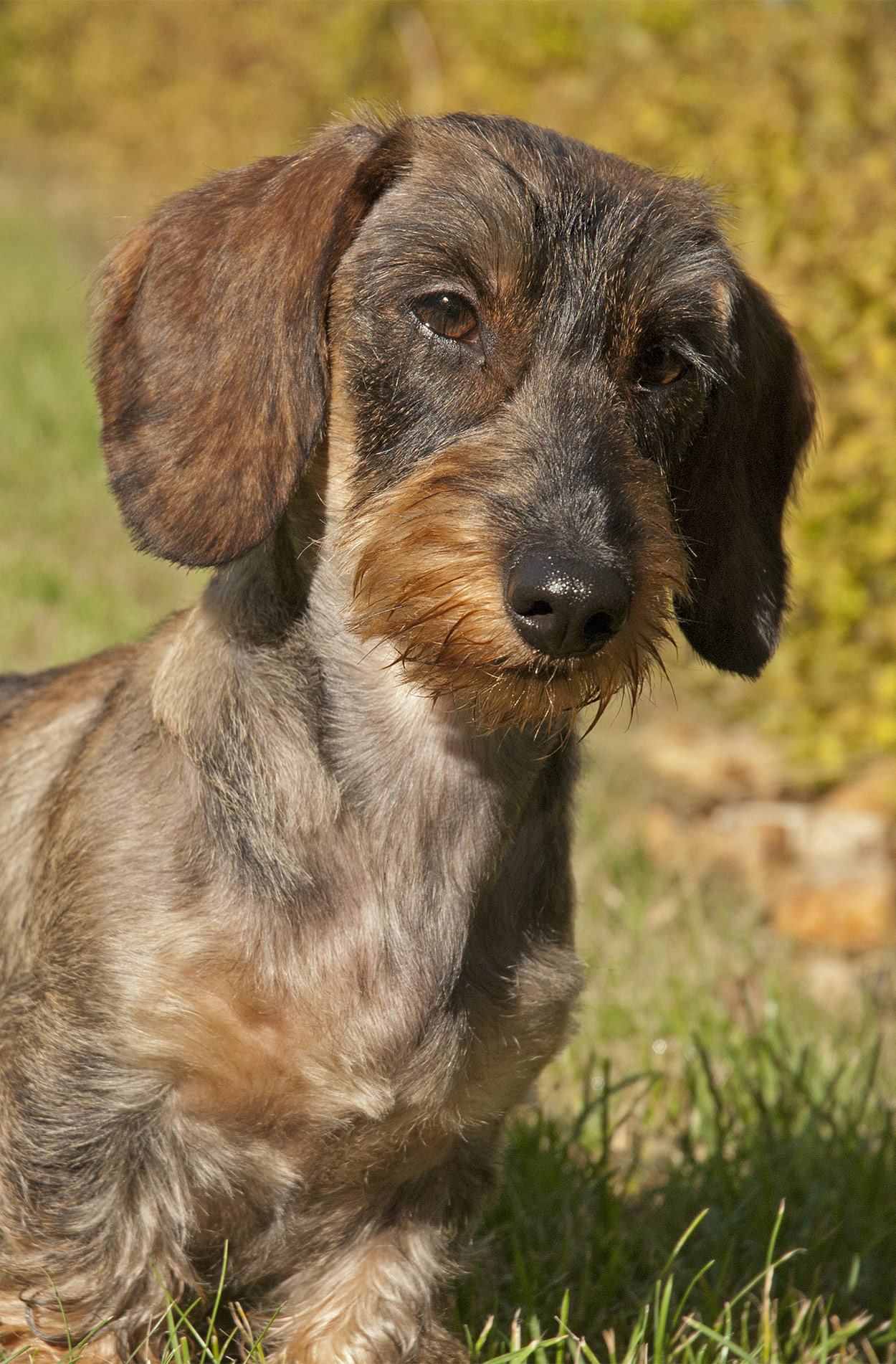 Dogs with beards – the Bearded Collie
The Bearded Collie is perhaps the founder of the beardie dog breeds – after all, that signature trademark beard is right there in this dog breed's name!
In fact, sometimes the Bearded Collie is simply called "the beardie," which in this case is a term of endearment by enthusiasts.
This dog breed originally hails from Scotland, where it was bred to assist farmers by herding sheep.
They were bred to be independent thinkers – canine leaders who could herd without help from their shepherd, who might realistically be hours away from their sheep dog partner and busy tending to another part of the farm.
Health Issues
The most common health issues that can crop up in Bearded Collies include hip dysplasia (joint malformation), eye issues, and underactive thyroid.
These dogs still work today in some parts of the world, in other areas are stars in the show ring, and still in other parts of the world they enjoy an active life with their human families.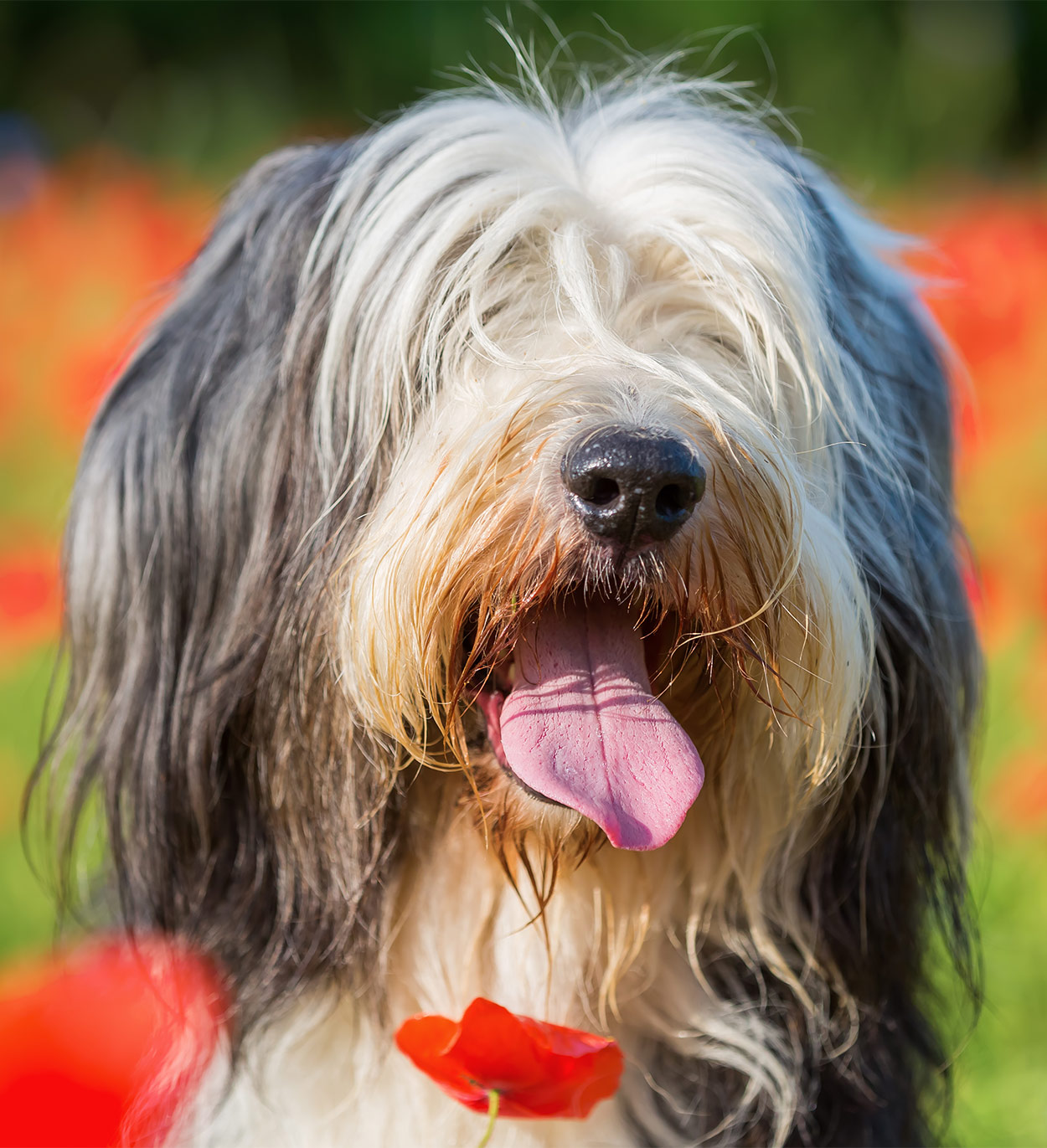 Dogs with beards – the Schnauzer
The word "schnauzer" in German means "muzzle" or "snout." In the Schnauzer dog breed specifically, this translates to mean "dog with a bearded muzzle."
The Schnauzer dog can look a bit comical, like a wizened little grandpa dog with his cute beard, but make no mistake – this is a serious, smart, hard-working hunting dog that comes from a truly ancient lineage!
Originally, that fetching show dog beard was used as a first line of defense against the Schnauzer's vicious rodent prey.
Owners often matted the Schnauzer's beard into the canine equivalent of a single thick dreadlock that functioned as a shield of sorts when the rodents attempted to fight back.
Health Issues
The Schnauzer comes in three sizes: miniature, standard, and giant. In the larger Schnauzer dogs, hip dysplasia (joint malformation) can be a concern.
Heart issues and eye issues can also crop up in the Schnauzer breed line in general.
Today, the Schnauzer is primarily to be found in the show ring or in the midst of an active, loving family.
These are low-shedding, high-energy pups that thrive when they have lots of daily exercise and playtime.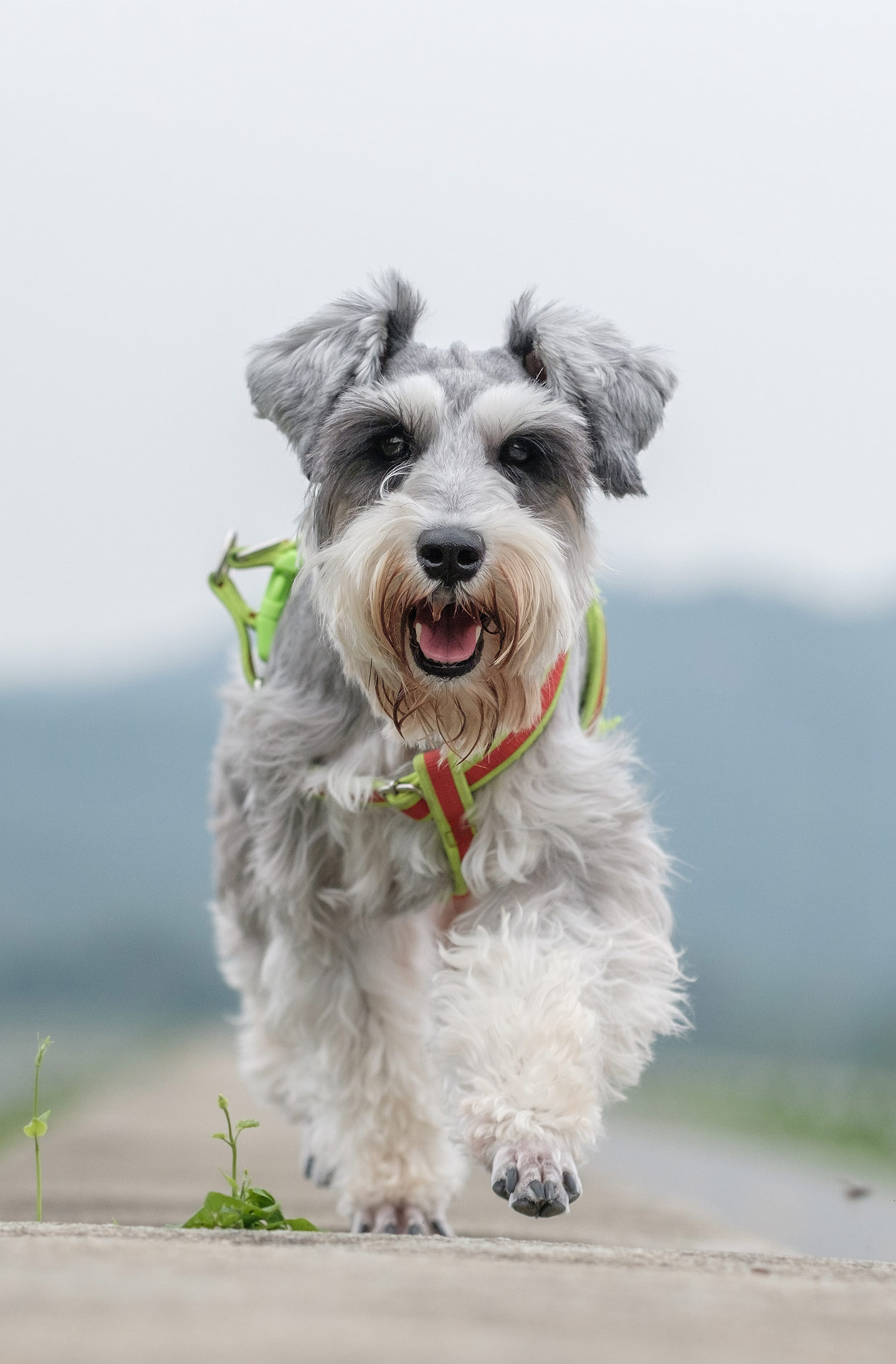 Dogs with beards – the (so many different breeds of) Terrier
The Airedale Terrier. The Wheaten Terrier. The Scottish Terrier. The Yorkshire Terrier.
All four of these Terrier breeds sport awesome beards, each rocking the look in his or her own unique way.
Why do so many terriers have beards?
Perhaps it is for the same reason as their cousin, the Schnauzer, since Terriers, like Schnauzers, were bred to hunt small rodents and ground dwelling prey.
All that facial hair might have helped to protect their sensitive mouths if their quarry decided to go on the offensive.
Regardless, the spirited and energetic Terrier group is one of the most popular dog breeds in the world, with more than 30 different breeds in the group!
Different Terriers may have slightly different health issues based on their size or lineage.
But while they are not ideal pets for families with small children or other household pets because of their strong hunting instincts, they can make great pets for active, outdoorsy individuals or families with older kids.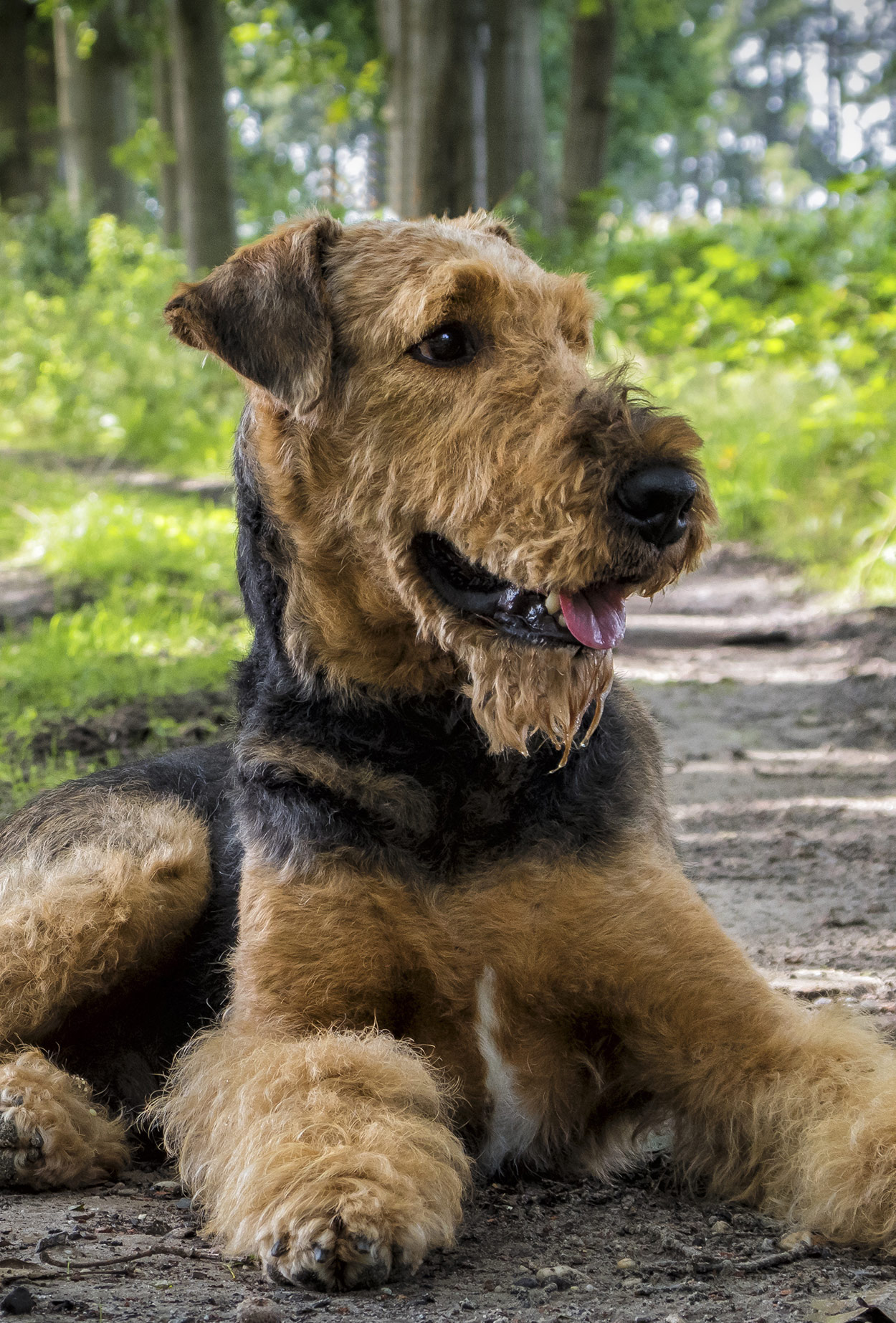 Dogs with beards – the Lhasa Apso
In the Tibetan language, the word "apso" translates to mean "bearded." In Lhasa, Tibet, where the Lhasa Apso breed got its start, this dog is actually called "Apso Seng Kyi."
The name loosely translates to mean "bearded lion dog."
Except for the lion part, this actually makes sense, since the Lhasa Apso dog breed often looks like it is growing a beard over its whole body!
Genetic research has revealed that this dog breed is so ancient it is more closely related to the wolf, Canis lupus, than most other dog breeds!
Lhasa Apso dogs came to the United States in a most unusual way – as a gift from the 13th Dalai Lama to a New York couple.
Not surprisingly, the Lhasa Apso soon became quite popular and demand for these bearded dogs has been flourishing ever since!
Grooming and Health
Lhasa dogs need lots of grooming on account of their long silky coats.
They can have genetic kidney issues, joint problems, hip dysplasia (joint malformation), and a variety of vision issues.
The Lhasa Apso is definitely an indoor pet dog! They are really smart and can be stubborn, so consistency in training and daily routine will be a great ally in your relationship and in your life together.
This dog breed can and does still work, including as a scent dog and as a therapy or service dog.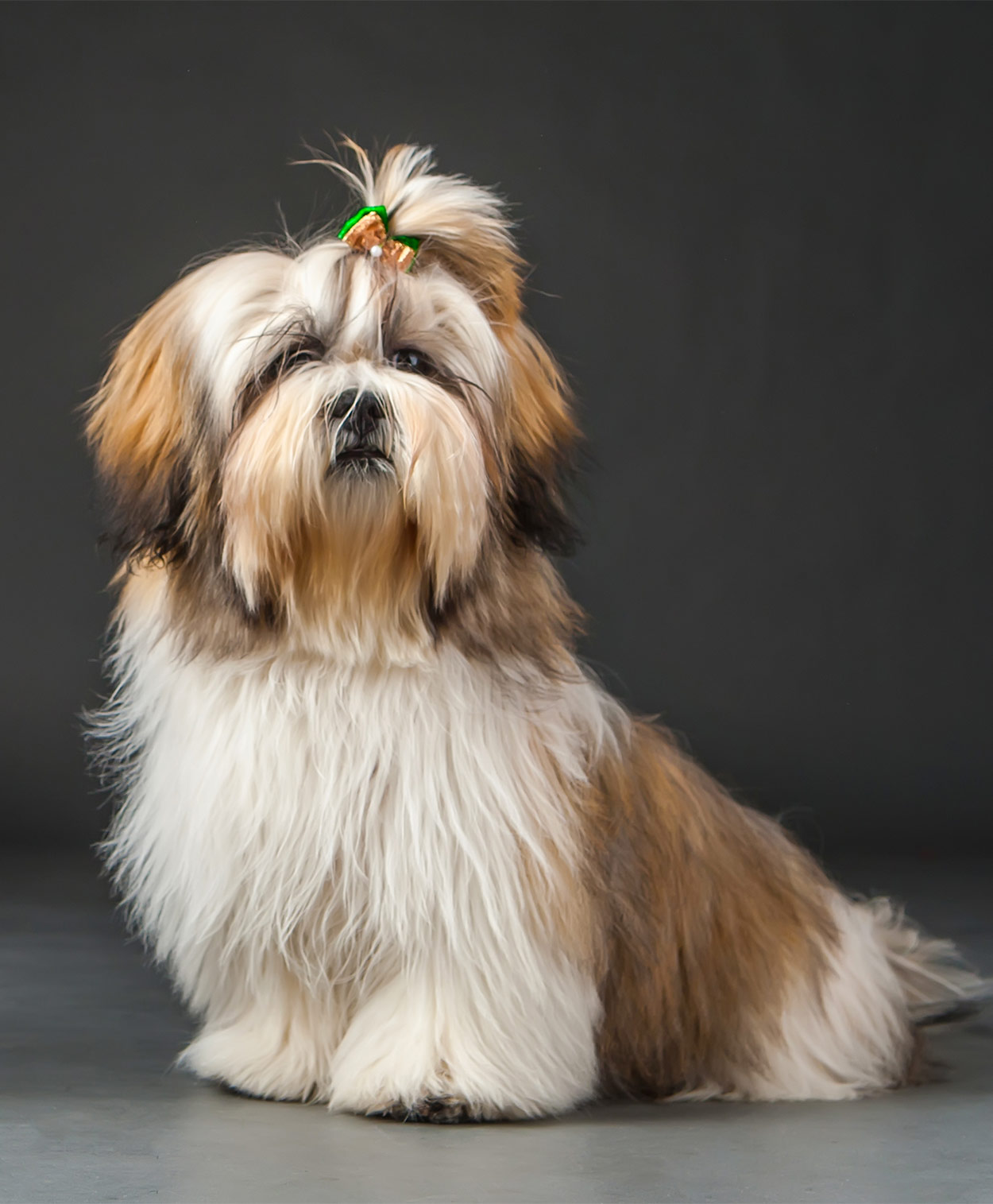 Dogs with beards – the Shih Tzu
The Shih Tzu dog breed may be single handedly responsible for launching an entire line of dog beard cleaner products, including dog beard whitener and dog beard stain remover.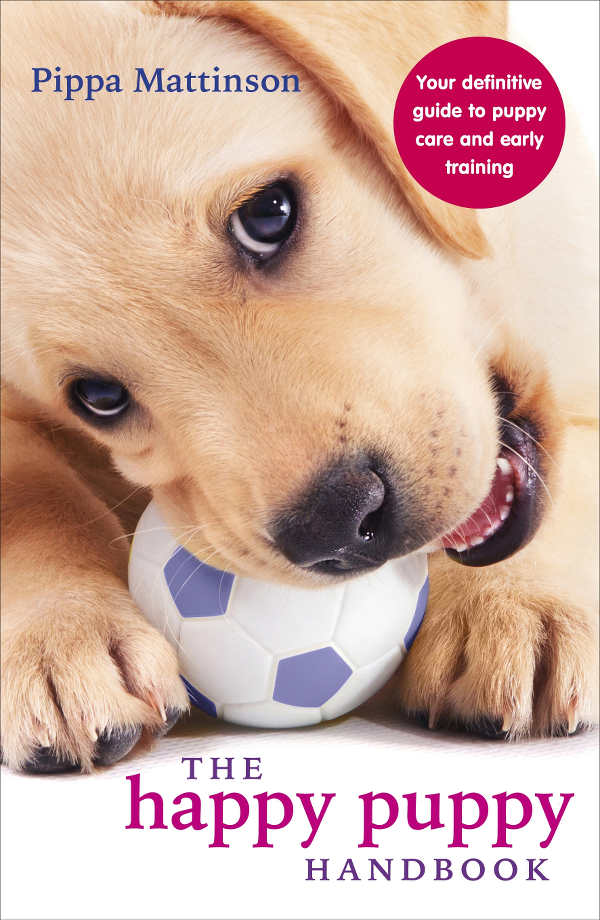 The name is pronounced "Shee – zoo" in the West and "Sher – zer" in the East.
While the Shih Tzu's famous long-flowing coat comes in endless color and pattern varieties, many have very light or white/cream fur on their faces.
This contrast between light fur and dark eyes is part of what gives this dog breed such a striking appearance!
Of course, that appearance becomes slightly less striking when it becomes stained or discolored. Here is where dog beard stain products can really come in handy!
Grooming and Health
The Shih Tzu needs LOTS of grooming, brushing, and combing to look and feel good. A Shih Tzu that is not brushed for even a single day can go from "good hair day" to "bad hair day" in the blink of an eye!
Health wise, this dog breed is considered to be generally healthy, but can suffer from hip dysplasia (joint malformation), knee dislocation, and a range of vision/eye conditions.
Obesity can also become a concern if too many treats are offered and not countered sufficiently with activity.
The good news is that the Shih Tzu can be perfectly happy as a lap dog. The couch is this dog breed's friend, which also helps keep daily brushing chores manageable.
Once or twice a day short outdoor walks and some playtime along with careful portion control should do it!
The Shih Tzu makes a great family pet. They love laps, resting, and looking cute and can be compatible with young children and other family pets.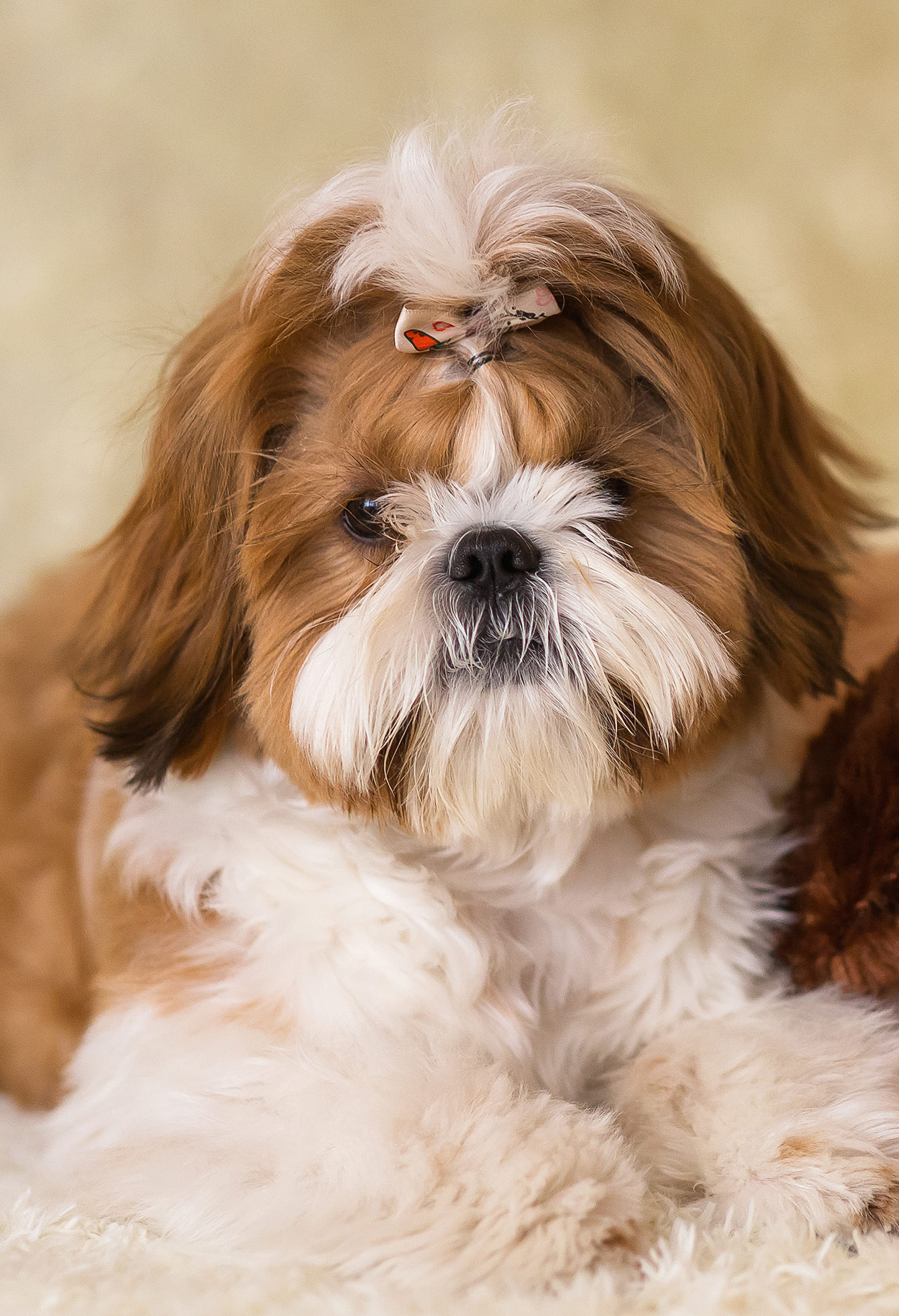 Dogs with beards
Dogs with beards are undeniably charming! Do you have a bearded canine sidekick? What is your favorite bearded look on a pup?
Pop us a comment and let us know what you think!

References and Further Reading
Coren, S., PhD., DSc, FRSC, "Why Do Dogs Have Whiskers?," Psychology Today, 2011. 
Wong, K., "What is the difference between hair and fur?," Scientific American, 2018. 
Johanson, J., "History of Lhasa Apsos," Joyslyns Lhasa Apsos Kennel, 2004. 
Jeanneney, J., ""Shorthaired wirehaired" dachshunds without beards – use them or lose them?," Born to Track Kennel, 2010.
LeRoy, J., et al, "History of the Bearded Collie," Bearded Collie Club of America, 1994.