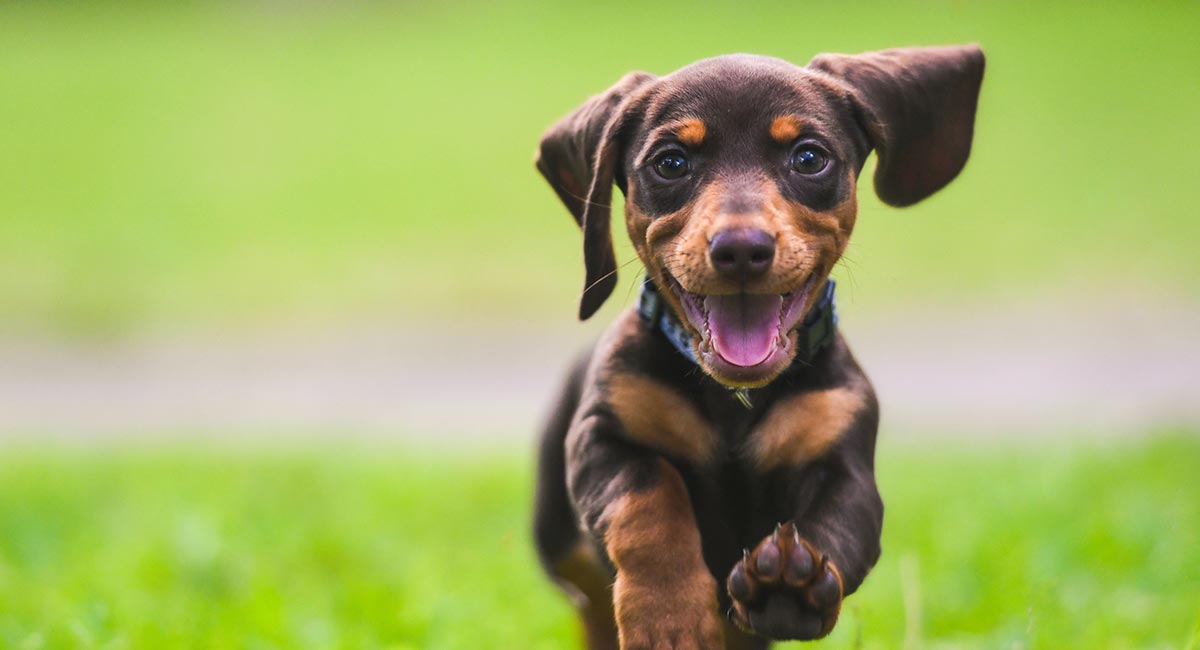 Cute dog quotes are the perfect way to capture our best friend's most precious, memorable moments.
In this way, trading cute dog sayings is almost like the dog lover's secret language – somehow, we understand each other perfectly, even if loving dogs is the only thing we have in common.
Happily, social media has made sharing our fur besties' antics easier than ever before.
Today, there is a whole culture of cute dog quotes for Instagram and other social platforms where dog lovers can meet, mingle and swap cute dog captions to our heart's content.
We think you will love these cute dog quotes to treasure and share – and don't forget to post your own faves in the comments section below!
How Cute Are Dogs? What the Science Says
According to new research, the cuteness of dogs is no fluke.
A study of "cuteness levels" showed that people think puppies are cutest between the ages of two and three months, or right when—wait for it—they become adoptable!
Why might this be, you may be wondering? The best theory is an oldie but goodie – to enhance their chances of survival.
What This Means
In other words, we live in a world side by side with an estimated one billion canines, 85 percent of which are thought to be stray or feral – essentially, homeless.
Most dogs must completely fend for themselves before they turn three months old. Here, being born especially cute may attract a human carer to help… someone like you!
Perhaps this is also why so many cute quotes with dogs feature pictures of young puppies.
Those liquid eyes, the sweet smile, that soft puppy coat….canine cuteness can get us to move mountains as nothing else can! And cute dog quotes can show this off even more!
Canine Cuteness Is to Friendliness As…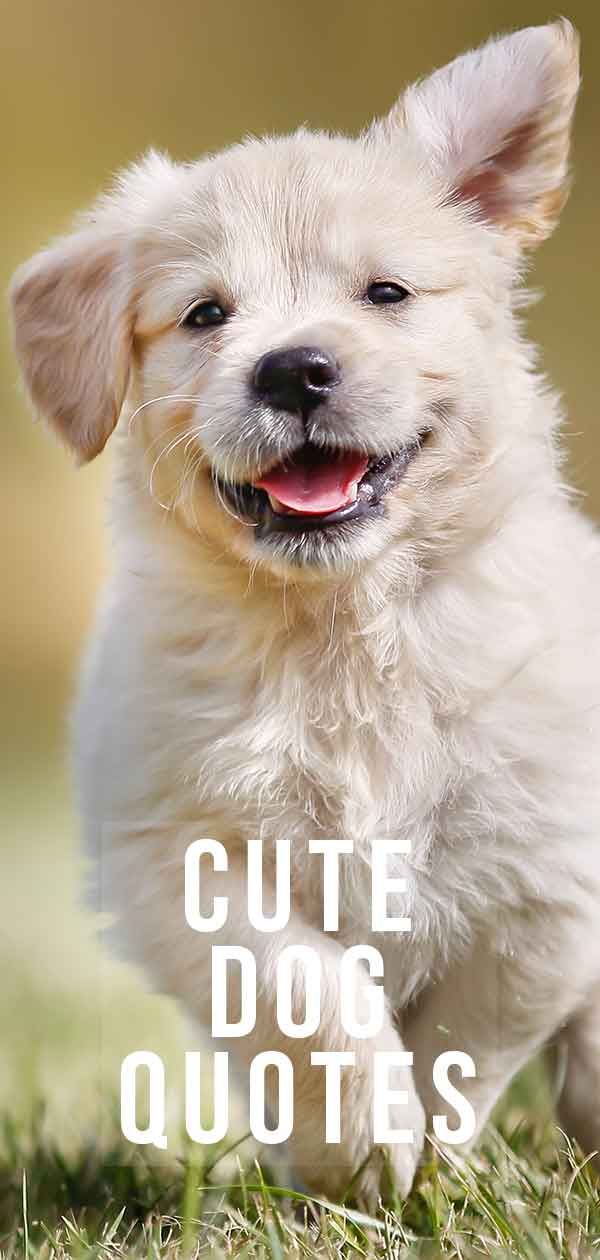 As if being really cute wasn't already enough, science also tells us that dogs have evolved to behave in a friendly way towards people. Literally.
Researchers have studied how the genome of Canis lupus, the wild wolf, evolved into Canis lupus familiaris, the family dog.
And they uncovered significant changes to several dog genes controlling social behavior.
What are They?
Not only have dogs evolved to be able to read our emotions (has your dog ever yawned when you yawn?).
But some dogs are so friendly there is a real scientific dilemma to sort out about who domesticated whom.
Or perhaps this domestication has worked both ways, although undeniably the furred family member is the one that brings the most cuteness into the equation!
Just like the many adorably cute dog names, we pick out for our fur loves…
The cute dog slogans you are about to enjoy perfectly capture the unmistakable and now scientifically-verifiable bond between you and your pup.
Cute Dog Quotes in Literature & Film
The pet dog is an enduringly popular topic in literature and film.
Not only do cute pups make for excellent creative muses, but they are guaranteed scene-stealers that reliably bring the fans (that is, us) back for more!
Let's Dive In!
"Every puppy should have a boy." – Erma Bombeck
"Of all of the things I miss from my veterinary clinic puppy breath is one of the most!" – Dr. Tom Cat
"Puppies are nature's remedies for feeling unloved, plus numerous other ailments of life." – Richard Allan Palm
"I am not your dog, but if every time you saw me, you gave me a backrub, I would run to greet you too." – Robert Brault
There's More!
"Dogs love company. They place it first on their short list of needs." – J.R. Ackerley
"All dogs go to heaven because dogs are naturally good and loyal and kind." – All Dogs Go to Heaven, the movie
"He always loved to be rubbed on the back of his neck. And when I did it, he'd yawn, and he'd stretch, reach out to me with his paws as if he was trying to embrace me." – My Dog Skip, the movie
Cute Dog Slogans in Pop Culture
Dogs play their own essential role in popular culture today. When we look at life through a dog's eyes, the whole picture changes.
More importantly, our perspective changes.
Life looks a lot simpler—and often a lot more fun!—when we live vicariously through the furry family member, as these cute dog slogans from Michael Bradley can attest.
Here's Our Favorites
"I just met you, and this is crazy. But here's my squeak toy, throw it maybe?" (set to the tune of Carly Rae Jepsen's hit pop song "Call Me Maybe")
"But the cat gets to poop in the house!"
"Can you please throw it again… 4,000 more times?"
"I will find you and I will lick you."
"Live like someone left the gate open."
"Dear Lord, we thank you for this food we are about to eat. Please don't let us get caught."
Cute Dog Quotes from Famous Dog Owners
These cute dog quotes are proof that underneath the fame and fortune, we are all just really dog lovers at heart!
"Puppy love is real to puppies." – Gus Kenworthy
"It [having a dog] teaches you right away that you can't be selfish because everything revolves around them. We will be out and could be having the greatest time in the world but we have to get back to our dogs." – Theo Rossi
"During the Prince's (Prince Charles of Wales) visit, King Timahoe (Nixon's dog) will be referred to only as Timahoe, since it would be inappropriate for the Prince to be outranked by a dog." – Former President Richard Nixon
Some More Choices!
"Somebody once said that dog is God spelled backwards." – Arthur Benjamin
"They bring joy to my life every day. I couldn't imagine a day without them." – Kimberly Ovitz
"She is literally the most loving animal on the planet. All she wants to do is lay with you." – The Fat Jewish & Katie Sturino
"They are just so comforting; it is just as simple as that. They make you feel better." – Paul Shaffer
"The dog was created specifically for children. He is the god of frolic." – Henry Ward Beecher
And a Few More Wise Words From the Famous…
"Children and dogs are as necessary to the welfare of the country as Wall Street and the railroads." – Former President Harry S. Truman
"If you find yourself nostalgic for the ongoing, day-to-day activities required of the modern parent, there's a solution: Get a dog." – Nora Ephron
"I've never loved a dog like this (her Maltese, Sugar) in my life. It's amazing. Sometimes I think there's a person in there. There's something to say for this kind of love — it's unconditional." – Elizabeth Taylor
"I cannot imagine not going home to animals. They are the closest thing to God." – Ellen Degeneres
And More!
"…I had deep love and affection for my little Sophie girl. And it wasn't until she passed away that I really understood the depth of my love for her because I learned … that there are big souls and little souls. Sophie was a little soul but had a great impact on my life. And when I lost her is when I realized that nobody on earth had ever loved me like that little dog." – Oprah Winfrey
"There also is such profoundness in just connectivity and energy and altruism that we have with our animals. Especially rescue animals. And they give it back. And there is some level of symbiotic gratitude, because you do save each other, and that is important." –Drew Barrymore
Cute Dog Quotes from Social Media
Enjoying cute dog quotes for Instagram and social media is one of the best ways to wonder about why our (adorably cute) dogs do the mysterious things they do.
This way, at least we can all have a good laugh together before we have to go clean up the
a) shredded couch cushions,
b) ruptured mini-blinds,
c) mystery poop pile,
d) you fill in the blanks…!
Check Out These
"Someone is at the door. How can you stay calm at a time like this?!"
"I see you've changed into your pajamas and got comfy. I have to pee."
"So before you get out of bed, something happened… and I love you so much."
"I thought you were never ever ever coming home ever. So I panicked (and destroyed the mini-blinds)."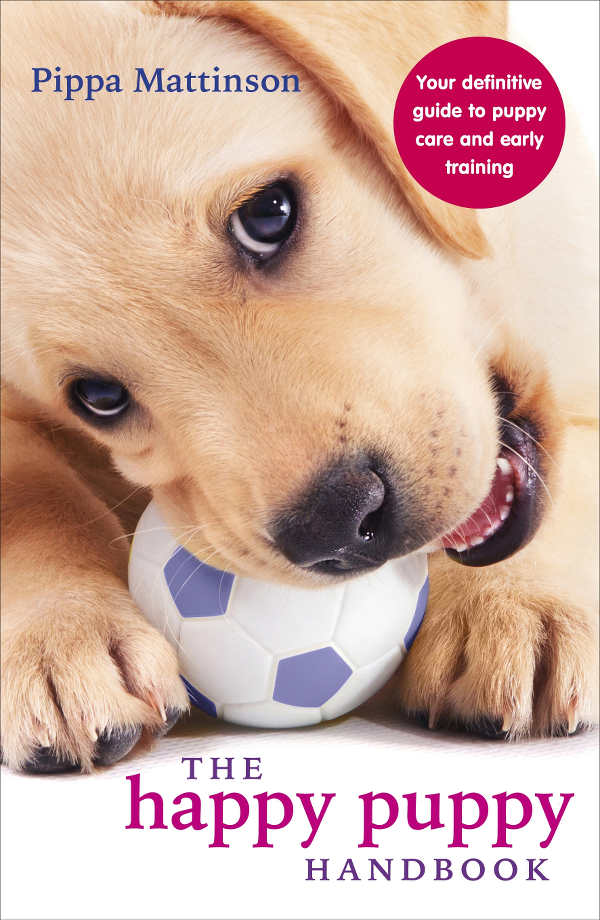 "Yes, I know I've gotten hair all over the couch. It's called fur-niture, isn't it?"
We've Got Even More!
"I ate your keys so you never have to leave me again."
"Every snack you make, every meal you bake, every bite you take I'll be watching you."
"If you think my head is big you should see my heart."
"I'm not sure who dug up the garden. Maybe it was the cat."
"Thank goodness you are home. Someone broke in and ate your rotisserie chicken again."
What Are Your Favorite Cute Dog Quotes?
Do you have any favorite cute dog quotes from the lists here? Or do you have another favorite cute dog quote we didn't mention here?
Please share your own cute dog sayings in the comments here for everyone to enjoy!
Looking for More Quotes?
Sometimes you just need more quotes! If you're looking for even more fun quotes, we've got them all!
Check out some of these articles:
References and Further Reading
Chersini N et al. 2018. Dog Pups' Attractiveness to Humans Peaks at Weaning Age. Anrhozoos.
von Holdt BM. 2017. Structural variants in genes associated with human Williams-Beuren syndrome underlie stereotypical hypersociability in domestic dogs. Science Advances.
Romero T et al. 2013. Familiarity Bias and Physiological Responses in Contagious Yawning by Dogs Support Link to Empathy. PLoS One.
Hare B. 2013. Opinion: We Didn't Domesticate Dogs. They Domesticated Us. National Geographic.
Wang G et al. 2013. The genomics of selection in dogs and the parallel evolution between dogs and humans. Nature Communications.