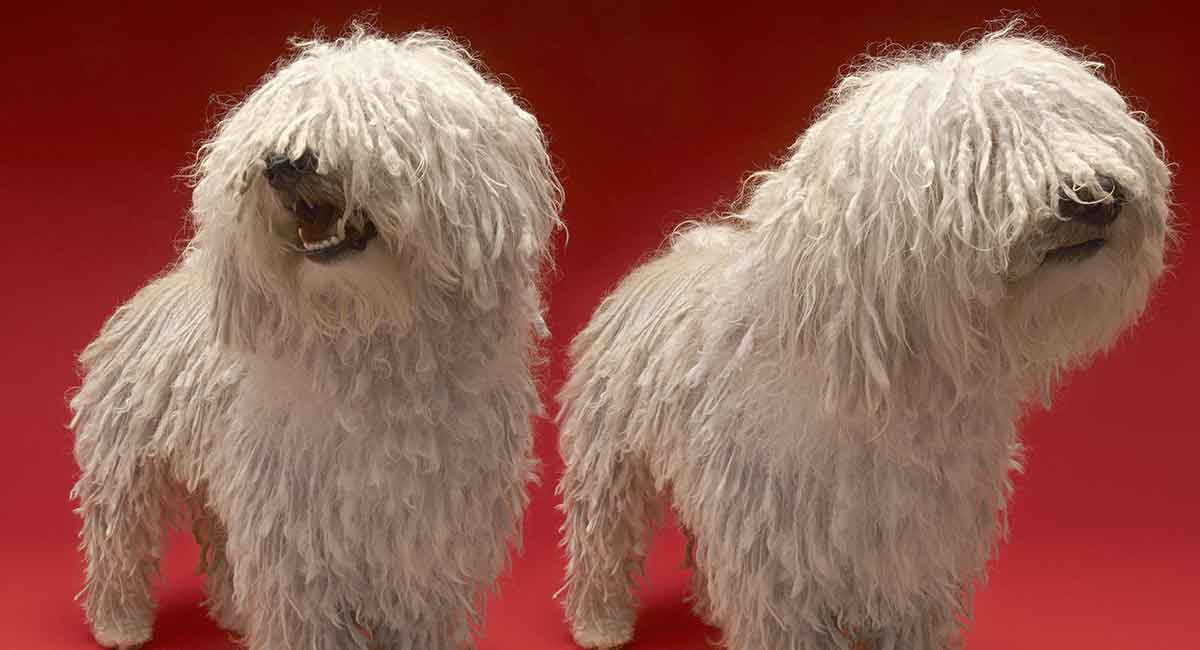 If you're looking for a big dog (or any dog) that doesn't shed, we first need to talk about shedding and non-shedding.
First, all dogs shed at least a little. Shedding is the loss of fur that is dead or damaged and this occurs with every breed. However, there is great variation among breeds as to how much is shed and how often shedding occurs.
That's where non-shedding comes in. Although no dog breed is truly non-shedding. There are breeds that shed very little. So, although this article is called "big dogs that don't shed," it should probably be called "big dogs that don't shed very much."
Let's take a look at what this means for you and your potential new furry friend.
All Dogs Shed?
Unfortunately for our housekeeping efforts, all dogs shed. But although big dogs that don't shed at all don't exist. Big dogs that don't shed much do.
You may assume that low shedding dogs would naturally have less hair than regular dogs, but you'd be surprised. The Komondor is a large dog that doesn't shed, and the Komondor is basically all hair.
Shedding is a natural process that occurs for a variety of reasons. Since a dog's coat helps to regulate their body temperature, many breeds shed hair seasonally. Double-coated breeds typically shed in the spring and fall.
Other than seasonal shedding, other factors including diet, pregnancy, lactation, illness and stress can all play a part in a dog's shedding.
Dogs may shed after a stressful experience like traveling or having surgery. Shedding can also be caused by malnutrition, injury, skin disorders, parasitic infections or the hormonal changes that accompany pregnancy and lactation.
All dogs shed, but how much they shed varies greatly by breed. We'll explore big dog breeds that don't shed in a bit. First, let's look consider allergies and low-shedding dogs. If you're looking for big dogs that don't shed, chances are it's because you or someone you love is allergic to dogs.
Why Are Some People Allergic To Dogs?
An allergic reaction is an abnormal response to something (normally a protein) that your immune system recognizes as foreign and assumes is a threat (such as a bacteria or virus).
The reaction is often mild and causes sneezing and itchy eyes, but allergies can also result in asthma attacks, difficulty breathing and (rarely) death.
If you are allergic to dogs, you may assume that the more hair a dog has, the more you'll suffer. But pet allergies are normally triggered by microscopic particles found in dog urine, saliva and bits of dead skin (known as pet dander). These particles are tiny enough to be airborne, so they are easily inhaled by humans.
All dogs produce a certain amount of pet dander, but dogs that are known as hypo-allergenic breeds typically spread less dander and are thus less likely to cause an allergic reaction.
It's important to note that there is no such thing as a hypoallergenic dog breed, but some breeds are more suitable for allergy sufferers.
You can find out all about hypoallergenic dog breeds in this article.
You may be looking for a low-shedding dog because of allergies, but not all low-shedding dogs are appropriate for allergy sufferers.
Many non-shedding dogs do produce less dander and are thus less likely to cause sneezing and other allergy symptoms, but it's not a guarantee.
If you are looking for both characteristics then make sure you discuss your needs with your breeder or adoption agency, so you can make the best choice.
Some people think that shaving their dog or buying a hairless breed will stop allergic reactions, but this can actually make it worse as the skin is more exposed.
Besides allergies, why are people interested in big dog breeds that don't shed?
Why A Big Dog That Doesn't Shed?
Finding dog hair all over your house is one of the major downsides to having a dog at all, so a low-shedding breed offers a clear advantage in that regard.
Dogs that don't shed much often spread less pet dander because dander sticks to their fur. So, less dander is released into the air. This doesn't mean the dog is allergen free, but less shedding definitely helps.
Dogs that shed often leave hair all over, and naturally, the bigger the dog, the more hair they have to shed!
If your dog doesn't shed much, it definitely saves time cleaning up. There's less hair to vacuum, your bed won't be full of hair and while you'll still find hair around your house now and then, it won't be nearly as bad. And cutting the amount of time spent on chores gives you more quality time with your pet!
Not all low-shedding dogs will have thin coats, but those that do are less likely to get pollen trapped in their fur. If you have hay fever, you'll want to avoid pollen as much as possible, so it may be better to choose a dog with a single rather than a double coat or a dog with less fur.
So, let's talk about big dogs that don't shed!
What To Expect From Big Dogs That Don't Shed Much
Low shedding dogs are not necessarily lower maintenance. In fact, some large low-shedding dogs are actually high maintenance.
Matted hair can be painful for a dog because, if left unchecked, it can pull on the dog's skin. This can cause permanent hair loss, so it's important to groom your dog regularly for their comfort and appearance.
You'll need to bath and brush your dog's fur to prevent their hair from getting matted and dirty. Regular grooming is also important because it cleans away a lot of the pet dander that sticks to the dog's fur. A well-groomed dog is also better for any allergy sufferers in your home.
Big Dog Breeds That Don't Shed
Now that you have a better idea of what to expect, let's meet some of the big dog breeds that don't shed much!
Airedale Terrier
Airedale terriers are the largest of all terrier breeds. They originated in Yorkshire, England, and they've been around since the mid-18th century. The breed were first used to hunt otters and rats and they make good sport, working and guard dogs.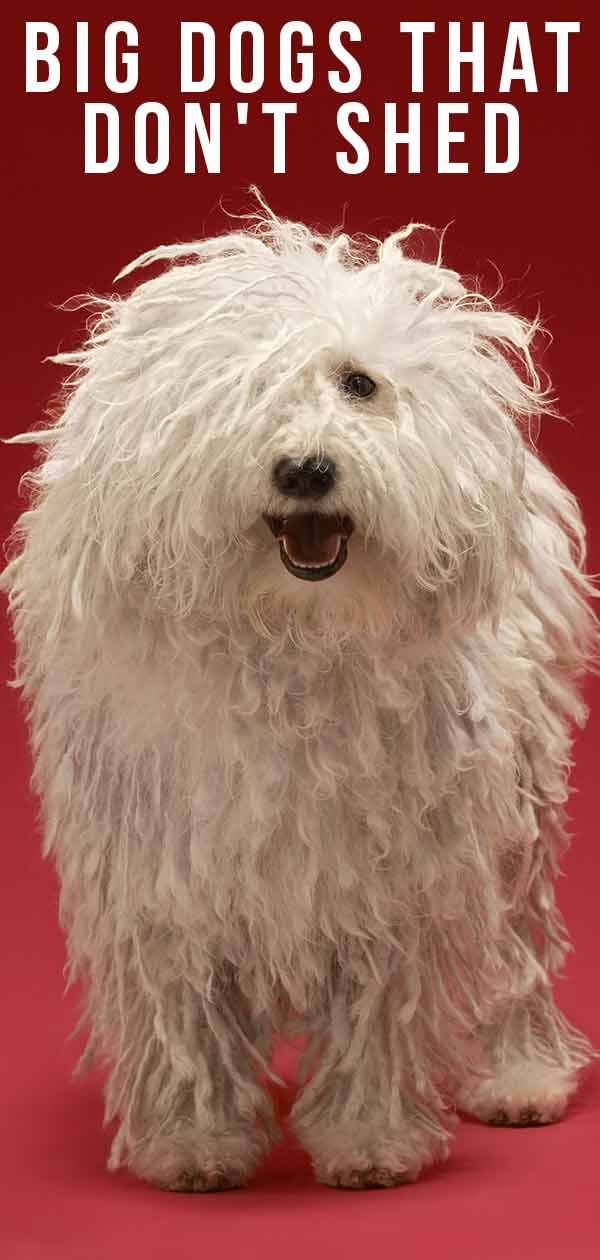 This breed is a great choice if you're looking for a family dog, you have a backyard and you're prepared to go on regular walks. But Airedales are independent, so they can be aggressive toward other animals and require a lot of socialization to people and other pets starting at a young age.
Airedale terriers don't normally shed much, but they will shed at certain times throughout the year. They have two coats (a softer undercoat covered by a coarse topcoat) and they require require regular brushing and annual hand stripping.
You'll need to bathe them every now and then, and it's important that you clip or trim your Airedale's coat every few months to maintain a nice groomed appearance.
In the category of big dogs that don't shed, the Airedale is a great choice for active homes with older children. Ideally, an Airedale is the only pet in a household.
Giant Schnauzer
Schnauzers come in many sizes and the Giant Schnauzer is by far the biggest. The breed originates in Germany and was first used for driving cattle. Some Giant Schnauzers were also used in butcher shops as guard dogs and later in the police force.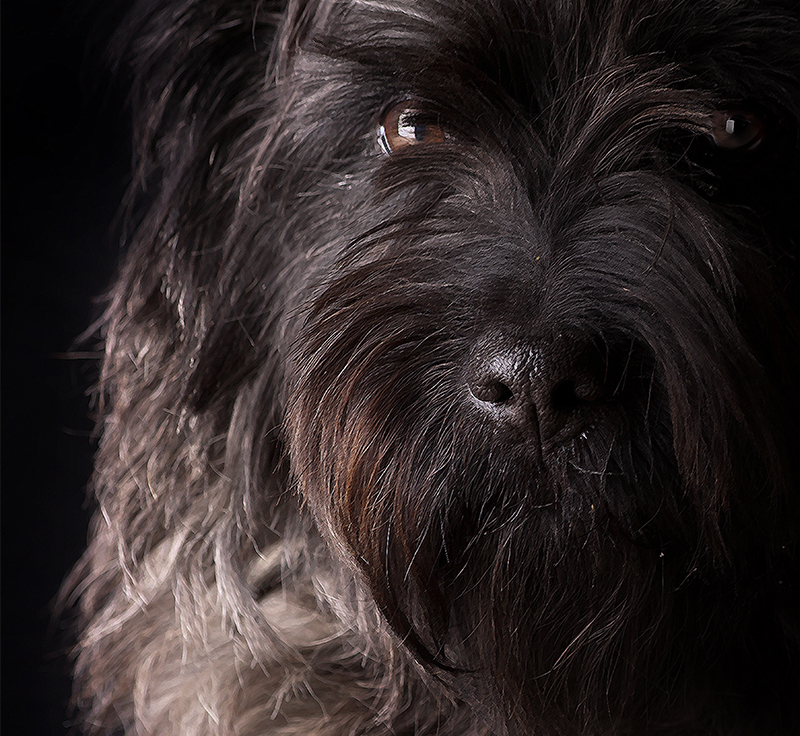 Giant Schnauzers tend to be sensitive, bold and protective. They are intelligent and require regular mental and physical stimulation. They are not recommended for households with younger children. These dogs require thorough early socialization to help them be accepting of new people and experiences.
Giant Schnauzers have wiry coats that don't tend to shed often. They need regular brushing (at least once a week) and their coats need to be clipped or trimmed every few months.
Irish Water Spaniel
The Irish Water Spaniel was developed by a man, Justin McCarthy, who never revealed how he bred the first known Irish Water Spaniel, a dog called Boatswain. It is a versatile dog that was bred for hunting and water retrieving.
A popular working and show dog in Ireland, the Irish Water Spaniel isn't as well known in the US. Only around 125 Irish Water Spaniel puppies are registered each year, so this dog is pretty hard to find.
This breed loves to swim and has webbed feet to help them along. The Irish Water Spaniel is active. Although they are relatively easy to train, they also like to goof around and can be a bit of a handful at times.
Irish Water Spaniels love to have fun and are an entertaining addition to the family, but they do require early socialization. They are also hunting dogs, so they may not get on with smaller animals and birds.
Irish Water Spaniels a have thick coat which needs to be brushed three times a week to avoid mats and to remove dirt, debris and bacteria. They are a low-shedding breed that won't leave hair deposits all over your house. They are also among the breeds that are considered hypoallergenic.
Komondor
The Komondor is a Hungarian breed that was bred to guard sheep in their pastures. Their coat has a dreadlock appearance somewhat similar to that of the sheep they were bred to guard. These are tough dogs used to fighting off wolves and other animals that would prey on sheep.
They don't require regular brushing, but they do require regular bathing to keeping their coat looking and smelling its best.
Regular walks or free running around a large, enclosed yard is essential for these moderately active dogs. While they enjoy playing with other dogs they live with and know, they do not do as well with strange dogs because of their guardian instincts.
As with many dogs, early socialization and training are important for the Komondor to be a good pet. They are somewhat independent and may tend to be overprotective.
Portuguese Water Dog
Portuguese Water Dogs are packed with loving personality.
The Portuguese Water dog was used by Portuguese fishermen for centuries to help them retrieve things from the water and to communicate with fishermen on nearby boats.
This breed probably shares its ancestry with the Poodle.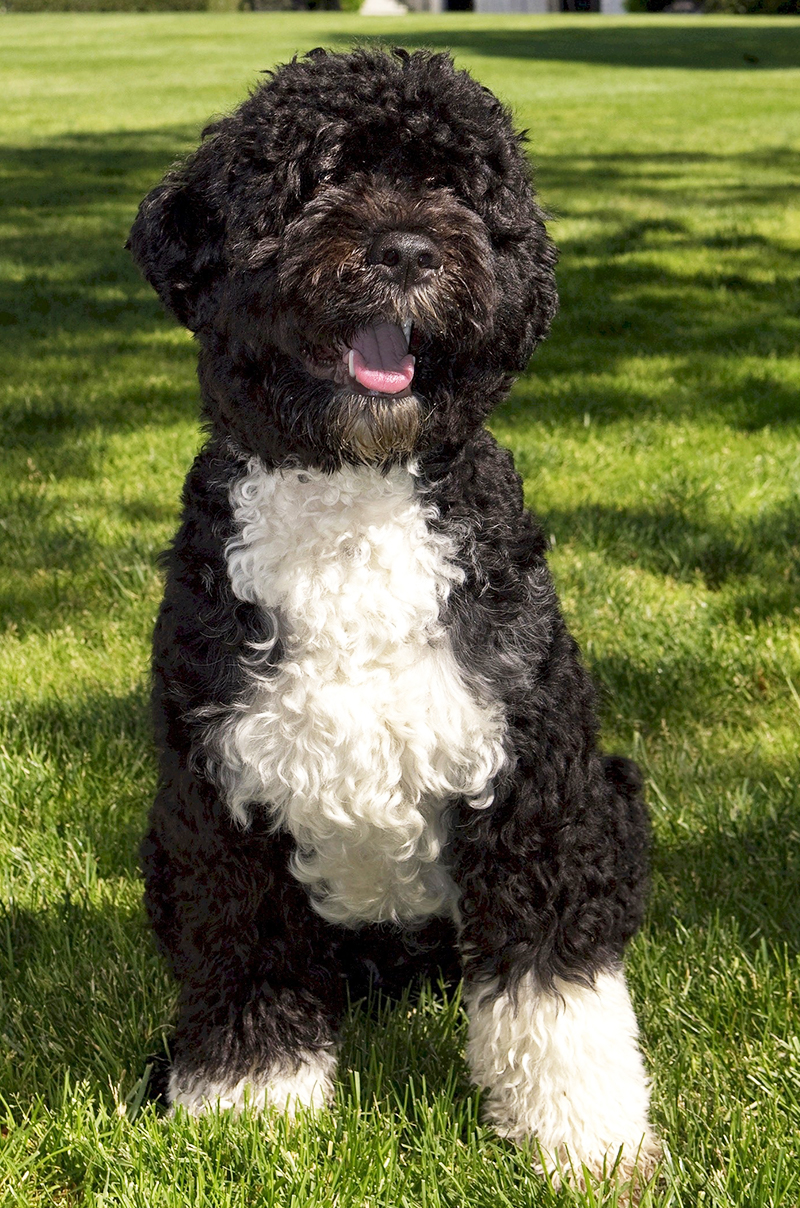 The breed became popular when a Portuguese Water dog named Bo joined Barack Obama and his family had one as First Dog at the White House.
As the name suggests, the Portuguese Water dog loves swimming and needs regular exercise. They are clever, get along well with children and are very loving toward their family.
This breed is considered hypoallergenic. Even though all dogs do shed sometimes, the Portuguese Water Dog sheds a lot less than most other breeds.
They need to be brushed every couple of weeks and trimmed every month.
Saluki
Saluki's are gorgeous, slim and delicate dogs.
The Saluki is an ancient breed, probably descended from the first dogs. There are pictures of Saluki-like dogs on Egyptian tombs from as long ago as 21,000 BCE. These dogs were originally used for hunting, and they were so adored by the Pharaohs that many were mummified to join their owner in the afterlife.
The Saluki is aloof with strangers and needs early socialization. They tend to be shy, like to be clean and tend to form a close bond with one special human. These dogs like to lounge around for hours, but they still need periods of intense sprinting daily exercise.
These skinny dogs have been hunting for centuries and that instinct is still active, so keep them away from small animals. They also must be kept on a leash outdoors as they are very fast.
Saluki dogs are a low-shedding breed that tends not to have that dog smell. They need weekly brushing to maintain their appearance and keep their coats clean.
Standard Poodles
Who doesn't love a Poodle? Although pocket-sized toy and miniature Poodles are very cute, there is something wonderful about the full-size Standard Poodle.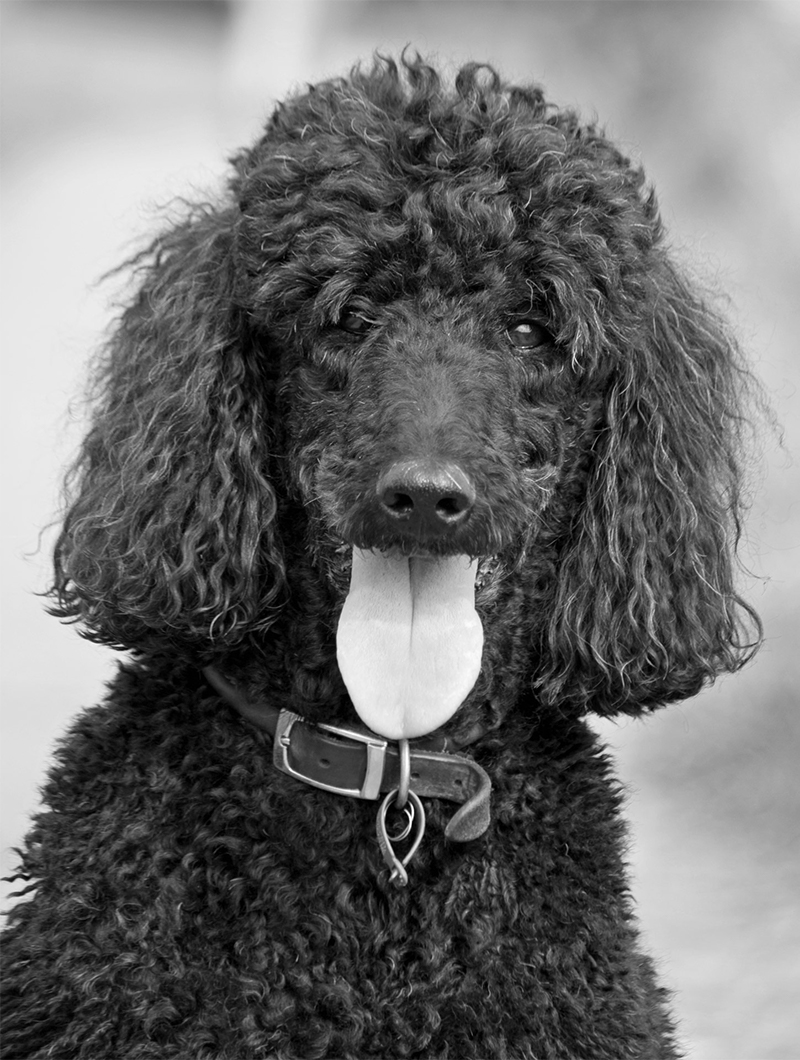 The Poodle is an old breed that is probably a cross between several other dogs. There are images of dogs that look a lot like Poodles decorating ancient Egyptian and Roman artifacts.
Poodles were used for duck hunting, and some were also used as performers in the circus. The Poodle is currently one of the most popular dogs in America.
Poodles are clever, loyal and proud. They love to have fun and they are pretty easy to train, but they can be wary of new people.
The Poodle doesn't shed much at all and they are thought to be one of the most "hypoallergenic" breeds around. To maintain their, this breed needs semi-regular grooming and a clipping about once a month.
Even though the Poodle is famous for their unique hairstyles, you are under no obligation to make your Poodle look like a show dog!
Mixed Breeds That Don't Shed (Much)
Some mixed breed dogs shed less, or are meant to shed less, than other breeds because one or more of their parents is a low-shedding dog. But this is not always the case.
Labradoodle
Labradoodles are a popular mixed breed that are a cross between a Labrador and a Poodle.
These dogs were originally bred in Australia, and they were designed to be hypoallergenic dogs with non-shedding coats. Unfortunately, this isn't always the case.
The problem with hybrid dogs is that you can't determine which traits the puppy inherited. Some Labradoodles are more Labrador, and some are more Poodle. While some Labradoodles have non-shedding coats, others shed with abandon.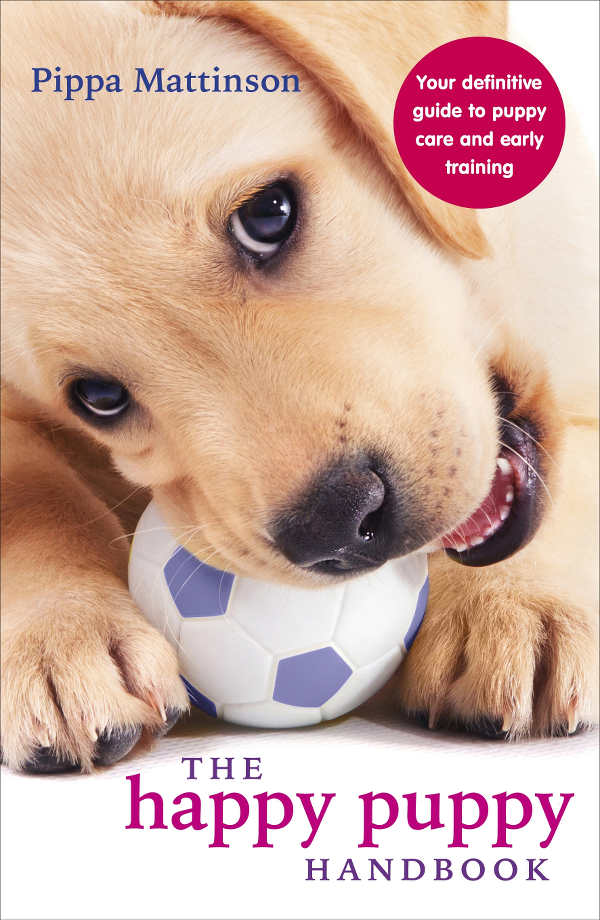 If you have your heart set on a non-shedding dog, then a Labradoodle may not be the best choice, but they do still have a lot to offer.
Labradoodles are generally intelligent, easy to train. They are also friendly and get along well with other pets, children and strangers.
Schnoodle
The Schnoodle is a cross between a Schnauzer and a Poodle. Most of these dogs tend to be smaller, but you can get a standard Poodle crossed with a Giant Schnauzer and end up with a bigger dog.
The Schnoodle is a newer breed, more recently developed in the 1980s. They were designed to be a low-shedding, hypoallergenic breed as both Schnauzers and Poodles are low-shedding breeds.
Hybrid dogs tend to be unpredictable when it comes to temperament, but the Schnoodle is designed to be protective, loyal, fun and intelligent. These dogs need early socialization to help them to be comfortable in different situations.
Schnoodles are a low-shedding breed that requires regular trimming. Schnoodles may either have a soft coat, like a Poodle, or a wiry coat like a Schnauzer. Regardless of which cost your dog has, it needs to be brushed once a week.
Big Dogs That Don't Shed – Summary
Although all dogs shed at least a little bit, there are several big dog breeds that don't shed much.
There are also no truly hypoallergenic dogs, but there are good options to minimize the risk of allergic reactions.
Unfortunately, some of the breeds listed here are pretty rare, and unfortunately, there are some unscrupulous breeders who are more concerned about money than the health of the dogs they sell.
If you are looking to buy a dog, remember to choose a responsible breeder who follows recommended guidelines. A reputable breeder will be able to answer your questions about a puppy's health, parentage and potential health concerns. They should also have a history of the dog's ancestors to ensure there are no hereditary problems or unnatural unions.
Sadly, many owners abandon dogs because they are unable or unwilling to care for them any longer. These dogs need a loving home with people who will give them a good life. If you're considering buying a dog, why not adopt an adult dog instead? You'll know what their final size will be and what their coat and shedding will be like.
We are big fans of the Standard Poodle mixes, but not all of these will be non- or even low-shedding. Make sure that you know all about both parent breeds and are aware of the risk that your pup will be high-shedding despite having one low-shedding parent.
Do you have a big dog that doesn't shed much? Tell us about your furry friend in the comments.
This article has been updated for 2019.
Choosing The Perfect Puppy
Are you struggling to pick the right breed for you and your family?
Then you will want to read 'Choosing The Perfect Puppy'.
From the best-selling author of Total Recall and The Happy Puppy Handbook, comes a complete guide to finding the best dog for you.
Buy it online from Amazon today.
Related Articles
Further Reading
American Kennel Club
Li, J.T.C., "Are there hypoallergenic dog breeds?," Mayo Clinic, 2016.
André, A. M. & André, Z. H., "Allergies to Pets" in Animals, Diseases and Human Health: Shaping Our Lives Now and in the Future, edited by R.G. Davis, 2011.
Shatz M. & Schatz C., "Correcting Myths and Misconceptions about Allergies to Pets," Taylor Francis Online, 2015.
VetWest Animal Hospitals, "Everything You Need to Know About Shedding in Cats and Dogs,"