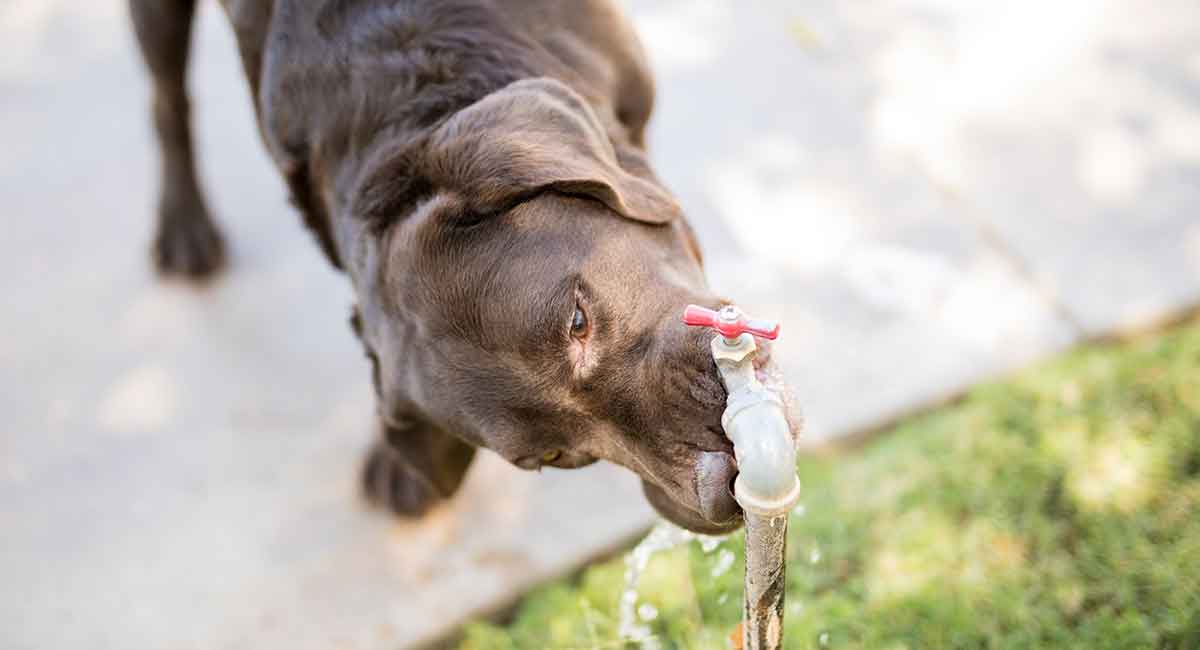 Water intoxication in dogs occurs when they swallow more water than their body can comfortably process.
Throughout their body, the excess water causes their cells to swell up, which can result in permanent tissue damage.
This includes the risk of tissue damage in the brain, so it's important for dog owners to be aware of the signs and symptoms of water intoxication in dogs.
If your dog is showing signs of water intoxication, the sooner you speak to your vet, the better.
Water Intoxication in Dogs
We all know how important it is to make sure our dogs have access to fresh, clean water each day.
But not everyone realises that it's possible for a dog to drink too much, and how that can happen.
To help you navigate this article and find specific information about water intoxication in dogs quickly, you can use the jump links below.
Or, read along with us from start to finish to arm yourself with everything you need to know.
Let's start with the basics – how can drinking too much water hurt a dog?
What is Water Intoxication in Dogs?
Water intoxication, also known as water poisoning or over hydration, occurs when dogs drink more water than their body can process normally.
The surplus water begins to over-dilute the salts and minerals in the fluid which surrounds their cells.
To try and balance out the over dilution outside the cells, water is absorbed inside the cells, which causes them to swell up.
But if cells swell up too much, the structures inside and around them can be damaged.
Brain Damage by Over Hydration
Water intoxication is especially dangerous when it affects the brain, because the skull prevents the cells from expanding very much at all.
When brain cells absorb too much water, they start to press against each other, until eventually the pressure causes them to start dying off.
Severe cases can result in seizures, brain damage, coma, and even death.
But why would a dog drink too much water? Surely animals naturally know how much to drink?
Well, sometimes excessive water intake can happen by accident.
Let's find out how.
How Can a Dog Drink Too Much Water?
Dogs are often at higher risk of water intoxication than people and other animals. Why is this?
Water intoxication frequently occurs in hot weather when we all tend to drink more water.
But dogs can unintentionally swallow too much water during activities like playing in pools, lakes, rivers, and even in the garden sprinkler!
Owners of active, playful dogs that love the water (such as Newfoundlands or Labrador Retrievers) should be especially careful of water intoxication.
How do you know when your dog has ingested too much water?
It helps to understand how much water your dogs actually needs first.
How Much Water is Too Much for a Dog?
How much water a dog needs to drink varies by:
age – puppies need more water than adult dogs
diet – kibble fed dogs need more water than wet food and raw fed dogs
size
overall health
and activity levels.
But as a rule of thumb, normal water consumption should not exceed about 90ml per kilo of weight per day.
That means a little under 500ml (2 cups) for the average Shih Tzu, 900ml for a Beagle, and 2.5l for a Labrador.
But Dogs are Individuals
Of course, there's no such thing as a completely average dog, and these figures are intended to help us judge a maximum normal volume, so don't be alarmed if your dog doesn't drink this much!
But it's easy to see how a dog snapping at the stream from a garden sprinkler, taking little gulps from a lake as they play fetch in the water, or having a long drink to cool down on a hot day can accidentally exceed these volumes.
In that sense, because dogs are so much smaller than we are, it's easy for people to misjudge how much water is too much for a dog.
So next we'll look at the signs to watch out for that your dog has swallowed too much water.
Signs of Water Intoxication in Dogs
The symptoms of mild water intoxication in dogs are:
Lethargy
Nausea and/or vomiting
Bloating
In severe cases, further symptoms might include:
Poor coordination
Dilated pupils and/or glazed eyes
Drooling
Difficulty breathing
Pale gums
Loss of consciousness
Seizures
Coma
Neurological Signs
Many of the signs of severe water intoxication in your dog are neurological in nature. This reflects the changes going on at a cellular level in their brain.
To protect your dog from permanent injury caused by water intoxication, it's important to act fast when you spot any of the symptoms.
So what should you do if your dog is beginning to show signs of water intoxication?
Diagnosis of Water Intoxication in Dogs
Water intoxication can be a life-threatening condition. So it's important to get your dog to a veterinarian as soon as you spot any of the symptoms, even the mild ones.
When you contact your vet, explain your dog's symptoms, and also if you have any reason to believe that they might have consumed too much water.
Your vet will perform a physical examination, and they may conduct tests to determine the amount of sodium in your dog's blood.
Drinking too much fresh water can cause sodium in your dog's blood to become too dilute, whilst swallowing sea water can have the opposite effect.
Once a diagnosis of water intoxication has been confirmed, your vet's priority will be to re-establish a healthy balance of water, salt and minerals inside and outside your dog's cells.
How to Treat Water Intoxication in Dogs
For mild cases of water intoxication, your vet may simply restrict water intake, and monitor their recovery.
Because water poisoning can affect the brain, they will also watch your dog for neurological symptoms.
In more serious cases, dogs may need intravenous medication to raise the sodium level in their blood.
Other treatments to reverse water intoxication in dogs include diuretics to increase urination and drugs that reduce brain swelling.
So as you can see, treating severe water intoxication in dogs is a highly specialized undertaking.
But what about mild water intoxication in dogs? Is that something you can manage at home without expensive out of hours veterinary care?
How to Treat Water Intoxication in Dogs at Home
We don't recommend ever trying to treat a water intoxicated dog at home, or attempting to wait it out.
Dogs are extremely vulnerable to permanent brain damage when they drink too much water, at which point the only compassionate treatment becomes euthanasia.
If you spot any of the less severe symptoms of water intoxication, it is wise to think of them as a warning signal that worse symptoms might be imminent.
Seek veterinary help before it is too late to treat your dog at all.
How Long Does Water Intoxication Last in Dogs?
This will depend upon factors like a dog's size, overall health, how water intoxicated they are, and what course of treatment they receive.
Your vet will do their best to get your dog out of danger quickly, whilst minimising the risks of side effects from treatment.
Side effects of correcting the water balance inside and outside a dog's cells too rapidly can include brain dehydration and damage to nerve cells.
So bringing a dog back to normality at a safe rate needs to be planned carefully on a case-by-case basis.
Can a Dog Die From Drinking Too Much Water?
Sadly yes, some dogs do die from drinking too much water.
This happens when the neurological damage caused by water intoxication is becomes too severe and irreversible to be treated.
However, by knowing when your dog is at risk of drinking too much water, and how to prevent them from doing so, there is a lot you can do to protect them.
Which Dogs Are Most At Risk for Water Intoxication?
Certain dogs can be at a higher risk of water intoxication than others.
Energetic dogs that love to play in the water can swallow too much accidentally.
This is especially true of dogs who swim with their mouths open.
Small dogs can become intoxicated by smaller volumes of water.
Dogs with low body fat can become intoxicated faster because body fat is one of the few 'safe' areas for excess water to be absorbed.
Dogs with obsessive-compulsive tendencies, such as biting at sprinklers or chasing balls into the water repeatedly, can be at higher risk.
Be sure to monitor senior dogs and puppies for signs of water intoxication as well.
Water intoxication is one of those conditions where the best treatment is prevention!
Here are a few common-sense tips to prevent water intoxication in your dog.
How to Prevent Water Intoxication in Dogs
It's important to keep your dog hydrated on hot days, but be sure to keep an eye on your dog's drinking water intake.
And ensure that you give him plenty of opportunities to urinate.
You should always monitor your dog around water sources like kiddie pools and running hoses and sprinklers in the yard.
Trips to lakes, rivers, and beaches are fun for you and your dog, but be aware of the risk of water intoxication on these outings.
Tips When Playing
Limit the number of times your dog fetches balls and other toys back and forth from the water.
Remember that the larger and rounder the toy, the more open your dog's mouth will be, so choose flat toys for games of fetch in the water.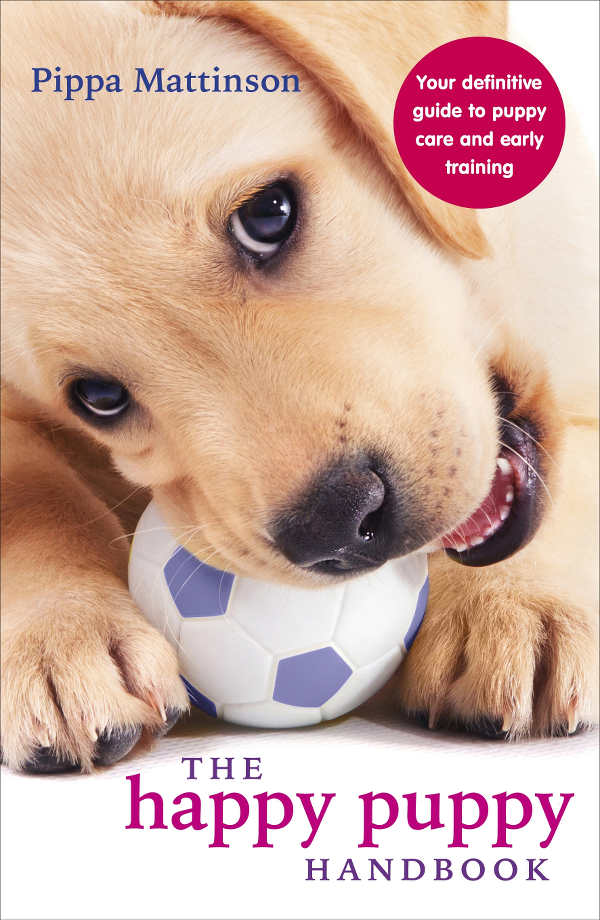 Learn your dog's swimming style – if they swim with their mouth open, or close to the water, they are more likely to take in water unintentionally.
And call all dogs out of the water regularly for breaks.
Should I Limit My Dog's Water Intake?
Maintaining correct hydration is very important for dogs.
Besides making it possible for their organs and tissues to function properly, it is a vital part of staying cool on a hot day.
Never limit your dog's access to clean, fresh water from a drinking bowl unless your vet has told you to do so.
But if your dog is playing in water, call them out at regular intervals for a rest to limit how much surplus water they take in by accident.
Can Dogs Get Bloat From Drinking Too Much Water?
Bloat is an awful condition, and there are several variables which we know can increase the risk of a dog getting it.
One of those variables is gulping large amounts of water at meal times, or before or after exercise.
If your dog belongs to one of the breeds prone to bloat, or they tend to gulp their food and water at mealtimes, you might want to consider giving them 'portions' of water at regular intervals throughout the day (including one with meals and after exercise).
You can find out more about protecting your dog from bloat here.
Water Intoxication and Your Dog
Most dog owners will never experience water intoxication in their pets. However, some dog owners may not be so lucky.
Always supervise your dog when they're playing in, or with, water.
Make them take regular breaks, and be alert to the early symptoms of having consumed too much water.
If you spot any signs of water poisoning, act quickly, don't wait for your dog to deteriorate.
Have You Had Any Experience of Water Intoxication in Dogs?
Do you feel able to share your experience with other dog owners and raise awareness of what to look out for?
We'd really appreciate it if you could share your story in the comments box down below.
This article was revised and updated in October 2019
References and further reading