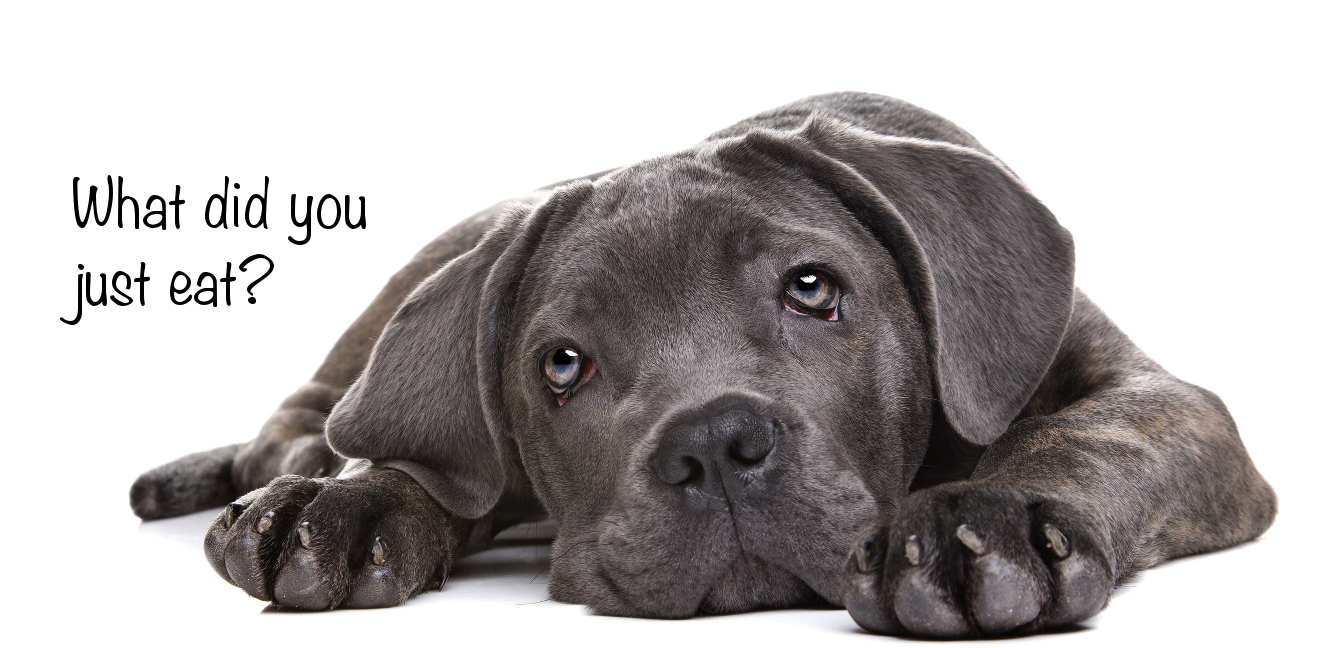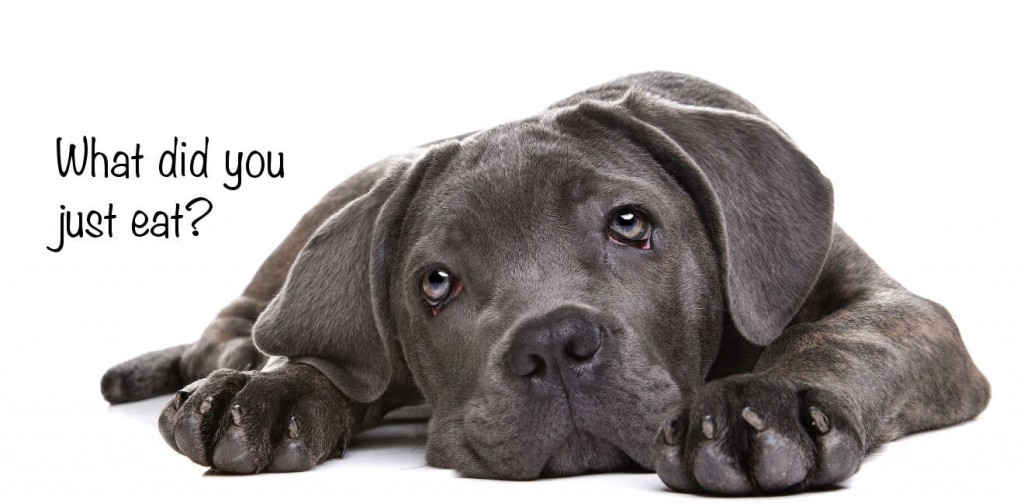 Poop eating is one of the worst things dogs do, but although disgusting this is a surprisingly common problem. Working out how to stop your puppy from eating its poop can be stressful, but you have a few options. Sprinkling the faeces with pineapple or chilli pepper can help. As can your switching your dog to a raw diet. It's also possible to teaching your dog to come away from their poop, or to remove it from reach as soon as it emerges.
Contents
If there is one topic guaranteed to horrify new puppy owners, it is discovering that their puppy eats poop. In this article we are going to talk about how to stop your puppy eating poop, but first we'll take a look at why puppies do this, and at just how common and normal this habit actually is.
"Normal!" You cry "Surely not?"
The first time they see their puppy eating his own faeces, most new puppy owners are convinced that they have ended up with a depraved and highly abnormal dog. But this just isn't the case.
Why Is My Puppy Eating Poop?
First of all, the hard truth is that many, if not most, dogs eat poop from time to time. Especially when they are puppies. A study carried out in 2012 found that 16% of dogs are serious poo eaters!
That dog that you shared your ice-cream with at the beach last week? He quite probably ate some poop first. Your friend's dog – the one that gives your face a good wash each time you call around? He probably eats poop too.
Many, many dogs do this if they get the chance. It's just that people tend not to talk about it. It's something many of us find, well, embarrassing.
My point is – your dog is completely normal – I really want to reassure you on that score, because the worry about a puppy being weird or unnatural in some way is very common.
But why!
As to why dogs the world over often engage in this unpleasant past-time, no-one knows for certain, but it is looking increasingly likely, that they just like the taste.
Poop eating has nothing to do with a poor diet – well nourished dogs are just as likely to do it as any other. Though the occasional poop eater is more likely to indulge when hungry.
Some people, myself included, find raw fed dogs are less inclined to eat poop. Perhaps because their food is more completely digested.
Whereas kibble contains a lot of fillers and strong flavourings that pass through the dog and make their poop more bulky, smelly, and possibly more appealing to dogs as a snack.
Poop eating seems to be more common in some breeds of dog than others, but there are no hard and fast rules.
Will Poop Eating Make My Puppy Sick?
Surprisingly, poop eating seems to have no ill effects on most dogs. Some dogs will vomit a poop back up later in your kitchen – another endearing canine trait. But most will swallow and digest the poop with no ill effects whatsoever.
Of course, if your puppy eats another dog's poop and that dog has worms, there's a chance your puppy will get worms too. So if your puppy manages to lunch on the meal that has passed through another dog, its a good idea to worm him.
"OK" you say, "so he isn't deranged, it's fairly normal, and it won't hurt him. But I STILL don't want him to do it. It's just GROSS. Which brings us to the final question most people ask
How To Stop Your Puppy From Eating Its Poop
Here are some of the techniques that people use to try and stop their puppies eating poop
Sprinkling their puppy's food with additives such as pineapple
Sprinkling their puppy's faeces with something unpleasant such as chilli pepper
Switching the puppy onto a raw diet
Punishing the puppy for touching poop
Removing poop the instant it is produced
Teaching the puppy to come away from poop for a BIG reward
But do any of these method work?
There is conflicting anecdotal evidence that the first two techniques work, some people claim they do, and others claim they don't. Personally, I don't want to feed my puppy something that is not part of a balanced diet.
And if you are close enough to your puppy's stools to sprinkle something on them, it makes much more sense to me just to pick them up and dispose of them.
There is some anecdotal evidence that switching to a raw diet may help, but it doesn't help everyone. And quite honestly it is a big change to make in your life that really should be considered in a broader context than just stopping a puppy munching on poop.
So that leaves us with punishing the puppy for touching poop, rewarding him for coming away from poop and clearing the poop up the instant it hits the ground.
I strongly recommend you combine these last two methods, and forget all about punishment.
Punishment has a number of downsides in any training situation and the last thing you want is for your puppy to be afraid of poop. That could lead to constipation, soiling in the house etc.
Clearing up
If you have got into the habit of letting your puppy outside to do his 'business' whilst you sit in a warm kitchen with a cup of coffee and the crossword. This is going to be annoying.
But getting out there with your pup and clearing up everything he does, the moment he does it, is a brilliant way to knock most cases of coprophagia (the fancy term for poop eating) on the head.
Coming away from poop
Combine a commitment to clearing up with teaching your puppy to spin around when he hears a special signal from you that means you have something 'great' to give him (a nice handful of juicy cooked chicken for example)
You then have the tools to deal with a 'poop event' when you get caught out.
Established poop eaters
You can often cure or drastically reduce poop eating by providing some pretty substantial rewards for coming away from poop.
Bear in mind that the first few times you do this, your puppy will probably pick up the poop he was eyeing up and bring it with him when he hears you call.
Train a magic word
Teach your puppy to come to a special word. This is a word that is always accompanied by a brilliant reward.
You can then use this word if you get into a situation – in someone else's garden perhaps, or out on a walk – where your puppy finds a poo and is getting ready to tuck in.
Call your puppy with your special word
Resist the urge to faint with shock if he brings the poop with him. And DONT tell him he doesn't deserve a reward when he is so revolting.
Pretend you think he still looks adorable (you can do this, you really can) – he will spit out the poop when you chuck him his reward.
Even if he swallows the poop on his way to you, still give him his reward. If the reward is good enough, he will soon start spitting out poop to get it, and eventually won't even bother to pick it up at all.
Persistence pays off!
I have had great results with this method – but you must persistently reward the puppy when he reaches you, even if he eats the poop first.
It will take him a while to get his head around the fact that you have no interest in taking the poop off him. Just make sure you pick it up and dispose of it while he is eating his reward.
Love your dog in spite of his habits
Poop eating can really come between a dog and his family. Puppies have been given away or even abandoned because of poop eating.
This is because people tell themselves that their dog is depraved or disgusting until they believe it.
Don't let this happen to you.
Try and accept that your puppy is just doing what dogs the world over have been doing since before time.
He is still the same lovely, loyal, dear friend that he always was.
Make the effort to dispose of poops immediately and most puppies will grow out of the habit. I'm not saying that they won't occasionally be tempted, but it shouldn't be a problem which features in your life in any significant way.
Does your dog eat poop
Have you had to deal with this problem? What did you try and did it work?